Ultra-Processed Foods Linked to Premature, Preventable Deaths, New Study Finds
You already knew they were harmful, but new data suggests UPFs are quite literally killing us.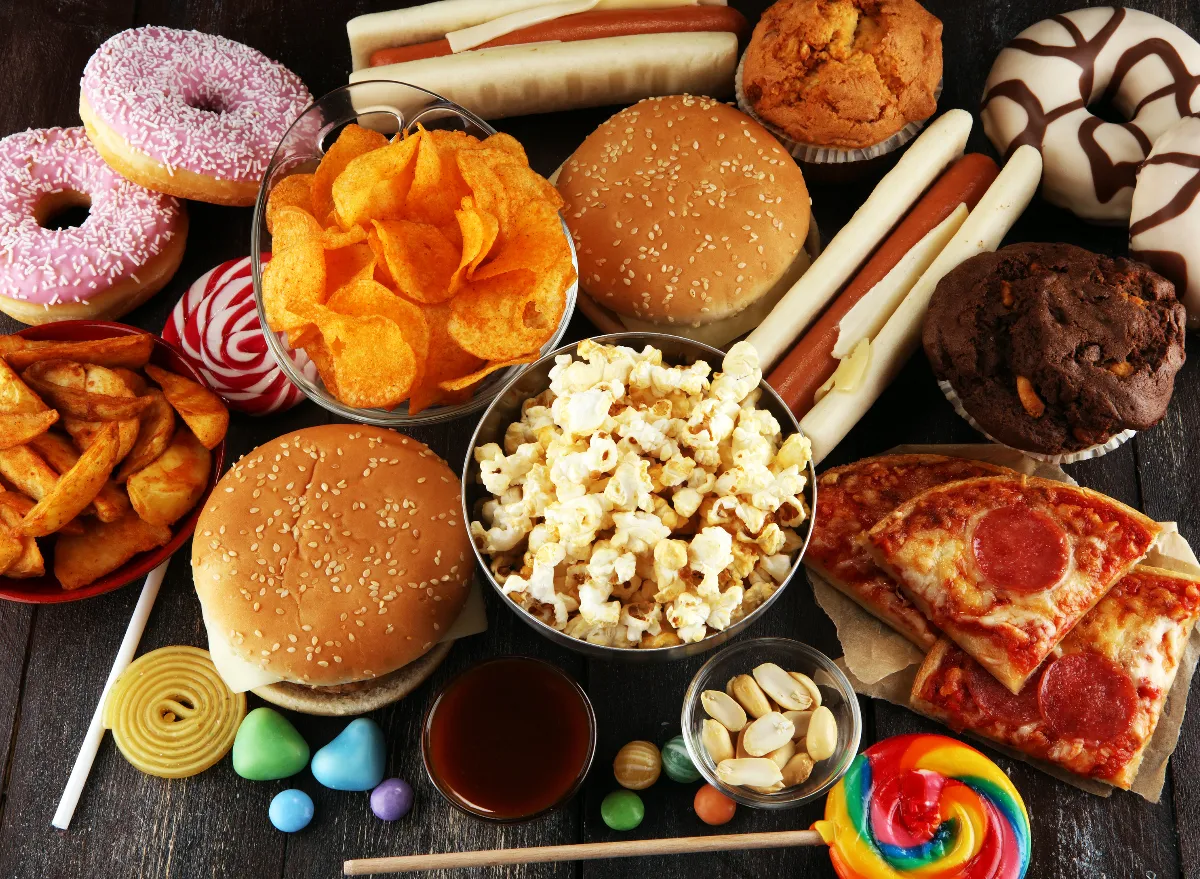 It's no secret that healthy food is good for you, while unhealthy food can be, well, unhealthy. And although diet is not the only determining factor when it comes to a person's overall health (and health risks), a new study has found that eating a specific type of food can potentially lead to deaths that are both premature and preventable.
The study, which was published in the American Journal of Preventive Medicine, took a look at Brazilian dietary surveys and noted that around 13% to 21% of foods being consumed by participants were ultra-processed foods (UPFs). They also found that out of 541,160 adults between the ages of 30 and 69 who died prematurely in 2019, 261,061 of those deaths were caused by preventable, noncommunicable diseases, such as diabetes, heart disease, and cancer.
Taking a closer look, the study model found that around 57,000 deaths in Brazil that occurred in 2019 were connected to UPFs. That equaled 10.5% of the total amount of premature deaths. It also made up 21.8% of deaths of adults between 30 and 69 that were caused by preventable noncommunicable diseases. Although the study considered data from Brazil, the team pointed out that the premature, preventable deaths linked to UPFs in countries like the United States as well as Canada, Australia, and the United Kingdom, could be higher, as residents of these countries tend to have diets that include even more UPFs.
"Consumption of UPFs is associated with many disease outcomes, such as obesity, cardiovascular disease, diabetes, some cancers, and other diseases," said lead investigator Eduardo A.F. Nilson, ScD, of the Center for Epidemiological Research in Nutrition and Health, University of São Paulo, and Oswaldo Cruz Foundation, Brazil, according to EurekAlert!
"The findings contribute to a mounting body of evidence that ultra-processed foods are contributing to disease and premature deaths in a very similar fashion to tobacco use," Dawn Harris Sherling, MD, FACP, DABOM, Clinical Affiliate Assistant Professor of Internal Medicine at Florida Atlantic University College of Medicine, tells Eat This, Not That! "The scariest part of this study as an American, however, is that in this study done with Brazilian data, it is estimated that only about 20% of their diet was ultra-processed. In the US, studies estimate that nearly 60% of the average diet is ultra-processed. It's not scientifically sound to just triple the estimate for the US population, but it does raise very scary implications for the health of the population here."6254a4d1642c605c54bf1cab17d50f1e
Fortunately, Sherling, the writer behind Eat Everything: How to Ditch Additives and Emulsifiers, Heal Your Body, and Reclaim the Joy of Food, claims that avoiding ultra-processed foods is "easier than it might first appear!"
"We just have to go back to eating minimally processed foods that our grandparents knew how to make (or that they make in places like Italy and Spain today)," Sherling says. Beyond that, "Once we give up the highly processed and fake-flavored stuff and start eating whole foods again, we not only develop healthier habits, but our taste buds get used to eating the real food and we crave that over the ultra-processed junk. We can do this and enjoy real food again!"
Desirée O
Desirée O is a freelance writer who covers lifestyle, food, and nutrition news among other topics.
Read more about Desirée