The Unhealthiest 'Healthy' Foods In the Supermarket
You'll want to stay far away from these sketchy culprits.
When you're heading to the supermarket to stock up on groceries for the week, your game-plan is to get the foods that are not only healthy for you, but happen to taste great and are at a decent price-point. It's no easy feat navigating the grocery store, especially when there are so many options and plenty of products that claim they're healthy when in reality, they're actually the unhealthiest "healthy" foods out there.
Sorry to break it to you, but you're being fooled!
That's right, there are plenty of foods on supermarket shelves that you might think are good for you, but they're just junk foods in disguise, easily earning the title of unhealthiest "healthy" foods.
Here, we rounded up some of the biggest culprits so you can avoid buying any of the unhealthiest "healthy" foods next time you go shopping. While you're making better choices, be sure to try out any of the 21 Best Healthy Cooking Hacks of All Time.
Lean Cuisine Sesame Chicken
Per 1 package
: 350 calories, 8 g fat (1 g saturated fat, 0 g trans fat), 690 mg sodium, 54 g carbs (3 g fiber, 15 g sugar), 15 g protein
Lean Cuisines are the frozen meals that are thought to be, well, much better for you than all the other frozen options you might've grown up eating. While this brand does offer up some decent dishes, the classic sesame chicken isn't one of them. The chicken here is breaded so that's already a step down and it comes packing 15 grams of sugar. It's no wonder this meal made it on the list of The 100 Worst Frozen Foods in America!
Breyer's Carb Smart Peanut Butter Ice Cream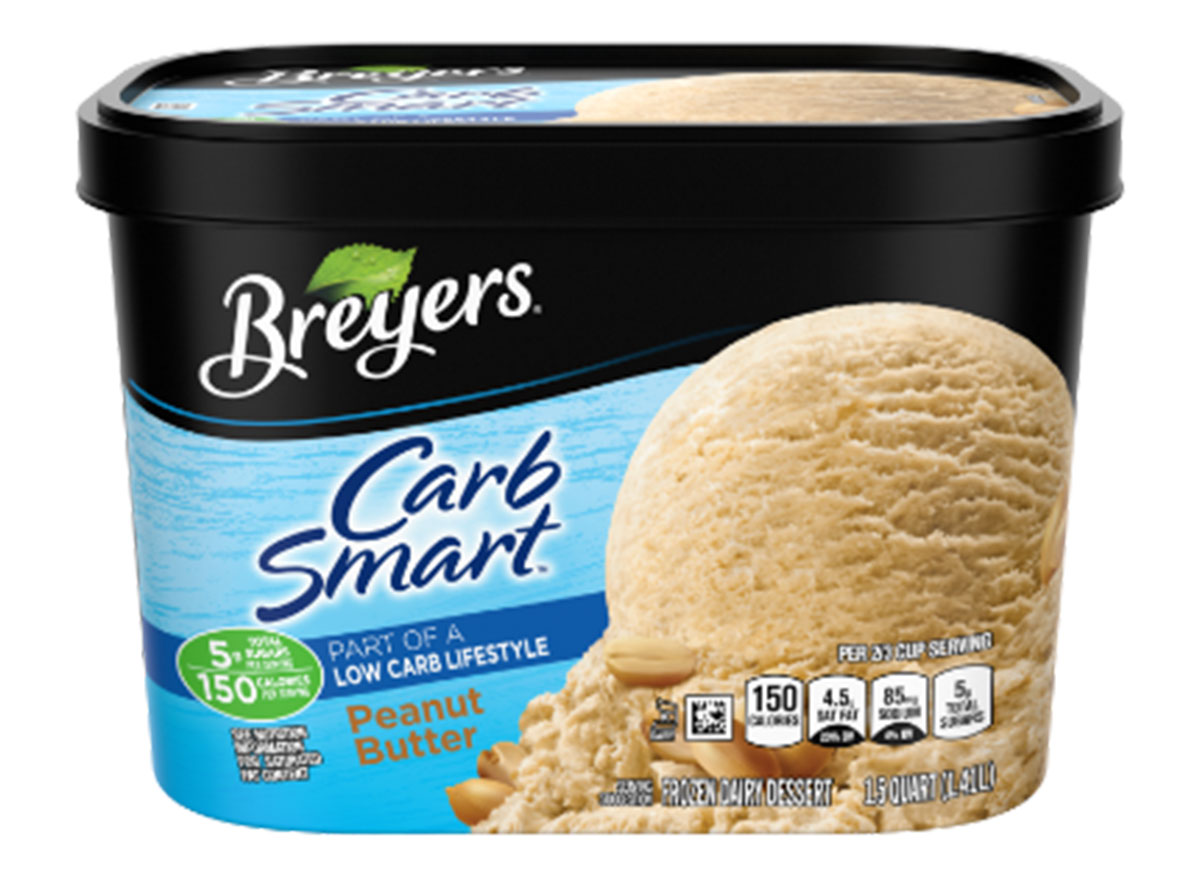 Per 1 serving
: 150 calories, 9 g fat (4.5 g saturated fat, 0 g trans fat), 85 mg sodium, 17 g carbs (0 g fiber, 5 g sugar, 7 g sugar alcohol), 3 g protein
It might be hard to believe, but "healthy" ice creams are some of the biggest offenders in the grocery store. This low-carb peanut butter ice cream from Breyer's is proof. The fourth ingredient listed in this pint is maltodextrin, which has actually been linked to digestive issues and can even up your risk of developing Crohn's disease. Plus, there are artificial sweeteners in here too, so this frozen treat isn't really doing you any favors.
Ken's Steak House Lite Country French Dressing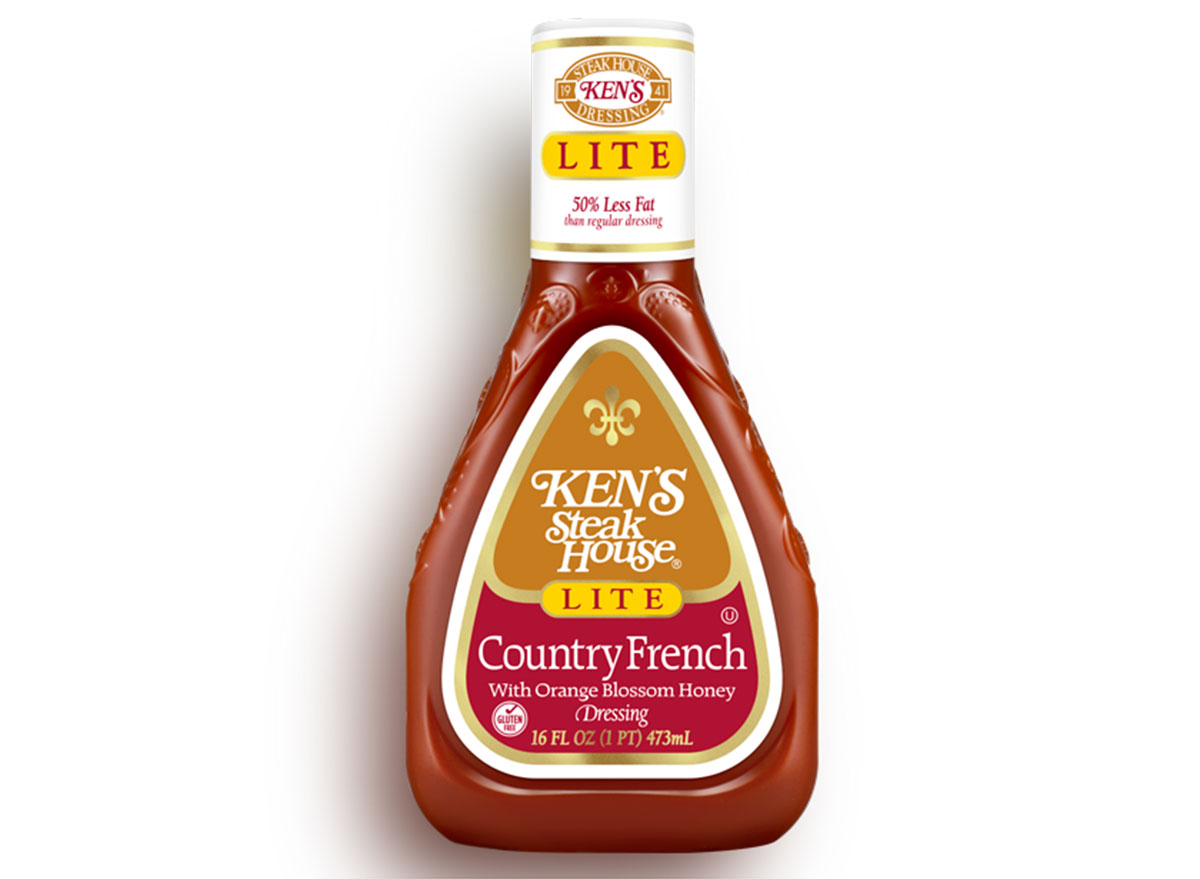 Per 1 serving
: 100 calories, 6 g fat (0.5 g saturated fat, 0 g trans fat), 240 mg sodium, 11 g carbs (00 g fiber, 10 g sugar), 0 g protein
A salad dressing that is labeled as a "lite" version you would think would be a safe choice. But not here! Ken's Steak House Country French dressing has sugar listed as the first ingredient, and each serving contains 10 grams of added sugar. Skip!
Stonyfield Organic Low Fat Smooth & Creamy Vanilla Yogurt
Per 1 serving
: 120 calories, 1.5 g fat (1 g saturated fat, 0 g trans fat), 95 mg sodium, 19 g carbs (0 g fiber, 16 g sugar), 6 g protein
Again, don't let the "low-fat" angle trick you. This organic vanilla yogurt from Stonyfield contains 16 grams of sugar. That's a whole lot, considering there's a good chance you're going to add some fruit, granola, or other toppings to this yogurt to make it a more filling snack. And that just means the amount of sugar keeps rising.
Quaker Protein Instant Oatmeal—Banana Nut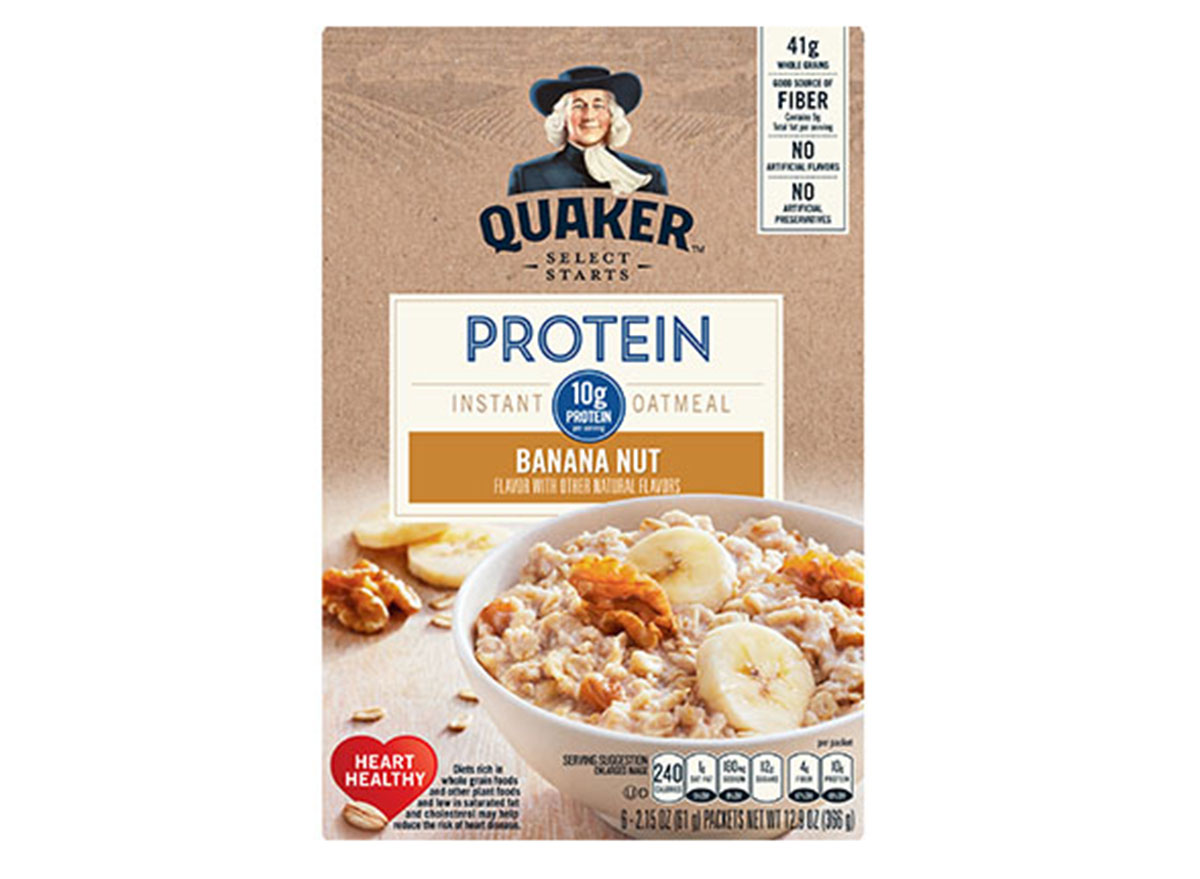 Per 1 prepared packet
: 270 calories, 5 g fat (1 g saturated fat, 0 g trans fat), 230 mg sodium, 46 g carbs (4 g fiber, 18 g sugar), 14 g protein
By now, it shouldn't really come as much of a surprise that instant oatmeal isn't considered the healthiest breakfast compared to actually cooking up a bowl. You would think that with Quaker offering up this protein-enhanced option that would make things right, but that's not the case. This banana nut flavor has 18 grams of sugar—that's 10 grams more than the regular peanut butter banana flavor that doesn't have nearly as much protein. (And just so you know, your ultimate restaurant and supermarket survival guide is here!)
Ruffles Baked Cheddar & Sour Cream Potato Chips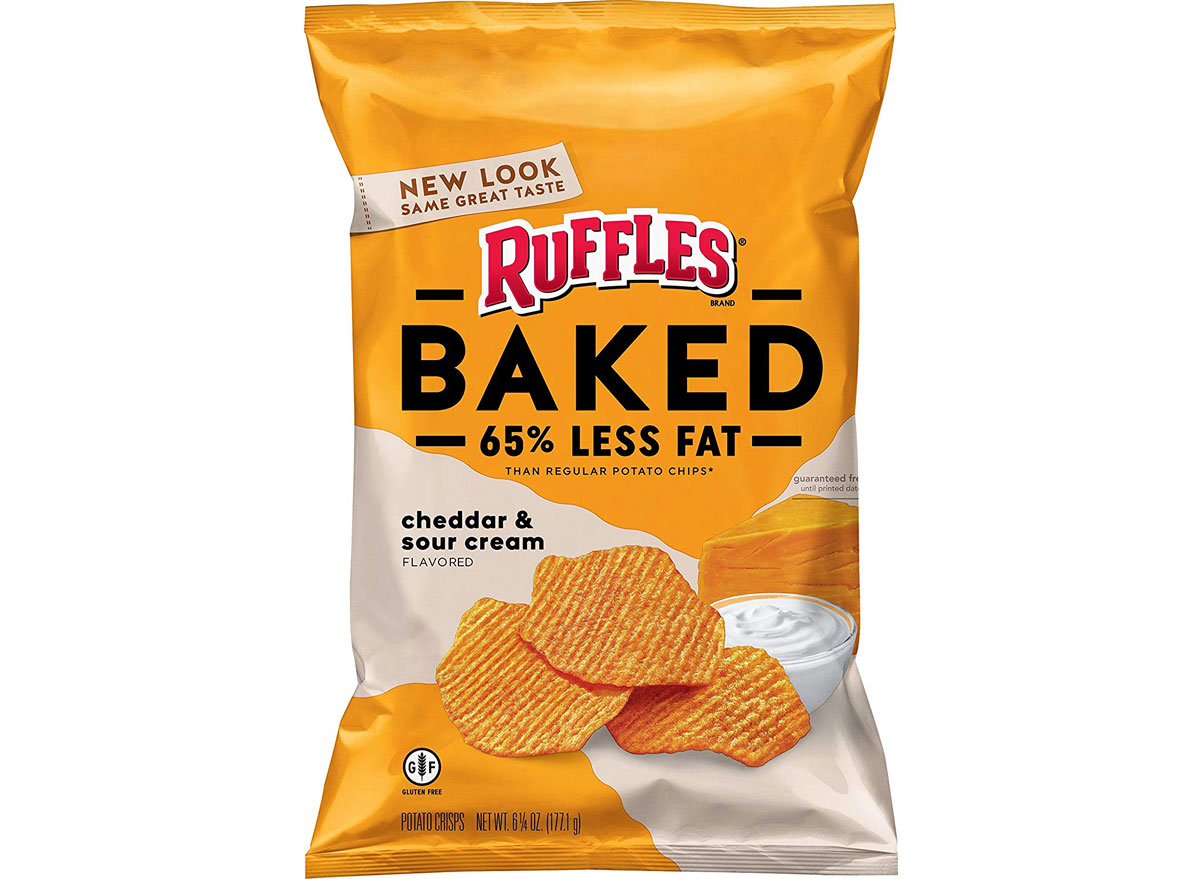 6254a4d1642c605c54bf1cab17d50f1e
Per 1 serving
: 120 calories, 3.5 g fat (0.5 g saturated fat, 0 g trans fat), 250 mg sodium, 22 g carbs (1 g fiber, 2 g sugar), 2 g protein
Baked chips are clearly healthier than a traditional bag of potato crisps, right? Well, it's time to stop believing that myth! Ruffles' classic cheddar and sour cream flavor might only cost you 120 calories per serving compared to the 160 the regular version packs and has less fat, but it has 250 milligrams of sodium. That's nearly 100 milligrams of sodium more than the traditional style of this chip.
Smart Ones Three Cheese Ziti & Meatballs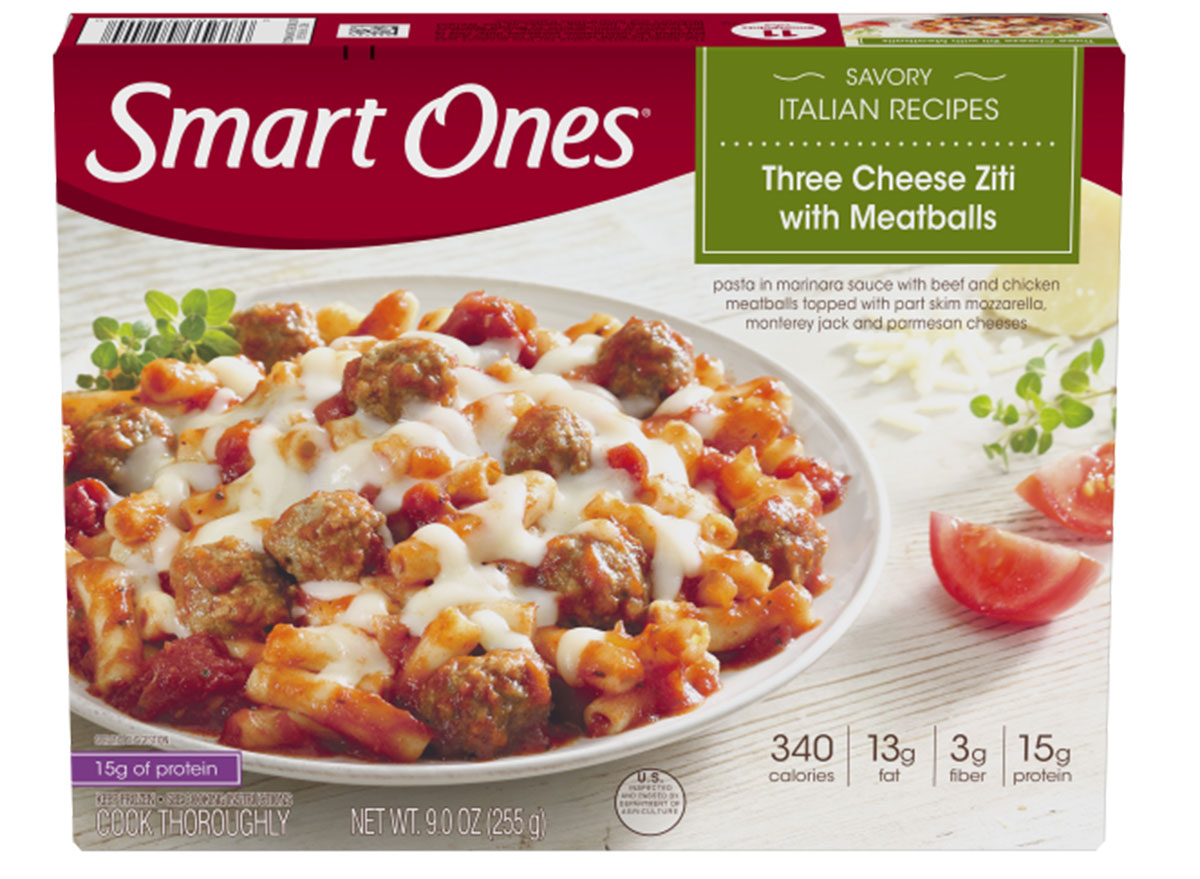 Per 1 package
: 340 calories, 13 g fat (5 g saturated fat, 0 g trans fat), 700 mg sodium, 39 g carbs (3 g fiber, 4 g sugar), 15 g protein
Smart Ones is another brand that offers up better-for-you frozen meals. But this three-cheese ziti and meatballs dish is packing 700 milligrams of sodium, which is reason enough to leave it alone.
Ben & Jerrys P.B. & Cookies Non-Dairy Frozen Dessert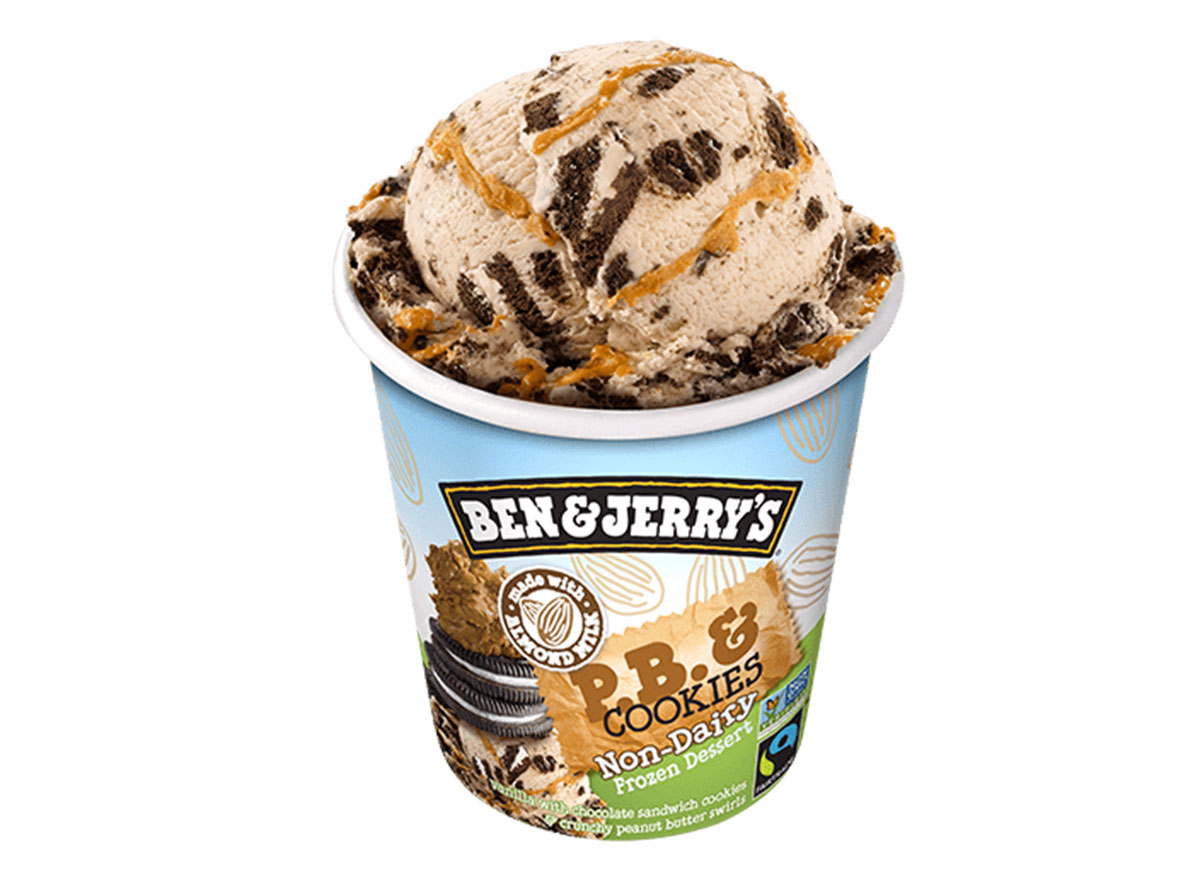 Per 1 container
: 1,130 calories, 66 g fat (30 g saturated fat, 0 g trans fat), 620 mg sodium, 124 g carbs (2 g fiber, 78 g sugar), 17 g protein
So if you're going for the pint of Ben & Jerry's, you most likely are already aware that this ice cream isn't necessarily healthy. But we wanted to call out this non-dairy option, as there are some people who might see "non-dairy" and think this almond-milk based frozen dessert is better. Overall, it's not. It's still sky-high in calories, fat, and sugar.
Campbell's Chunky Chicken Corn Chowder Soup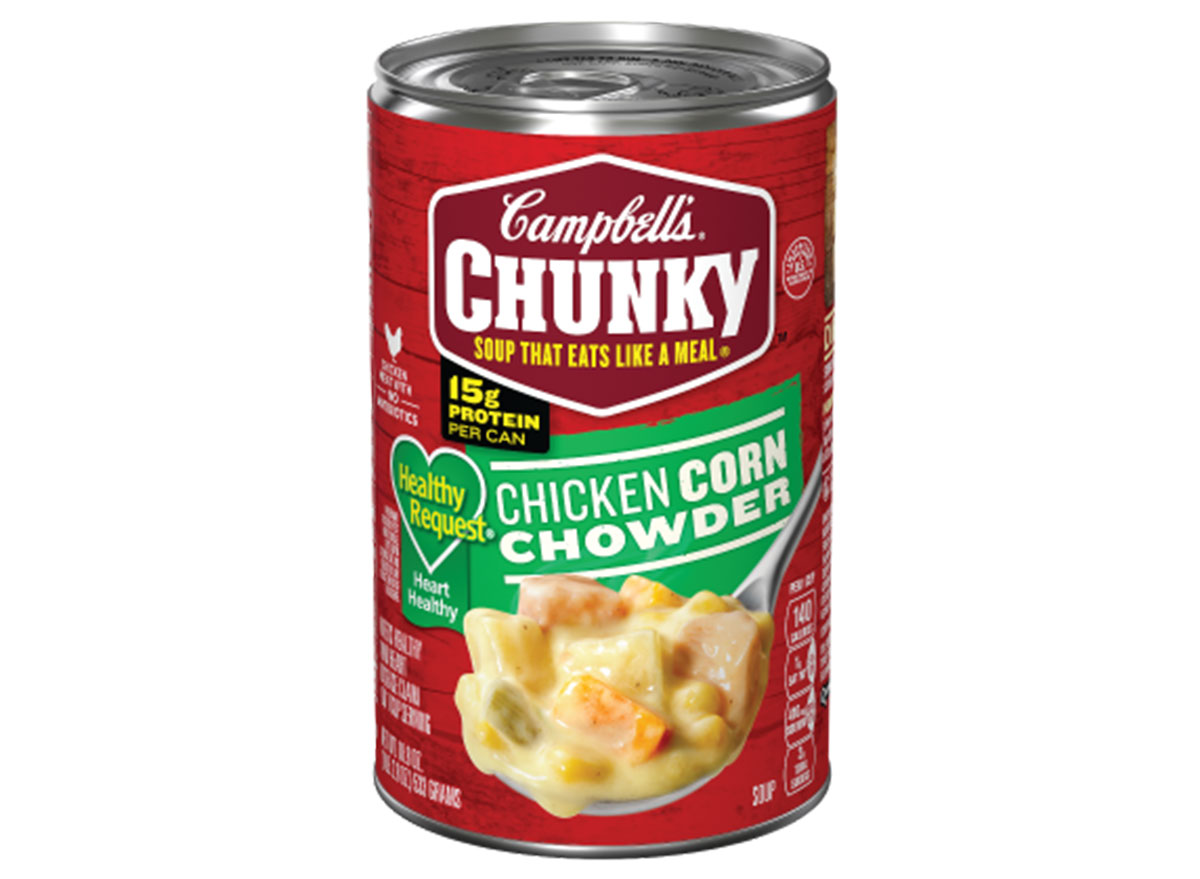 Per 1 container
: 310 calories, 7 g fat (1.5 g saturated fat, 0 g trans fat), 890 mg sodium, 47 g carbs (4 g fiber, 7 g sugar), 15 g protein
A soup labeled "Healthy Request" again just falls flat. This chicken corn chowder option from Campbell's Chunky offerings is packing with 890 milligrams of sodium. You always have to be careful when it comes to canned soups, but this "healthy" option is yet another one to leave on the shelf.
Skippy Natural Creamy Peanut Butter
Per 1 serving
: 190 calories, 16 g fat (3.5 g saturated fat, 0 g trans fat), 150 mg sodium, 6 g carbs (2 g fiber, 3 g sugar), 7 g protein
Don't fall victim to Skippy's "natural" label. All the sugar in this PB spread is added. There are much healthier peanut butter options available!
Simply Mixed Berry Juice Drink
Per 1 serving
: 100 calories, 0 g fat, 15 mg sodium, 26 g carbs (25 g sugar), 0 g protein
A glass of fruit juice might bring on all the nostalgia from your childhood and the "all natural" message on the label might have you thinking this is a healthy option. But one serving of this juice has 25 grams of sugar—with 23 of those grams being added sugars. That's more added sugar than you'll get from a Hershey's Cookies 'N' Creme Bar…
Healthy Choice Sweet & Sour Chicken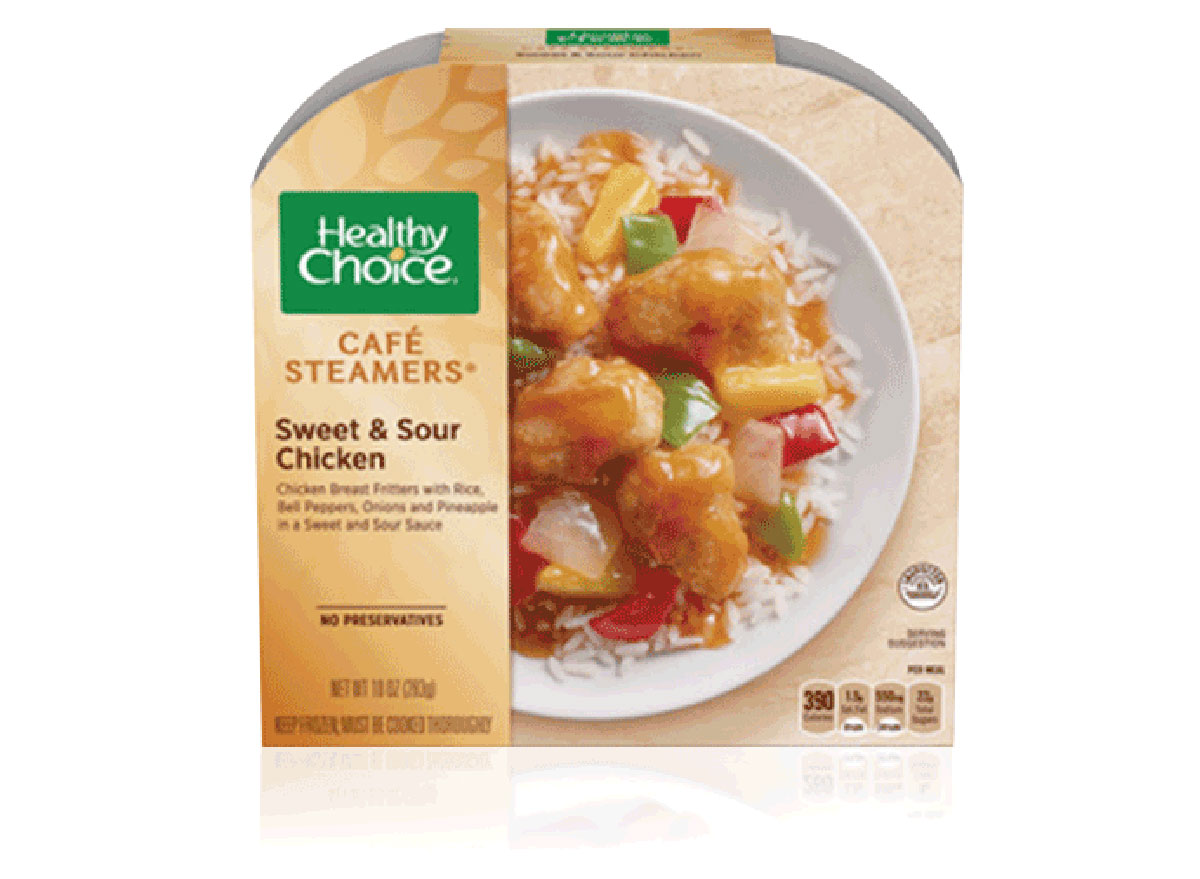 Per 1 package
: 390 calories, 9 g fat (2 g saturated fat, 0 g trans fat), 550 mg sodium, 63 g carbs (3 g fiber, 22 g sugar), 12 g protein
The Healthy Choice line of frozen dinners is another one you want to be cautious around. And the sweet and sour chicken entrée is a solid example. Here, tempura-battered chicken breast is tossed with a tangy sweet and sour sauce and mixed with bell peppers, onions, and pineapple over rice. Thanks to the sauce, you're looking at 22 grams of sugar in your main meal. Not something you would expect from a chicken-based dish!
Jennifer Maldonado
Jennifer Maldonado is a senior editor at Eat This, Not That!, specializing in food and health content.
Read more about Jennifer