Breakfast: It's not the sensible meal our great-grandparents once knew and loved. Now, in some restaurants, you'd be better off downing an entire stack of pancakes drizzled in syrup than ordering something like a veggie omelet with toast—and that's saying a lot. A short stack of three (massive) pancakes from IHOP, for instance, packs 430 calories, 17 grams of fat, 1,390 milligrams of sodium, and 12 grams of sugar. Top those bad boys with an ounce of syrup and those numbers shoot up to 540 calories, 17 grams of fat, 1,405 milligrams of sodium, and 30 grams of sugar—which is more than enough to give a full-grown adult a tsunami-sized sugar rush. There is nothing healthy about a stack of pancakes, folks.
Some of the dishes below (many of which you've likely considered ordering, thanks to their health halos or small serving size) have double the calories and five times the fat as the average hotcake stack. Basically, they're the exactly what you shouldn't be eating if you're trying to clean up your diet and lose weight. Vow to ditch the villainous breakfast dishes below for good—and fuel your morning with these 37 Breakfast Foods for Optimal Weight Loss instead.
Perkins California Avocado Benedict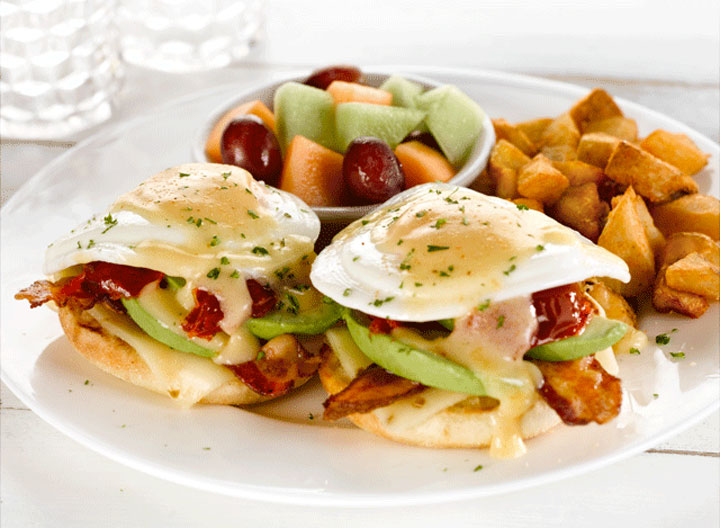 1 entrée
: 1,130 calories, 78 fat (29 g saturated fat, 0 g trans fat), 1,640 mg sodium, 78 g carbs (10 g fiber, 20 g sugar), 37 protein
This dish sounds pretty healthy in theory—two "farm fresh" eggs, fresh avocados, applewood smoked bacon, oven-roasted tomatoes, pepper jack cheese, and hollandaise sauce on a plain English muffin with a side of fresh fruit. Inside though lurks more than a day's allowance of fat and a whopping half a day's worth of sodium and calories—not to mention 8 grams more sugar than a stack of sweet hotcakes! Cut the hollandaise sauce and the "whipped butter blend" and save 300 calories, 19 grams of fat, and 520 milligrams of sodium. For even more ways to save calories and stay on track with your diet, check out these 36 Ways to Cut 50 Calories or More!
Denny's Hearty Breakfast Sausage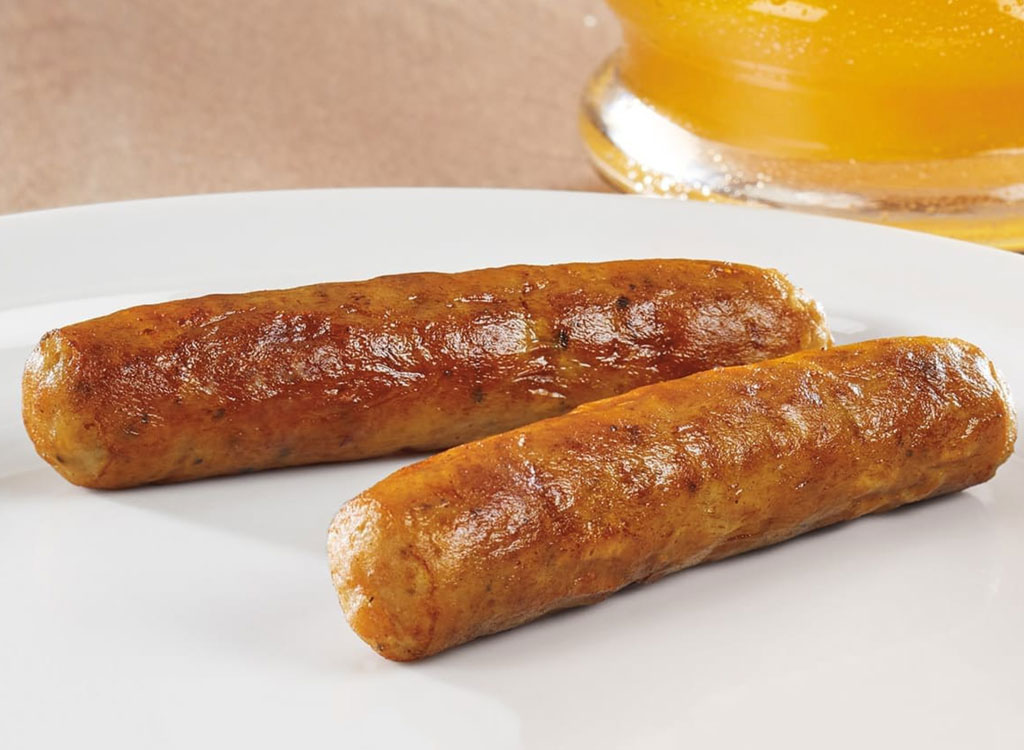 2 pieces
: 700 calories, 62 g fat (16 g saturated fat, 0 g trans fat), 1,680 mg sodium, 10 g carbs (0 g fiber, 2 g sugar), 28 g protein
You know that sausage isn't exactly a health food, but we bet you didn't realize that two measly pieces carry more calories and twice as much fat as a stack of pancakes. Do your heart—and gut—a favor and just say no to this wicked side dish. And to keep your bod in tip-top shape, be sure to steer clear of these 30 Worst Foods For Your Heart, too.
Taco Bell A.M Sausage Crunchwrap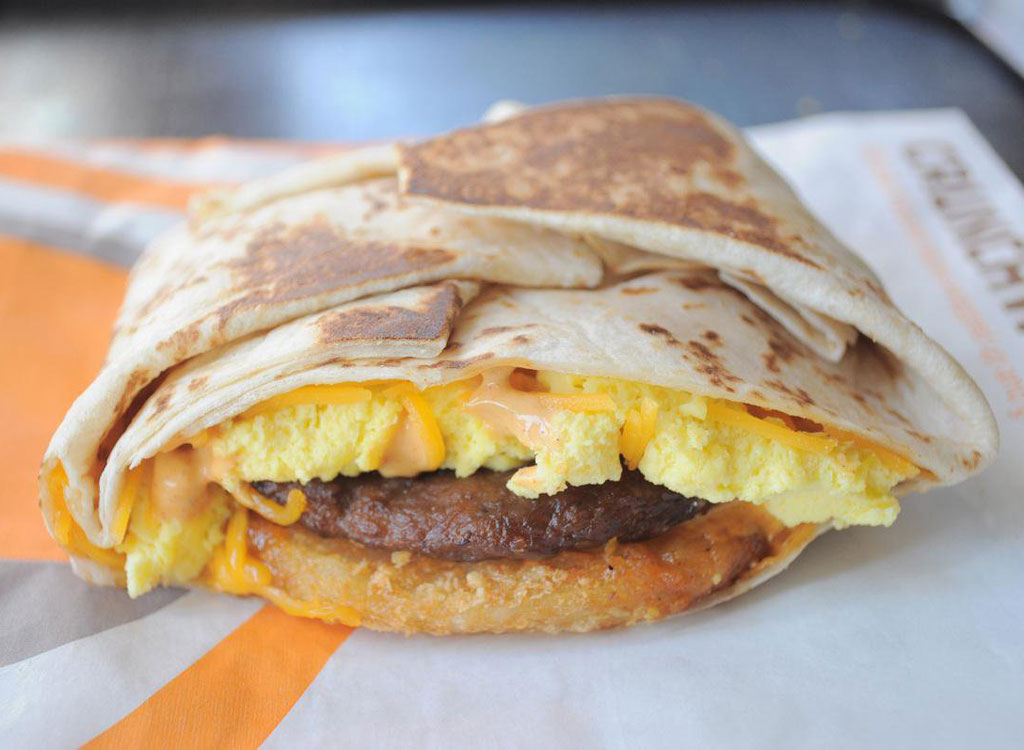 1 wrap
: 700 calories, 46 g fat (14 g saturated fat, 0 g trans fat), 1,200 mg sodium, 51 g carbs (4 g fiber, 3 g sugars), 21 g protein
It may be smaller than a stack of flapjacks, but that doesn't mean it's any less damaging your health. Inside the wrap, you'll find a mash-up of fried potatoes, creamy jalapeno cheese, cheddar and sausage, which skyrockets the calorie, salt content. Not to mention, it's filled with an entire day's worth of saturated fat (hello, love handles). Yes, you read that right: an entire day's worth! When dining at the Bell, reach for the Breakfast Soft Taco instead and pair it with a black coffee and a piece of fruit from home for added nutrients.
Friendly's: Kids French Toast with Bacon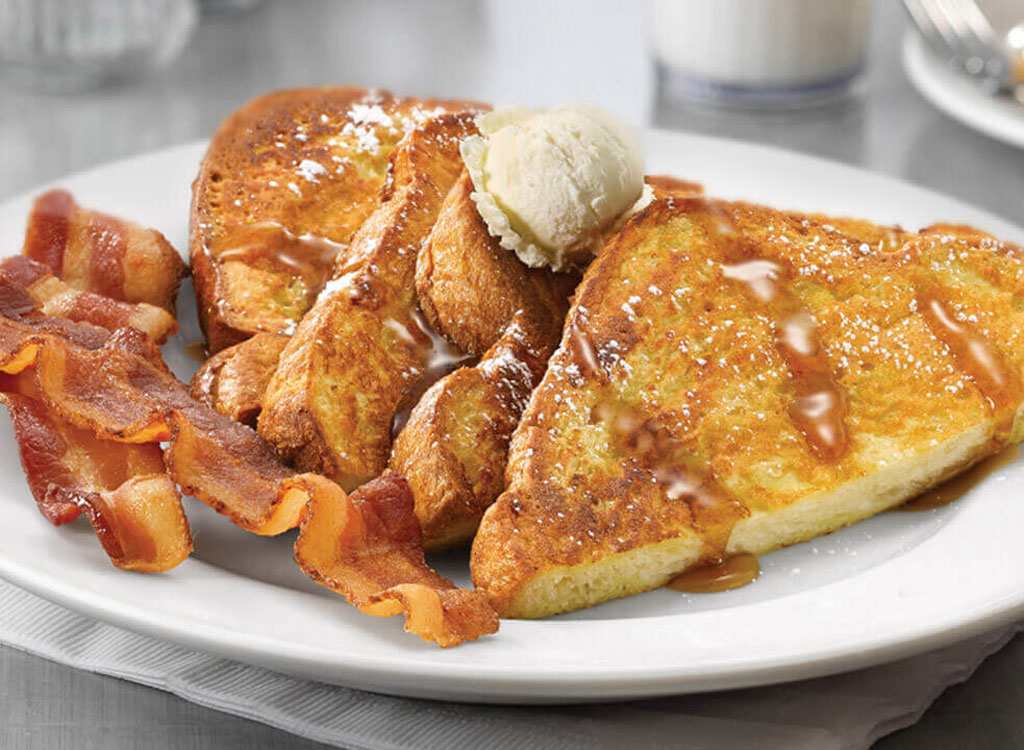 1 entrée
: 920 calories, 20 g fat (10 g saturated fat, 0 g trans fat), 1,420 mg sodium, 150 g carbs (0 g fiber, 60 g sugar), 20 g protein
Two things about this kids' menu platter make us cringe. First of all, it was designed for tiny humans, who ideally should consume between 1,000 and 2,000 calories a day, depending on their age. Secondly, sometimes adults turn to child-sized dishes to dial back on their portion sizes, but unfortunately, this French toast fiasco doesn't deliver. Not only does it dish out over a half day's fat (thanks, in part, to the size of bacon), it also packs more sugar than nine Chips Ahoy! Chewy cookies. If you're looking to dial back on your a.m. calorie intake, this isn't the way to do it.
IHOP: Chicken Fajita Omelette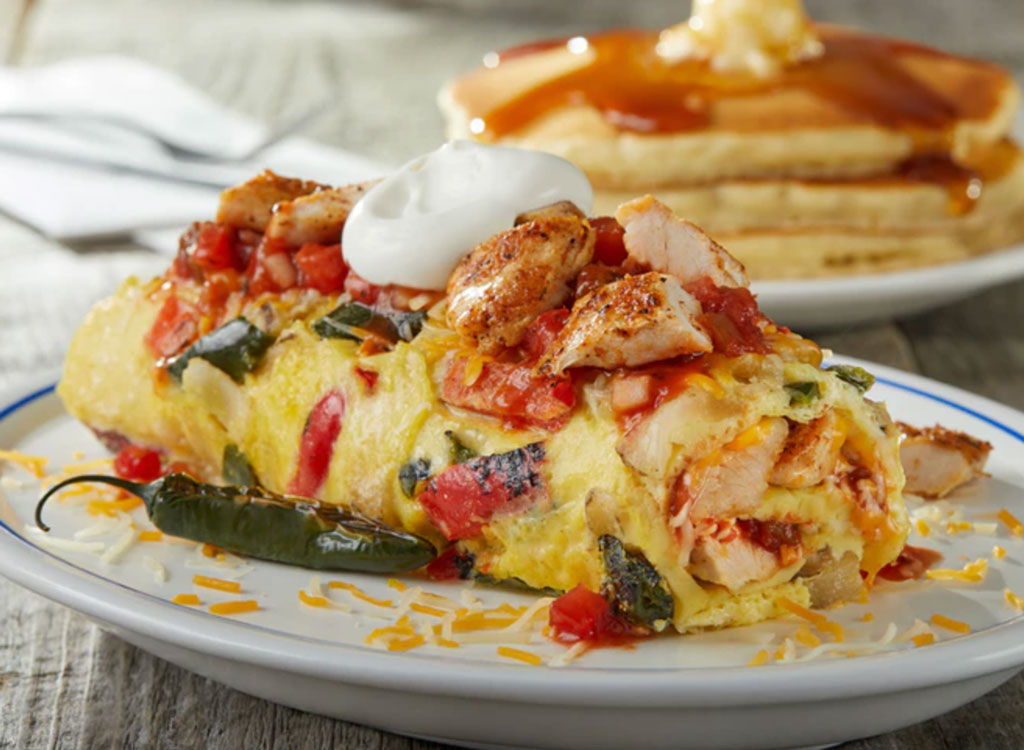 1 entrée without sides
: 960 calories, 63 g fat (24 g saturated fat, 1 g trans fat) 2,040 g sodium, 24 g carbs (4 g fiber, 8 g sugar), 74 g protein
A few years back, IHOP was one of the last chains to release its nutritional numbers—and given the national-debt-level calorie counts on much of its menu, it's easy to see why. This healthy-sounding omelet is made with little more than veggies, cheese, and eggs, but somehow packs more calories than six of the chain's pancakes! How's that possible? Answer: Because their chefs add pancake batter to the omelets to make them extra fluffy—and caloric. Not only is that super sneaky, it's a bit gross, too. For even more shocking facts about your favorite chains, check out our report, 25 Things Fast Food Chains Don't Want You to Know.
Cheesecake Factory: Farm Fresh Eggs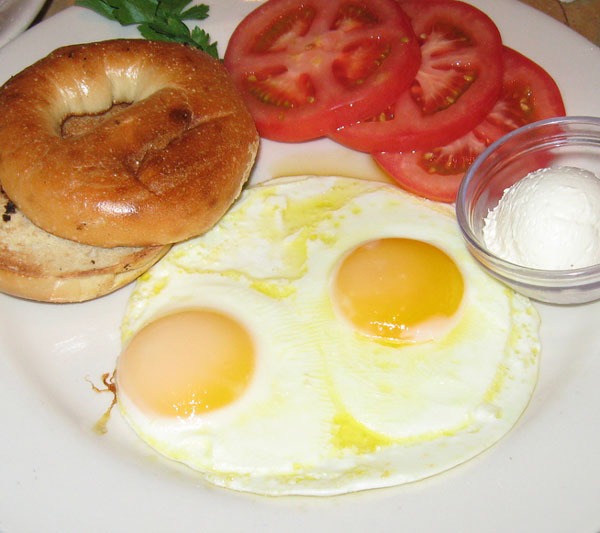 1 entrée with side of tomato
: 650 calories, 32 g fat (7 g saturated fat, 0 g trans fat), 64 g carbs (0 g fiber, 8 g sugar), 25 g protein
Clocking in at 2,780 calories, the Cheesecake Factory's bruleéd French toast is by far one of the worst breakfast picks on the planet—and though their farm fresh label may not look as villainous, this egg dish isn't much better. Diners have the choice of pairing their eggs and doughy carb pillows with a side of potatoes or tomato slices. Opt for the former and you'll take in nearly 1,000 calories before noon. Even if you decide to go with the lighter side, the calorie count is still pretty shocking. How the Factory manages to squeeze 650 big ones into just two eggs, some tomato slices, and a bagel will likely remain a mystery until the end of time. The folks over at the Cheesecake Factory can be super sketchy. We had to call them four times before getting a straightforward rundown of all the nutrients in this dish. Which only makes us wonder: What else are they hiding?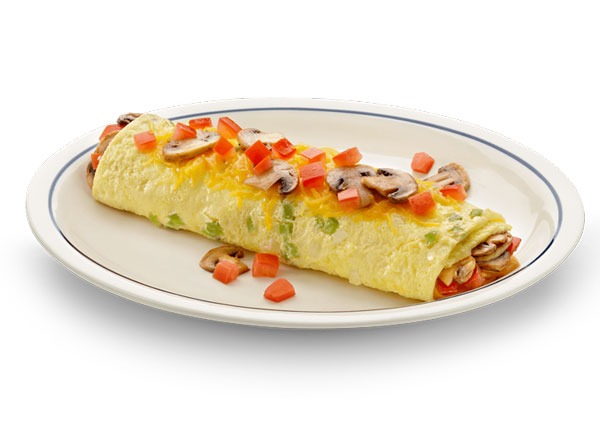 1 entrée without sides
: 830 calories, 66 g fat (24 saturated fat, 0 g trans fat), 1,050 mg sodium, 16 g carbs (3 g fiber, 6 g sugar), 47 g protein
Made with an abundance of broccoli, mushrooms, tomatoes, and topped with cheddar cheese, you'd think IHOP's garden omelet was one of their healthier choices. Newsflash: it's not. With 66 grams of artery-clogging fat, this innocent-looking platter will fill you to the brim and leave you feeling yolked—and that's before you tack on the damage from the hash brown, pancakes, or the toast that the meal comes with. If you want to leave IHOP with your belt still buckled, ask for a side order of cottage cheese (50 calories) with a double order of seasonal mixed fruit (100-120 calories) and two turkey sausage links (90 calories) or one original buttermilk pancake (143 calories).
Dunkin' Donuts: Sausage, Egg, and Cheese Sandwich on a Croissant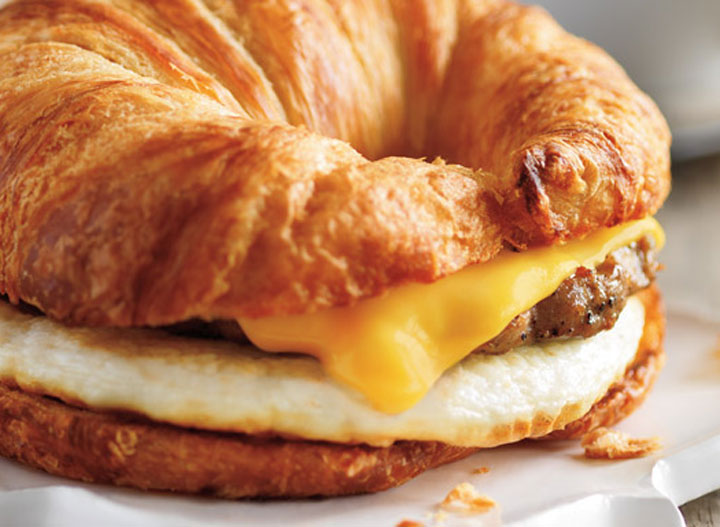 1 sandwich
: 710 calories, 51 g fat (20 g saturated fat, 0 g trans fat), 1,120 mg sodium, 41 g carbs (1 g fiber, 6 g sugars), 22 g protein
A buttery croissant hugs crispy strips of bacon and a breaded chicken patty to create a breakfast bomb that's filled with more than half a day's sodium and is far worse than a stack of pancakes in just about every way. If you want to pair your morning coffee with something savory, consider switching to DD's bacon, egg, and cheese on an English muffin. With an impressively low amount of sodium and calories and a solid hit of fiber and protein, this is a fast food breakfast sandwich we can get behind! For more healthy orders from your favorite coffee joint, check out our report, What Nutritionists Order at Dunkin' Donuts.
Perkins: Granny's Country Farm Fresh Omelette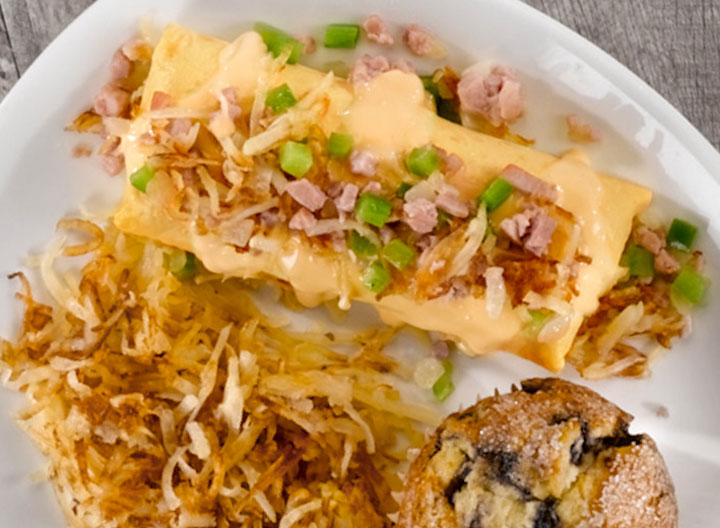 6254a4d1642c605c54bf1cab17d50f1e
1 entrée
: 630 calories, 40 fat (15 g saturated fat, 0 g trans fat), 1,440 mg sodium, 33 g carbs (3 g fiber, 4 g sugar), 35 protein
Would your grandma feed you a breakfast omelet packed with hydrogenated oils, artificial flavors and colors, anti-foaming agents, wood pulp, and preservatives? I know my granny wouldn't, and she would also agree that calling this omelet "farm fresh" seems quite a stretch…
Cheesecake Factory: Spinach, Mushroom, Cheese and Bacon Omelette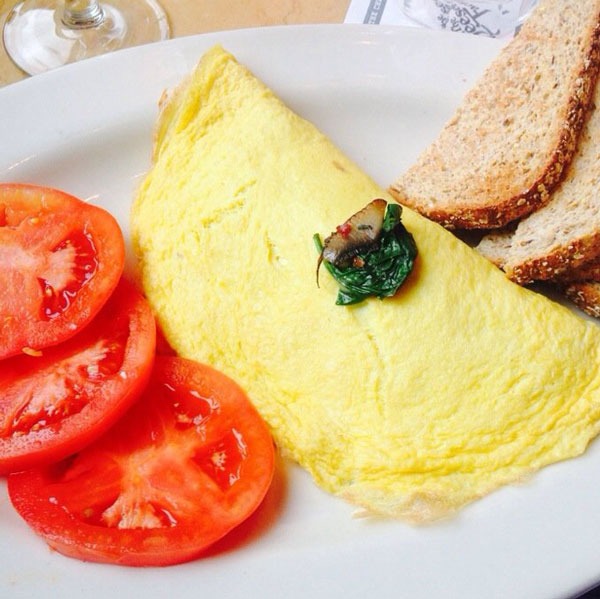 1 entrée
: 900 calories, N/A fat (25 g saturated fat, N/A trans fat), 1,634 mg sodium, 7 g carbs (N/A fiber, N/A sugar), N/A g protein
When cooked in your own kitchen, an omelet made with spinach, mushroom, cheese, and bacon would make for a decent morning meal. But once transformed at the Factory (who is less than candid about their nutrition information for a reason), this once-sensible dish becomes something you'd be better off without.
Carl's Jr.: The Breakfast Burger
1 burger
: 730 calories, 43 g fat (16 g saturated fat, 0 g trans fat), 1,290 mg sodium, 47 g carbs, (3 g fiber, 10 g sugars), 37 g protein
It may comfortably fit between your hands but that doesn't mean it's low in calories or good for you. Smash a plate of eggs, bacon, and hash browns between two buns and you get a breakfast sandwich that's nearly six times the calories of a single pancake. Make a choice that aligns with your weight loss goals and just say no to this sad excuse for a morning meal.
Denny's: Philly Cheesesteak Omelette
1 entrée
: 1,120 calories, 75 g fat (23 g saturated fat, 1 g trans fat), 1,940 mg sodium, 55 g carbs, (3 g fiber, 6 g sugar), 52 g protein
Considering this beast of a breakfast comes stuffed with fatty meats and cheeses and is paired with hash browns and an English muffin, it may not come as a shock that this isn't really considered to be a "healthy" dish. However, you may be surprised to learn that it has six times the amount of fat as the IHOP stack we mentioned at the beginning of the article and nearly double the amount of fat an adult should consume in an entire day. We never thought we'd say this, but you'd be far better off ordering some pancakes than downing this icky dish.
Planet Smoothie: PB&J Smoothie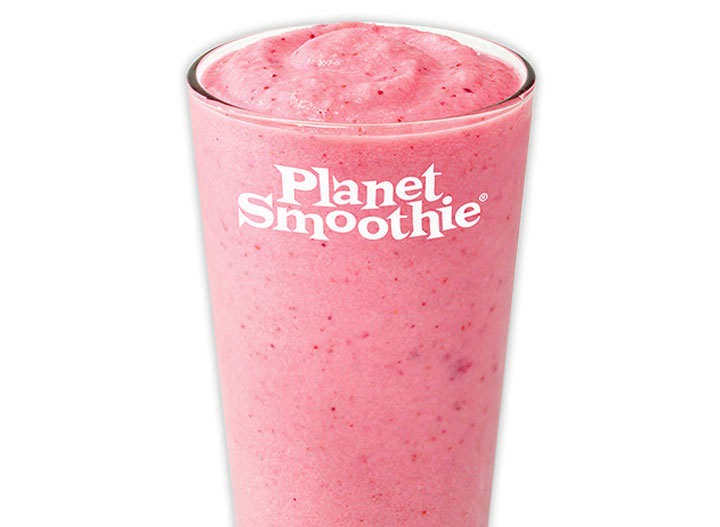 22 oz
: 609 calories, 24 g fat (3 g saturated fat, 0 g trans fat), 250 mg sodium, 89 g carbs, (15 g fiber, 53 g sugar), 18 g protein
The list of ingredients in this smoothie starts out well (peanut butter—we can get behind that for the protein) but then turns sinister (frozen yogurt—what is this, a dessert?). The result is a caloric punch that's nearly 200 calories more than a Big Mac—and nearly as much sugar as you'd find in 16 packets of sugar. (Comparatively, three pancakes from IHOP carry what you'd find in three packs of the sweet stuff.) Ditch the froyo and go with the Planet Pro Banana & Cocoa (350 calories and 27 grams of sugar per 22 oz). It might sound counterintuitive, but you'll enjoy dessert flavors at a fraction of the calories and sugar if you choose this protein-packed smoothie instead. For more calorie-saving swaps, check out these 25 Ways to Cut 250 Calories.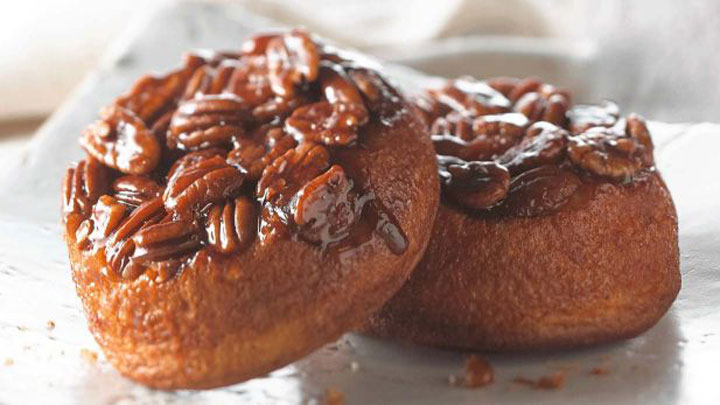 1 pastry
: 720 calories, 46 g fat (14 g saturated fat, 0 g trans fat), 400 mg sodium, 69 carbs (5 g fiber, 32 g sugars), 11 g protein
Don't be fooled by its healthy-sounding name and crunchy, protein-rich topping, this sticky roll will literally stick to your rolls. In fact, this pathetic pastry has more calories and fat than the chain's bacon, egg, and cheese asiago bagel sandwich. We know which one we'd rather have if we were forced to choose! If something sweet and nutty is more your taste, though, stick with the almond oatmeal. It's a hearty order with a reasonable number of calories and a solid hit of fiber and protein to boot!
Friendly's: Garden Vegetable Omelette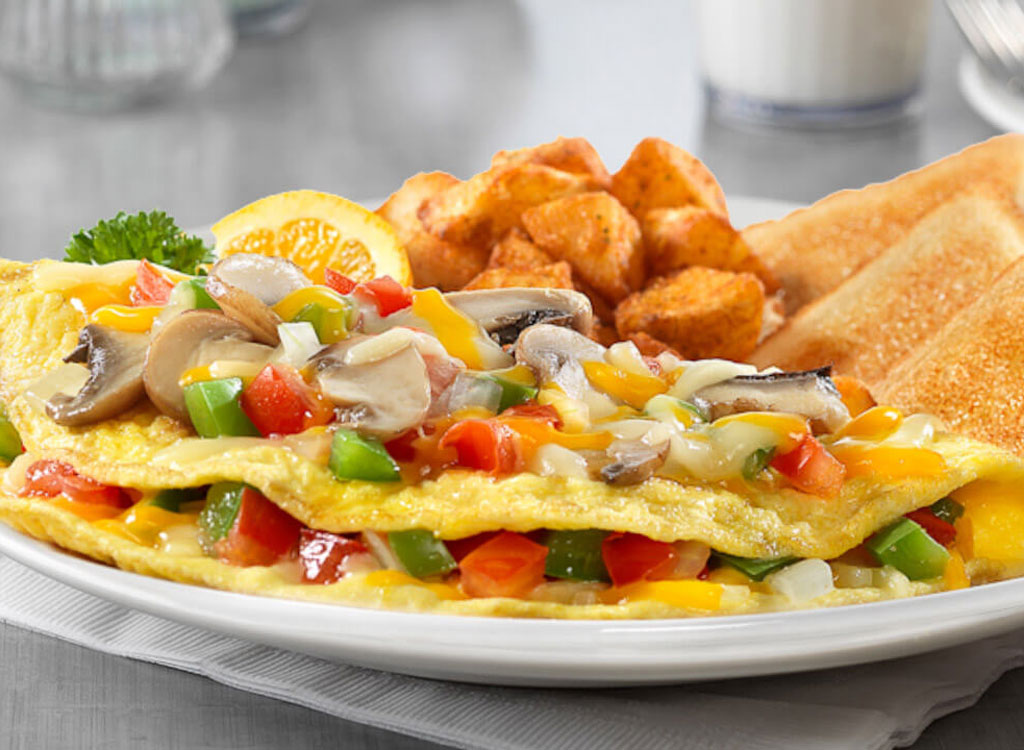 1 entrée
: 1,090 calories, 20 g fat (10 g saturated fat, 0 g trans fat), 390 mg sodium, 20 g carbs (0 g fiber, 10 g sugar), 20 g protein
Not to be redundant with all the veggie omelets, but it's just so darn shocking how easy it is for a sensible plate of eggs to transform into something evil when made at a chain restaurant. If you must order eggs at this not-so-Friendly restaurant, order them à la carte (cooked to your liking) and pair them with some fresh fruit and a slice of bacon.
Starbucks: Old-Fashioned Glazed Doughnut
1 pastry
: 480 calories, 27 g fat (13 g saturated fat, 0 g trans fat), 410 mg sodium, 56 g carbs (1 g fiber, 30 g sugar), 5 g protein
Old fashioned is right. It may have a smaller surface area than a plate full of syrupy pancakes but this pastry is stuffed with fat and loaded with as much sugar as you'd find in 7.5 packs of the white granular stuff. Looking for a smarter pick at the 'Bux? Check out our exclusive report, The Entire Starbucks Breakfast—Ranked.
Jamba Juice: Orange Dream Machine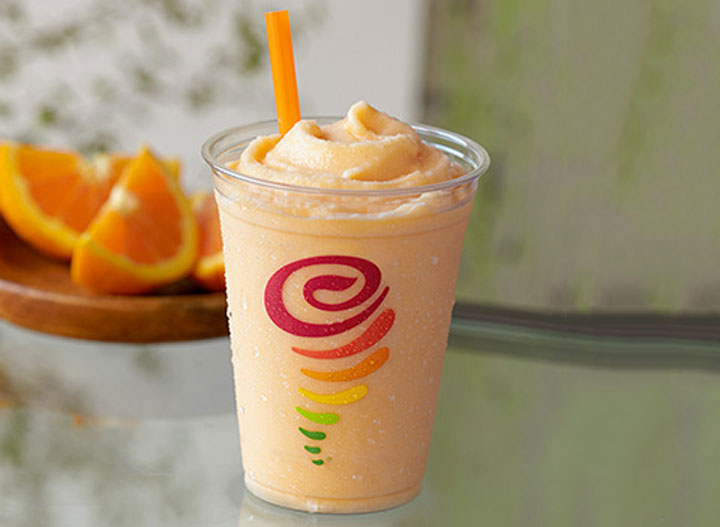 32 oz
: 470 calories, 1.5 g fat (1 g saturated fat, 0 g trans fat), 200 mg sodium, 103g carbs (1 g fiber, 97 g sugar), 10 g protein
Perhaps the "dream" in the name is induced by the sugar crash you have shortly after riding this Machine. Built on a base of orange juice, orange sherbet, and nonfat frozen yogurt, this smoothie is a calamitous collision of sugars. The chain's Orange Carrot Karma smoothie cuts the calories and sugars significantly while adding 4 grams of fiber, making it the more sensible of the chain's two orange-hued drinks. If you're really watching your weight, though, you'd be better off blending something at home with the help of the best-selling book, Zero Belly Smoothies. Weight-loss has never been more delicious!