25 Healthy Vegan Snacks You Can Take On the Go
Yep, vegans can enjoy portable snacks, too! Here are some of the best options.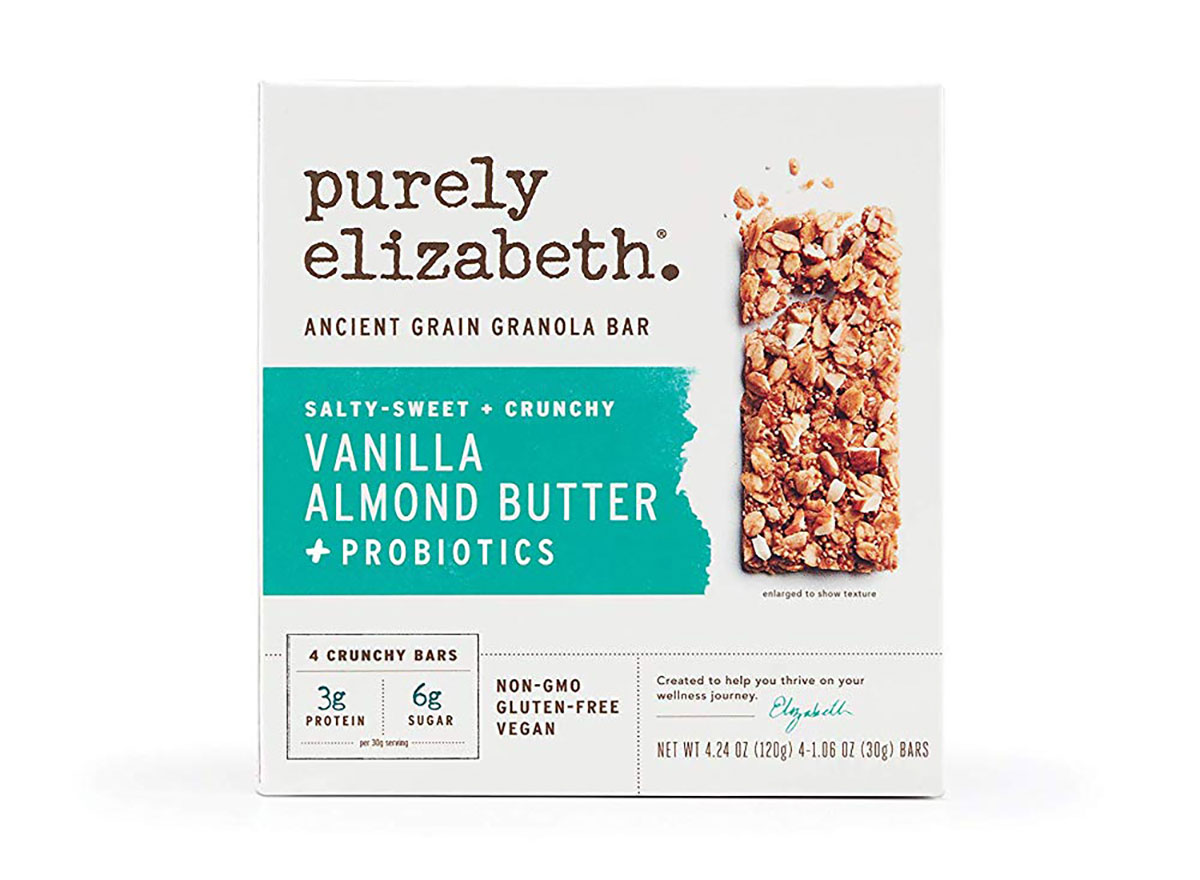 This post contains affiliate links. If you use these links to buy something, we may earn a commission.
One of the hardest parts of any diet is sticking to it, especially when you're hungry. Falling off the wagon is easy when you're hungry and there are non-healthy goodies in arm's reach. And if you follow a plant-based diet, it can be difficult to find vegan snacks, even more so healthy vegan snacks. But never fear, this list of 25 great options will help you stay on track.
These snacks are easy to throw in a purse, gym bag, or backpack and eat on the go. Even if you're not vegan, these snacks are perfect to help curb your cravings and tide you over until the next meal.
Lesser Evil "No Cheese" Cheesiness Paleo Puffs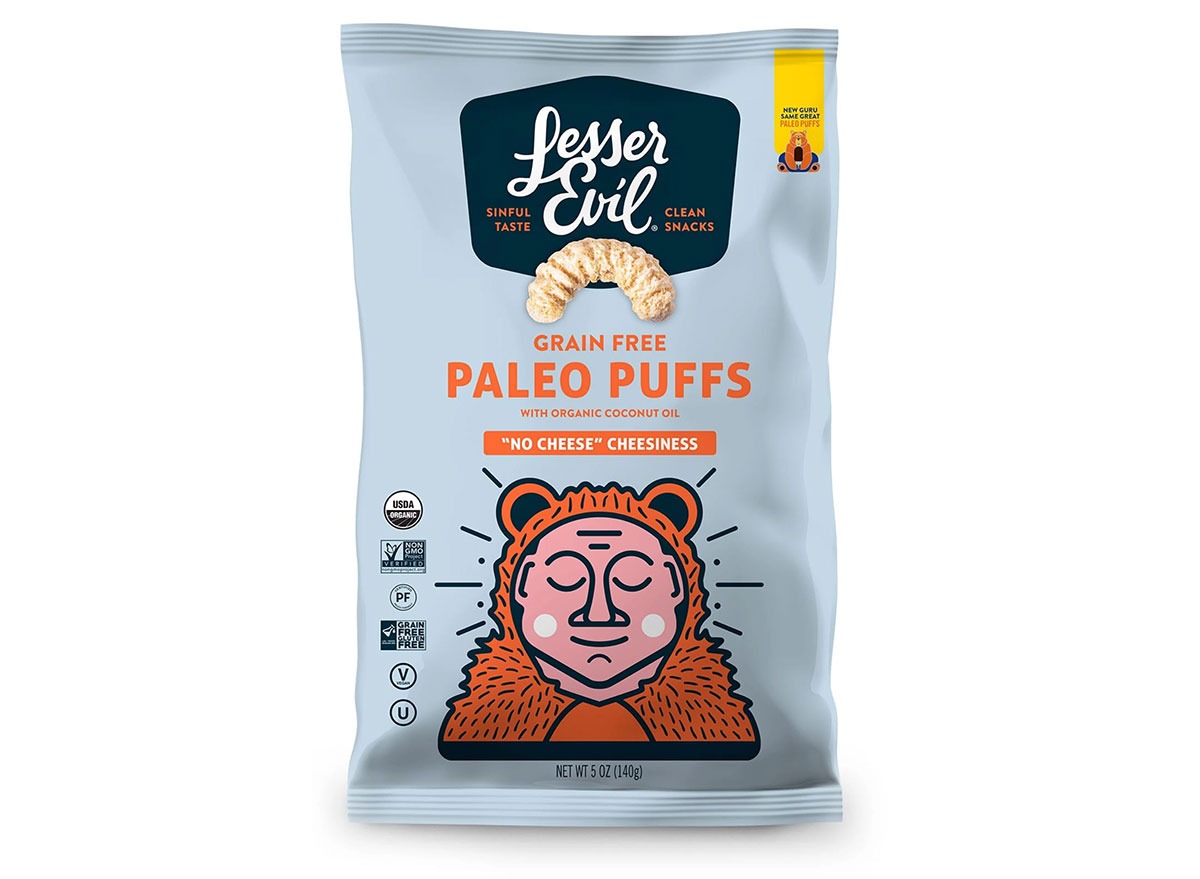 The "No Cheese" Cheesiness Paleo Puffs from Lesser Evil could easily be compared to a healthy Cheeto Puff. It will make you wonder how they got the cheesy flavor without the cheese.
These one-ounce bags only ring in at 130 calories, too. Plus, these puffs aren't just vegan, but also gluten-free, so they're a great snack for those with dietary restrictions. If you aren't feeling the cheesy flavor, Lesser Evil also has a variety of other salty and sweet paleo puff flavors.
Angie's BOOMCHICKAPOP Sea Salt Popcorn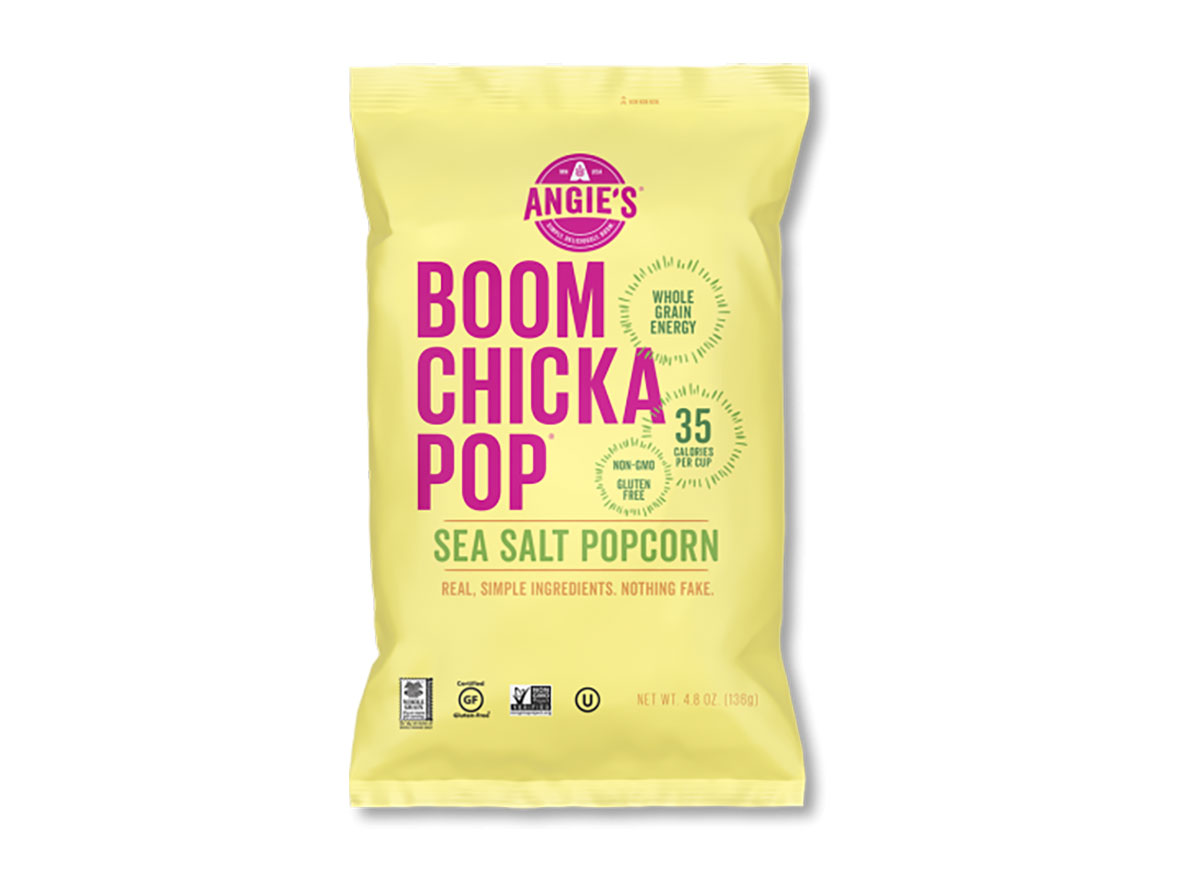 These individual bags of sea salt popcorn from Angie's BOOMCHICKAPOP are only 80 calories a bag. And each bag is a fairly large portion, with about two and a half cups of popcorn. These crunchy, salty treats are great for eating during a movie or on a road trip.
Kind Strawberry and Dark Chocolate Bar
This sweet treat, reminiscent of chocolate-covered strawberries, comes with half a serving of fruit per bar. It also contains apple and chia seeds making it a good source of fiber. If chocolate-covered strawberries aren't your jam, Kind's whole fruit bar also comes in a variety of flavors like mango apple chia or pineapple banana kale spinach bars. If you can't decide on which flavor to get, try the variety box with an assortment of all the flavors!
Love Corn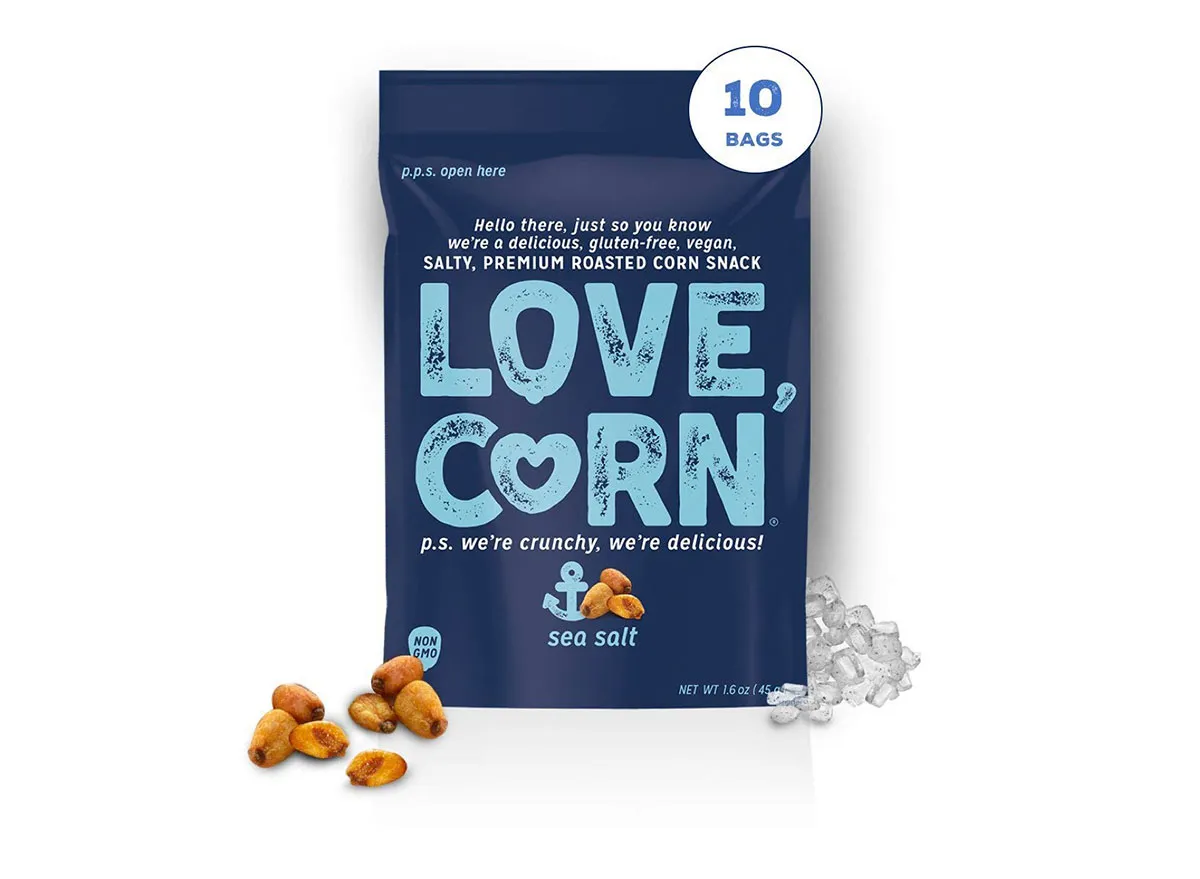 Vegan, dairy-free, gluten-free, and kosher, Love Corn comes in several guiltless varieties that are all an excellent source of fiber. These crunchy corn kernels come in sea salt, smoked BBQ, and habanero. Eat them by the handful while on the go or top your salads with them for a fun crunch.
Nature's Bakery Fig Bars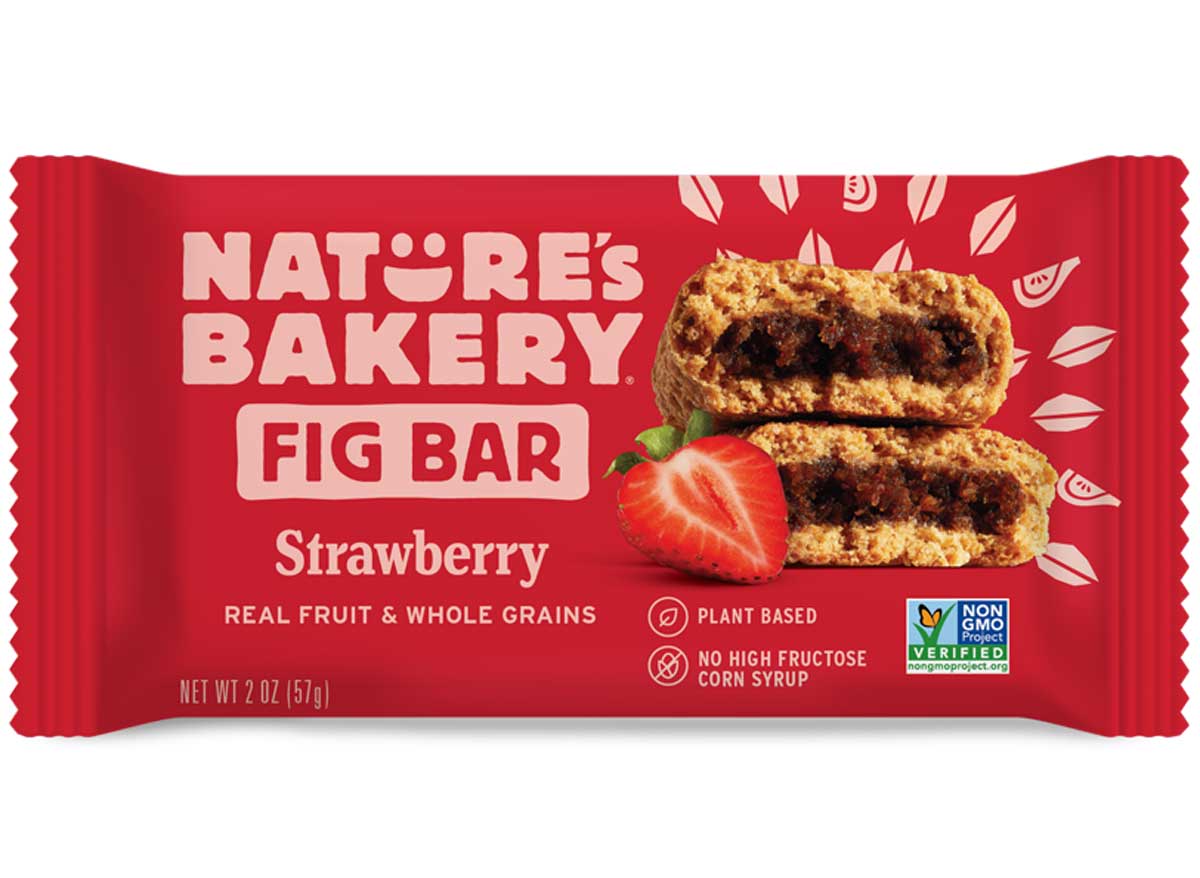 6254a4d1642c605c54bf1cab17d50f1e
Nature's Bakery Fig Bars come in a variety of fruit flavors, such as raspberry, apple cinnamon, and blueberry. And the hearty, delicious blueberry bars are 100 calories each. Gluten-free? Nature's Bakery also has a gluten-free line of bars. All of Nature's Bakery bars are vegan, except those containing honey.
Emerald Nuts 100-Calorie Variety Pack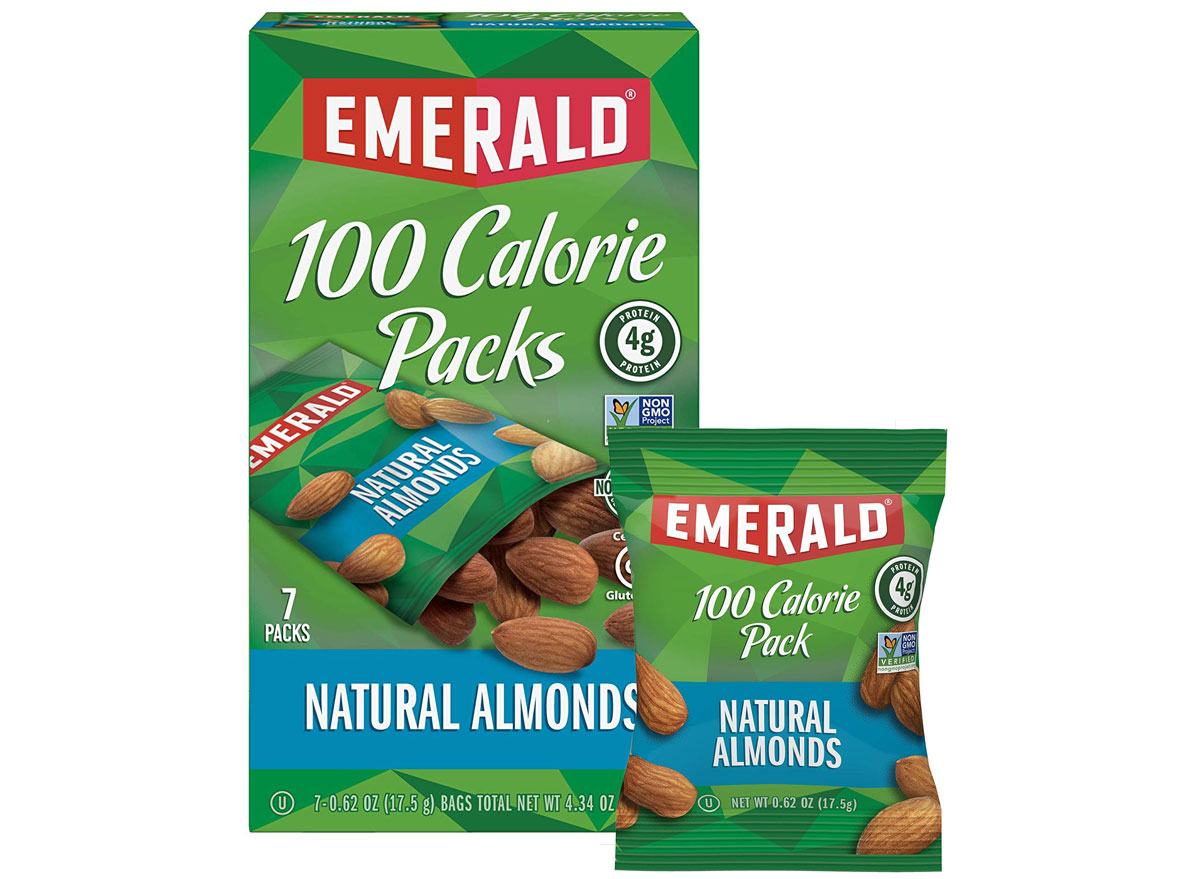 Dry roasted almonds, roasted cashews, and a mix of walnuts and almonds come in convenient 100-calorie packs in the Emerald Nuts Variety Pack. These are the perfect on-the-go snack when you're craving something salty. Nuts also have the added bonus of being a good source of protein and containing healthy fats.
Larabars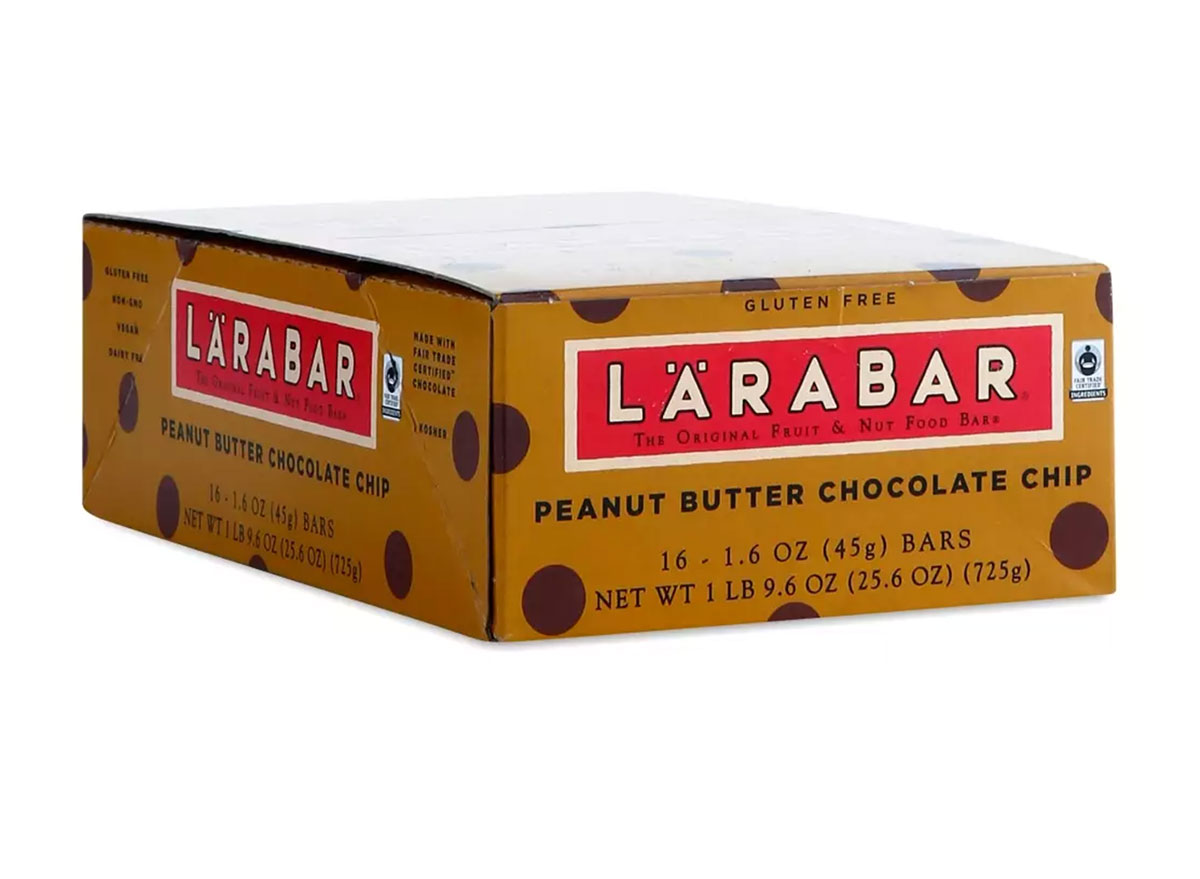 Minimally processed, and containing no more than 9 ingredients, Larabars are a great staple to have on hand. We recommend the blueberry muffin bar, which contains cashews, dates, apples, blueberry, and vanilla extract. Or, if you enjoy something more tart, try the cherry pie, which only contains three ingredients: dates, cherries, and almonds.
Stretch Island Fruit Leather Variety Pack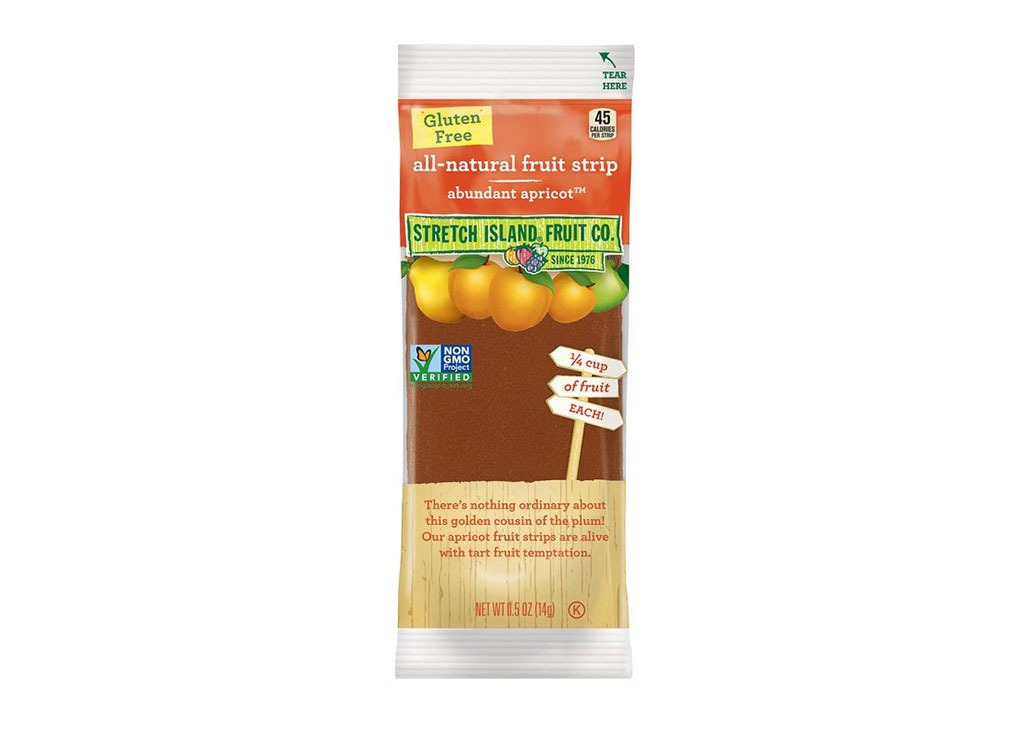 With a quarter cup of fruit per serving, Stretch Island Fruit Leather comes in convenient pre-wrapped, single-serving portions. Get the variety pack to try all the different flavors of fruit leather: cherry, apple, strawberry, grape, raspberry, and apricot. As an added bonus, these strips come with 100 percent fruit ingredients and no added sugar.
MadeGood Granola Bars Sweet & Salty
All MadeGood granola bars and products come with a nutrients equivalent of a serving of vegetables. Their sweet and salty granola bar is perfect for when you can't decide between the two. This bar, made with oats, tastes similar to peanuts but it is free of peanuts, so it's perfect for teachers in a peanut and nut-free location.
MammaChia Chia Squeeze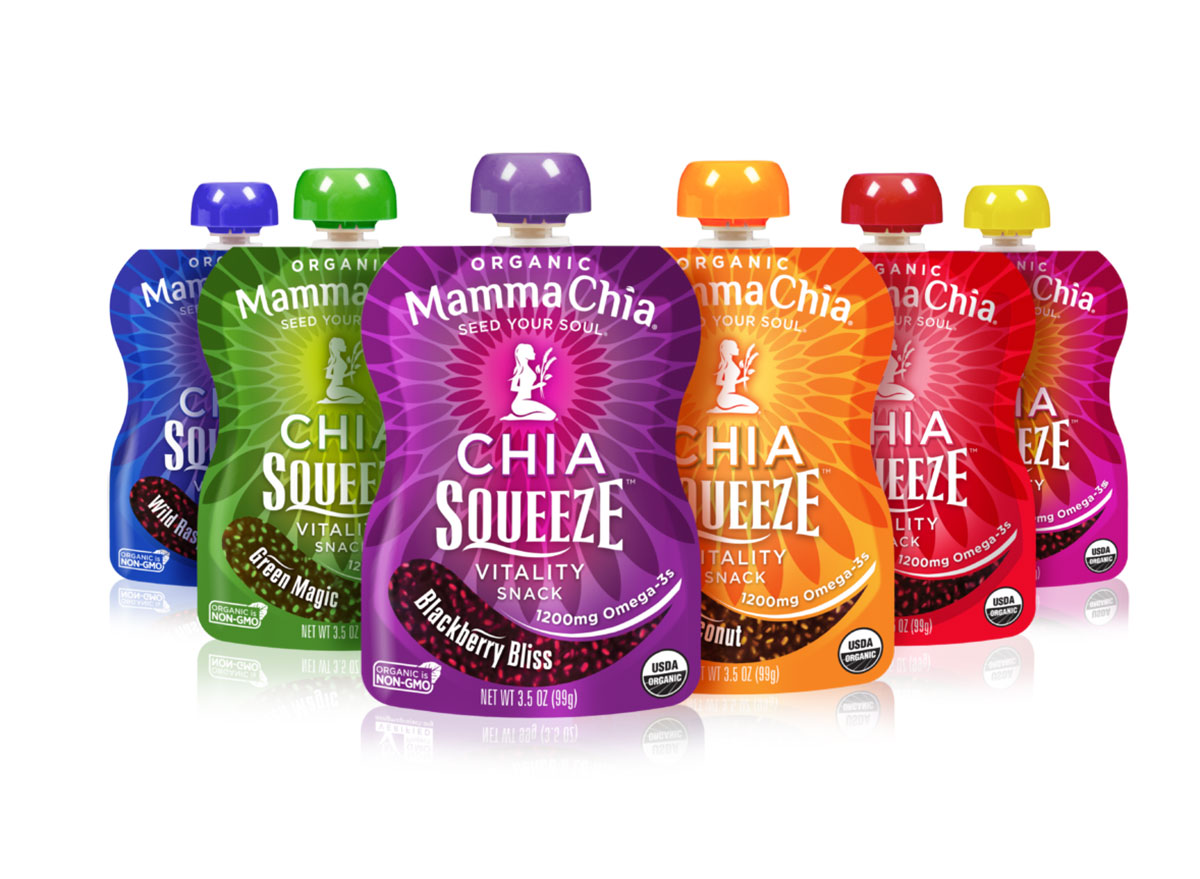 This fun and tasty snack is sure to be a hit with children and adults alike. MammaChia Chia Squeeze mixes chia seeds and delicious fruits and vegetables, to make a convenient, healthy snack that is easily portable. Chia seeds are a superfood packed with Omega-3, protein, and fiber. This snack comes in a variety of flavors: Blackberry Bliss, Wild Raspberry, Green Magic, Mango Coconut, Strawberry Banana, and Cherry Beet.
Hippeas Chickpea Puffs Sriracha Sunrise
For a spicy kick, Hippeas Chickpea Puffs in Sriracha Sunrise, taste like tangy-sweet and spicy jalapeno sprinkled with paprika. A one-ounce serving of these puffs is only 130 calories, and each serving contains protein and fiber. If you can't handle the heat, Hippeas Chickpea Puffs also come in vegan white cheddar and bohemian barbecue flavors.
Sabra Snackers Classic Hummus with Pretzels
Hummus and pretzels, need we say more? Probably not, but we will: This convenient snack pack is a tasty blend of chickpeas, garlic, and ground sesame seeds with pretzel crisps for dipping on the side. This hearty and filling small-sized container, perfect for any bag, has five grams of fiber and 10 grams of protein.
Wonderful Pistachios Roasted and Salted Pistachios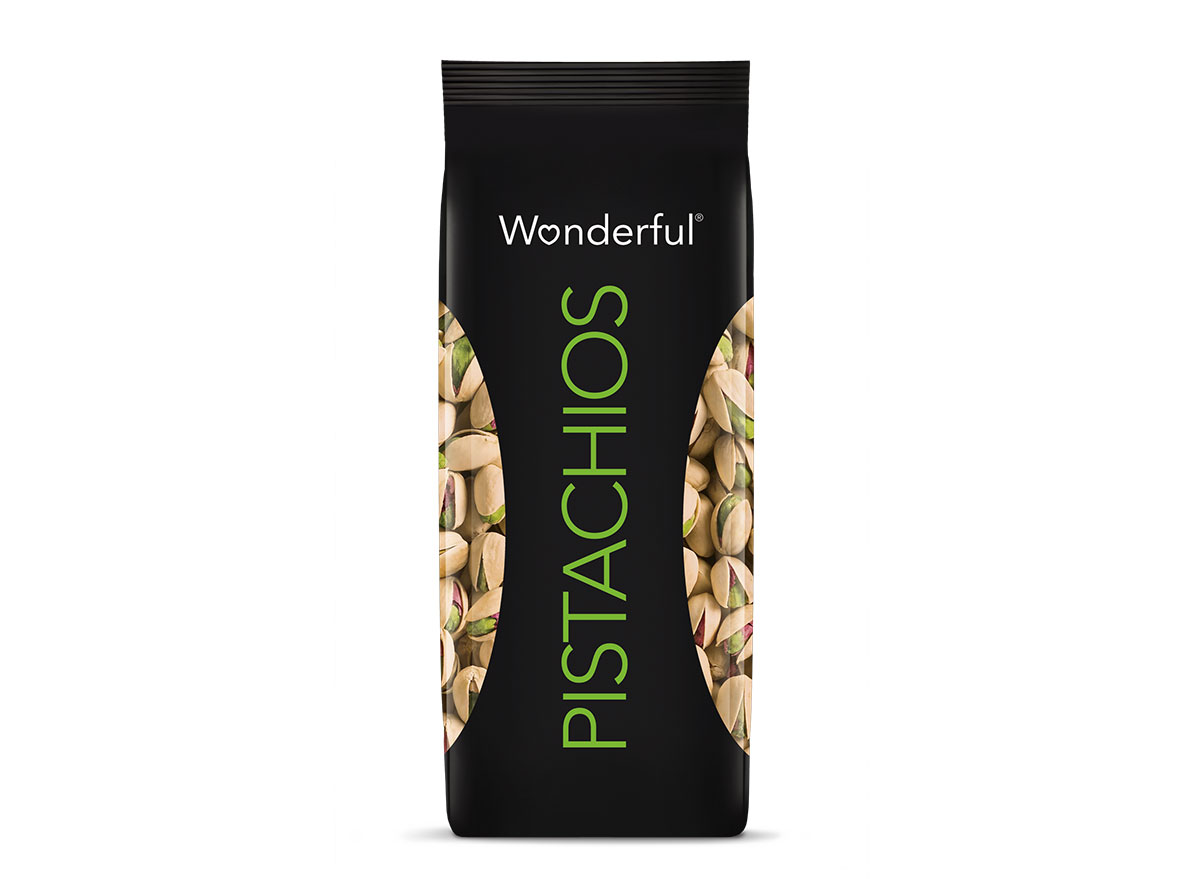 Grab a bag of these roasted pistachios to keep in your desk or purse for a boost of plant-based protein during the day. The nutrients found in pistachios are great for overall health. They are a good source of fiber and healthy fats, too.
Brami Lupini Snacks
If you haven't heard of Brami beans, you have been missing out. The Brami bean is naturally high in plant protein—it has 50 percent more protein than a chickpea. It is high in fiber and low in the things you don't want: fat, carbs, and sugar. And it has 80 percent fewer calories than almonds. Get the multi-pack and try all their flavors sea salt, garlic and herb, chili lime, and hot pepper. Eat them on their own or in a salad.
Bobo's Blueberry Lemon Poppyseed Toaster Pastry
Perfect for on the run, Bobo's Blueberry Lemon Poppyseed Toaster Pastry is the brand's interpretation of a coffeehouse favorite. Delicious cold or hot, these toaster pastries are also gluten-free and full of tasty blueberry jam, while still retaining a low glycemic index. Eat them straight out of the bag or enjoy them warmed up if you have more time.
Rhythm Superfoods Kale Chips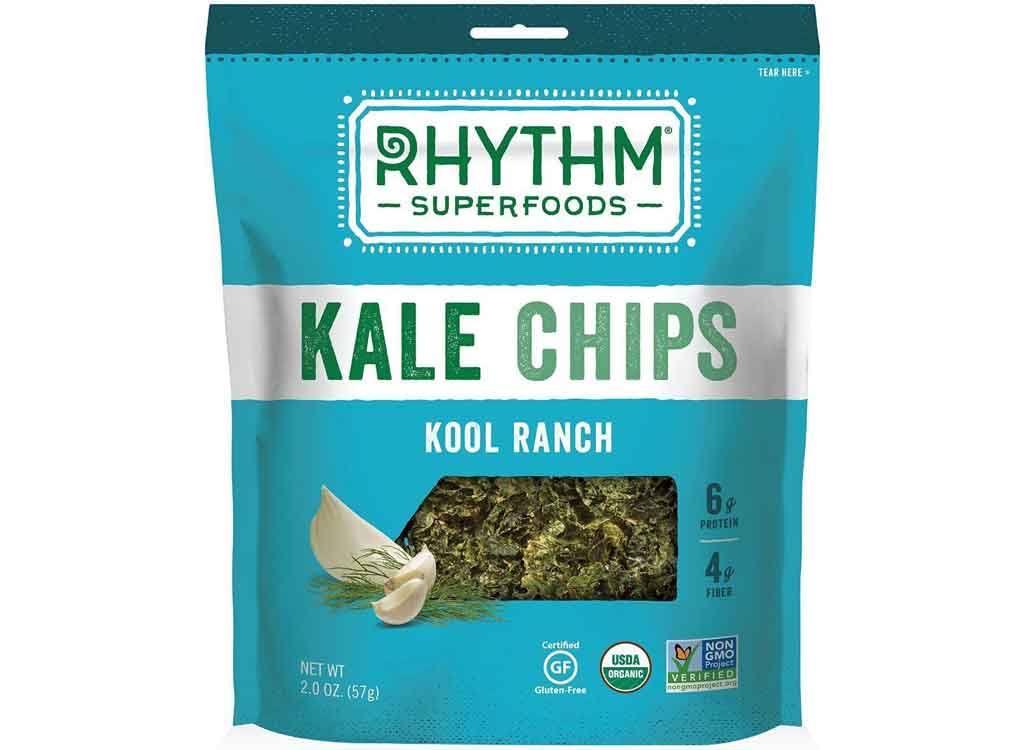 Your busy day doesn't have to stop you from making healthy choices with the help of Rhythm Superfoods Kale Chips. These snack-size bags of kale chips can satisfy most cravings. They come in packs of original, zesty nacho, and kool ranch flavors. In addition to being delicious, this superfood also is a good source of fiber and protein.
Primal Spirit Meatless Vegan Jerky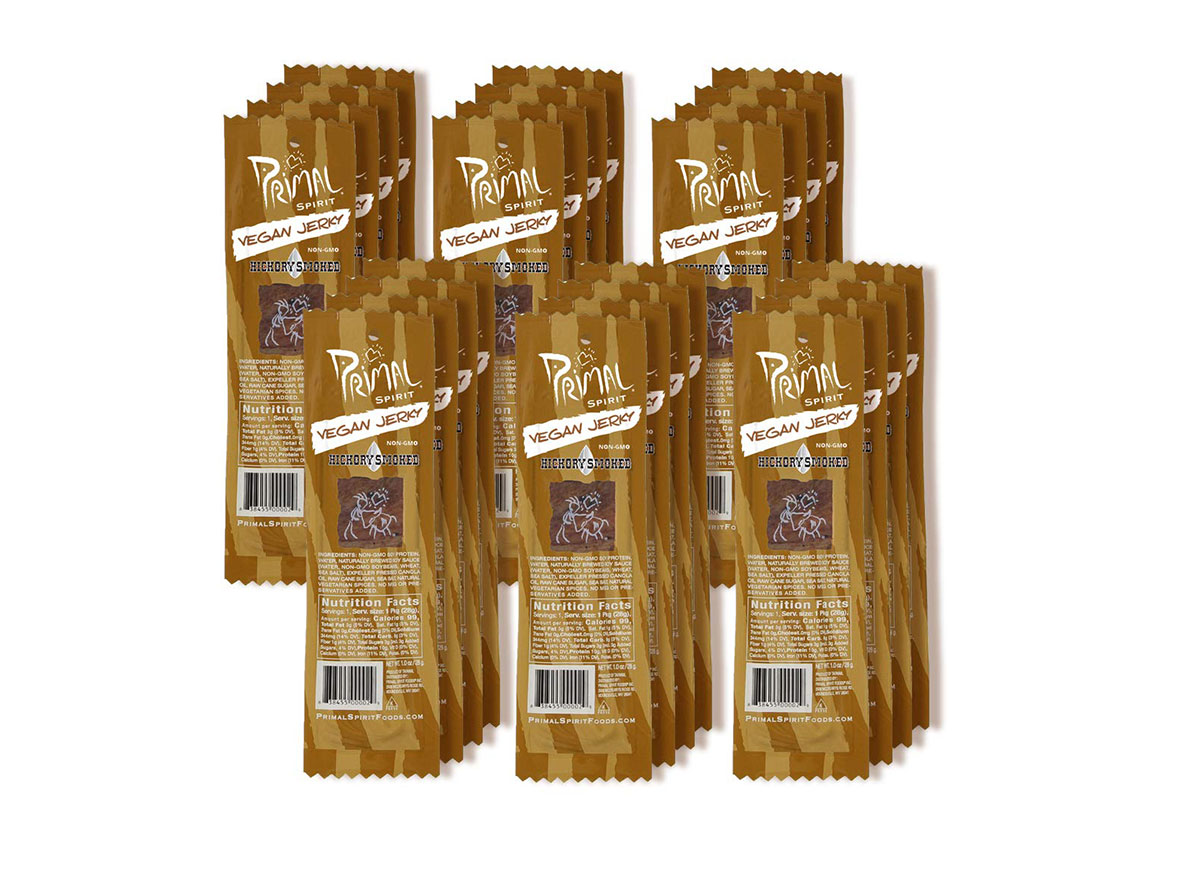 Beef jerky has always been a great on-the-go option for meat-eaters, but now there's vegan jerky for vegetarians and vegans alike. This meat alternative jerky is made from healthy plant-based protein, giving you that meaty indulgence, without the meat.
Cal-Organic Baby Carrot Snack Packs
In a rush and don't have time to fill up a bag with your favorite veggies? Quick and healthy snacking is a lot easier with these individually packed baby carrots. Carrots are a great source of beta carotene, fiber, potassium, and antioxidants, too.
Mott's Sliced Apples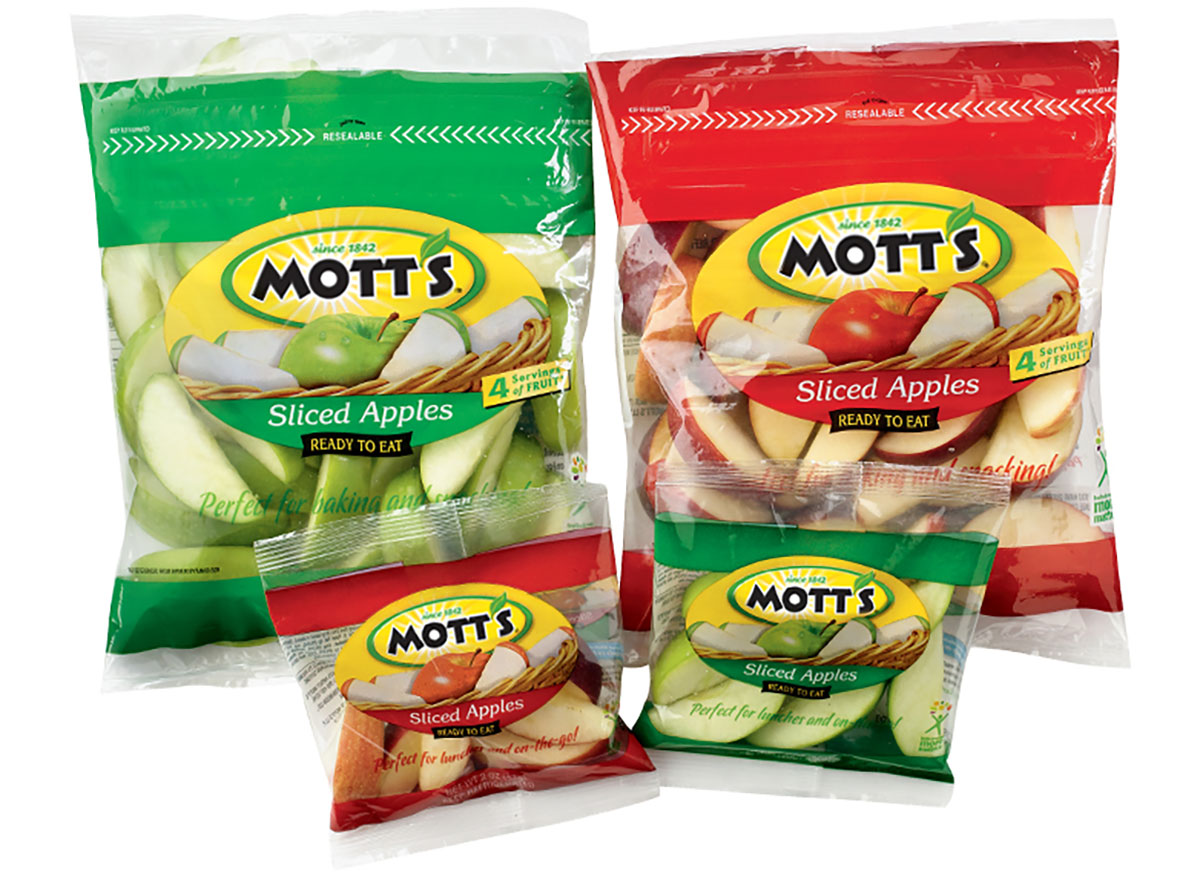 If you love apples, but not biting into the whole apple, then Mott's Sliced Apples are the snack for you! These sliced apples are available in both re-sealable multi-serving bags and single-serving packages for the busy days. One serving of Mott's apple slices contains more than 100 percent of your daily value of vitamin C!
Annie's Organic Fruit Snacks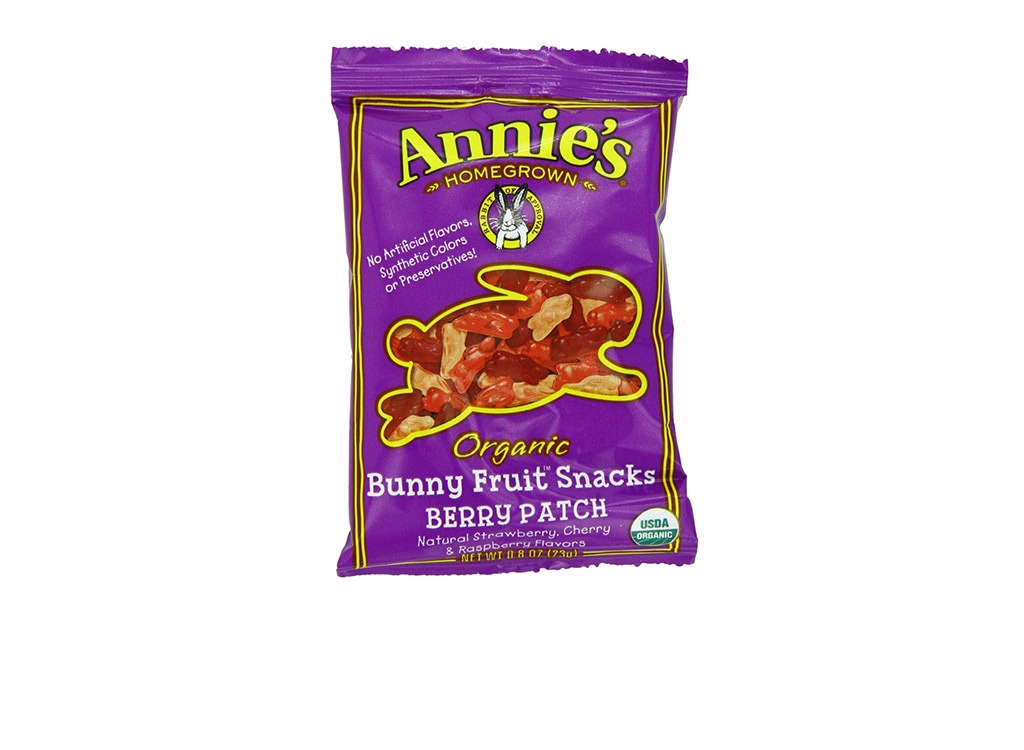 Not only are these fruit snacks, organic, vegan and gluten-free, but they also come in adorable bunny shapes. These gummies are packed with 100 percent of your daily value of vitamin C, too. Another benefit to these gummies is that they are made with 100 percent fruit juice and no artificial flavors, synthetic colors or preservatives. The hardest decision you'll have while snacking on these is on deciding between the Summer Strawberry and Berry Patch.
Sensible Foods Crunch Dried Fruit Variety Pack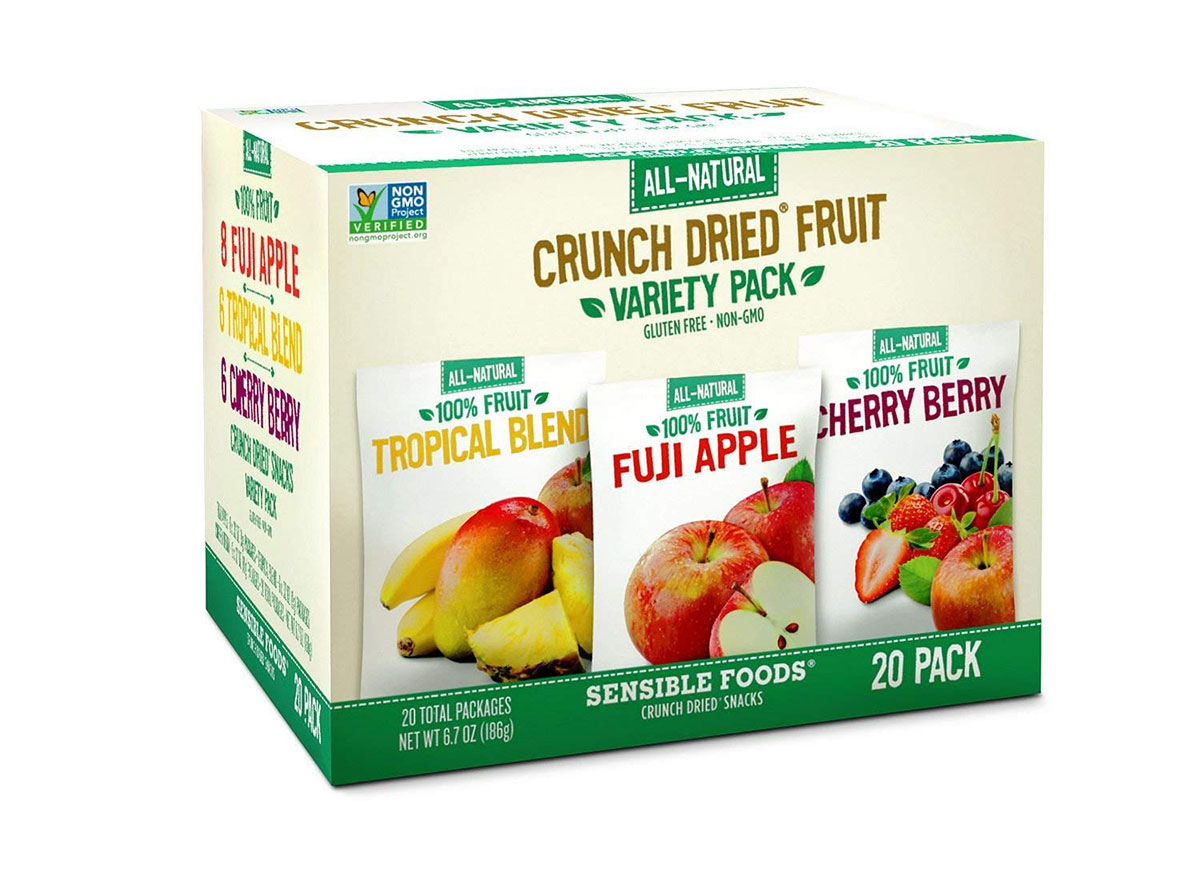 Try these naturally sweetened and crunchy dried fruits that are a healthy way to satisfy your snack cravings. Sensible Foods' utilizes a unique drying process to retain the full flavor and nutritional value, without compromising the natural sweetness. Eat them on the go straight out of the bag, or when you have more time, try them as a yogurt topping. And if that doesn't impress you, they are made from 100 percent fruit.
GimMe Organic Roasted Seaweed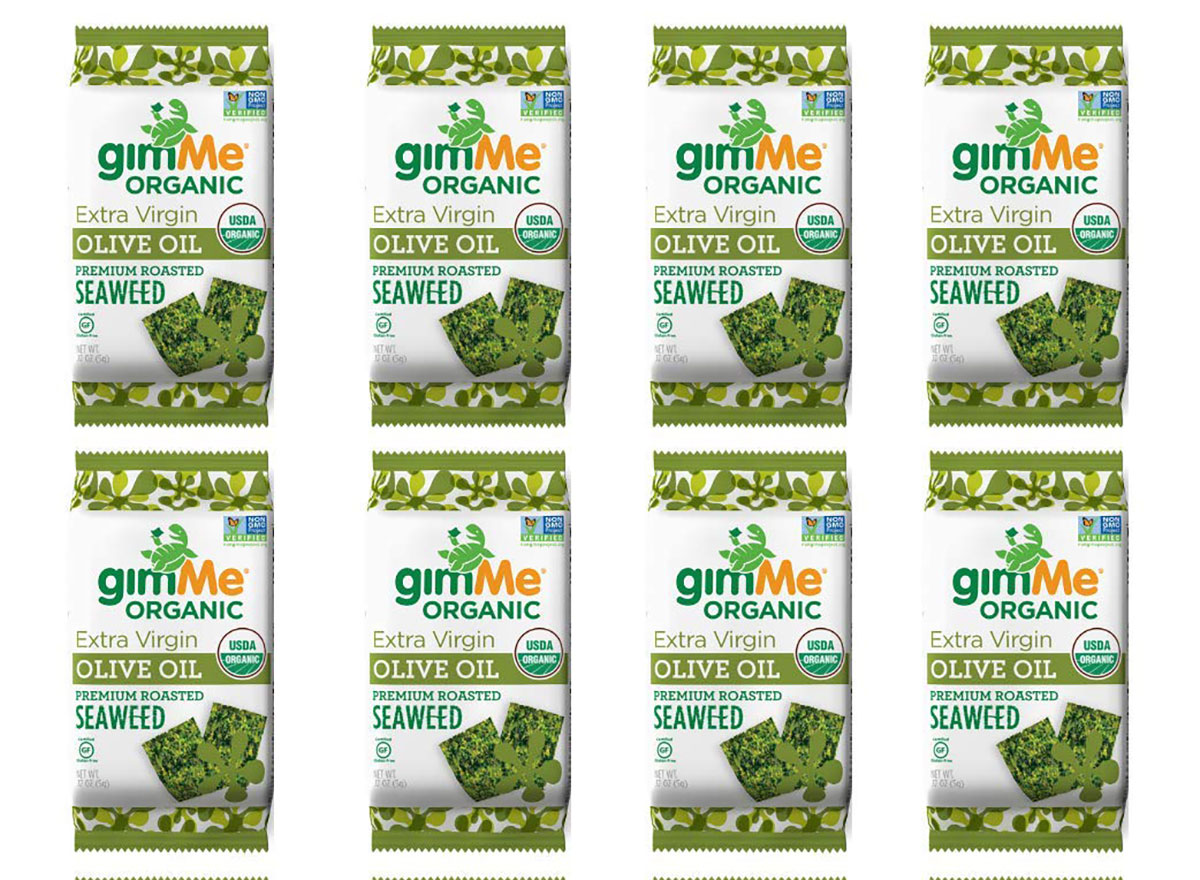 Toasted to crispy perfection, gimMe harvests the highest quality, organic seaweed to produce their roasted seaweed snacks. It doesn't only taste great, but also has a high density of vitamins and minerals compared to other vegetables (fun fact: seaweed is a vegetable). Eat this crunchy treat for a healthy, salty potato chip substitute.
Noka Superfood Pouches
Smoothies can be delicious and jam-packed with nutritious ingredients, but gathering all the ingredients and throwing them in the blender can be time-consuming when you're in a rush. Noka Superfood Pouches help with that dilemma. These smoothies don't require refrigeration, and you can drink them directly from the pouch. Each pouch has fruits, veggies, and plant protein. The six-flavor variety pack comes with flavors like blackberry vanilla or sweet potato goji.
Munk Pack Raspberry Coconut Oatmeal Fruit Squeeze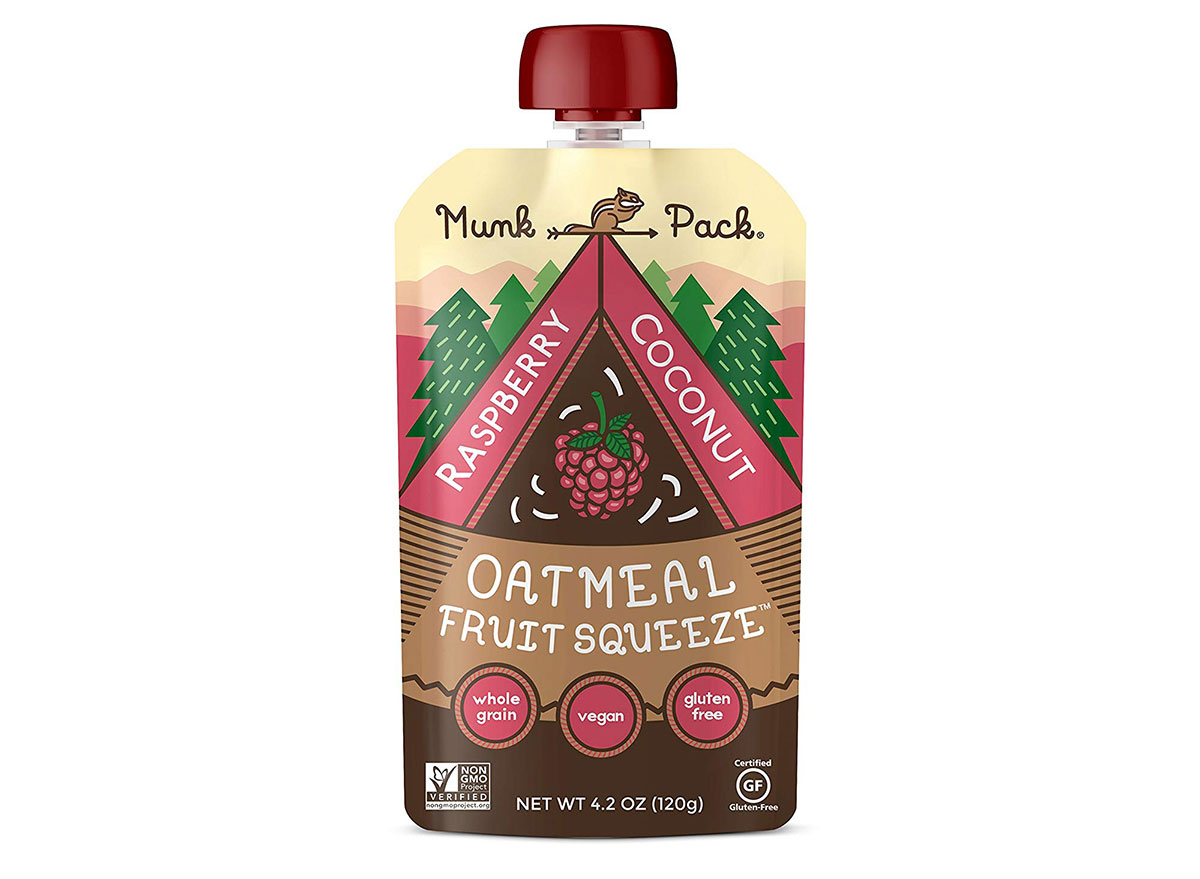 Have you been searching for easy overnight oats that are also easy to transport? Look no further than Munk Pack's Ready to Eat Oatmeal on the Go. They don't even require a spoon or a fridge! We recommend the raspberry coconut flavor. With fresh raspberries and coconut shreds, this oatmeal will be sure to keep you fueled for your long day ahead.
Purely Elizabeth Vanilla Almond Butter Ancient Grain Granola Bar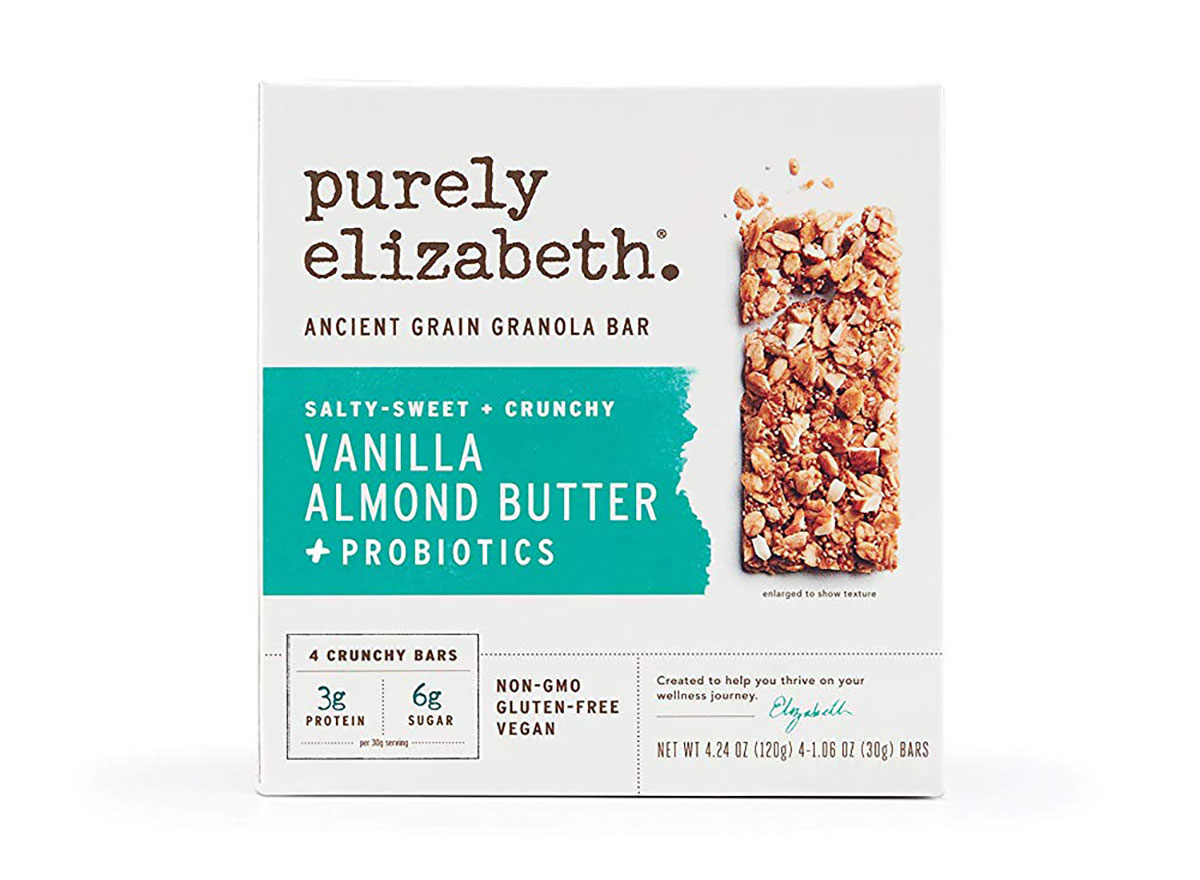 Hints of vanilla with creamy almond butter make this Purely Elizabeth granola bar a delicious and salty-sweet treat. Purely Elizabeth bars are unique because they use a patented strain of vegan probiotics called GanedenBC30. Not only will you have this nice crunchy bar, but also good gut-health with the help of the probiotic! They also use coconut sugar, so their bars have a low glycemic index.