7 Vintage Cereal Ads You Have to See to Believe
Who else remembers Baron Von Redberry?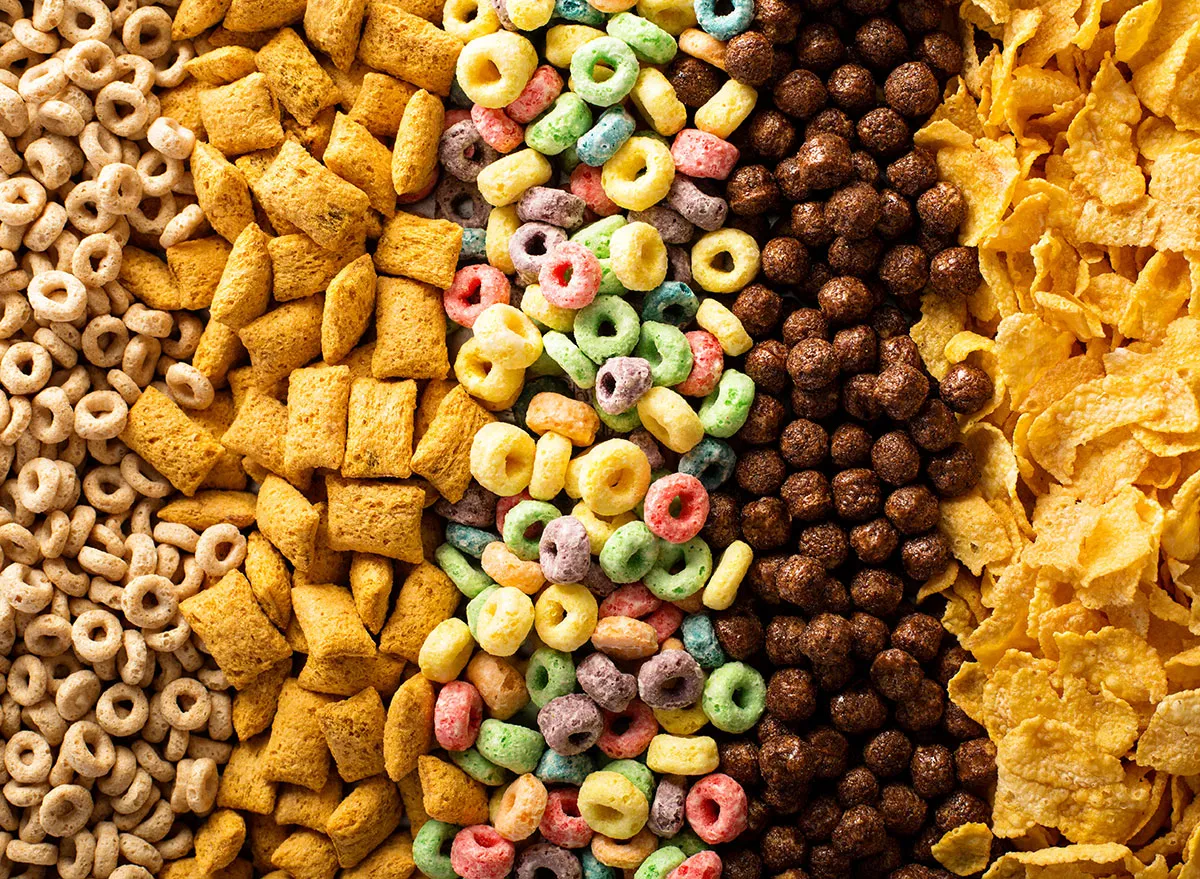 These days, parents are a little more health-conscious about what kids eat—you're less likely to find sugar-laden bowls of cereal at the breakfast table or juice boxes at lunch. But before we knew what high fructose corn syrup was, kids' cereals were just plain fun (and delicious, too). And with outlandish cartoon mascots and kids who got into capers, the commercials for these cereals were even better than the foods themselves.
Here are some fun vintage cereal ads from the '70s, '80s, and '90s. These cereals aren't around today, but their memories live on.
And for more throwbacks, check out these 15 Classic American Desserts That Deserve a Comeback.6254a4d1642c605c54bf1cab17d50f1e
Cereal maker Ralston went all-in on the fact that "Waffelo" sort of sounds like "buffalo." This '80s cereal commercial featured "Waffelo Bill" and his horse, with the cartoon character calling himself a "waffelo hunter" and speaking like someone from an old Western movie. You have to see it to believe it.
Waffle Crisp's Grandma in Disguise
Not to be outdone by Waffelos, this '90s Waffle Crisp commercial featured a grandma going undercover at the cereal factory to snag some Waffle Crisp for her grandson and his friends. It's pretty wholesome—until the last few seconds when it's revealed that the "grandma" is really another kid in disguise. (Just watch it.)
Crazy Cow's Bovine in Space
We're on board with any cereal that turns your milk chocolate-flavored. But why did this '70s commercial feature astronauts and have the cow in a space outfit, when nothing about the cereal was space-related?
Cap'n Crunch's Choco Donut Racetrack
This is another ad where the cartoon doesn't exactly match the product. Like Crazy Cow, Cap'n Crunch Choco Donuts cereal promised to turn your cereal milk chocolate-flavored. But why did the setting of this commercial switch from the grocery store to a racetrack? There's just too much going on here—and the high-speed energy of the racetrack doesn't exactly match the slump you'll feel once that cereal sugar rush is gone.
Fruity Marshmallow Krispies' Conga Line
"Fruity Marshmallow Krispies" isn't exactly a phrase that rolls off the tongue. But somehow, it works for this '80s cereal ad. It made breakfast look way more fun than it actually is, that's for sure.
Yummy Mummy's Monster Mashup
What could make Count Chocula and Frankberry get along with a mummy they just met? A bowl of cereal, of course! You have to admire General Mills' commitment to the backstory of the monster-themed cereals of yore.
Baron Von Redberry's Balloon-Powered Racecars
Who wouldn't want to have as much fun as the cartoon Baron Von Redberry and Sir Grapefellow always did in their cereal ads? These cereals were from the good old days when each box contained a prize (in this case, iron-on decals featuring the cereal mascots).
And when you're cooking at home, don't miss these 52 Life-Changing Kitchen Hacks That'll Make You Enjoy Cooking Again.
Meghan De Maria
Meghan De Maria is a senior editor at
Eat This, Not That!
, specializing in food, product, and restaurant coverage.
Read more about Meghan