The Most Popular Cereal the Year You Were Born
In the '70s and '80s, cartoon-inspired cereals reigned supreme.
Childhood was a simpler time, when we weren't worried about how much sugar was in our breakfast or whether there was enough time to eat a healthy meal. All that mattered back then was how delicious our breakfast cereal was. And if the box happened to feature our favorite cartoon character, that was even better.
If you're feeling nostalgic for those simpler times, you're in luck. We've rounded up some throwback cereals from the '70s, '80s, and '90s. Some of them are still available, while others aren't. Either way, it's fun to remember those easy days of watching cartoons with a bowl of cereal in hand.
And for more throwbacks, don't miss these 15 Classic American Desserts That Deserve a Comeback.
1970s Cereals
1970: Honeycomb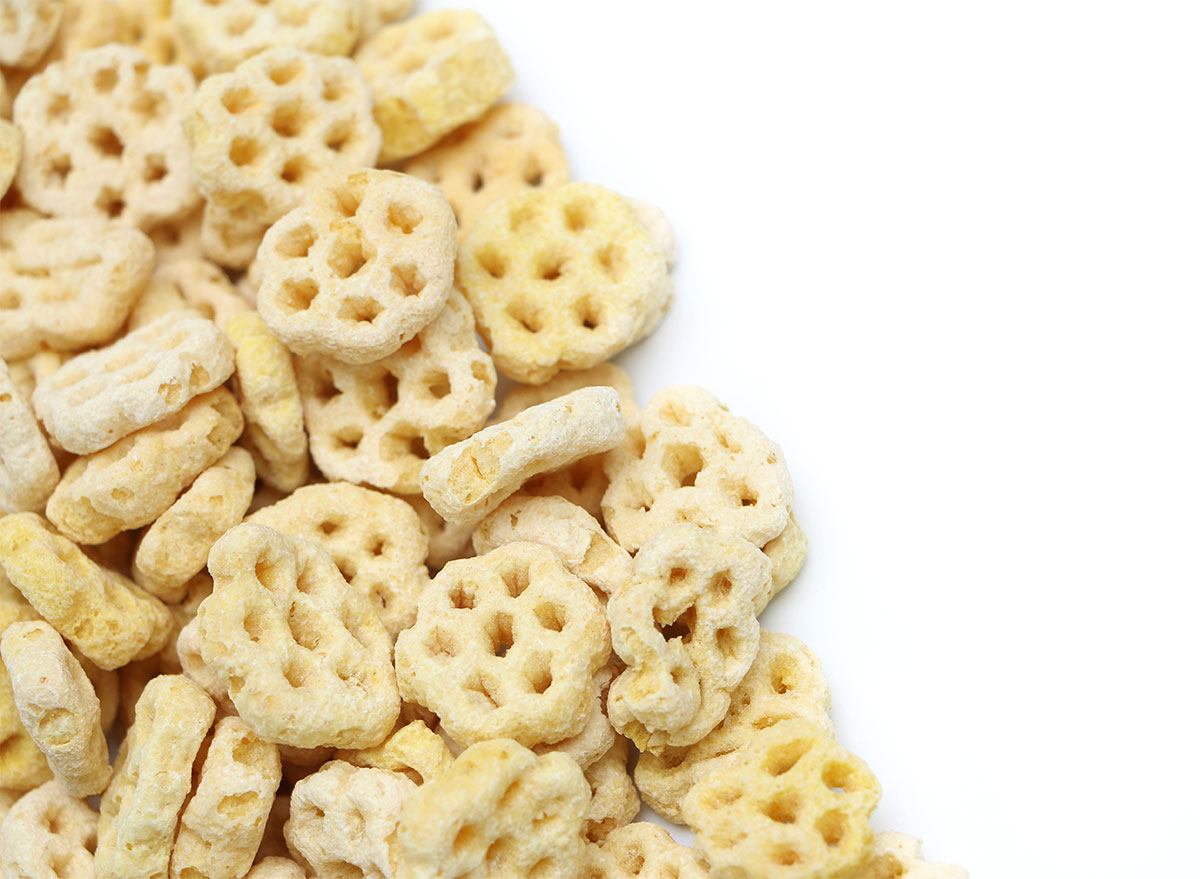 This Post cereal was invented in 1965, which means plenty of '70s kids grew up on it. (So did '90s kids, who will remember the "Me want Honeycomb" ads.)
1971: Fruity Pebbles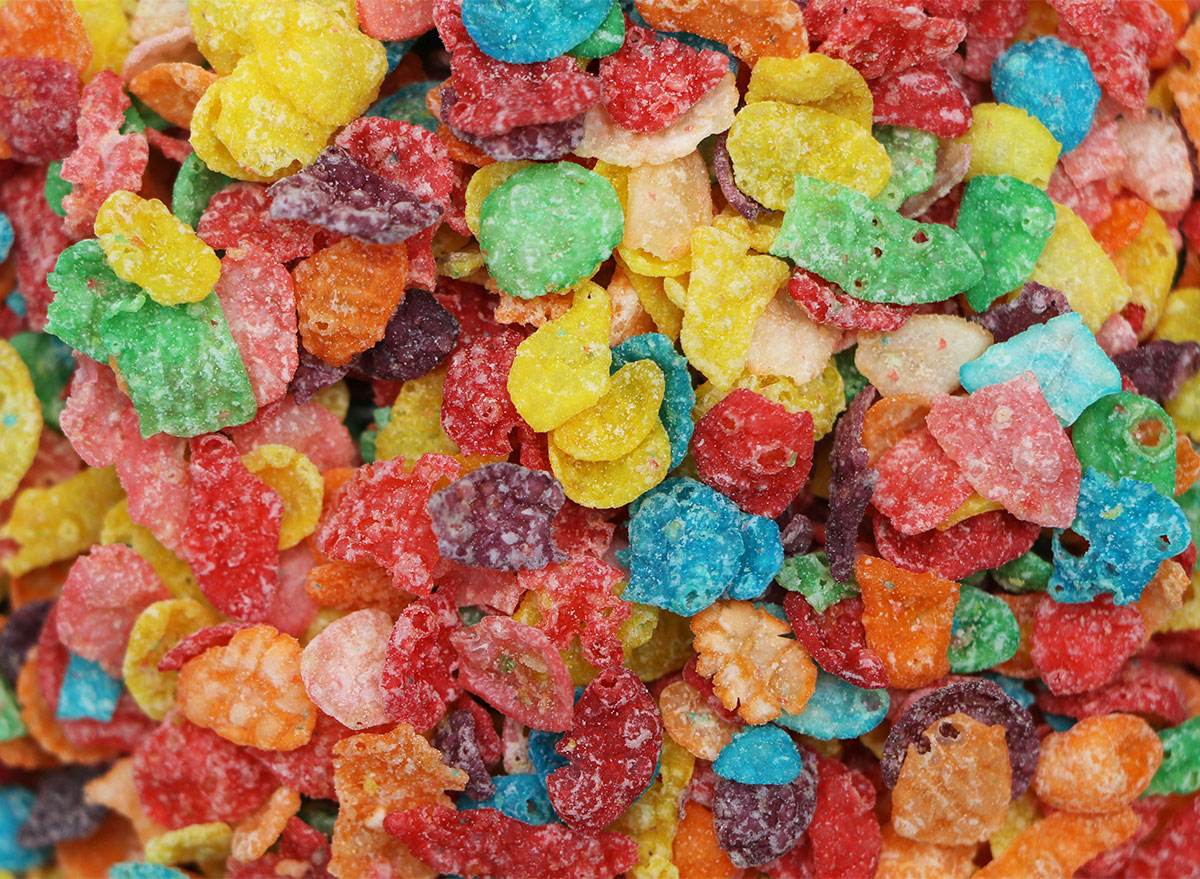 The Flintstones inspired two kinds of cereal, Fruity Pebbles and Cocoa Pebbles, that hit store shelves in the '70s. Kids today might not know the Stone Age-set cartoon, but they still know this fruity cereal.
1972: Count Chocula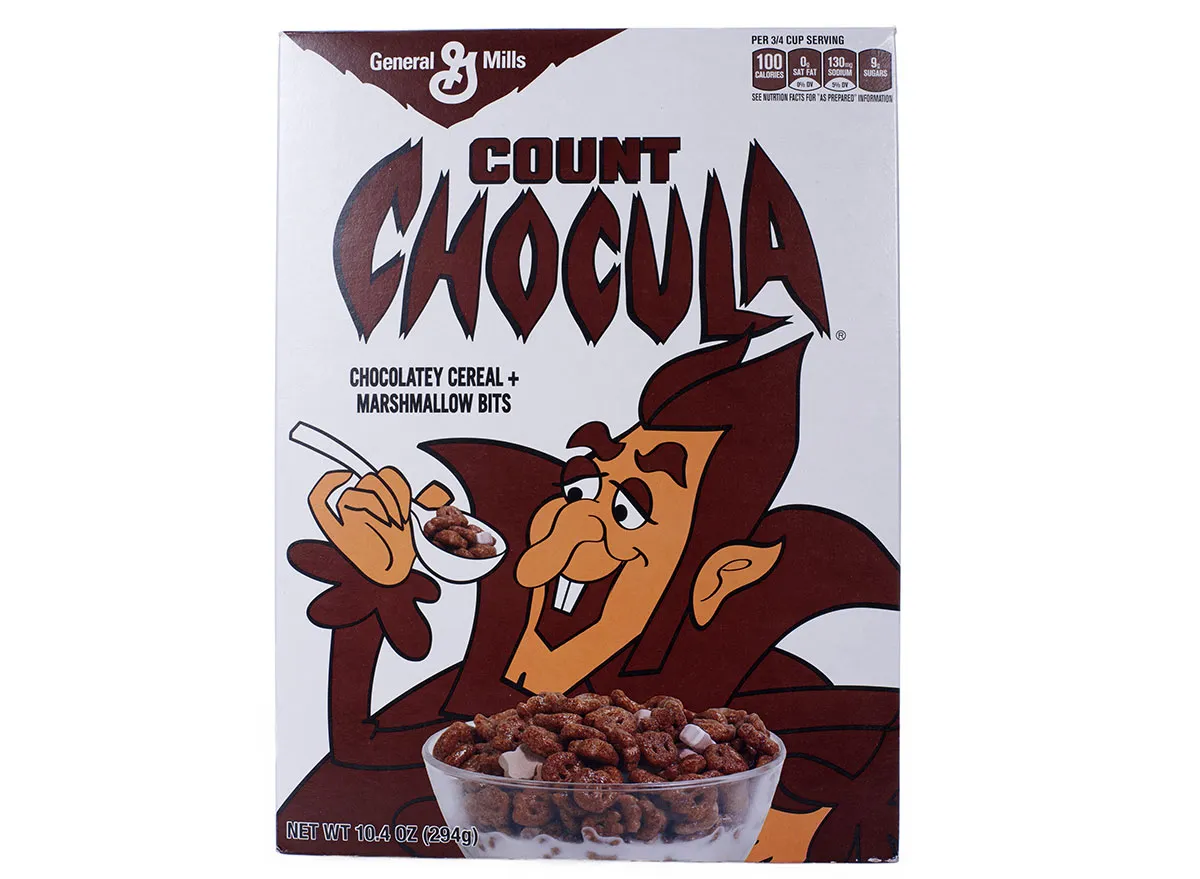 The 1970s brought us monster cereals, including Count Chocula, Franken Berry, and Boo Berry. The flavors were nothing too inventive, but the packaging is pretty fun.
And for more from the '70s, check out these 15 Lunchbag Staples from the 1970s You've Totally Forgotten About.
1973: Pink Panther Flakes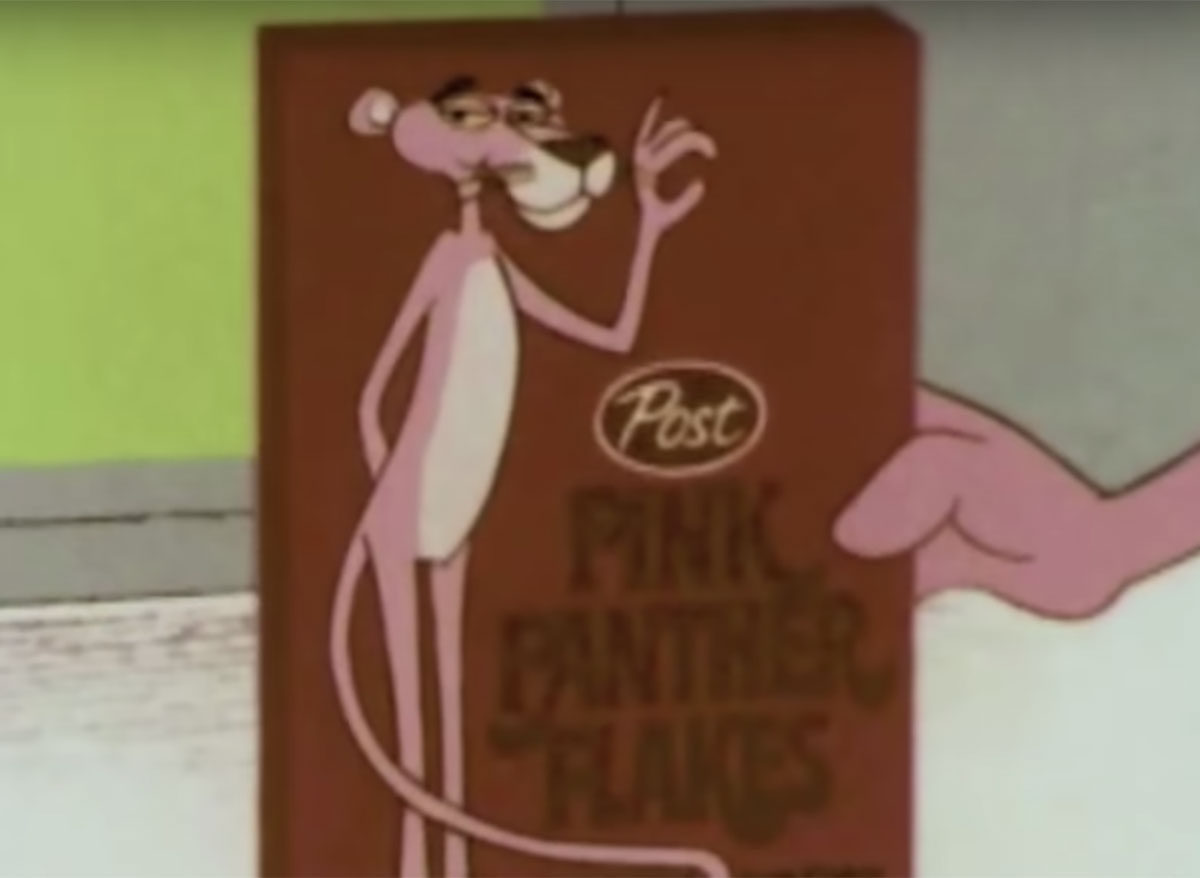 Was there anything better than waking up on a Saturday morning and watching The Pink Panther Show with a bowl of Pink Panther Flakes The fact that the cereal turned the milk pink made this breakfast even more fun.
1974: Magic Puffs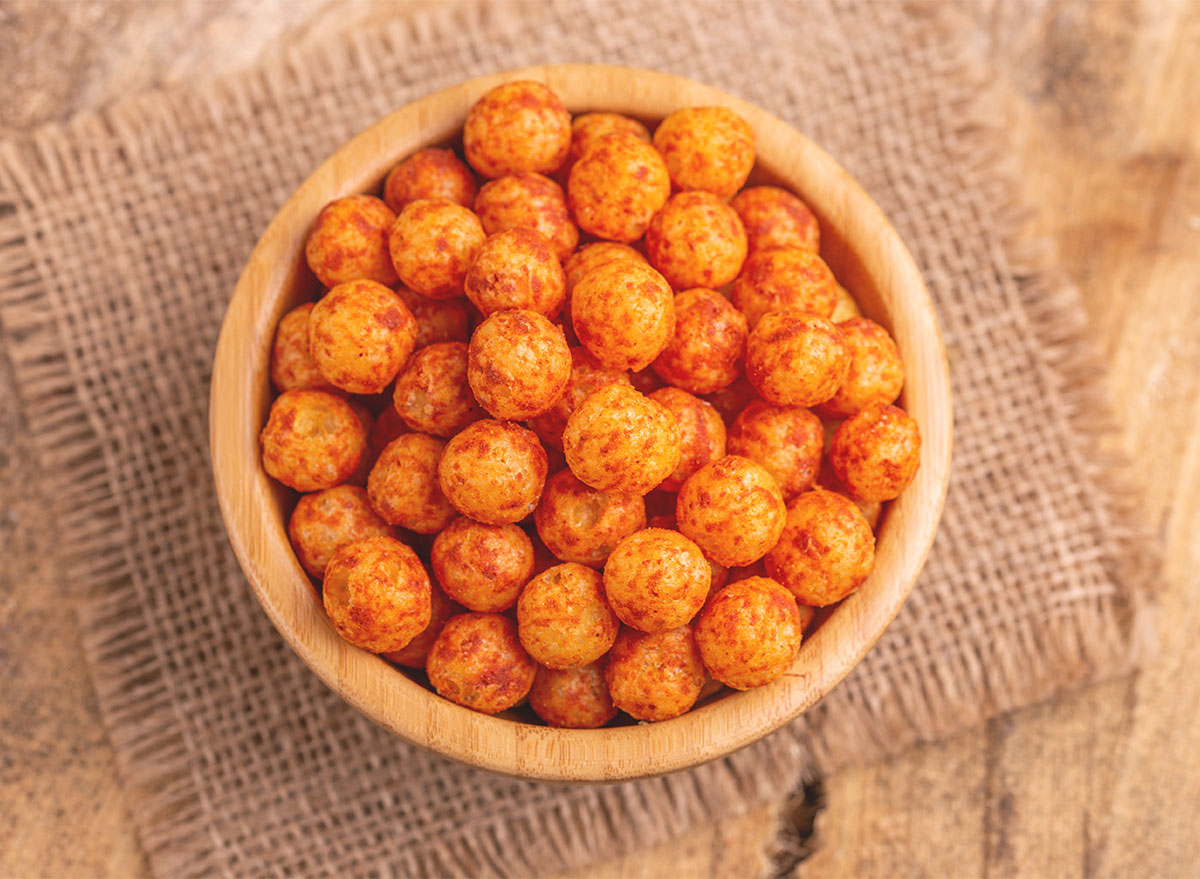 Aspiring magicians loved this '70s cereal and its mascot, a magic hat. Magic Puffs were "crunchy frosted cereal puffs," but they just weren't exciting enough to stand the test of time.
Looking for more nostalgia? Don't miss these 15 Gross Foods from the 1970s We Actually Want to Try.
1975: Golden Grahams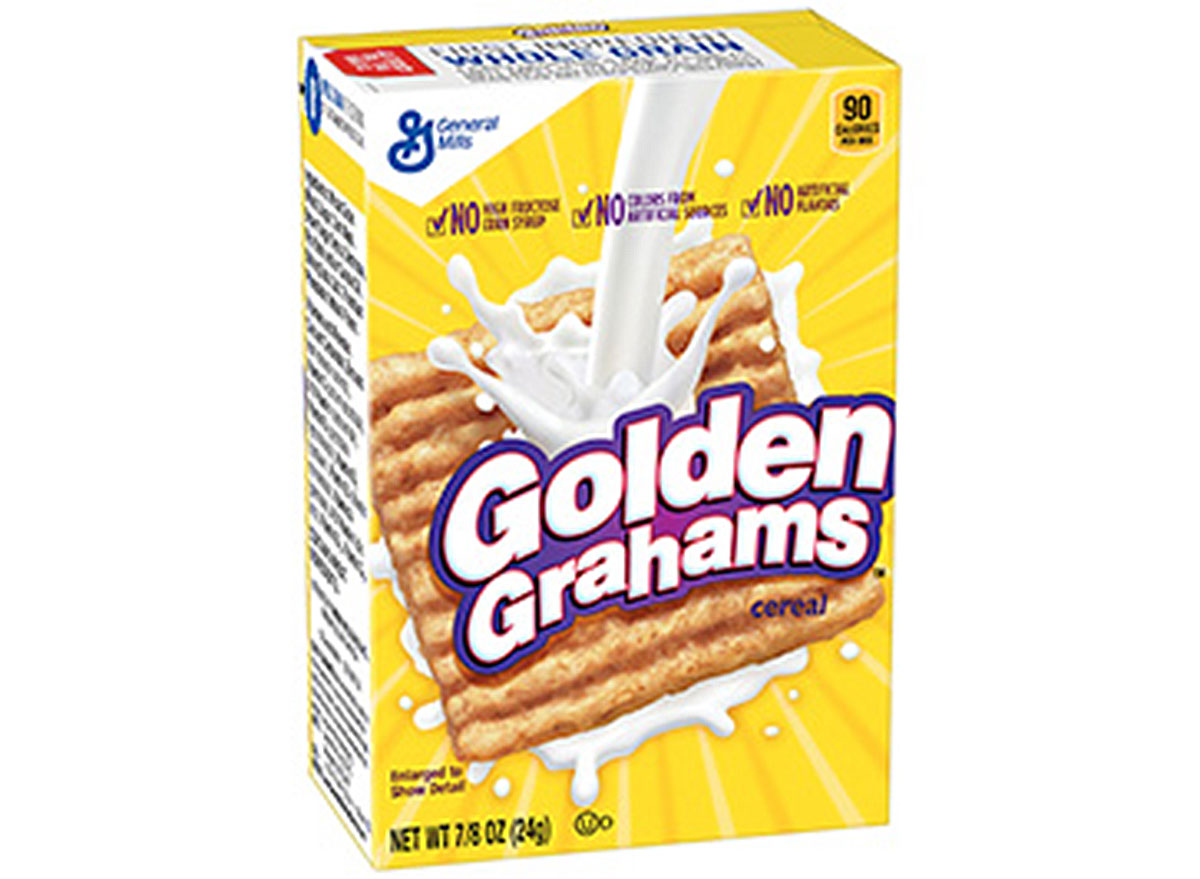 Launched in 1975, Golden Grahams made graham crackers a breakfast food. (Or, it made graham-flavored cereal a breakfast food, anyway.) They're not as exciting as some of the other sugary cereals on this list, but they've still stood the test of time.
1976: Kellogg's Concentrate Cereal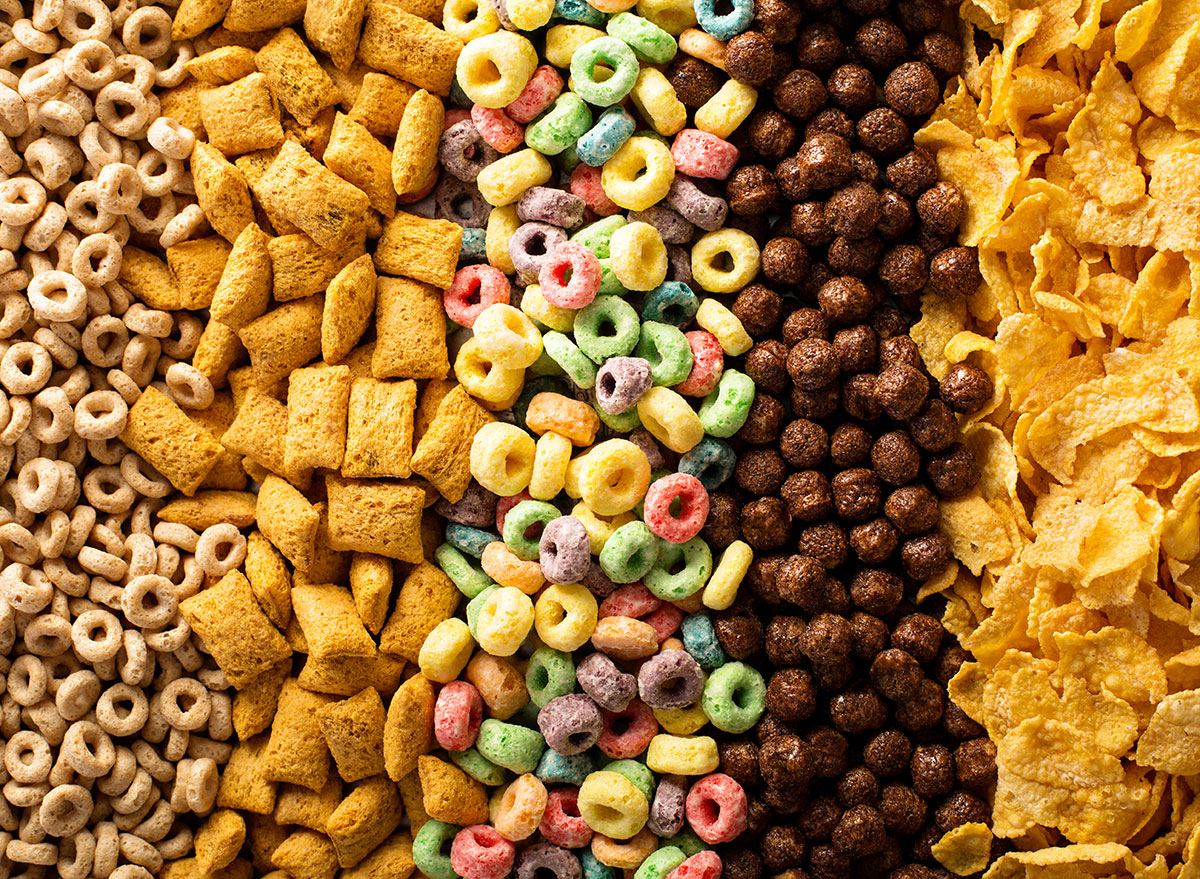 Concentrate cereal was introduced in 1959, but it was popular throughout the '70s. It took its title from the high concentration of nutrients that were added to the cereal, making parents feel like it was a healthy breakfast choice for kids.
Want to make a healthier version of your favorite old-school treats? Check out these 7 Classic Childhood Snacks You Can Make Yourself.
1977: Crazy Cow Cereal
Like Cocoa Puffs, this cereal promised to turn your milk chocolate (or strawberry, if you gut the fruit-flavored version). The cartoon cow was pretty cute, even if this cereal didn't last long.6254a4d1642c605c54bf1cab17d50f1e
1978: Cookie Crisp
Cookie Crisp's mascots have changed over the years, but its delicious, chocolate taste hasn't. (Although, everyone knows the bandit version of Chip was far superior to the cereal's current mascot.)
And for another trip down memory lane, don't miss these 33 Super Popular Snacks From Your Childhood That Are Discontinued.
1979: Waffelos
Forget breaking out the waffle iron. This cereal brought all the taste of waffles into a breakfast cereal. They were even flavored with maple syrup!
1980s Cereals
1980: Powdered Donutz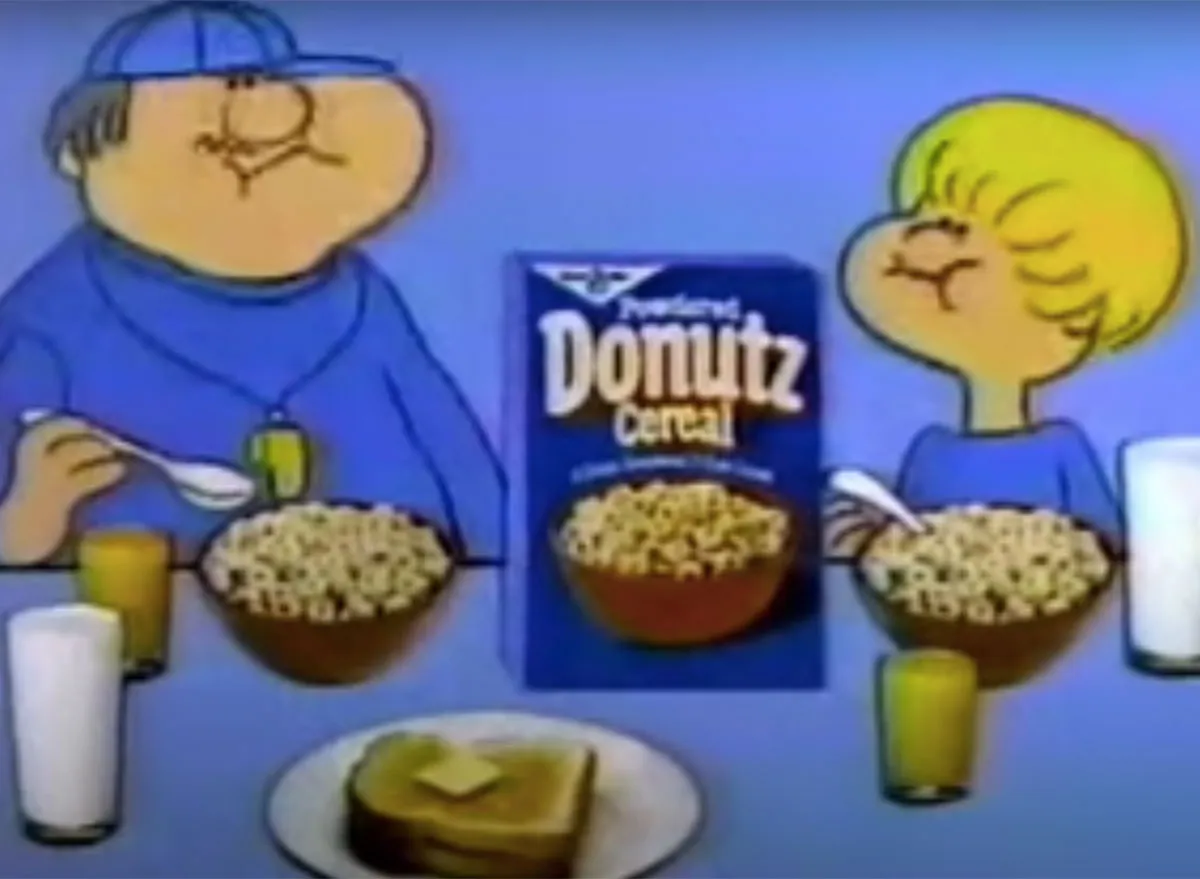 If your parents wouldn't let you eat donuts for breakfast, maybe they'd let you eat Chocolate Donutz or Powdered Donutz cereal instead. We'll admit, though, this cereal doesn't compare to the thrill of eating a real donut.
1981: Banana Frosted Flakes
Have you ever seen a cereal commercial where banana slices are added to a bowl of cereal? Well, Kellogg's took the next step with this cereal, adding banana flavor to Frosted Flakes.
1982: Marshmallow Krispies
Yes, Rice Krispies treats are made with marshmallows. But in the '80s, there was also Marshmallow Krispies cereal, which had marshmallow bits, no oven required.
1983: Smurf Berry Crunch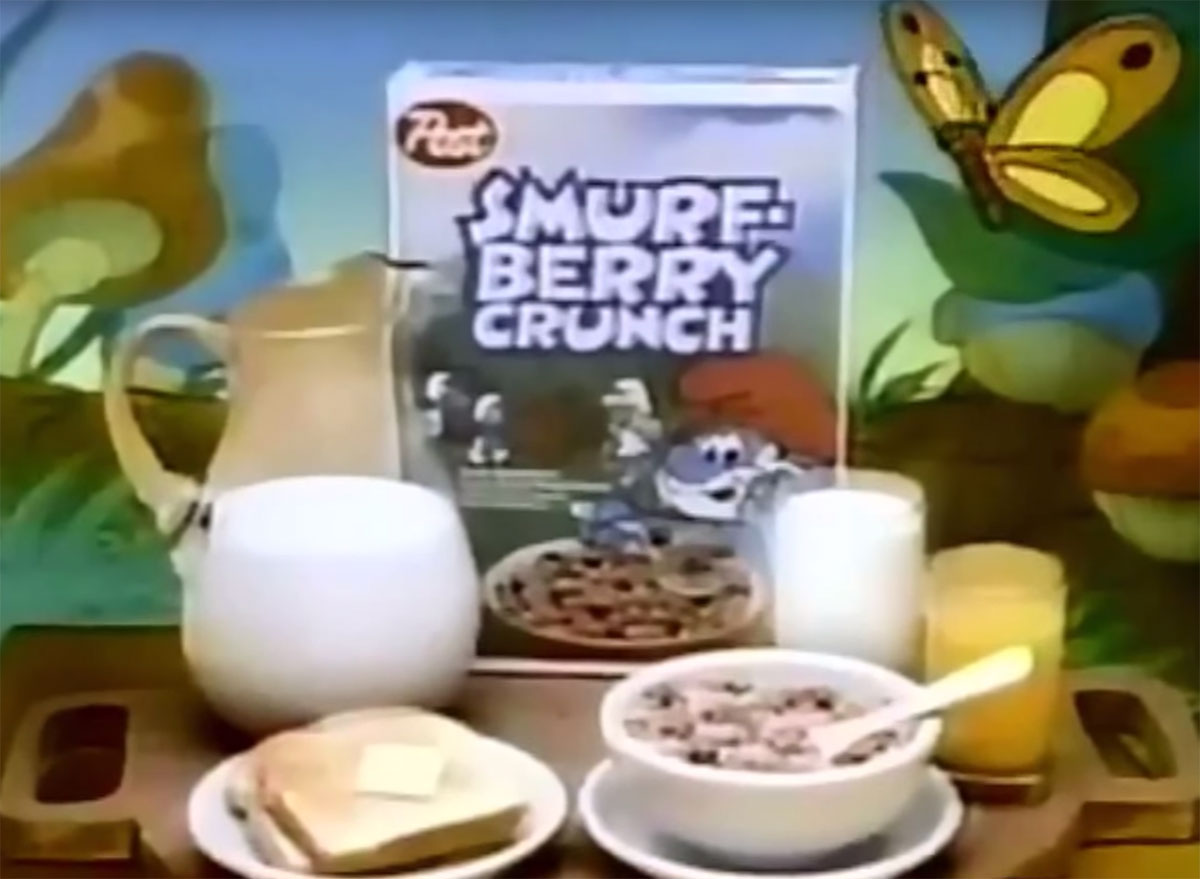 The '70s and '80s were a great time for branded cereals with cartoon characters to thrive. This one was based on The Smurfs and was blue and red.
1984: Cinnamon Toast Crunch
Cinnamon Toast Crunch, invented in 1984, brought all the deliciousness of cinnamon-sugar toast into your morning bowl of cereal. Today, you can get Cinnamon Toast Crunch Cinnadust to put on your baked goods (and old-fashioned toast).
1985: C-3POs Cereal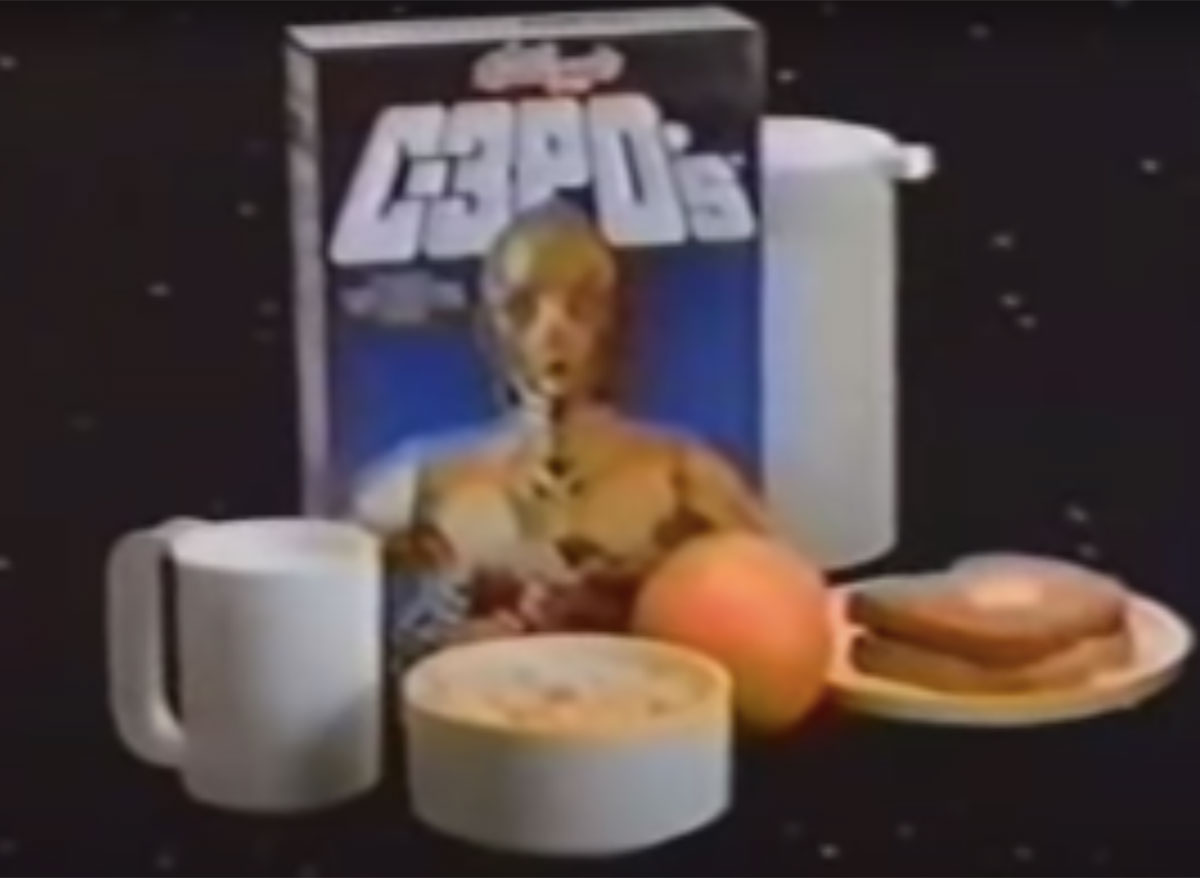 This Star Wars-inspired cereal hit stores in the early '80s, to the delight of the franchise's many fans. It's not available anymore, but you can still get Star Wars kitchen gadgets, like this Star Wars Instant Pot.
1986: Circus Fun
This cereal featured fruity bites in cute animal shapes, like elephants and lions. But considering the fact that the Ringling Bros. and Barnum & Bailey Circus has closed (and had long faced criticism of its animal treatment), this cereal sounds a lot less fun now.
1987: Ice Cream Cones Cereal
This is another sugary breakfast we're not sure why we were allowed to eat. Then again, what's better than having ice cream for breakfast?
1988: Cröonchy Stars Cereal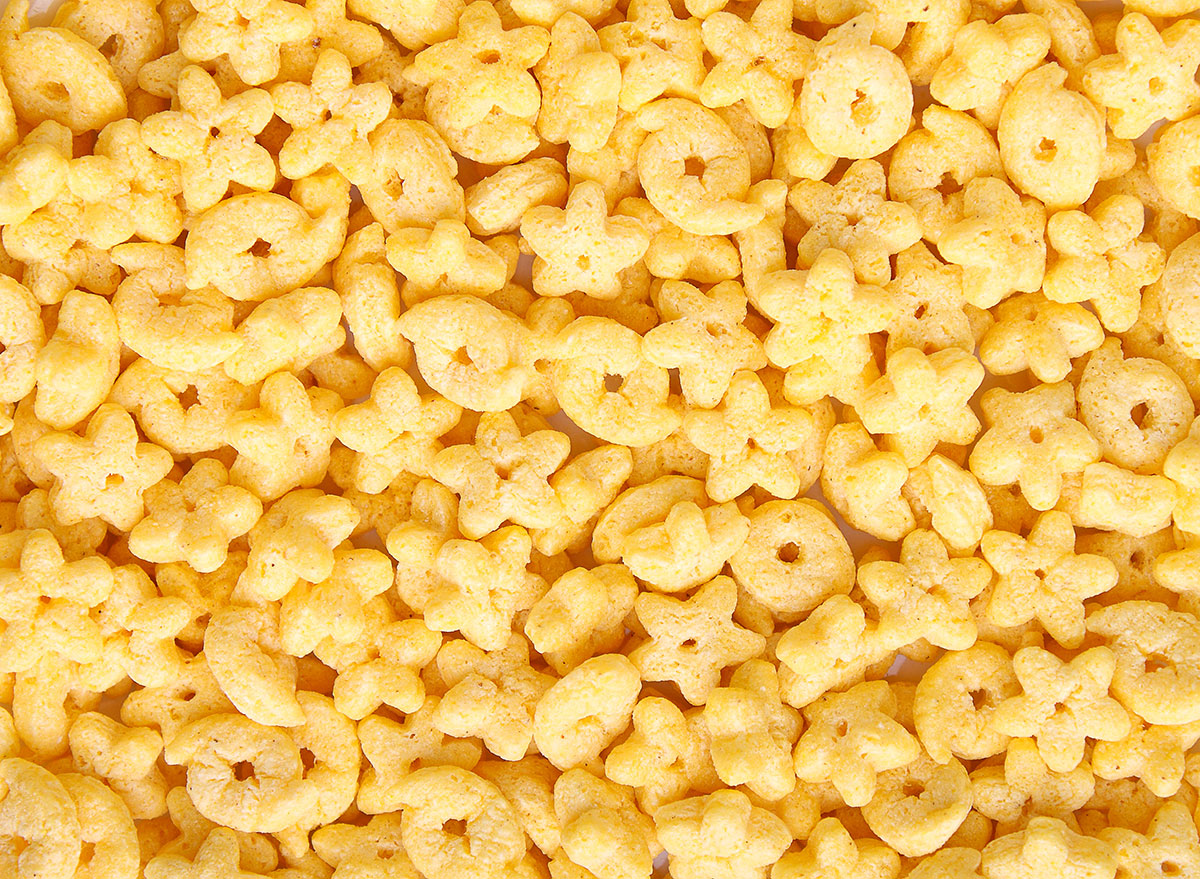 Every fan of The Muppets had this cereal in their pantry. The box featured the Swedish Chef. It was a real disappointment that this cereal didn't last long on store shelves.
1989: Nintendo Cereal System
This cereal was introduced in 1988, but it was discontinued in 1989. Still, the combination of video games and cereal is a pretty appealing one.
1990s Cereals
1990: Honey Bunches of Oats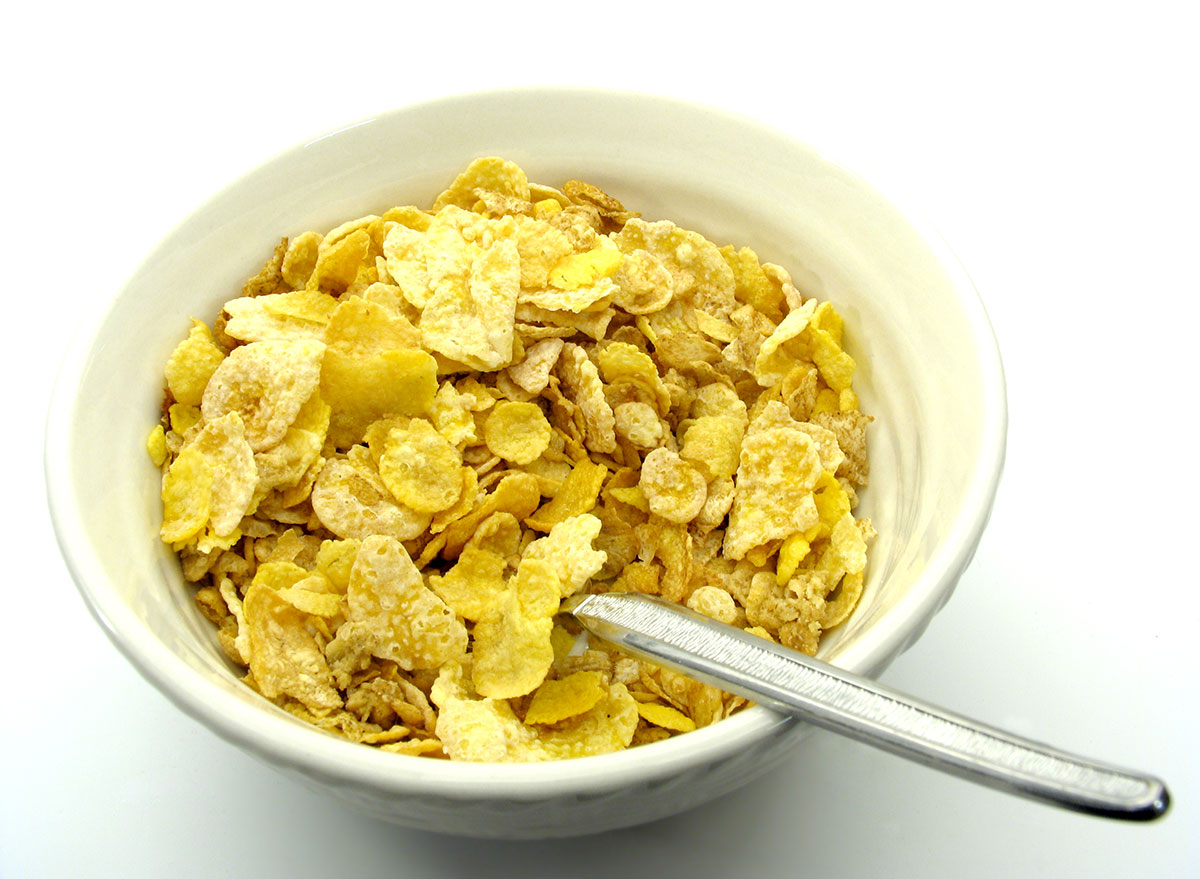 Introduced in 1989, this sweet cereal has been pleasing breakfast eaters ever since.
1991: Cinnamon Mini Buns
Nothing's better than warm cinnamon rolls that are fresh from the oven. But when you didn't feel like making a batch, you could rely on this cereal back in the day. The cereal pieces were even shaped like little cinnamon rolls.
1992: Berry Berry Kix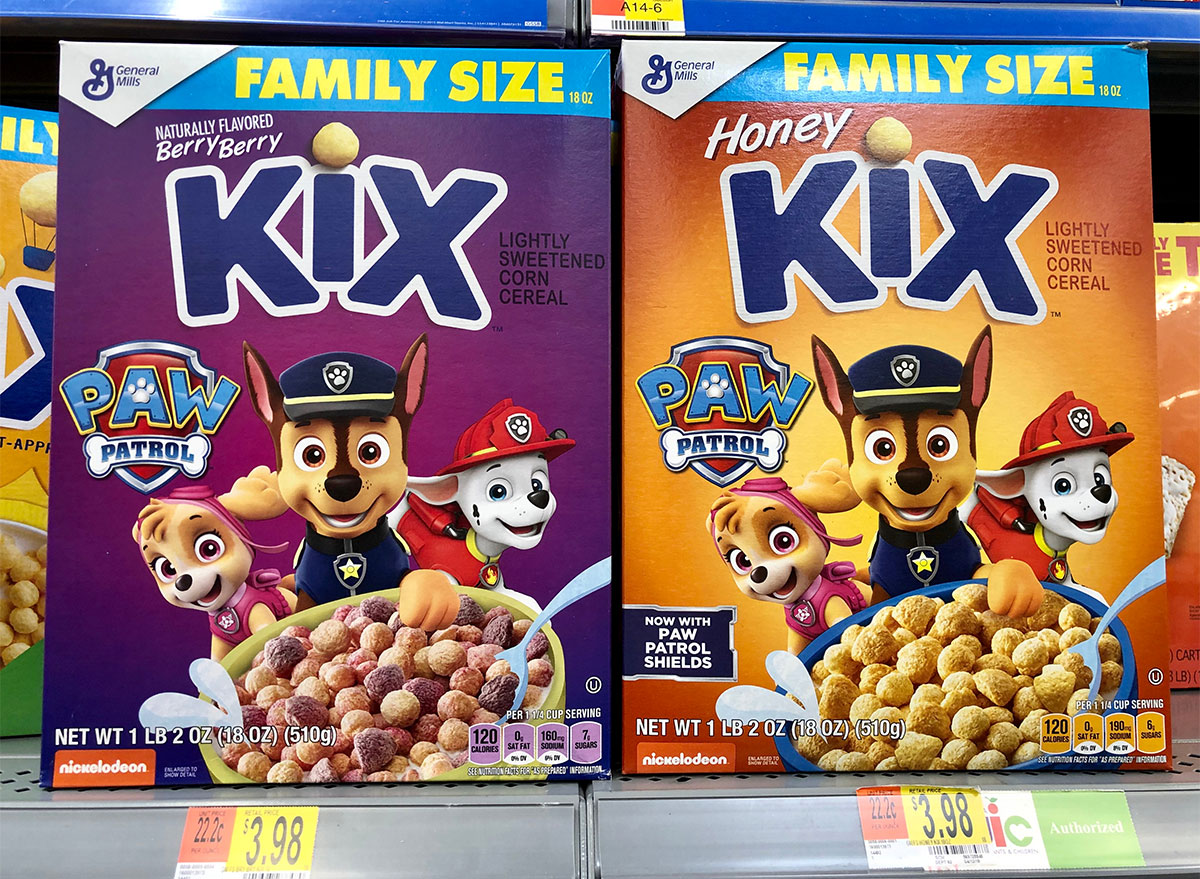 Regular Kix was fine, but Berry Berry Kix was way better. And, yes, it was superior to Trix, too.
1993: Sprinkle Spangles
Sprinkles make everything more fun, which is why foods like Dannon Sprink'lins and Funfetti cake also dominated the '90s. Sadly, this sprinkle-covered cereal didn't stand the test of time.
1994: Pop-Tarts Crunch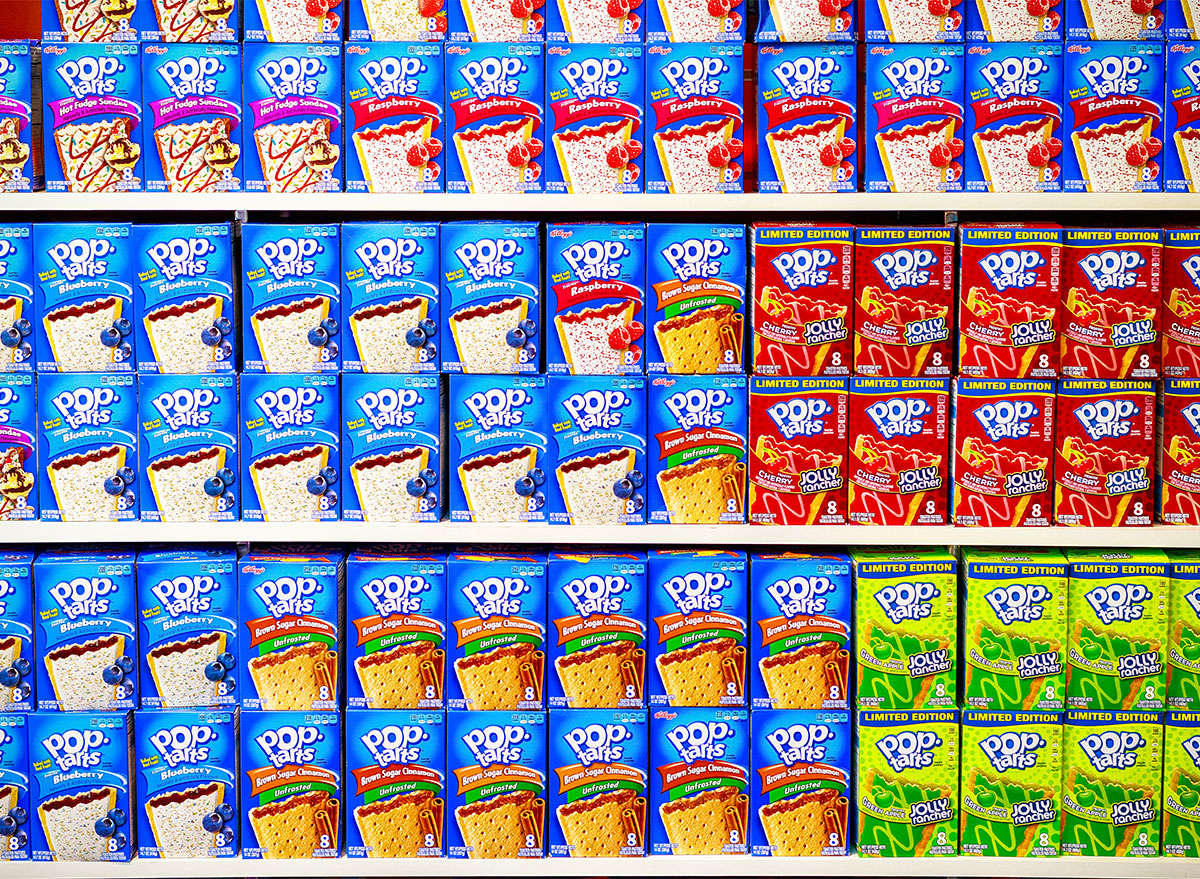 Introduced in 1994, Pop-Tarts Crunch turned everyone's favorite breakfast pastry into a cereal. Nothing can beat the grab-and-go convenience of the original pastries, though.
1995: Reese's Puffs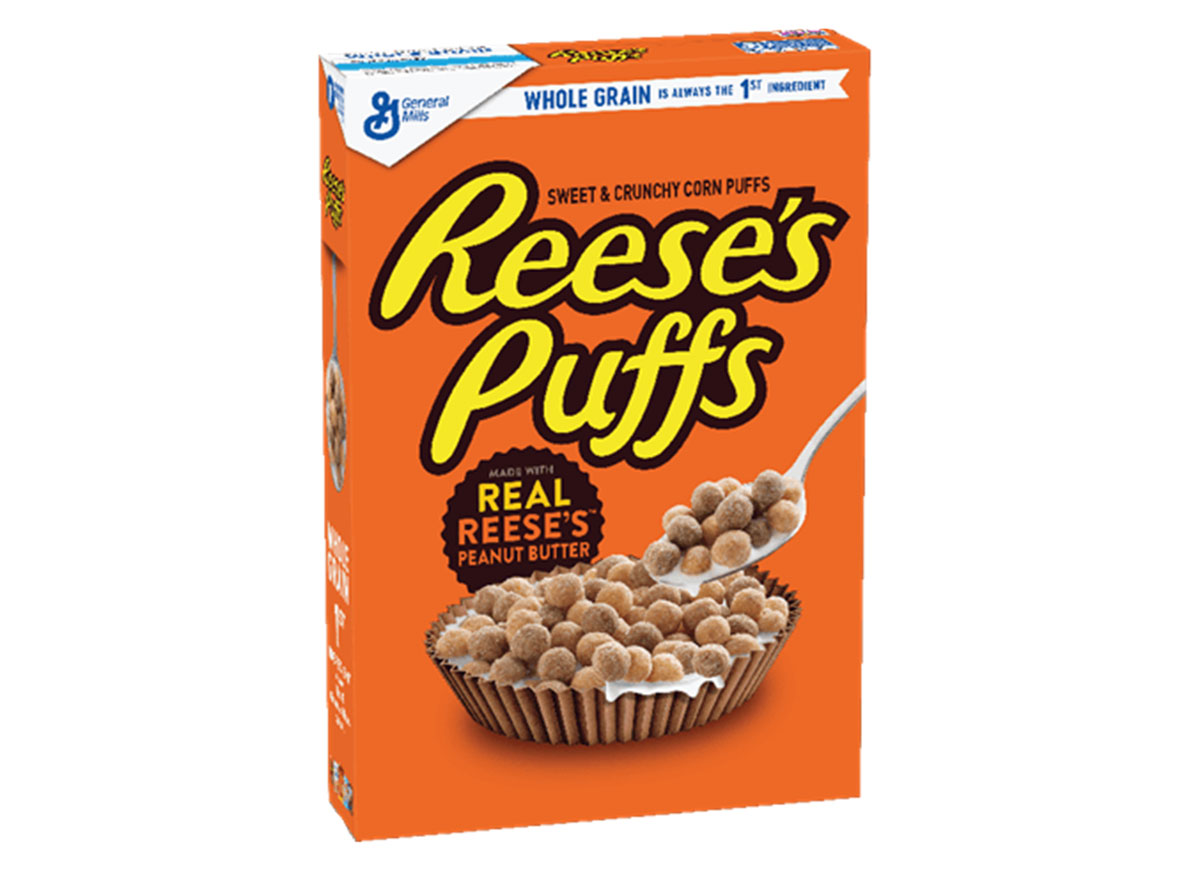 Reese's? For breakfast? That was the concept behind Reese's Puffs, which were introduced in 1994. For some reason, parents didn't bat an eye at the fact that their kids were eating this sugar-laden cereal before heading to school.
1996: Waffle Crisp
This Post cereal was shaped like little waffles, and it promised that homemade taste, too. If you're feeling nostalgic, check out this Waffle Crisp commercial—trust us, there's a twist you didn't see coming.
1997: Oreo O's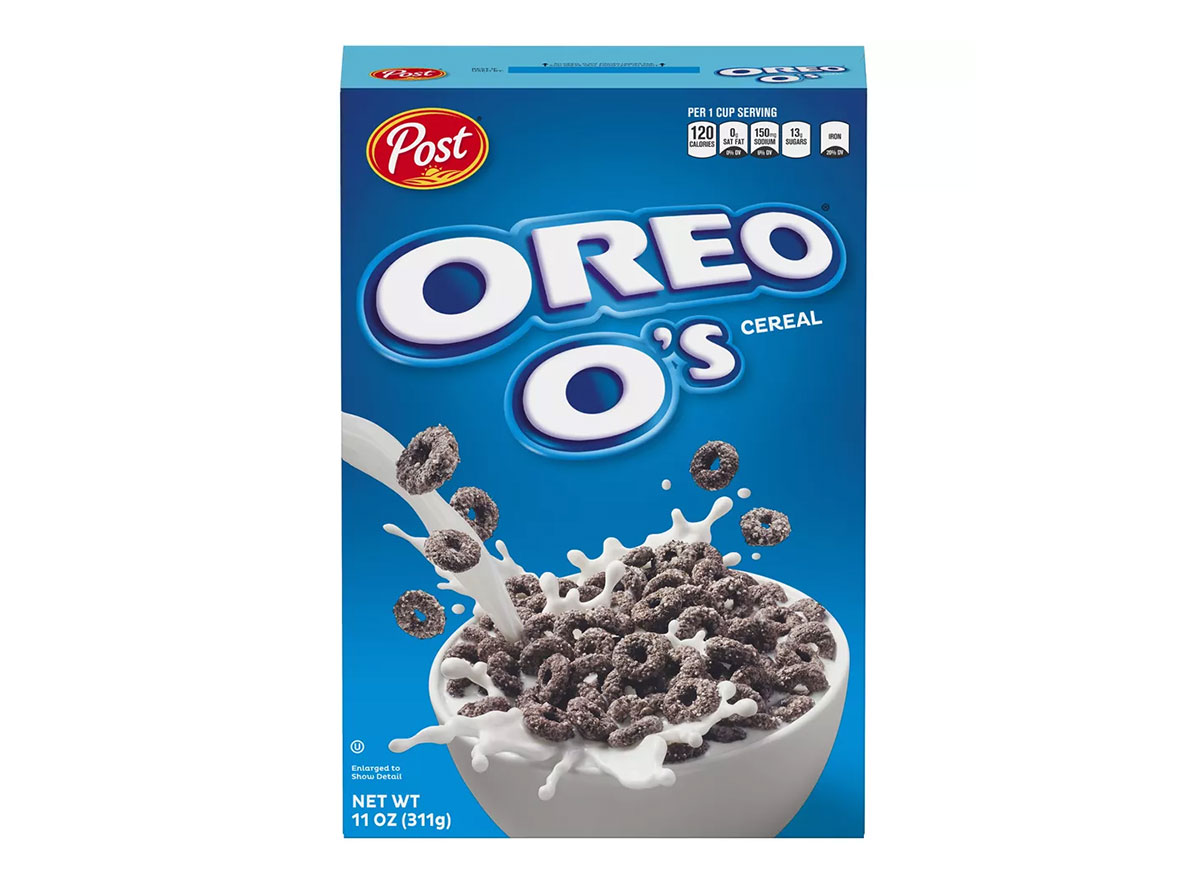 Cereals didn't have to pretend to be healthy in the '90s. With flavors like Oreo O's on the market, it was perfectly acceptable to have a sugar-laden breakfast modeled after cookies.
1998: French Toast Crunch
French Toast Crunch debuted in the '90s, and it was the perfect blend of sweet and cinnamon flavor.
1999: Reptar Crunch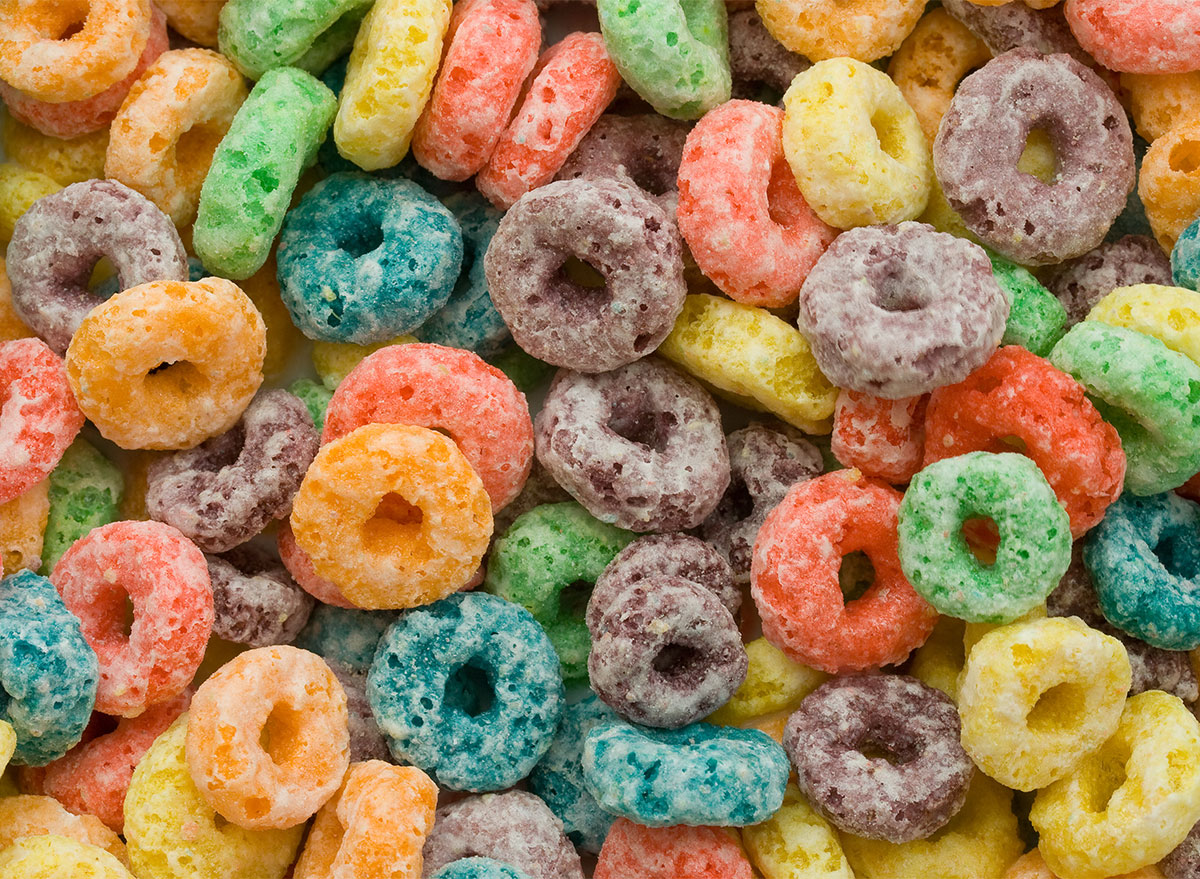 This Rugrats-themed cereal was only available in 1999, but true fans will still remember it. Who could resist those dinosaur shapes?
And for more, here's What Happens to Your Body When You Drink a Smoothie Every Day.
Meghan De Maria
Meghan De Maria is a senior editor at
Eat This, Not That!
, specializing in food, product, and restaurant coverage.
Read more about Meghan