Spicy Waffled Cauliflower Hash Browns
Crispy and healthy can indeed be one and the same.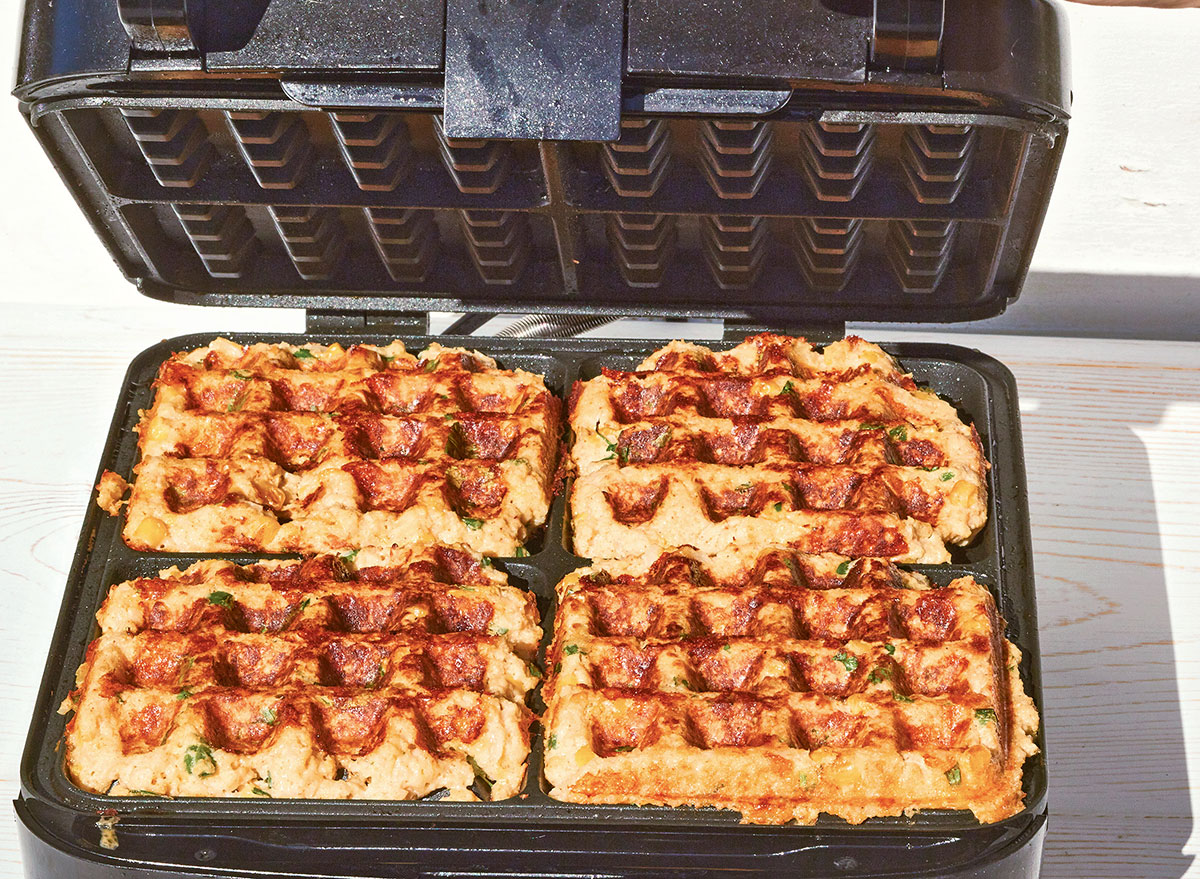 Making hash browns on a waffle iron is a nontraditional (and ingenious) use for this kitchen tool. The waffle iron cooks the hash browns with crisp nooks and crannies that make for the perfect crunch.
Think of these cauliflower hash browns as a flavorful and nutritious vehicle to load up with your favorite breakfast foods. Use them as a base for some sliced avocado, bacon, and a sunny-side-up egg. Or, add a second hash brown on top for a breakfast sandwich.
If you're crazy about healthy Mexican recipes, top the hash brown with eggs, sour cream, salsa, and beans.
Makes 6 servings
Ingredients
4 cups cauliflower florets
1 1/4 cups shredded Mexican cheese blend
1/2 cup blanched almond flour
1/2 onion, grated
1/2 cup fresh or frozen and thawed corn kernels
1/4 cup chopped fresh cilantro leaves
2 large eggs
1 jalapeño (seeds and stem removed), finely chopped
1 tsp baking powder
1 tsp ground cumin
1/2 tsp smoked paprika
1/4 tsp chipotle chili powder
1/4 tsp sea salt
1/4 tsp freshly ground black pepper
Melted butter, for greasing the waffle iron and skillet6254a4d1642c605c54bf1cab17d50f1e
Optional toppings:
6 large eggs
1 avocado, sliced
Cilantro leaves, for garnish
Ketchup, for serving
Salsa, for serving
Sour cream, for serving
Black beans, for serving
How to Make It
Preheat the waffle iron. Preheat the oven to its lowest temperature to keep the hash browns warm as you work through the batter.
Bring an inch of water to a boil in a medium saucepan. Place the cauliflower in a steamer basket set over the boiling water. Cover and steam the florets for 5 minutes, until easily pierced with a fork. Transfer the florets to a food processor and process until completely chopped into a meal.
Transfer the meal to a clean, thin dish towel or piece of cheesecloth. Let cool. Working over the sink, pull the corners of the towel together and squeeze out the excess liquid. Place the squeezed meal in a large bowl.
Add 1 cup of the cheese, the almond flour, onion, corn, cilantro, eggs, jalapeño, baking powder, cumin, paprika, chili powder, salt, and pepper to the bowl. Stir everything together until well combined.
Brush the waffle iron with melted butter to thoroughly grease it. Scoop 1/2 cup of the hash brown mixture into the waffle iron, spreading it out to an even layer. Close the iron and cook for 7 to 10 minutes, or until the waffle iron light indicates the hash browns are cooked through and they are golden and crispy on the outside. Transfer to a baking a sheet and keep warm in the oven while you cook the remaining hash browns.
While the last of the hash browns are cooking, heat a tablespoon of butter in a skillet over medium-high heat and crack a few eggs into the pan. Cook the eggs for 5 minutes, until the edges are a little crispy, the whites are set, and the yolks are still runny. Repeat until all the eggs are cooked.
Serve each hash brown with a fried egg, a few slices of avocado, and the remaining cheese. Garnish with cilantro. Consider offering ketchup, salsa, sour cream, and black beans as additional toppings.
Excerpted from Cauliflower Power by Lindsay Grimes Freedman (Artisan Books). Copyright © 2019. Photographs by Lauren Volo.