19 Secret Things You Can Do with a Waffle Iron
Will it waffle? There's so much more you can make with a waffle iron than regular old waffles?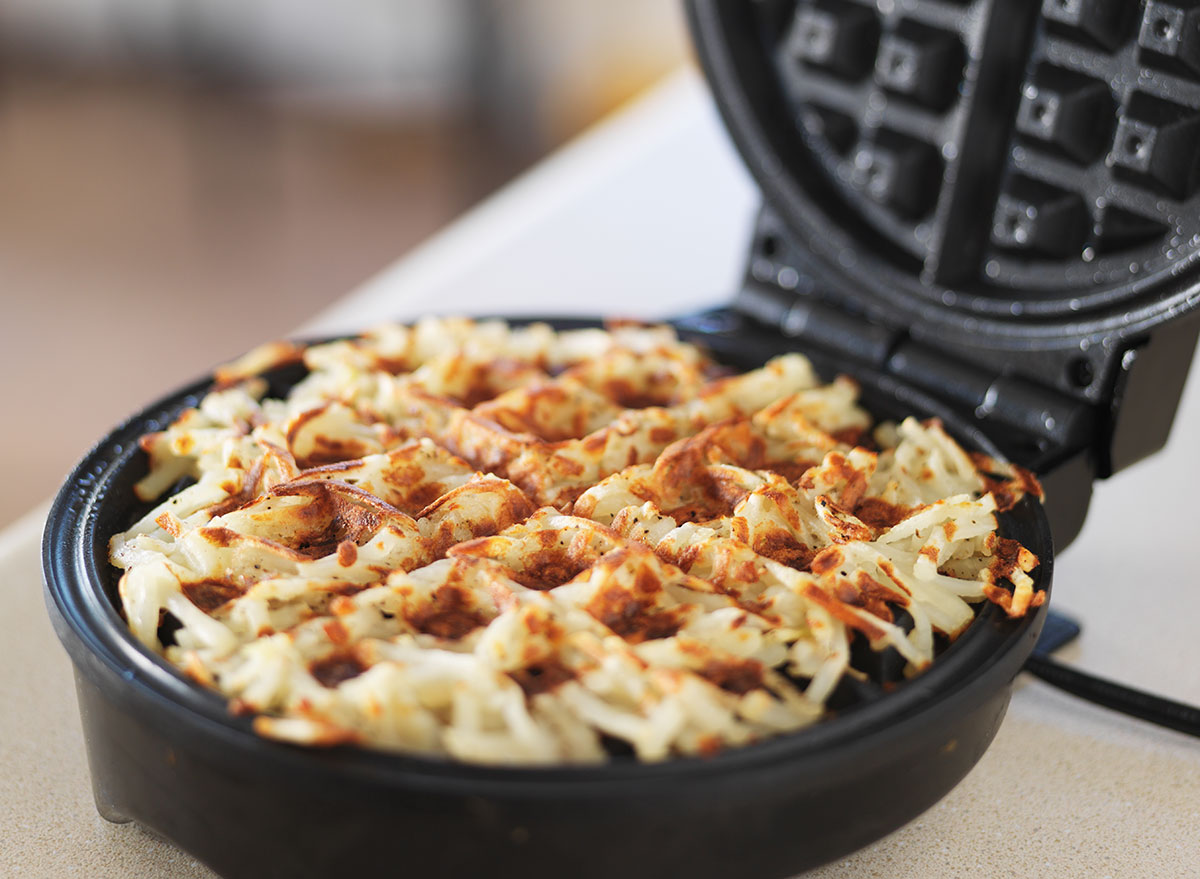 If you thought your waffle iron existed solely to make one of these 25 Healthy Waffle Recipes, then you're in for a pleasant surprise! Times are changing, and hybrid cooking is the latest rage; from the cronut to the sushirrito, there's no shortage of foods that are coming together to make delicious creations. So it's about time the waffle iron gets the recognition it deserves.
Although a waffle iron feels like a gimmicky wedding gift or an unnecessary appliance that just clutters your countertop, the truth is that you can make the most of it by "waffling" numerous foods. And not only can this magical machine save space, but it will also save time. Foods that normally need tons of time for cooking can be made in minutes between the two heated irons. From breakfasts to desserts, here are 19 waffle iron ideas to put your appliance to good use.
And for more, here's What Happens to Your Body When You Drink a Smoothie Every Day.
Omelet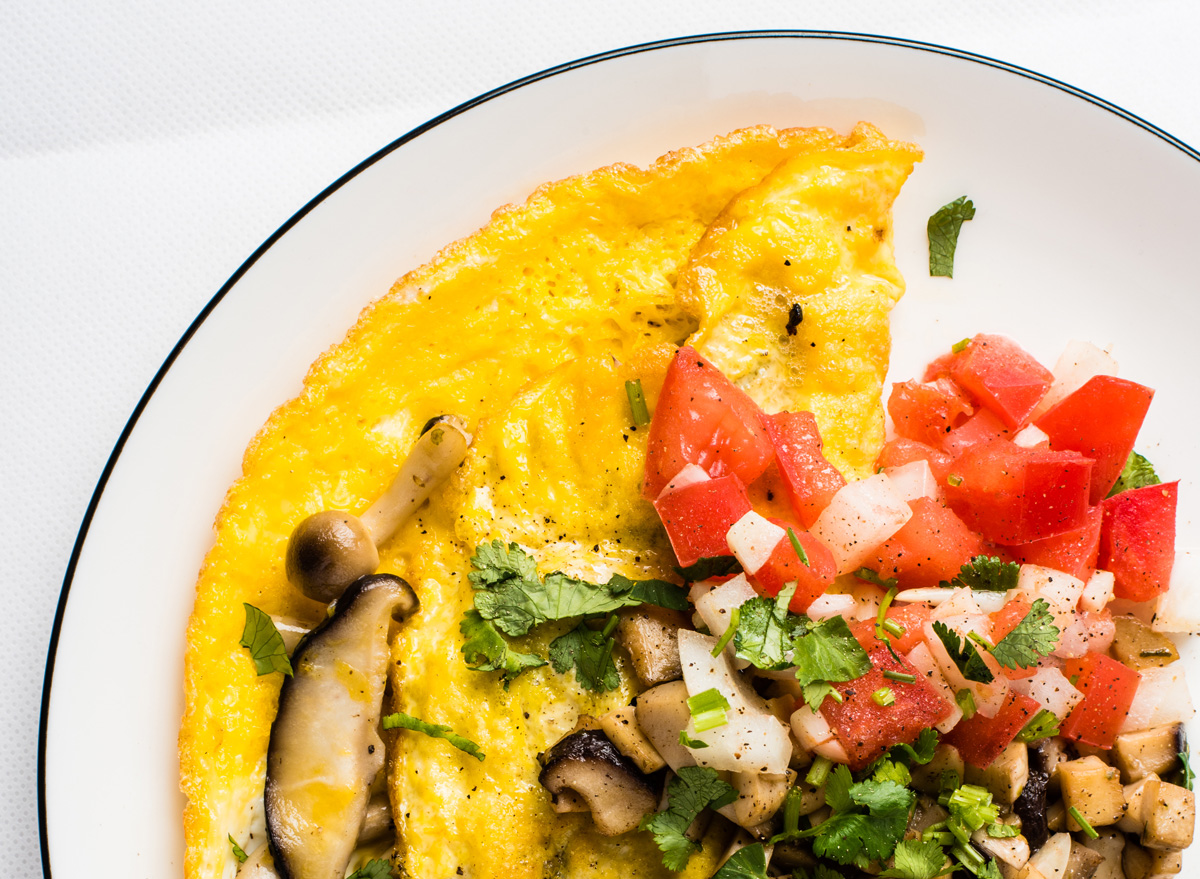 Forget the anxiety over flipping a perfect omelet. Instead, just combine your ingredients and pour it right into a lightly greased waffle iron! Check your eggs every minute or so while they're in there until you reach the desired texture.
Panini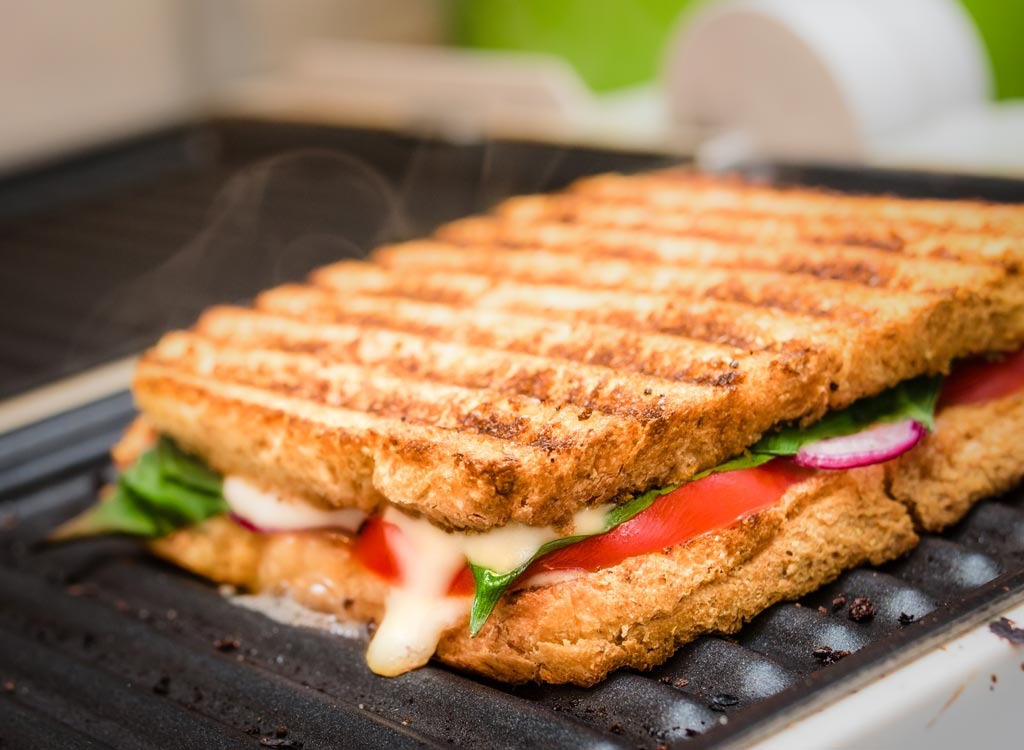 Skip buying a panini maker and stick to one kitchen appliance that will take up less room and still be able to make several of your favorite dishes! Paninis could be made with a number of different combinations and are incredibly simple and cheap. On a shoestring budget? Then check out these 30 Cheap Lunch Tips for When You're Broke.
Pizza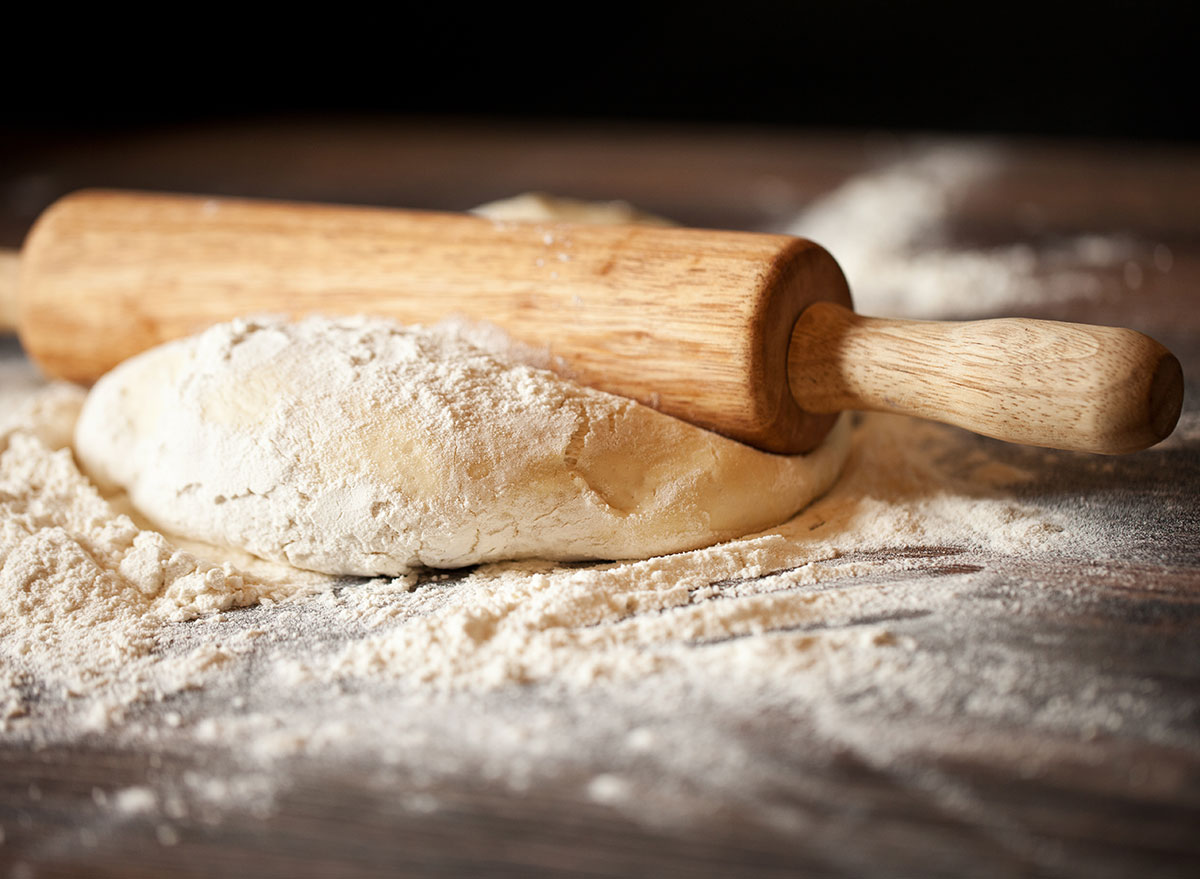 Everybody's favorite dish can now be made in a waffle iron. Lay one thin layer of dough, sauce, cheese, and your choice of toppings, followed by a second thin layer of dough, into the iron. Close and continue checking until dough is completely cooked through. Store-bought dough is typically not so health-friendly, so trying making your own with just whole wheat flour, yeast, water, and EVOO.
Sweet potato fritters
After boiling a sweet potato until it's soft to the touch, mash it with one egg and spices. Place it in the waffle maker, and you've got yourself a potato waffle that you can enjoy any time of the day. Add to the sweetness by combining cinnamon, nutmeg, and maple syrup—or go savory with cayenne powder, curry powder, or turmeric with salt and pepper. There's no wrong way to enough this healthful dish!
Love sweet potatoes? Then you'll want to see our list of 20 Sweet Potato Recipes for Weight Loss.
Baked apples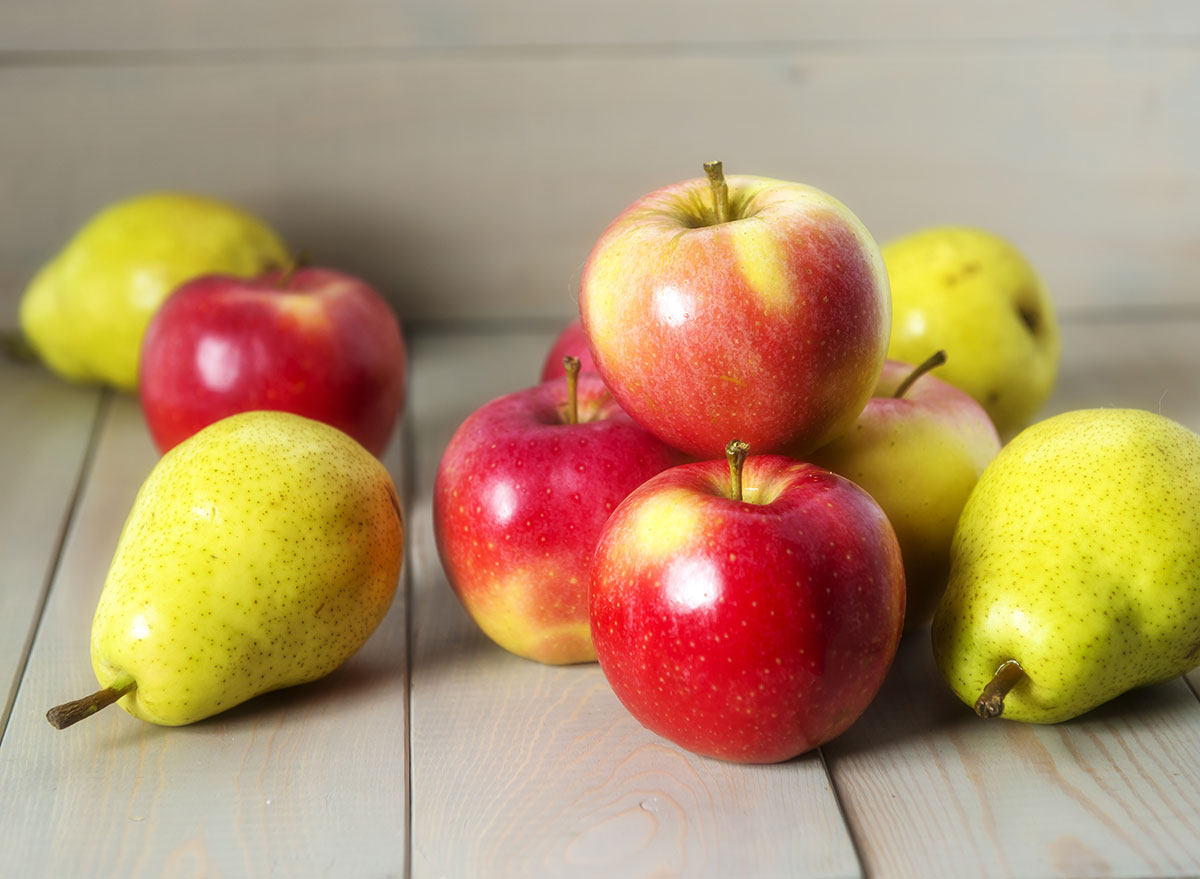 Using just a sliced apple, you can have a super simple dessert in no time. The sweetness of an apple really comes out when it's heated, so a waffle iron brings the flavors to a whole new level. Sprinkle it with cinnamon and nutmeg to get even more zing.
Brownies
Who doesn't love a warm brownie with a fudgy inside and perfectly baked outside? You can get just that in only minutes by using a waffle iron! Try out one of these 20 Best-Ever Tips and Swaps for Brownies for your next batch.
Banana bread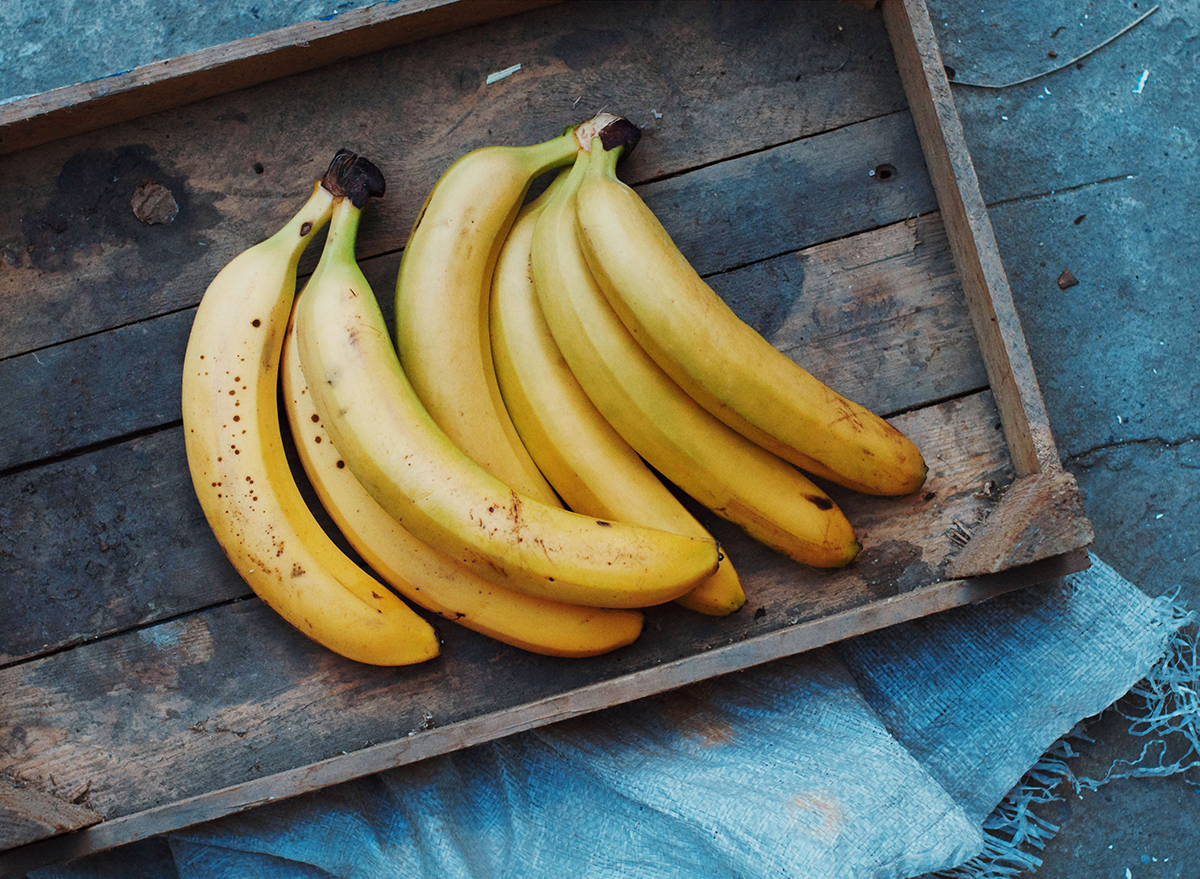 Banana bread in waffle form is one treat no one can deny. Get the crispy goodness of a waffle and the moist fluffiness of banana bread all in one! It's simple to make the banana bread batter, and instead of tossing it in the oven, pour it into a waffle iron. For some awesome mixes, pick one of these 20 Healthy Banana Bread Recipes.
Mac and cheese
Whoever accidentally stumbled upon the amazing taste of burnt cheese is someone who needs to be recognized. Mac and cheese is a dish that everyone loves, but you can make it even better by forming a crunchy outer layer with that mouthwatering cheesy flavor.
Blueberry muffins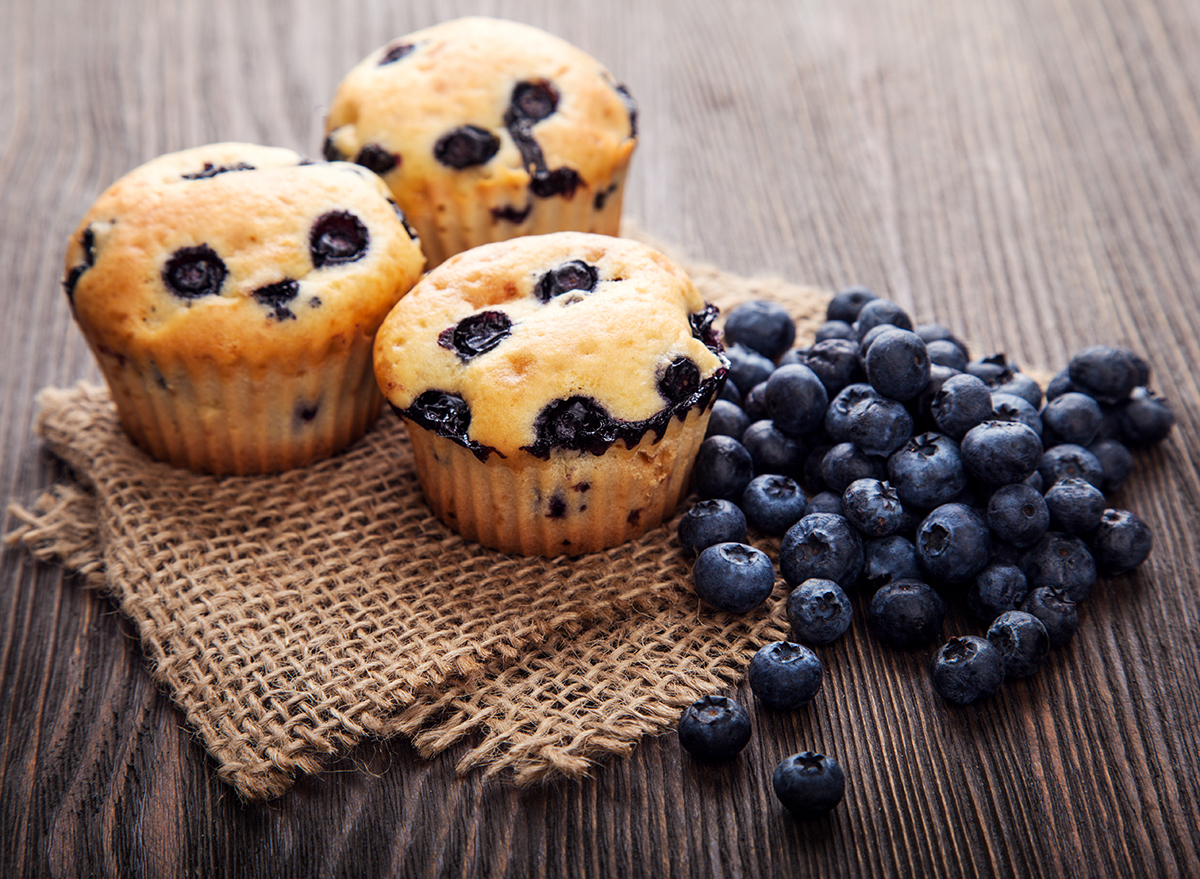 A blueberry muffin waffle. A blueberry muffle? The combo of these two favorite breakfast treats is bursting with flavor and is a fun treat worth trying. Use a combination of almond flour and whole wheat flour to avoid any of the bleached white flours so that you can stick to your diet!
Crab cake
You can have fancy crab cakes in no time with a little help from a waffle iron. Use fresh herbs and maybe even some spice to reap amazing flavor. As with all of these ideas, make sure your waffle iron is greased (or is non-stick) and already heated up.
Carrot cake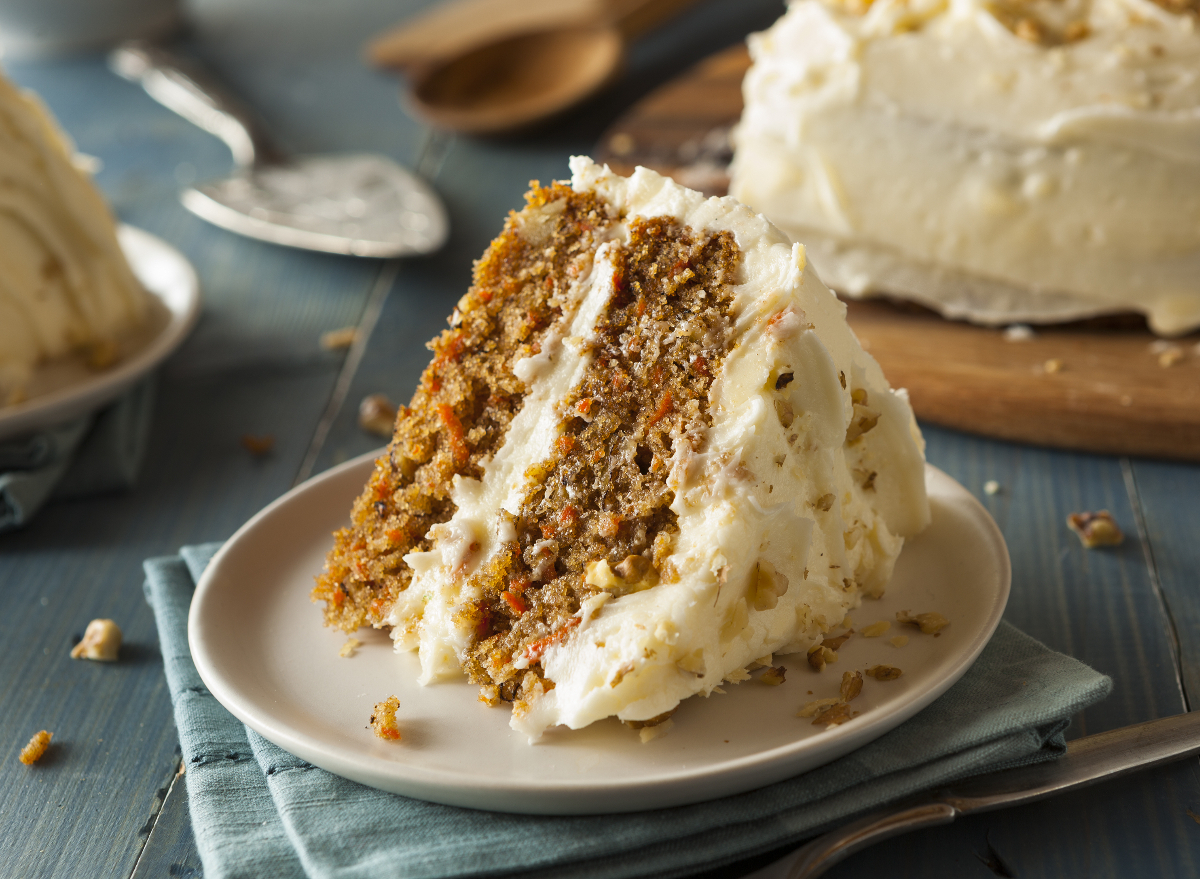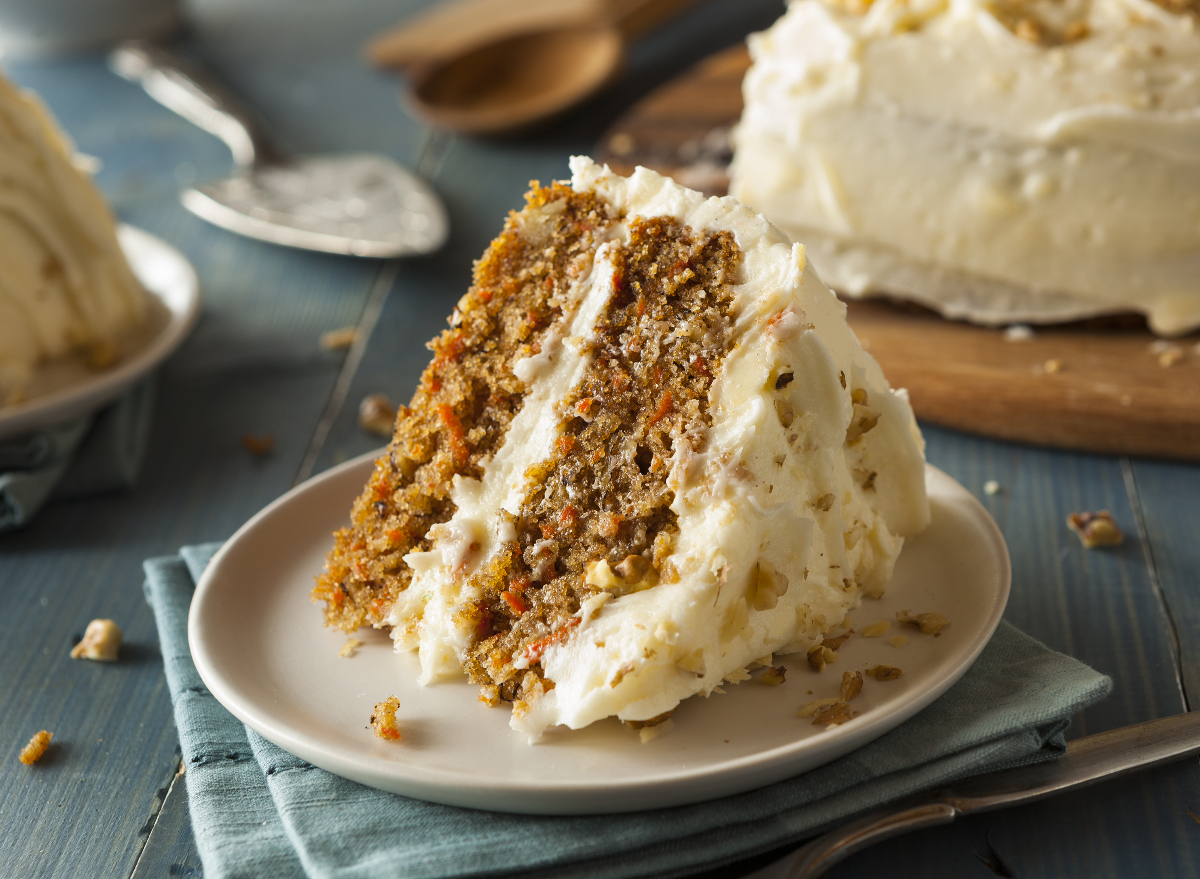 Here's a sweet and healthy breakfast idea that also works as an after-dinner treat. Carrots are rich in beta-carotene, an antioxidant nutrient that gives these little veggies their bright orange color and glowing health benefits.
Grilled chicken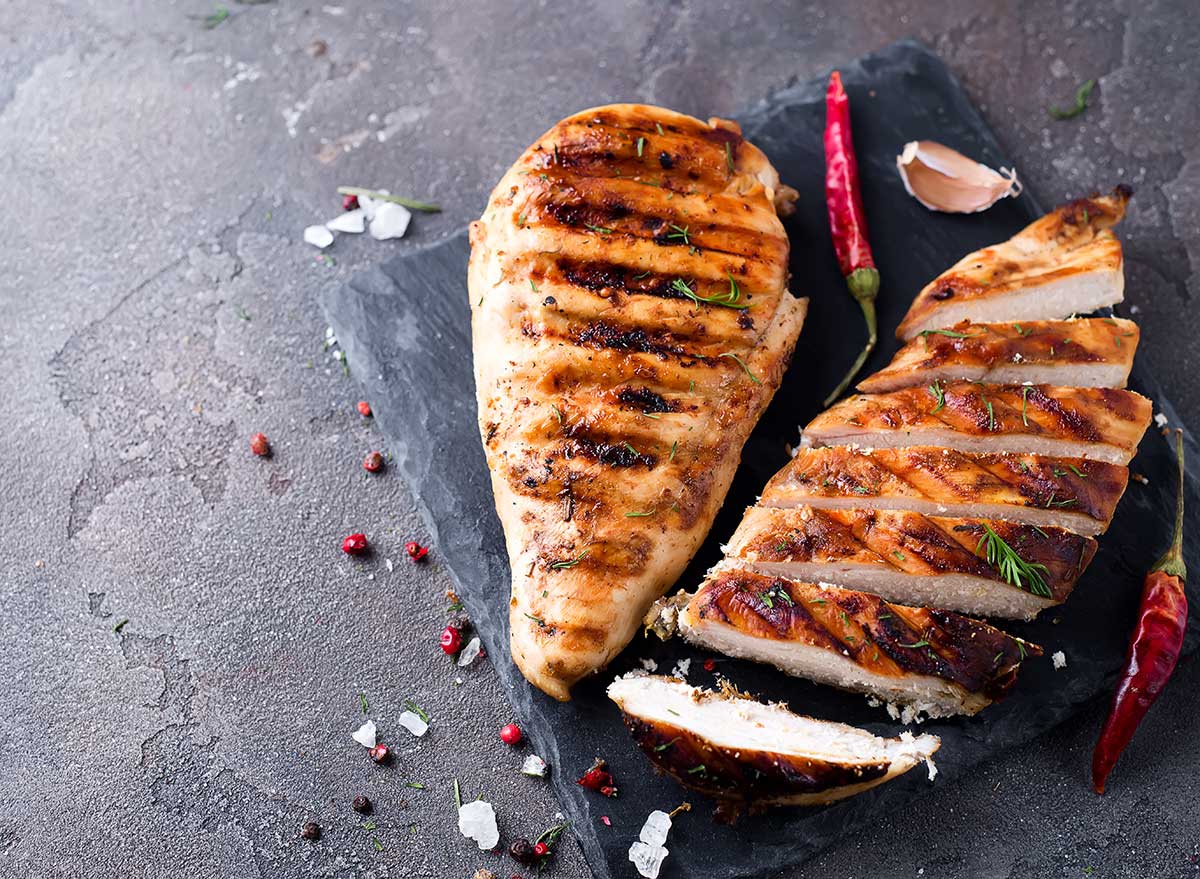 Making chicken has never been easier! Instead of dealing with a messy clean-up, all you need is a waffle maker, olive oil, and chicken. Add seasonings to give your chicken a little flavor, place two or three breasts in the waffle maker at a time, and press until cooked fully through. Chicken is one of the best high-protein, low-fat, low-carb dishes you can consume.
Kale chips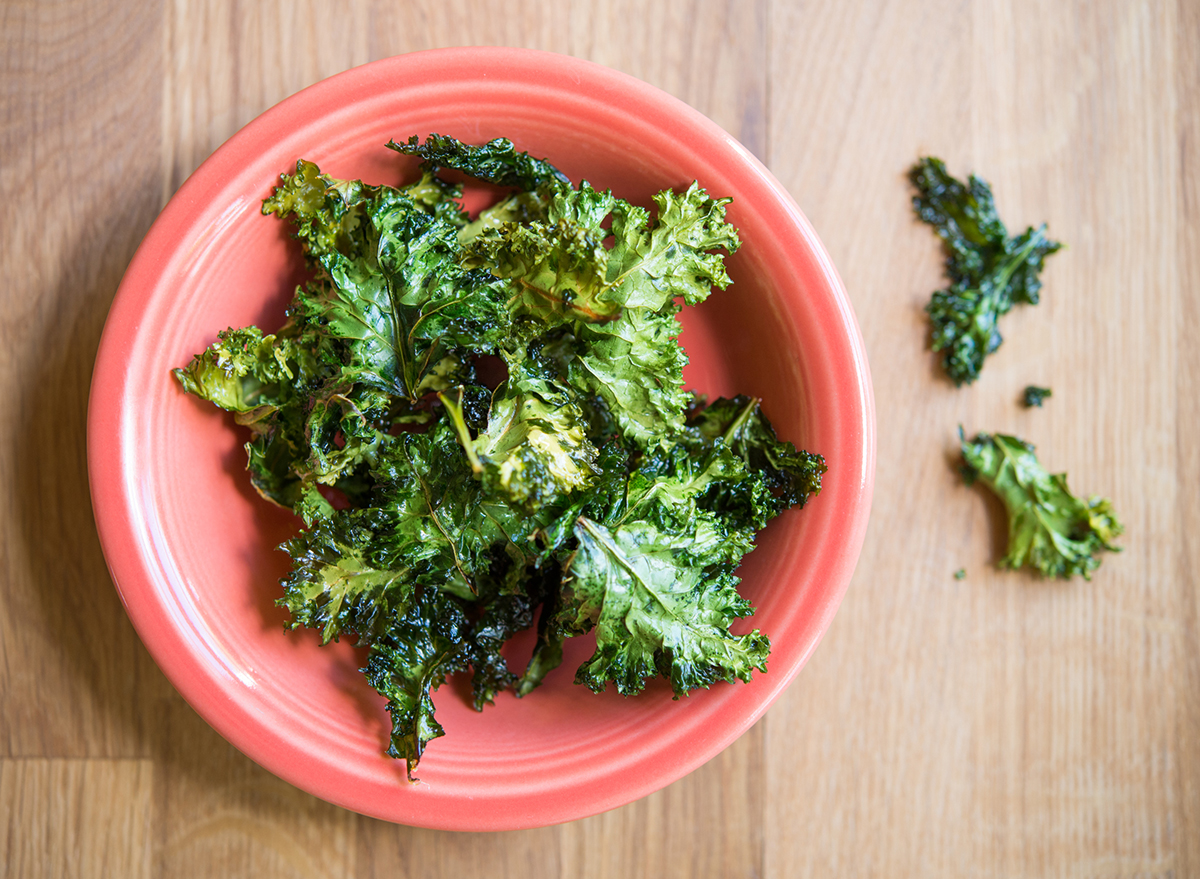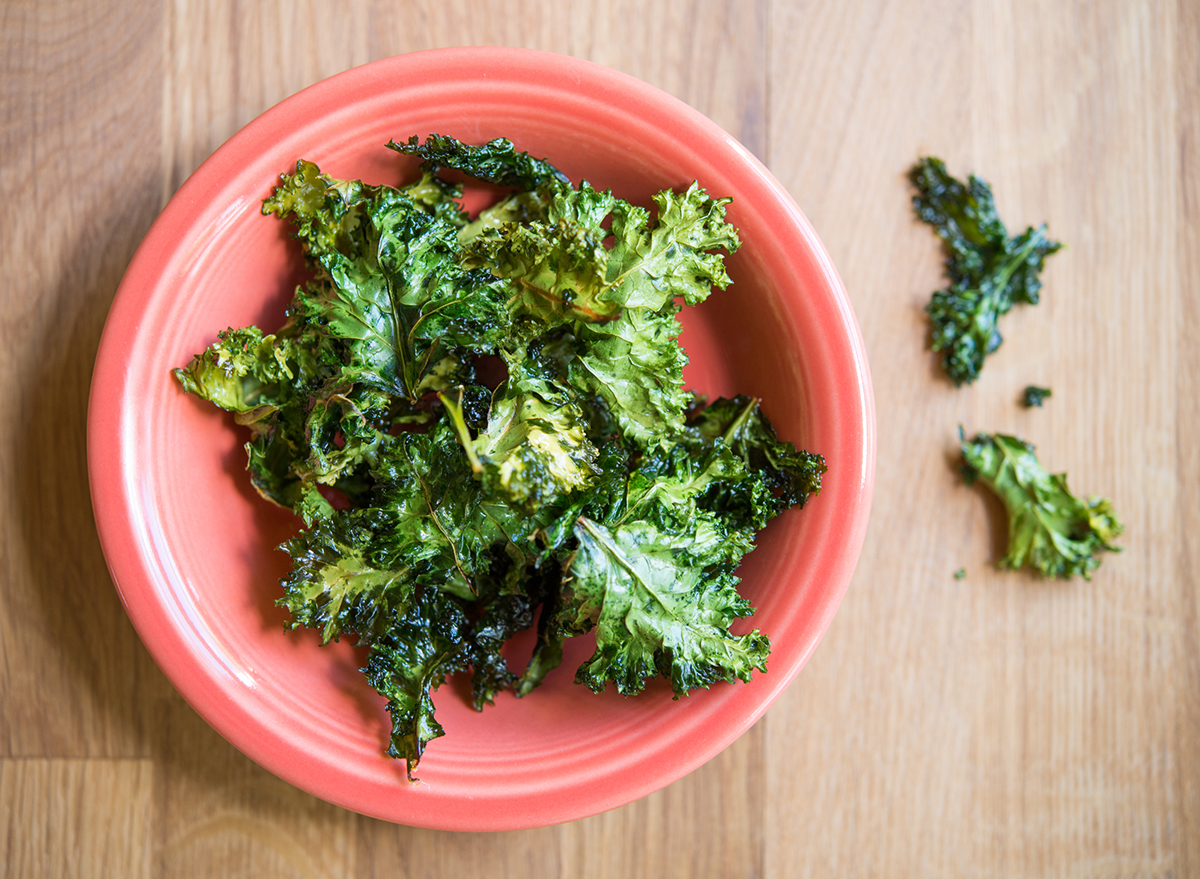 It might sound strange, but it's actually genius! This superfood is a super easy healthy chip that can be made in a waffle iron. Get the same crispy, crunchy texture you get from potato chips—without all the added grease and fat. Add your favorite spices to the kale (like cayenne, turmeric, or garlic powder) to get a taste that'll have you forgetting about those oil-drenched no-nos.
Bacon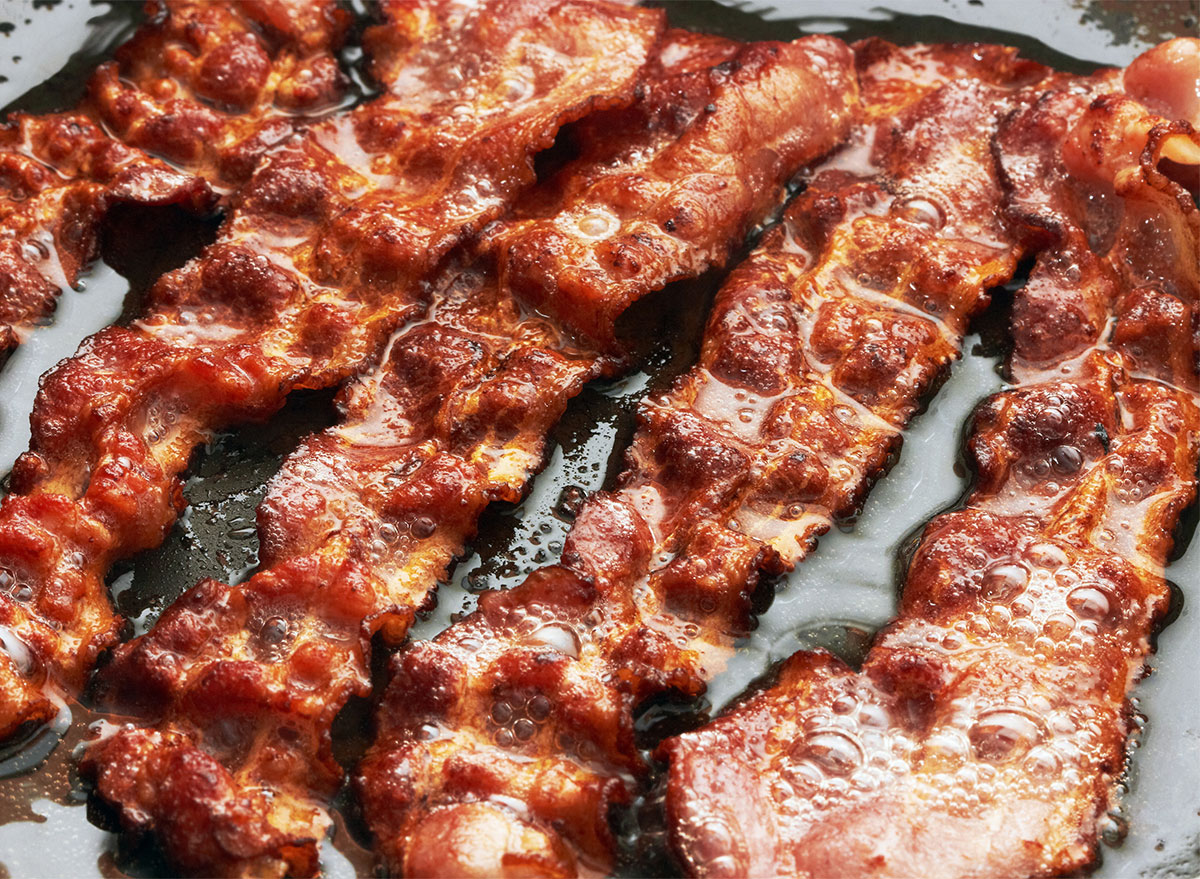 Bacon is hard to pass up, especially when it can be made without any hassle. Just place the bacon on the iron, close it for a few minutes, and keep checking on it until it's cooked up to that perfect crisp you're looking for.
Ice cream sandwich
Make two of these Vegan Gluten-Free Waffles from Minimalist Baker and sandwich a scoop of banana nice cream between! This is a treat that will make your taste buds go crazy.6254a4d1642c605c54bf1cab17d50f1e
Grilled cheese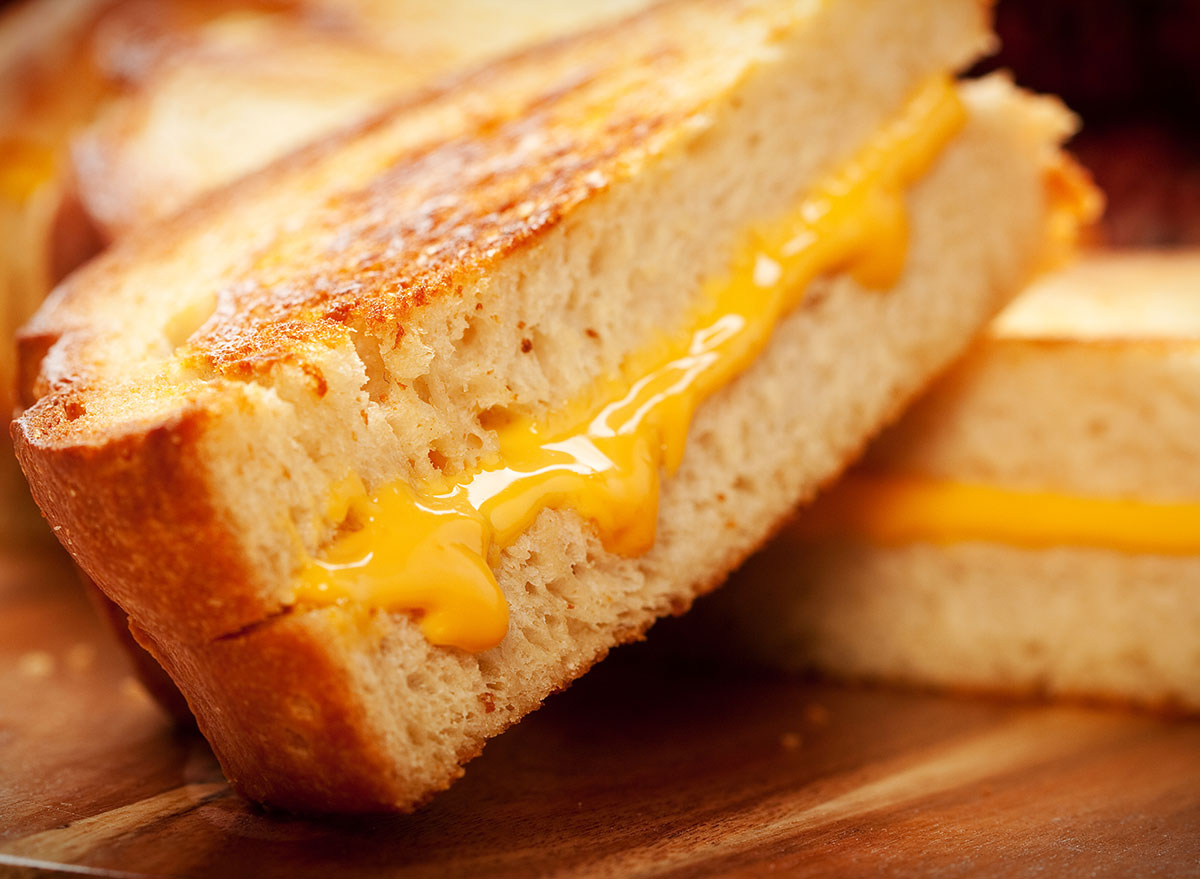 Make a classic grilled cheese via your waffle iron! The overall combination of taste, smell, and texture of a lightly burnt cheese is one you definitely can't miss out on. Amp up your basic recipe with nutrient-dense spices and veggies. And if you're feeling a little wishy-washy about grilled cheese, read up on these 30 Reasons to Go Crazy For Grilled Cheese to change your mind!
Eggplant parm
Eggplant, an egg wash, panko bread crumbs, marinara sauce, and mozzarella cheese are all you need to make a gourmet dinner that's made in minutes. This is one decadent comfort food that's hard to deny!
Cookies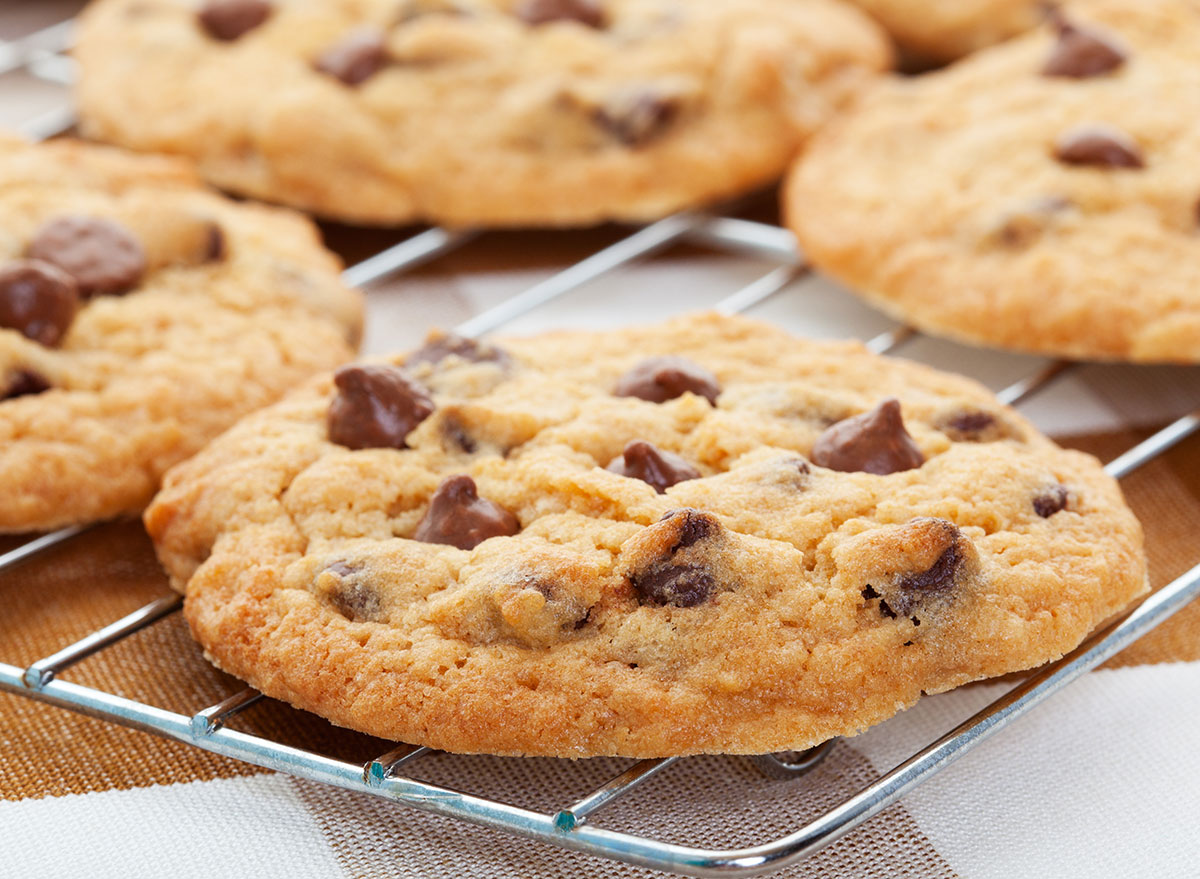 Freshly baked cookies in just minutes? Yes, please. Just use an ice cream scooper or spoon and place the batter evenly on a heated waffle iron. Cook for one to two minutes or until cookies are completely cooked through. Ta da!
Hash browns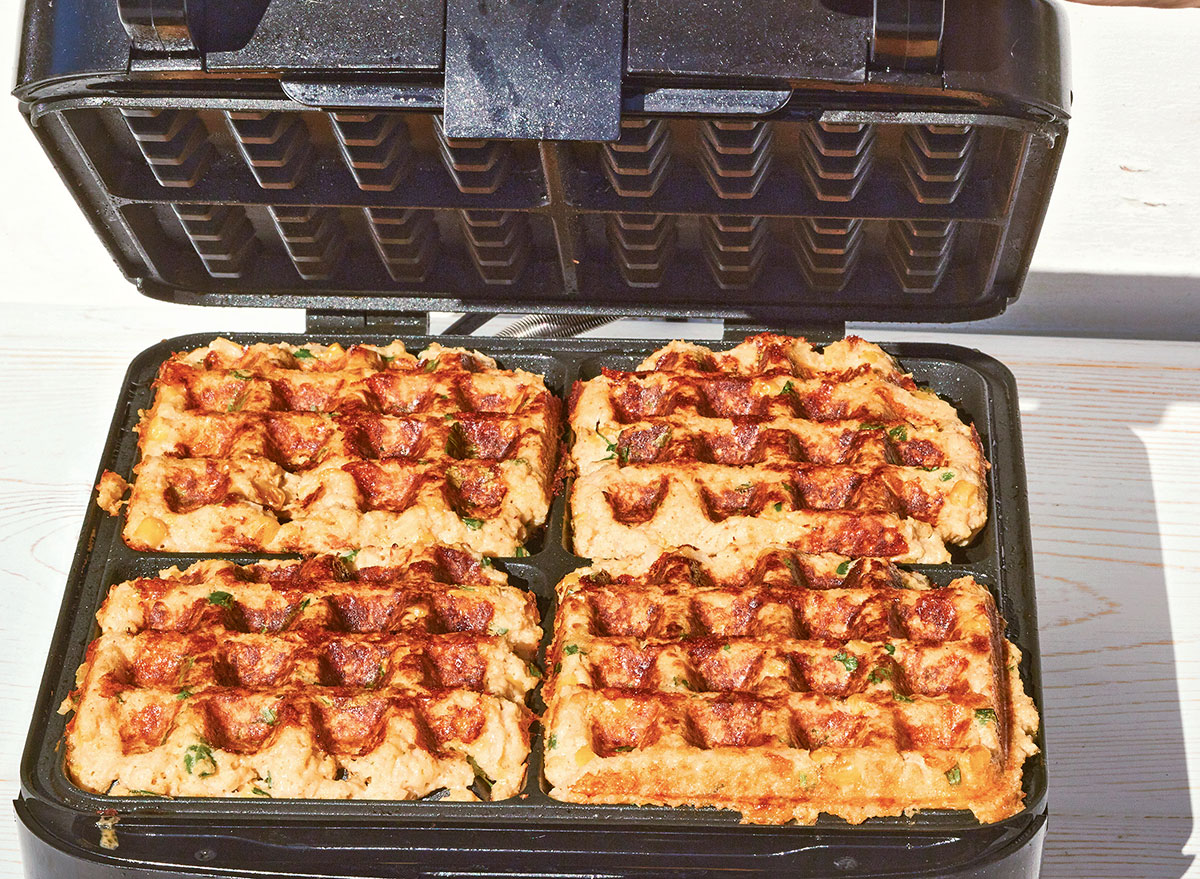 Hash browns are a breakfast staple, and cooking them in a waffle iron makes it extra easy. You'll achieve the crunchy and crispy texture with a golden brown exterior in a snap!
And in case you're in the market for a new waffle iron or are now inspired to add one to your kitchen collection, we like this stainless steel Cuisinart waffle maker.
For more, check out these 108 most popular sodas ranked by how toxic they are.