The 20 Weirdest Potato Chip Flavors to Ever Exist
Who knew classic crispers could be transformed so many ways?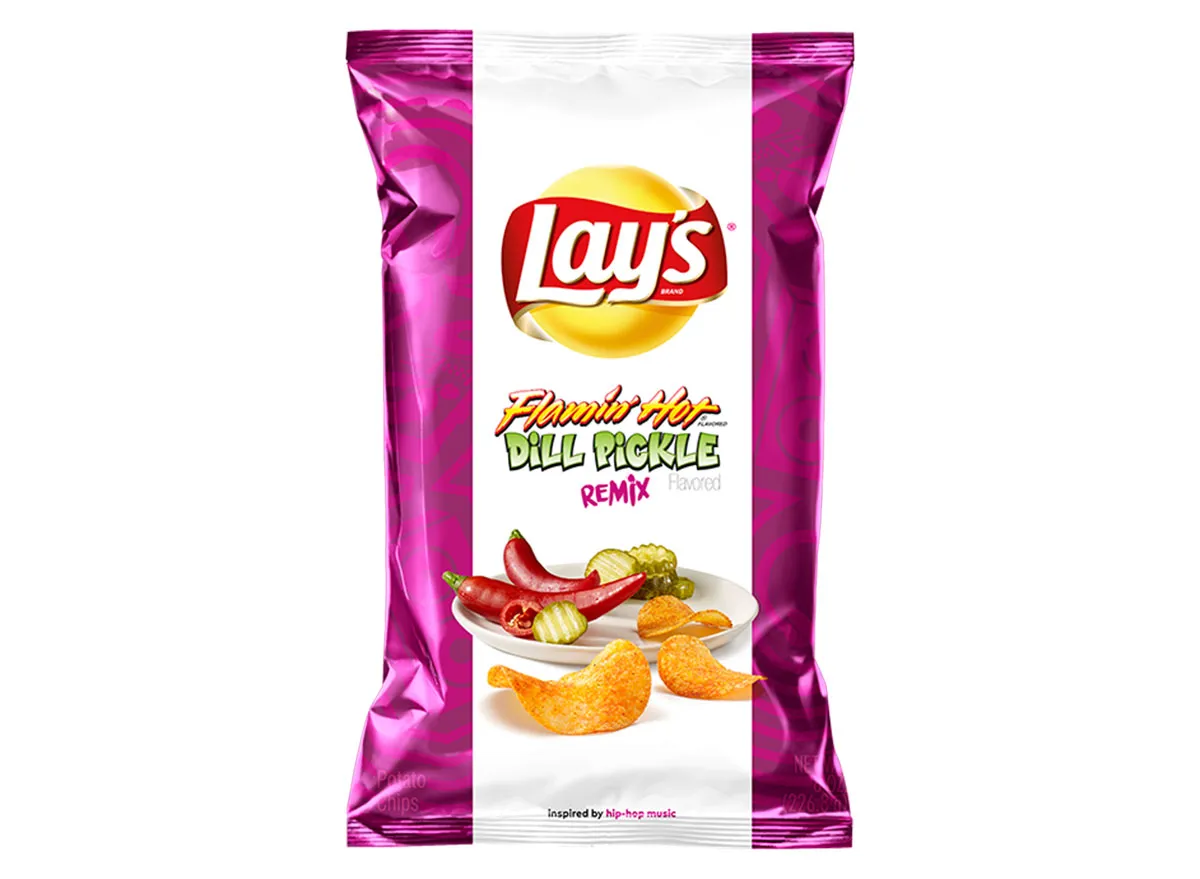 For many people, no packaged snack can beat a classic potato chip. With just the right amount of salt and grease and that perfect crunch, chips can be one of the most delicious takes on potatoes. If you're one to venture outside the original flavor profile, chances are high you're a sour-cream-and-onion fan, a salt-and-vinegar lover, or maybe a cheesy-chip devotee. But there are way more adventurous potato chip flavors out there for you to discover if you're really looking to stretch the boundaries of what a wacky flavor really is.
Around the world, you'll be fascinated by the chip flavors that abound. Thailand, for instance, offers scallop-flavored chips, while Australia has a sausage-and-onion option. But that only scratches the surface. Read on to discover the weirdest potato chip flavors ever. They might just inspire your next vacation…or at least your next grocery shopping trip.
Pringles Cinnamon & Sugar Potato Crisps
Sure, cinnamon and sugar are a winning combination—but it's not every day you see them on a potato chip. This was a limited-edition Pringles flavor from 2014 and 2015 that seems to be inspired by churros. But judging by some seriously disappointed Amazon reviews, it looks like no one misses these sweet chips.
Walkers BBQ Pulled Pork Crisps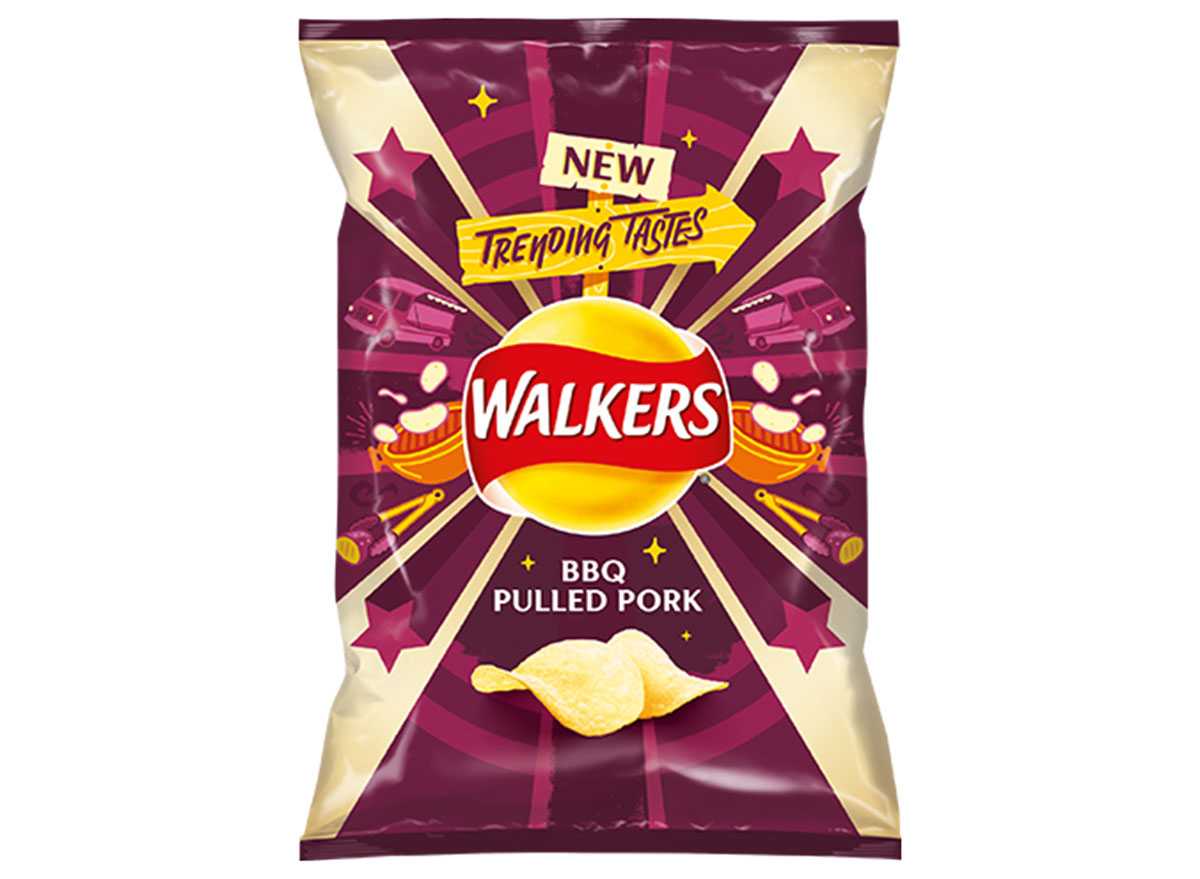 U.K. brand Walkers notably holds "Do Us a Flavour" competitions, in which fans can submit their own chip ideas and vote on their favorites. As a result, Walkers has made some pretty weird potato chip flavors over the years, and the 2014 winner—pulled pork—was no exception. The name has changed slightly, but Walkers is still offering pulled pork chips, so it looks like some people are loving this unusual potato chip flavor.
Lay's Flamin' Hot Dill Pickle Potato Chips
Pickle-flavored chips are one thing. But adding "Flamin' Hot" to the mix is a lot. But the flavor isn't even the weirdest thing about these chips—it's that they're actually inspired by music.
"Flamin' Hot Dill Pickle Remix," which hit stores on March 4, is part of a collaboration between Lay's and pop singer Bebe Rexha called "Turn Up The Flavor." There's a pop music chip called Wavy Electric Lime and Sea Salt, rock chips that are Kettle Cooked Beer Cheese flavor, and these Flamin' Hot Dill Pickle chips, which are intended to be the hip-hop variety. Um, OK?
Utz "The Crab Chip"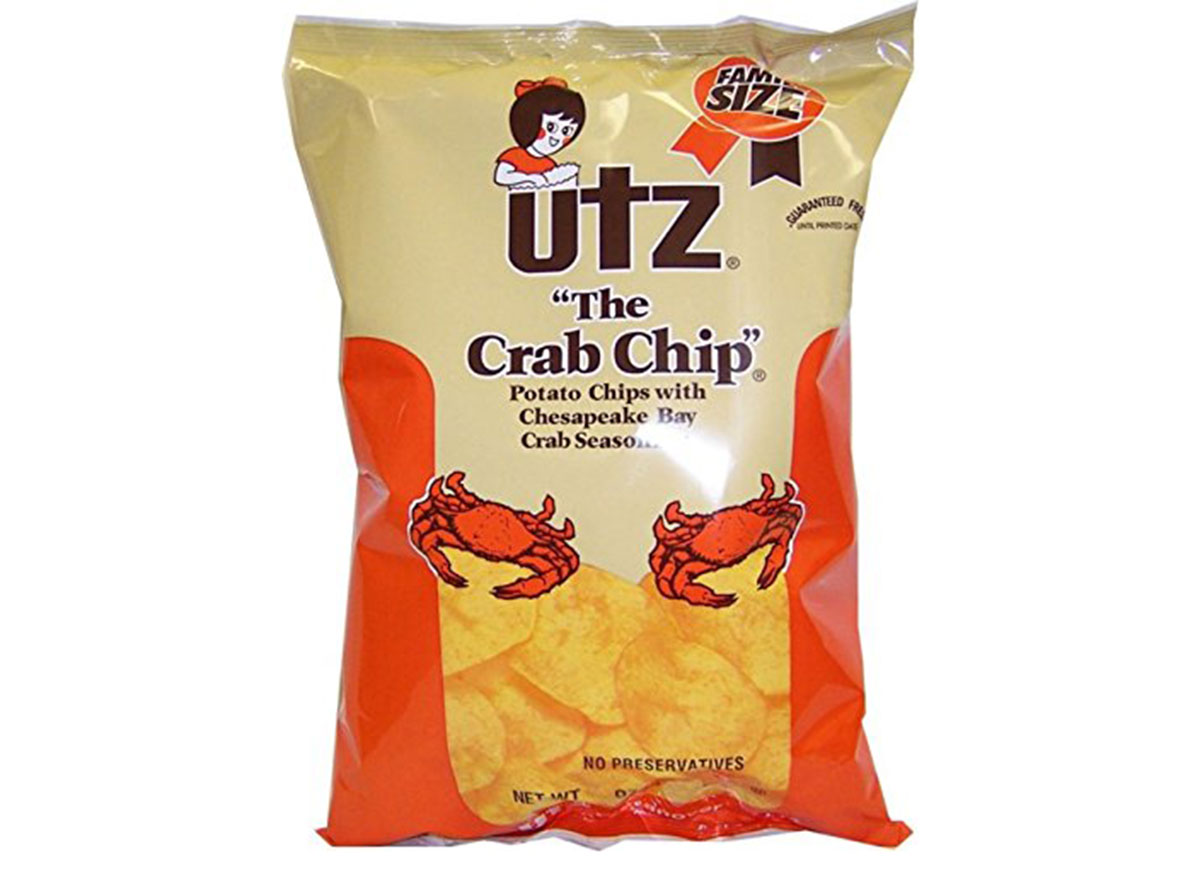 Having been born in Maryland, I actually love crab chips, but I can understand why they would seem odd to anyone from outside the state. The chips promise "Chesapeake Bay crab seasoning"—and they certainly deliver. A fellow Marylander wrote on Influenster, "Crabs and old bay are obviously life! But having it in chip form is amazing! … Would highly 10/10 recommend these." I have to agree.
Walkers Roast Chicken Crisps
Walkers apparently loves meat-inspired chips, or "crisps" as they call them in the U.K., and it looks like some people really do love these protein-flavored snacks. "Best chips ever!" one Amazon reviewer wrote. I guess since I love crab chips, who am I to judge?
Pringles Flame Grilled Steak Chips
Eating a steak can be positively transcendental if it's cooked right, but can the delicious taste of red meat be replicated onto a potato chip? Pringles seems to think so. One Amazon commenter noted that the chips "definitely tasted like flame grilled steak" though, so at least they're delivering.
Pringles Sloppy Joe Chips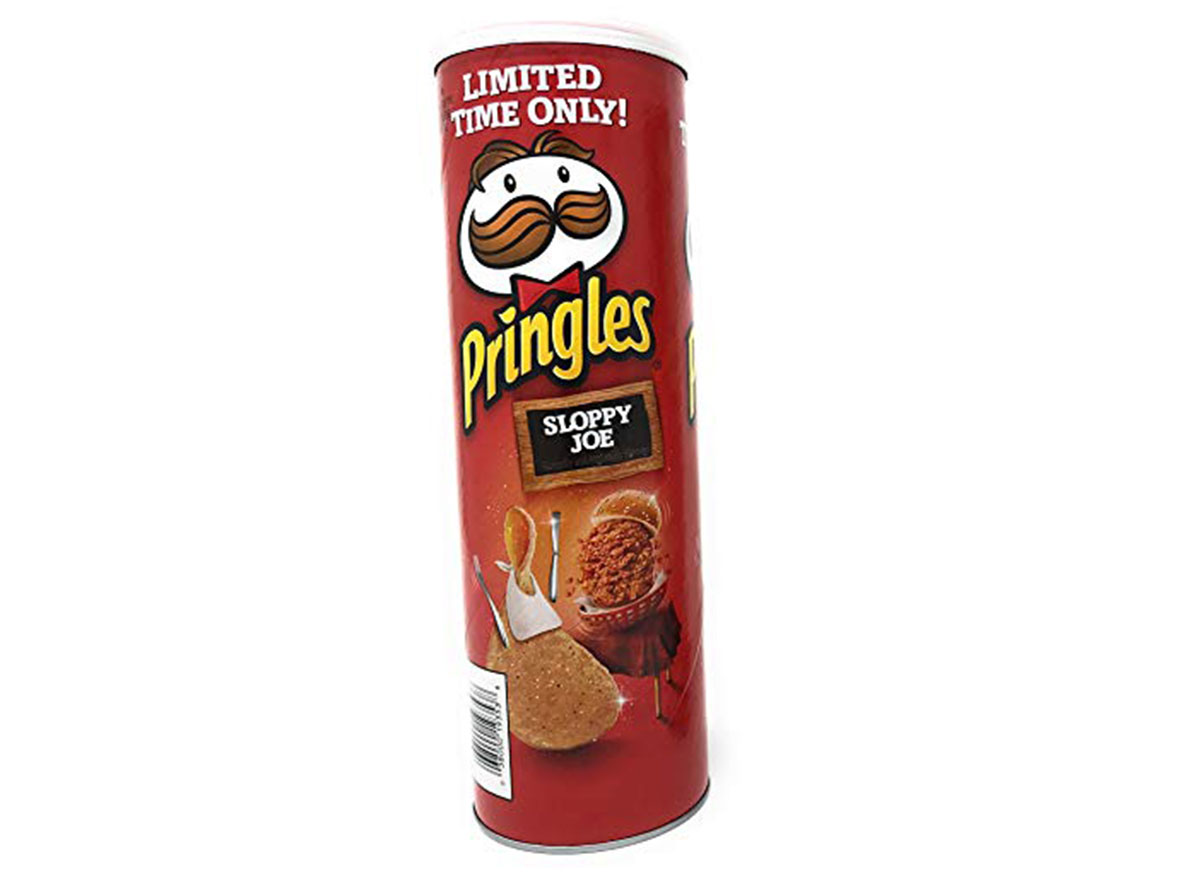 More meat-flavored chips! Actually, sloppy joes are a full meal, not even just a meat. This chip flavor is on another level, even for Pringles. If you're daring enough to try this hot-sandwich-flavored chip, they're available on Amazon.
Walkers Prawn Cocktail Crisps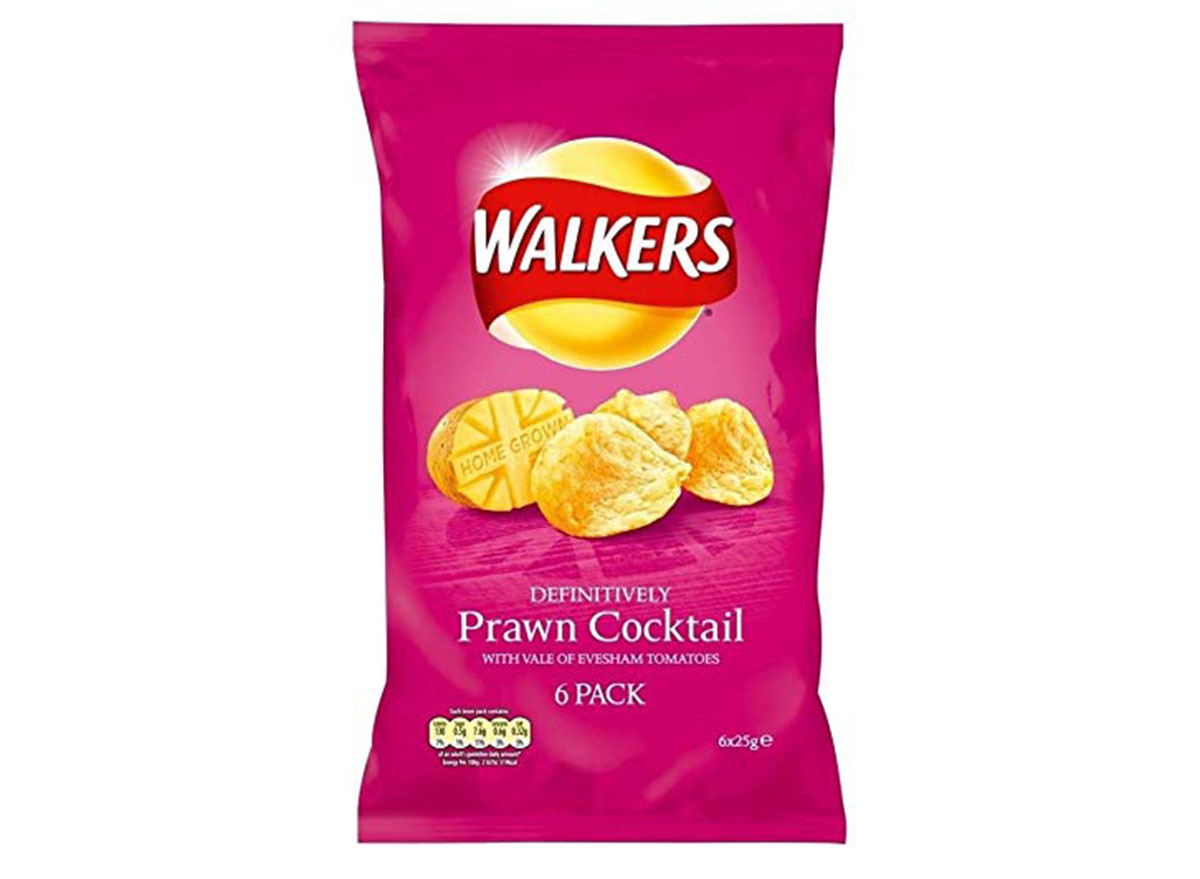 If you're determined to try one of the more unique chip flavors from across the pond, this is definitely an out-there option. Prawns—a relative of shrimp—probably aren't anything you'd normally associate with potato chips. But based on the Amazon reviews of these "Prawn Cocktail" Walkers chips, it sounds like the flavor is more about the taste of the cocktail sauce, rather than the fish itself. And as a lover of the Old Bay seasoning that Utz's crab chips offer, I kind of get it.
Lay's Oregano Potato Chips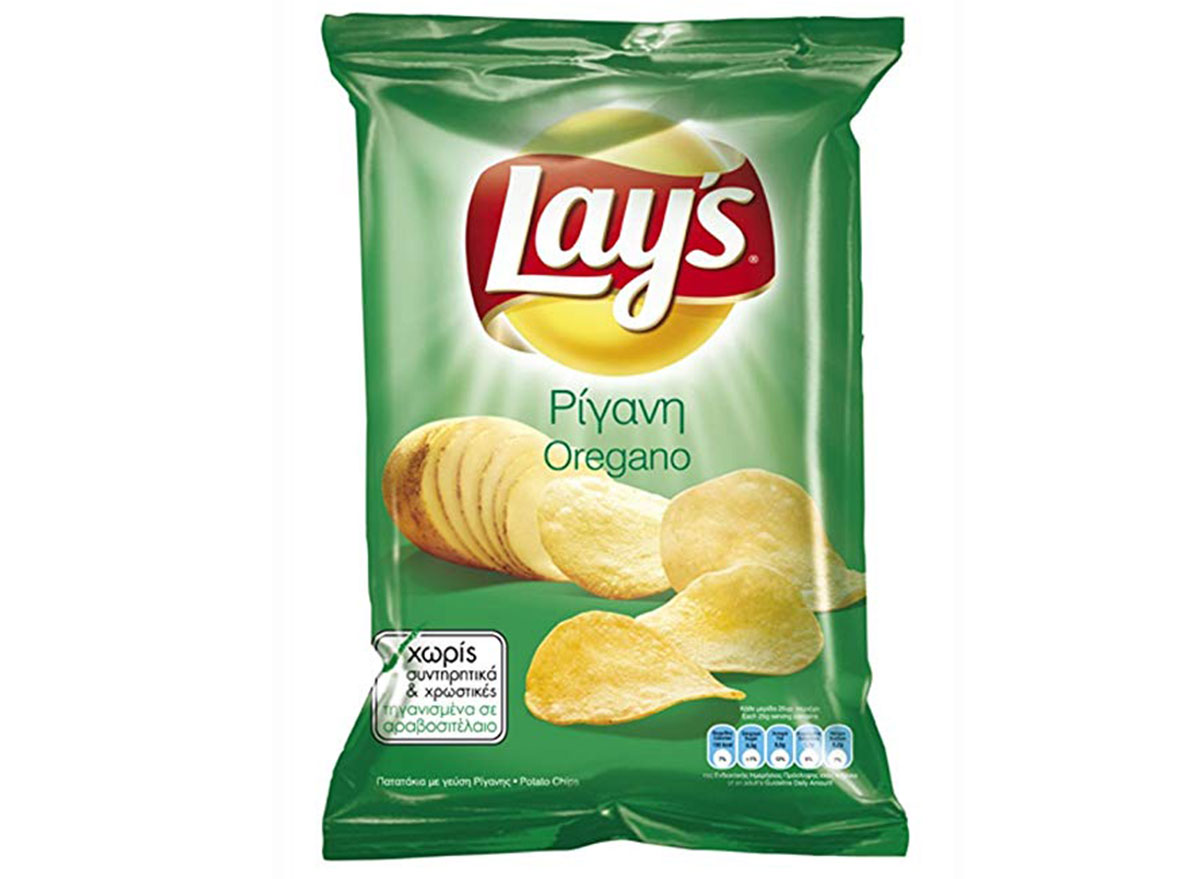 Oregano is for pizza, right? Well, in Greece, it's apparently also for chips. Of course, there are much weirder potato chip flavors out there, but this is just peak Greek.
Lay's Nori Seaweed Flavor Chips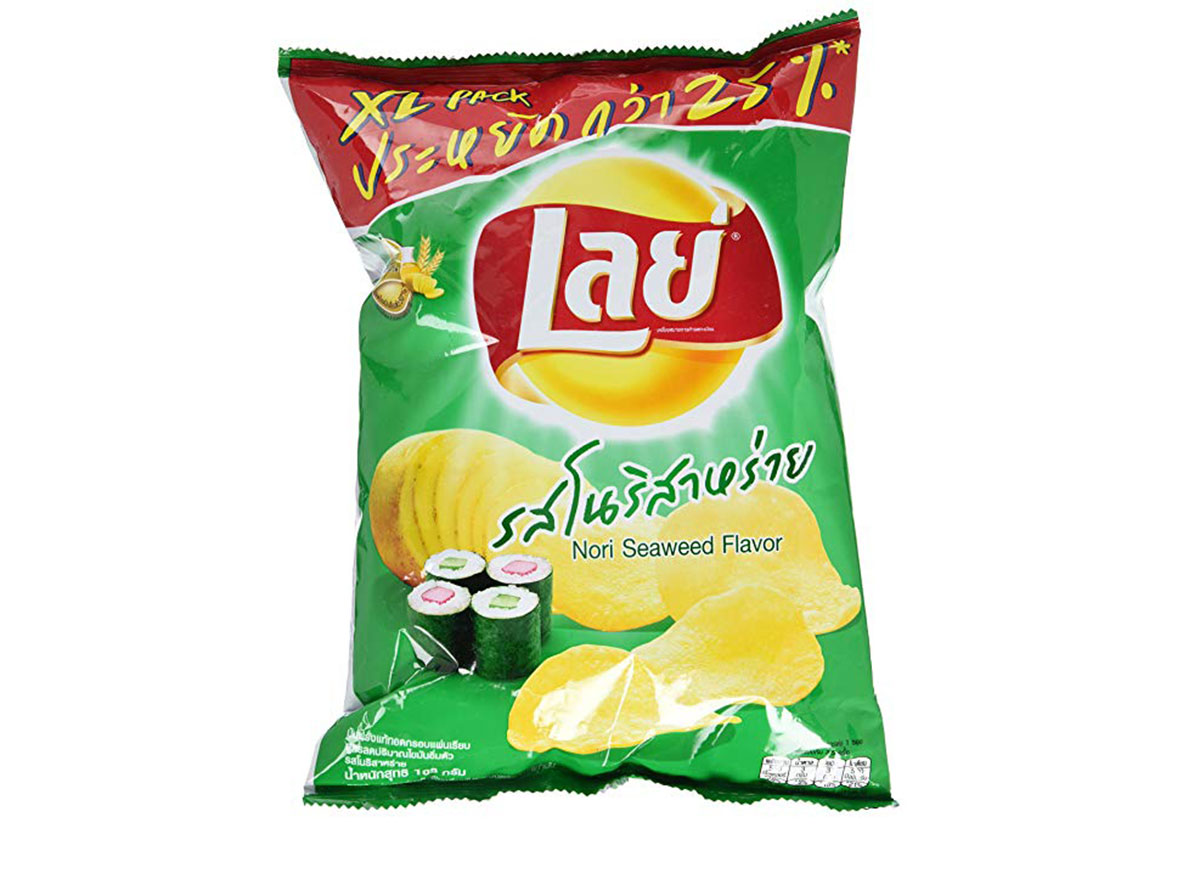 These chips are from Thailand, but you can order them on Amazon if you really want to see what the flavor is all about. One Amazon buyer compared the taste to sour cream and onion chips, which may sound more appealing to you than sushi-inspired chips.
Pringles Ketchup Potato Chips
Why bother adding condiments to your chips when you can get some with ketchup flavor already built in? At least, that's what must've gone through someone's mind when they thought of the idea for these Pringles. They're imported from Canada, according to Amazon, but even a dubious American wrote that they "are probably the best flavor of potato chips I have had."
Lay's Rock Hot Chili Squid Potato Chips
If fried calamari is out of your price range, you can try this Lay's offering from Thailand. According to one American who had a chance to try these chili squid chips via Amazon, "The immediate flavor is the hot chili, but at the end of it you get the taste of squid. It's actually an awesome flavor that I seriously wish was available in the United States. They were definitely worth it." Don't knock it 'til you try it, I guess.
Kettle Brand Maple Bacon Potato Chips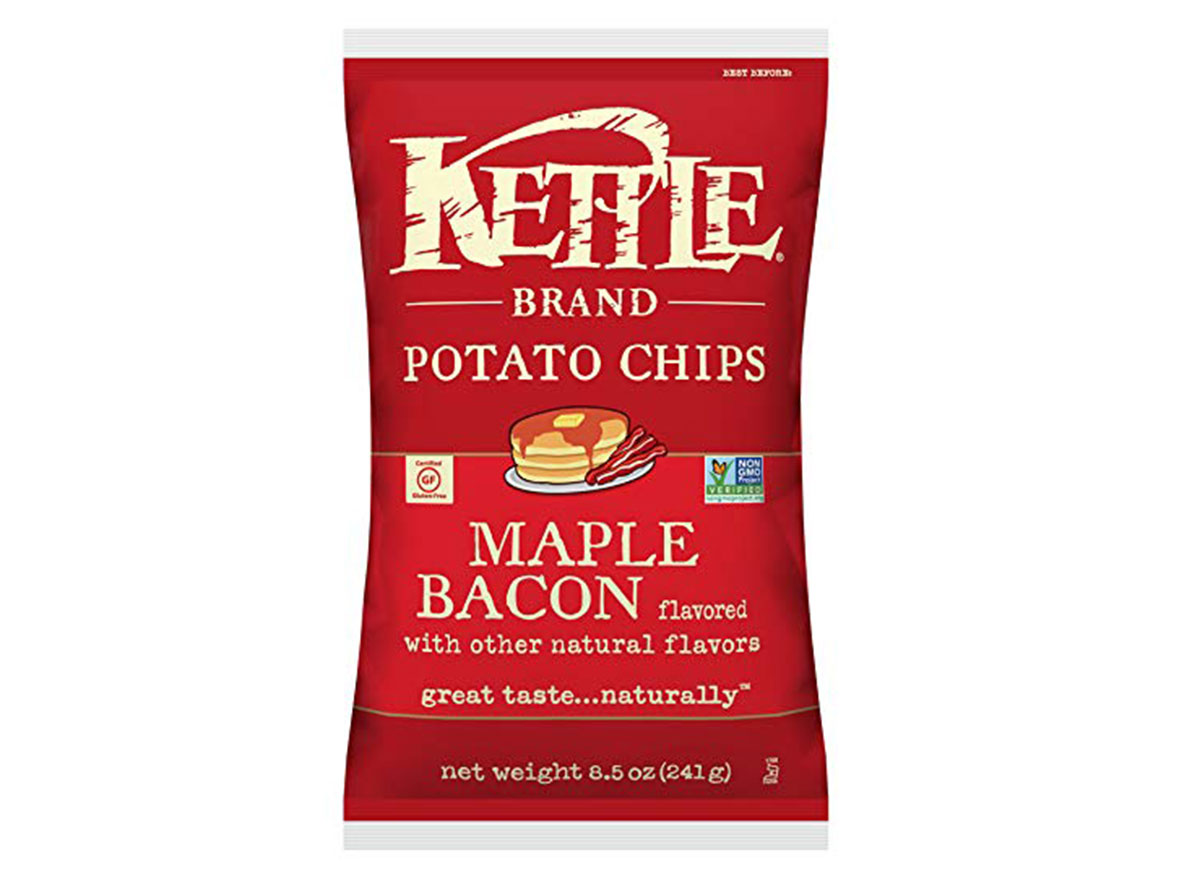 Maple bacon on its own is already an ambitious flavor combination, but adding that flavor to kettle chips? That's a bold move, Kettle Brand. A very bold move. That said, the internet seems to love them. One Influenster reviewer said, "I was surprised how much I liked them. They are the perfect combination of salty and sweet. They kind of remind me of just a better BBQ chip flavor."
Lay's Cucumber Flavor Potato Chips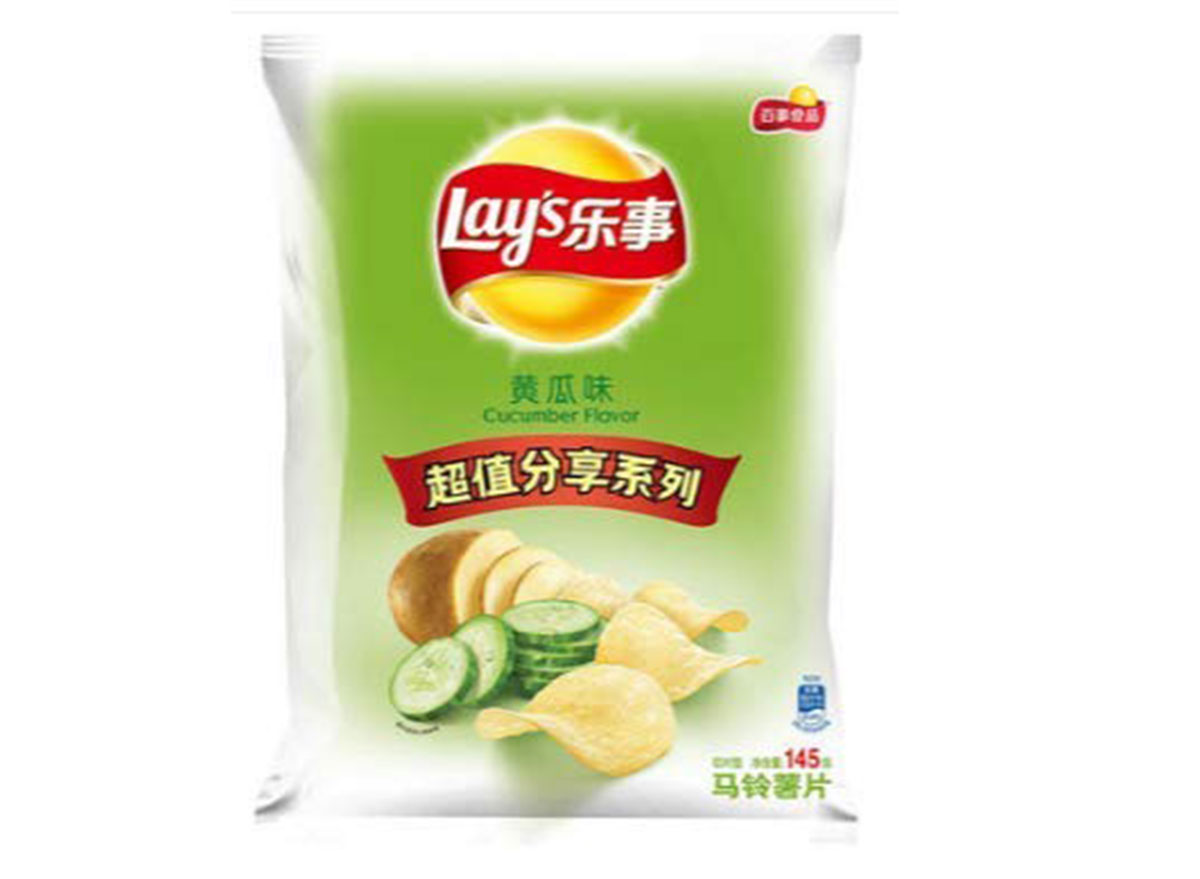 Pickle-flavored chips are definitely out there. But you probably haven't heard about these salad-inspired chips. This Chinese Lay's flavor is definitely unique.
Pringles Texas BBQ Potato Chips
Different parts of the country have their own regional barbecue styles—and you can try at least two of them from a Pringles can. Pringles offers Texas BBQ and Memphis BBQ flavors, but neither of them could hold a candle to actual barbecued meat.
Lay's Sweet Basil Potato Chips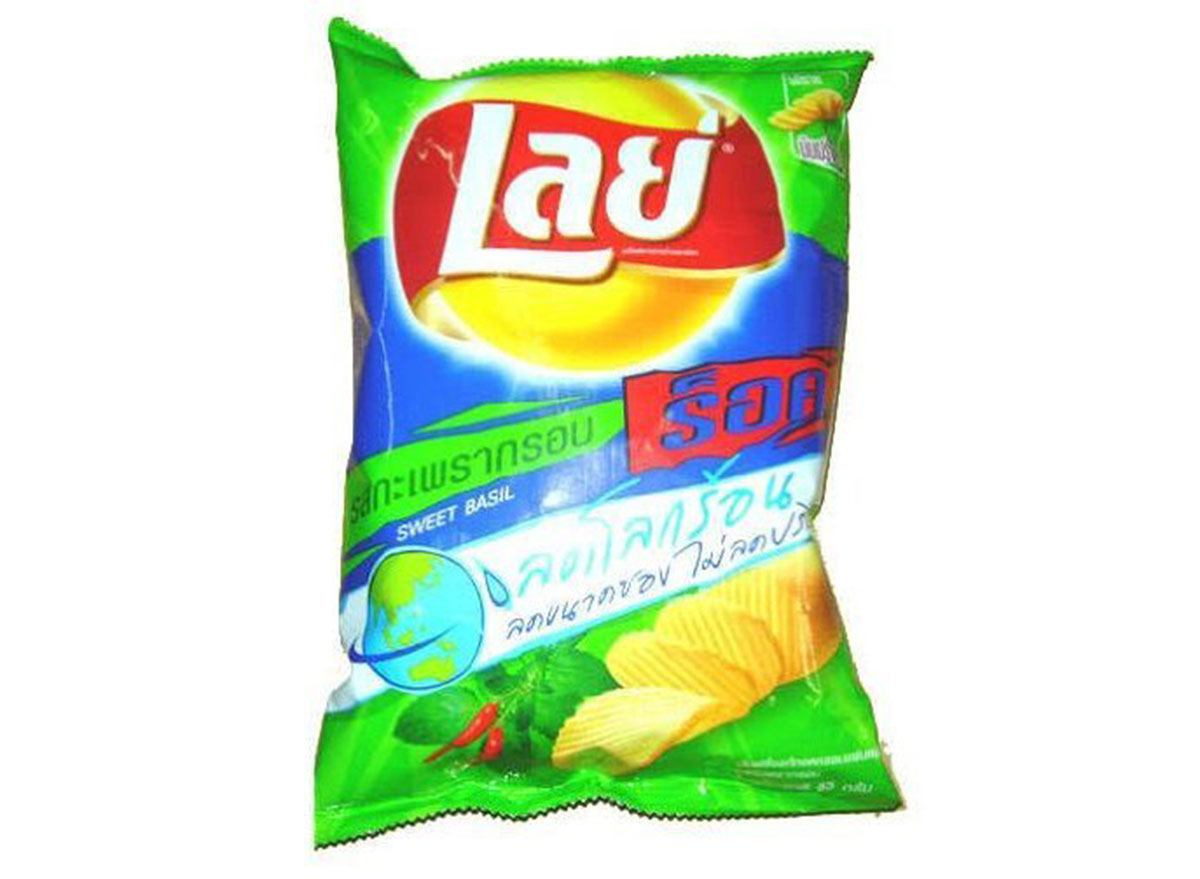 Thailand really knows how to create unique chip flavors. If the Greek oregano chips don't strike your fancy, maybe these basil-flavored ones will do the trick.
Pringles BBQ Sausage & Onion Potato Chips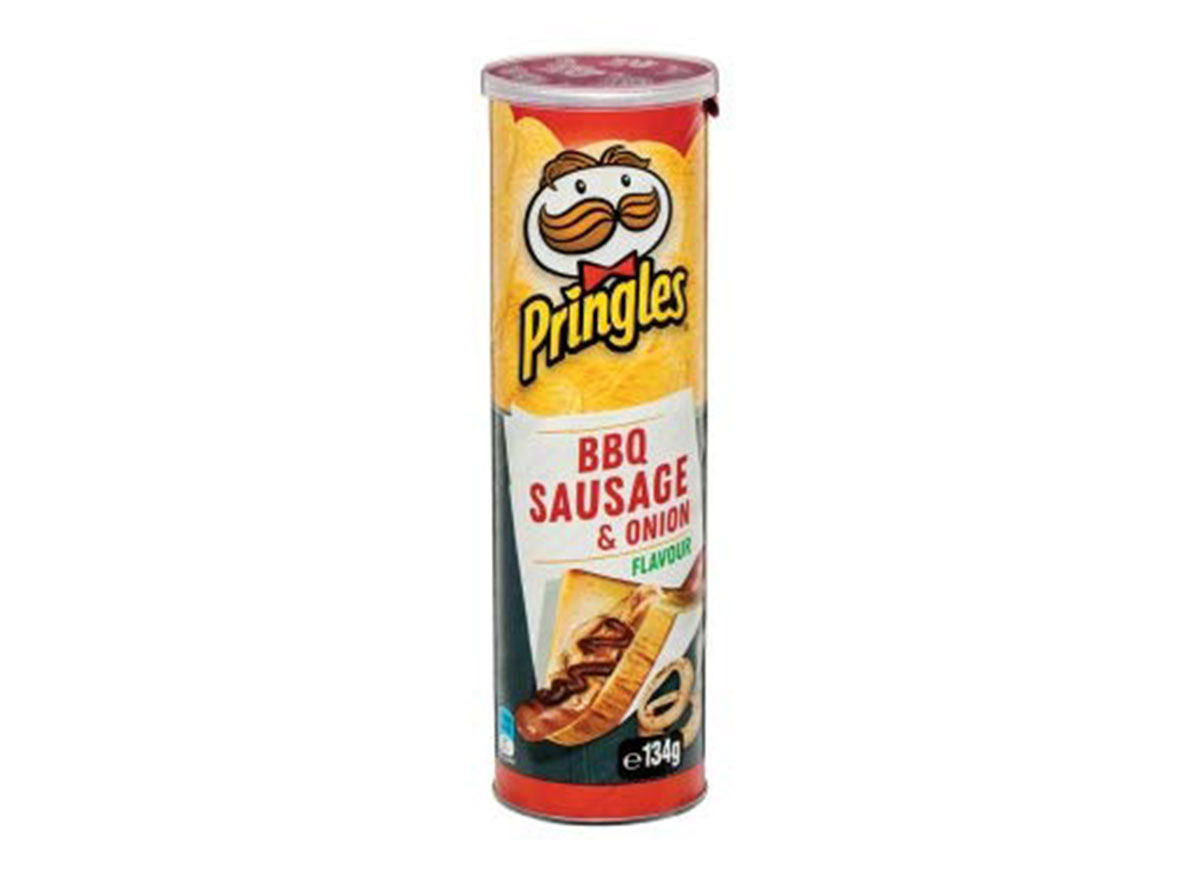 6254a4d1642c605c54bf1cab17d50f1e
Pringles loves meat-flavored chips almost as much as Walkers, apparently. The BBQ sausage and onion flavor is an Australian variety that came out in 2018, and it definitely has its fans. As one reviewer said in her video review, "They're really, really tasty."
Lay's Baked Scallop with Butter & Garlic Potato Chips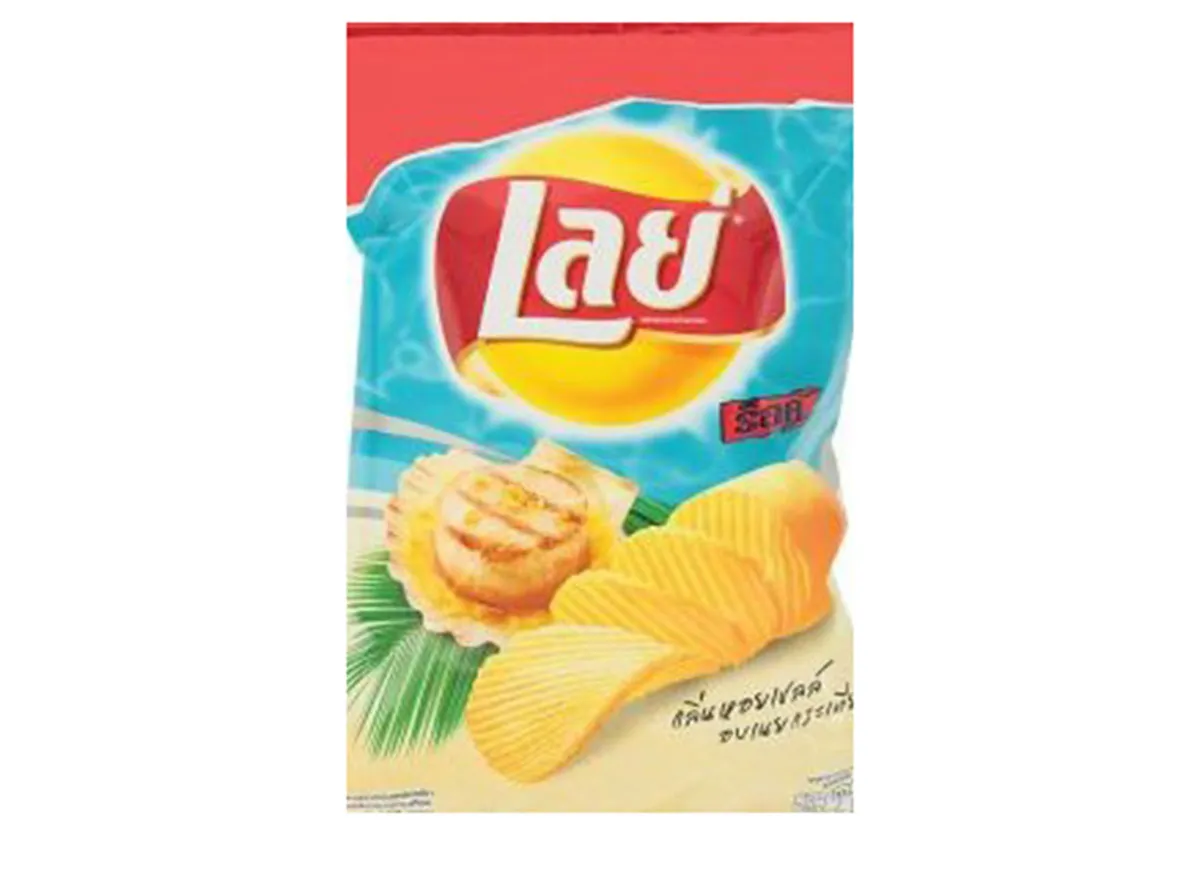 If you've been looking for potato chips that taste like a Red Lobster appetizer, you're in luck. These Thai chips promise the flavor of buttery scallops, all in a potato chip form. These only have two reviews on Amazon, both of which seem to conclude they don't taste like scallops. And maybe that's a good thing.
Pringles Pizza Potato Chips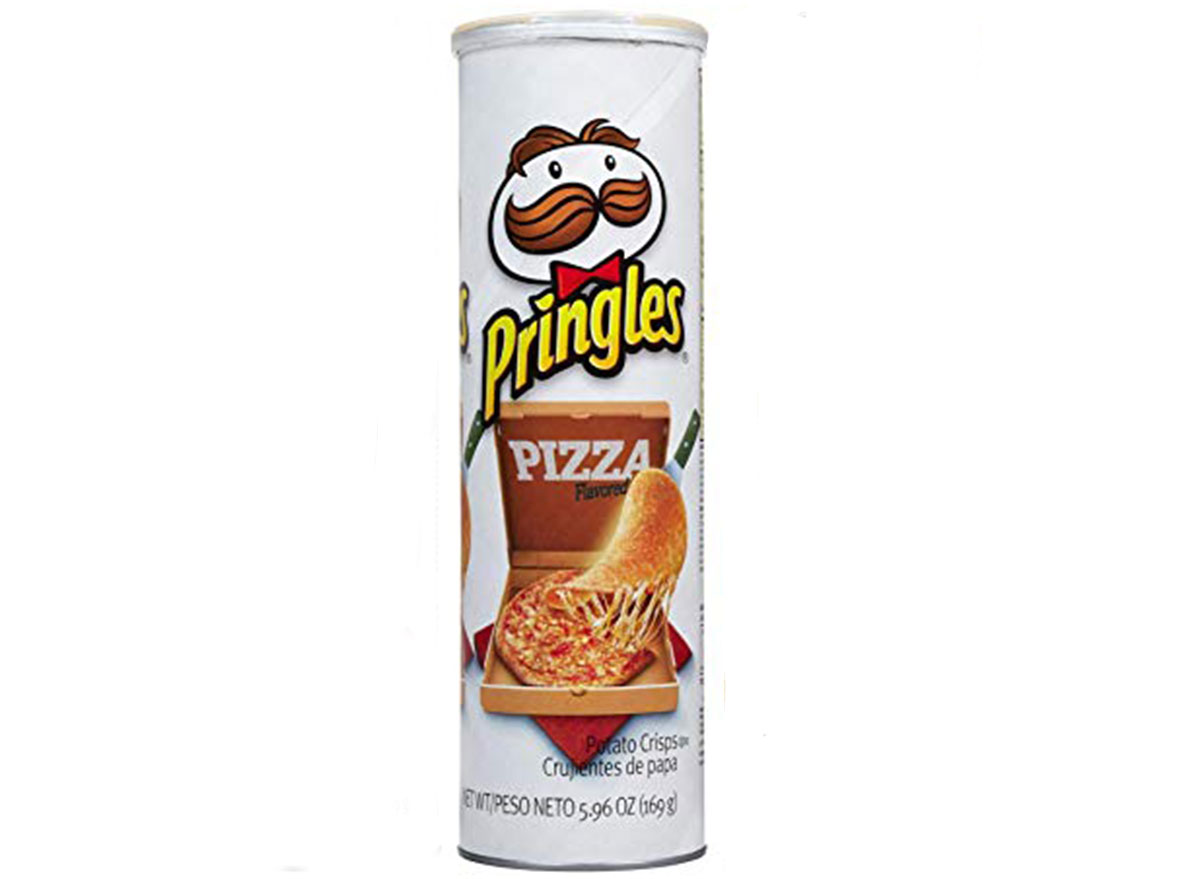 How do you condense the nuanced taste of tomato, mozzarella, and fresh-baked dough into a potato chip seasoning? Apparently, it's doable, because these Pringles have defied all odds and are still available today.
Walkers Worcester Sauce Crisps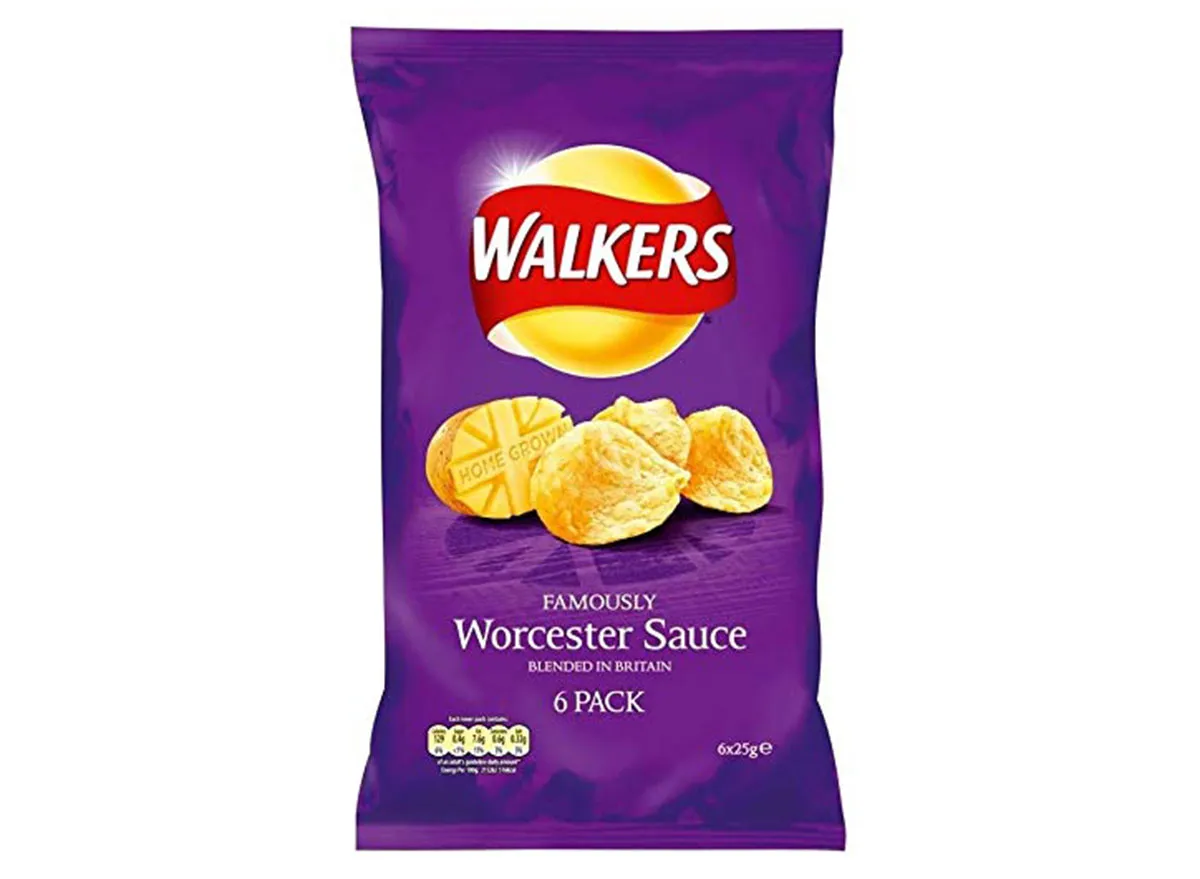 Worcestershire sauce can be a delicious way to season vegetables and meat. But on chips? That's definitely an interesting choice. Considering Worcestershire sauce's 150-year place in British history, it's no wonder U.K. brand Walkers has incorporated it into their chips.
Meghan De Maria
Meghan De Maria is a senior editor at
Eat This, Not That!
, specializing in food, product, and restaurant coverage.
Read more about Meghan