I Tried Wendy's New Chicken Wrap & Cobb Salad—and One Was a Major Disappointment
This new spring item was the star of the show.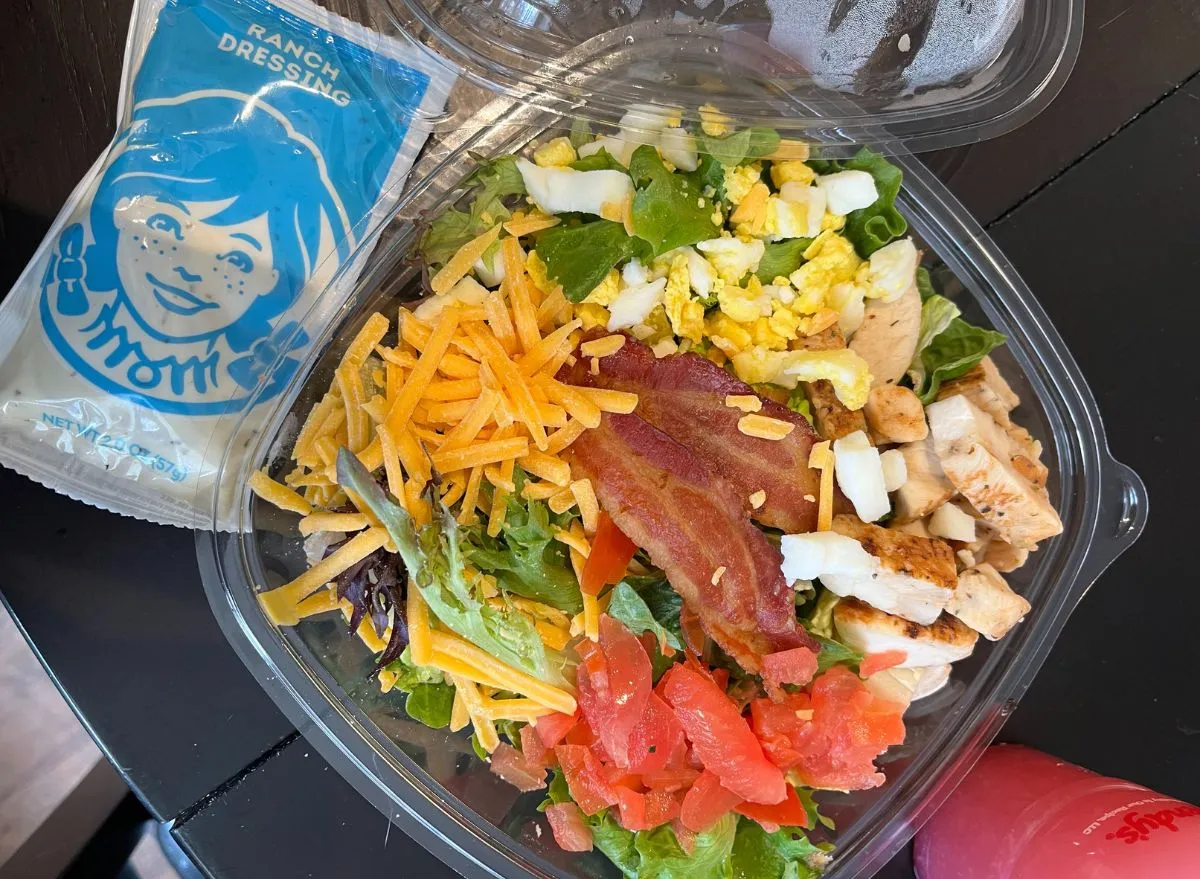 When Wendy's debuted a new Grilled Chicken Ranch Wrap this week, along with a new Cobb Salad and Blueberry Pomegranate Lemonade, I had to try them. Wendy's doesn't often debut two major new menu items at the same time so this was an exciting release from the chain. Also, this is Wendy's first wrap since the Go Wrap was discontinued in 2020 and the chain is one of the only ones still offering salad (which both McDonald's and Burger King discontinued). Plus, the chicken and ranch combo inside a soft tortilla hearkens back to a fan favorite from McDonald's, the beloved Snack Wrap.
Wendy's new wrap is larger than a snack wrap and wasn't made to mimic the McDonald's Snack Wrap, a rep told CNN. The new wrap is meant to be a healthier handheld, all-in-one meal with the freshness of Wendy's salads.
Even though Wendy's wrap is different than McDonald's Snack Wrap—it has grilled chicken instead of fried chicken—fast-food fans will naturally compare the two. McDonald's Snack Wrap, which was completely phased out by 2020, is the number one requested item on social media and other places where fast foodies chat. Whenever a new fast-food wrap comes out the fire for the Snack Wrap seems to be reignited. For instance, when KFC released snack wraps a few weeks ago fans were excited, not because they wanted to try the specific snack wraps, but because they wondered if McDonald's was watching.
Could the new Wendy's wrap inspire McDonald's to bring the discontinued item back? I enlisted one other fast-food fan to help me test out the new items. Here's what we thought.
Grilled Chicken Ranch Wrap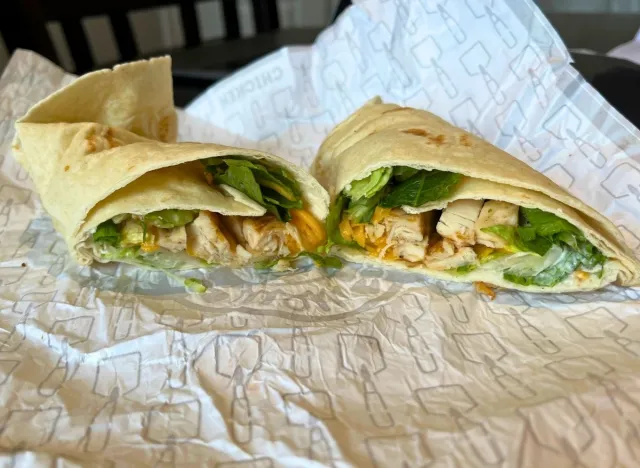 Per wrap
: 420 calories, 16 g fat (5 g saturated fat, 0 g trans fat), 1,230 mg sodium, 41 g carbs (2 g fiber, 2 g sugar), 51 g protein
Wendy's new Chicken wrap is a simple mixture of marinated chicken, romaine lettuce, shredded cheddar cheese, and the chain's new ranch sauce.
The look: This wrap looks like something I'd throw together with leftover grilled chicken. It looks homemade, but not in a good way. Since this was the first day the item was offered, it might have suffered from that, but it looked flat and not all that large for $6.49. It hardly qualifies as a meal.
The taste: In a word: meh. We were not impressed with this wrap. This wrap suffered from the common issue that many wraps have, which is inconsistency. The ingredients were not mixed together well, so the bites varied. The ranch dressing wasn't spread around enough, resulting in dry bites of tortilla. The chicken tasted great and was very tender and flavorful—the saving grace of this sandwich. The lettuce was crisp and juicy, but who wants to eat a bunch of watery bites of flour tortilla and lettuce? Show us the sauce, Wendy's!
If everything was tossed with the very tasty ranch dressing the wrap would have held together better and would have had a more cohesive flavor. However, it still would have been a bit bland. What it really needed was some of the salad's delicious bacon.
Per salad with dressing
: 680 calories, 50 g fat (12.5 g saturated fat, 0 g trans fat), 1,340 mg sodium, 19 g carbs (3 g fiber, 4 g sugar), 37 g protein
Wendy's is one of the few big chains that still offers salad. The newest offering for spring combines romaine lettuce, marinated chicken, bacon, tomatoes, cheddar cheese, hard-boiled egg, crispy onions, and ranch sauce.
My other taster has frequently ordered Wendy's salads and considers them the best in fast food. Most other spots have dropped them so it is refreshing that a healthier option is still available. I say healthier because using all the dressing can make these salads fat bombs. Case in point, this Cobb Salad with the dressing has over 50 grams of fat, more than a Dave's Single. Plus, the salad only has one more gram of fiber than the burger. It is, however, lower in carbs.
The look: This salad was gorgeous for a fast-food salad. Every ingredient was in its respective corner, like a restaurant cobb salad. I liked how the bacon was left in strips, it added a high-end look.
The taste: Delicious! Wendy's has redeemed itself from the depressing Grilled Chicken Ranch Wrap. The lettuce was truly fresh and crisp, the bacon maintained a little crunch–a rare feat for fast food–the tomatoes were tasty and the tender, flavorful chicken gave the salad a great chew.
The ranch sauce, too mild for the wrap, brought everything together in the salad. The cheddar cheese was a little chalky which was the only thing that whispered "fast-food salad," but that was the only issue. For the real Cobb salad feel, Wendy's should have used the blue cheese from the Apple Pecan Salad. We only realized the day after that we didn't get the crispy onions—and we didn't miss them.
Blueberry Pomegranate Lemonade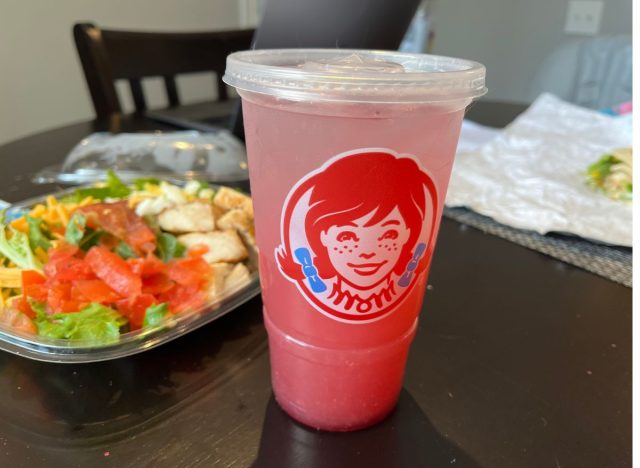 Per small size
: 240 calories, 500 g fat (0 g saturated fat, 0 g trans fat), 25 mg sodium, 61 g carbs (0 g fiber, 58 g sugar), 0 g protein
The new blueberry- and pomegranate-spiked lemonade is fresh and fruity—a perfect spring beverage. It is made with fresh lemon puree, blueberry pomegranate purees, and also some unadvertised banana puree and strawberries.6254a4d1642c605c54bf1cab17d50f1e
The look: A pleasing hazy blueish-purple color with bits of fruit at the bottom. It looks like homemade lemonade, not a hyper-color sugary drink with fake colors.
The taste: The drink was at first very tart, but after a quick stir everything melded into a pleasantly sweet-tart combo that will complement fatty food. The only downside is that it has a ton of sugar, 58 grams in the small size alone, which is almost as much as a soda.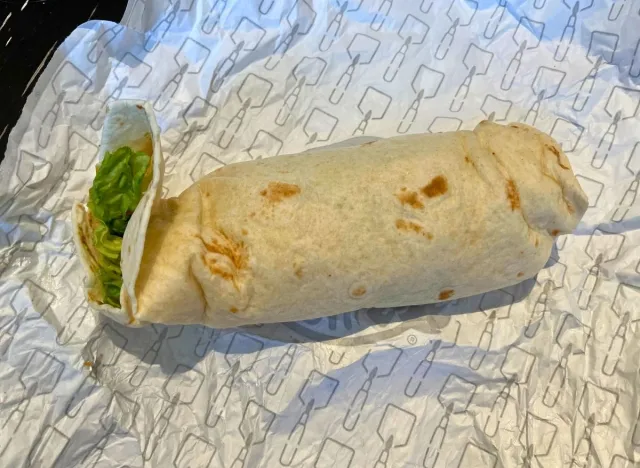 McDonald's has nothing to fear from Wendy's new Grilled Chicken Ranch Wrap when (and if) it decides to bring back the Snack Wrap. But it should be afraid of the salads and lighter options that Wendy's is still offering. McDonald's hasn't had salads or grilled chicken on the menu in a long time, and people do still crave fast food that isn't deep-fried.
Wendy's grilled chicken is the star of both entrees, something that many fast-food restaurants don't get right. While the wrap wasn't anything to write home about, the salad is a high-end offering that will sell well. The lemonade is a bit too sugary to be good for you, but once in a while on a hot day, it will hit the spot.