What 10 Diet Experts Order at The Cheesecake Factory
Sure, they make cheesecake, but they're probably most well known for their huge portions. Here's what to eat that won't give you a waistline to match.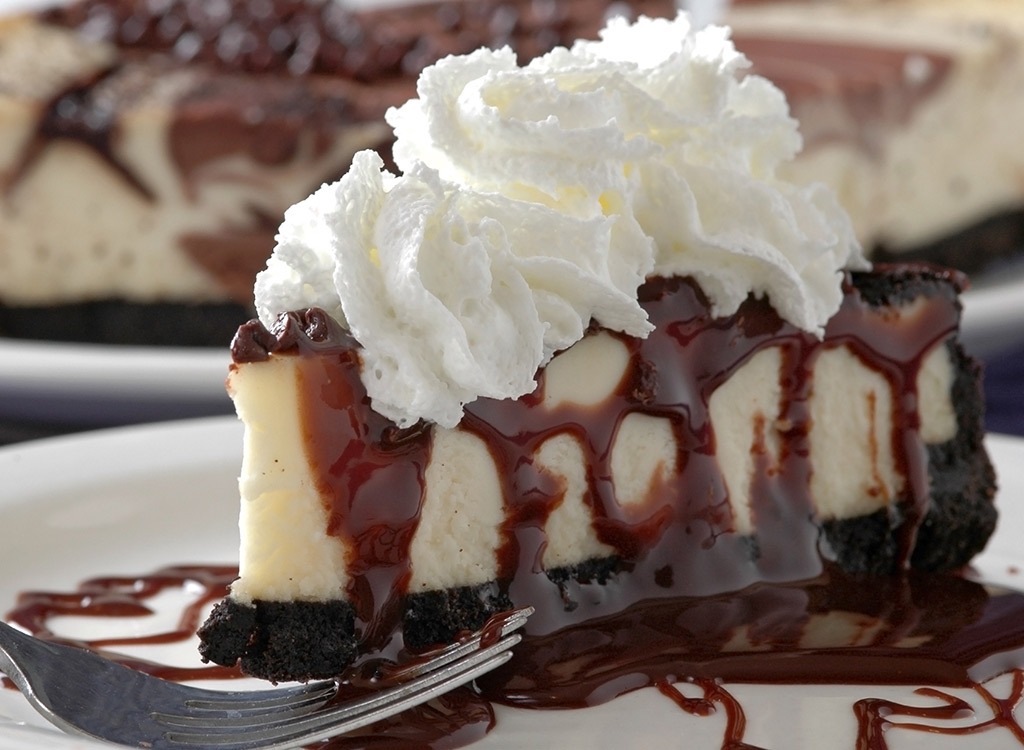 The Cheesecake Factory is a great option for an easy family dinner, a fun night out with friends or a go-to weekend brunch spot.
But, thanks to large portions (not to mention that mega-sized cheesecake display that's nearly impossible to resist), eating healthfully there is not always as simple as you'd like. Here, 10 nutritionists on what they'd order at the beloved American eatery, and why.
Guacamole and Herb-Crusted Salmon Salad
"Cheesecake factory is known for their fun atmosphere, huge portions and delicious desserts, and it can be hard to control your appetite and make the healthiest decision when faced with all the tempting options. The key is to compromise. I might order the guacamole as an appetizer and split it with the table. Guacamole is a great way to get in some heart-healthy fats, potassium, fiber and vitamin E, found in avocados. I'd also ask for a side of raw veggies like carrots, celery and cucumbers so that I can limit myself to just one ounce of chips (about 5). Even though the side of veg will cost you extra, it's certainly worth it if it means a few extra bites of that yummy guac. After that little splurge, I'd balance out my meal with a light salad packed with omega-3 rich proteins such as the Seared Tuna Tataki Salad or the Herb Crusted Salmon Salad–with dressing on side, of course!" — Lisa Moskovitz, RD, CDN
"If I were to eat at the Cheesecake Factory, I would stick to the Skinnylicious soft tacos. They're filled with spicy chicken or shrimp, avocado, tomato, onions, cilantro and crema, and served with escabeche vegetables. They come in an order of three, but I'd only eat two (and no crema because of an allergy), making the meal clock in around 400-500 calories. An added bonus: The avocado not only tastes great, but is also filled with healthy fats that help keep me full (and keep skin and hair healthy)! Alternatively, I'd keep it simple with two poached eggs and an English muffin with a side of tossed green salad from the Skinnylicious menu. That's about 550 calories in total!" — Stephanie Middleberg, MS, RD, CDN, Founder of Middleberg Nutrition
"I'd go for the shrimp-filled soft corn tortillas, which get filled with avocado (rich in heart-healthy monounsaturated fat), tomato and cilantro. Between the seafood and all the veggies, this dish is filling, nutritious and worth every bite." — Liz Weiss, MS, RD Co-Author, No Whine with Dinner and The Moms' Guide to Meal Makeovers
Edamame and Seared Ahi Tataki Salad
"The last time I was at the Cheesecake Factory, I ordered off their new Skinnylicious menu. I generally start with the steamed edamame or the grilled artichoke. I love edamame because it takes a while to eat and the soybeans are in their whole form, high in fiber and high in protein, it satisfies my hunger without added fat or calories. I opt not to have the sauce on the edamame because it is likely high in sodium. The artichokes are slightly sweet, loaded in fiber, fun to eat and low in calories. For my main dish, I go for the Seared Ahi Tataki Salad. The tuna is paired with heart-healthy avocado, and mixed greens and ginger, which is a great anti-inflammatory. I ask them to go 'light on the dressing' so I get all the flavor without the extra fat. Light yet high in fiber and lean protein, this meal is guaranteed to fill me up rather than fill me out." — Amy Shapiro MS, RD, CDN, Real Nutrition NYC
Little House Salad and Skinnylicious Tuscan Chicken
"When eating out–at The Cheesecake Factory or elsewhere–I always start with a salad so I can fill up before the meal and not be tempted to eat the dreaded bread basket! Cheesecake Factory has a Little House Salad for less than 260 calories, but I get dressing on the side to bring it down to 200 or even a bit less. For an entree, I like the Skinnylicious Tuscan Chicken. The calorie count is 585 calories for the dish–but the portion is big, and I don't always finish it. The artichokes in the dish are packed with fiber to keep you full. Sometimes, I have them hold the farro and add extra steamed veggies instead to bring the calories down even further." — Ilyse Schapiro MS, RD, CDN, Founder of Ilyse Schapiro Nutrition
"One of my favorite salads at The Cheesecake Factory is the lunch Santa Fe Salad with 540 calories. I ask them to serve the dressing and cheese on the side so I can decide how much to use (typically much less than it comes with), and that will skim back on calories and fat pretty easily without sabotaging flavor." — Toby Amidor, MS, RD nutrition expert and author of The Greek Yogurt Kitchen: More Than 130 Delicious, Healthy Recipes for Every Meal of the Day, Founder of Toby Amidor Nutrition
Skinnylicious Veggie Burger
"When I dine at The Cheesecake Factory, I almost always order the Skinnylicious Veggie Burger served with a side salad. I don't choose it because it's on the Skinnylicious menu, but because it has an amazing flavor and is packed full of nutrients. This veggie burger is a step above the norm since it is made with whole grains like farro and antioxidant-rich ingredients like mushrooms, black beans and onion. I skip the mayo to make it an even healthier choice." — Gina Consalvo, MA, RD, LDN, CDE, NCC, Founder of Eat Well with Gina, LLC
Chicken and Mushroom Lettuce Wraps
"At The Cheesecake Factory, the Seared Tuna Tataki Salad is a definite favorite; it's filling and flavorful, but still leaves room for me to enjoy a glass of wine and even share an edamame appetizer with the table. You can reduce the calories and fat even further by using only half of the vinaigrette dressing. The Chicken and Mushroom Lettuce Wraps are another favorite. The calorie count is balanced with around 27 grams of carbohydrate, 23 grams of protein and 16 grams of fat per plate. That, too, still leaves room to enjoy a glass of wine with my meal without overdoing it. However, the sodium content is pretty high (915 mg), so be sure to drink lots of water with your meal." — Heather Mangieri, MS, RD, CSSD
"At The Cheesecake Factory, the Kale and Quinoa Salad delivers a balanced meal that satisfies my hunger, even on days that I want something more substantial than a salad. I usually get hungry an hour later when I have a salad as a meal, but this dish's satisfying texture, sauciness and flavor keep me full and energized. Cooked al dente, the protein and fiber rich quinoa (8.14 grams of protein and 5.2 grams fiber per cup) contrasted with the crunchy kale, tender red peppers and sweet grapes make a lemony light lunch that will sustain and energize me throughout the afternoon." — Libby Mills, MS, RDN, LDN, National Spokesperson for the Academy of Nutrition and Dietetics
Skinnylicious Grilled Turkey Burger
"Sometimes it's nice to indulge in a juicy burger when dining out. I've found that the Skinnylicious Grilled Turkey Burger satisfies my craving for a burger, plus a salad of greens will keep you full and fully distracted from eating all the bread they bring you! This comes in at 520 calories, 8 grams of fat, 38 grams of carbohydrates and 28 grams of protein." — Jim White, RD, ACSM Health Fitness Specialist, Academy of Nutrition & Dietetics Spokesperson, Owner, Jim White Fitness & Nutrition Studios
Sheila's Chicken and Avocado Salad
"When I eat at The Cheesecake Factory, I love Sheila's Chicken and Avocado salad (no tortilla strips and dressing on the side) because of the blend of savory and sweet flavors, healthy fats from avocado and cashews, splash of flavor from cilantro and vitamins A, C, E and K from mixed greens, carrots and cilantro! In addition, I'm a big fan of the Herb Crusted Salmon Salad (dressing on side). I love this for its healthy omega 3 fats, generous portion and mix of veggies and overall low-cal ingredients for a satisfying but not overwhelming dish." — Lauren Minchen, MPH, RDN, CDN, Lauren Minchen Nutrition, PLLC6254a4d1642c605c54bf1cab17d50f1e
Skinnylicious Tuscan Chicken
"As an alternative to my usual orders, I'll sometimes go for the Tuscan Chicken from Skinnylicious menu. It's full of flavor and a great source of lean protein and fiber from flavorful veggies and herbs! I leave the farro on the plate to reduce calories and keep this meal extra lean. Another good option is the Create Your Own Omelette. I love omelettes for any meal, especially at a restaurant! With this option, you can choose the ingredients and have the opportunity to keep calories under control. I order an omelette (whole eggs for the vitamins and phytonutrients!) with mushrooms, spinach, tomato and avocado for a healthy dose of B vitamins, vitamins A, C and E, fiber, phytonutrients and healthy fats!" — Lauren Minchen, MPH, RDN, CDN
"Tuscan chicken is my number one choice in order to get a well-balanced meal without over-indulging. Tuscan chicken contains tomatoes, artichokes, capers, fresh basil and balsamic vinaigrette over fresh vegetables and farro. This meal contains a lean protein, whole grain, and vegetables so it's perfect to have and still stay on track! It comes in at 585 calories, 24 grams of fat, 35 grams of carbohydrates and 45 grams of protein." — Jim White, RD, ACSM Health Fitness Specialist
When it comes to dessert, all those gooey, delicious choices at Cheesecake Factory are super high in calories. I will share one item with my table and take a few bites just to satisfy my sweet tooth–they are known for their cheesecake, after all!. The Cheesecake Factory is great with doggy bags, so I tend to take extras home for my kids or to eat at a later date." — Toby Amidor, MS, RD