A Day in the Life: What the Founder and CEO of Dylan's Candy Bar Eats
Candy queen Dylan Lauren of Dylan's Candy Bar shares a sweet look into her everyday life.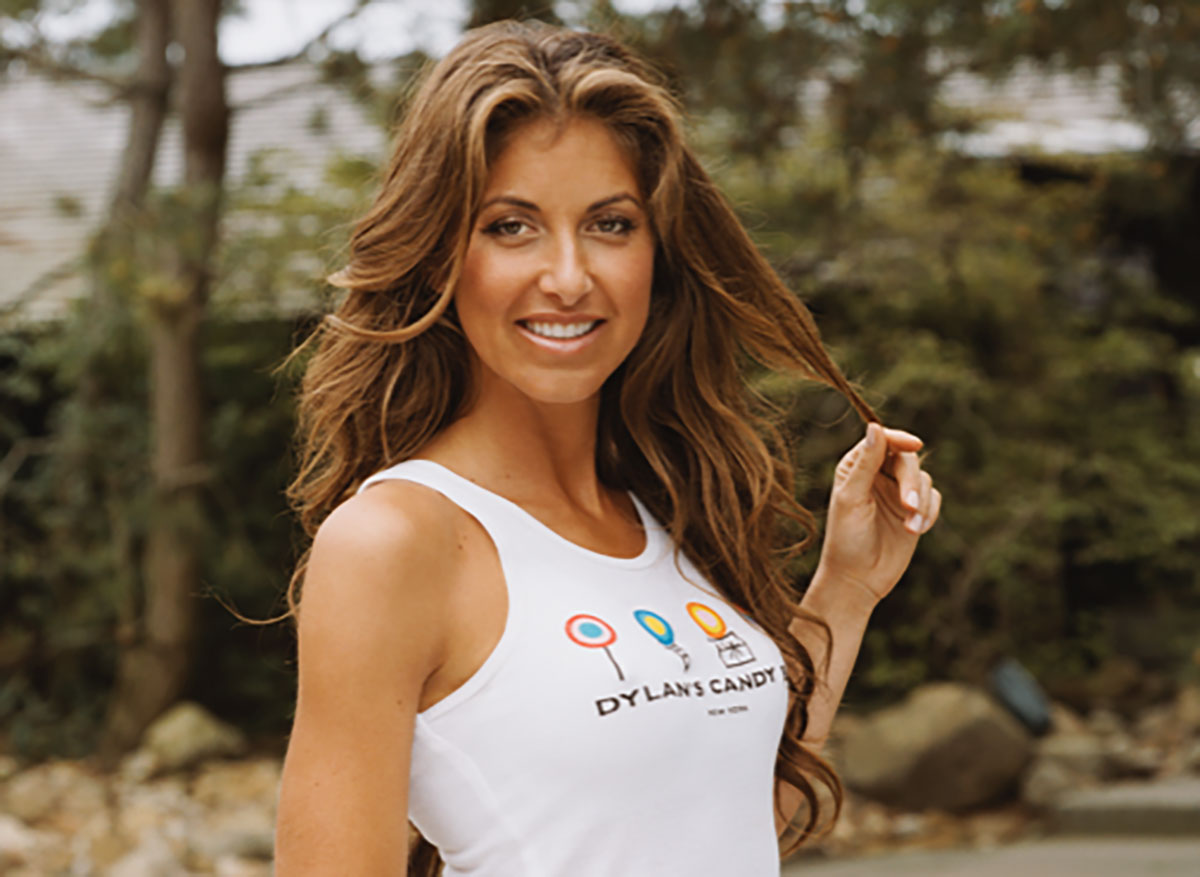 Here at Eat This, Not That!, we get exclusive access to tons of celeb-level nutritionists, popular food industry people, wellness experts, doctors, and healthy eating influencers. (We know, we're very lucky.) We've learned from them dozens of ways to make overnight oats, what healthy snacks they can't live without, and what foods you should eat every day. But that left us wondering: what do these top-of-the-line experts do on a daily basis to stay healthy and happy? Well, we asked them!
Here, Dylan Lauren,  the founder and CEO of Dylan's Candy Bar, shares a peek into her life and what she eats in a day. 
As much as I love candy and am often referred to as the Candy Queen, I am also passionate about health and wellness. I read a lot of nutrition books, attend seminars on holistic living, and enjoy learning about how to live a long and balanced life. My philosophy is everything in moderation—I make it a point to keep moving and exercise, but I also know it's OK to enjoy some treats, too.
Breakfast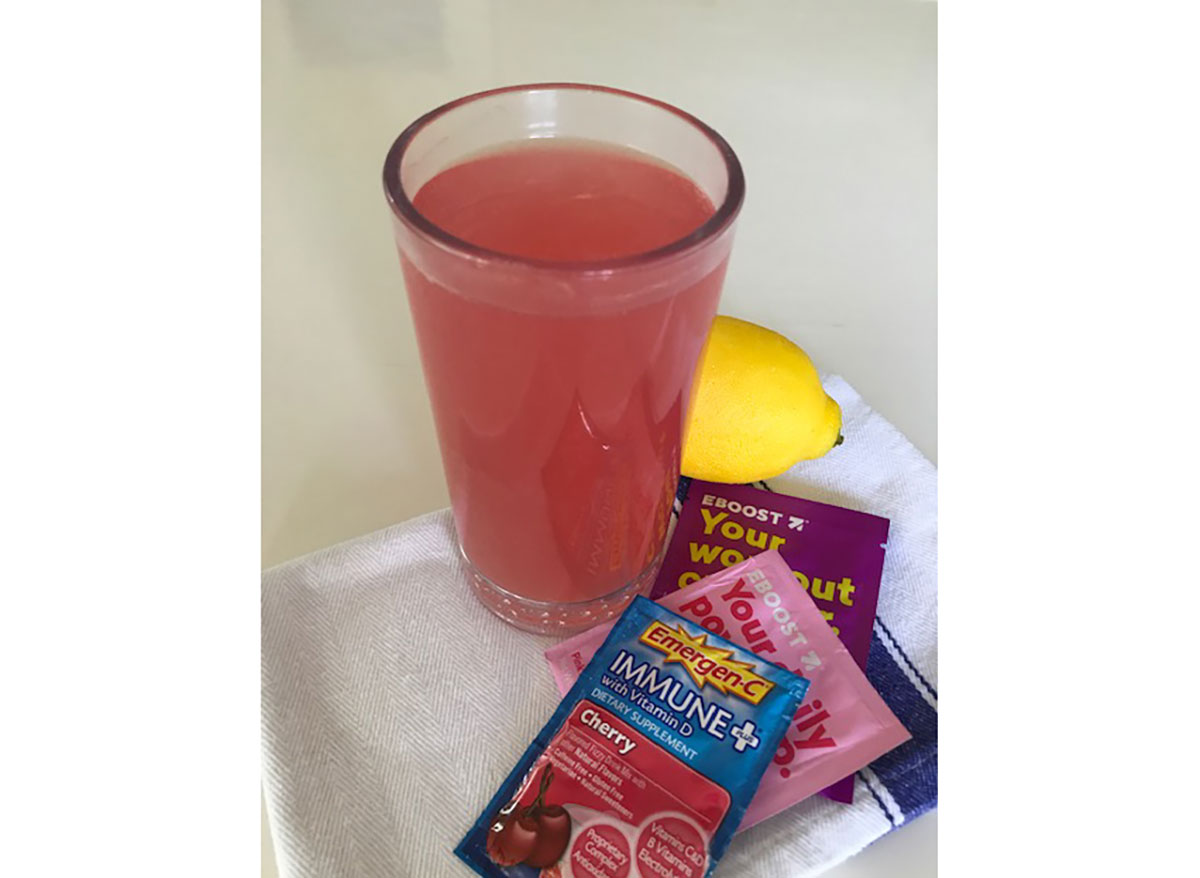 Overall, I tend to graze and eat small meals every 2.5-3 hours to keep my blood sugar balanced and my body energized. And I always start my day with water—I try to drink about three liters of alkaline water daily.
Because I avoid drinking beverages near meal times (this helps me digest food more easily) or carrying water bottles everywhere, I try to consume as much as possible first-thing in the morning after I wake up. I tend to drink more water if it's flavored, so I create a concoction of raspberry and cherry Emergen-C for vitamins and minerals; lemon juice to burn fat; and a fruity flavored packet of EBOOST for energy. I feel immediately hydrated, as well as mentally and physically energized from the combination of electrolytes, nootropics, and antioxidants this drink provides. Plus, it tastes like a melted lollipop!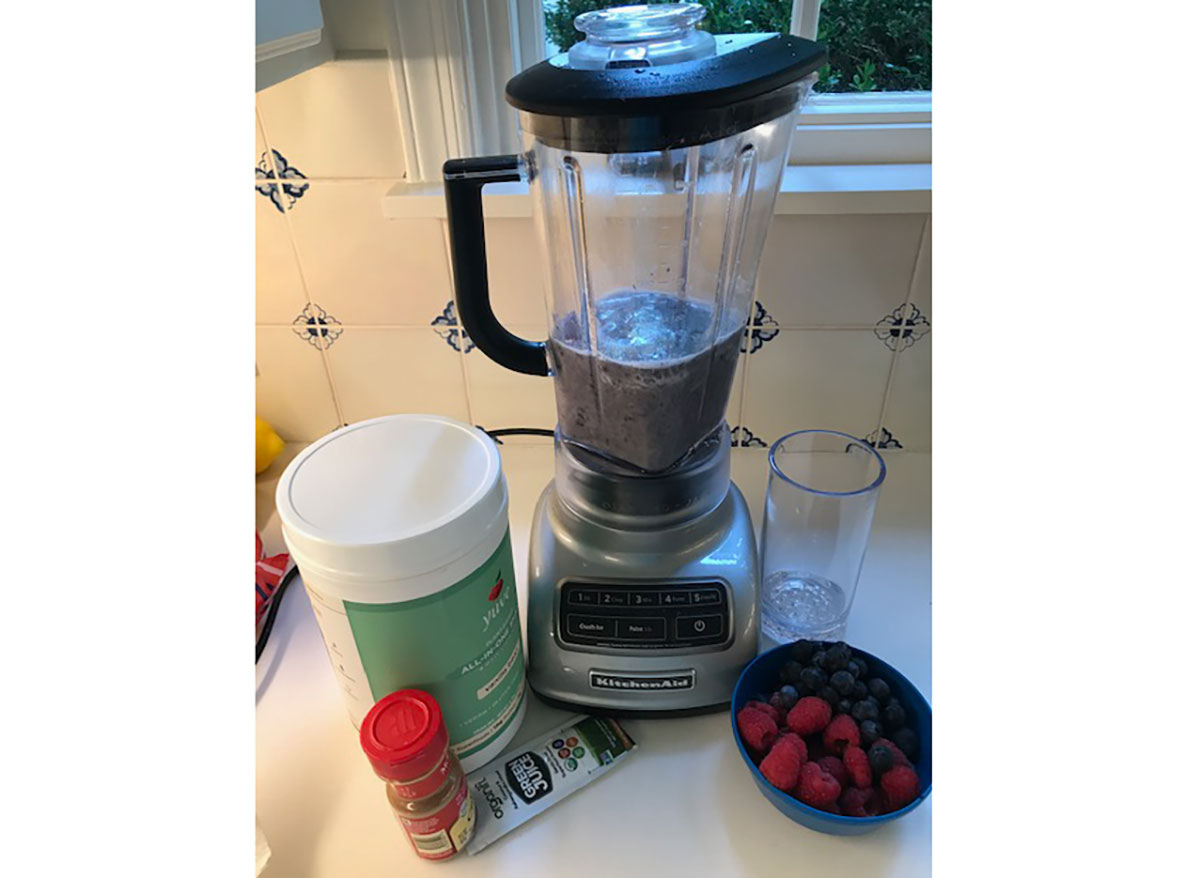 6254a4d1642c605c54bf1cab17d50f1e
I try to incorporate a liquid meal and a liquid snack into the day for easier digestion, thus giving me more stable energy. A protein shake is the perfect pre- and post-workout breakfast for me because it tastes like a dessert (but is better for muscle growth and repair). I do aerobics for an hour, such as running outside, the stair mill, or spin class, followed by weight training, so a protein shake definitely tides me over.
I opt for vanilla bean-flavored plant protein powder and mix in berries, powdered or natural alkaline greens that contain superfoods and adaptogens, plus water, ice, and cinnamon for its delicious flavor and thermogenic effect. As a multi-tasker, I like to drink my protein shake on the way to my office.
Lunch
Fun fact: my favorite meal is sushi, and my favorite food besides candy is rice, particularly white sticky Japanese rice. With sushi being high in carbohydrates, I try to eat it at lunchtime and on the days when I do weights and aerobics. Sometimes, if I have extra rice, I incorporate it into breakfast the next morning for myself, my children, and our dog. They love it because it's extra sticky and "mommy's favorite."
I always end my meals with a little bit of something sweet. I am a Cookie Monster! I love a fresh warm oatmeal raisin cookie loaded with plump raisins and ideally pecans or walnuts for some added protein. I prefer to pick at the raisins and nuts, while my husband makes sure to finish the rest so nothing's left to waste.
Mid-Afternoon Boost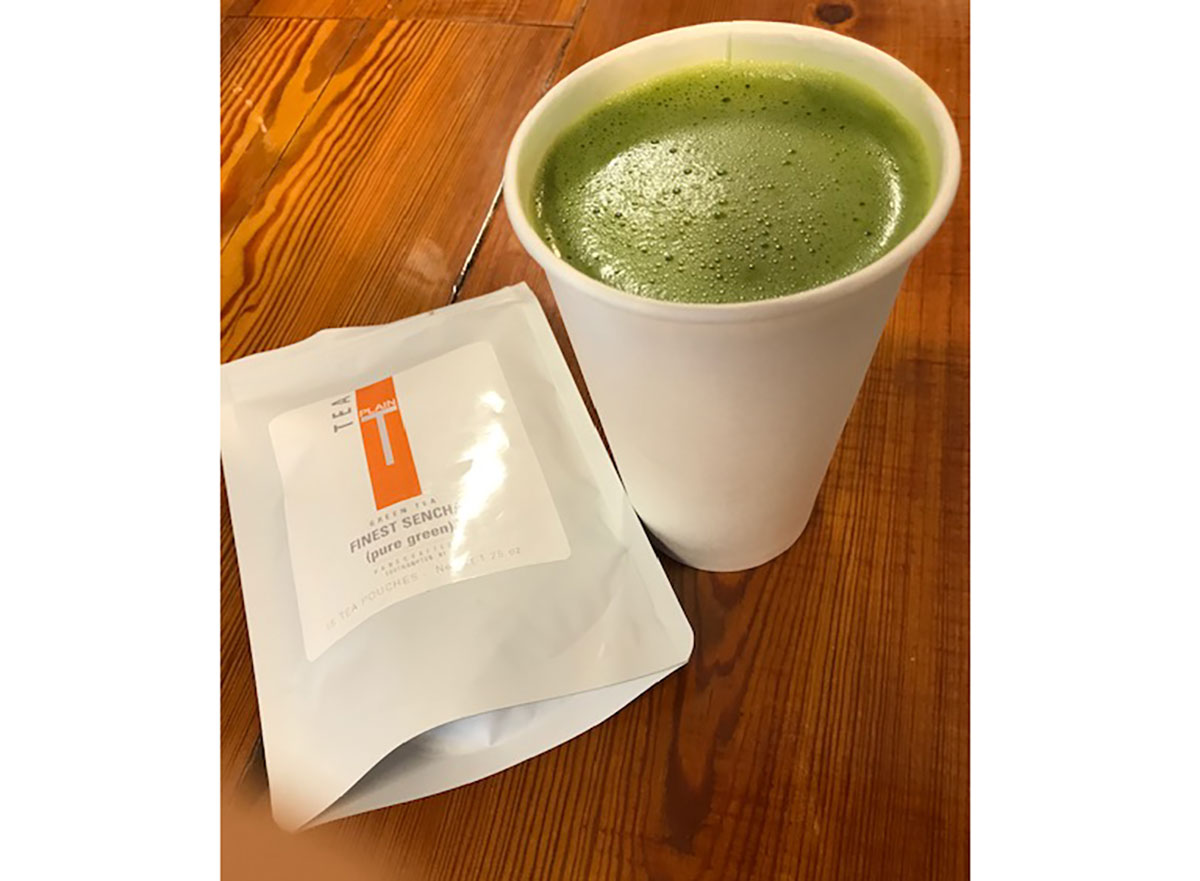 I usually need an energy boost around 1:30 p.m., especially if I have back-to-back meetings and dinner plans. I recently got into matcha lattes after my tennis instructor introduced me to Plain-T teas. The fact that green tea provides antioxidants and a caffeine boost without the energy drop and acidity of coffee makes me feel better about having it as a daily vice.
I keep a huge salad in the fridge, which comes in handy when I'm on the go or in need of an emergency snack. Usually, it's comprised of leafy greens and vegetables from the Whole Foods salad bar. I like their variety of colorful, organic, and fresh choices.
As an alternative to the salad, I also enjoy soup. I find the warm, thick vegetable soup to be extremely filling, calming, and easy to digest. I especially like to blend cauliflower, broccoli, almond milk, and seasonings. I prefer to make my own soups because I can control the ingredients and sodium level. If I don't have time to do so, I will drink vegetable juice with protein powder. I like to consume all-veggie purees in my personalized Dylan's Candy Bar cup to add color and fun to a "very green" meal. And if I can walk my dog to the park while enjoying my greens, I feel doubly happy.
I am obsessed with candy (obviously), particularly bubble gum and gummies. I have never been much of a chocolate or salty person, and I find chewing on gum or gummies de-stresses me. I'm super excited about our new collection called Mindful Indulgences. Not only do the gummies taste amazing, but there are plenty of fun shaped, all-natural, vegan, and allergen options to mix and match. Whether at Dylan's Candy Bar or Whole Foods, I fill my recyclable paint can to the top. I snack on our Mindful Indulgence gummies throughout the day and make sure to share with friends.
Dinner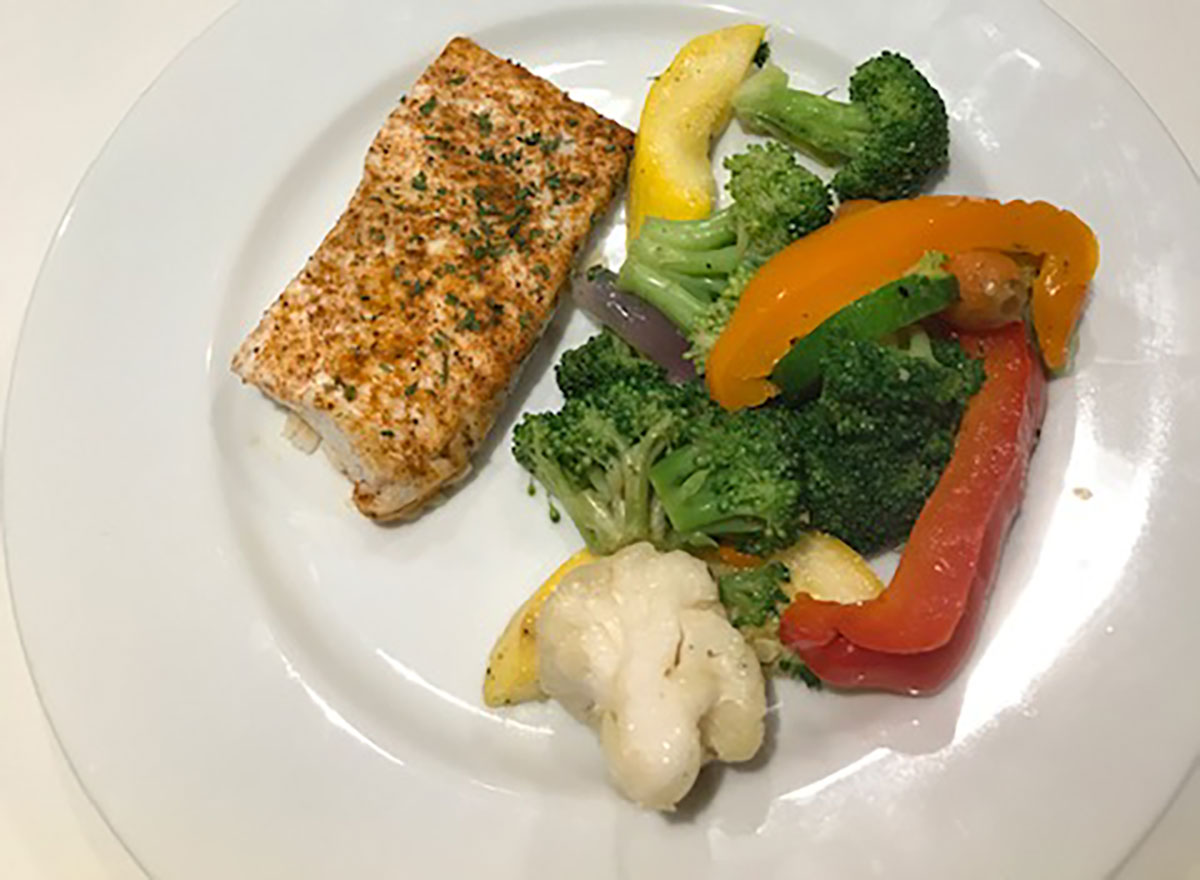 My dinner usually consists of vegetables with 3 ounces or more of fish, like the halibut seen here. I never get tired of vegetables because they are colorful. It's fun to mix up whether they are grilled, steamed, pureed, or raw. Condiments and dips like guacamole, hummus, flavored yogurts, and nut butter always make the meal more flavorful for me. After a heavy meal, it's tough for me to go to sleep—this is light and filling, but also satisfying.
Dessert
As the Founder and CEO of Dylan's Candy Bar, my job involves taste testing and finding delicious products for my stores. Therefore, I factor in a "treat" into my routine, even if it's just a few bites, and my other meals are mostly low-carb, high-protein, and fiber-based. Unless I have an upcoming photoshoot or press event, it's rather impossible to resist the mouth-watering baked goods and confections vendors typically send daily, like these chocolate chip-marshmallow blondies!