6 Cozy Winter Cocktails That Aren't Belly Bombs
The holiday season doesn't only bring cheer, goodwill to all, and gingerbread cookies. It also brings unwanted winter weight gain from indulging in all those festive foods and drinks.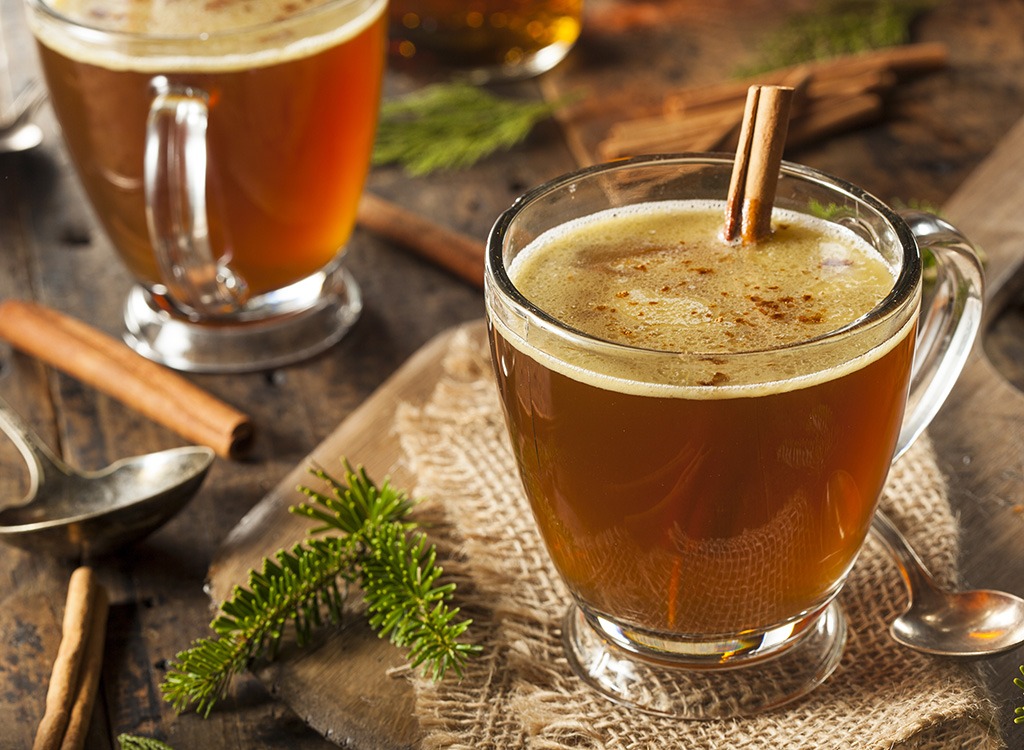 When the holidays roll around, it's basically inevitable that you'll lose gym time or end up splurging on "just one more" piece of pie—no matter how close you are to your goal weight. And although it's more a season of splurging than it is of giving for many of us, you don't have to let home-cooked feasts every few weeks and holiday office parties stop you from making healthy choices.
That's why we've come up with wholesome alternative recipes for your favorite boozy indulgences. Made only from good-for-you ingredients, many of these creamy, cold-weather cocktails are high in protein and healthy fats while being low in sugar. While you can sip on a gin and tonic any time of the year, make a point of rotating in these cozy drinks designed for the colder months. And if you end up sipping and munching a little too mindlessly, be sure to check out these 15 Tips for Damage Control After You Ate Too Much!
Tom & Jerry [Egg Nog With A Shot of Brandy]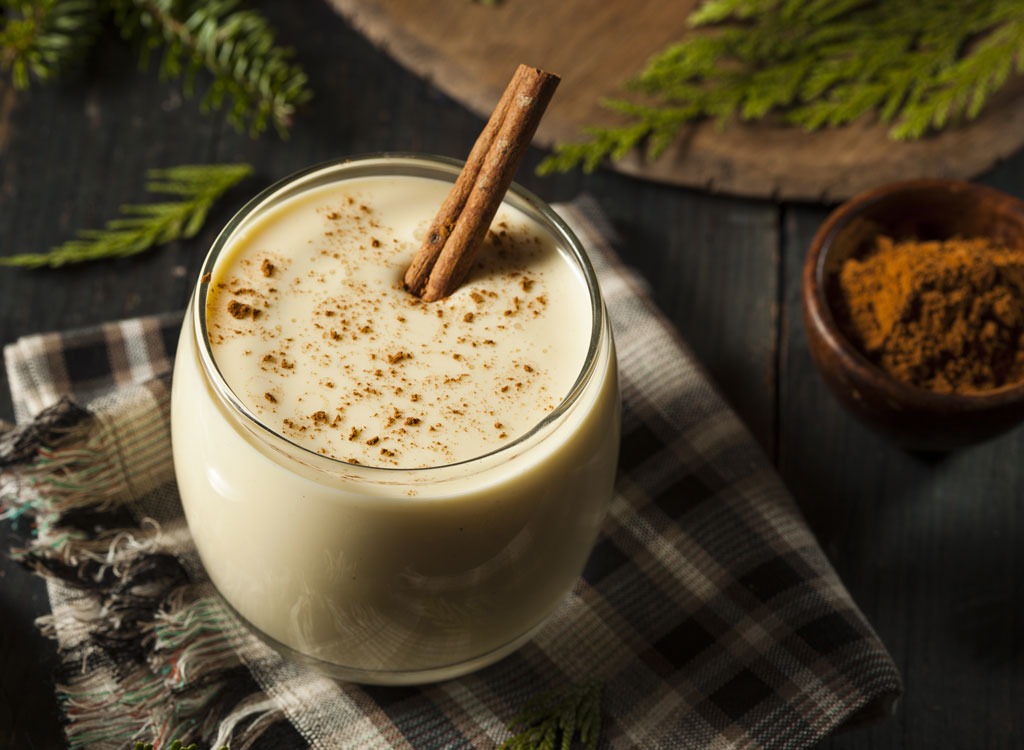 Per 8-oz serving: 250 calories, 8 g fat (2 g saturated fat), 250 mg sodium, 12 g carbs (2 g fiber, 10 g sugar), 9 g protein
Next in line behind Starbucks' red cups to signal the start to the holiday season is eggnog. Even though traditional nog packs a protein punch from eggs, it's high in calories, fat, and sugar. By swapping the heavy cream for almond milk and keeping the added sugar to a minimum, our recipe saves you 3 grams of saturated fat and up to 8 grams of sugar. Plus, it contains anti-inflammatory spices like cinnamon, which are good for both your head and waistline.
Yields 5, 8-oz servings
40 ounces Original Almond Breeze Unsweetened
6 large eggs
¼ cup granulated sugar
2½ teaspoons cinnamon
¼ teaspoon allspice
¼ teaspoon nutmeg
7.5 oz brandy
Crack the eggs into a medium bowl. Beat the eggs until they appear lighter in color. Gradually add the sugar and continue to beat until dissolved. Set aside. Place the milk and spices in a medium-sized saucepan and whisk to combine. Heat over medium heat—whisking occasionally so it doesn't burn—until steam begins to appear, about 5 minutes. Then, temper the eggs by slowly pouring ½ cup of the hot liquid into the egg bowl, whisking to combine. Make sure you do this slowly so it does not cook the eggs. Once tempered, you can add the rest of the liquid. Transfer mixture from egg bowl back to saucepan and cook until warmed through. Remove from heat, add brandy.
Mulled Apple Cider With Shot of Rum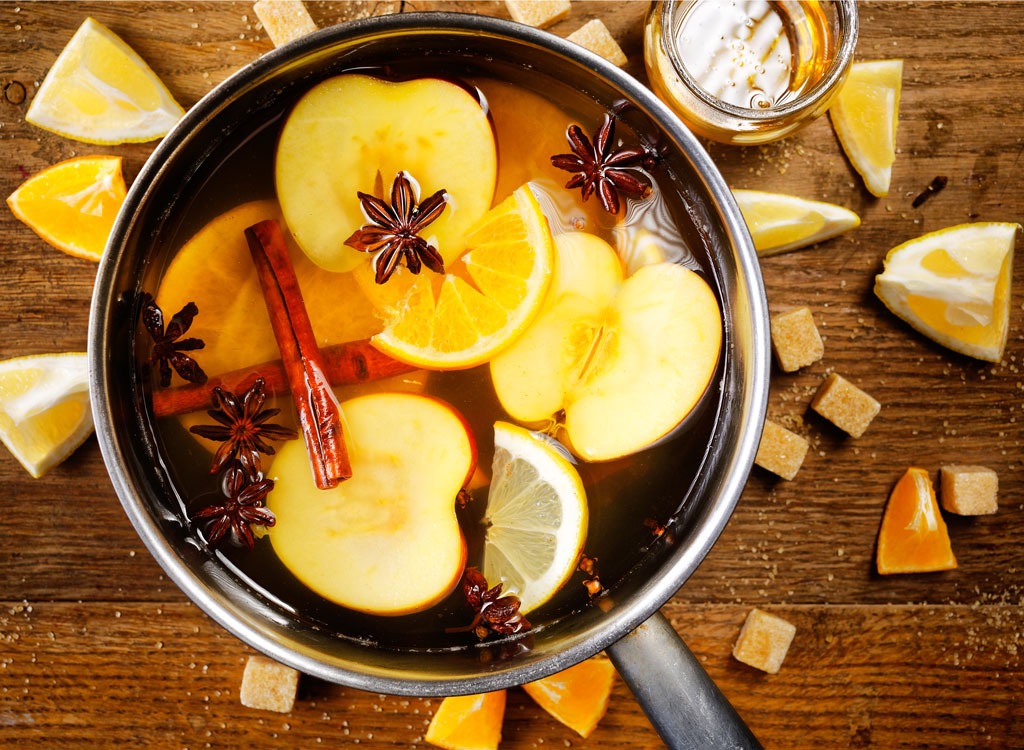 Per 8 oz serving: 195 calories, 0 g fat, 0 mg sodium, 22 g carbs (0 g fiber, 20 g sugar), 0 g protein
By cutting the apple cider with water, you save yourself a staggering 15 grams of sugar per serving, which will ultimately help your stave off a hangover (as sugar is one of the main contributors to queasy mornings-after). The added ginger will also help soothe your bloated tummy after a holiday meal and the addition of pungent fresh spices and tart lemon zest mean you won't be compromising on flavor.
Yields 5 servings
4 cups freshly-made apple juice
1 cup water
2 each whole cloves, cinnamon sticks, star anise
2-inch chunk fresh ginger, grated
1 teaspoon fresh lemon zest
½ orange, thinly sliced
7.5 oz spiced rum
Dash of sea salt
Place all ingredients besides alcohol into a large pot over low-medium heat. Warm slowly for 20 minutes (boiling will decrease levels of beneficial antioxidants). After 15 minutes, add orange slices. Once done, strain through a fine mesh sieve and pour into individual glasses. Add your preferred alcohol.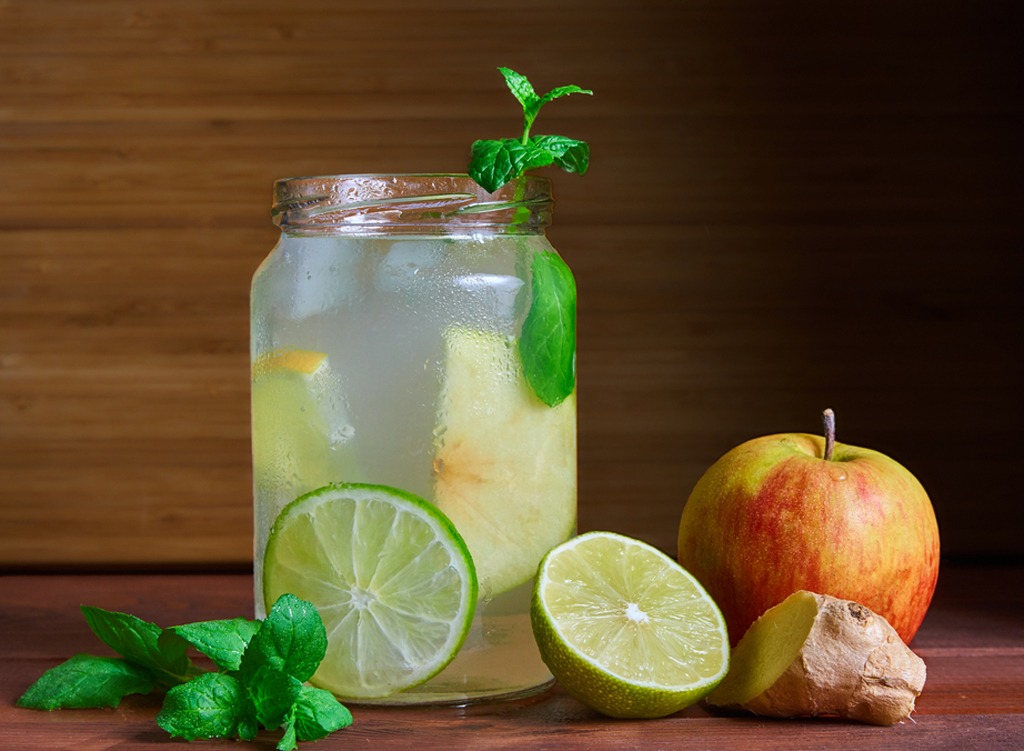 Per 8-ounce serving: 210 calories, 0 g fat, 10 mg sodium, 23 g carbs (0 g fiber, 4 g sugar), 0 g protein
It might be marginally unpronounceable, but the combination of ingredients in this drink are the stuffed diner's best friend. The mix of juiced ginger, apple cider vinegar (ACV), and maple syrup is an anti-inflammatory trio that is sure to cut through that post-dinner bloat. Better yet, since ACV is one of the 30 Best Fat Burning Foods, it'll help your body jumpstart the digestion process and breakdown of fat. Add a hint of bourbon for the perfect after-feast treat.
Yields 6, 5.3 oz servings
6 ounces of freshly grated ginger
½ cup apple cider vinegar
1 tablespoon Grade A pure maple syrup
1 tablespoon fresh lemon juice
4 cups boiling water
6 shots liquor
Grate the ginger until smooth. Add ginger to tea steeper and allow to steep for at least 8 minutes. Add maple syrup and stir until the maple syrup dissolves. Next add the apple cider vinegar, lemon juice, and alcohol. Serve warm.
Mexican Hot Chocolate with Peppermint Schnapps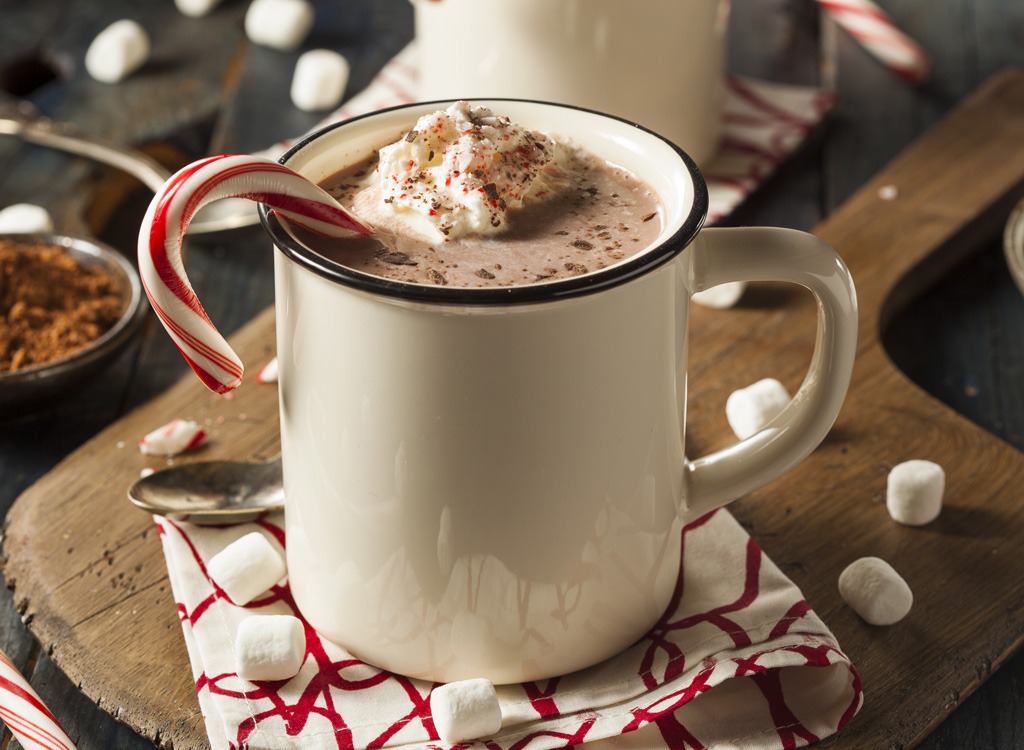 Per 8-oz serving: 200 calories, 5 g fat (3 g saturated fat), 130 mg sodium, 15 g carbs (2 g fiber, 12 g sugar), 8 g protein
Hot chocolate is an old time childhood favorite that always made its way into your kitchen whenever the temperature went down. Unfortunately, traditional mixes usually involved heavy milk and sugary chocolate additions. This spicy Mexican hot chocolate is an after dinner treat that won't leave you with guilt because it's made with 100% raw cacao (with no added sugars) and metabolism-boosting cayenne pepper.
Yields 2 servings
2 cups organic, 2% milk
2 tablespoons raw cacao powder
½ heaping teaspoon cinnamon
⅛ teaspoon cayenne pepper, or to taste
2 oz peppermint schnapps
Combine all ingredients (except alcohol) in a blender for 30 seconds. Pour into a saucepan and gently warm over medium heat, stirring occasionally. Taste for more cayenne, and add if you want more spice! Pour into mugs, add your liqueur, and enjoy!
Pumpkin Spice Latte With Vanilla Vodka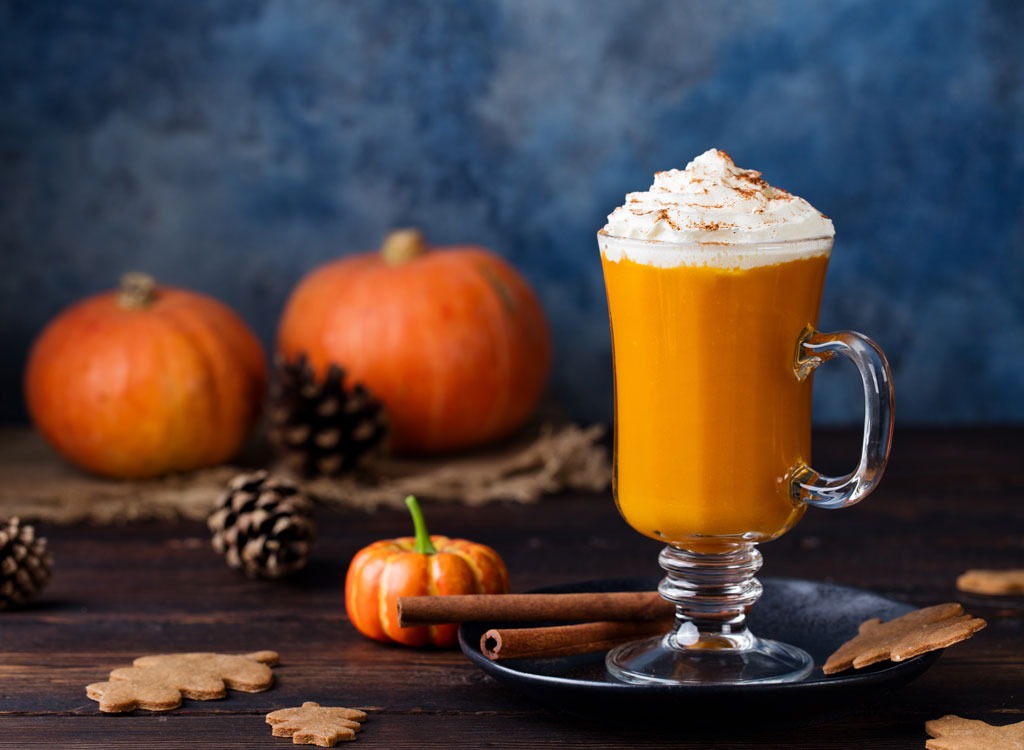 Per 8-oz serving, with 1.5 oz vodka: 210 calories, 4 g fat (2.5 g saturated fat), 100 mg sodium, 11 g carbs (1 g fiber, 10 g sugar), 7 g protein
If you still haven't had your fill of all things pumpkin, this drink is for you. Because the orange fruit is sweet on its own, you won't have to bother with any added sugars in this latte. An added bonus? You might even feel full enough from the healthy fats and satiating protein to stick to just one drink. We like serving ours with vanilla vodka, but you can also try Amaretto for a spiked treat.
Yields 2 drinks
2 tablespoons pumpkin puree
½ teaspoon pumpkin pie spice
1-⅔ cups organic, 2% milk
⅓ cup coffee
2 shots vanilla vodka
Freshly grated nutmeg, for garnish6254a4d1642c605c54bf1cab17d50f1e
Cook pumpkin puree, spices, and a splash of water in a very small saucepan over medium heat for a couple minutes—stir constantly. Add milk, stirring occasionally until warm. Once warmed, using an immersion blender or hand-held blender, whip pumpkin-flavored milk mixture until frothy. Pour coffee and vanilla vodka into two mugs. Top each with frothed milk and freshly grated nutmeg.
Per 8 oz mug: 100 calories, 0 g fat, 10 mg sodium, 7 g carbs (0 g fiber, 6 g sugar), 0 g protein
Mixing whiskey with a tea bag, water, honey and lemon is an obvious waist-friendly pick. If you're craving a second round, ditch the whiskey and brew up a cup of one of these weight loss teas.
1 oz (2 tablespoons) whiskey
1 teaspoon honey
2 teaspoons fresh lemon juice
1 lemon slice
1 cinnamon stick
1 whole star anise
1 cup hot, brewed English breakfast tea
Add honey and spices to the bottom of an 8- to 12-ounce mug. Add whiskey and top off with hot tea. Stir until honey is dissolved. Top off with a squeeze of lemon and lemon slice.
Olivia Tarantino
Olivia Tarantino is the Managing Editor of Eat This, Not That!, specializing in nutrition, health, and food product coverage.
Read more about Olivia