The Boxed Cake Mixes to Always Leave on Grocery Store Shelves
These sugar bombs are better left in the store, far away from your kitchen.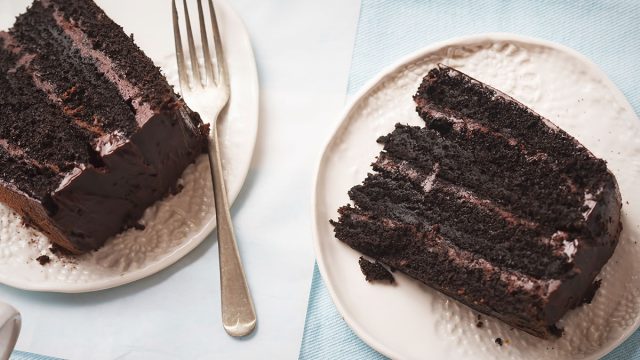 The time has come. The oven is preheated, your apron is on, and you're ready to get baking. Making a cake from scratch can be fun, but if you're looking for something that takes less time and you know will taste great, boxed cake mixes are a true gift. You still have to mix together a few ingredients–that counts as baking to us! There are a ton of boxed cake mix options out there, so choosing one is no easy feat.
But we want you to face the grocery store aisles with full confidence. So we rounded up some of the boxed cake mixes you're going to want to skip on by.
While you're aware that when you're indulging in a piece of cake you're consuming sugar, there are some options that just take things to the next level when it comes to the sweet stuff.
"Let's face it, no one wants to eat cake that tastes like kale," says Eat This, Not That! medical board expert, Leslie Bonci, MPH, RD, CSSD, LDN. "So, what can you do? Slice in slivers over slabs and consider making the cake into cupcakes or mini cupcakes so you get a petite sweet treat!"
When in doubt, just remember to keep the portions small when you're ready to indulge. Now, here are the most sugar-filled boxed cake mixes from the most popular brands that also happen to contain some eyebrow-raising ingredients. Moderation is key, so proceed with caution! (If you're really looking to step up your cooking and baking game, be sure to check out the 100 Easiest Recipes You Can Make.)
Duncan Hines Signature German Chocolate Cake Mix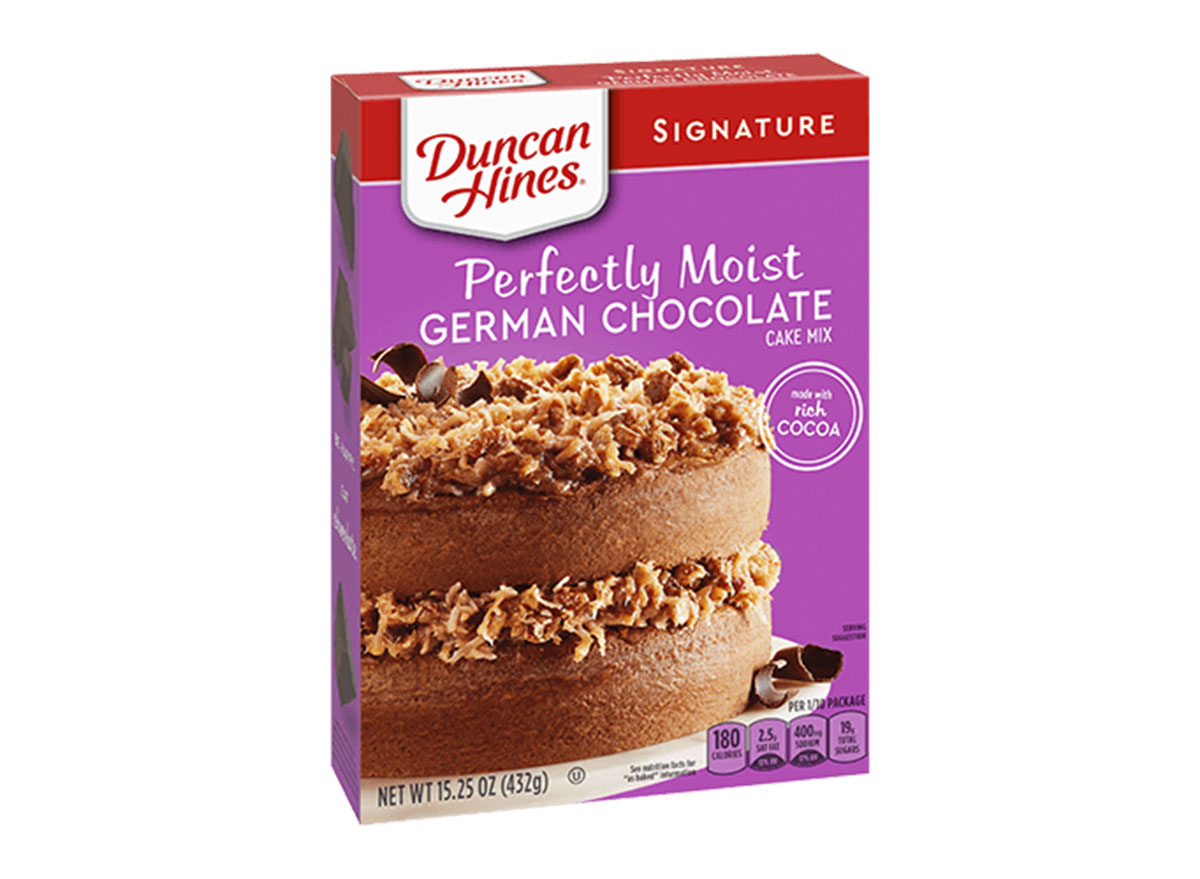 Per serving (43 g)
: 170 calories, 3.5 g fat (2 g saturated fat), 400 mg sodium, 34 g carbs (<1 g fiber, 19 g sugar), 1 g protein
Duncan Hines' German chocolate cake mix is said to be "perfectly moist" and made with rich cocoa, although cocoa powder is very far down the ingredients list. The first ingredient is none other than sugar, with one serving coming in at 19 grams of the sweet stuff. What's even more interesting to note about this cake is the sodium, as one serving is packing 400 milligrams.
Pillsbury Moist Supreme Pineapple Flavored Premium Cake Mix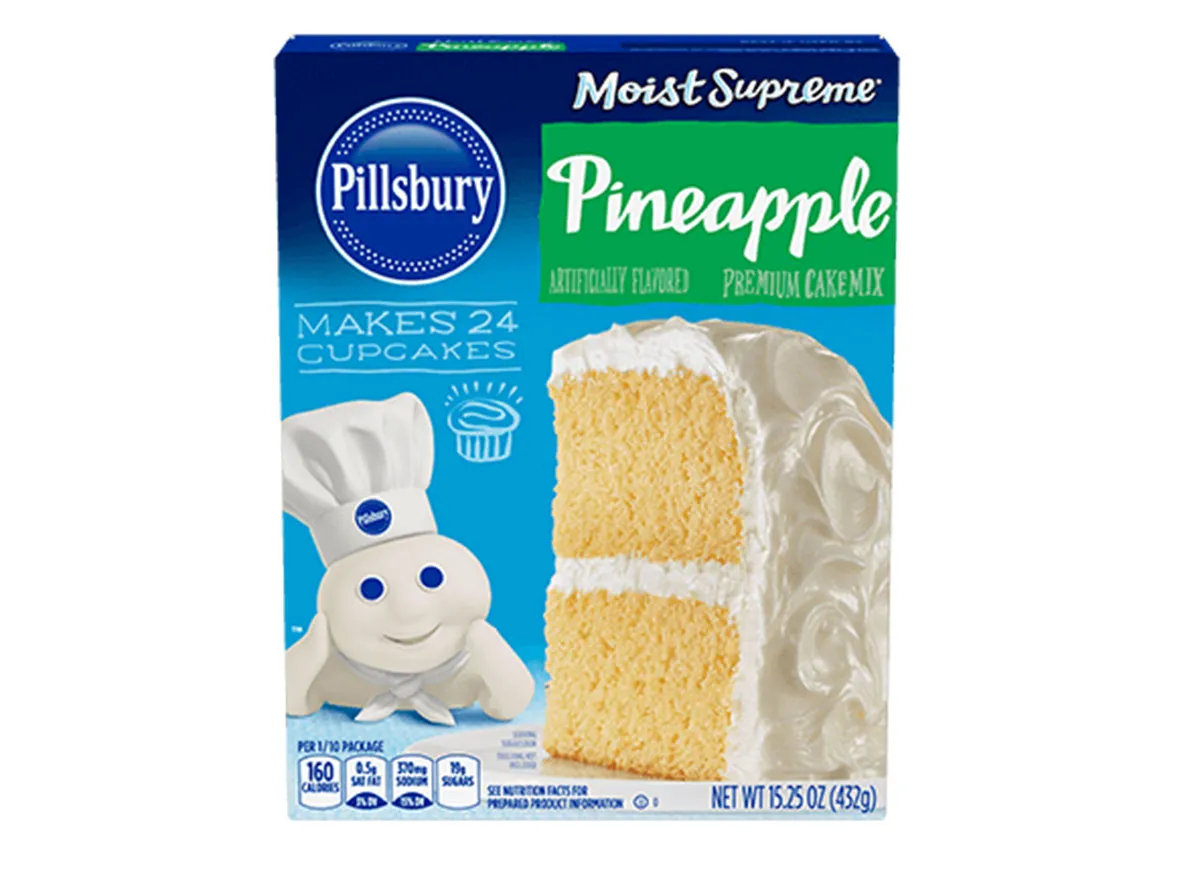 Per serving (43 g)
: 160 calories, 2 g fat (0.5 g saturated fat), 370 mg sodium, 35 g carbs (1 g fiber, 19 g sugar), 2 g protein
Perhaps going with a fruit-flavored cake option is better? Well, not quite, as this Pillsbury mix has as much sugar in one serving as the German chocolate option. In fact, there isn't any actual pineapple listed in the ingredients. The cake's yellow hue comes courtesy of food dye Yellow 5.
Pineapple on its own is naturally very sweet and has plenty of health benefits. Not only does it contain high amounts of antioxidants, but it helps with digestion and can even help reduce inflammation. Go for the actual fruit instead, and pair it with some dark chocolate and a little whipped cream.
Duncan Hines Signature Coconut Supreme Cake Mix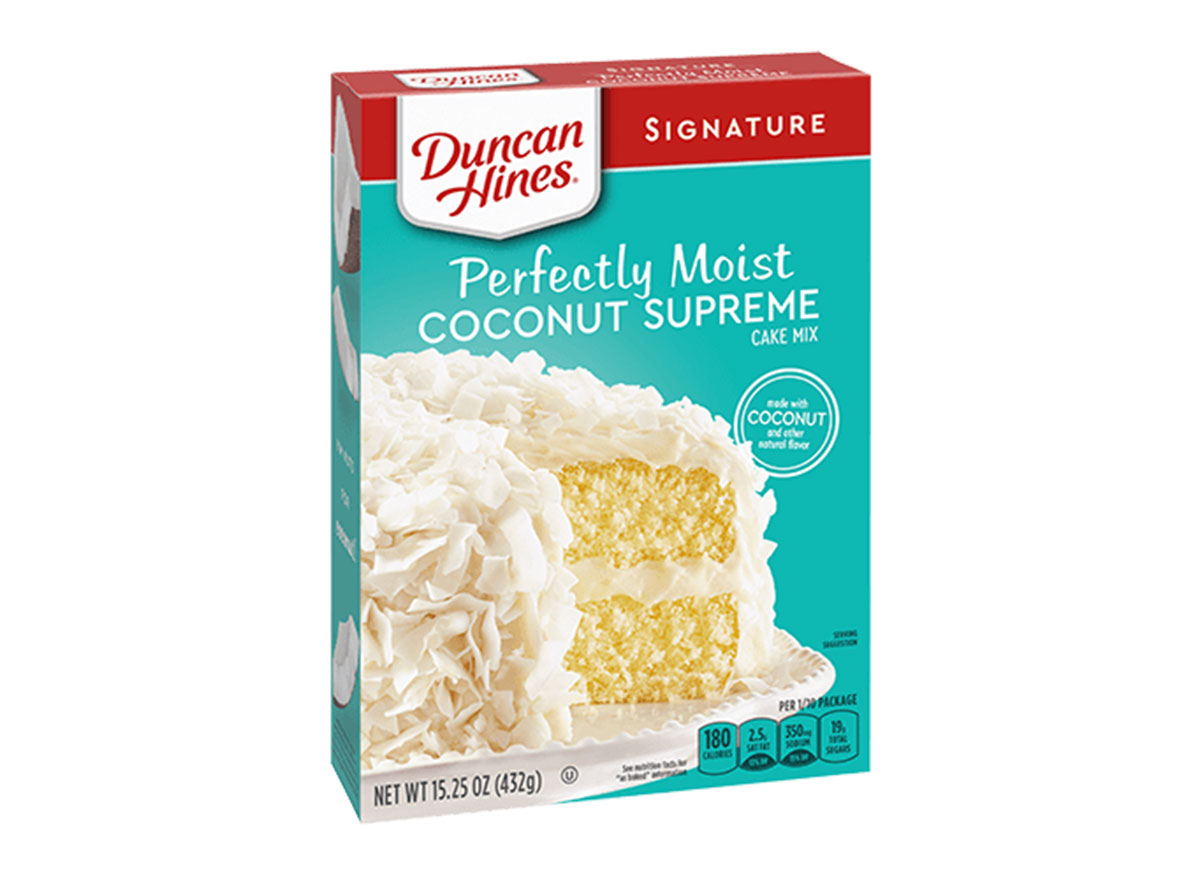 Per serving (43 g)
: 180 calories, 4 g fat (2.5 g saturated fat), 350 mg sodium, 34 g carbs (0 g fiber, 19 g sugar), 1 g protein
Don't think Duncan Hines' coconut cake is any better than Pillsbury's lemon cake. This cake mix contains 2% or less of organic coconut powder, coconut cream, coconut flour, and natural flavor. Again, this mix is filled with a lot of ingredients that aren't really related to that fruit flavor…
Betty Crocker Confetti Angel Food Cake Mix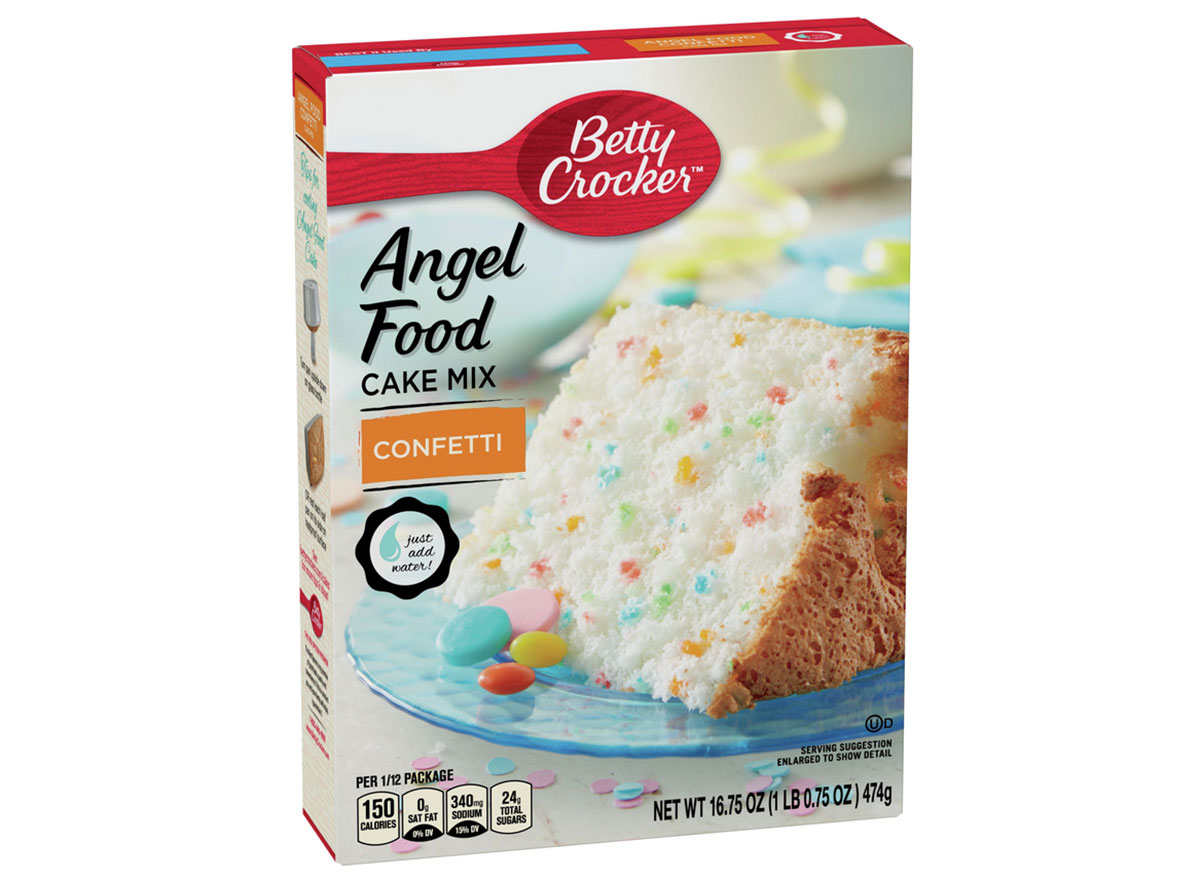 Per serving (40 g)
: 150 calories, 0 g fat (0 g saturated fat), 340 mg sodium, 33 g carbs (0 g fiber, 24 g sugar), 3 g protein
Oh, angel food cake. It's a type of light and fluffy sponge cake that is typically made with egg whites, flour, and sugar. Betty Crocker's confetti version seems harmless at first glance, as there is no fat or saturated fat, and calorie-wise, one serving isn't terrible.
But then you see the sugar—it's coming in at 24 grams, all of which is that pesky added sugar. One study in the Journal of the American Medical Association actually found that people who get 25% or more of their calories from added sugar are more than twice as likely to die from heart disease compared to those who eat less than 10%. So you can see why you really want to be careful when it comes to your added sugar intake!
Betty Crocker Pound Cake Mix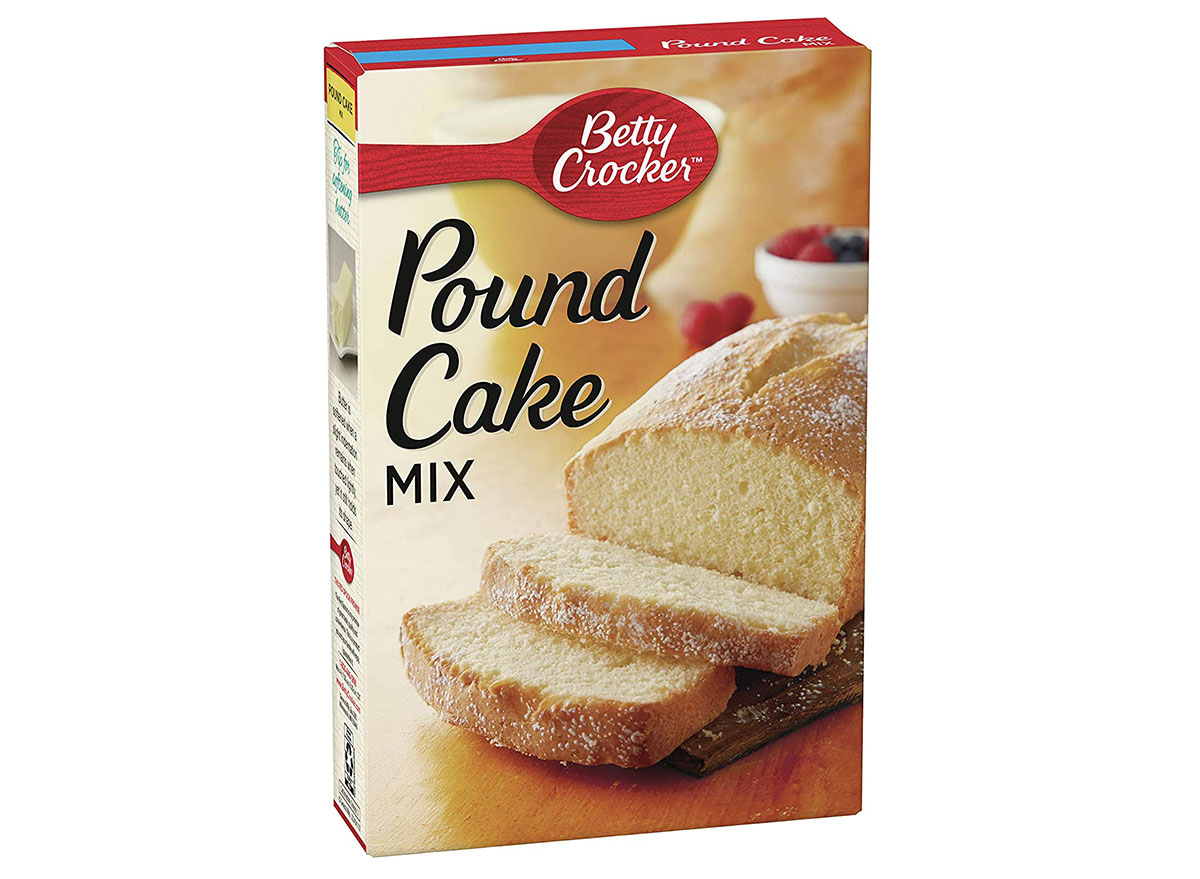 Per serving (57 g)
: 220 calories, 2.5 g fat (1.5 g saturated fat), 220 mg sodium, 47 g carbs (0 g fiber, 27 g sugar), 2 g protein
Pound cake is another option that seems like it wouldn't be as bad, as there are no chocolate or rainbow-colored mix-ins present. But one serving of Betty Crocker's pound cake mix is clocking in at 27 grams of added sugar. Keep in mind The American Heart Association recommends men should consume no more than 36 grams of added sugar per day, and women shouldn't have more than 25 grams per day.
Pillsbury Moist Supreme Strawberry Flavored Premium Cake Mix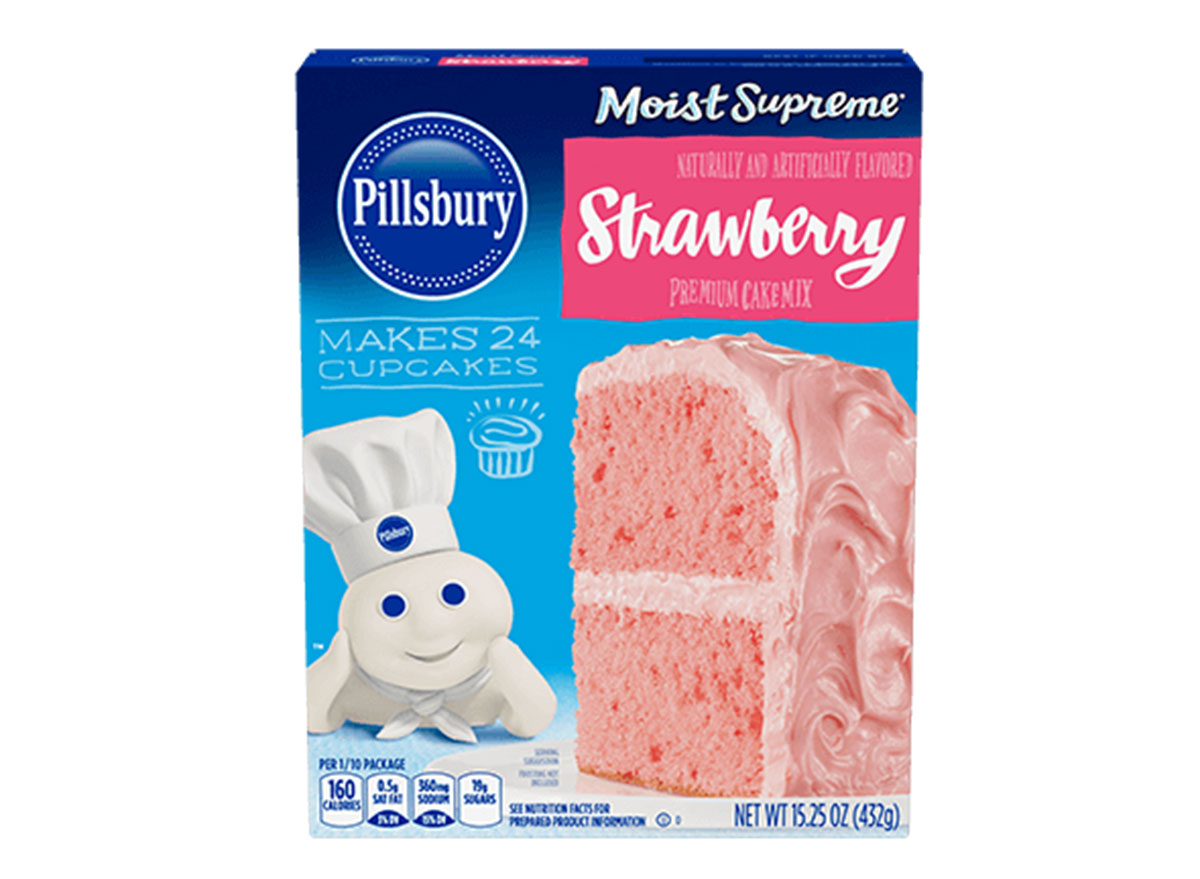 Per serving (43 g)
: 160 calories, 2 g fat (0.5 g saturated fat), 360 mg sodium, 35 g carbs (1 g fiber, 19 g sugar), 1 g protein
Pillsbury strikes again, this time with a strawberry cake that is made with "natural and artificial flavor" and the dye that is Red 40. Instead, go for Pillsbury's Traditional Vanilla cake mix that you can pair alongside some fresh strawberries.
Betty Crocker Pineapple Upside-Down Cake Mix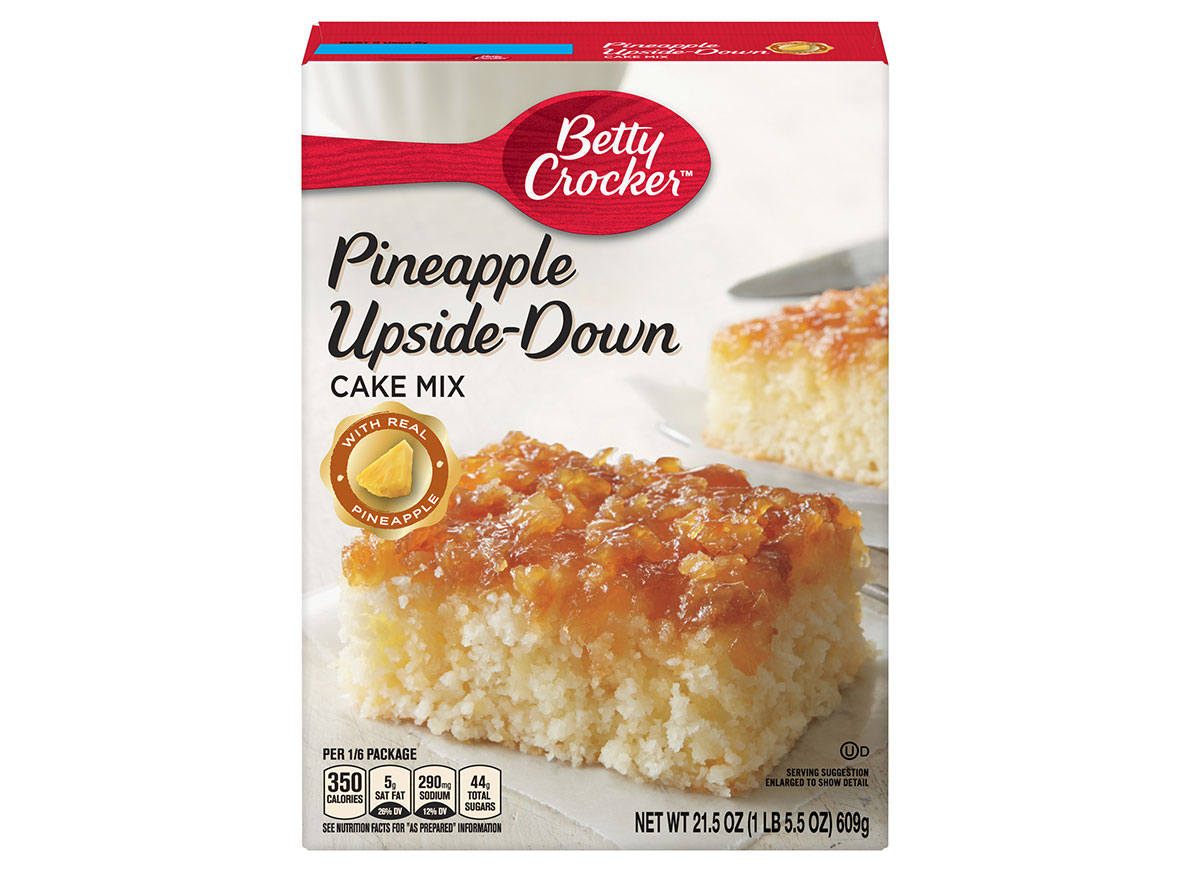 Per serving (102 g)
: 350 calories, 10 g fat (5 g saturated fat), 290 mg sodium, 64 g carbs (<1 g fiber, 44 g sugar), 1 g protein
A pineapple cake that has actual pineapple! Except, you'll notice it's actually "crushed pineapple in extra heavy syrup." Which as you likely guessed, means it's drowning in sugar. One serving of this cake has as much sugar as you would get from 14 and a half Oreo Thin cookies.
Looking for more help navigating grocery stores? Your ultimate restaurant and supermarket survival guide is here!
Duncan Hines Epic Fruity Pebbles Cake Kit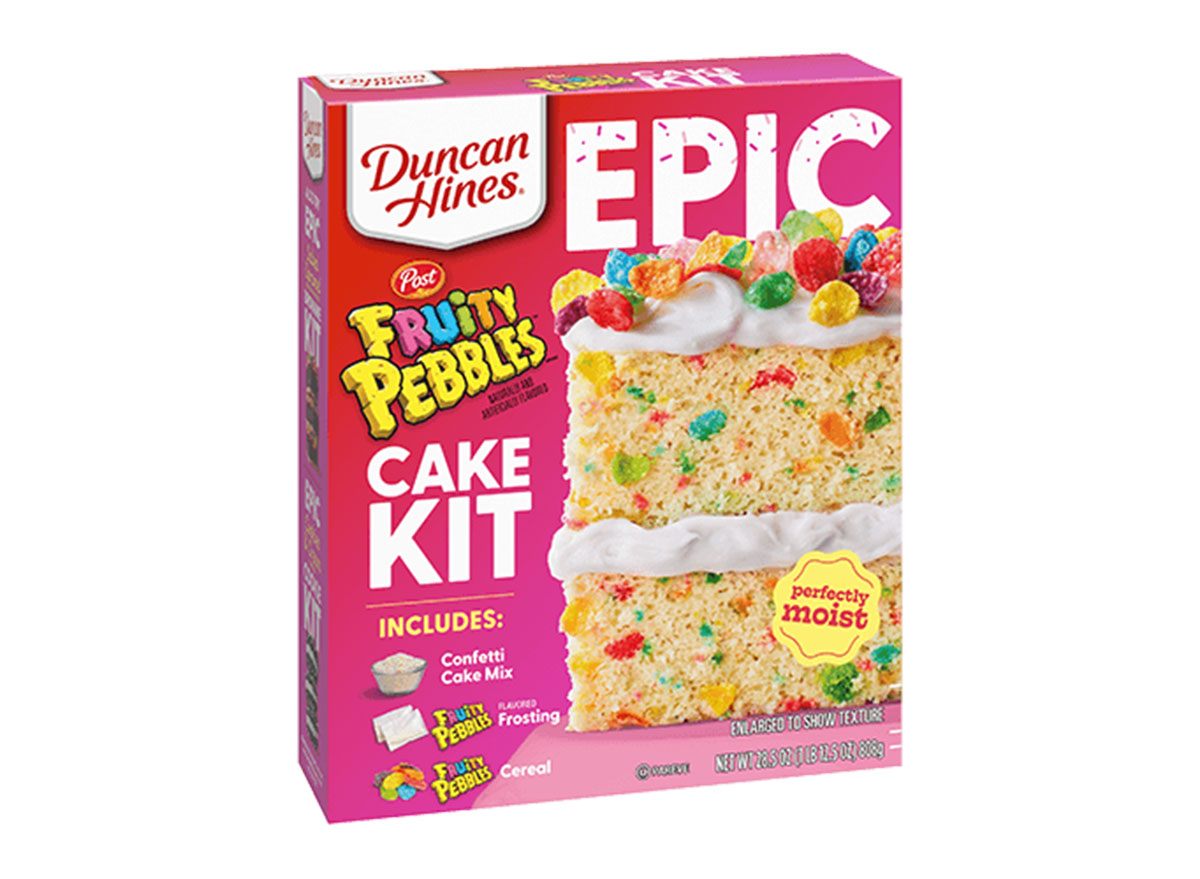 Per serving (81 g)
: 330 calories, 9 g fat (4.5 g saturated fat), 430 mg sodium, 60 g carbs (0 g fiber, 42 g sugar), 2 g protein
OK, so we will start by saying that this boxed cake mix is a bit different, as it is a kit. That means that along with the confetti cake mix, frosting, and some Fruity Pebbles cereal to decorate the frosting are included as well. When you put that all together though, you're looking at more than 40 grams of sugar per piece of cake. Perhaps just enjoy a bowl of Fruity Pebbles instead! Or, if you really want to try out this cake, ditch the frosting and cereal topping and just enjoy it as is.
Jennifer Maldonado is a senior editor at Eat This, Not That!, specializing in food and health content.
Read more