The Classic Candy Bars That Are Terrible For You
Don't make it a habit of eating these daily!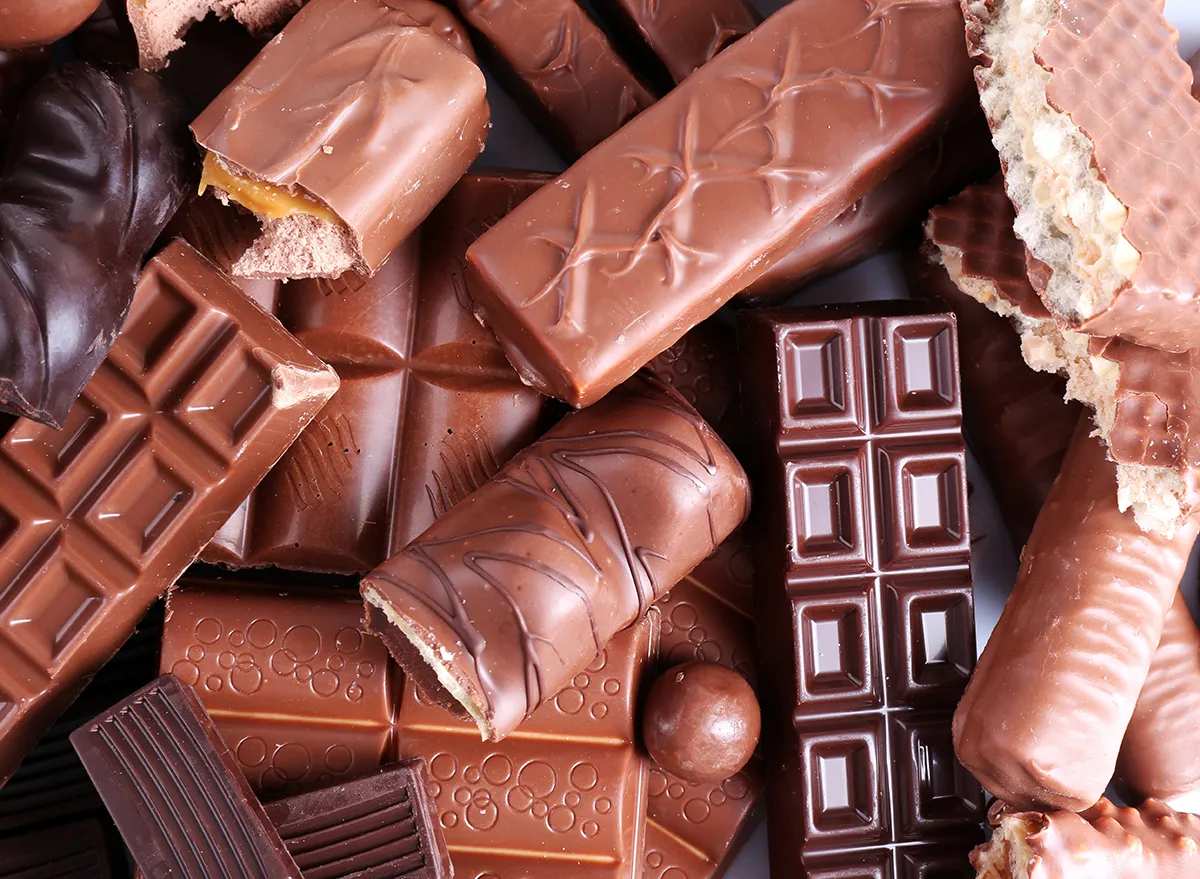 There is something perfectly nostalgic about a candy bar. Perhaps the act of eating a chocolate bar just takes you back to a simpler time, or it's the familiar taste that no matter where you are, you know if you unwrap that go-to candy bar, it will taste just like it always has. Hey, we're all about indulging in some yummy treats every now and then, but there are some candy bars, no matter how good they taste, that are simply sugar bombs.
Most of these candy bars are not only filled with caramel, nougat, nuts, and other mix-ins but they're often made of milk chocolate. Snacking on bars of the stuff daily can lead to gain weight, according to a study in The American Journal of Clinical Nutrition.
To help you out next time you're eye-to-eye with all the tempting chocolate bars at the grocery checkout line, take a look at which classic, beloved candy bars aren't doing your health any favors. Remember, it's OK to enjoy once in a while, as long as you're being smart about it.
"Candy may taste just dandy, but if you are concerned about the calories and sugar it provides, you can opt for the mini size. A petite sweet that won't be a meal plan defeat," says Eat This, Not That! medical board expert, Leslie Bonci, MPH, RD, CSSD, LDN.
So just don't make it a daily habit of downing these full-sized candy bars. Your waistline (and overall health) will thank you. Instead, be sure to munch on any of these 7 Healthiest Foods to Eat Right Now.
3 Musketeers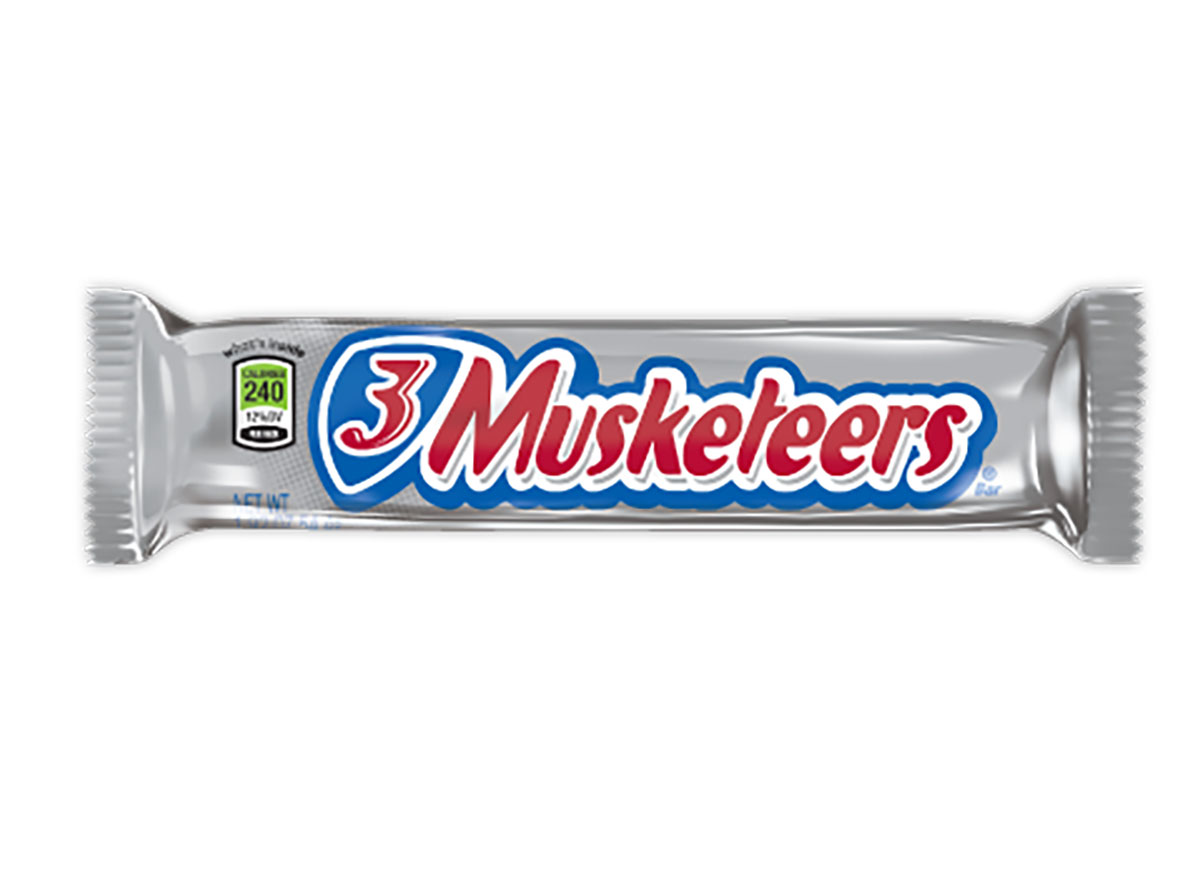 6254a4d1642c605c54bf1cab17d50f1e
Per 1 bar
: 240 calories, 7 g fat (5 g saturated fat), 95 mg sodium, 42 g carbs (<1 g fiber, 36 g sugar), 1 g protein
A bar made up of chocolate-covered, fluffy, whipped mousse seems harmless. It looks innocent enough! Well, stop right there, as you might be surprised to uncover that one 3 Musketeers bar is actually packing 36 grams of sugar. As in almost 40 grams!
So why is this problematic?
It's always important to keep in mind that The American Heart Association recommends men should consume no more than 36 grams of added sugar per day, and women shouldn't have more than 25 grams daily…
Milky Way
Per bar
: 240 calories, 9 g fat (6 g saturated fat), 70 mg sodium, 37 g carbs (<1 g fiber, 32 g sugar), 2 g protein
One bite of a Milky Way bar and you're getting a mouthful of nougat that is covered in caramel and coated in chocolate. It's no wonder the bar has been such a hit since its inception in 1923. But it's packing more than you would get from three Original Glazed Krispy Kreme Donuts!
Baby Ruth
Per bar
: 260 calories, 12 g fat (7 g saturated fat), 130 mg sodium, 35 g carbs (1 g fiber, 28 g sugar), 3 g protein
Let's just get this out of the way—no, the candy bar wasn't actually named after baseball player, Babe Ruth. OK, now that it's settled, let's take a look at the fact that one bar is packing 260 calories and has 20 grams of sugar. This is a great time to bring up the famous phrase, "sharing is caring." So if want to feast on chocolate, peanuts, caramel, and nougat, share this bar with a few friends.
Snickers
Per bar
: 250 calories, 12 g fat (4.5 g saturated fat), 125 mg sodium, 32 g carbs (1 g fiber, 28 g sugar), 4 g protein
It's been said that you're not you when you're hungry, so you're better off eating a Snickers. Just be sure that's not happening, well, every time your stomach rumbles!
Chocolate PayDay
Per bar
: 260 calories, 14 g fat (5 g saturated fat), 100 mg sodium, 29 g carbs (2 g fiber, 27 g sugar), 5 g protein
The classic PayDay bar came into existence in 1932, so fans were nothing short of excited when the chocolate version made its debut. This peanut-filled bar is just another high-calorie option. Although it does contain 5 grams of protein, which is the highest you'll find out of all the bars on this list.
Zero Candy Bar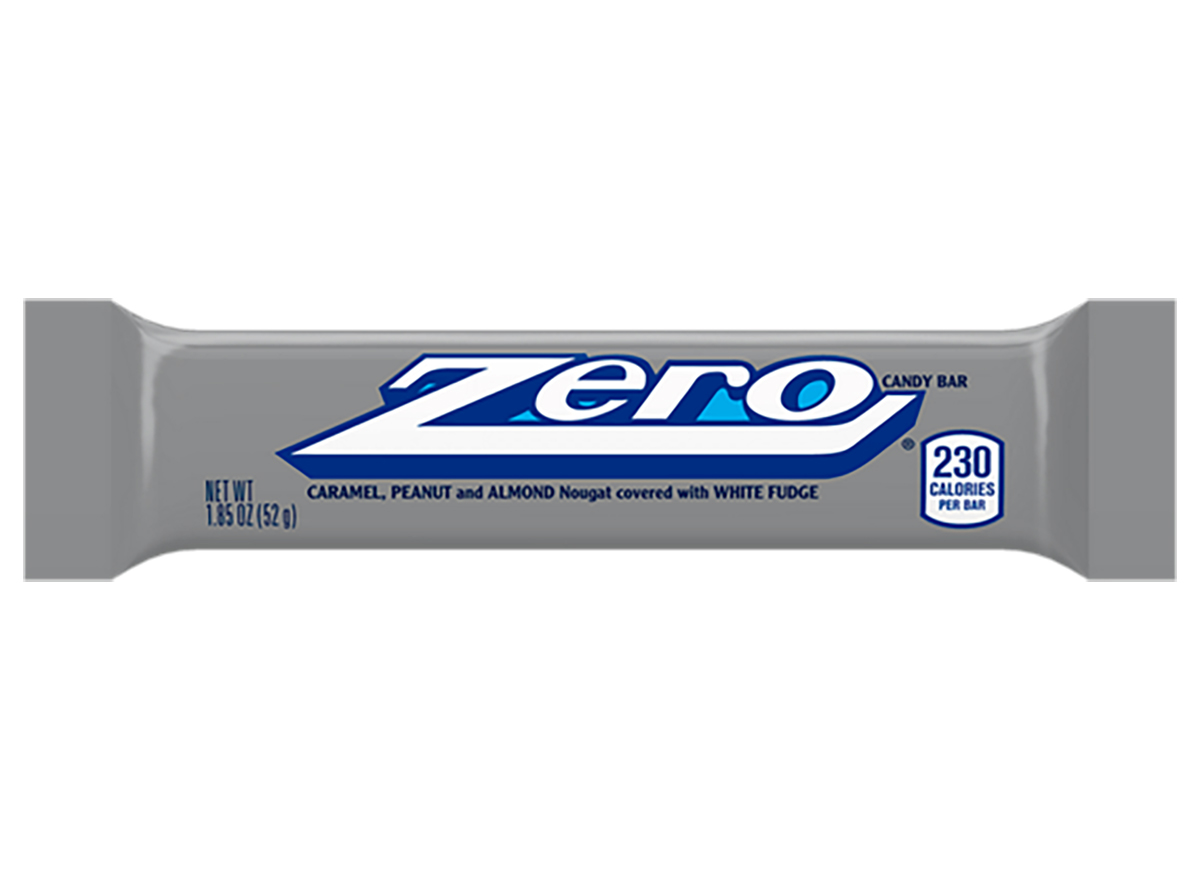 Per bar
: 230 calories, 8 g fat (5 g saturated fat), 115 mg sodium, 37 g carbs (0 g fiber, 31 g sugar), 3 g protein
Introduced in 1920, Zero stood out compared to other candy bars. That's thanks to the fact that it's made up of caramel, peanuts, and fluffy nougat that are covered in white fudge. As you can imagine, that just means more sugar, and one bar is packing 31 grams of the sweet stuff.
It's no secret that consuming too much sugar daily is not ideal. In fact, according to a study in the Journal of the American Medical Association, people who get 25% or more of their calories from added sugar are more than twice as likely to die from heart disease as those who eat less than 10%. Big yikes.
Twix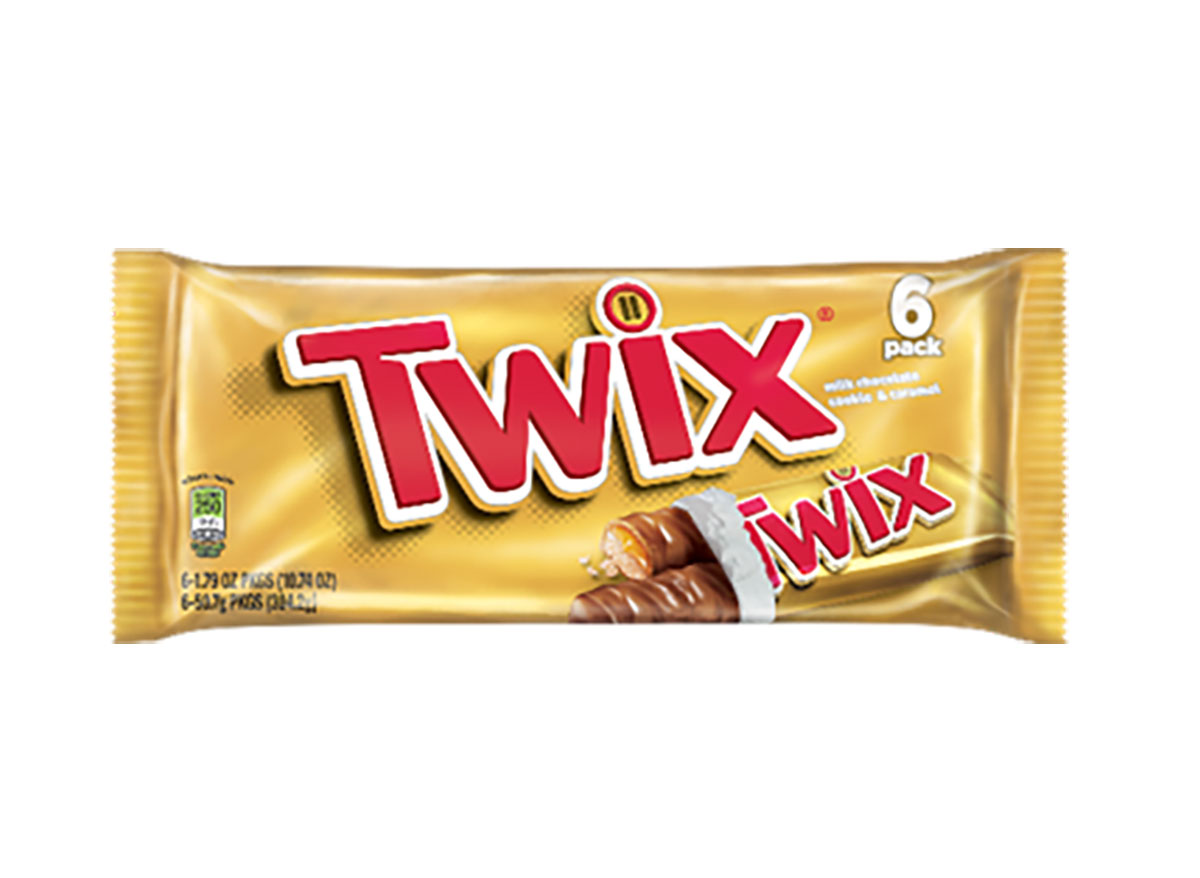 Per serving
: 250 calories, 12 g fat (7 g saturated fat), 105 mg sodium, 34 g carbs (25 g fiber, <1 25 g sugar), 2 g protein
Are you a Left or Right fan? Either way, the two pieces that come in one Twix pack do taste the same, and eating both results in 25 grams of sugar. Eat just one of the cookie bars and give the other in the pack to a friend, so you can satisfy your chocolate craving without totally derailing your healthy eating goals. It's all about moderation, after all!
Jennifer Maldonado
Jennifer Maldonado is a senior editor at Eat This, Not That!, specializing in food and health content.
Read more about Jennifer