The Worst Fast-Food Donuts in America
It's OK to treat yourself to something sweet every, but some donuts are just trouble.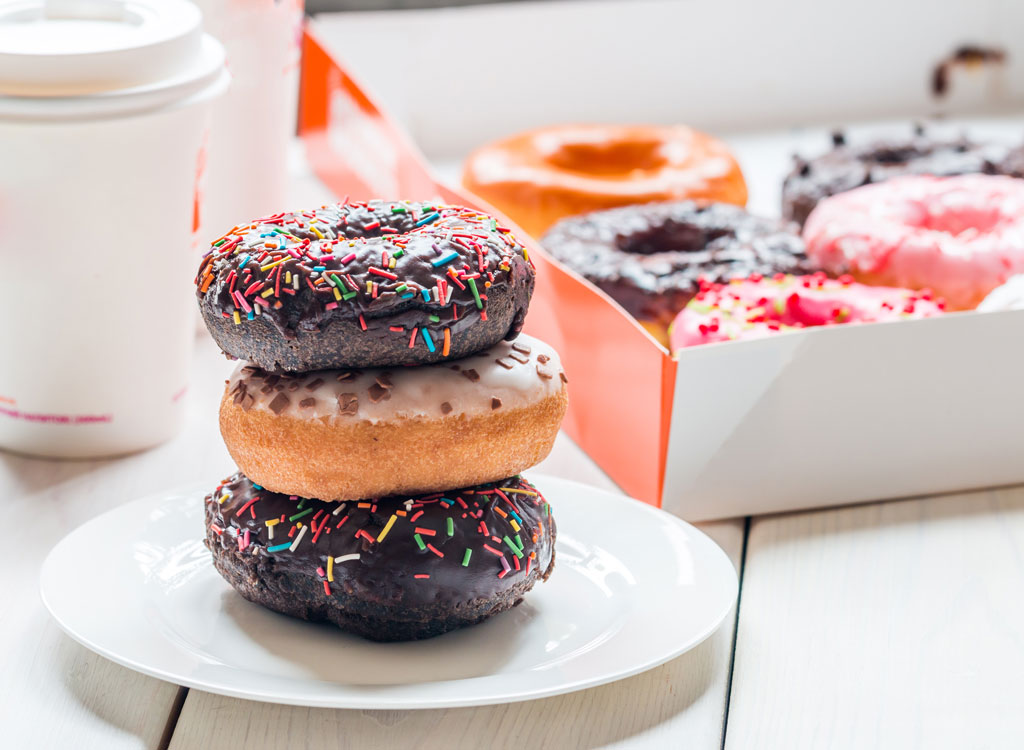 The donut. It's a sweet, soft, even colorful treat that is perfect any time of the day. Whether it's breakfast or dessert, it's often hard to resist the temptation of a donut. But there are some options that, simply put, are worse for you than others.
While a donut is never really considered a healthy food (you're always much better off not starting your morning with all that added sugar), some of these treats are just trouble. And that all comes down to the sugar. It's important to note The American Heart Association recommends men should consume no more than 36 grams of added sugar per day, and women shouldn't have more than 25 grams per day. You might not realize how much added sugar these beloved baked goods are packing, and you obviously don't want to go over your daily limit, right?
So to help you make the best choice the next time you decide to indulge in some donut deliciousness, here are the worst donut options from some of the most beloved chain shops. While you're making healthier choices, be sure to stock up on The 7 Healthiest Foods to Eat Right Now.
Krispy Kreme Cake Batter Donut
360 calories, 18 g fat (8 g saturated fat, 0 g trans fat), 170 mg sodium, 45 g carbs (< 1 g fiber, 26 g sugar), 4 g protein
Filled with cake batter "kreme" and topped with yellow icing and bright confetti sprinkles, this Krispy Kreme donut is sure to catch your eye. But the fact that it's more than 300 calories and packing 26 grams of sugar is reason enough to try another flavor.
Dunkin' Butternut Donut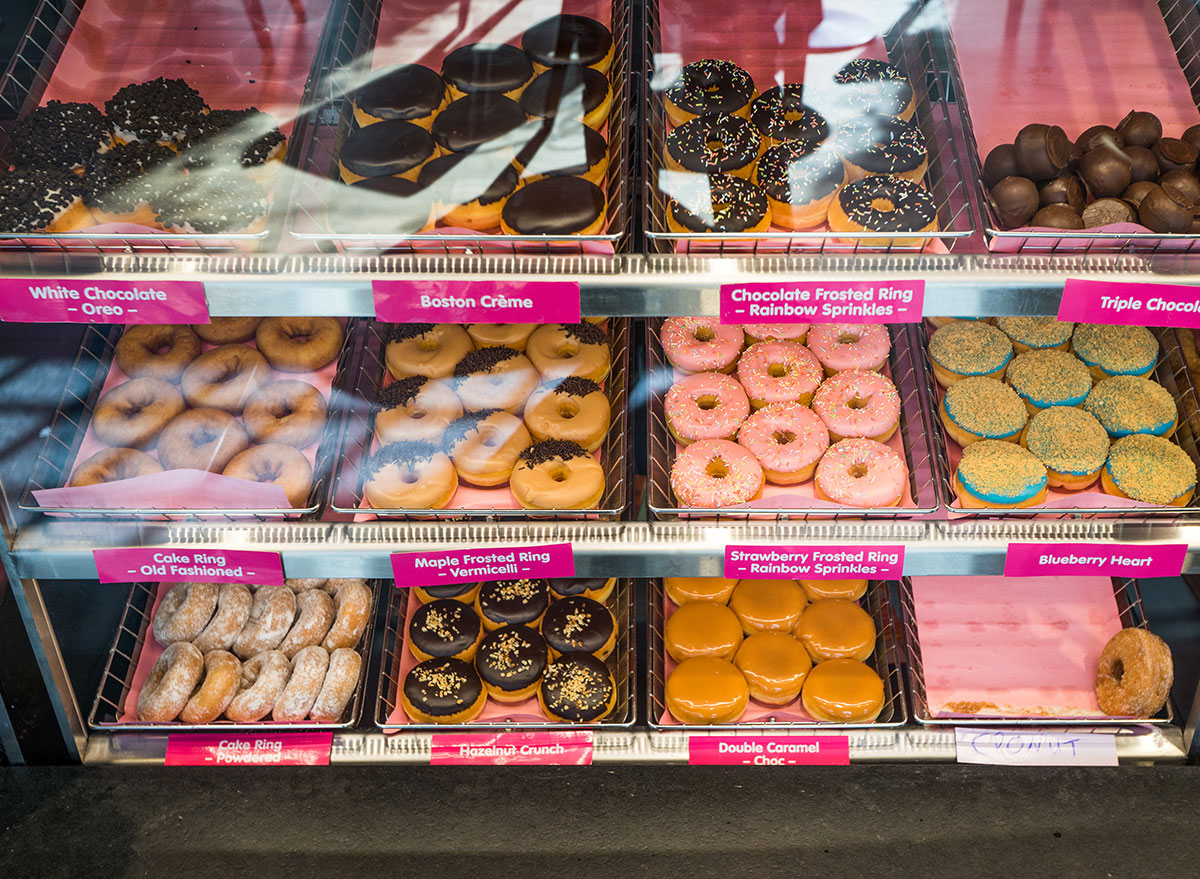 430 calories, 21 g fat (10 g saturated fat, 0 g trans fat), 320 mg sodium, 57 g carbs (1 g fiber, 34 g sugar), 4 g protein
There certainly is some appeal to the Butternut donut from Dunkin'. The topping is unlike any other you'll find at the iconic chain, as it's a crunchy mixture of coconut, cornflour, and sugar. It makes for one sugary donut, as this one is coming in at 34 grams of the sweet stuff. For reference, you would get the same amount of sugar from three and a half of Dunkin's Old Fashioned Donuts…
Tim Hortons Blueberry Donut
370 calories, 19 g fat (9 g saturated fat, 0 g trans fat), 180 mg sodium, 46 g carbs (1 g fiber, 31 g sugar), 3 g protein
You would think a donut that has a fruit base would be a healthier option. That's not the case, as this blueberry donut from Tim Hortons contains 31 grams of sugar. Big yikes.
Want to try making your own sweet treat at home? Here are the no-sugar-added recipes you'll actually look forward to eating.
Starbucks Glazed Donut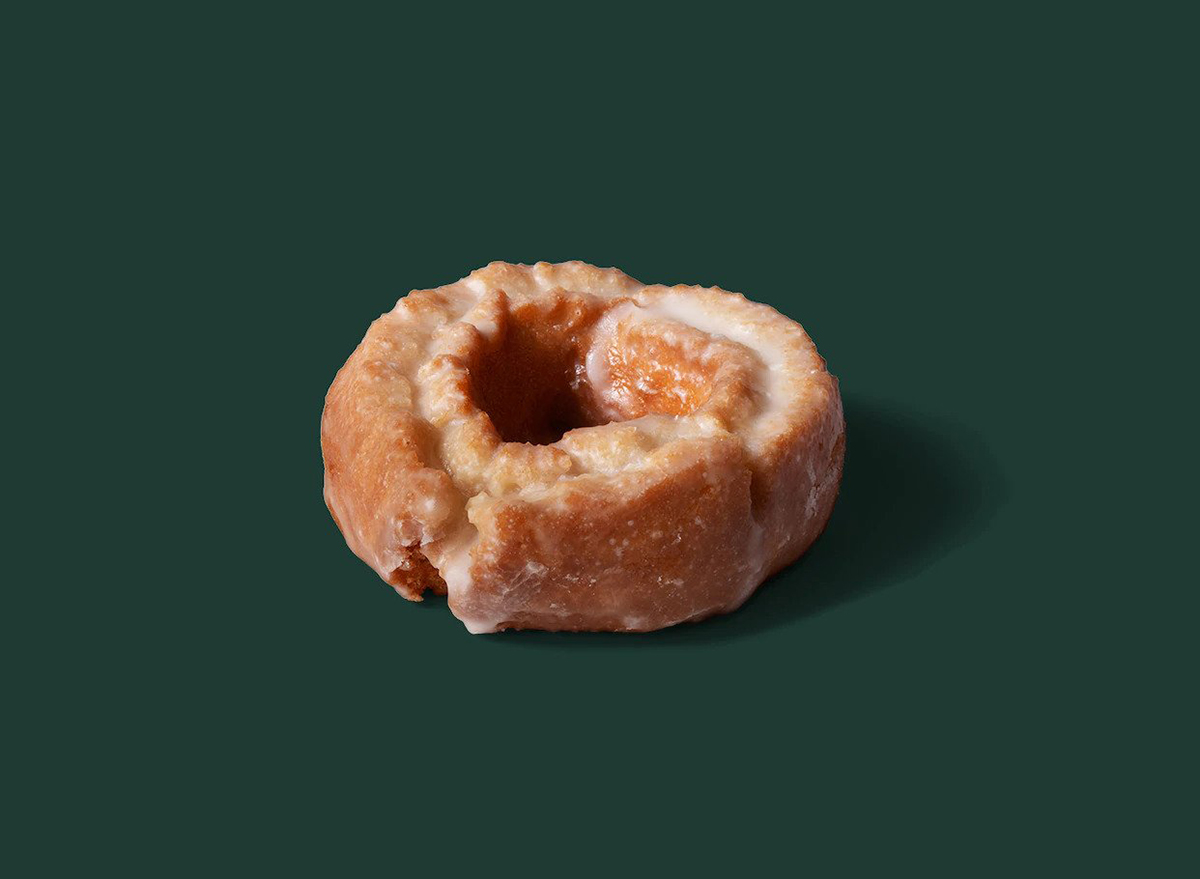 480 calories, 27 g fat (13 g saturated fat, 0 g trans fat), 410 mg sodium, 56 g carbs (1 g fiber, 30 g sugar), 5g protein
A glazed donut can seem innocent, but something that is covered in glaze means, well, it's slathered in sugar. As you can see with this donut from Starbucks, it not only is high in calories, but it's also packing when it comes to the sweet stuff, too. Not to mention the 13 grams of saturated fat—the American Heart Association suggests consuming just 13 grams per day in order to promote good heart health.6254a4d1642c605c54bf1cab17d50f1e
Krispy Kreme Dark Chocolate Oreo Cookies and Kreme Donut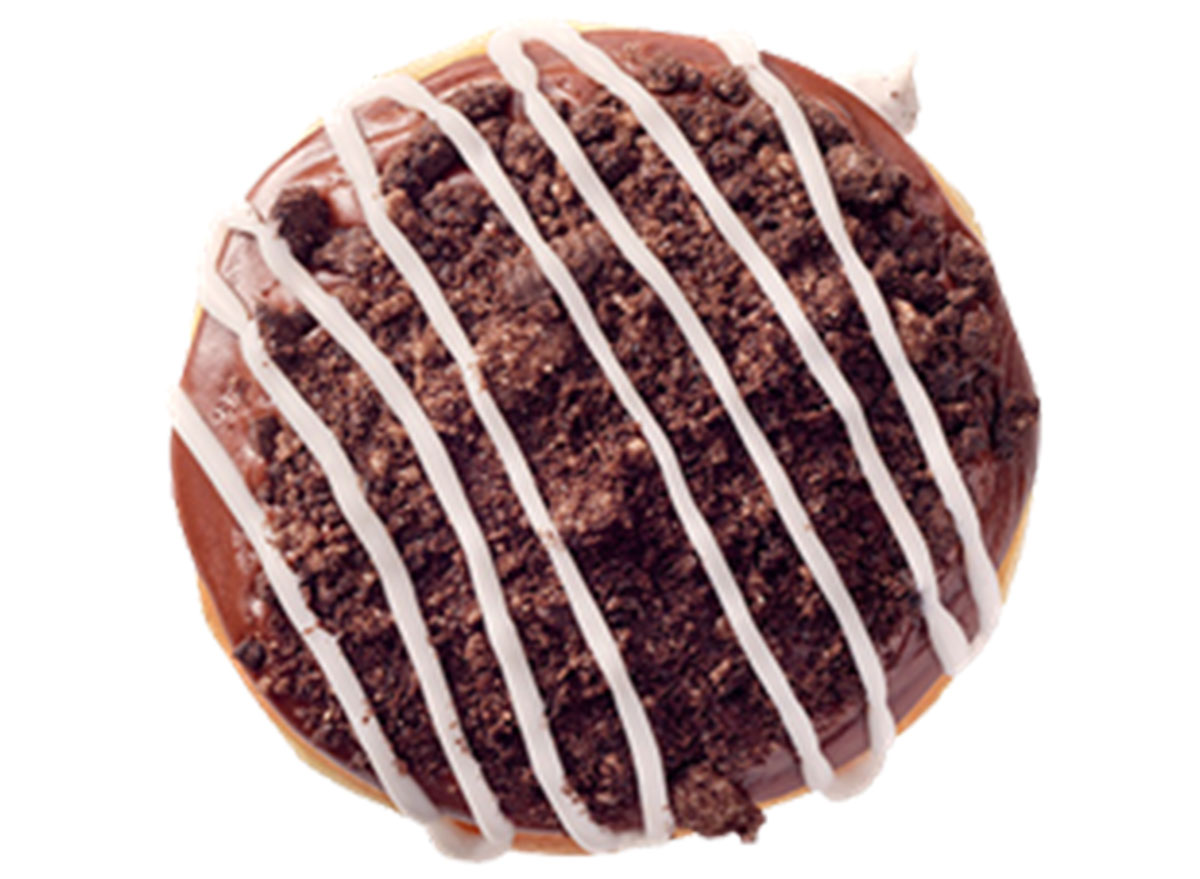 390 calories, 21 g fat (9 g saturated fat, 0 g trans fat), 180 mg sodium, 49 g carbs (1 g fiber, 27 g sugar), 4 g protein
This Krispy Kreme donut is a fan favorite, and it's easy to see why. It's not only filled with Oreo cookies and a cream filling but it's dipped in dark chocolate icing and topped with Oreo cookie pieces. It's decadent, to say the least!
Dunkin' Maple Creme Stick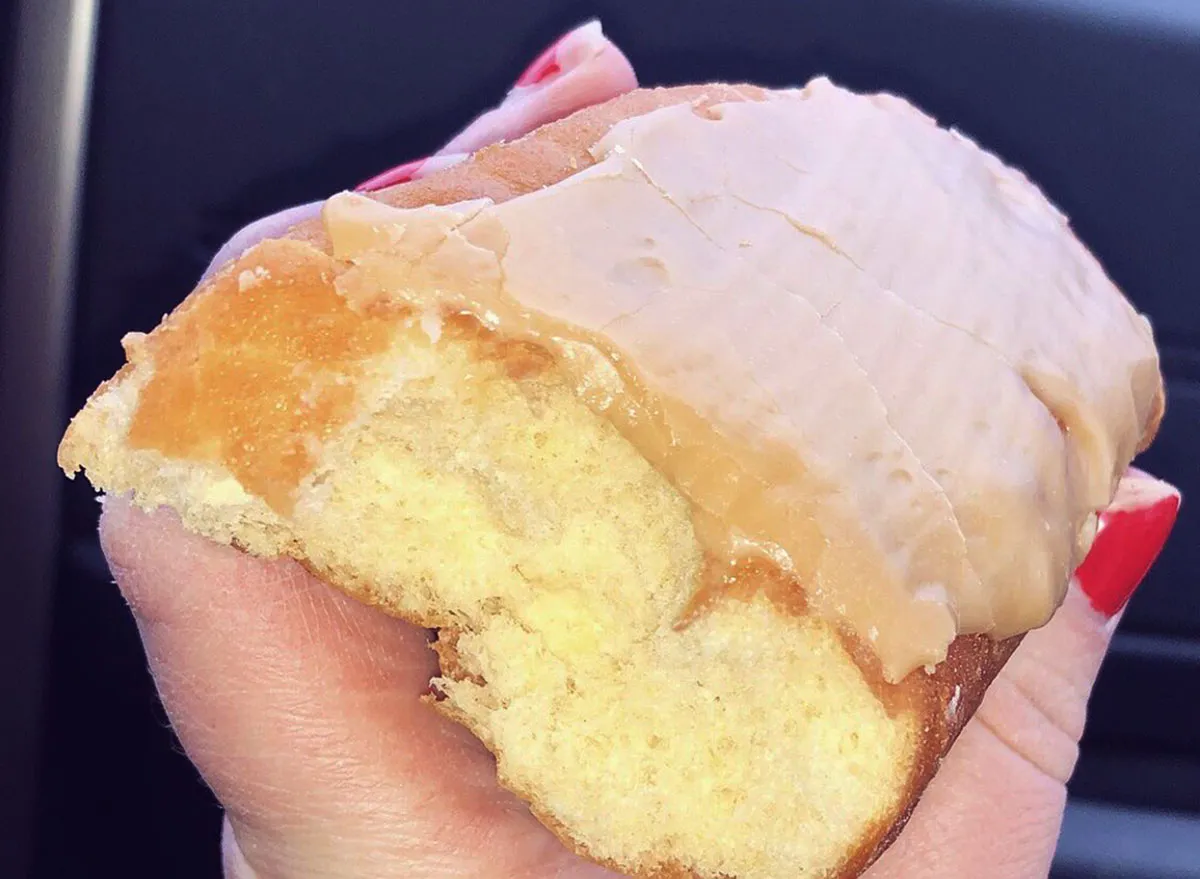 460 calories, 22 g fat (9 g saturated fat, 0 g trans fat), 440 mg sodium, 59 g carbs (1 g fiber, 34 g sugar), 5 g protein
The Maple Creme stick from Dunkin' is perfect for anyone who loves fall to enjoy these yummy flavors whenever they want. But 460 calories and 34 grams of sugar? That's just not right.
Tim Hortons Chocolate Caramel Donut
280 calories, 9 g fat (4 g saturated fat, 0 g trans fat), 330 mg sodium, 47 g carbs (1 g fiber, 23 g sugar), 5 g protein
Chocolate and caramel make for one of the best flavor combinations to ever exist. However, we recommend splitting this donut with someone if you really want to indulge without going overboard.
Shipley Do-Nuts Chocolate Filled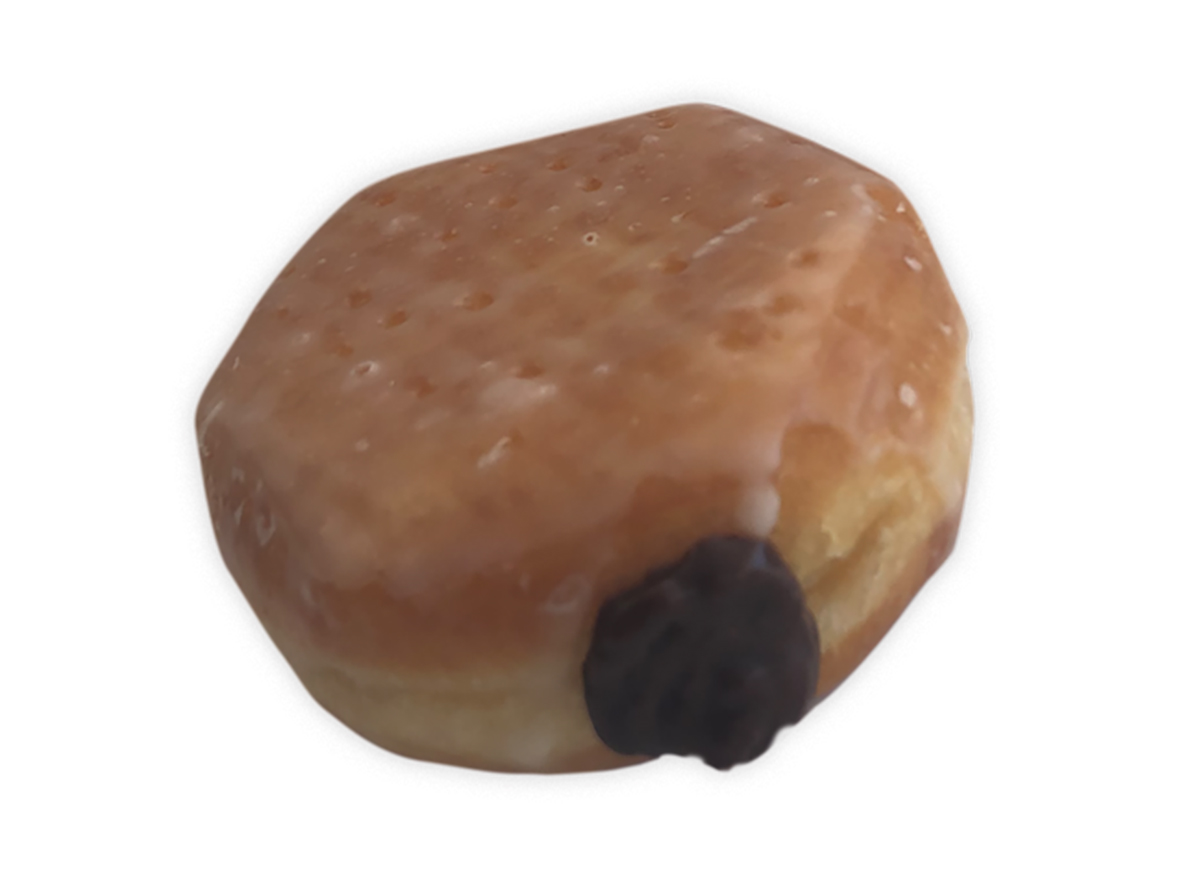 380 calories, 17 g fat (8 g saturated fat, 0 g trans fat), 182 mg sodium, 54 g carbs (1 g fiber, 36 g sugar), 3 g protein
If you're lucky enough to be in one of the states that has a Shipley Do-Nuts location, you might be tempted to try the chocolate-filled donut. Who doesn't love a glazed donut that's filled with chocolate? Well, sorry to disappoint, but with 36 grams of sugar, we advise skipping this one. Instead, try any of the iced donut flavors!
Jennifer Maldonado
Jennifer Maldonado is a senior editor at Eat This, Not That!, specializing in food and health content.
Read more about Jennifer