The Worst Snack Foods in America 2015
Summer is the season of mindless activities: Blockbuster action flicks at the cineplex. Lazy afternoons by the pool. Shark Week and America's Got Talent on the tube.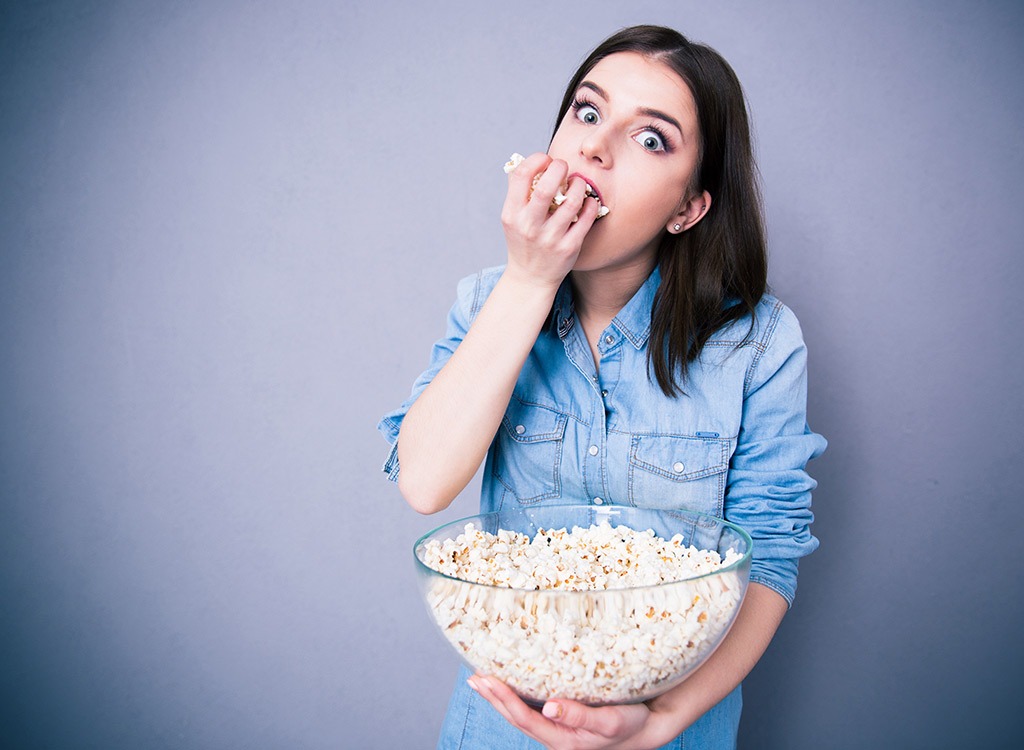 But mindless fun often comes with a side dish of mindless snacking, as well. There's nothing like the sight of Chris Pratt dodging a passel of Velociraptors to inspire a frenzy of hand-bowl-mouth-repeat.
To keep you from having to think too hard—because who wants to focus on calories when that lifeguard looks so hot?—the researchers at Eat This, Not That! magazine have identified the absolute worst foods to snack on this summer, and given you convenient swaps that will help your body melt away belly fat while you do little more than gently rock in your hammock. So start snacking—and watch the pounds disappear!
Gardetto's Special Request Roasted Garlic Rye Chips (1⁄2 cup)
170 calories, 10 g fat (2 g saturated fat, 3 g trans fats), 320 mg sodium, 16 g carbohydrates, 1 g fiber, <1 g sugar, 3 g protein
Gardetto extracts the worst part of its original snack mix and tries to serve it as a gourmet treat—a sneaky move that might have serious repercussions for even casual munchers. Each single serving exceeds the amount of trans fat deemed safe to consume daily by the American Heart Association.
Eat This Instead!
Terra Exotic Harvest Vegetable Chips
130 calories, 6 g fat (.5 g saturated fat), 160 mg sodium, 16 g carbohydrates, 3 g fiber, 5 g sugar, 2 g protein
This fun mix of carrots, blue potatoes, and kabocha squash boasts 40 percent less fat than potato chips and enough fiber to take the edge off your hunger. (Plus they look pretty on the chip 'n' dip platter.) And keep that waistline toned and tight with these essential 14 Ways to Lose Your Belly in 14 Days!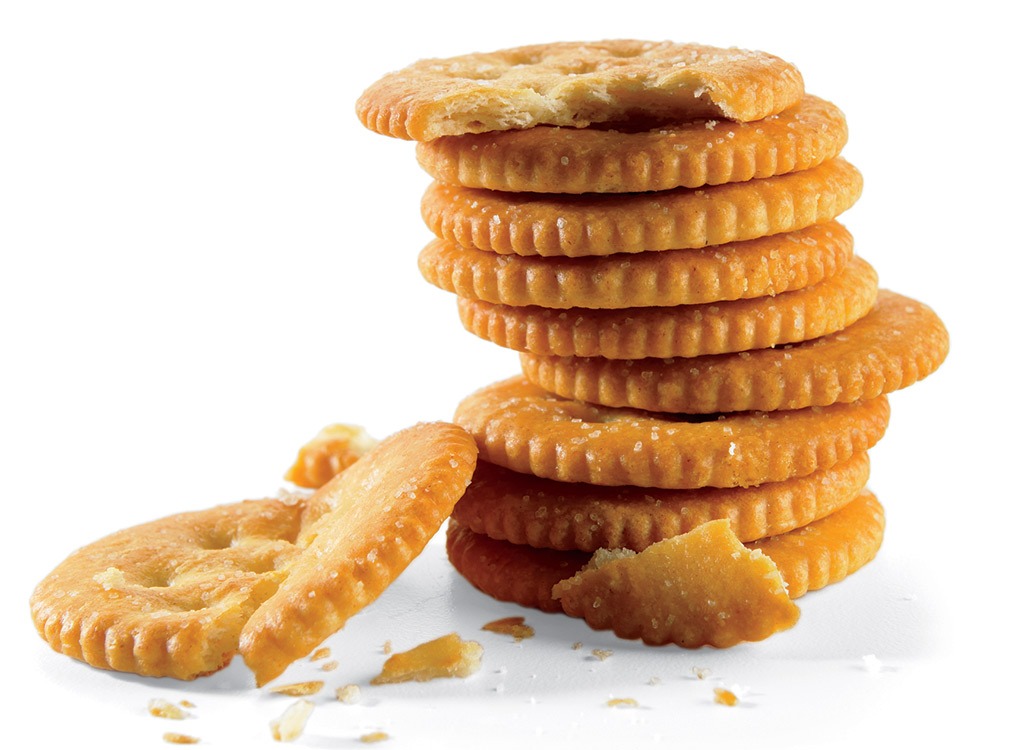 Ritz (10 crackers)
160 calories, 10 g fat (2 g saturated), 270 mg sodium, 2 g carbohydrates, 0 g fiber, 2 g sugar, 2 g protein
The most famous name in crackers is also an easy way to get fat. Each cracker contains two grams of refined carbohydrates, nearly one gram of fat, added High Fructose Corn Syrup and nary a scrap of fiber.
Eat This Instead!
Kashi Original 7 Grain Sea Salt Pita Crisps, (11 crisps)
120 calories, 3 g fat (0 g sat fat), 180 mg sodium, 5 g fiber, 2 g sugar, 3 g protein
Most brands douse their pita chips in heavy oils and then roll them in sodium. Kashi's, on the other hand, have a modest 120 calories and 180 mg sodium per serving. In a study published in the American Journal of Clinical Nutrition, researchers discovered that obese participants who added whole grains to their diets lost more belly fat than those who did not. Enjoy more guilty pleasures, guilt-free, and indulge in these 10 Best Junk Foods for Weight Loss!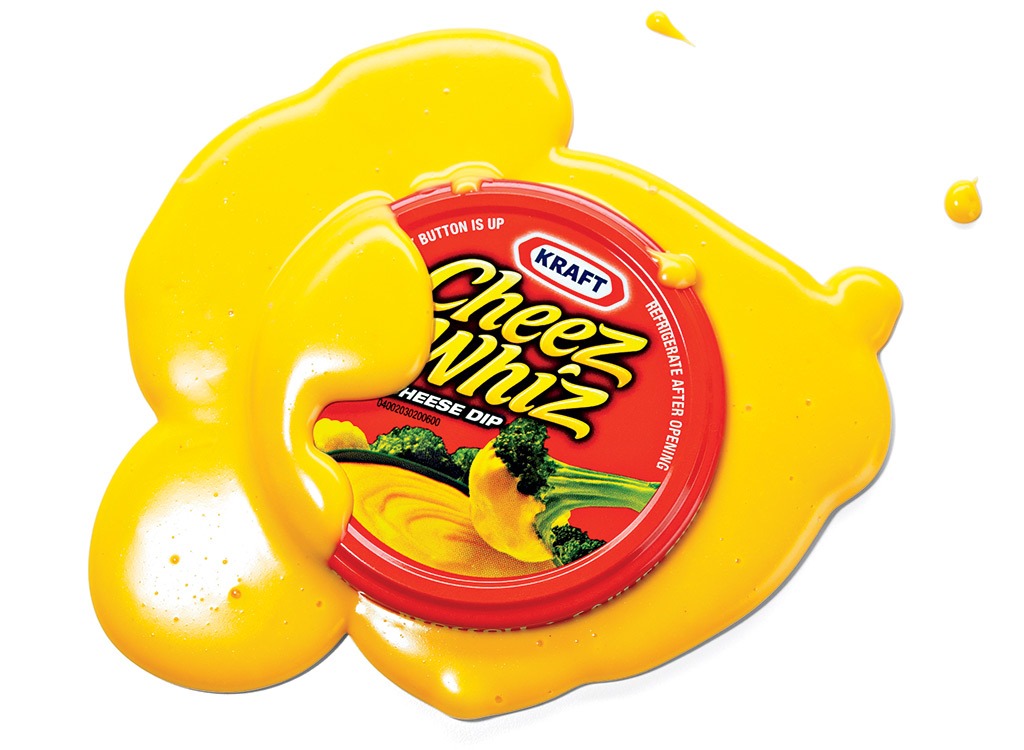 Kraft Cheez Whiz Original Cheese Dip (2 Tbsp)
91 calories, 7 g fat (4 g saturated fat), 541 mg sodium, 3 g carbohydrates, 0 g fiber, 4 g protein
The calorie count here doesn't look so high, but that's because the serving size is so small— two tablespoons means four chips' worth of dip. And when have you ever stopped at four chips? That means these empty calories—all processed cheese goo spiked with nefarious food additives—add up quickly, as does that shocking sodium number. There are too many great dips (salsa, guac, hummus) to rely on the Whiz for flavor.
Eat This Instead!
Wholly Guacamole, 100-calorie pack
100 calories, 9 g fat (1.5 g saturated fat), 200 mg sodium, 5 g carbohydrates, 3 g fiber, 1 g protein
Most pre-made guacamole is lacking in one crucial ingredient: guacamole. Avocados, specifically (adios, Ortega). But Wholly Guacamole is what it says it is: real food, with no added oils, starches and artificial colors. Avocados pack in healthy monounsaturated fats that contain oleic acid, which can actually help quiet feelings of hunger. Which means this snack will actually do what afternoon snacks are intended to do: keep you full and focused until dinnertime.
Yoplait Whips Chocolate Mousse
160 calories, 4g fat (2.5 saturated), 105 mg sodium, 25 g carbohydrates, 22g sugar, 5 g protein
There are a few yogurts with higher calorie counts, but term "whip" might have you thinking this is a more virtuous cup. It's not. The nutritional profile—with as much sugar as a pair of Twix bars and just 5 meager grams of protein—is closer to ice cream than to healthy yogurt (even though it's marketed as "regular yogurt in a fluffy mousse-styled version"). If you're going to have a dairy breakfast, just make sure the protein offering is equal to or greater than the sugar content.
Eat This Instead!
Dannon Oikos Greek Yogurt single serve
80 calories, 0 g fat, 50 mg sodium, 6 g carbohydrates, 6 g sugar, 15 g protein
Kudos to Dannon for getting into the Greek yogurt game—rich, creamy, and full of protein, this is the perfect way to start your morning, or have as a snack, especially if you add some fat-blasting red berries. Shed belly flab faster eating Dannon or any of these essential The 9 Best Yogurts for Weight Loss.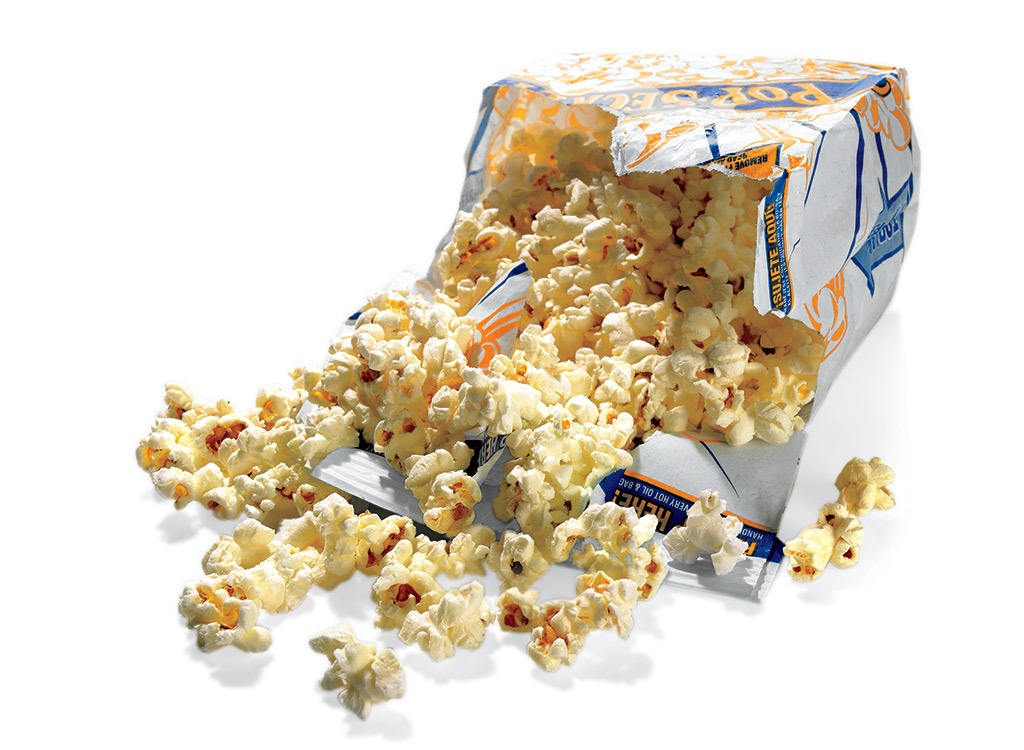 Pop-Secret Butter (1⁄3 bag)
180 calories, 12 g fat (2.5 g saturated, 5 g trans), 310 mg sodium, 15 g carbohydrates, 2 g fiber, 2 g protein
The only "secret" here is that the company has no qualms about trans fat, even though competitors like Orville Redenbacher have removed it from their buttery varieties.
Eat This Instead!
Skinny Pop (3 ¾ cups)
150 calories, 10 g fat (1 g saturated fat), 75 mg sodium, 15 g carbohydrates, 3 g fiber, 2 g protein
For a pre-popped popcorn, we love SkinnyPop because it's free of additives and tasty without being too salty. And it can help you lose weight. Four cups of this will leave you more satisfied than a square of chocolate, and for far fewer calories, according to nutritionist Barbara Rolls of Penn State University, who recommends filling up with low-density foods. Speaking of skinny, pop that six-pack in time for beach season with these 11 Eating Habits That Will Uncover Your Abs!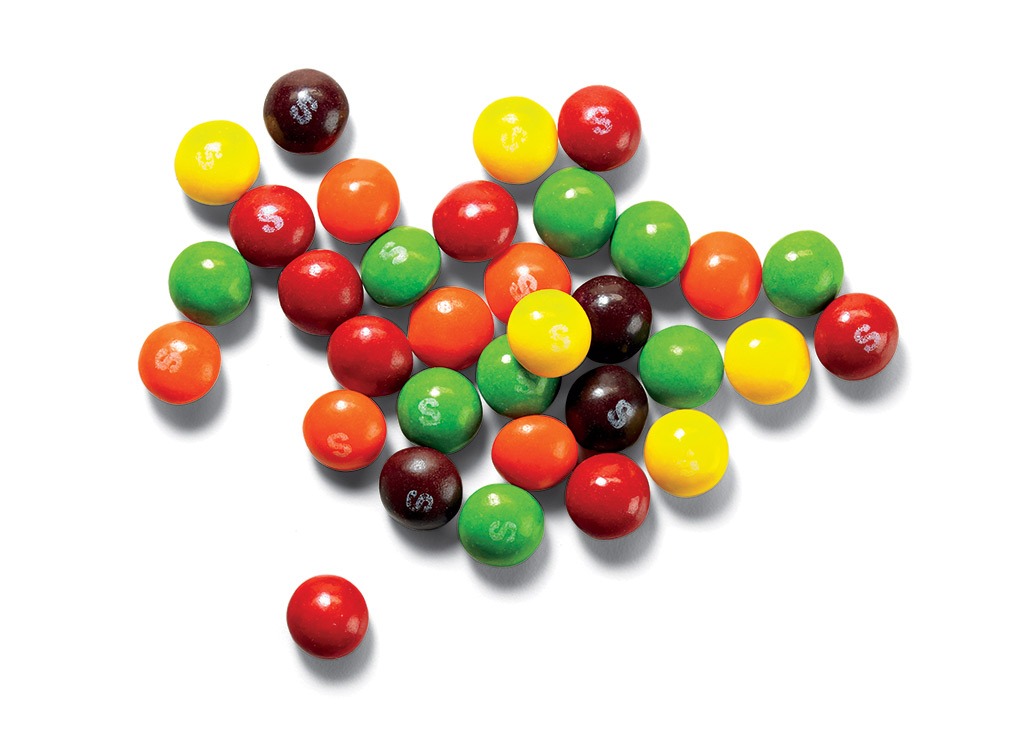 Skittles Original Fruit (1 package)
230 calories, 2.5 g fat (2.5 g saturated), 52 g carbohydrates, 0 g fiber, 42 g sugar, 0 g protein6254a4d1642c605c54bf1cab17d50f1e
It's hard to imagine any candy being worse than this. Each colored bead is essentially sugar and corn syrup glued together with hydrogenated palm kernel oil, and no less than 10 artificial colors!
Eat This Instead!
Vitabrownie (1 brownie)
100 calories, 2 g fat, 7 g fiber, 10 g sugar, 4 g protein
Satisfy your craving for something sweet without sabotaging your diet with one Vitabrownie. Each chocolatey square packs 8 grams of whole grains—a dietary staple of people with the littlest middles. A Tufts University study found that participants who ate three or more servings of whole grains had 10 percent less belly fat than people who ate the same amount of calories from refined carbs (like bad-for-you brownies). When it comes to diet and snacking, being unrefined is a good thing!
Mrs. Fields M&M Cookie (1 cookie)
330 calories, 14 g fat (9 g saturated fat), 27 g sugar, 0 g fiber, 2 g protein
Two classic childhood favorites—mall staple Mrs. Fields and those cute little M&Ms—become supervillians when teamed up in this cookie, which has a day's worth of sugar for women in just one serving.
Eat This Instead!
NuGo Fiber d'Lish Cinnamon Raisin
130 calories, 3 g fat, 11 g sugar, 12 g fiber, 3 g protein
Our new favorite nutrition bar also tastes like an oatmeal raisin cookie, and contains 48% of your daily fiber. Enjoy it with plenty of water.
MELT UP TO 10 POUNDS IN ONE WEEK!
WITH OUR BEST-SELLING NEW DIET PLAN, The 7-Day Flat-Belly Tea Cleanse! Test panelists lost up to 4 inches from their waist! Available now in paperback!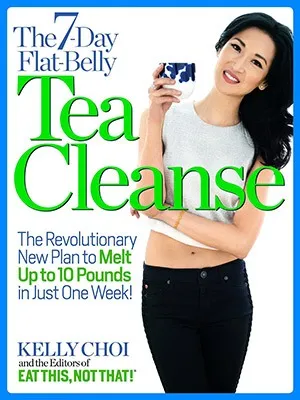 Eat This, Not That!
Inspired by The New York Times best-selling book series, Eat This, Not That! is a brand that's comprised of an award-winning team of journalists and board-certified experts, doctors, nutritionists, chefs, personal trainers, and dietitians who work together to bring you accurate, timely, informative, and actionable content on food, nutrition, dieting, weight loss, health, wellness, and more.
Read more about Eat This