It's Official, This Is the #1 Taco Spot in America
In honor of National Taco Day, here are Yelp's pick for the top spots in the whole country.
Tuesday, October 4 is National Taco Day, and if you love a good taco or three this could be one of the best holidays of the year. While making tacos at home on Taco Tuesday is a family favorite, nothing beats an authentic stuffed tortilla from a Mexican restaurant. Not sure where that is? Don't worry. Yelp gathered together a list of the 100 best taco spots in America.
And if you haven't ventured outside of fast-food tacos, you're in for a treat. Yelp's list highlights authentic spots with melt-in-your-mouth adobado and carne asada tacos, the best fish tacos piled high with fresh toppings, and sought-after Birra tacos served with a brothy dip that will have you coming back for more.
Check out the list for the places close to you and head there ASAP! But if are lucky enough to be by these locations, here are the top five taco spots in the U.S.—listed from fifth to first place—and what you should order at each.
Plus, don't miss The Best Taco in Every State.
Los Tacos No.1 — New York, New York
Los Taco No. 1 was founded by three friends from Tijuana, Mexico and California in an attempt to bring authentic tacos to NYC. That this taco joint has succeeded and expanded in one of the most difficult cities in the world is a testament to its deliciousness. The short menu and long line—it moves fast—prove this place is worth the stop.
Where: Chelsea Market and 4 other locations across the city
What to get: Your first time here you've got to get the tacos, duh. Start with the carne asada and the adobada con todo (ordered with everything on it). You'll be back. Also, pro tip, stop into Chelsea Market in the morning for one of their breakfast burritos out of the El Burro breakfast cart and ask for extra salsa.
What people are saying: "Amazing, authentic tacos!!!! Fast, quick. If I lived here, I would come several times a week!" I can tell you for experience, you definitely would.
Granny's Tacos — Austin, Texas
When they say Granny's tacos, they mean it! "All the recipes come from my mom, grandma, and great-grandmother," said Rey Hernandez, who runs this taqueria with his mother, Maria Rios Vega. "It's generation after generation of recipes from Guanajuato, Mexico." Don't be dismayed by a line, Yelpers report that it moves fast.
Where: 1401 E 7th St Austin, TX 78702
What to get: Yelp recommends the chilaquiles tacos smothered with one of their authentic sauces: green, red, or mole. The most popular, though, is the Abuela taco packed with marinated shredded pork, pico de gallo, and avocado. And others say the breakfast taco is one of the best they've ever had. Also, people can't stop talking the Rico with chicken, mole sauce, and Mexican rice. Maybe you should get the whole menu!
What people are saying:
"The Al Pastor taco is TO DIE FOR! Honestly, I haven't had a good taco in a long time and this was the best I have ever had."
"Where would I drive 35 minutes on Sunday morning for a taco? Granny's."
Taqueria Mi Ranchito — Sylmar, California
Jesus Ledesma runs this taco truck in the San Fernando Valley that gets rave reviews. You can get tacos, burritos, quesadillas, and more with whatever type of meat you want including classic beef, pork, and chicken, but also tripe, tongue, and cabeza (head meat). Don't knock it till you've tried it!
Where: Follow them on Facebook to see where they are located.
What to get: Whatever you like, this place does it right. If you like heat, get the spicy orange salsa made with Arbol chiles. Fans also rave about the asada fries.
What people are saying:
"This place was amazing. Tortillas are hand made, good variety of meat choices, salsas were on point! I love about an hour and half away but will make the drive just for the tacos."
Taco Nazo — Bellflower, California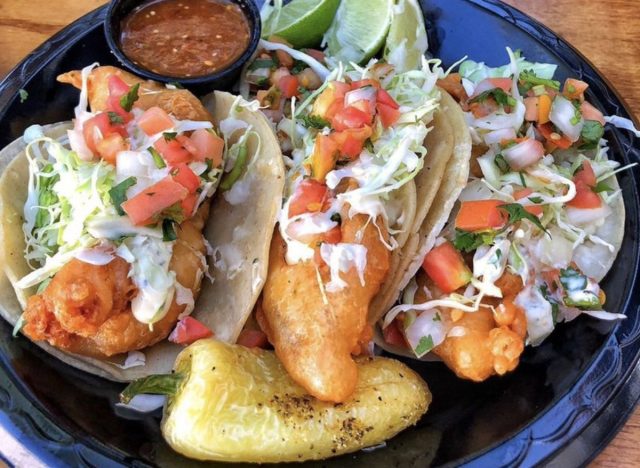 If you love fish tacos, this is the place for you. Taco Nazo began as a lunch truck in 1978 and has grown to six spots. They fry the tacos in small batches and top the crispy fish with a mount of cabbage and tomatoes. Cars will line up early for the tacos so be prepared to wait. Get the fish tacos, fans say the other tacos aren't worth the hype, but the fish tacos are sublime, quite possibly the best ever.6254a4d1642c605c54bf1cab17d50f1e
Where: Find the location near you.
What to get: Fish or shrimp tacos.
What people are saying: "The fish tacos were a beautiful mess—in a good way! Lots of tomato salsa on top & shredded cabbage-all fresh. The salsa was fairly spicy with a kick."
Ed Fernandez Restaurant Birrieria — San Diego, California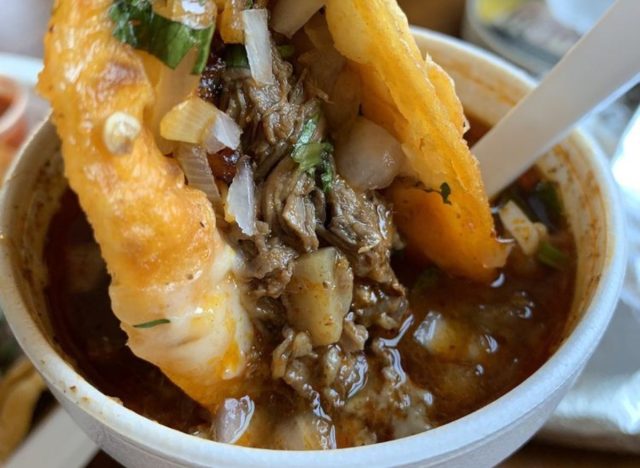 If you've had birra tacos, then you know what all the hype is about. Birra is essentially a meat stew and the birra tacos are typically stuffed with the stewed meat and then dipped in the deep brownish-red au jus on the side. They're messy, subtly spicy, and wholly delicious. Co-owner Jose Fernandez, a Mexico City native, was serving birra before birra was a thing, so naturally, they do it right at this hot spot in San Diego.
Where: 2265 Flower Ave # D, San Diego, CA 92154 (If you don't know it's there you could miss it.)
What to get: Fans rave about the birra tacos, add the nervia (tendon) if you want to try something new. And get the consome, that next-level broth.
What people are saying:
"THESE ARE THE BEST BIRRIA TACOS you'll ever HAVE."
"My friend took me to Fernandez and it is the best food I have eaten in all of San Diego."