The Best Zucchini Bread Recipe
This healthy zucchini bread recipe is gluten-free and stuffed with all-natural ingredients!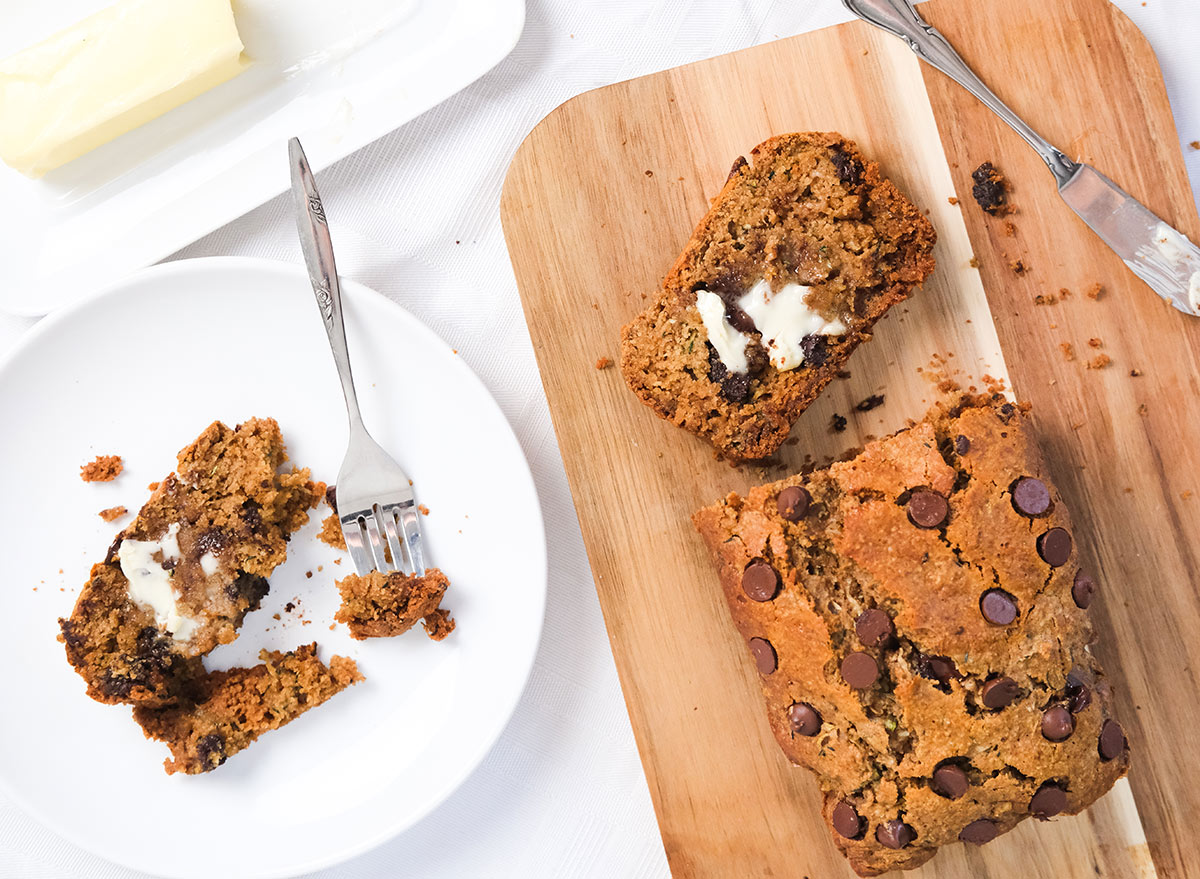 In the summertime, when zucchini is plentiful, there are a few recipes we tend to gravitate towards. Zoodle dishes, sautéed zucchini with balsamic, and of course, zucchini bread. It's one of those warm, summer treats that pairs perfectly with a cup of coffee—or even a scoop of cold vanilla ice cream.
Yet while this summer treat is a delicious one to treasure, it's also one that can rack up the calories if you're not careful enough. So we took some time to evaluate the usual ingredients in typical zucchini bread and made a few healthy alterations.
Our zucchini bread focuses on all-natural ingredients, and because of that homemade oat flour, the loaf is even gluten-free. It's naturally sweetened with honey and a few chocolate baking morsels. It has cinnamon, of course, but the pinch of nutmeg really sets our zucchini bread apart from the rest. While coconut oil is our preferred choice for this bread, if canola oil is what you have on hand, that will work just as well.
One tip about the zucchini: Do not squeeze it dry! Shredded zucchini actually helps in making whatever you're baking incredibly moist, and you don't want to lose any of that moisture. While some recipes will tell you to squeeze it out, we are taking full advantage of the natural moisture in zucchini to make a perfectly moist slice of zucchini bread!6254a4d1642c605c54bf1cab17d50f1e
Here is an easy step-by-step tutorial for you to follow!
Nutrition: 199 calories, 8.5 g fat (5.5 g saturated), 117.5 mg sodium, 30 g carbs (2 g fiber, 15 g sugar), 4 g protein

Makes 12 slices
Ingredients
2 cups shredded, unpeeled zucchini
2 1/2 cups gluten-free rolled-cut oats, blended (makes 2 cups of oat flour)
2 eggs
1/2 cup honey
1/4 cup coconut oil (or canola oil)
1 tsp vanilla extract
1 tsp cinnamon
1/8 tsp ground nutmeg
1 tsp baking soda
1/2 tsp baking powder
1/2 tsp salt
1/3 cup semi-sweet chocolate morsels (plus extra for the top, if desired)
How to Make It
Preheat the oven to 350 degrees.
If needed, melt the coconut oil and set aside to cool.
Grate the zucchini. Set aside.
Blend the oats until they make a flour consistency—about 30 seconds. Set aside.
In a stand mixer or a large mixing bowl, beat together the honey, oil, and vanilla extract. Add in the eggs and beat until fully combined.
Add in the cinnamon, nutmeg, baking soda, baking powder, and salt. Mix until combined.
Sprinkle in the oat flour and mix at low speed or by hand with a rubber spatula.
Fold in the shredded zucchini and chocolate chips.
Line a standard loaf pan with parchment paper. Lightly grease with cooking spray or butter.
Scrape the batter into the loaf pan and even out the top using your rubber spatula.
Bake in the oven for 50 minutes, or until a toothpick comes out clean.
Store in an airtight container or wrapped in aluminum foil in the refrigerator for up to 5 days.
For even more recipe ideas, be sure to sign up for our newsletter!