Quick 15-Minute Dinners You Can Make With Frozen Foods
Cooking dinner on a busy weeknight has never been this easy.
The frozen food aisle is a lot healthier than you think. Along with a generous amount of healthy dinner options, quick breakfast items, and even healthy desserts, there are plenty of easy-to-grab bags of veggies and proteins that can turn into dinner in a flash.
This can be especially helpful on those busy days when you feel like you have no time to make dinner. Not to mention using frozen food can save you money and prevent food waste. Just give yourself 15 minutes, and you'll have one of these tasty quick dinners on the table in no time.
Then, for more dinner ideas, make sure to check out 17 Healthy Grilled Fish Recipes to Make This Weekend.
Omelet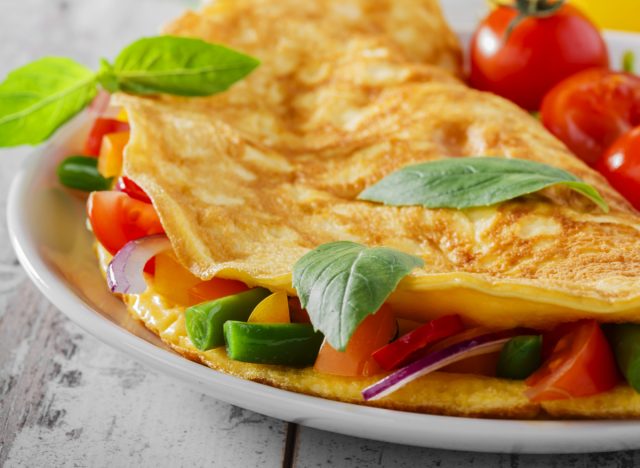 Who says omelets just have to be for breakfast? They make for an excellent—and tasty—lunch and dinner food, especially when paired with a leafy green salad on the side. All you need is a carton of eggs, some butter, milk, cheese (your choice of shredded or a package of Boursin), and your favorite frozen veggies—like broccoli florets, mushrooms, peas, spinach, bell peppers, and onions.
To make, cook the veggies according to packaged instructions. Whisk together two eggs in a bowl with a teaspoon of milk or heavy cream. Melt 1/2 a tablespoon of butter on a non-stick skillet over medium-low, then pour the egg mixture in. When the egg mixture is cooked around the edges (around one minute), add in your cooked veggies and your choice of cheese. Then flip the omelet in half (it's okay if it's slightly runny) and cook for another minute or two. Remove from the pan and enjoy!
Stir fry
This is one of those dinners that can easily be thrown together with a few simple frozen ingredients. All you need is a package of frozen cauliflower rice, a bag of stir-fry blend veggies, and frozen grilled chicken strips. If you prefer rice, you can snag a 90-second microwave packet.
To make, cook the different ingredients according to packaged instructions, then toss them together in a large skillet or wok with your favorite jarred or bottled stir-fry sauce (like this Good & Gather Sesame Teriyaki). If you have it, make a small divet in the fried rice on the pan and scramble up an egg to toss in with the fried rice for extra protein.
Crispy chicken sandwich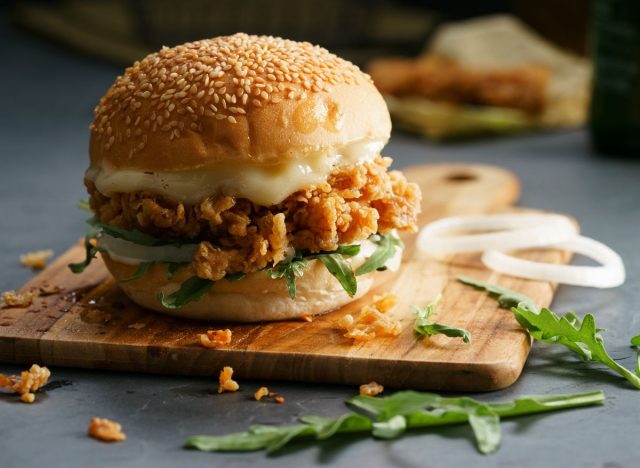 The frozen food aisle has a plethora of different kinds of frozen crispy chicken—fillets, nuggets, and even plant-based options. A crispy chicken fillet can make for an easy chicken sandwich during the weeknight when you barely feel like putting any effort in. A few healthy choices that don't overdo it on the saturated fat or the carbohydrates are Tyson's Air Fried Chicken Fillets, or the Just Bare Boneless Skinless Lightly Breaded Chicken Breast Chunks.
To make, cook the frozen crispy chicken either in the air fryer or the oven, then place on a toasted bun and top with your favorite veggie and condiments. For an easy side, you can toss together a quick leafy green salad with a balsamic vinaigrette.
Gnocchi & veggie sheet pan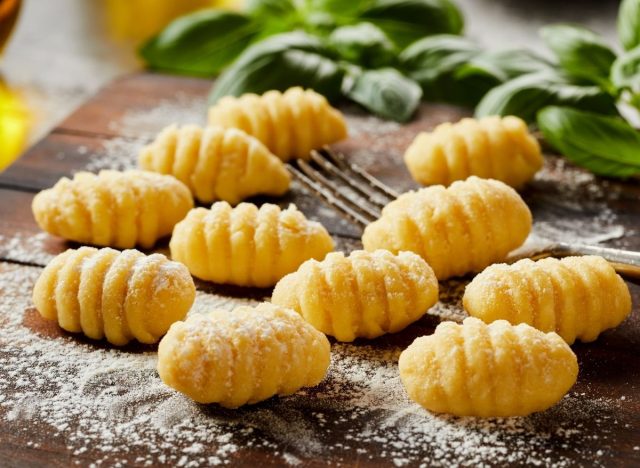 Frozen gnocchi makes for easy sheet pan dinners on busy weeknights. All you need is your favorite frozen gnocchi (try Green Giant Cauliflower Gnocchi) and whatever vegetables you want to use up in the fridge or freezer—like sliced bell peppers, red onion, cherry tomatoes, green beans, and more. For protein, you could always slice up your favorite chicken sausage and toss it in.
To make, toss together the frozen gnocchi and vegetables with a drizzle of olive oil, salt, pepper, and any other seasoning of choice (Italian seasoning works well here). Spread out evenly on a sheet pan and roast in the oven at 450 degrees for 15 to 20 minutes.
Curry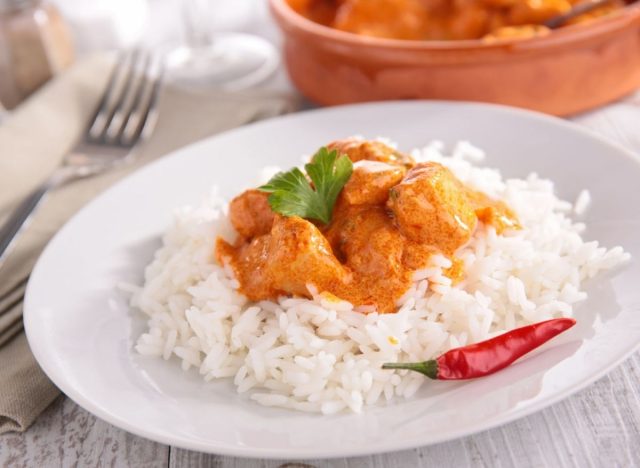 If you have a leftover bag of broccoli florets, cauliflower florets, or even some carrots and green beans, these veggies work well for a simple weeknight curry. You can also add in a drained can of chickpeas or cooked chicken strips (frozen ones also work here) for extra protein.
To make, measure out 3 cups of frozen vegetables and add them to a pot with 2 cups of vegetable broth. Bring the mixture to a boil, then reduce the heat and add in a can of coconut milk, 1 tablespoon of curry powder, 1/2 tsp of ginger, and if you have it, 2 tablespoons of curry paste. While the mixture simmers for 10-15 minutes (stirring occasionally), cook up a quick rice packet of your choice in the microwave for serving.
Veggie pizza
You don't have to wait for pizza dough to rise in order to make a homemade pie at home. There are a plethora of frozen options that make throwing together a pizza just as easy as throwing together any frozen meal.
To make, grab a frozen crust (we enjoy Banza's Plain Crust Pizza) and slather on your favorite jarred pizza sauce. Use up the veggies you have in the fridge or cook up some frozen veggies to add—like spinach, broccoli, sliced bell peppers, onions, mushrooms, and more. You can add some shredded low-moisture mozzarella or dollops of ricotta cheese, or keep it vegan with red sauce and veggies. Drizzle a small amount of olive oil, sprinkle on some seasonings, and cook it up in the oven for 10 minutes.
Loaded chicken Alfredo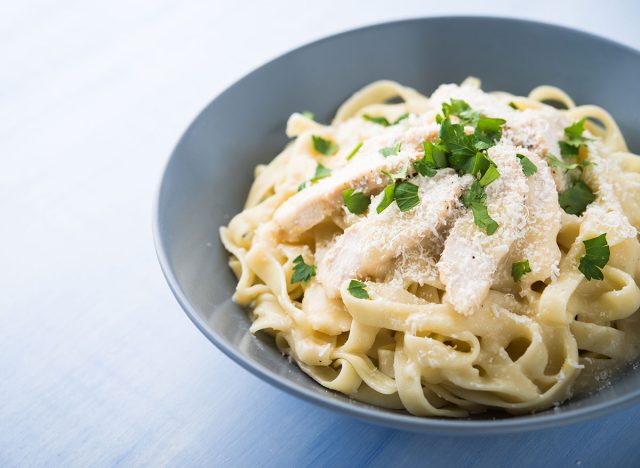 Adding frozen vegetables (and protein, like chicken or shrimp) can boost the nutritional value of your dinner without much effort, and will give you a tasty meal in a matter of minutes.
To make, cook up the veggies and protein according to package instructions. Boil a pot of water, sprinkle in some salt, and cook the pasta of your choice. Drain. Then in a large skillet, toss together the cooked pasta, veggies, protein, and a jar of Alfredo sauce—like Rao's Homemade Alfredo Sauce.