I Tried The Costco Chicken Nuggets That "Taste Like Chick-fil-A," and I Have Some Thoughts.
Do they really taste the same? I'll be the judge of that.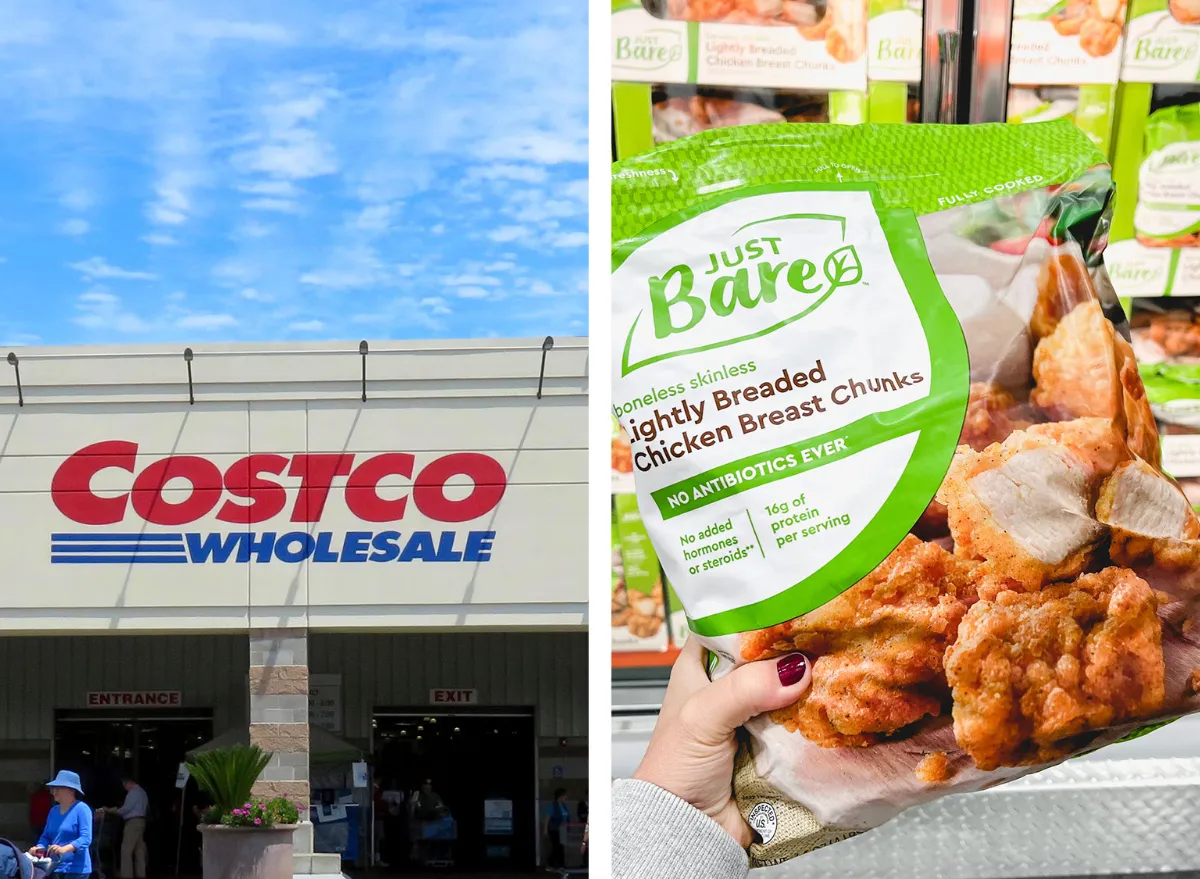 I'm always skeptical when a person tells me something "tastes just like" something else. I've been burned quite a few times in the past with this sort of statement, like the time a fitness expert told me to mix Greek yogurt with peanut butter, vanilla extract, and chocolate chips and said it "tastes just like cookie dough" (news flash: it didn't). So when I saw numerous people online talk about how these particular Costco chicken nuggets "taste just like Chick-fil-A," I, of course, had to put my taste buds to the test.
I think it's important to note that Chick-fil-A's nuggets are quite different compared to other chicken nuggets on fast food menus. Unlike the nuggets you'll find at chains like McDonald's or Wendy's, Chick-fil-A's nuggets are more resemblant to popcorn chicken. They usually don't have a specific "chicken nugget" shape and the breading is a lot lighter. The key thing here is the texture when it comes to mimicking Chick-fil-A's nuggets, and while I wouldn't call myself a chicken nugget connoisseur, I've had enough Chick-fil-A throughout college to feel like I know exactly the type of nugget to look for.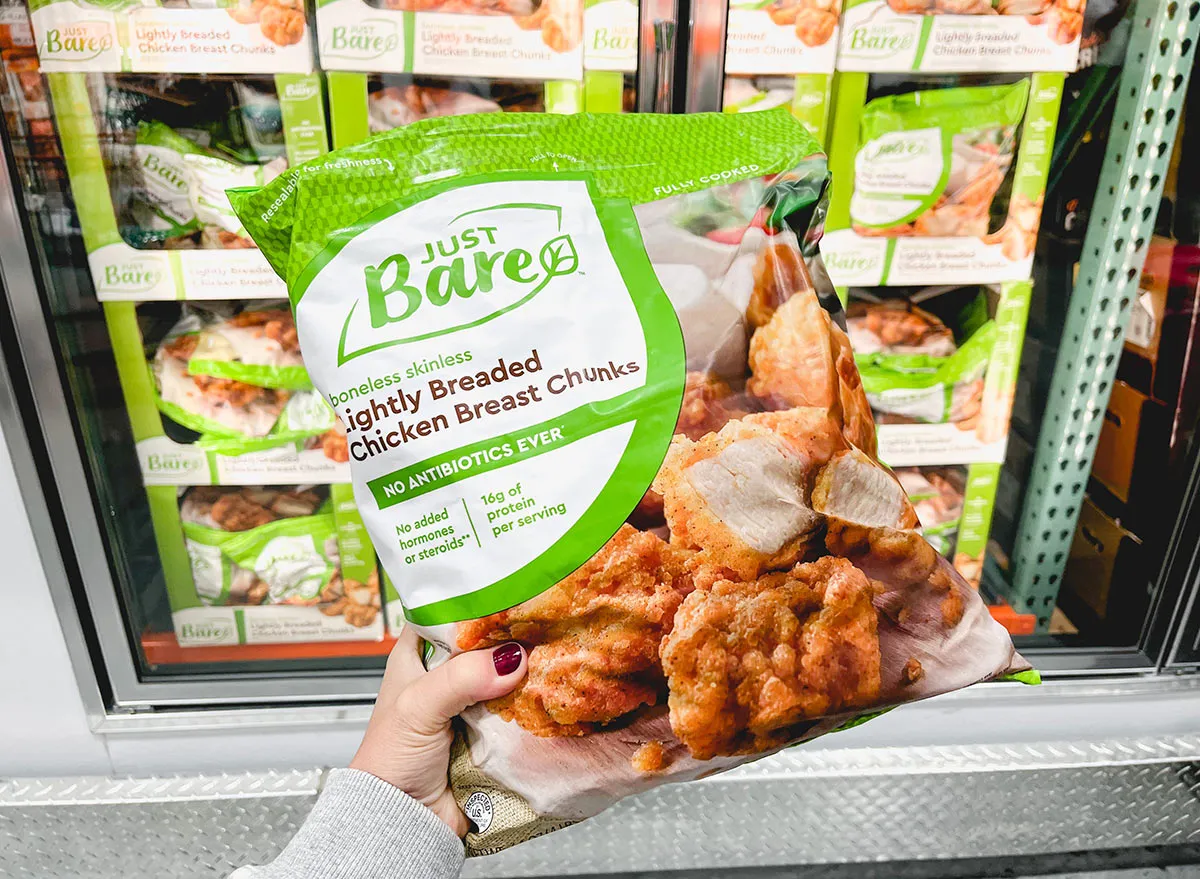 Upon my trip to Costco, these chicken nuggets were the first thing I saw heading into the frozen section. The product is called Just Bare Boneless Skinless Lightly Breaded Chicken Breast Chunks. The packaging itself had me impressed—no antibiotics used for the chicken, no added hormones or steroids, and each serving had a whopping 16 grams of protein.
These chicken nuggets are clearly a good addition to your freezer, especially if you have little ones to feed…but it still didn't have me convinced. Was it really going to taste like Chick-fil-A, or are fitness gurus just making a loose comparison again in order to get you to try something "healthier?"
After getting lost a bit in the clothes section and buying two new pairs of sweatpants (guilty, Costco did it again), I took my large bag of frozen chicken to check out. A few minutes later, I'm pulling into the house ready to give these chicken nuggets a taste.
What did they taste like?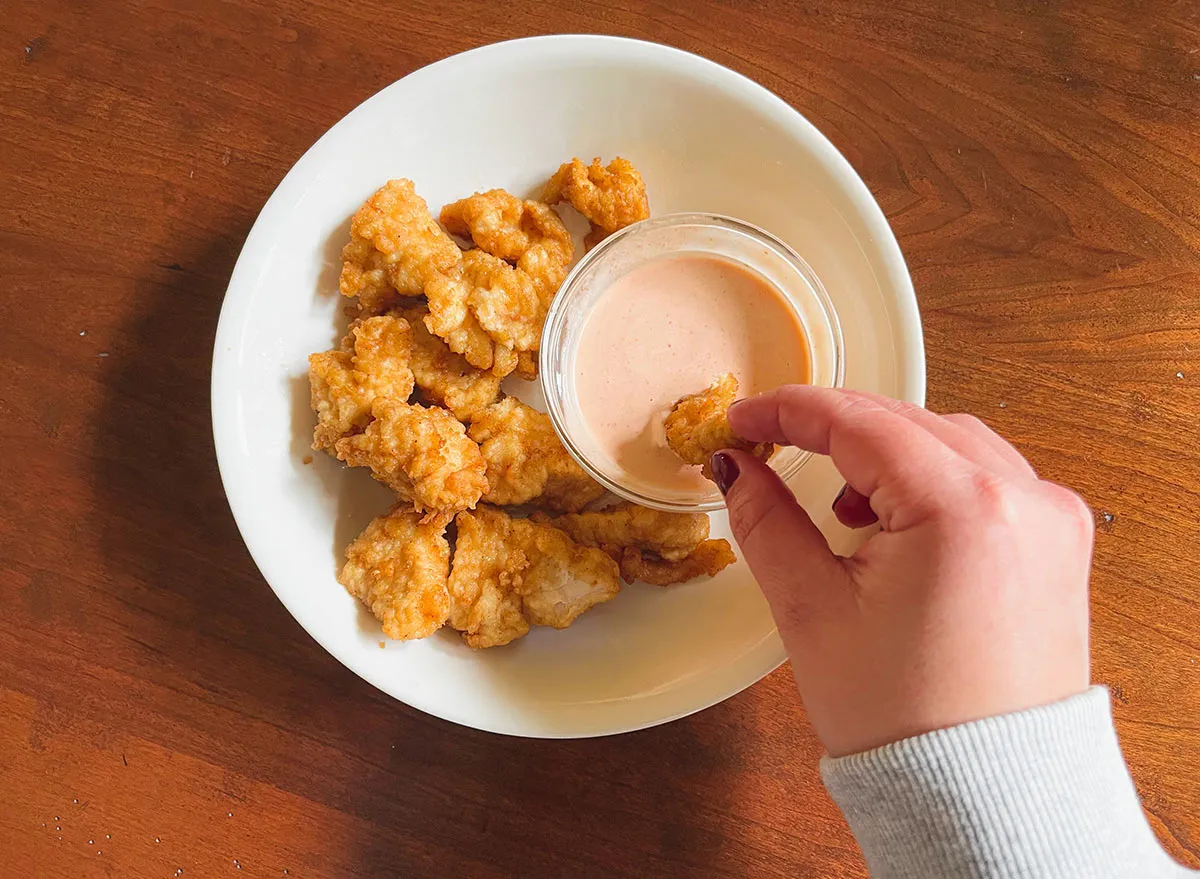 Like almost every item on Costco shelves, the warehouse does not skimp on giving you enough food. The Just Bare chicken nuggets come in a huge bag of 22 servings, and after 23 minutes in the oven, I realized I cooked way more chicken nuggets than I actually needed.6254a4d1642c605c54bf1cab17d50f1e
While I didn't have a Chick-fil-A sauce to dip in for the full experience, I made my own sriracha aioli for dipping (mayonnaise, sriracha, and a dash of Worcestershire sauce). Once everything was ready to go, I took my first bite.
The result? Surprisingly, they are similar. It's true—the hype does not lie for this one. Just Bare chicken nuggets have a breading that is eerily similar to the types of nuggets you would get at Chick-fil-A, and the meat is as juicy and good as the bag advertises it to be.
It's also important to note that the shape of the chicken nuggets is different compared to those at Chick-fil-A. The Just Bare chicken nuggets are slightly bigger, but quite honestly, I wasn't mad about it. Especially given that everything that comes from Costco always seems to be bigger than you actually need. But hey, fewer trips to the grocery store, right?
Because the nuggets were so big, I did end up cooking more than I needed to for me and my family—I had to package some up and put them in the fridge to reheat. So my only suggestion is to portion them out.
While I do love a trip to Chick-fil-A, I have to admit, this did satisfy the craving for me. Plus, knowing that the nutrition for these nuggets is actually pretty good for my health (160 calories per serving, only 6 grams of fat, and 9 grams of carbs, with 16 grams of protein), I'd have to say I think I would rather pick up a bag of these to have at home when I'm looking for some crispy chicken to throw on my salad. Especially when it's a Sunday—because you know we all have a special craving for Chick-fil-A on the one day a week it's closed.
For even more Costco tips, read these next: