The #1 Best Frozen Pizza At Costco, According To A Dietitian
Your favorite bulk store may also carry your new favorite healthy pizza.
If you are a Costco shopper, you already know of the amazingness that graces this warehouse's shelves. From the best cheese selection you will find without taking a trip to France to the wide variety of low-cost and high-quality wines that you can snag, Costco is a go-to for people who like quality products at a discount (and who doesn't love that?). Sure, you may have to buy your products of choice in bulk, but needing a super-sized bag of your favorite snack or a giant jar of pickles is hardly a sacrifice.
As a busy working mom, I am always on the hunt for convenient groceries that are economical, easy to prep, and taste good enough to appeal to my picky-eating family. And as a registered dietitian, naturally, I prioritize options that pack a punch in the nutrition department.
When I make a Costco run, unsurprising additions like frozen veggies and oversized boxes of oats always find their way into my grocery cart. And for the easiest dinnertime hack my family adores, frozen pizza saves the day.
What to look for when picking a frozen pizza
Frozen pizza can help get dinner on the table in a snap thanks to the pre-made pie that only requires unwrapping and heating up before mealtime. But while you will be hard-pressed to find a frozen pizza that doesn't taste great, there are some options out there that have some unsavory factors that make them less ideal for those trying to support their overall health.
Pizza in itself can be a delicious addition to a healthy meal, as long as proper portion sizes are observed and it is paired with a side salad, cooked veggies, or other nutritious side dishes. Pizza toppings should be low in saturated fat, sodium, and free from nitrates, and less-healthy ingredients (like margarine) should not be found as an ingredient in the crust. Finally, the pizza should provide fiber to help make your pizza meal as satiating as possible.
So, among the sea of frozen pizzas available in the freezer section at Costco, the #1 best frozen pizza at Costco is Milton's Craft Bakers Thin & Crispy Roasted Vegetable Cauliflower Crust Pizza.
Milton's Craft Bakers Thin & Crispy Roasted Vegetable Cauliflower Crust Pizza is the #1 best frozen pizza at Costco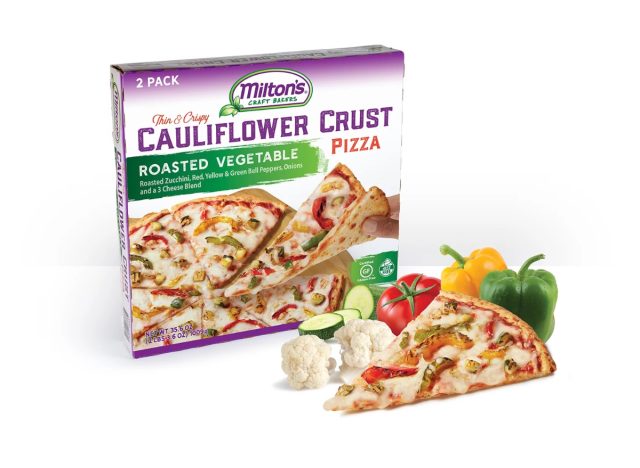 Milton's Craft Bakers Thin & Crispy Roasted Vegetable Cauliflower Crust Pizza is a unicorn in the pizza aisle—a pizza that's certified gluten-free and made with a cauliflower-based crust that actually tastes fantastic! Because of the cauliflower addition, this pizza provides three grams of satiating fiber per serving, or 11% DV.6254a4d1642c605c54bf1cab17d50f1e
And with a whopping 18 grams of protein per serving, this pizza gives a serious one-two punch in the satisfying department, as protein can offer some satiating benefits in addition to fiber.
Topped with real roasted veggies and hormone-free cheese, this pizza certainly isn't lacking in flavor, and these ingredients contribute to the major nutrition that this dish offers.
I love pairing a slice of this pizza with a serving of bagged salad for a quick mid-week dinner that takes unbelievably little effort to make. And since the first ingredient on the label is cauliflower, I can feel good feeding it to my family knowing that this pizza actually contains a significant amount of this veggie (the ingredients listed on a food label are listed in order of predominance, with ingredients used in the greatest amount first).
Thin, crispy, and made from quality ingredients, Milton's Craft Bakers Thin & Crispy Roasted Vegetable Cauliflower Crust Pizza is a must-try if you are a frozen pizza lover and you are looking for an option with quality ingredients and a totally craveable taste. I am never sorry when I toss a two-pack of this pizza in my Costco cart whenever I run in for my monthly haul. (And if you don't shop at Costco or don't have one near you, you can snag these pizzas at Sprouts, Safeway, Albertsons, and Vons, too!
Lauren Manaker MS, RDN, LD, CLEC
Lauren Manaker is an award-winning registered dietitian, book author, and recipe developer who has been in practice for almost 20 years.
Read more about Lauren