15 Discontinued Lunchbox Snacks You'll Never See Again
Who else remembers those Star Wars cookies?
Lunchtime in the 1980s was the perfect time to show off how many cool treats you had packed in your lunch bag. Maybe you brought a Squeezit to drink with your Hostess Pudding Pie. Maybe you traded your Fruit Wrinkles for your BFF's Magic Middles. The possibilities were endless—and delicious.
Snacks from the '80s were flavorful, sometimes garish, and oh so memorable. Unfortunately, so many of them have been discontinued since our childhoods, but we still remember them fondly. Ahead, check out 15 of our absolute favorite lunchtime staples from the 1980s that you can't buy anymore and have probably forgotten about, so you can relive the good old days.
And for more, don't miss these 15 Classic American Desserts That Deserve a Comeback.
This was the absolute cream of the crop when it comes to what was in your lunch in the 1980s. It was created to promote the animated series The Real Ghostbusters and was supremely fruity and delicious. If you showed up at the lunch table with this in your lunch box, everyone knew you had good taste—in both TV shows and snacks.
The name of these didn't sound appealing, but they were tasty. A close relative of the Fruit Roll-Up, Fruit Wrinkles were just bite-size fruit pieces, made to look wrinkly. These were best eaten while not thinking about the name or wrinkly fruit.
Many people equate Squeezits with the '90s, but they came out in the 1980s. These fruit drinks came in a container that was the shape of a glass soda bottle but was made from plastic, so you could quite literally squeeze the sugary juice from it. They came in several flavors and were the perfect lunchbox beverage.
Keebler made Magic Middles cookies for several years before discontinuing them. The shortbread cookies were filled with fudge—and you know how good Keebler's fudge is—or peanut butter. These were the cookies that you always ate first at lunchtime because you couldn't possibly wait until the end of the meal to have dessert. They were that good.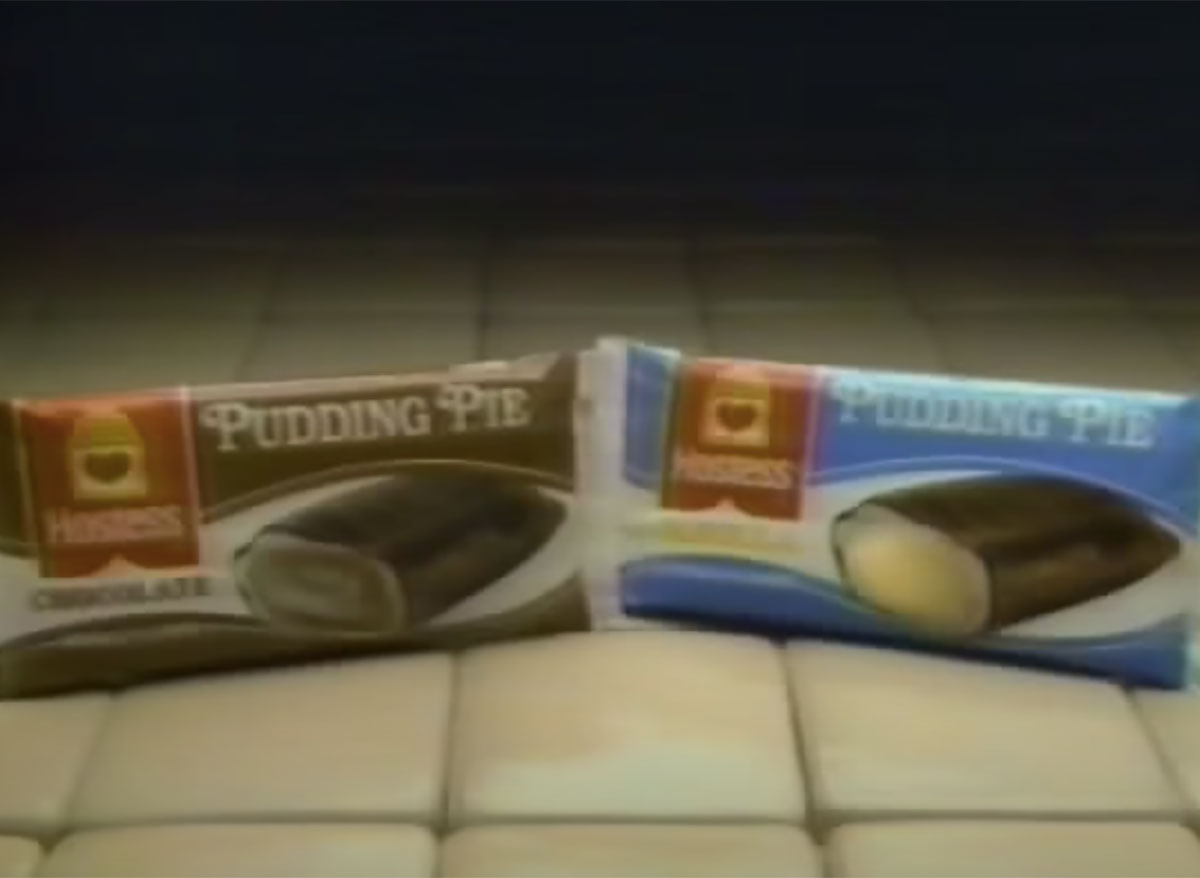 If you don't remember these, they're exactly what they sound like. These were chocolate hand pies with a vanilla pudding filling that you probably only got in your lunchbox on a really special occasion, like your birthday or the first day of school. They were a little messy to eat but worth it.
These crackers were shaped like chicken drumsticks and had some chicken flavoring to them, which sounds delicious. Bring these in a lunchbox with some pieces of cheese, and you're all set with a balanced meal for the school day. It's too bad they don't exist anymore, because we think these would be a great addition to any charcuterie board.
RIP, Oreo Big Stuf. You were truly the gem of the 1980s lunchbox. These giant cookies were like the Mega Stuf Oreos you know of today, but even bigger. The cookie itself was massive and was stuffed with that signature cream filling. Sadly, these were discontinued in the early '90s, and we still think about them every single day.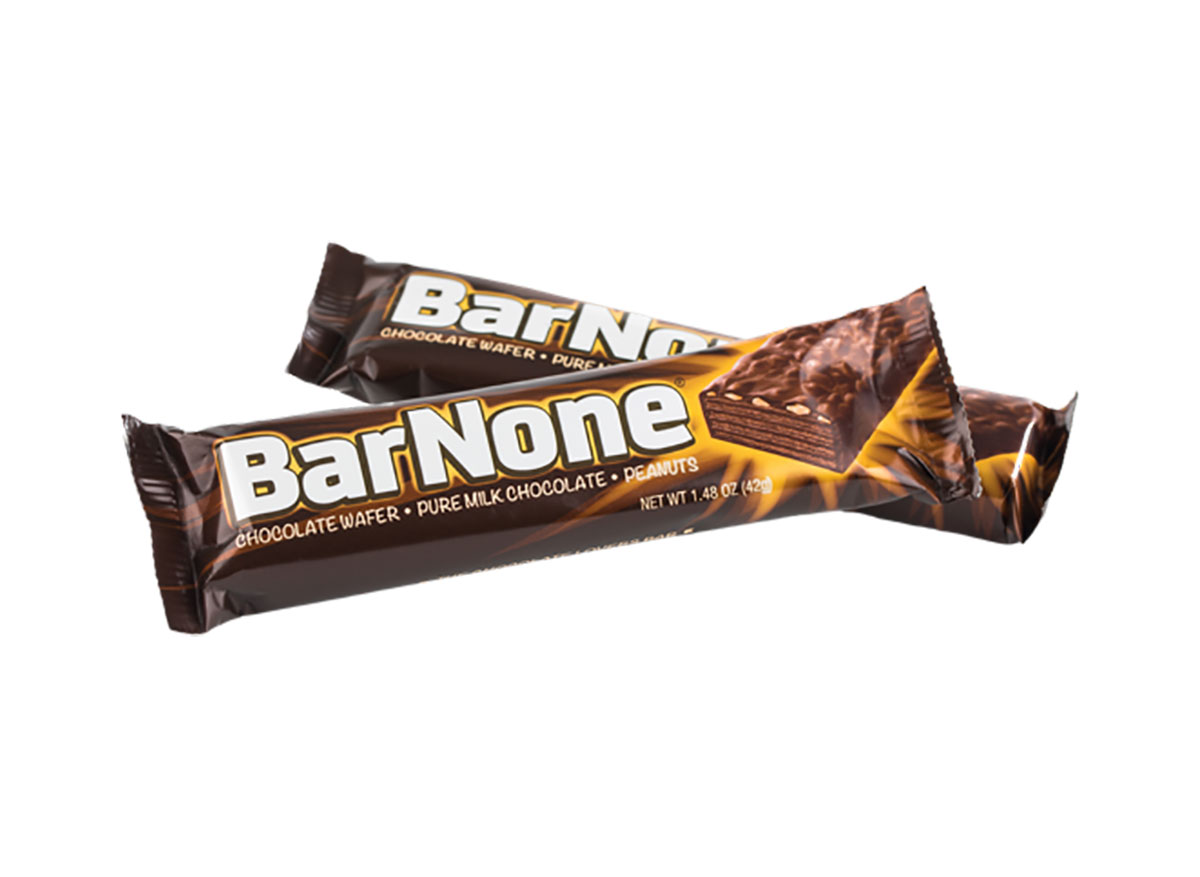 If you were one of the lucky kids who occasionally got a candy bar in your lunchbox, you might have had a Hershey Bar None or two. These candy bars went through a couple of iterations before being discontinued, but we'll fondly remember them as the chocolate wafers with chocolate filling, coated in more chocolate.
Nabisco Swiss Cheese Crackers
These crackers looked just like a little piece of swiss cheese and had a robust cheese flavor. They were perfect for our lunch bags to go along with whatever sandwich we had on any particular day. Now, if you want these crackers, you have to make a trip to Canada, the only place they're still available (though under the Christie brand).6254a4d1642c605c54bf1cab17d50f1e
And for more nostalgia, check out these 19 Old Happy Meal Toys That'll Bring You Back to Your Childhood.
Hostess has created some amazing treats over the years, including this 1980s delight. It was essentially just a Twinkie dipped in chocolate, but oh man, did that chocolate coating make all the difference. These were the ideal lunch bag dessert or after-school snack.
Nature Valley Peanut Butter Boppers were billed as a wholesome peanut snack, and they were so delicious. They had a creamy peanut butter center, coated in crunchy cereal and chocolate. It was a rich addition to a lunch box, but perfect for special days.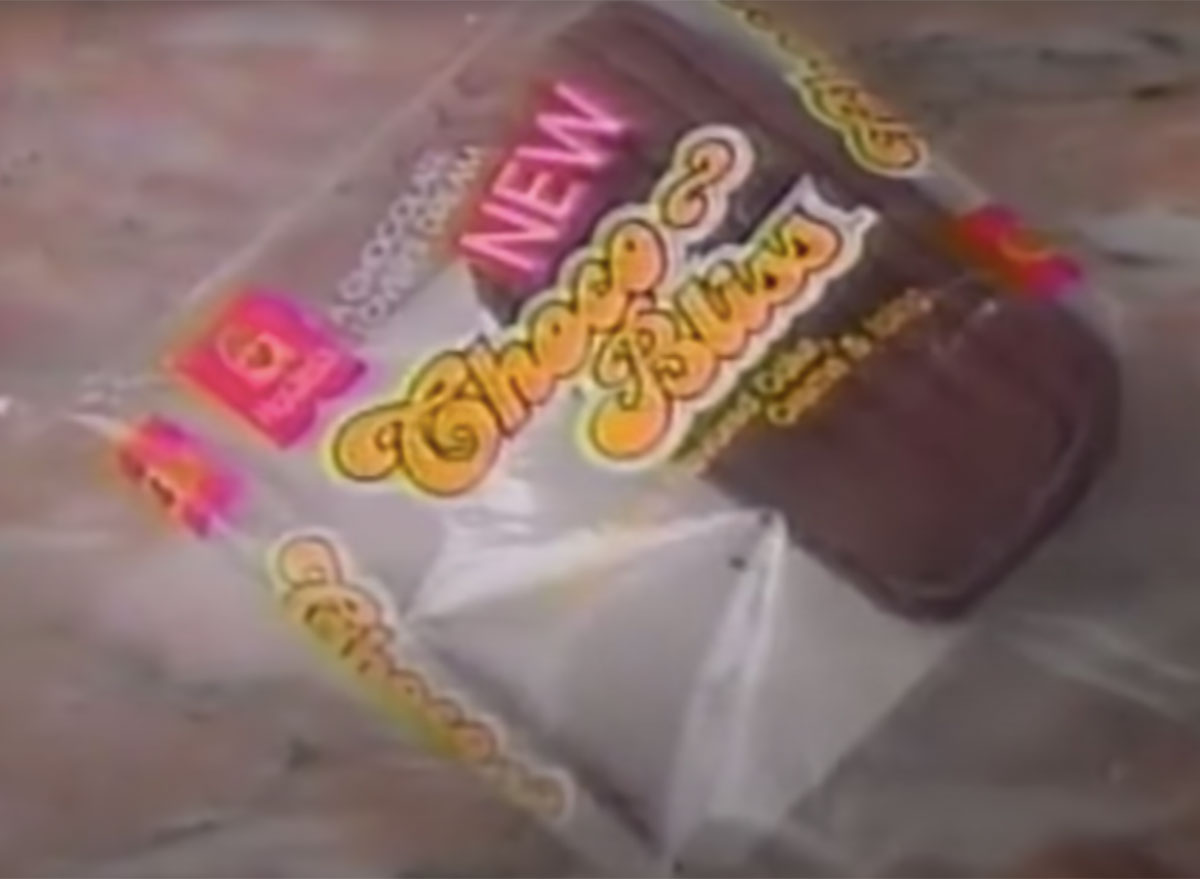 See, we weren't kidding about Hostess having some amazing snacks over the years. Another 1980s staple was the Choco-Bliss bars. These treats were layered with chocolate cake and chocolate fudgy frosting and weren't something you got in your lunch bag every day.
This popcorn treat was around for decades—including the 1980s—but was discontinued in the 2000s. If you recall, it was a simple popcorn snack with some sweet yellow dust on it, but they were delicious. Also, who didn't want to bring something in their lunch called Screaming Yellow Zonkers?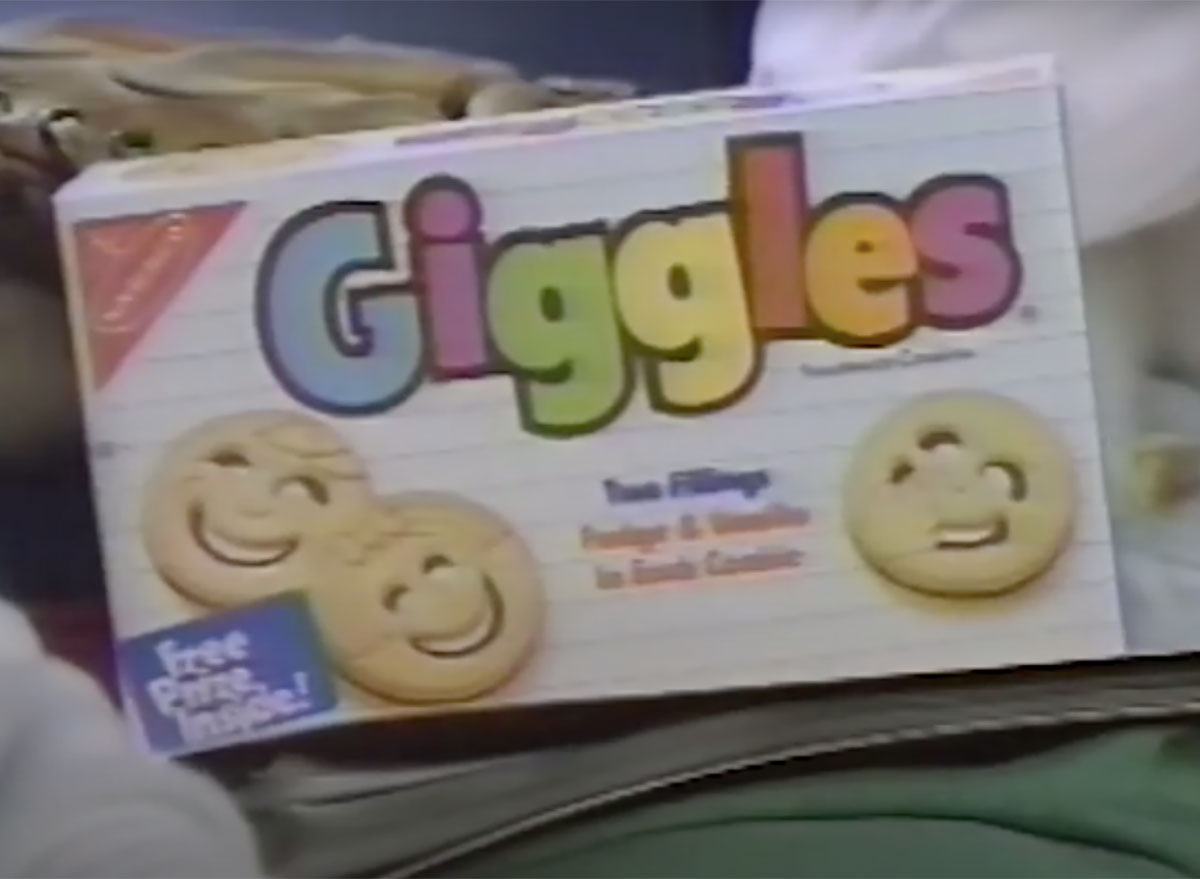 These smiley face cookies look just like the smiley face potatoes you can still find in the freezer section. But in the 1980s, the smiley faces came in cookie form and went by the name of Giggles. They were a fun lunchbox treat but disappeared after a few years.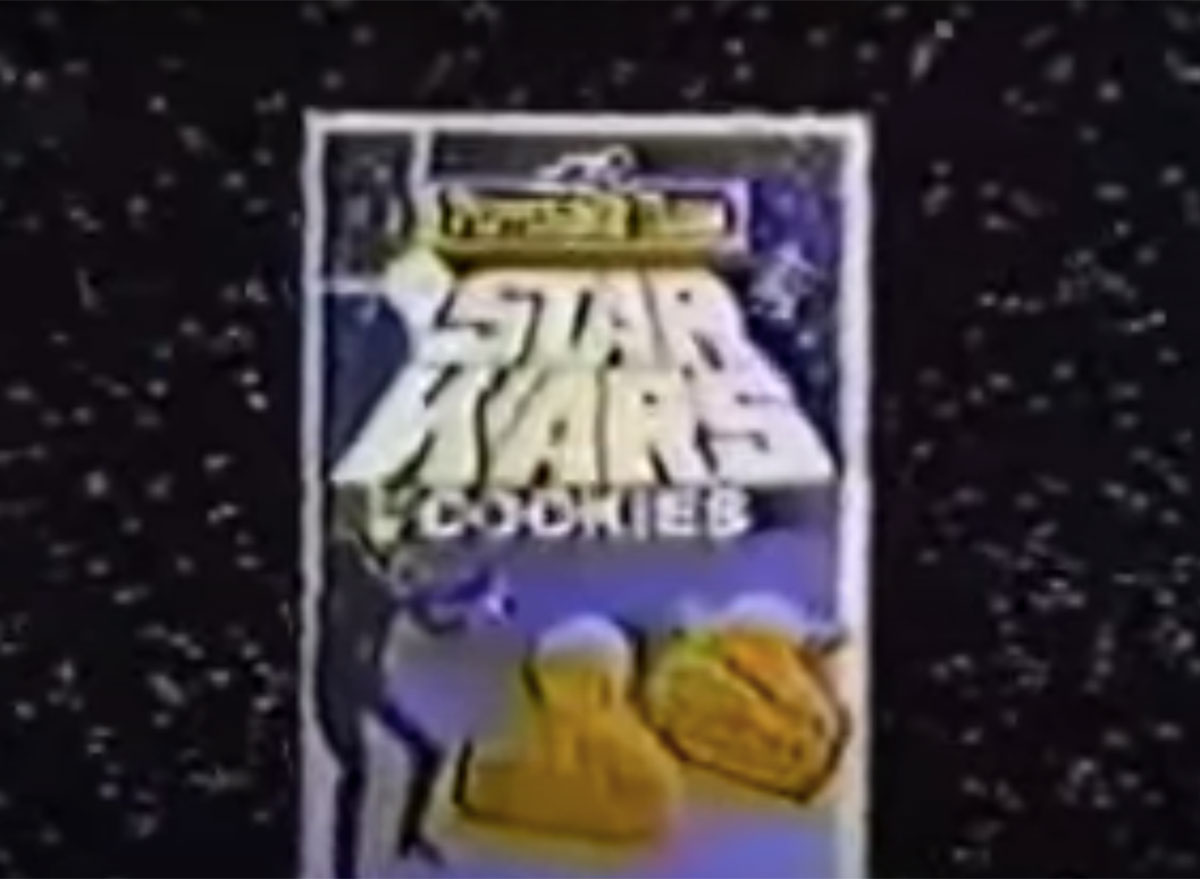 Every Star Wars fan had to have Pepperidge Farm's Star Wars cookies in their lunch bag. The cookies were shaped like your favorite characters and came in chocolate, vanilla, and peanut butter flavors. These are a cookie we would love to see resurrected, especially considering the force is still strong with Star Wars!
And for more, check out these 108 most popular sodas ranked by how toxic they are.
Hedy Phillips
Hedy is a freelance writer with years of experience covering buzzy food trends, wellness, and weight loss.
Read more about Hedy