17 Food Trends You'll See in 2017
Detox-friendly mocktails, plant "butchery," and cake for breakfast (!) are just a few of our favorites…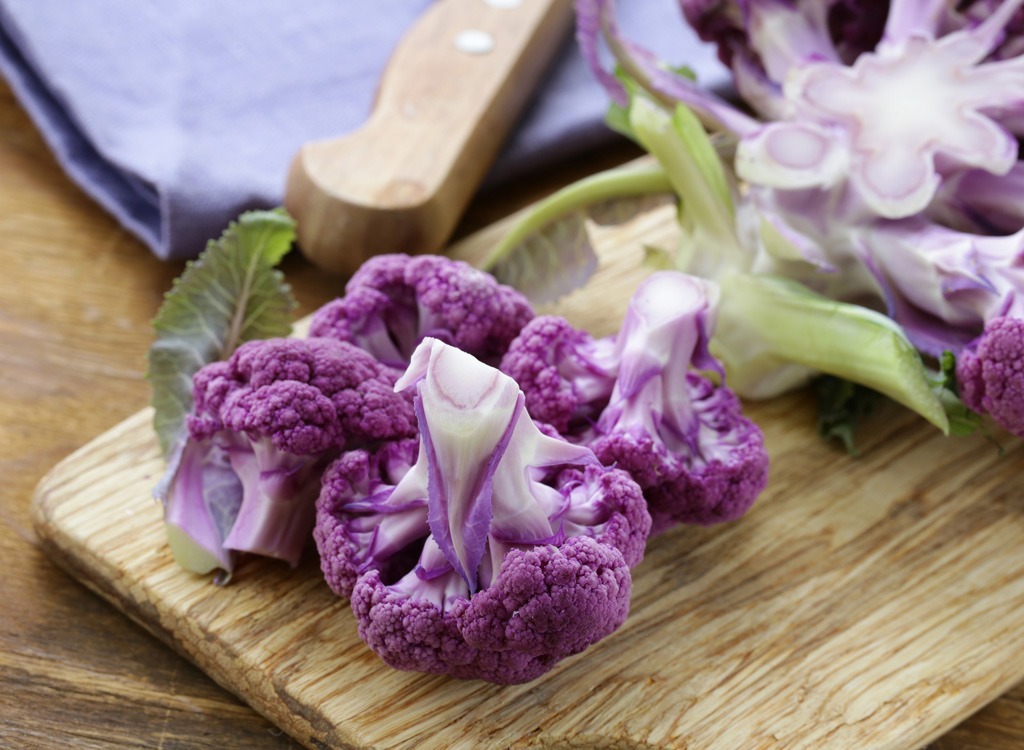 There's a lot to look forward to in 2017. There's another Star Wars movie coming out for starters, a new nutrition label will make it's debut, and the much talked about total solar eclipse will finally happen! All very monumental stuff!
But what we're most excited for has nothing to do with movies or current events. As you may have guessed, most of our attention has been on what's brewing for the new year in the food realm. And we're pleased to report that there're lots of interesting—and healthy—trends that will likely waltz into your favorite restaurants and grocery stores in the months ahead. From detoxifying mocktails to eating cake for breakfast, we looked at the most promising trends and predictions and identified which ones we like and which we think you should skip—especially if you're trying to flatten your belly.
So take out your notepad, guys; it's time to delve into everything delicious and trendy and make a to-do list of all the things you want to remember to try (or not!) in the year ahead! For more food happenings that are on-point and are good for your belly, also check out these 15 Best New Foods for a Flat Belly!
Persian Influences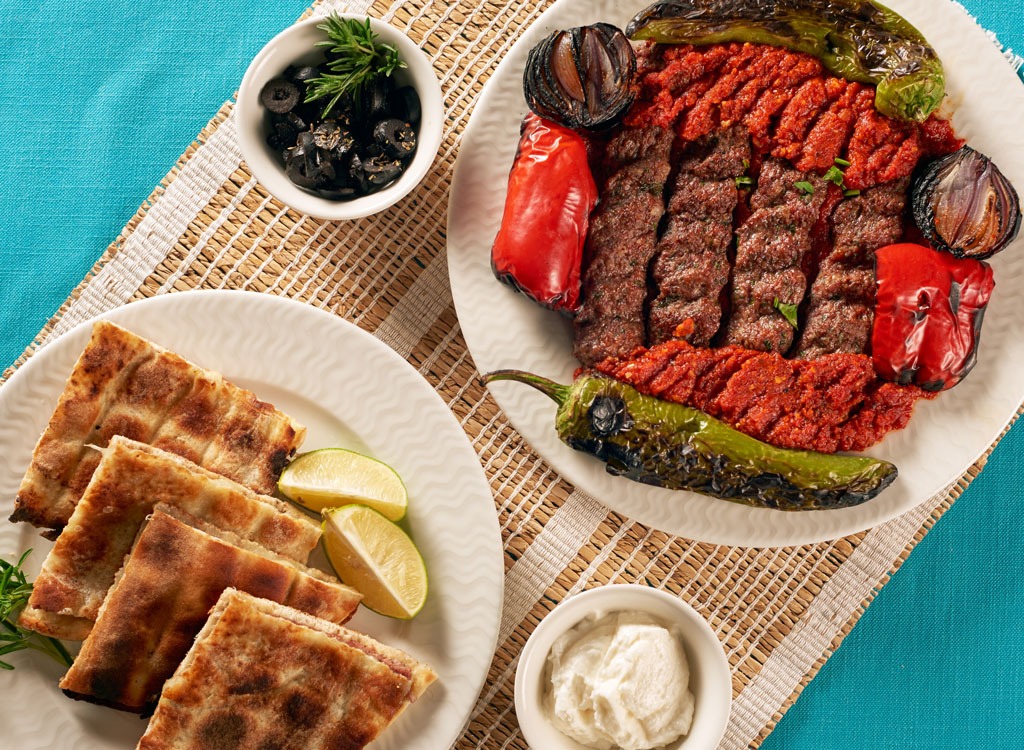 As refugees flee their homes and come to America, they're bringing their culinary tastes with them, which has inspired some unique flavor fusions, according to Sterling-Rice Group's 2017 trends and predictions report. "Where we're seeing this now the most is in [the] war-torn Middle East, with Afghanis, Syrians, Persians all fleeing the area and their food culture trickling down and out," says Liz Moskow, the culinary director at Sterling-Rice Group. "[We think there will be a] Middle Eastern fusion cuisine that will be led by Persian influences, with pomegranate, sour cherries, sumac, fenugreek, orange blossom. We'll probably it combined with the base of that of more traditional Afghani cuisine. Not just hummus and kabob, but these more delicate flavors."
As you stay away from things like badenjan-buran, falafel, bamieh, and zulubia, which are all fried delicacies, we're giving this trend the green light! Bonus: That pomegranate mentioned earlier is on the list of 22 Foods Dermatologists Say to Eat for Better Skin.
Purple Food
Once reserved for fancy grocery stores and farmers markets, purple versions of our favorite produce (cauliflower, potatoes, corn, asparagus, etc.) are finally becoming more mainstream, according to Whole Foods' 2017 trends and products report—and this is great news! Colors of fruits and veggies indicate which nutrients they possess. So roasting up a blend of both white and purple potatoes, for example, means you're giving your body a wider breadth of vitamins for optimal health.
Things start to become less straightforward when it comes to processed foods made with this violet hued produce, though. Don't assume that a bag of chips of a box of cereal is automatically a healthy pick just because they're made with purple corn instead of the yellow kind. It's still vital to read nutrition labels to ensure your snack of choice is a healthy one. Not sure what you should be looking for? Our report, 20 Tips for Understanding Nutrition Labels can help!
Sourdough Bread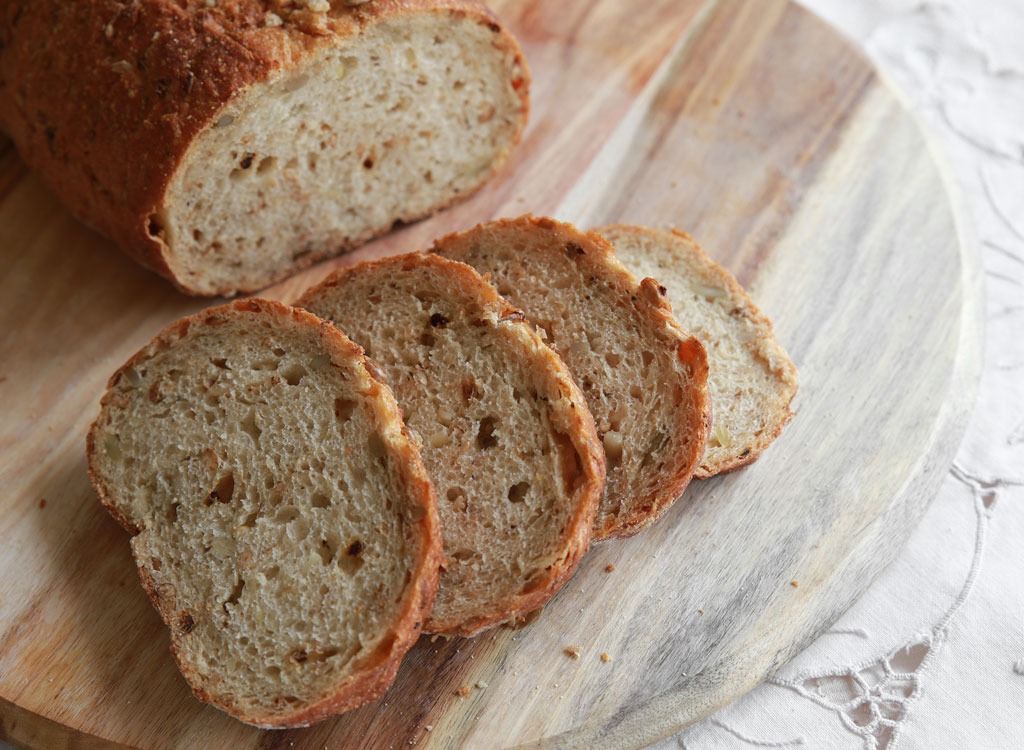 According to Google's 2016 Food Trend report, sourdough bread is on the up and up, and we believe it's only going to become more mainstream in 2017. While that may seem odd given the synchronized rise gluten-free diets, it actually makes a lot of sense. For those who classify themselves as "gluten sensitive" (as opposed to those with a genuine gluten intolerance) sourdough is one of the best breads to consume. "If [sensitive folks] ate bread that's undergone a long sourdough fermentation, they wouldn't have any problems," nutrition expert and New York Times bestselling author Michael Pollan, recently said in an interview. "[The] tradition of fermenting flour with sourdough breaks down the peptides in gluten that give people trouble," Pollan explains. He also notes that commercial bread companies tend to speed up the bread-making process, which is where the issues arise, "I've heard from lots of people that when they eat properly fermented bread, they can tolerate it."
Medical experts agree. "[The] fermentation process provides lots of healthy bacteria that help to balance the digestive system and manage your metabolism," Dr. Tasneem Bhatia, MD, tells us. The bottom line? The trend is definitely a go! For even more ways to consume your favorite carb without packing on the pounds, don't miss our special report, 20 Secrets for Eating Bread Without Getting Fat.
Plant Butchery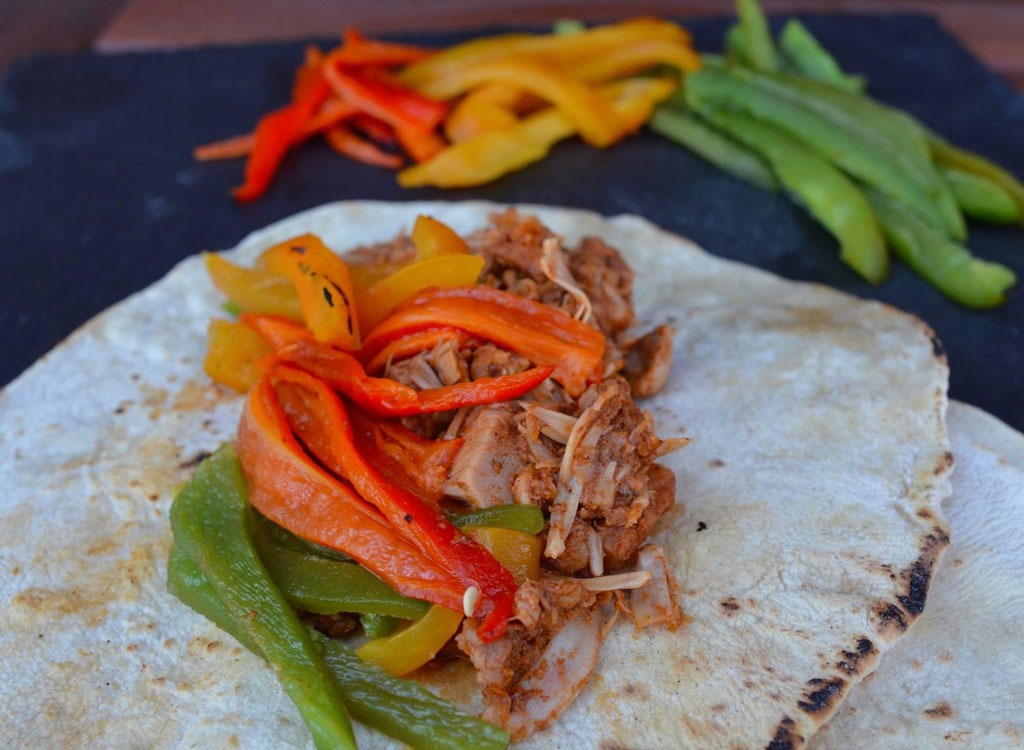 Considering 2016 was dubbed the "International Year of Pulses" by the folks at the United Nations, we're not at all surprised to learn about this plant-based protein trend prediction from Sterling-Rice Group. (Pulse is an all-encompassing term for beans, lentils, and peas.) More and more restaurants and food manufacturers are making "barbecue ribs," "pepperoni," and "hamburgers" made with things like legumes and mushrooms instead of meat.
And we're not just talking about a typically veggie burger here. These things look, feel, cook, and taste like actual meat—making them super appealing for both vegetarians and carnivores who are hoping to dial back their meat consumption. Beyond Meat, for example, recently came out with a product they're calling The Beyond Burger. It literally looks like a raw hamburger patty and it cooks and tastes like a fresh beef patty. Thanks to the addition of beets, it even "bleeds" like a meat-based patty. With 20 grams of protein and 25 percent of your day's iron in each patty, these definitely get our stamp of approval! You can find them in the meat section of your local market.
Dessert for Breakfast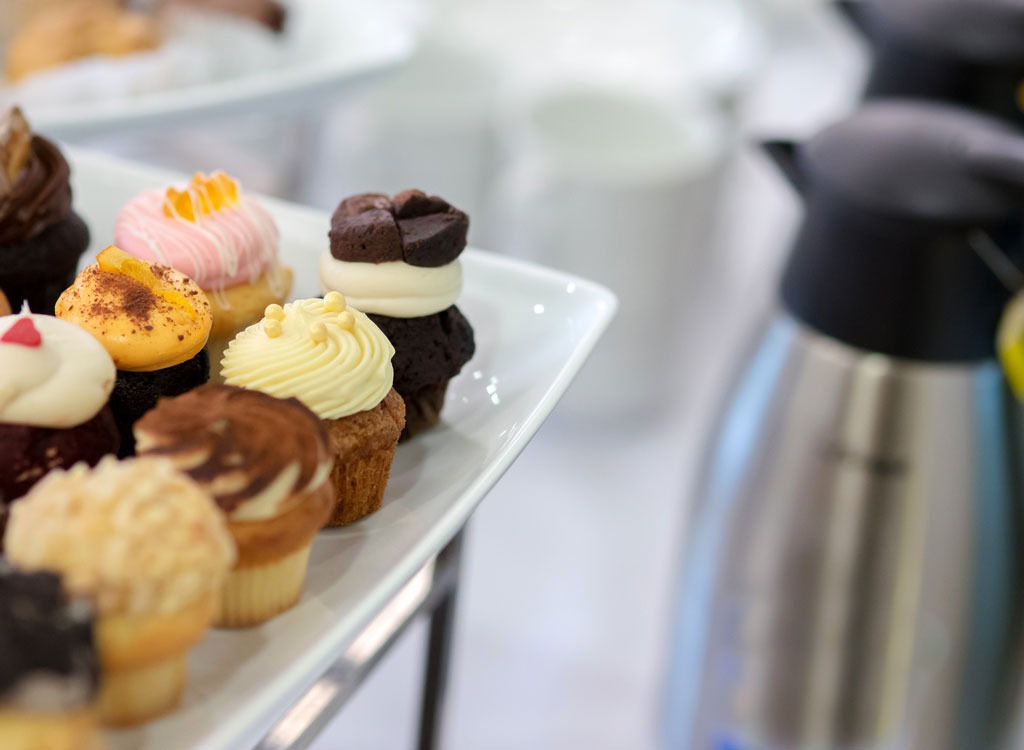 Okay, we're going to be real with you, here. We're not totally sure how we feel about Sterling-Rice Group's trend prediction. "There was a study that recently came out from Syracuse University re-touting the benefits of dark chocolate, specifically on cognitive function. The thought was eating chocolate prepares you more for your workday," Moskow said, adding that there was also a recent study that found that eating dessert at breakfast aids weight loss efforts.
"Combining those two studies and the likeability of having dessert for breakfast, we predict that breakfast might start seeing brunch amuse-bouche chocolate cakes or brunch and breakfast restaurants incorporating a robust dessert menu," Moskow explains. Our suggestion? Add some sweet treats to your oatmeal—but skip the lavish cake displays—especially if brunching is a regular part of your weekend routine. Need some decadent-but-still-diligent inspiration? Check out these 50 Best Overnight Oats Recipes.
Edible Cookie Dough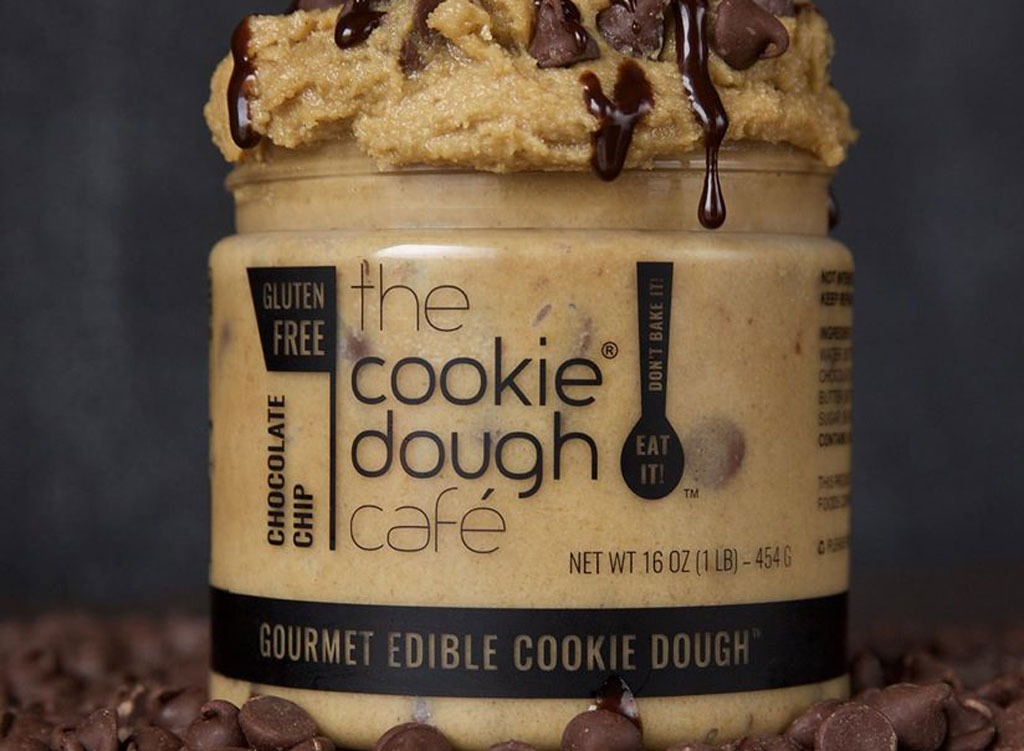 According to Google, another delectable, indulgent trend coming our way in 2017 is edible cookie dough. Yes, you read that right! Cookie dough that's made sans eggs (or in some cases, pasteurized (read: salmonella-free) eggs) so you can nibble on it straight from the carton—no baking required. Is this safer than eating the conventional raw stuff? Absolutely. But tread carefully; we definitely don't back every brand that's churning out the stuff. A single half-cup serving of the stuff can easily boast between 200 to 400 calories and not to mention, a ton of sugar. And who can really stick to such a small serving size? Nobody we know! If you're going to scoop your spoon into this trend, we suggest sticking to a brand like Hungry Root, which relies on wholesome—abet caloric—ingredients like chickpeas, almond butter, and sweet potato. It tastes awesome and is far lower in sugar than more conventionally produced brands. Interested in getting your hands on some? You can order a container online. Another option? Make a batch from scratch. We're fans of this recipe from the blog, Chocolate Covered Katie.
Evening-Focused Food & Drink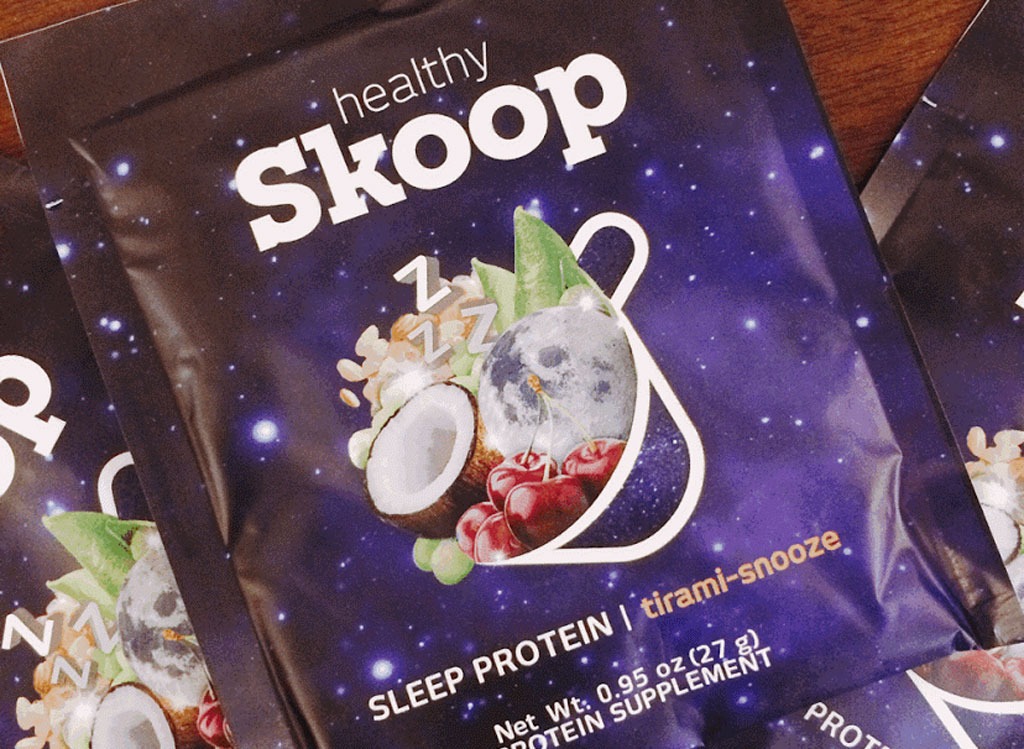 If you keep up with health news, you've likely noticed that just about every week a new study rolls out linking lack of sleep to weight gain. And it seems food companies are taking notice, too. According to market intelligence agency, Mintel, 2017 will present us with a number of new food and drink products marketed especially for nighttime consumption. Healthy Skoop, for example, is a company dedicated to producing plant-based nutrition, has recently released a new nighttime product they've dubbed Sleep Protein. According to the brand's website, Sleep Protein's objective is to promote "calmness and relaxation to encourage sustained quality sleep" and they target their product towards "anybody who occasionally has trouble falling or staying asleep." It will be interesting to see what other sleep- and evening-focused products come to market in the year ahead. In the meantime, nibble yourself to sleep with the help of these 30 Best and Worst Foods To Eat for Sleep.
Dosha Dining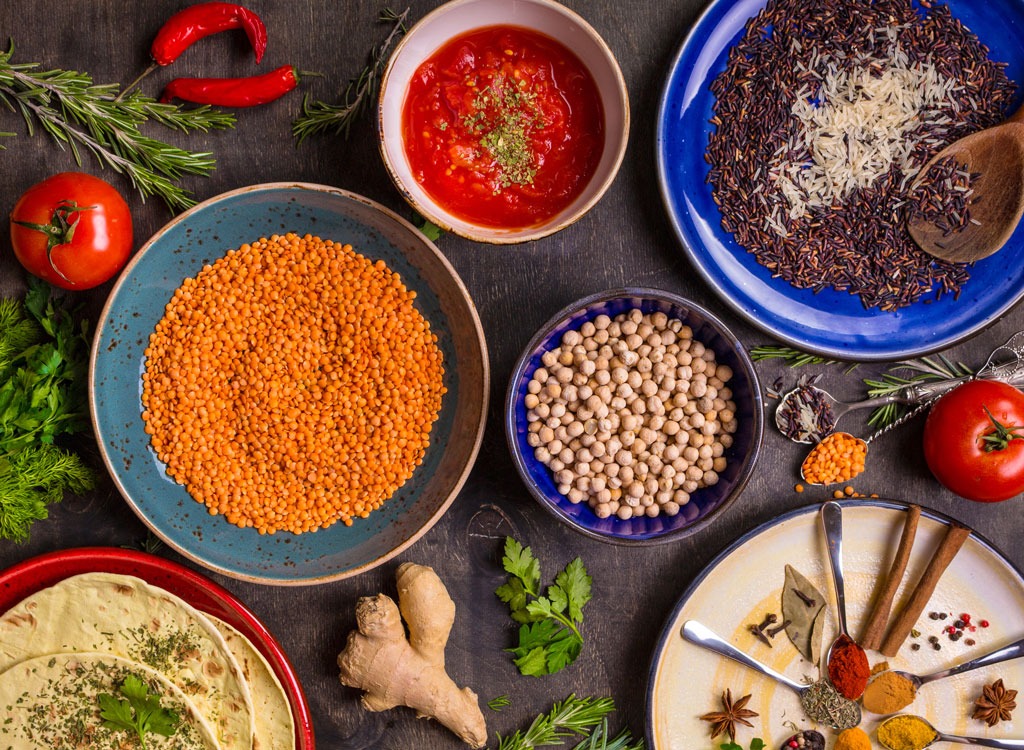 In addition to the rise of healing spices like turmeric, meditation and mindfulness were all major trends in 2016. In turn, many consumers have begun to explore all things Ayurveda, one of the oldest systems of medicine in the world. "As yoga and meditation continue to thrive, dosha dining's growth in popularity comes as no surprise," yoga and meditation teacher Ashlee Davis tells us. "In Ayurveda, everyone is believed to be born perfect with their own unique constitution. Depending on your dominant dosha (mind-body type) or your combination of doshas, Ayurveda recommends specific foods and behaviors that will balance your individual nature, leading to optimal health," explains Davis.
Sterling-Rice Group predicts that as Indian food continues to grow in popularity and as more people hop on the yoga bandwagon, more people will start eating foods that will be good for their dosha as well. Considering many of these foods are things like fruits and veggies, we don't see the harm. But like any new diet routine, it's best to make sure you're not cutting out any important nutrients. To learn more about the potential risks and how to avoid them, don't miss our report, 17 Nutrients Your Weight Loss Plan is Missing.
Plancha Grilling
According to the 2017 McCormick Flavor Forecast, the way we cook our meat in the New Year is about to get more globally inspired. A plancha, which is essentially a thick, flat slab of cast iron, is commonly used in Spain, France's Basque region, as well as Mexico—but its next stop is here in the U.S. Known for creating smoky sear and flavor crust, the cooking accouterment is perfect for cooking everything from meats and seafood to vegetables. And since it's free of slats like a grill, it can handle food slathered in sauces and glazes with ease. We're giving this trend the green light—just don't get too heavy handed with the cooking condiments. They can be super sugary. For more on that don't miss our report, 25 Best and Worst Condiments.
Root to Stem Veggies
If you typically toss the leaves from your broccoli into the trash or peel the skins off of your potatoes, it's time to change your ways! Skins, leaves, and stalks have unique nutrients not found in other parts of the vegetables. They also have higher concentrations of vitamins than parts more commonly consumed. It's for these reasons that many food companies and restaurants are finding creative ways to repurpose typically tossed out stems, skins, and rinds. (The image of the chips above are made from cold-pressed juice pulp!)
"This is driven by millennials' desire to make the earth a better place. They're finding ways to repurpose and use things that would ordinarily be discarded," explains Moskow. "For example, watermelon rinds being made into pickles. Making cauliflower rice using the stem. [It's about making the most of] something that ordinarily would end up in the garbage."
Fancy Sardines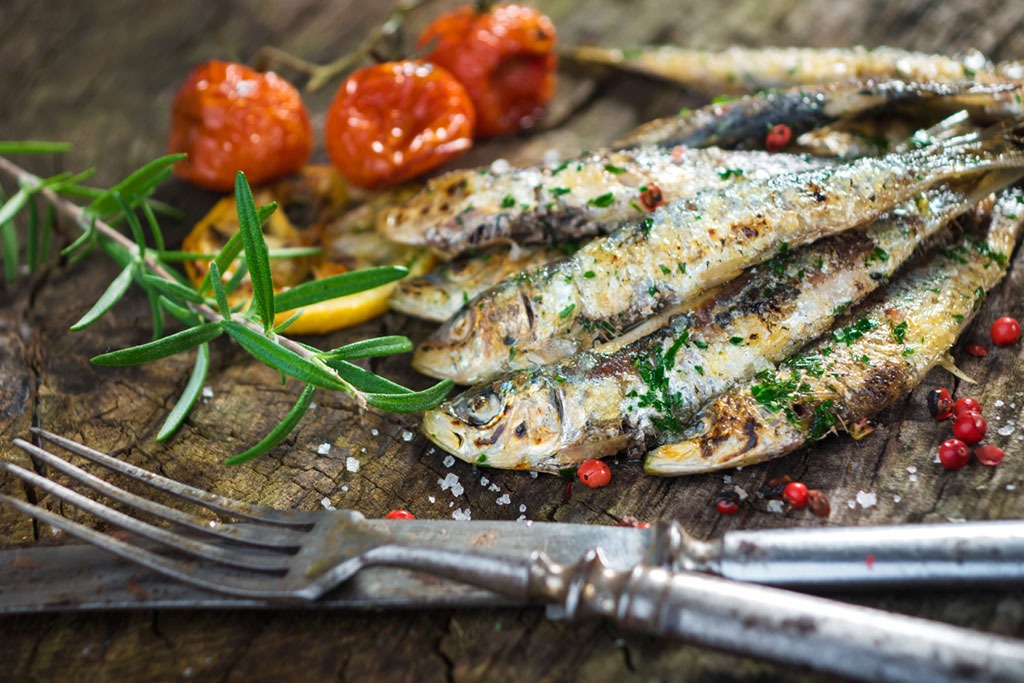 Sardines may not be the most popular fish in the sea, but according to Sterling-Rice Group, that's about to change. "With sardines, you think of this outdated looking package, something that your grandfather would eat. [But a] couple brands out of Portugal are putting a modern spin on sardines," says Moskow, adding, "They're [making] interesting flavors, smoked varieties, and these really plump, [oily] looking pieces of fish as opposed to the skinny thing, where you saw the bone and it didn't look appealing and was really smelly. Sardines are high in omega-3 fatty acids, high in protein, high in umami flavor, all things that are trending."
Even More Yolk Porn
Once word got out that egg yolks do not, in fact, increase cholesterol levels, people started going crazy with the stuff! And according to McCormick, the trend is going to continue on through 2017. Considering yolks are a rich a healthy, waist-whittling fat called choline we're totally on board with this trend. For the ultimate Instagram-worthy yolk run, add a sunny side up eggs to salads, grain bowls, burgers, and avocado toast. Yum! And for even more delicious ways to eat the protein, don't miss these 25 Healthy Egg Recipes to Stay Skinny!
Detoxifying Mocktails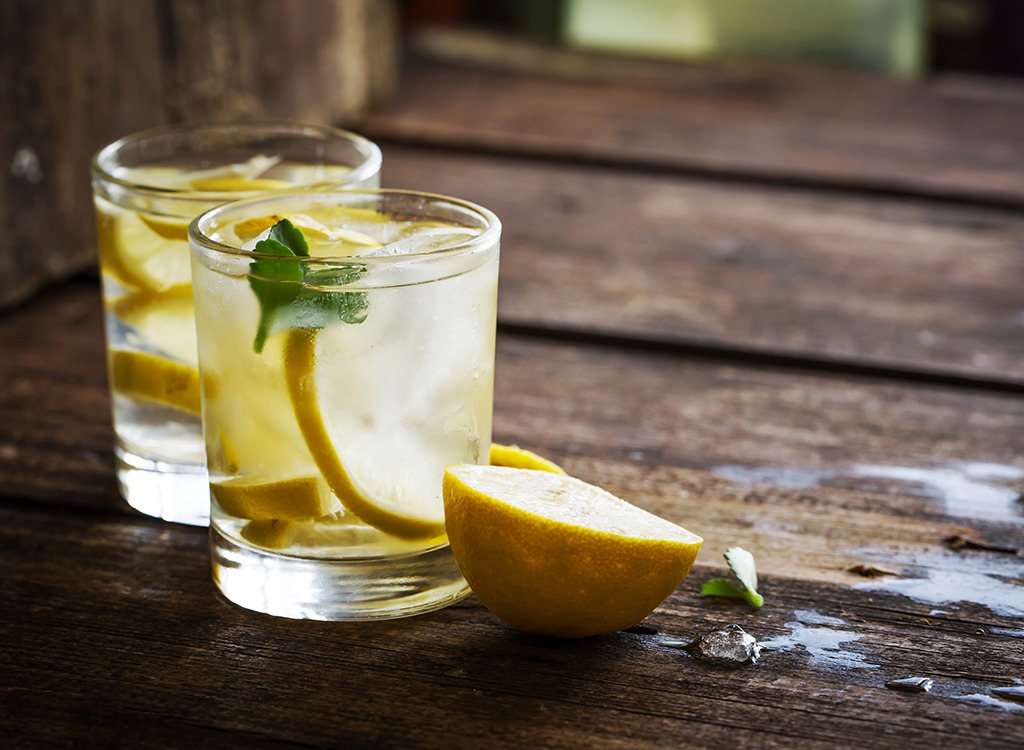 Recently, mocktails have started to extend way beyond sugary those Shirley Temples you loved as a kid. They've gotten a modern makeover and now feature health-promoting ingredients like fresh-pressed juices, teas, sipping vinegar, herbs, and spices. "People watch mixologists muddle herbs and it feels like a special treat, rather than ordering a ginger ale or club soda," Moskow says of the trend. "We feel restaurants are going to start offering more robust menus—not just one or two little things on the side of their drink menus. It's sort of like the next incarnation of soda." Don't want to wait to see one pop up on your favorite restaurant menu? Make one of these 8 Apple Cider Vinegar Detox Drinks right at home instead.
Portable, High-Protein Drinks
6254a4d1642c605c54bf1cab17d50f1e
As consumers continue to look for less processed, more nutrient dense foods as well as single serve on-the-go snacks, industry experts say that the potable, drinkable protein category is about to become bigger than ever. We suspect that things like Chobani's sippable yogurt drinks and Sunniva Super Coffee (a coffee beverage made with coconut oil and protein isolate) will be in every market across the nation by the end of 2017. So long as you opt for a drink low in added sugar, you should feel good about getting in on this new trend.
Sweet Heat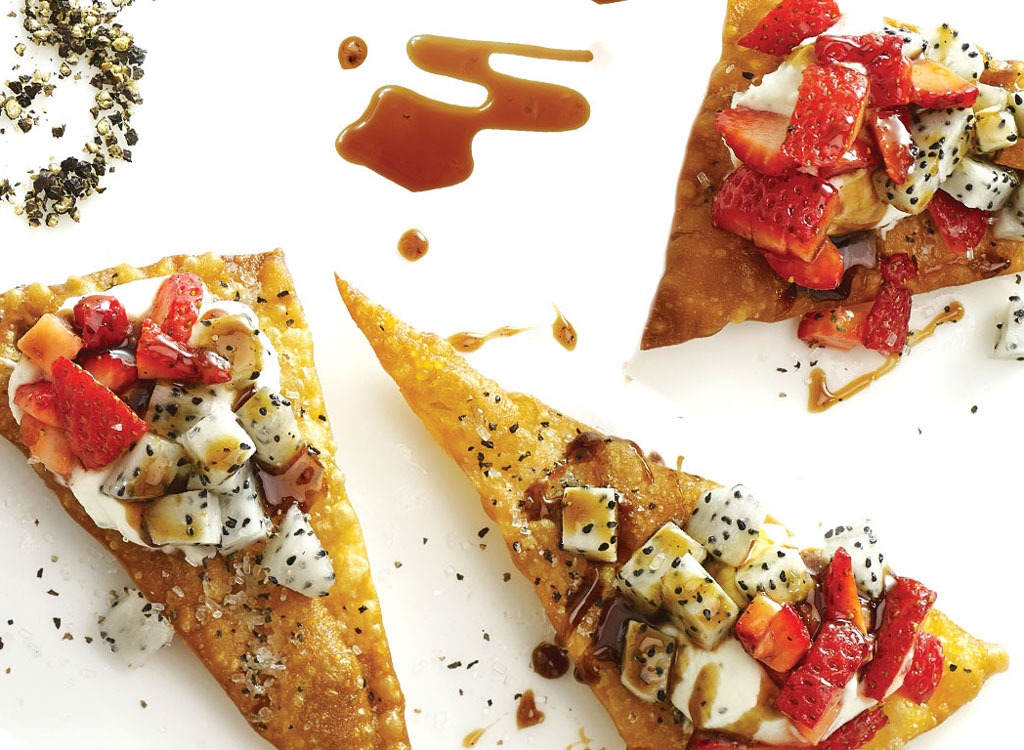 McCormick predicts that in 2017 sweet and spicy flavors like peppercorn will mingle more than ever before. It's hard to say what types of products will be brought to market with this trending palate, so we can't give it a yay or nay quite yet. However, we're guessing the sweet heat-infused products and restaurant dishes will likely fall into both categories.
Drinkable, Boozy Desserts
Nine times out of a ten, when a milkshakes and cocktails join forces to make a baby, the resulting dish is one you'll want to stay away from. According to restaurant industry news organization, Nation's Restaurant News, drinkable desserts and boozy twists on childhood favorites gained a ton of traction at smaller, well-known restaurants this past summer. (Think: bourbon-spiked root beer floats.) Which means only one thing: the trickle down to chains across the nation is likely coming out way come summer 2017. For healthier ways to quell your sugar cravings, don't miss these 25 Nutritionist-Approved Ways to Satisfy Your Sweet Tooth.
Alternative Pasta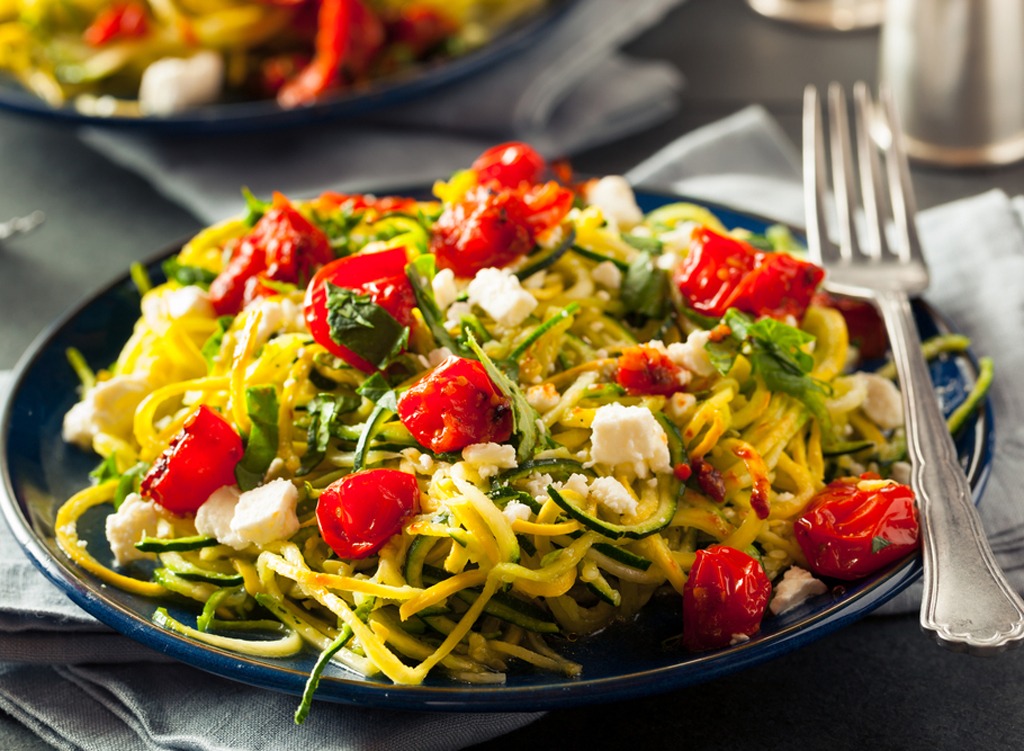 From zucchini noodles (AKA zoodles) and quinoa-based spaghetti to lasagna sheets made from beans and lentils, there's no shortage of alternative pasta these days. And according to Whole Foods, the category is only going to continue to grow in popularity come 2017. Many of these alternatives are more nutrient-dense than conventional noodles, so we're happy to see that these innovative pastas will be sticking around.