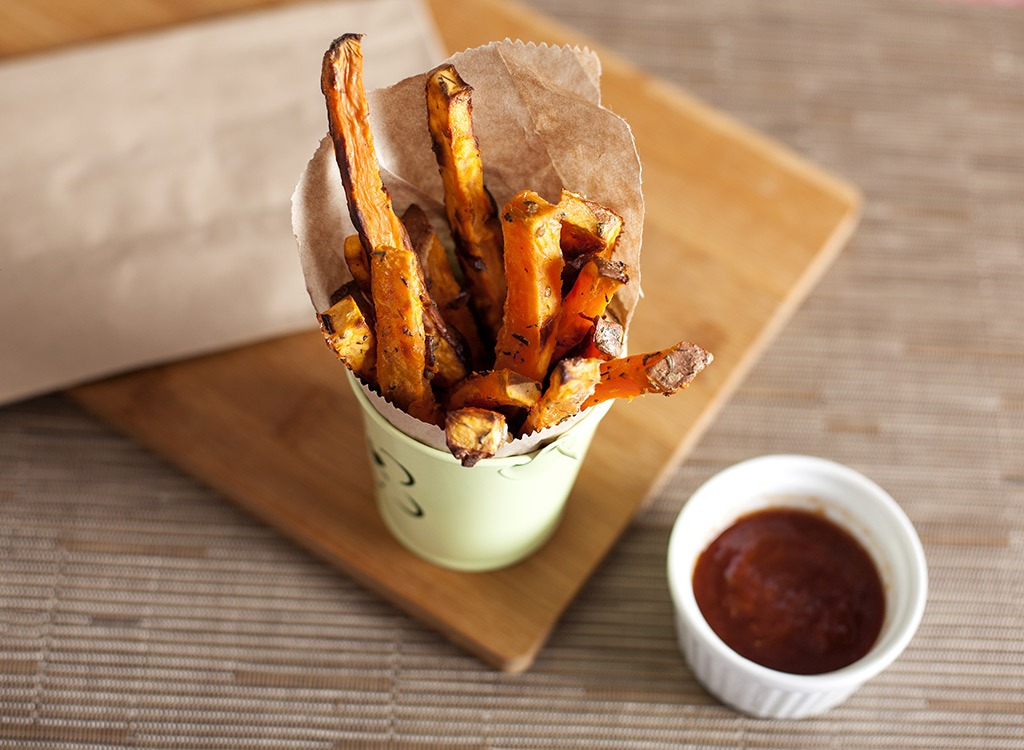 Here at Eat This, Not That!, we're all about no-sacrifice slim-down strategies.
One of our biggest strategies: Don't deny yourself. Find healthier ways to satisfy your unhealthy cravings and suddenly weight loss seems easy. If you're a long-time reader, you already know that French fries make the list of 6 Foods That Turn Into Belly Fat. Suffice it to say, they're not the healthiest pick out there.
But—and you're going to want to hear us out here—making them at home can drastically improve their health while satisfying your stubborn cravings for fast food. The easiest way to do it? Use veggies other than white potatoes. We scoured the web for the most delicious veggie fry recipes that just so happen to also be healthy. Stock up on produce and get cooking!
Crispy Eggplant Polenta Bites
Serves: 4
Nutrition: 297 calories, 6.5 g fat (0.6 g sat fat), 185 mg sodium, 6.5 g fiber, 4 g sugar, 6.4 g protein
Eggplant has the not-so-waist-friendly habit of soaking up surrounding oils, so make sure to measure carefully. We calculated for 2 teaspoons, one for greasing the baking tray and one for drizzling over the coated eggplant right before baking, though you may find you need less. A squeeze of fresh lime makes these sweet and crunchy bites sing.
Get the recipe from The First Mess.
Grilled Sweet Potato Fries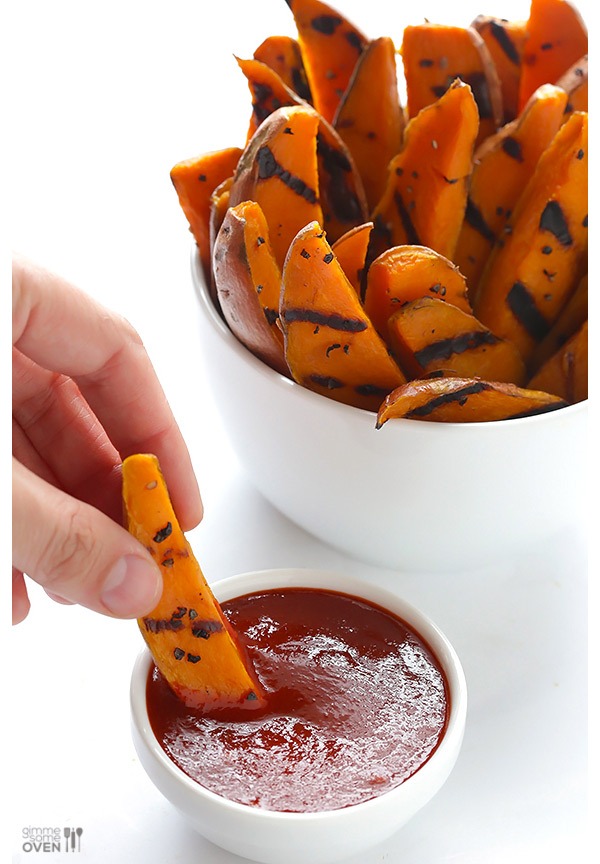 Serves: 8
Nutrition: 255 calories, 6.6 g fat (1 g sat fat), 483 mg sodium, 7 g fiber, 0.8 g sugar, 2.6 g protein
Fries don't have to be fried to be delicious. Infuse sweet potato fries with a welcome smoky flavor by grilling them. The twist helps balance the spud's natural sweetness.
Get the recipe from Gimme Some Oven.
Baked Zucchini Fries
Serves: 2
Nutrition: 118 calories, 1.5 g fat (0 g sat fat), 505 mg sodium, 3.2 g fiber, 4.8 g sugar, 7.1 g protein
Using cooking spray is essential to this recipe. You'll get the zucchini fries crispy without dousing them in oil. To counter the salt in the seasoned breadcrumbs, we calculated for an additional 1/8 teaspoon of salt only.
Get the recipe from Pinch of Yum.
Green Bean Fries
Serves: 3
Nutrition: 148 calories, 2.3 g fat (0 g sat fat), 200 mg sodium, 7.9 g fiber, 5.4 g sugar, 9.7 g protein
Don't let the nutritional yeast scare you away. You'll find it in any health food store, and it adds a cheesy flavor to these veggies fries that you'll love (without the calories or fat of actual cheese). Enjoy the dipping sauce guilt-free, too. Greek yogurt is doctored with a little ketchup and plenty of sriracha for a sweet-spicy kick that will boost your protein intake without skyrocketing your calories.
Get the recipe from Running to the Kitchen.
Baked Avocado Fries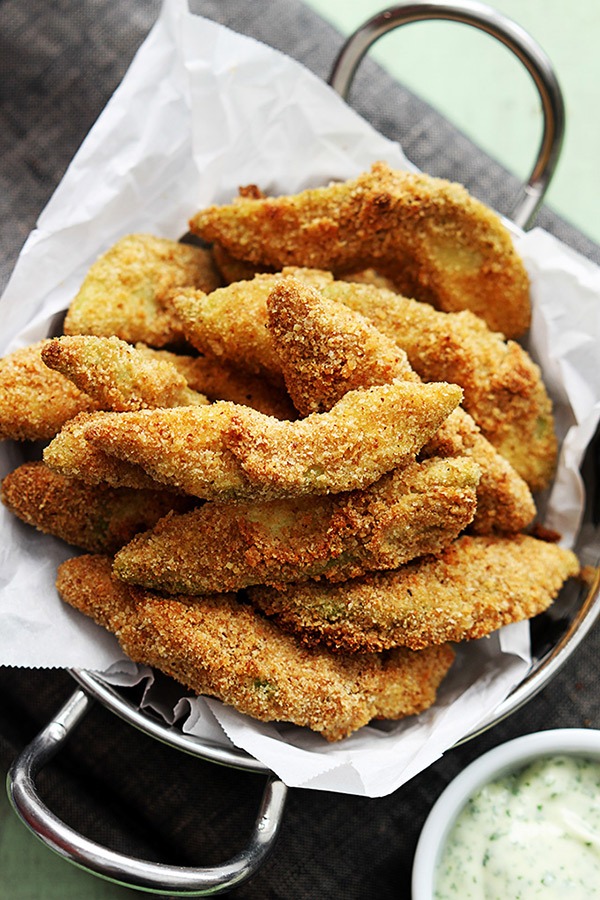 6254a4d1642c605c54bf1cab17d50f1e
Serves: 8
Nutrition: 369 calories, 25.5 g fat (5.3 g sat fat), 521 mg sodium, 7.9 g fiber, 3.2 g sugar, 7.7 g protein
Unlike those greasy fries you can eat endlessly, these have satisfying fat and protein to fill you up without filling you out. Bonus: You'll get a surprising amount of protein for a "junk" food.
Get the recipe from Creme de la Crumb.
Baked Eggplant Fries with Goat Cheese Dip
Serves: 4
Nutrition: 265 calories, 19.3 g fat (10.8 g sat fat), 480 mg sodium, 5.7 g fiber, 5.8 g sugar, 13.8 g protein
We calculated for you and your friends to polish off not only all the fries, but also the whole batch of dipping sauce because, well, you're going to want to. Coconut oil, though high in saturated fat, actually gives this recipe a healthy boost. What makes it superior to other fats is its medium chain triglycerides, which mean it's more likely to be burned as energy than stored as blubber.
Get the recipe from Gourmand in the Kitchen.
Lemon Dijon Asparagus Fries
Serves: 3
Nutrition: 181 calories, 8.3 g fat (1.4 g sat fat), 410 mg sodium, 2.7 g fiber, 3.4 g sugar, 6.7 g protein
Yes, even delicate asparagus can be turned into crispy, crunchy fries. We calculated for 1/4 teaspoon of finishing salt, so you can still enjoy satisfying that salty snack craving without needing a huge glass of water to wash it down. Dijon mustard may seem like an odd choice, but it gives these spears a pop of flavor that's low-cal and can actually rev your metabolism.
Get the recipe from Running to the Kitchen.