People Swear by the '75 Hard Challenge' To Get Fit: '30 Pounds Down & Never Going Back'
An expert breaks down the benefits of doing this viral challenge to get into shape.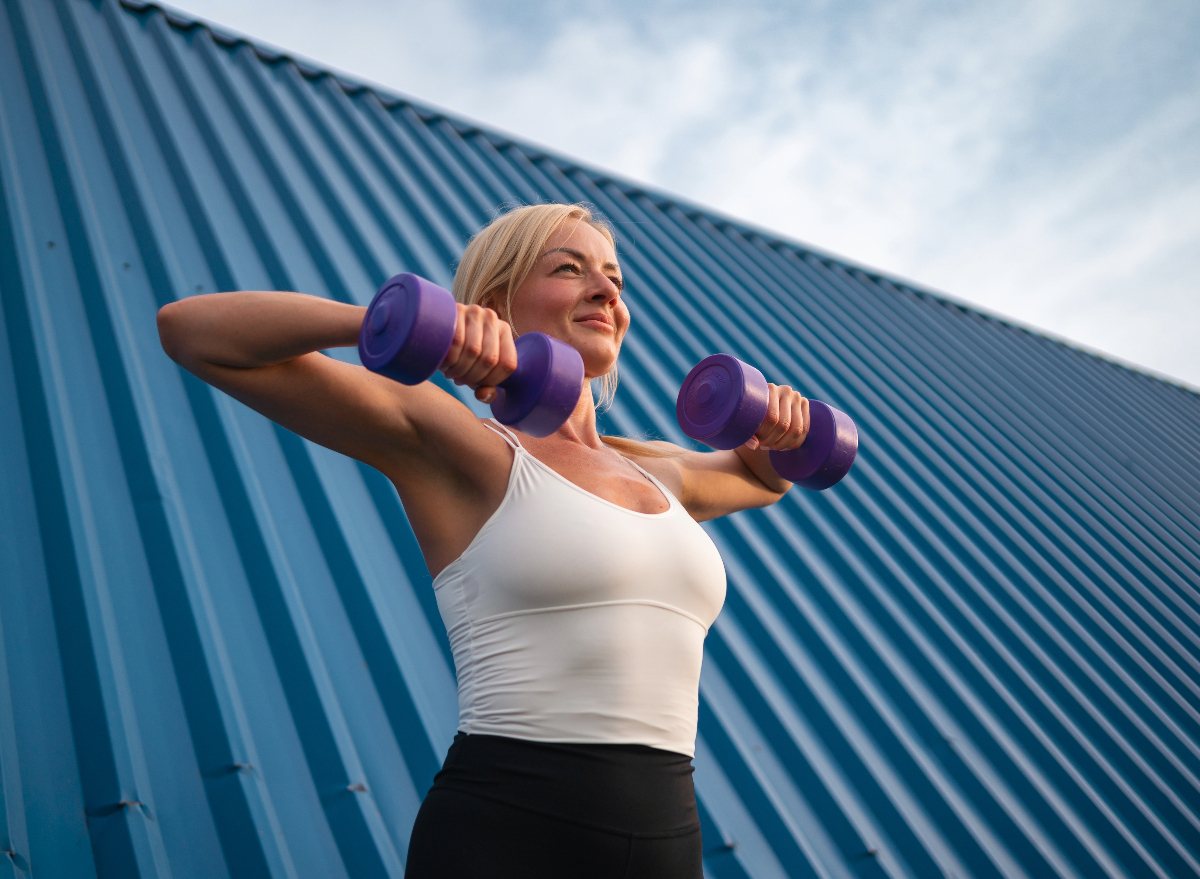 If you're keen on testing out viral workouts and social media wellness trends, the "75 Hard Challenge" may have come across your radar. The 75 Hard Challenge gets its name for good reason—it's no easy feat to complete, but those who are successful with it rave about their before and after transformations. The wellness challenge, which is 75 straight days of sticking to healthy habits, was brought to life by Andy Frisella of the "REAL AF" podcast. Frisella revealed in an Instagram post a bunch of things he learned from the 75 Hard Challenge—one of them being, "I am in 1000% control of my success or failure in anything."
If you're curious about what the challenge is all about, keep reading to learn more. And for more fitness inspiration, be sure to check out People Swear by the 30/30/30 Plan for Weight Loss: 'Completely Changed My Body' next.
What is the 75 hard challenge?
On TikTok, the #75hard hashtag has raked in an impressive 2B views as users are documenting their journeys and sharing inspiring results. But what is the challenge all about? "Seventy-Five Hard is a discipline challenge to challenge mental toughness," explains April Gatlin, ACE, master trainer for STRIDE Fitness. "It involves the following 'rules' for 75 days."6254a4d1642c605c54bf1cab17d50f1e
The daily rules are as follows:
Read 10 pages of a nonfiction/personal development book.
Follow a healthy diet. (Gatlin stresses the importance of consulting with a registered dietitian/healthcare professional on which eating plan is the best for your body and goals.)
Complete two 45-minute workouts (one indoors and one outdoors).
Drink a gallon of water.
Snap a photo of your progress.
Don't drink alcohol.
Don't have cheat meals.
Is the 75 Hard Challenge sustainable?
Whenever you're working toward a fitness, diet, or wellness goal, sustainability is key. "As a fitness professional, I recommend all of the parts of this challenge, just not to the extreme of 75 Hard," Gatlin tells us. "Water consumption is so very important for everyday mental and physical function. Also, having structure in your workout and diet is always positive when trying to live a healthy lifestyle. Taking progress pictures even once a month will be helpful … Lastly, reading personal development books is always a high recommendation: If we work on the mind, the body will respond!"
Gatlin does note, though, that the "no cheat meals" and "work out twice a day" aspects can be challenging to maintain, making it difficult to be consistent with your efforts. She recommends sticking to a nutrition plan that's personalized to your goals, while cutting out alcohol and having one weekly cheat meal to make things more sustainable.
As far as the workouts are concerned, Gatlin suggests tweaking the challenge to one 60-minute workout or two 30-minute workouts per day that can be completed either indoors or outdoors. She also encourages you to take weekly progress pictures rather than daily photos.
"Having done 75 Hard myself, if someone is ever considering taking on this mental toughness challenge, they need to evaluate if this is a good time in life to take on this challenge," Gatlin stresses. "(Are [there] life changes in the near future? i.e. a move, job change, school, etc.). Ensure that you are set up for success (as much as you can control) prior to starting. [In addition,] be aware that this is a CHALLENGE! Some enter it expecting it to be something that is easy… it is not! If you are not able to follow some of the 75 Hard rules, adjust [while] keeping the core elements the same. On the other side of the challenge, you will feel accomplished, you will feel tough, and your body may change along the way!"
People swear by the 75 Hard Challenge to get fit.
TikTokers are all about the 75 Hard Challenge for boosting their fitness and getting into shape. TikTok user Jenessa (@thejenessamarie) documented her 75-day journey in a video, revealing that by the end of it, she dropped 20 pounds and 5% of body fat without losing any muscle. She noted she's "very happy" with her results and explained, "I can tell how much more toned I am and I'm feeling GOOD! I'm sleeping well and feel way more comfortable in my body than I did a few months ago. I'm going to keep going and try to lose another 20 pounds!"
TikTok user @kgfitnesstoks also shared her 75 Hard Challenge journey transformation in a video, noting, "I completed 75 Hard and these were the results … 30 pounds down and never going back."
Another TikToker, Lauren Cottrell (@laurencottrell) raved about the challenge in a video, revealing it was an effective bridal weight loss regimen. She said, "The most ironic thing happened today. I literally started this journey 75 days ago so that I would look my best for when my wedding dress came in, and y'all, I literally got the text message today that my wedding dress is in … and I am so excited, I couldn't be more proud of myself throughout this entire journey."
Alexa Mellardo
Alexa is the Mind + Body Deputy Editor of Eat This, Not That!, overseeing the M+B channel and delivering compelling fitness, wellness, and self-care topics to readers.
Read more about Alexa