Smashed A.1. Swiss Burger Recipe
You don't even need a grill, just a cast-iron skillet and a spatula, to get smashing.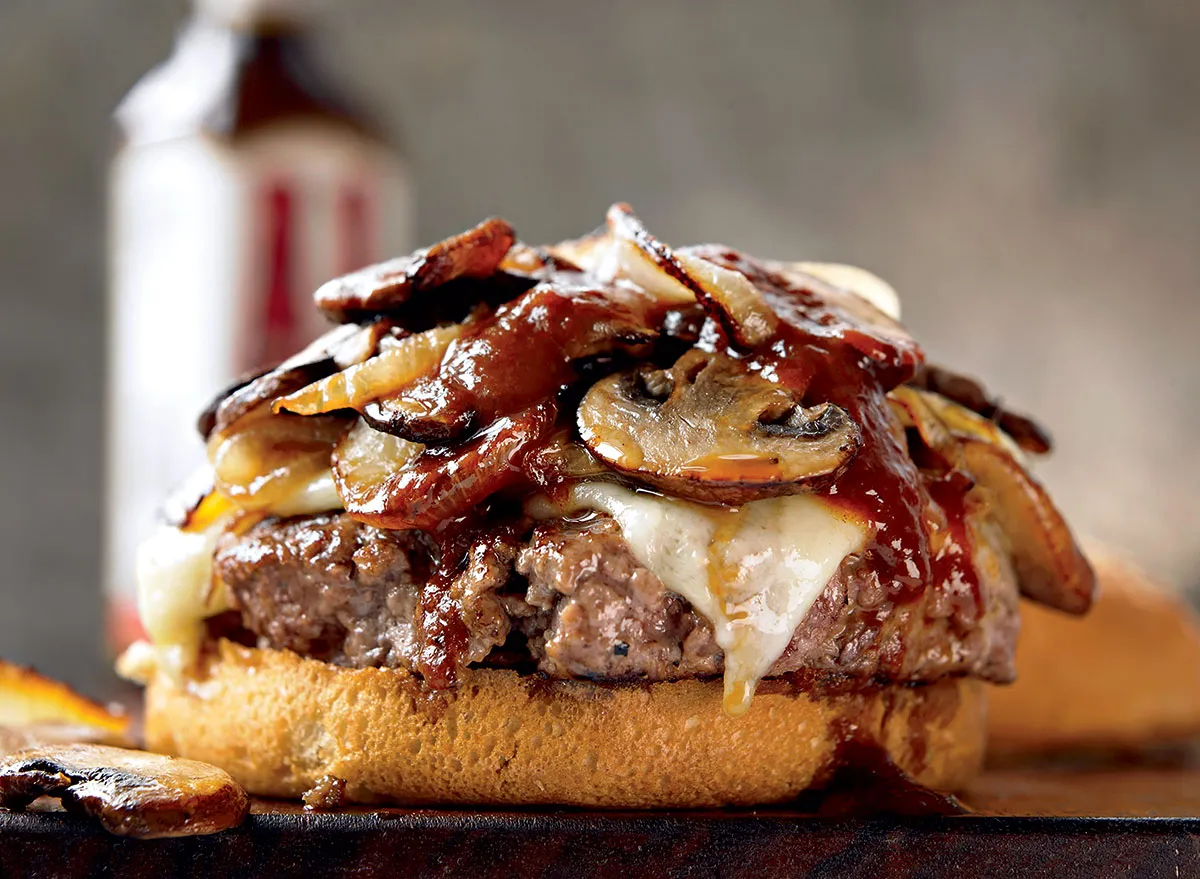 The United States is flush with quirky regional burgers, from the pastrami-topped burgers of Utah to the butter burgers of Wisconsin. Our favorite is the Midwestern smashed burger, which involves using a spatula to thwack a ball of ground beef into a thin patty while it cooks in a cast-iron skillet. This style of burger maximizes crust development and helps the beef retain a ton of juiciness. Try it once, and you may never go back to bulky grilled burgers again.
Plus, because you only need a cast-iron skillet and a spatula, you can make these burgers year-round, without having to lug out your grill every time you're in the mood for a burger.
Nutrition: 340 calories, 15 g fat (5 g saturated), 580 mg sodium
Serves 4
You'll Need
1⁄2 Tbsp canola oil, plus more for the burgers
1  medium yellow onion, sliced
2  cups sliced white or cremini mushrooms
Salt and black pepper to taste
1 lb ground sirloin
4 slices reduced-fat Swiss cheese
4 potato buns, split and lightly toasted
4 Tbsp A.1. Steak Sauce
How to Make It
Heat the oil in a large skillet or sauté pan over medium-low heat.
Add the onion and cook for 3 to 4 minutes, until soft and translucent.
Add the mushrooms and cook for 6 to 7 minutes, until the mushrooms and onions are browned and caramelized.
Season with salt and pepper and remove from the heat.
Heat a light film of oil in a large cast-iron skillet over medium-high heat. Form the sirloin into four loosely packed 1-inch balls, being careful not to overwork the meat.
Season all over with salt and a bit of black pepper.
Add to the pan and cook for a minute or two, then place a spatula on top of each patty and press down to flatten the meat into a burger about 1⁄3" thick.
Cook for about 2 minutes, until a nice crust develops.
Flip, using the spatula to scrape the burger free if necessary.
Top with cheese and cook for 2 to 3 minutes more, until the meat is cooked through.
Place the burgers on the toasted buns, then top with the mushrooms and onions. Finish by drizzling a tablespoon of A.1. on each.