Aldi Just Revealed Its November Releases—Here Are the Top Picks For Your Thanksgiving Table
These finds will earn a regular spot at your Turkey Day dinner.
The product recommendations in this post are recommendations by the writer and/or expert(s) interviewed and do not contain affiliate links. Meaning: If you use these links to buy something, we will not earn a commission.
Thanksgiving is mainly about three things: family, friends, and feasting. If you've ever hosted a Thanksgiving dinner, you likely have strong opinions about the menu staples. But even annual traditions could use a little sprucing up every now and then. If you're thinking about how to change up your table at a price you can afford, venture over to Aldi for a little holiday inspiration.
The beloved discount grocer has become increasingly popular over the past few years, especially as inflation continues to creep up. Private-label goods at the German-based chain have seen higher sales than those at Trader Joe's, Costco, and Wegmans. In fact, its in-house brand has cultivated a mass following with exclusive high-quality products. And the holidays are a time when Aldi really shines.
While turkey is usually the star of the show, dinner isn't complete without a strong supporting cast of Thanksgiving sides. These store-bought shortcuts from Aldi will help you put together an elaborate spread that everyone will love—even your meatless, keto, and gluten-free guests—without breaking a sweat.
And until Nov. 29, keep your eye out for an extra discount on items marked with the Thanksgiving Price Rewind icon—which means you'll pay pre-inflation prices on certain items. All the more reason to start searching for your next festive favorites here ASAP. (Just make sure to do all your shopping before the big day!)
Earth Grown Plant-Based Turkey Breast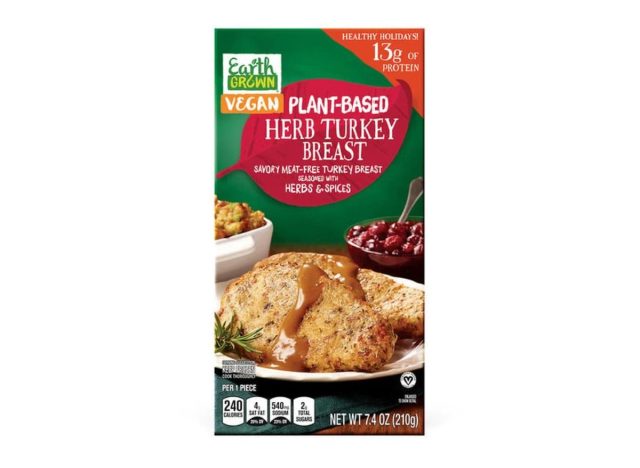 It's likely that at least one person at your holiday dinner table is vegan or vegetarian—and they will rejoice at this meatless version of the holiday centerpiece. According to vegan blog Make It Dairy Free, the beloved plant-based item is made mainly of soy protein and sunflower oil. It offers 13 grams of protein in 7.4 ounces of seasoned imitation turkey and comes in two versions, Herb and Oven-Roasted, for $4.99.
Season's Choice Sweet Potato Casserole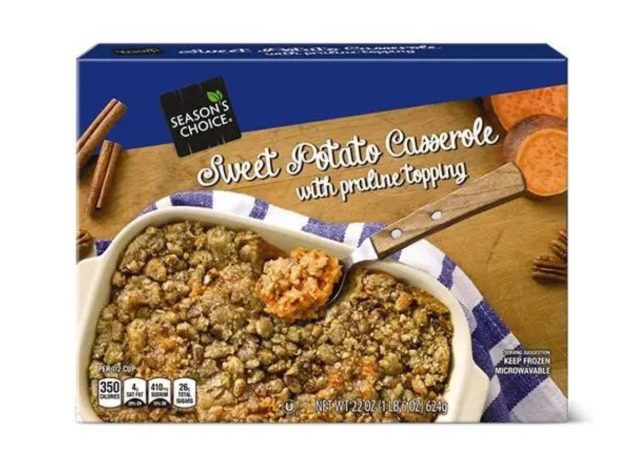 This seasonal Aldi Find has been a treasured item in the prepared food section for years. "When will the season's choice sweet potato casserole return to stores? My family loves it so much!" commented a member of the "ALDI USA" Facebook page in 2016.
Why is it so popular? The hearty dish of yams is topped with a crunchy layer of toasted pralines, for a side dish that has an appeal even after the holidays. "Not gonna lie I bought 5," a customer commented on @alditheamazing's post. This casserole weighs in at just under 1.5 pounds, and you can stockpile it for $4.99 a box.
Priano Sweet Potato Ravioli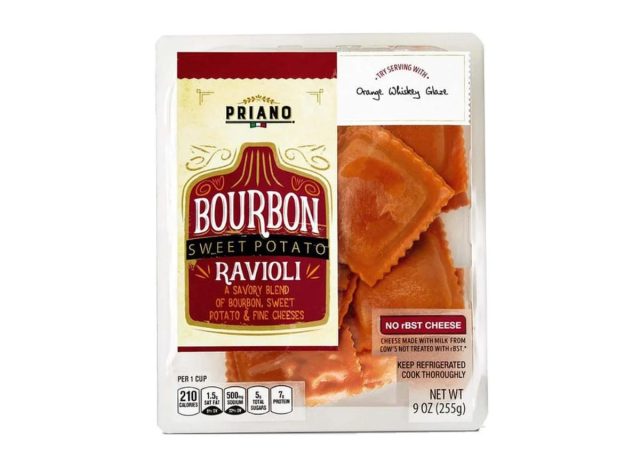 The cult-favorite store brand for all things Italian goes in for a fall twist, with these sweet potato-and-cheese-filled pasta squares. Serve the kids the tart Cranberry version, and save the Bourbon kind for the adults. A 9-ounce package costs $3.39.
Chef's Cupboard Turkey Cooking Stock
Looking to add some depth to your stew? Simmer it with this turkey broth. It's fat-free and full of flavor, and for a quart at $1.69, it's a cost-effective way to add some protein to your dish.
LiveGfree Gluten Free Stuffing Mix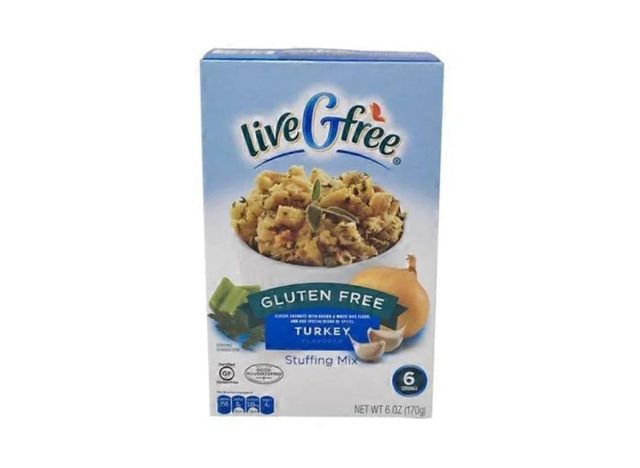 LiveGfree is Aldi's in-house zero-gluten product line, and it brings gluten-free stuffing to the table. According to the blog Aldireviewer, the bread cubes in this package are made of rice and tapioca flour, potato starch, eggs, nonfat milk powder, brown sugar, non-GMO canola oil, eggs, potato flour, yeast, salt, and guar gum.
Six servings per box are $3.49—a bit on the pricey side, but worth it to avoid the allergens if gluten triggers digestive issues for you. You can pick it up in two different varieties, Turkey or Chicken.
Chef's Cupboard Keto Stuffing Mix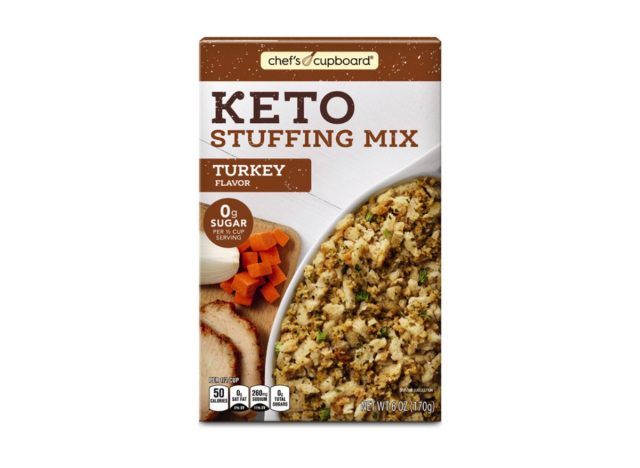 Don't forget about your low-carb companions. You can get this private label stuffing mix for them, since it's keto-friendly, with zero grams of sugar. It comes in Chicken and Turkey flavors, and the box is $3.69 for 6 ounces.
Chef's Cupboard Hawaiian Stuffing Mix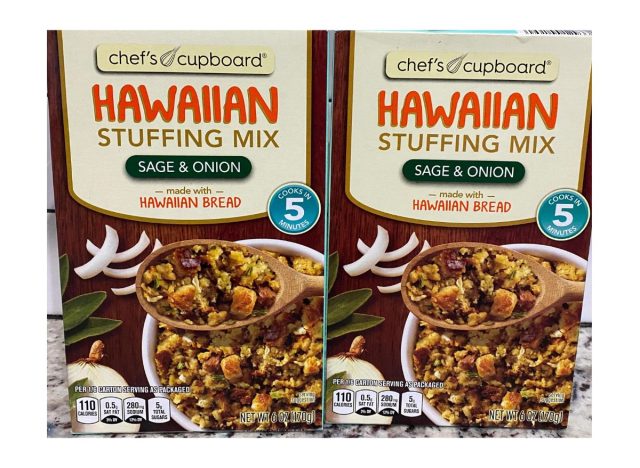 If you prefer soft Hawaiian rolls to a slice of brioche, then good news—this stuffing has that flavor you know and love. Blogger Aisle of Shame recommended it highly. "My family absolutely loved this stuffing," they wrote. "It has the sweet taste of Hawaiian bread, combined with enough herbs and spices to make it extremely flavorful." It comes in Sage & Onion and Classic Herbs & Spices flavors, for $1.39 a box.
Chef's Cupboard Herb Stuffing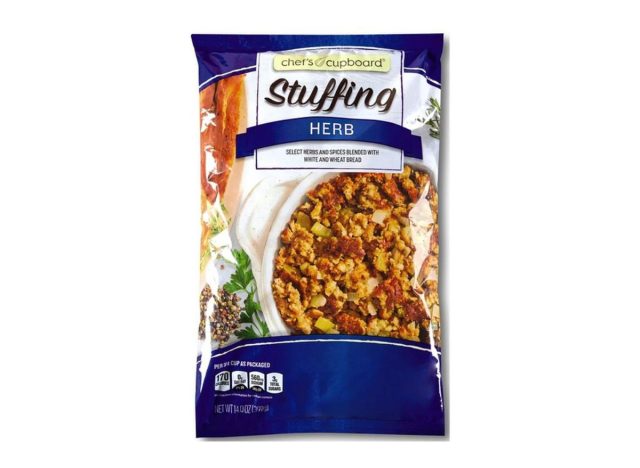 This is a more classic stuffing, flavored with traditional herbs like thyme, garlic powder, onion powder, and rosemary. The Aldi brand is a bargain buy, but it also gets the job done. One food reviewer was pleasantly surprised by the instant stuffing mix. "[It] had a decent flavor that wasn't too salty…The stuffing also turned out to be moist but firm," the blogger Wizzley wrote. The convenience of this Thanksgiving side comes out to $0.99 per 6-ounce box or $2.29 for a 14-ounce bag.
Specially Selected Brioche Stuffing Mix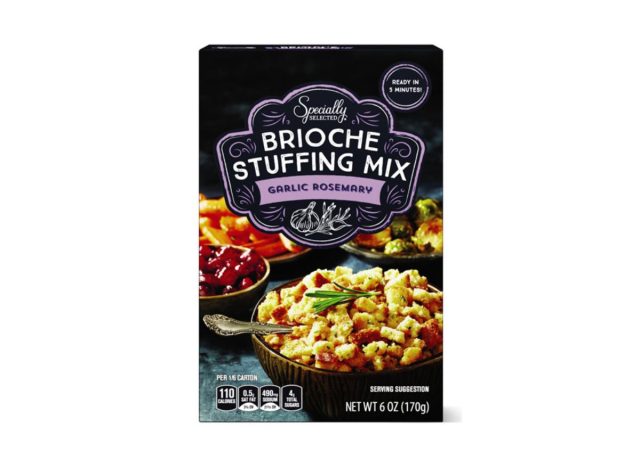 For something a little more elevated, how about this stuffing made with brioche? You can whip it up in five minutes to add as a quick side, in either Lemon Thyme or Garlic Rosemary flavors. If you hide the box, you can even tell your guests you made it from scratch. It's going for $1.99 in stores.6254a4d1642c605c54bf1cab17d50f1e
Deutsche Küche Beef Schnitzel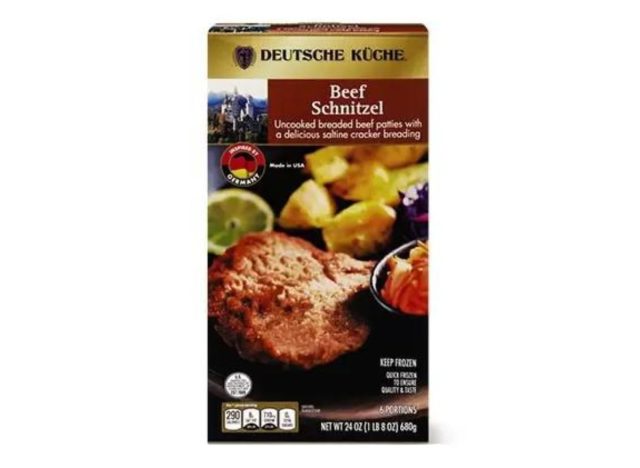 This German-inspired tenderized beef dish is coated in saltine cracker breading and quite popular with shoppers.
"In short, it is amazing, and you should absolutely buy it if you see it at Aldi," said Aldireviewer about the pork and chicken schnitzel from an Aldi German Week earlier in the year. It appears that the German-based grocer is debuting a beef version just in time for the holidays. For six portions of tasty beef at $8.99, it's worth a try.
Bremer Roasted Garlic Pierogies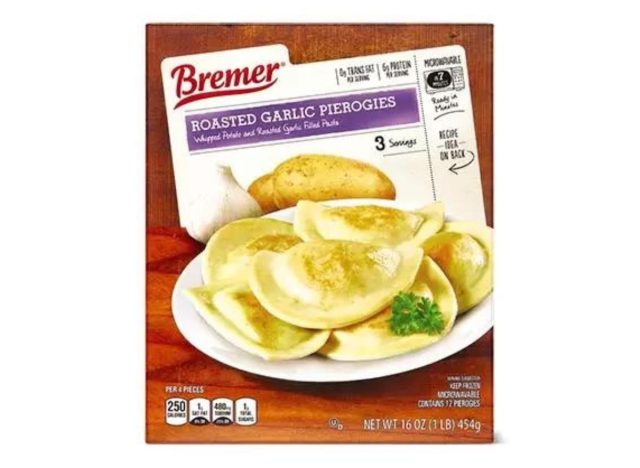 You know how it goes. The roast always takes a little longer in the oven than you expect, and everyone's already hungry. Pro tip: put out a few snacks for people to graze on while you wait. And what's better than a pocket of garlicky potatoes to tie you over? You can grab a couple of boxes of these for $2.49 each and boil, saute, fry, or bake them for an easy appetizer.
Clancy's Wavy Potato Chips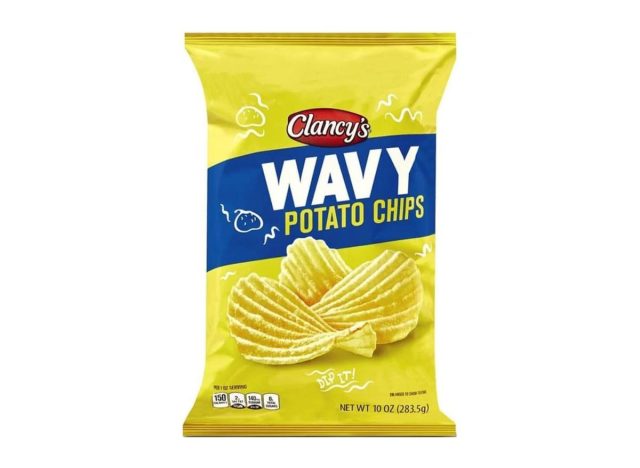 It's not a snack table without a bowl of potato chips, and these ones are Thanksgiving-themed to boot. ALDI private-label brand Clancy's made two brand-new flavors for the occasion: Turkey Stuffing and Garlic Mashed. Only time will tell if these bold twists will make their way back into ALDI Finds next year—so try them while they're still in stock! A 9.5-ounce bag costs $1.99.
Bake Shop Pumpkin Snickerdoodle Cookies
Top off your dinner with these chewy fall-flavored cookies, featuring pumpkin spice in a snickerdoodle. They're back for a limited time, sold in packages of 12 for $3.69.
Sarah Wong
Sarah studied at Northwestern University, where she received a bachelor's degree in computer science and experimented with mixing tech and journalism.
Read more about Sarah