Thanksgiving Day Grocery Store Hours: Here's What's Open
Check this list before your last-minute store run.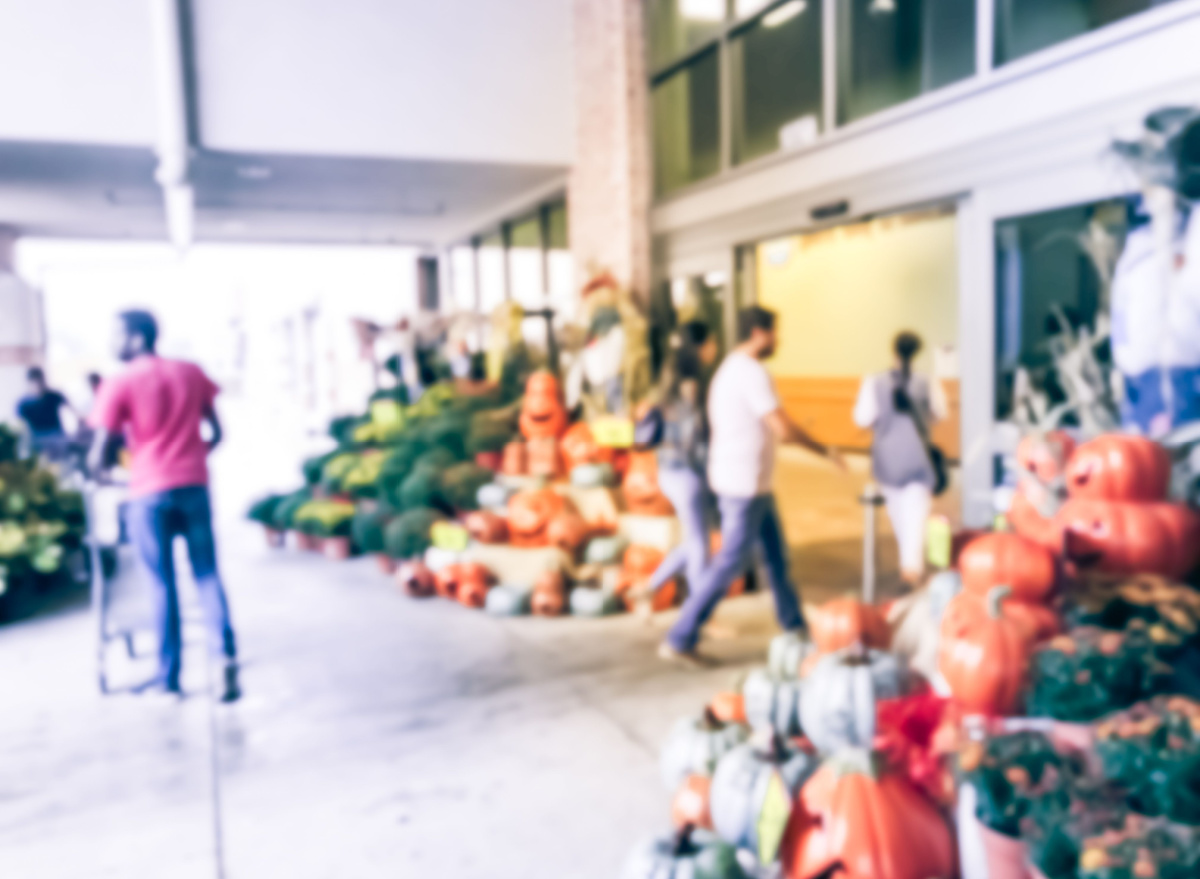 Thanksgiving is approaching fast, and planning a festive evening for family and friends is no simple feat. There's figuring out what to make to suit everyone's tastes, where to shop for the best deals, and how to cook the turkey to perfection. It's a long list—and even the best prepared hosts (and guests) can find themselves in that all-too-familiar bind at crunch time: the last-minute Turkey Day scramble.
Whether you're second-guessing showing up empty-handed to your in-laws and need a pumpkin pie, or you just found out that your uncle is now gluten-free, it'll be handy to know which grocery store chains are open when you need them.
Many grocery retailers will have modified hours on Thanksgiving. Some, like Target and Walmart, have recently changed their policy and will be closing their door on Nov. 24. A few others, like Winn-Dixie and Trader Joe's, have been doing that for years.
Stores Open on Thanksgiving
The Fresh Market
The Fresh Market has all the festive foods you might need until 3 p.m. nationwide.
Walgreens
You can breathe easy knowing that most Walgreens will be operating from 9 a.m. to 6 p.m., with some 24-hour locations staying open all day.
Wegmans
The East Coast grocer plans to keep most stores open until 4 p.m., though New England locations will be closed for the holiday.
Whole Foods
You can still get your health-conscious kitchen staples on Thanksgiving from Whole Foods locations nationwide, but call your local store to check on its modified hours.
CVS
Most CVS stores will be open for regular hours, but a small number may have reduced pharmacy hours or stay closed altogether, so check online or call your nearest location to make sure.
Dollar General
In order to get all the affordable side dishes, decor, and dessert you'll need to wow your guests, this is a store you really want to call ahead of time. Some locations will be open even longer than usual, until 10 p.m., but others will be closed due to staffing shortages.
FoodMaxx
The West Coast grocer is going to be open all day. If you're not set for the event by Thanksgiving Day, you can check out at FoodMaxx from 6 a.m. to 6 p.m.—just in time for dinner.
Lucky & Lucky California
Just like FoodMaxx, these grocery chains in California will operate between 6 a.m. to 6 p.m. on Nov. 24.
Sprouts Farmers Market
If you have last-minute organic produce, cheese, and spice needs, fret not. West Coast specialty chain Sprouts will welcome customers from 7 a.m. to 4 p.m.
Kroger
Most Kroger stores will open their doors, but you should call your location for its regional hours to be sure before you make the trip.6254a4d1642c605c54bf1cab17d50f1e
Meijer
The main locations will be open from 6 a.m. to 5 p.m., but check your local store for specific hours, which may vary.
Rite Aid
Don't worry about missing this drugstore. Most of its stores will operate during regular hours on Thanksgiving.
Save Mart
West Coasters can count on Save Mart to supply their last-minute needs during modified hours, from 6 a.m. to 5 p.m.
Stop & Shop
While some locations may be open during regular hours, many of the stores will be open from 6 a.m. to 3 p.m. Call your location to double-check beforehand.
Store Closed on Thanksgiving
ALDI
Like every year, ALDI is closed on Thanksgiving, along with other major holidays.
Hy-Vee
This just in—for the first time, the Midwest supermarket brand will be closing all stores on Thanksgiving to thank hard-working employees and allow them to share in all the festivities of the holiday.
BJ's Wholesale Club
If you managed to earn a free Butterball turkey from BJ's Wholesale, be sure to grab it before Nov. 24, because the Club will be closed. It will re-open at 8 a.m. on Friday.
Costco
Get all the rotisserie chicken and party platters you need before the holiday, since warehouses everywhere will be closed on Thanksgiving Day.
Fresco y Más
The Hispanic grocery chain located across Central Florida will also close for the holiday.
Harveys Supermarket
If Harveys is your usual stop, you'll have to wait until Black Friday to hit this Southeast food retailer.
Publix
Since its founding in 1930, Publix has remained closed every Thanksgiving, and this year is no exception.
Sam's Club
Thanksgiving Day is one of four holidays where Sam's Club stays closed all day, so save your list for the morning of Black Friday instead.
Winn-Dixie
Though in previous years, Winn-Dixie stayed open for part of the holiday, the Southeastern grocery chain is closed on Thanksgiving this year to give its employees some time off.
Trader Joe's
It's an annual tradition that TJ's gives its workers the holiday off, so you can't visit this neighborhood grocery store on Turkey Day.
Walmart
Ever since 2020, Walmart has kept its doors shut on Thanksgiving. CEO John Furner confirmed this for 2022, saying that being open on the holiday is "a thing of the past."
Target
It started as a way to reduce crowds during the pandemic, but Target made it official in 2021—no stores will be open on Thanksgiving. CEO Brian Cornell wrote in a corporate letter, "Thanksgiving store hours are one thing we won't 'get back to' when the pandemic finally subsides."
Sarah Wong
Sarah studied at Northwestern University, where she received a bachelor's degree in computer science and experimented with mixing tech and journalism.
Read more about Sarah