8 Awesome Apple Cider Vinegar Detox Drinks
These tasty ACV elixirs can help you detox, shed pounds, and boost immunity.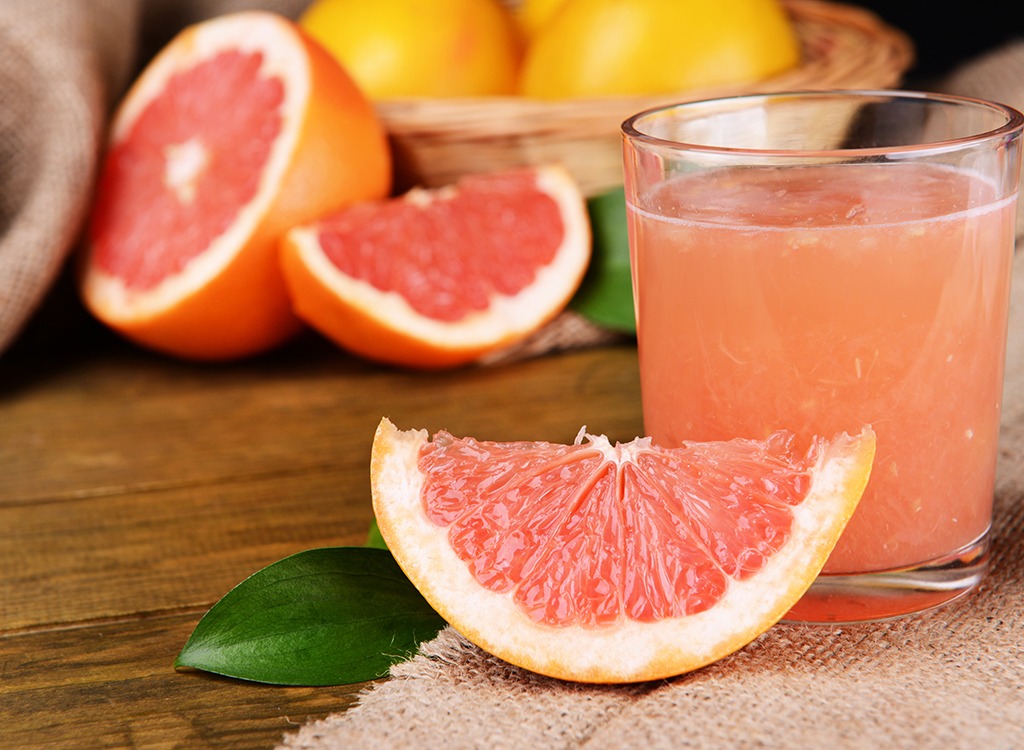 With numerous health benefits like reducing cholesterol, stabilizing blood sugar, and scorching body fat, apple cider vinegar (aka ACV) may be our new BFF. In fact, a study published in the Bioscience, Biotechnology, Biochemistry journal revealed that participants who were given ACV lost more body fat and inches than those given a placebo over a 12-week period—and that's without a diet or exercise regimen. Sign us up, please!
But we know what you're thinking: swigging vinegar sounds about as appealing as swallowing another wheatgrass shot. There's good news, though; ACV is so versatile that mixing up some palatable apple cider vinegar detoxing elixirs is totally doable! Be aware that not all apple cider vinegars are the same, warns Lisa Hayim, RD. "Reach for an unfiltered type, which is cloudy and contains probiotics—which can help adding the good bacteria into your gut." Got it? Good! Now check out our recipes below and then find out more about the benefits of apple cider vinegar with these 22 Apple Cider Vinegar Tips and Tricks!
Detox Lemonade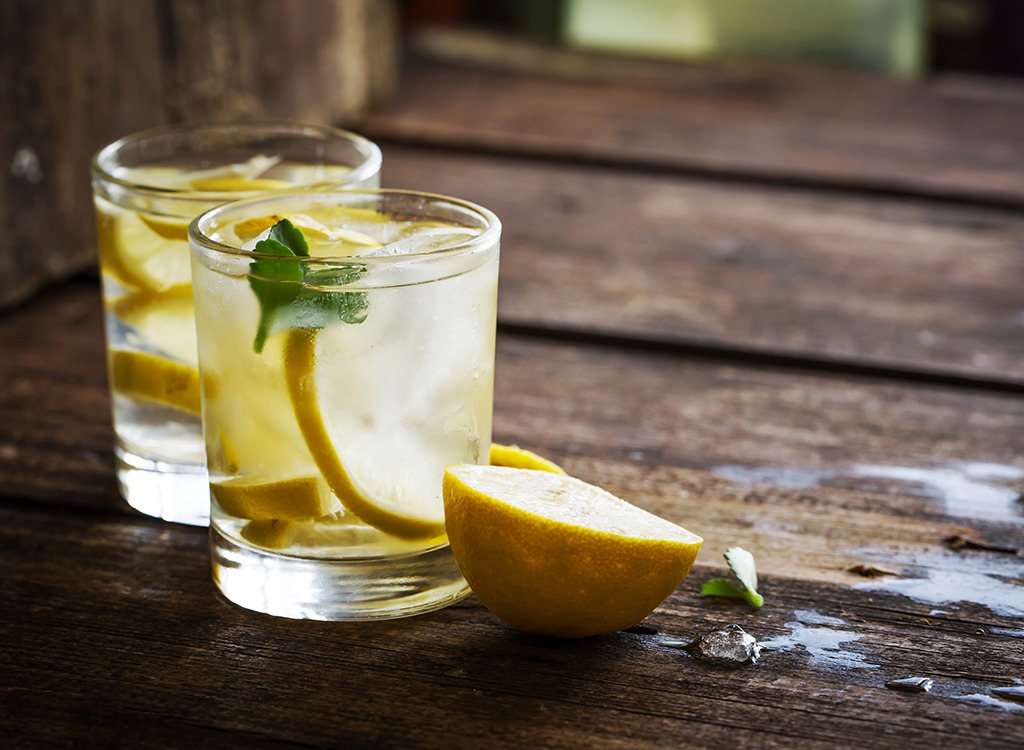 Nutrition: 36 calories, 0.3 g fat, 8 mg sodium, 6.9 g carbs, 6.6 g sugar, 0.3 g protein
Combine 1 ½ cups of water with 2 tablespoons of ACV, 2 tablespoons of fresh lemon juice, ¼ teaspoon cayenne pepper, and 1 teaspoon raw honey for a sweet start to your day. Sipping this detox drink before breakfast will fire up your metabolism and curb your appetite so that you won't even think about that second piece of almond buttered toast.
Pair ACV and Molasses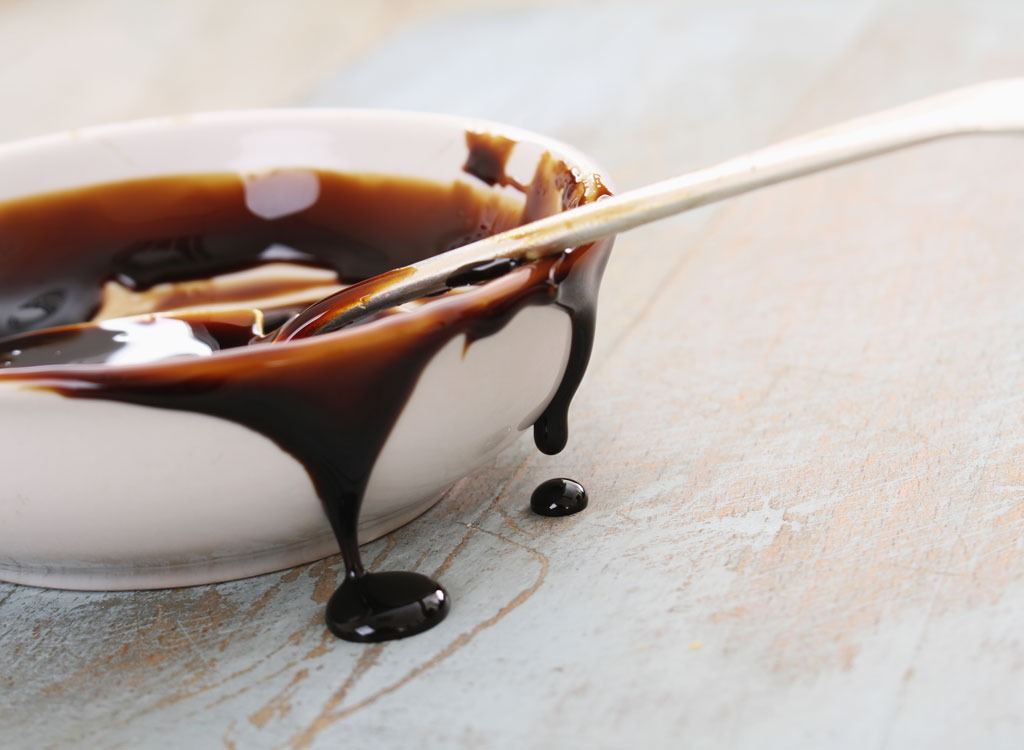 6254a4d1642c605c54bf1cab17d50f1e
Nutrition: 122 calories, 0 g fat, 16 mg sodium, 30.2 g carbs, 22.3 g sugar, 0 g protein
Dilute 2 tablespoons of ACV with 1 ½ cups water, and then 2 tablespoons of iron-, magnesium-, and calcium-dense blackstrap molasses. This potion is especially great for diabetics since the ACV works to reduce your blood sugar levels and the molasses pack a sweet punch that's safe for diabetics.
Pink Grapefruit ACV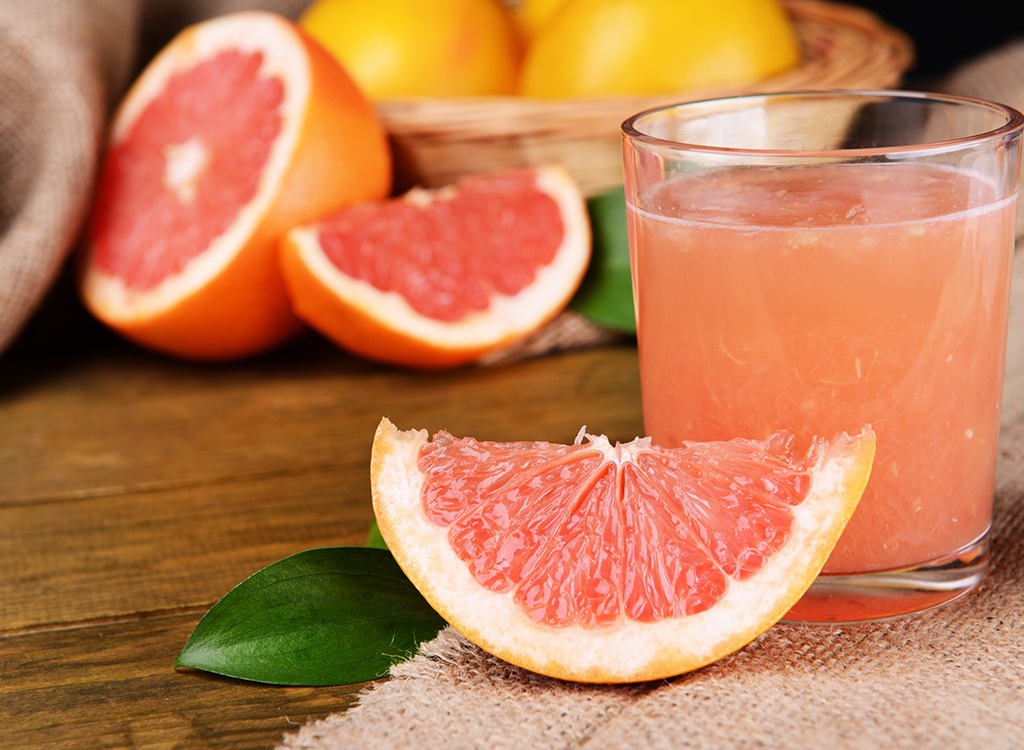 Nutrition: 166 calories, 0.2 g fat, 5 mg sodium, 40.3 g carbs, 17.4 g sugar, 1.3 g protein
For a refreshing spin on your favorite citrus, mix 2 tablespoons of ACV with 1 tablespoon of raw honey and 1 cup of fresh grapefruit juice. The acidity of the ACV goes hand in hand with the fruit's sweet tanginess. Plus, this vitamin C-packed fleshy fruit is notorious for reducing inflammation and whittling your waist—so you can finally lose belly fat. A long-sleeved crop top for apple-picking season? You'll be ready to go for it!
ACV Bloody Mary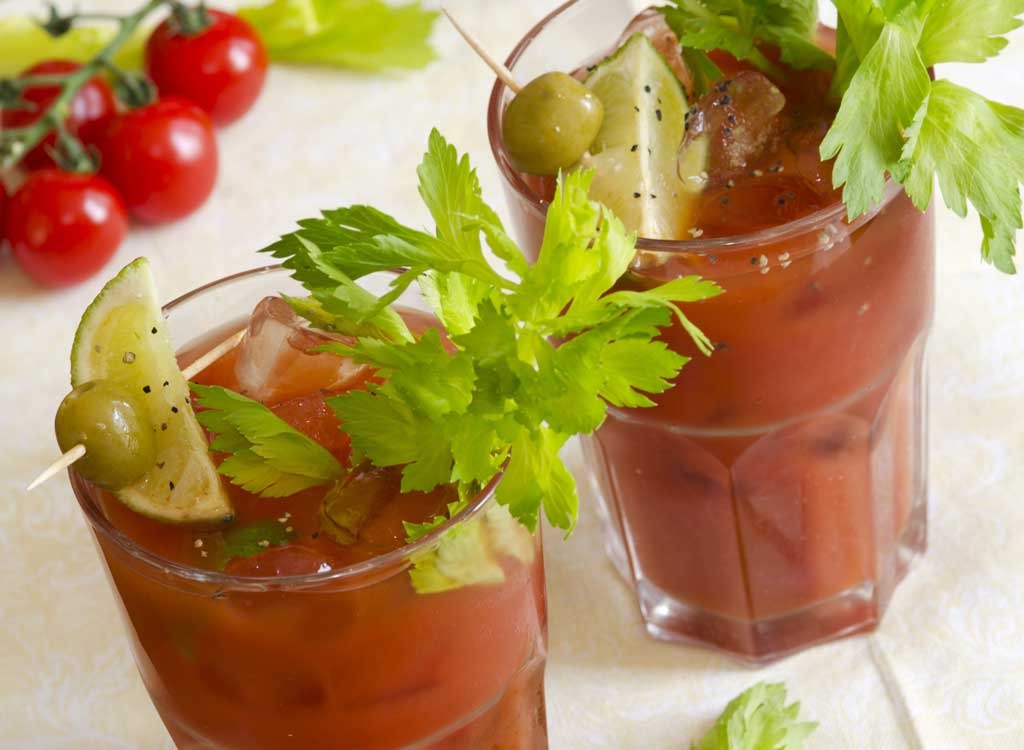 Nutrition: 85 calories, 0.1 g fat, 255 mg sodium, 16.2 g carbs, 3.3 g fiber, 11.3 g sugar, 3.1 g protein
If you're craving a bloody Mary with your brunch, but you're not into getting buzzed while the sun is still up, this one's for you. For a healthier take on the robust classic, stir up 1 ½ cups of low-sodium tomato juice, 2 tablespoons ACV, 2 dashes of Tabasco sauce, 1 tablespoon horseradish, and ½ teaspoon lemon juice. Cheers!
Cranberry-Orange ACV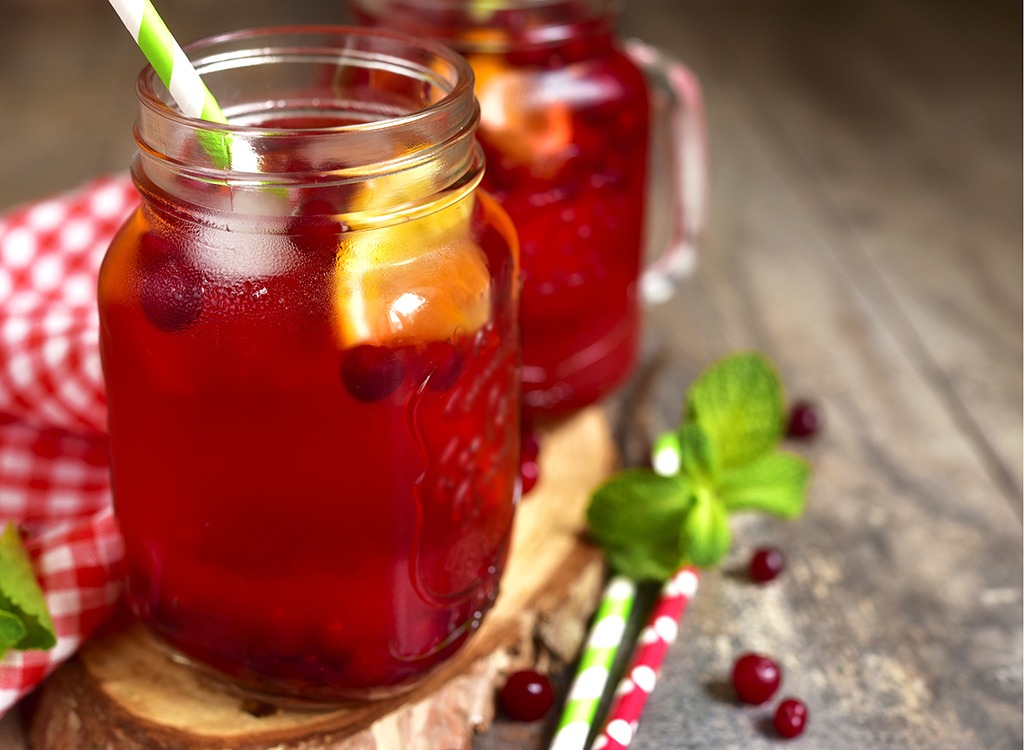 Nutrition: 63 calories, 0.1 g fat, 2 mg sodium, 11.3 g carbs, 2.2 g fiber, 6.9 g sugar, 0.4 g protein
Fragrant oranges and antioxidant-rich cranberries convene in this delectable drink. Stir 2 tablespoons of ACV with ¼ cup of cranberry juice, ¼ cup of freshly squeezed orange juice, and ¾ cup of water to create this delectable afternoon pick-me-up. Along with ACV, cranberries have anti-microbial properties and are great for digestive and heart health, making this pick a go-to choice.
Hot ACV Cider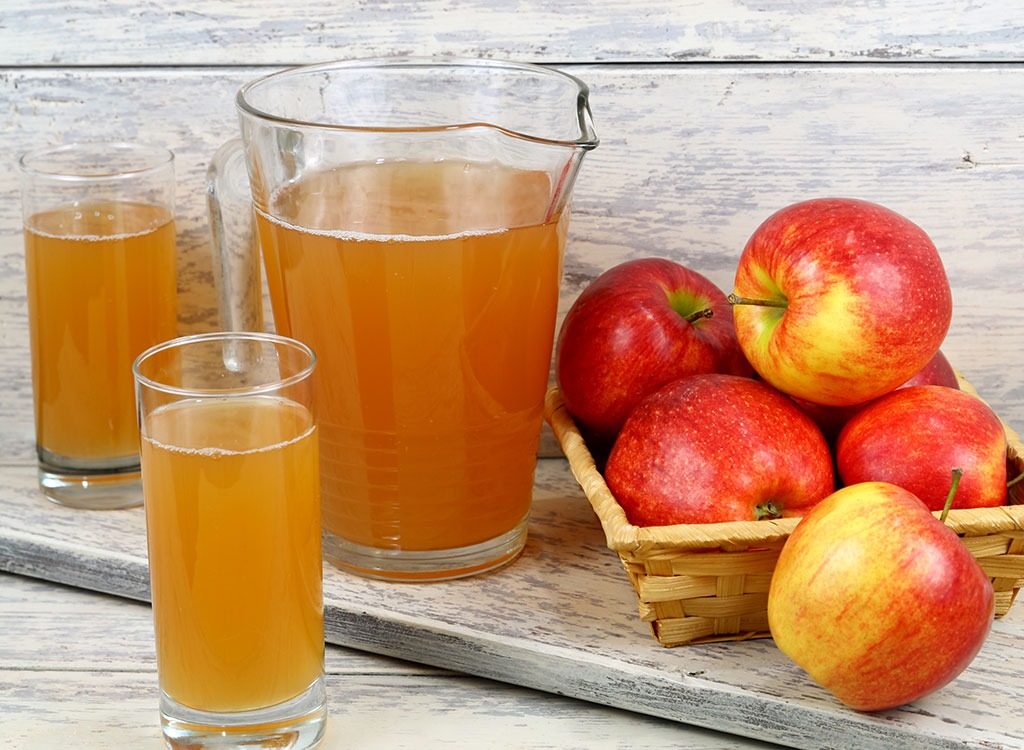 Nutrition: 151 calories, 0.1 g fat, 4 mg sodium, 40.5 g carbs, 3.8 g fiber, 34.8 g sugar, 0.4 g protein
One of our favorite parts of fall has to be the noticeable abundance of apple cider stocked in every supermarket. So, why not create a healthier version of this seasonal brew? Add 2 cinnamon sticks and 4 cloves to 1 ½ cups of water, and bring it to a boil. Remove from heat and allow it to steep for a half hour. Before serving the warm concoction, add 2 tablespoons of ACV and 2 tablespoons of honey. This sweet rendition will definitely make your guests feel like the holidays came early this year.
Apple Pie ACV Smoothie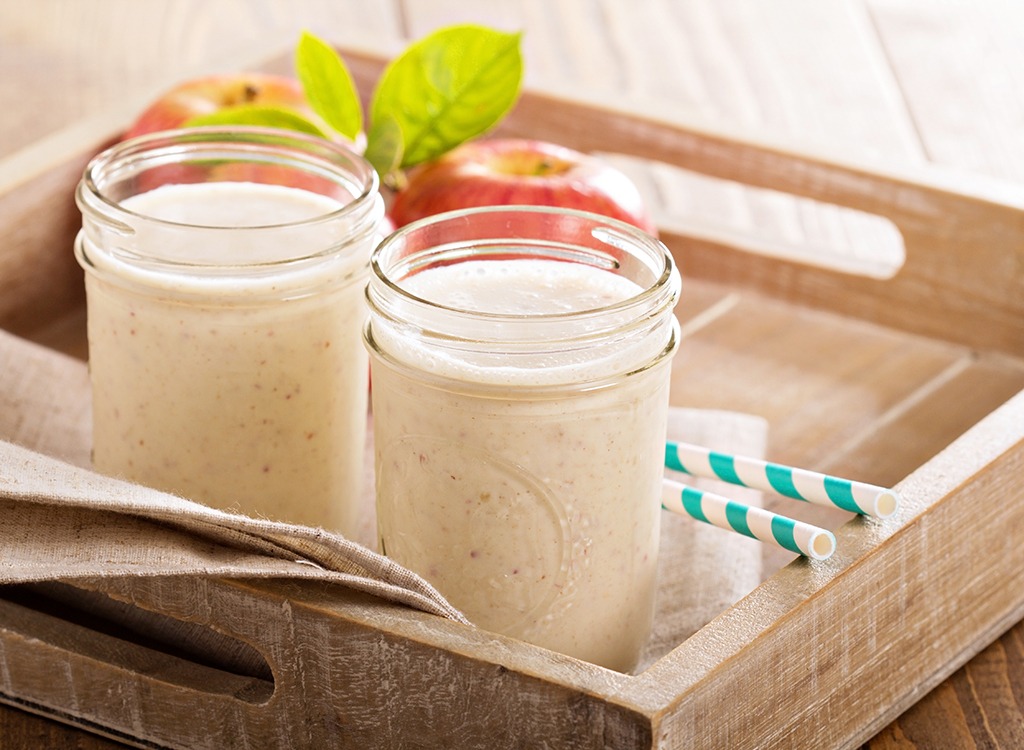 Nutrition: 107 calories, 0.4 g fat, 3 mg sodium, 27.3 g carbs, 5.6 g fiber, 19.1 g sugar, 0.6 g protein
For a nutritious take on your favorite dessert, pop 1 cored apple into the blender along with 1 ½ cups water, 1 teaspoon cinnamon, and 10 drops of vanilla stevia. With only about 100 calories, it's a guilt-free way to indulge in an apple pie treat. This scrumptious recipe is definitely one weight loss smoothie we cannot wait to try!
ACV + Lemon + Chia Seeds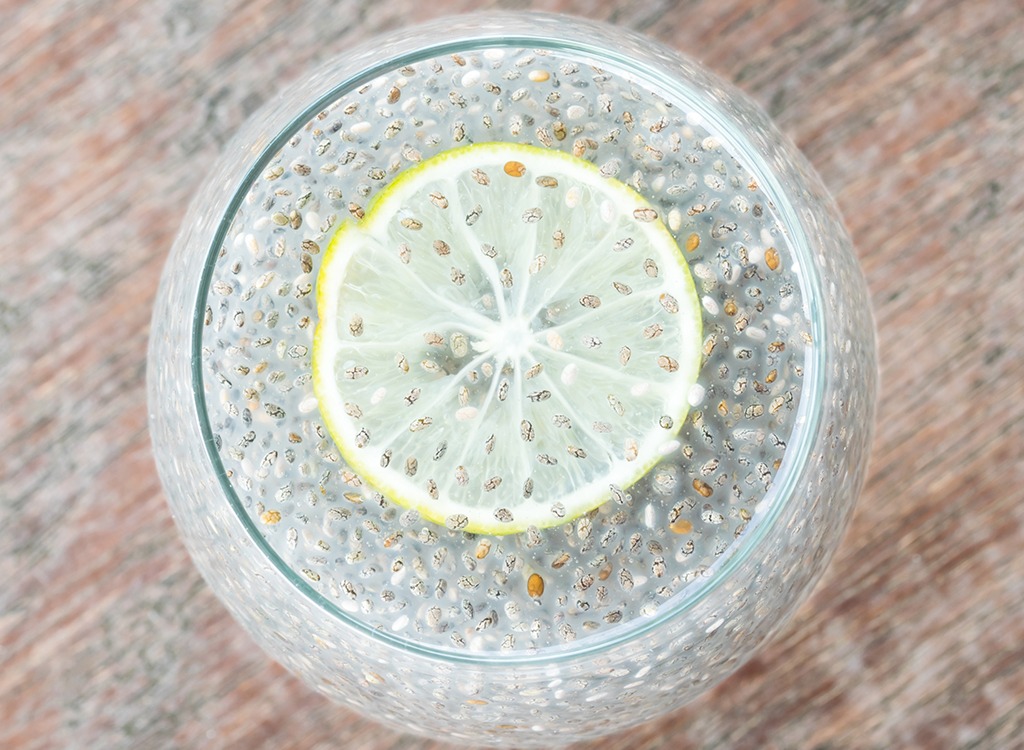 Nutrition: 50 calories, 2.6 g fat, 3 mg sodium, 7.9 g carbs, 3.9 g fiber, 1.4 g sugar, 2 g protein
For a cup of H20 with a whole lot to love, combine the juice from half a lemon, 1 tablespoon ACV, and 1 ½ cups water—and then sprinkle in a tablespoon of chia seeds for a boost of protein, fiber, and heart-healthy omega-3s. Let it sit; after about 10 minutes, you'll notice that the chia seeds have expanded from soaking up the water. Occasionally stirring the mixture will lend it a more gel-like texture—which is what you're going for. So grab your spoon, get mixin', and then drink up when it's to your liking!
April Benshosan
April is a born-and-raised Brooklynite who has a passion for all things health, wellness, and tastebud-related.
Read more about April