15 Creative Ways to Use Leftover Apple Cider
August is a bittersweet month. While its arrival reminds us that summer's on the way out, it gives way to September, the month when jugs of refreshing apple cider finally find their way back onto farm stands and supermarket shelves.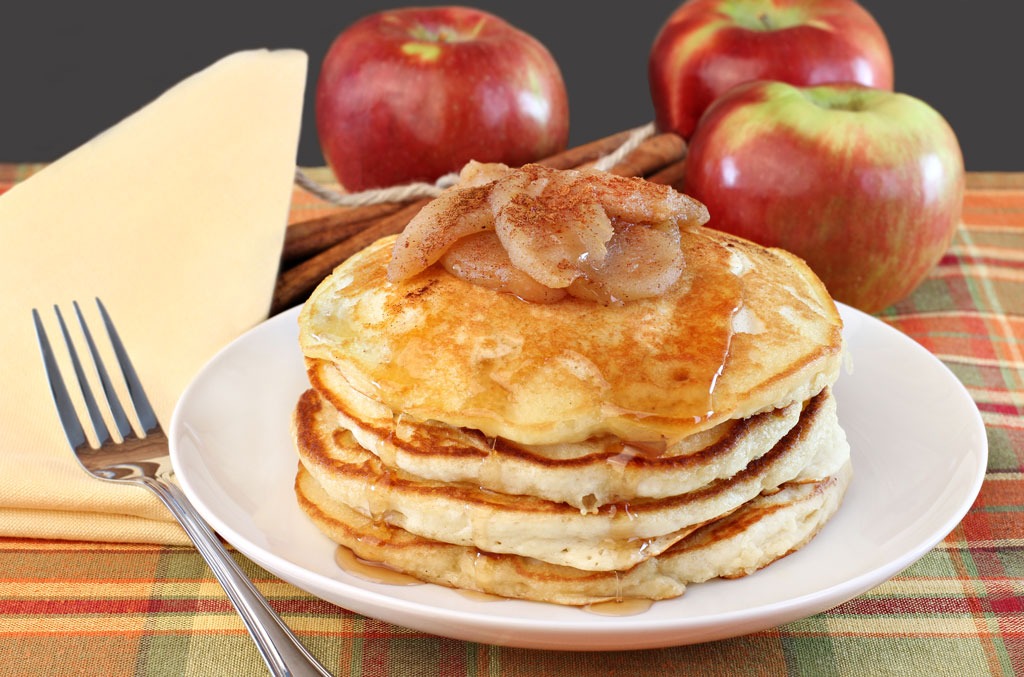 Although I can't get enough of the sand and sun synonymous with summer, the second Labor Day passes, I start planning my yearly apple-picking trip. I've gone every year since I was in college, and it's a fall tradition I couldn't imagine forgoing. In my mind, fall isn't official until you've climbed into a colorful apple tree and brought home a 20-pound bounty. Oh, and let's not forget the giant jug of apple cider. That's a must-buy, too.
While apples (one of these top high fiber foods) can last a long time—up to two months—when stored inside a refrigerator crisper drawer, cider isn't quite as resistant to spoilage. Once opened, most fresh jugs will only last about two weeks, which can present some problems for those of us whose eyes are bigger than our stomachs.
If that sounds like a familiar dilemma, you've come to the right place. Over the years I've done a lot of research into what do with my overflowing stash of cider. And as it turns out, there are loads of festive ways to incorporate the drink into fall recipes you already know and love. Below, you'll find a handful of my favorites, along with some tips for picking the healthiest and tastiest cider. And after you've learned all there is to know about the bitter-sweet beverage, continue your culinary celebration of autumn with these 10 Fall Apple Recipes for Weight Loss.
Apple Cider 101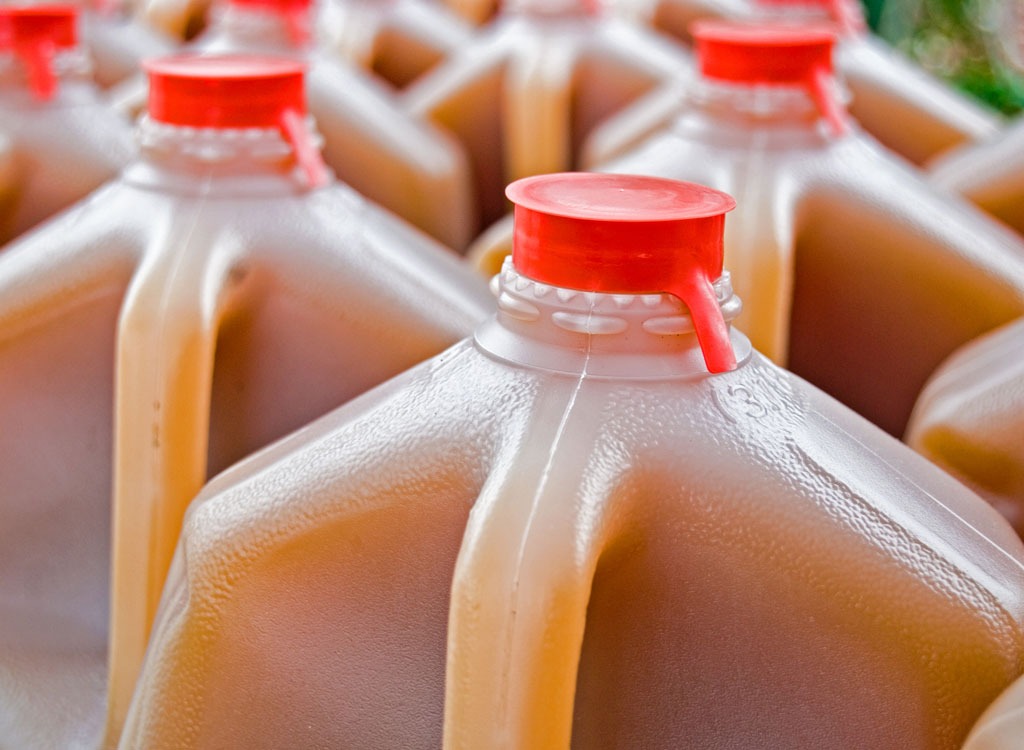 Not all apple ciders are created equal and not all jugs that don "apple cider" labels contain actual apple cider. According to the Massachusetts Department of Agricultural Resources, cider is defined as "raw apple juice that has not undergone a filtration process to remove coarse particles of pulp or sediment." However, since the term isn't regulated in most states, companies can get away with calling apple juice a cider to loop in consumers who find the term 'apple cider' more appealing. Martinelli's, for example, openly admits on their site that they use the term solely as a marketing scheme.
From a health and taste perspective, though, the most important thing you should look for in a cider is a short ingredient list that's free of caramel coloring (one of these 23 Worst Food Additives in America) and added sugar. (As if the apples weren't sweet enough already!) Oh, and skip all those apple cider drink mixes and K-Cups (Lipton and Green Mountain both maker varieties), the fresh stuff from a farm is far too delicious to pass up. Not to mention, the fresh beverage is the only kind that provides any notable amounts of potassium, iron, vitamin C, or pectin, a gelatin-like fiber found in the cell walls of fruits that limit the amount of fat that human cells can absorb.
Another apple cider tip to keep in mind: Always be sure to pair this drink with a source of fiber or protein. (Scrambled eggs with Ezekiel bread, for example, is a meal that contains both nutrients. Many of the recipes below also fit the bill.) Although the sugar the drink contains is naturally occurring, since the drink is nearly completely void of protein or fiber, it can still spike your blood sugar and cause insulin spikes that can lead to hunger, cravings and weight gain.
Now, Some Creative Ways to Use the Leftovers…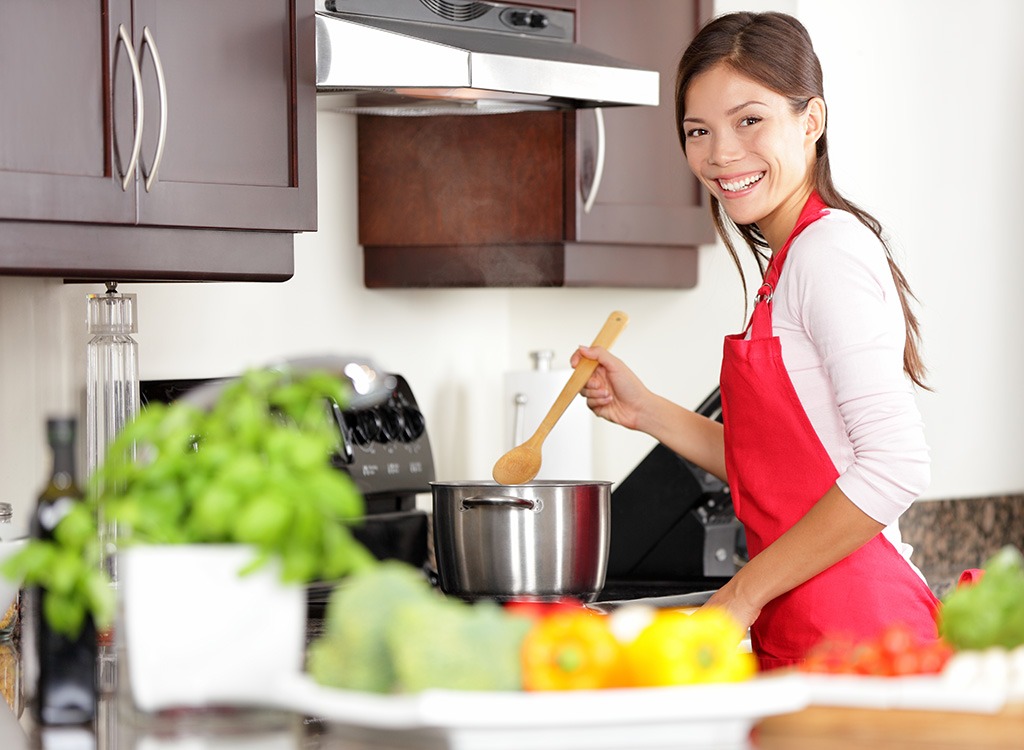 6254a4d1642c605c54bf1cab17d50f1e
Now that you know how to select the tastiest bottle of the stuff, it's time to learn the best ways to use up the yummy leftovers before they go bad…
Turn It Into a Dressing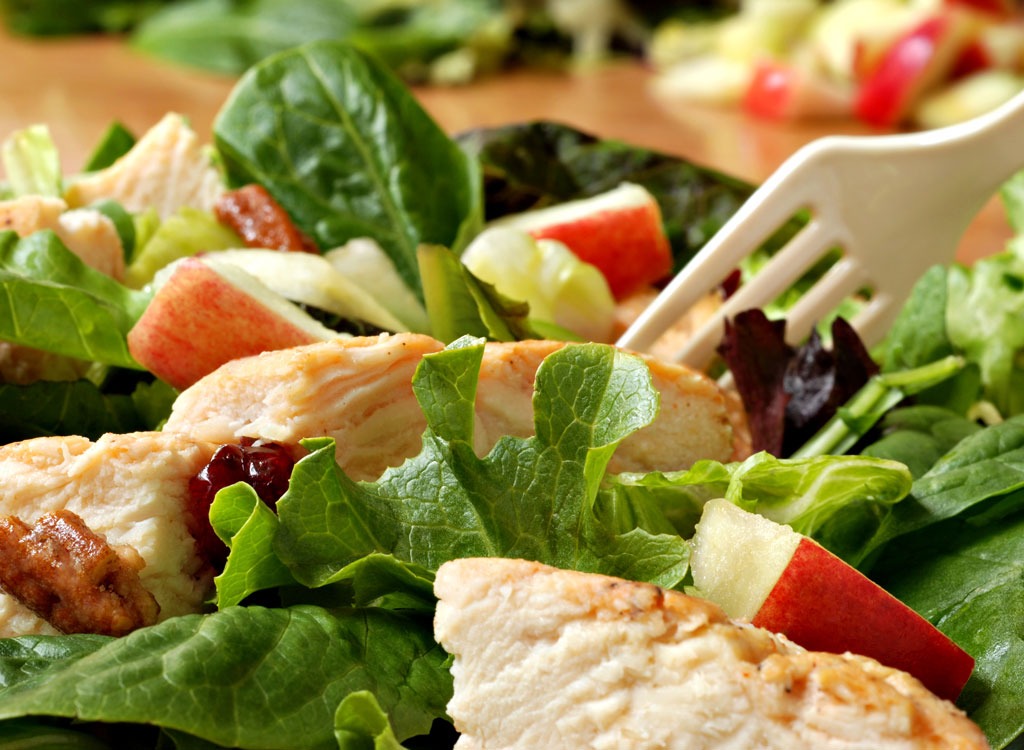 If you already have a favorite dressing recipe that you think could benefit from a bit of apple flavor, you can easily nix the vinegar and replace it with an equal amount of reduced apple cider. (You can reduce the cider by boiling it in a small saucepan for about 12 to 15 minutes.) Alternatively, you can whip up our go-to recipe. To make it, you'll need 1 cup of unfiltered apple cider, 3 tablespoons of finely chopped shallots, 2 tablespoons of apple cider vinegar, 2 teaspoons of grainy mustard, and 1/3 cup of olive oil. Reduce the cider until it yields about ⅓ of a cup, then whisk it together with the shallots, vinegar, and mustard, and oil. Add in some ground pepper and salt to taste for some added flavor.
Add it to Oatmeal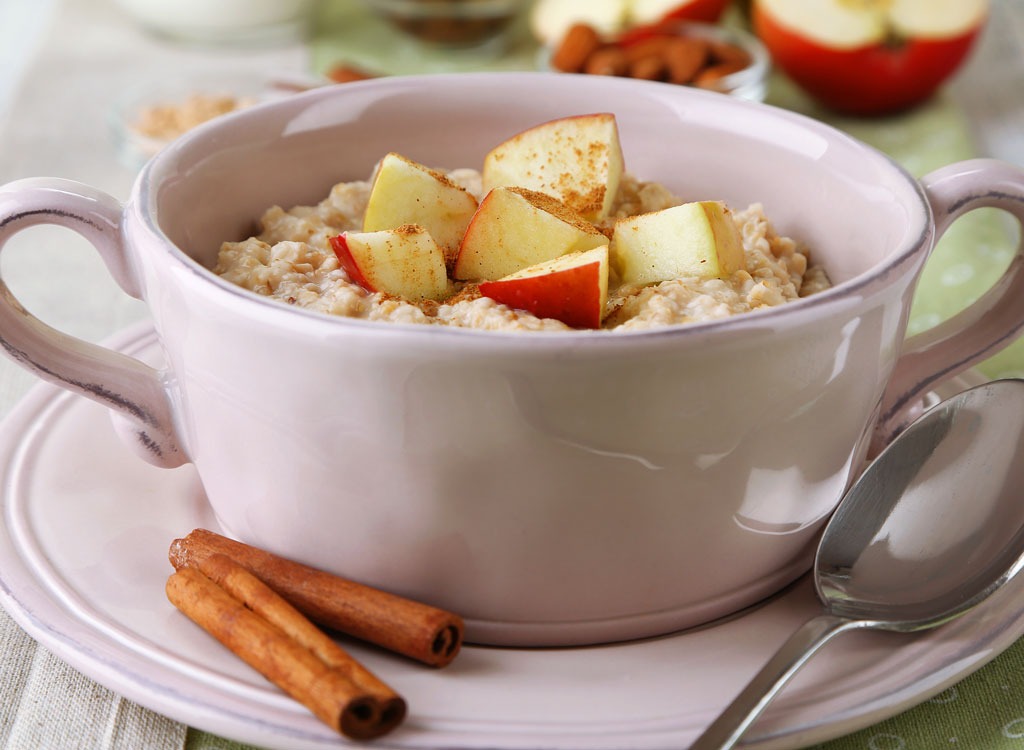 Not only is it packed with fiber, a nutrient that's been shown to improve health and accelerate weight loss, oatmeal is also one of the very best sources of resistant starch. A type of carbohydrate that digests slowly and triggers the release of appetite-suppressing digestive acids. Since it's such a powerful health food, we're constantly on the lookout for new ways to eat it. One idea we're planning to try this fall: apple cider oats. Making it is simple: you simply swap out the water or milk you typically use in your morning oats and use cider instead. If you're watching your sugar intake, you could even use a mixture comprised of 50 percent water or milk and 50 percent cider. Top off the concoction with chopped apples and cinnamon for some added flavor and texture. For even more creative and tasty oatmeal ideas, read up on these 50 Best Overnight Oats Recipes.
Use it In a Soup
Many people would say that the only thing better than eating apple-everything all season long is curling up on the couch with some hot soup. I'd disagree. I'd say that the best thing about fall is that you can do both at the same time. Yes, that's right, apple cider soup exists. And even though the idea of such a thing may be a bit unappetizing, I can assure you that it's quite the opposite. Here's how to make an onion and apple cider soup:
What You'll Need
•4 tablespoons unsalted, grass-fed butter
•3 tablespoons extra virgin olive oil
•5 large onions, thinly sliced
•3 cups low-sodium beef broth
•2 cups apple cider
•12 large thyme sprigs
How To Make It
Step 1
Melt the butter and oil in large pot over medium-high heat. Add onions and sauté for about 20 minutes or until they soften and brown.
Step 2
Add beef broth, apple cider, and thyme sprigs. After the mixture has come to a boil, reduce the heat and season with salt and pepper.
Step 3
Simmer the soup, uncovered for about 25 minutes.
Step 4
Discard thyme sprigs before serving.
Yields five to six servings
Make a Smoothie With It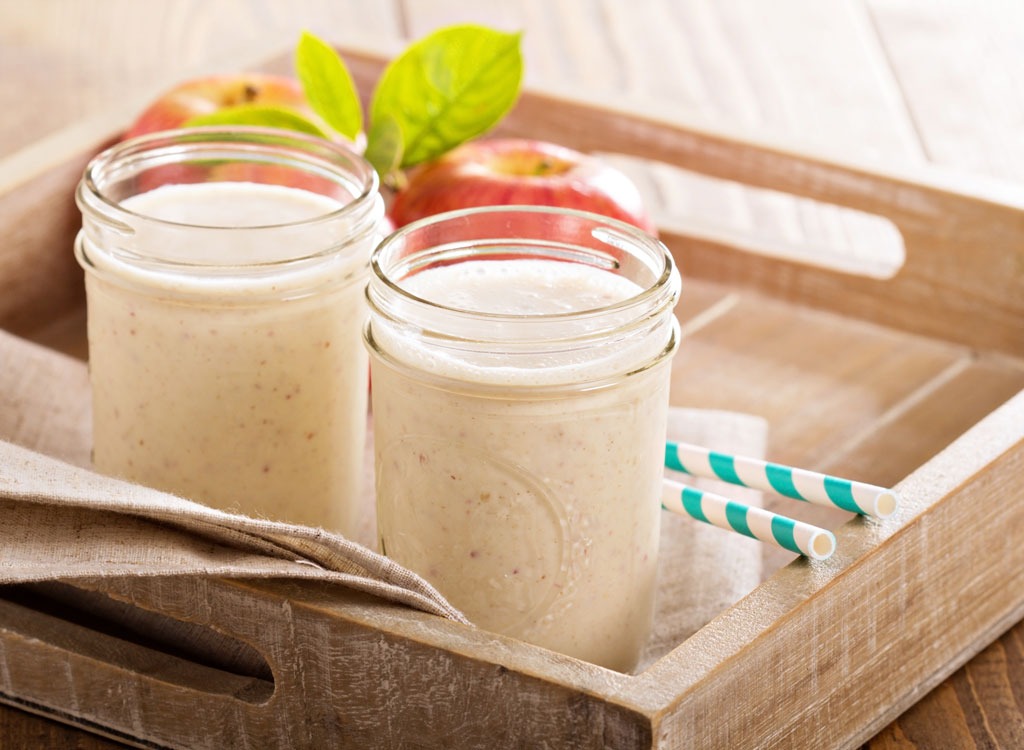 What do you get when you blend a ½ cup of plain Greek yogurt with a ¾ cup of apple cider, apple slices, nutmeg, cinnamon, maple syrup and ice? One of the most festive fall smoothies of all time! Give this simple, protein-filled recipe a try to mix-up your morning breakfast routine and start your day off on the right foot.
Make Baked Chicken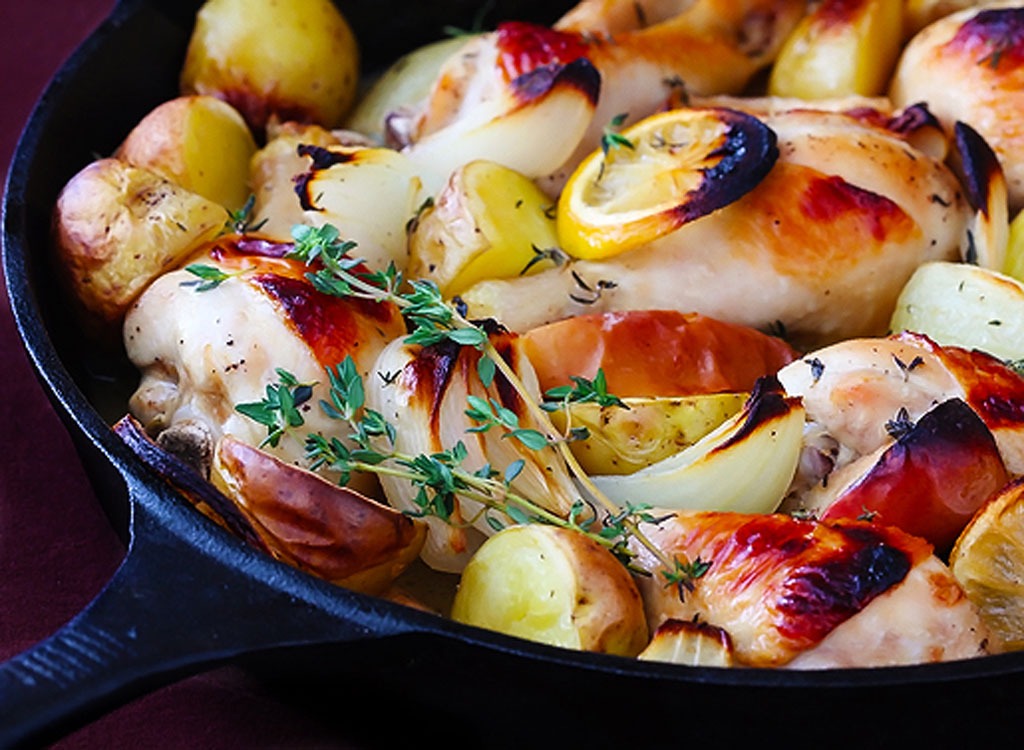 If you typically come home from the office to a house full of hungry people begging for dinner, this baked chicken recipe is for you. All you need is 10 minutes in the morning to prep the chicken marinade, and then all the flavors mingle together in the fridge while you're out. Once you're home you just slice up the veggies and pop everything in the oven. You can get your hands on the recipe at Gimme Some Oven.
Make Fall-Themed Pulled Pork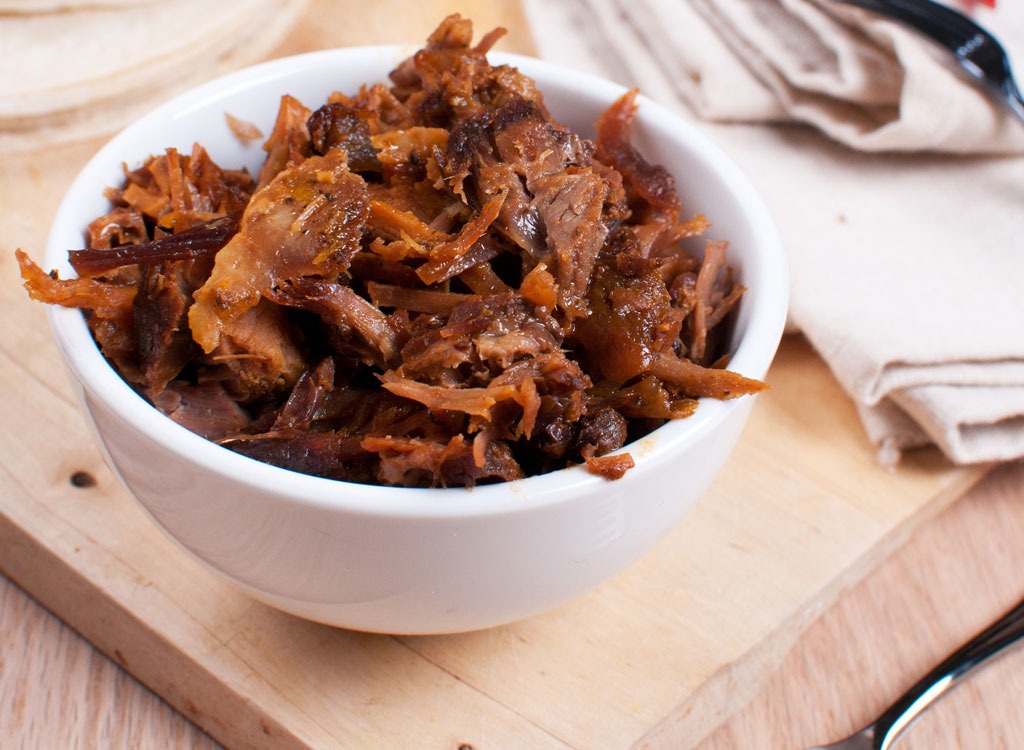 Here at Eat This, Not That! we love healthy crock pot recipes because all you have to do is fill 'er up and press 'cook' to create a healthy meal. It's beyond simple. And if you were to ask anyone who's made pulled pork at home, they'll tell you that using a crock pot is one of the best ways to get a tender, juicy and flavorful final product. To make your go-to recipe fall-ready, replace the primary basting liquid with apple cider. Lack culinary creativity? Follow our full recipe below.
What You'll Need
•3 pounds pork shoulder
•1 medium onion, sliced
•2 cups apple cider
•4 tbsp low-sugar barbecue sauce (we like Stubb's Original Bar-B-Q Sauce)
•½ cup organic ketchup
•¼ cup brown sugar
•1½ tsp.cumin
•1½ tsp.paprika
•1½ tsp.garlic powder
•Salt and pepper to taste
Step 1
Add all the ingredients to a crock pot (the pork should be fat-side-up), turn the heat on low and cook for 6 to 7 hours. The meat should easily fall apart with a fork.
Yields 6 servings
For even more delicious and simple meal ideas, check out these 35 Healthy Crock Pot Recipes!
Wake Up With an Apple Cider Mimosa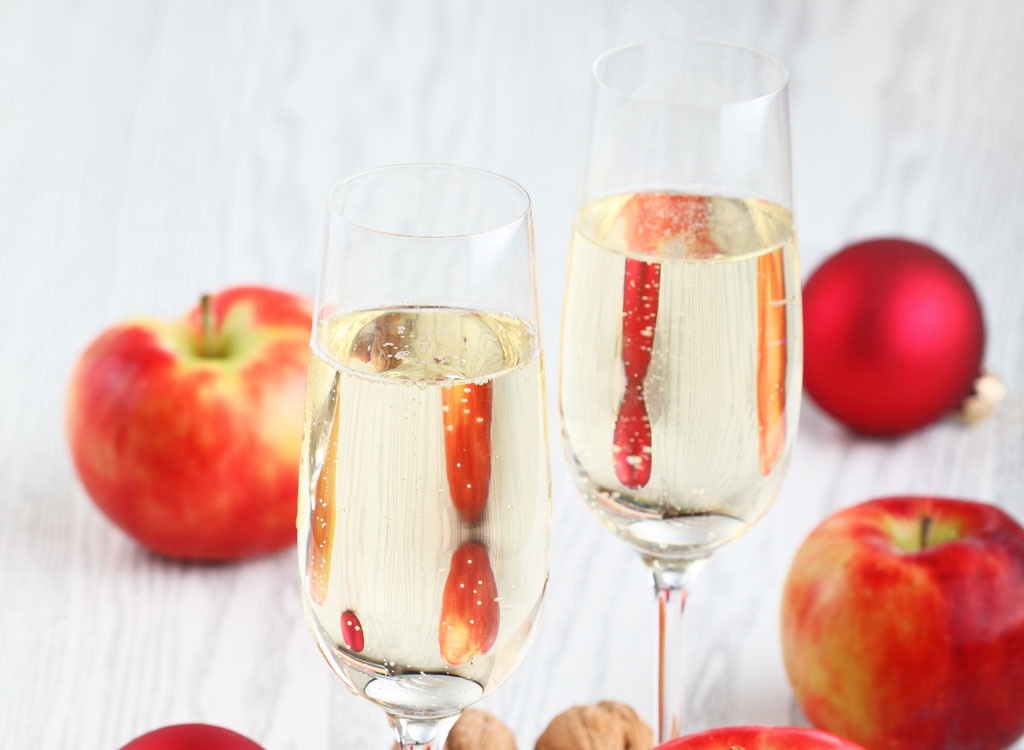 While boozing at breakfast shouldn't be a regular occurrence, a mimosa makes for a tasty celebratory drink on special occasions. And once fall rolls around, swapping out the OJ for some bitter-sweet cider seems like the logical thing to do. Amiright?! Garnish your glass with an apple slice to complete the festive look.
Use It to Flavor Veggies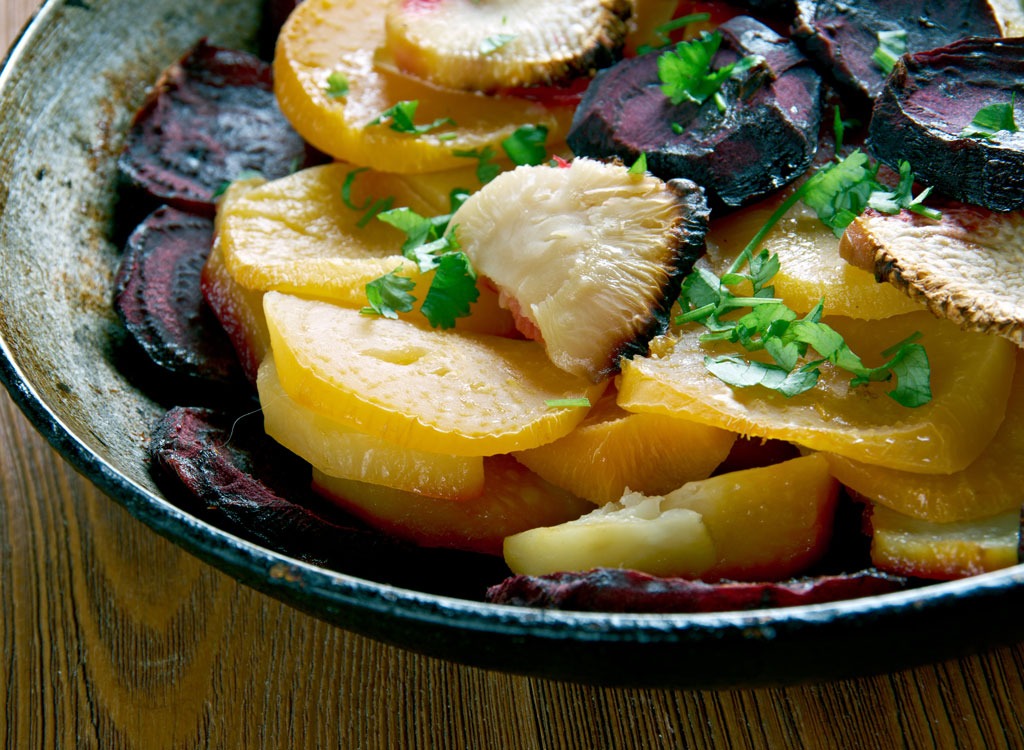 If you're making an active effort to eat more wholesome veggies but aren't a fan of their bitter taste, consider sweetening them up a bit with a cider-based braise. It's super simple to pull together. Here's how:
What You'll Need
•1 pound turnips, beets, or other root vegetables, diced
•2 cups apple cider
•2 sprigs fresh rosemary
•Salt and pepper to taste
Step 1
Put all the ingredients into a pot. Add additional water to the pot if the vegetables are not fully submerged in the liquid. Bring to a simmer and then cover and let cook for 15-20 minutes or until tender.
Step 2
Serve with a side of beef or one of these 20 Pork Chop Recipes for Weight Loss!
Try a Cider-Infused Hot Toddy
Said to cure everything from a bad cold to a broken heart, this classic cocktail is traditionally made with a whiskey, lemon, honey, and hot tea. For a drink that's just as satisfying and strong—but a touch more festive for the leaf-changing season—add some apple cider to the mix. Here's how to pull together a single serving:
What You'll Need
•2-ounces of whiskey
•1 tablespoons honey
•1 cup apple cider
•1 Earl Gray tea bag
•1 teaspoon fresh lemon juice
•Cinnamon to taste
Step 1
In a small saucepan, heat the whiskey, honey and cider over a medium-low flame.
Step 2
Once the honey dissolves, remove liquid from the heat, and add the tea bag, allowing it to steep for two minutes.
Step 3
Remove the tea bag, add lemon juice and then pour the mixture into a mug. Garnish with a lemon wedge and cinnamon to taste.
For even more creative ways to add tea to your diet, check out these 23 Incredible Tea-Based Disserts!
Update Your Thanksgiving Gravy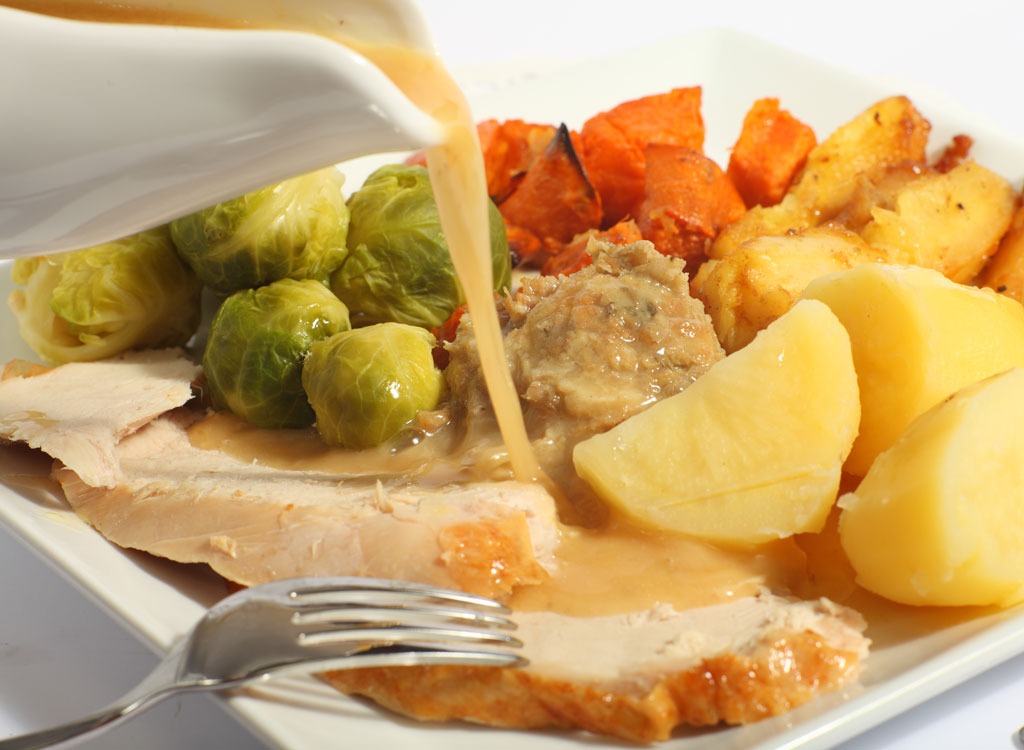 Sick of granny's same old turkey topper? Offer to make the gravy this year and add your own sweet twist. All you'll need to whip up a batch of cider-infused gravy are drippings from your holiday turkey, 2 tablespoons of whole wheat flour, 1 tablespoon of apple cider vinegar, 2 tablespoons of organic milk, and ¼ cup of spiced apple cider. After you've transferred the dripping into a saucepan over medium heat, add the flour and whisk together. As you mix, the excess grease should separate out. Discard it and then whisk in vinegar, milk, and apple cider until you achieve your the desired consistency.
Cook Up the Best Pancakes Ever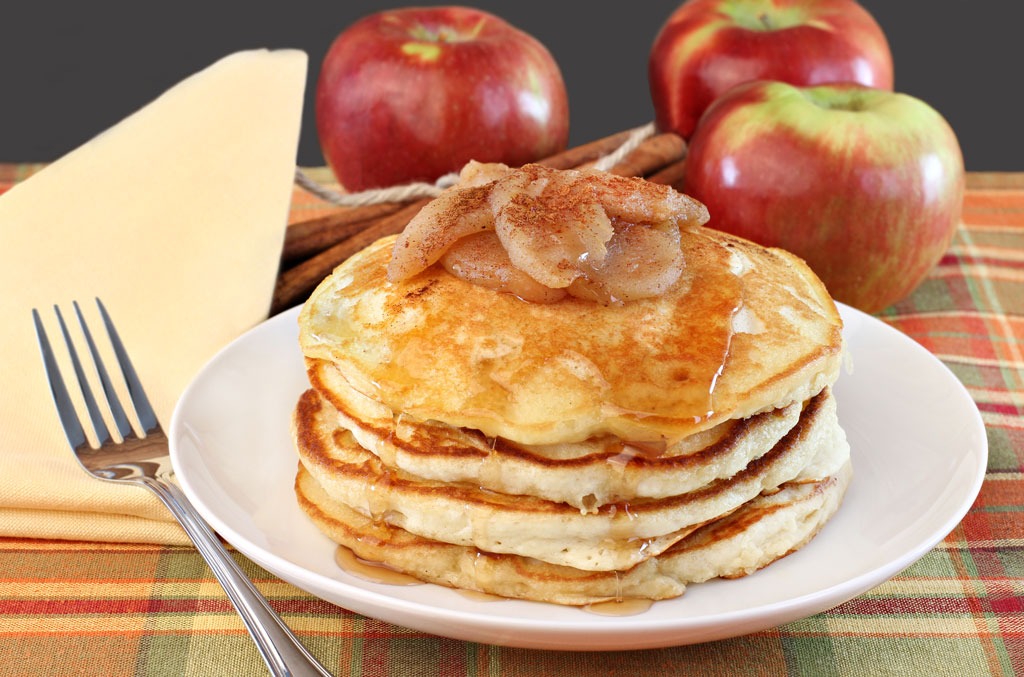 If your cheat meal of choice is pancakes, you're going to go gaga over this apple-infused spin on the classic a.m. recipe. Head on over to All Day I Dream About Food to get the 4-1-1 on how to make it.
Apple Cider Sangria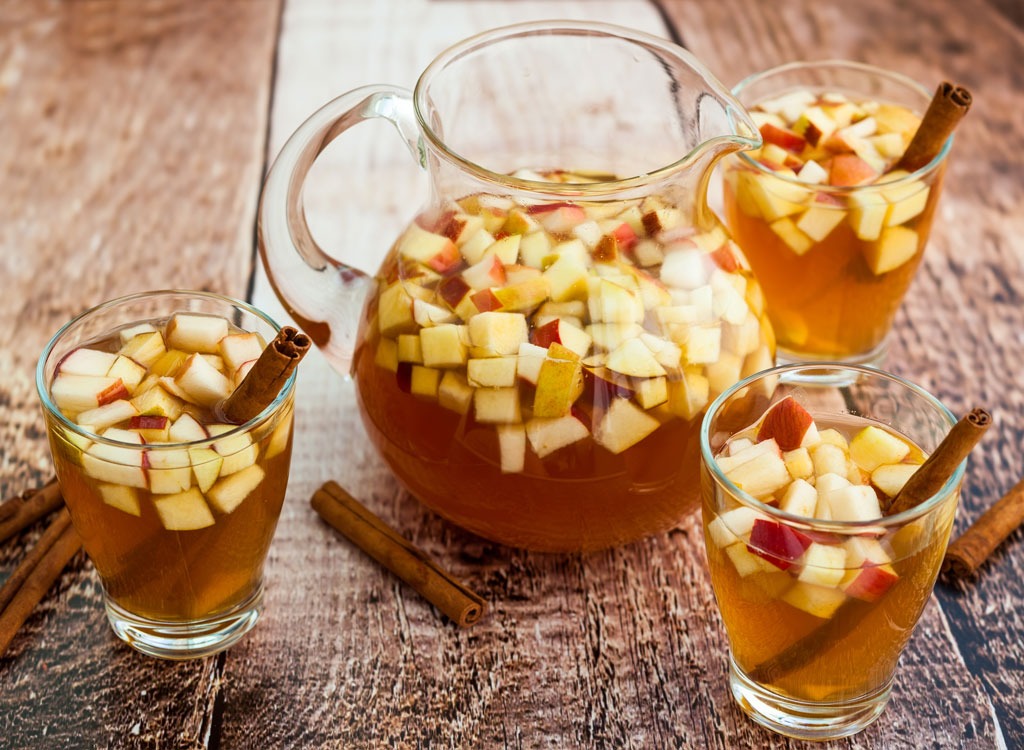 Despite conventional wisdom, sangria isn't just for the summer months. When you use pears and apples instead of peaches and strawberries and swap out peach schnapps for ginger brandy and apple cider, you get a beverage worthy of a mid-day fall tailgate. Here's how to make a batch for four to six people.
What You'll Need
•2 cups fresh apple cider
•1 cup club soda
•1 bottle pinot grigio
•1/2 cup ginger brandy
•3 apples, chopped
•3 pears, chopped
Step 1
Combine all ingredients in a pitcher and stir until well combined.
Step 2
Refrigerate for at least an hour before serving.
Bake Apples in It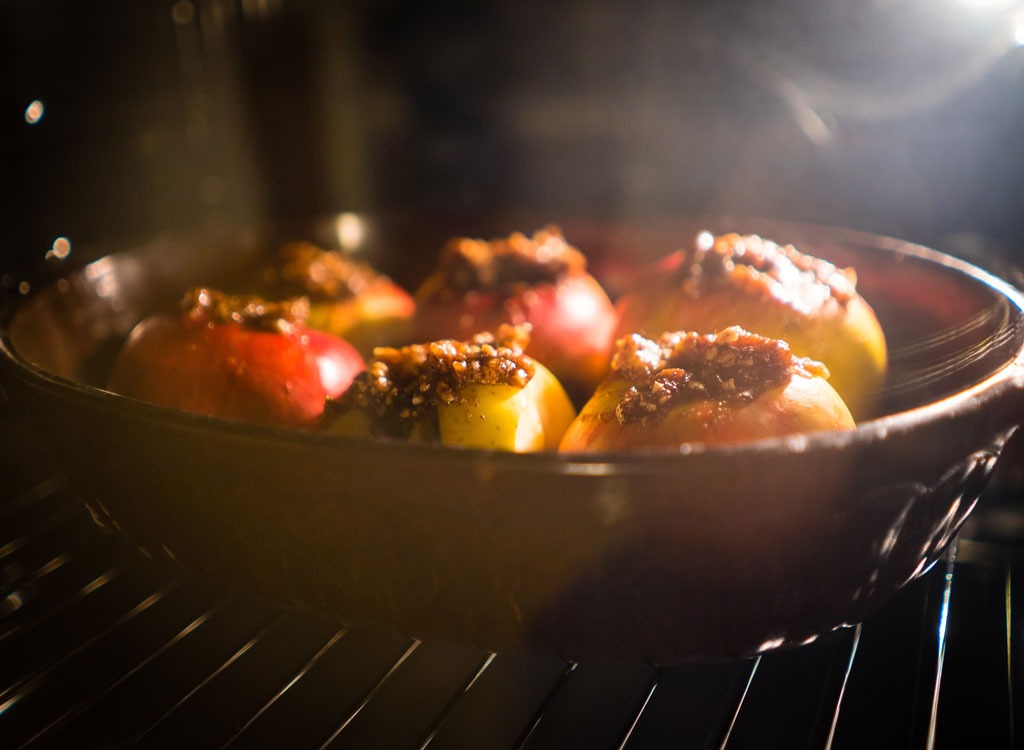 Rather than shoveling a sugary calorie-dense piece of apple pie in your mouth, opt for a similar tasting healthier alternative: homemade baked apples. The secret ingredients that sweeten this dish just enough to make it taste indulgent? You guessed it, apple cider—and some cinnamon (one of these 5 Healthiest Spices on the Planet) and lemon juice, too.
What You'll Need
•2 firm cooking apples, sliced
•Juice from ½ lemon
•¼ teaspoon ground cinnamon
•½ tablespoons brown sugar
•1 cup apple cider
•Small pinch salt
Step 1
Pre-heat oven to 350 degrees. Coat apple slices with lemon juice, cinnamon, and brown sugar and place in an oven-safe baking dish.
Step 2
Pour cider into a small skillet and bring it to a boil. Continue to boil over medium heat until the liquid reduces into a thin syrupy texture.
Step 3
Pour the cider over the seasoned apples and bake for 30 minutes, or until tender. Baste the apples in the cider syrup at the 15-minute mark, to keep the the fruit from drying out.
Freeze It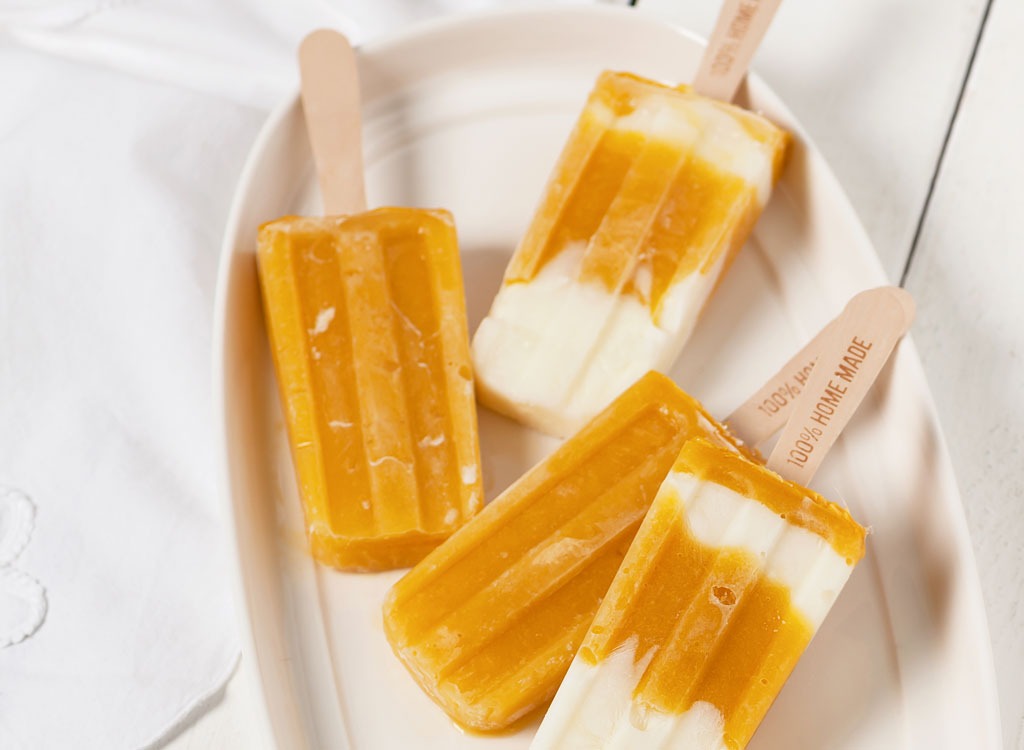 Though a lot of people don't know it, but apple cider freezes very well. In fact, many small, family-owned orchards freeze their cider for sale throughout the winter, and customers can't get enough of it. It doesn't alter the taste in the slightest. If you opt to try this at home, be sure to pour an inch or two of cider out from the container before popping it in the freezer. The liquid will expand a bit as it solidifies. Another chilly idea? Use the leftover liquid to make a popsicle. The caramel apple cider popsicle recipe from blogger, A Whisk and Two Wands sound delish! We especially love that she includes a recipe for a healthier caramel sauce made from almond butter, vanilla, agave, and salt—that's a major step up from the stuff you buy in a jar next to the sprinkles.
Make a Creamy Fruit Dip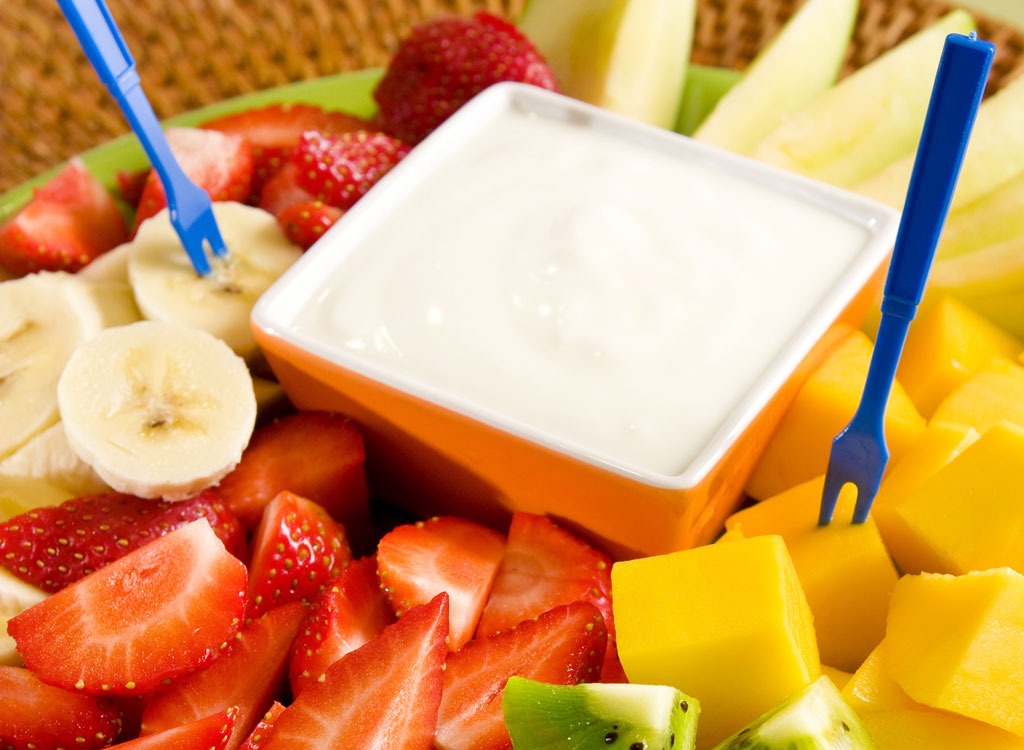 Whether you're looking for a healthy dessert option for your next party or just trying to get your little one to eat more produce, this creamy fruit dip has you covered.
What You'll Need
•4 cups apple cider
•½ teaspoon cinnamon
•⅛ tsp allspice
•1 tbsp granulated sugar
•8 oz plain, full-fat Greek yogurt
•Sliced fruit for dipping (we like pears and apples)
Step 1
Combine all ingredients (aside from the fruit for dipping!) in a serving bowl.
Step 2
Serve with your favorite fruits.