An Apple-Sausage Stuffing Recipe Packed With a Ton of Flavor
Pair this tasty side dish with everything from roast beef, ham, and of course, turkey.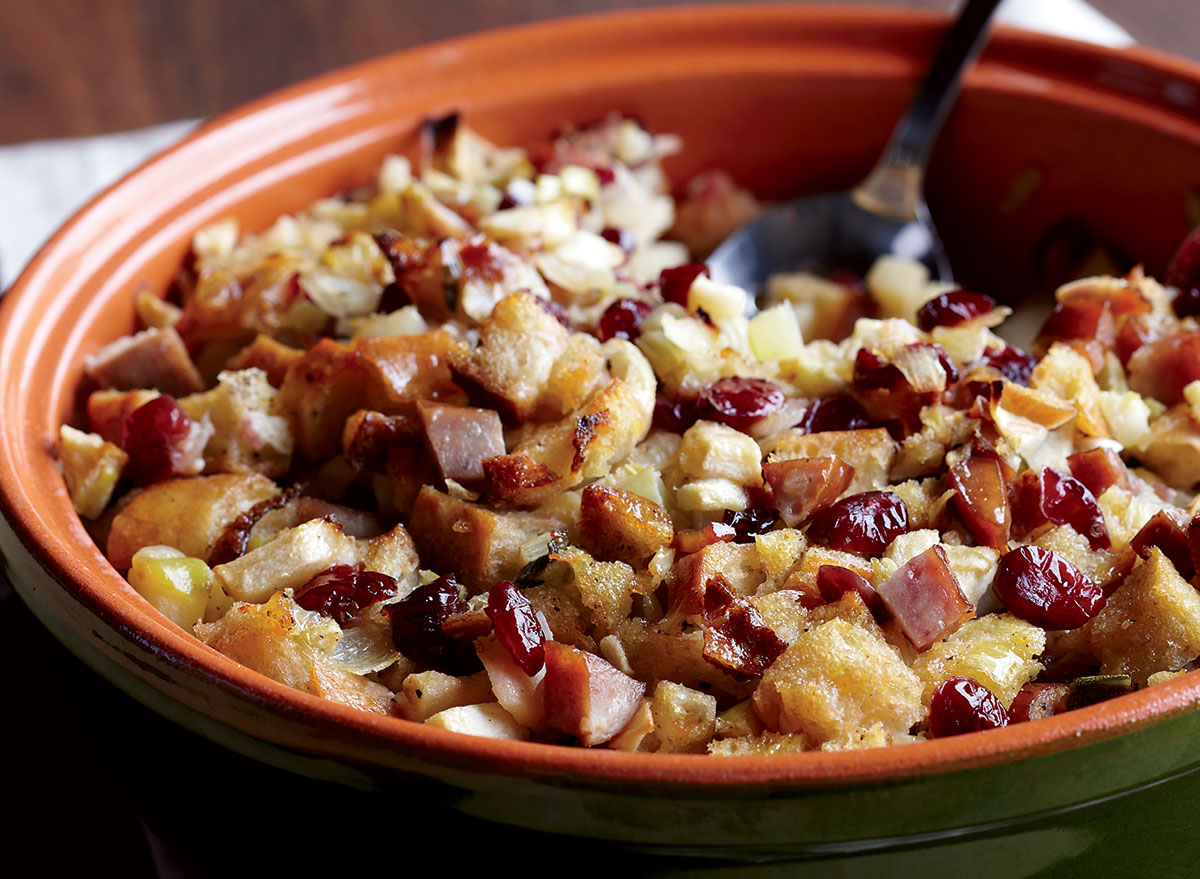 Stuffing, as the name implies, was once invariably cooked inside the bird or pig with which it is served with, where rendered turkey or pig juices would transform it into a savory…mushy mess. Don't get us wrong, stuffing is delicious, but it is simultaneously lacking in texture and loaded with needless calories. These days, stuffing is most often baked on its own, which is great, as it gives you full control over the final taste, texture, and nutritional profile, but also means you will need to punch up the flavors. In our recipe, we turn to the complex combination of sausage, tart apples, and fresh sage, which effortlessly converts a normal stuffing into something extraordinary. Alternatively, this recipe works equally well with garlic-rosemary roast beef, bourbon-glazed ham, or a roast chicken or giant Thanksgiving turkey. Or you could convert this whole occasion into a vegetarian matter by swapping the sausage out with a soy sausage and pairing with roasted vegetables. This apple sausage stuffing wasn't stuffed inside any animal, after all, so it can be stuffed into the mouths of all sorts of humans, regardless on their personal dietary choices.
Nutrition: 160 calories, 7 g fat (2.5 g saturated), 290 mg sodium
Serves 6 to 8
You'll Need
1 tsp olive oil
2 links turkey sausage, preferably apple, casings removed
1 medium onion, diced
2 stalks celery, diced
1 Granny Smith apple, cored, peeled, and diced
1⁄2 cup dried cranberries
2 cloves garlic, minced
5 cups cubed bread from a sturdy loaf or baguette, preferably whole wheat (Slightly stale bread works best. If the bread is fresh, place in a 350°F oven for 10 minutes before using.)
10–12 leaves fresh sage, chopped
1 1⁄2 cups low-sodium chicken stock
1 egg, beaten
Salt and black pepper to taste
2 Tbsp cold butter, diced6254a4d1642c605c54bf1cab17d50f1e
How to Make It
Heat the olive oil in a large skillet over medium heat.
Add the sausage, onion, celery, apple, cranberries, and garlic and sauté for about 10 minutes, until the vegetables are soft and the sausage is just cooked through.
Combine the bread, sausage-vegetable mixture, sage, stock, and egg in a large mixing bowl.
Toss to evenly coat the stuffing with the liquid. Season with a few pinches of salt and black pepper.
Place in a 13" x 9" casserole dish and dot with the butter.
Bake, uncovered, for about 40 minutes, until the top of the stuffing is nicely browned and crunchy.
This recipe (and hundreds more!) came from one of our Cook This, Not That! books. For more easy cooking ideas, you can also buy the book!