3 At-Home Cardio Workouts That Don't Involve the Treadmill
Don't have access to a treadmill? No problem! These workouts are just as productive and so convenient.
Working out at home comes with many solid benefits, but above all, the convenience really can't be beat. You can carve out time for some fitness whenever it works best with your schedule, and you don't have to deal with the hassle of or waste any extra time commuting to the gym. (Plus, during the winter months, leaving home can be a straight-up battle between the cold temps and cleaning snow off the car.) We chatted with FightCamp trainer and USA Boxing Coach certified Jess Evans, who shares three at-home cardio workouts that don't require a treadmill so you can stay on top of your exercise game without leaving the house.
Evans is passionate about at-home workouts, telling Eat This, Not That!, "You give yourself back so much time!" And better yet, Evans adds, "Once you master working out from home, you can take these workouts with you on vacation and travel from work. Learning to have a couple of these types of workouts in your fitness toolkit will pay off."
Now you have no excuse to skip out on your cardio time. If you work from home, feel free to exercise during your lunch break. If you're heading into the office, squeeze in a little sweat session before you leave for work. And if you're simply lounging on the weekends, do your cardio routine while streaming your favorite Netflix flicks.
According to Evans, "Most people are surprised at how effective cardio workouts from home can be even when you don't have access to a treadmill." So keep reading for the absolute best at-home cardio workouts that don't involve a treadmill. And next up, don't miss Drop Inches off Your Waist With This Cardio & Resistance Workout.
Jumping Rope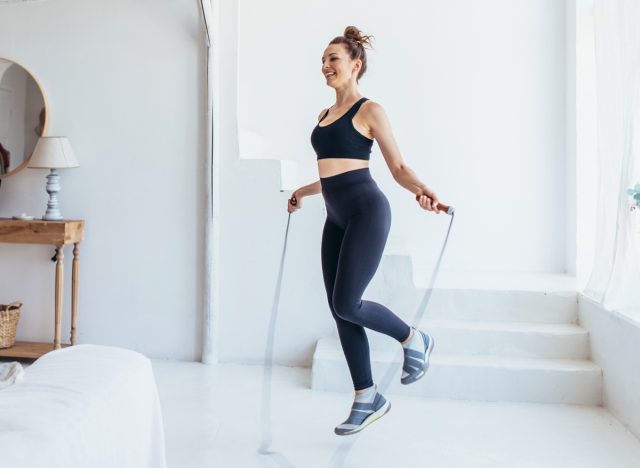 Grab your jump rope, and gear up for a stellar form of cardio conditioning. "All you need is a jump rope and a little bit of space and you are ready to go," Evans explains, adding, "In addition to getting an effective cardio workout, jumping rope can help you build and maintain bone density."6254a4d1642c605c54bf1cab17d50f1e
HIIT Conditioning
High-intensity interval training—aka HIIT—is a type of workout that features various exercises like jumping and running in place. You'll go all-out performing the exercise for a short duration, take a break to rest, and then repeat the process.
Evans points out, "It spikes the heart rate up and down. I film these types of workouts on the FightCamp app and I'm always satisfied with how they challenge my heart's efficiency. Our workouts on the app require no equipment and just a small space. They are perfect for home workouts!"
Boxing and Kickboxing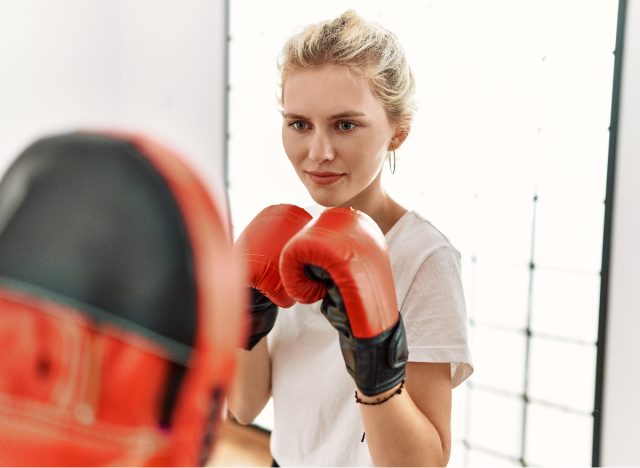 Last but not least, boxing and kickboxing are both ultra-productive ways to squeeze in some cardio at home. "What I love most about boxing and kickboxing is that they work your heart the same way as HIIT training does," Evans says, adding, "This means that your heart rate will go up as you work during the rounds and then come down during the rest in between rounds. You are working both aerobically and anaerobically. You can start with shadowboxing and for an even better experience, try coach-led workouts like what we do on the FightCamp app."
Alexa Mellardo
Alexa is the Mind + Body Deputy Editor of Eat This, Not That!, overseeing the M+B channel and delivering compelling fitness, wellness, and self-care topics to readers.
Read more about Alexa