20 Best and Worst Baking Mixes
Just because you don't have time to bake cookies or muffins from scratch, doesn't mean you need to forfeit your clean diet or weight loss plan.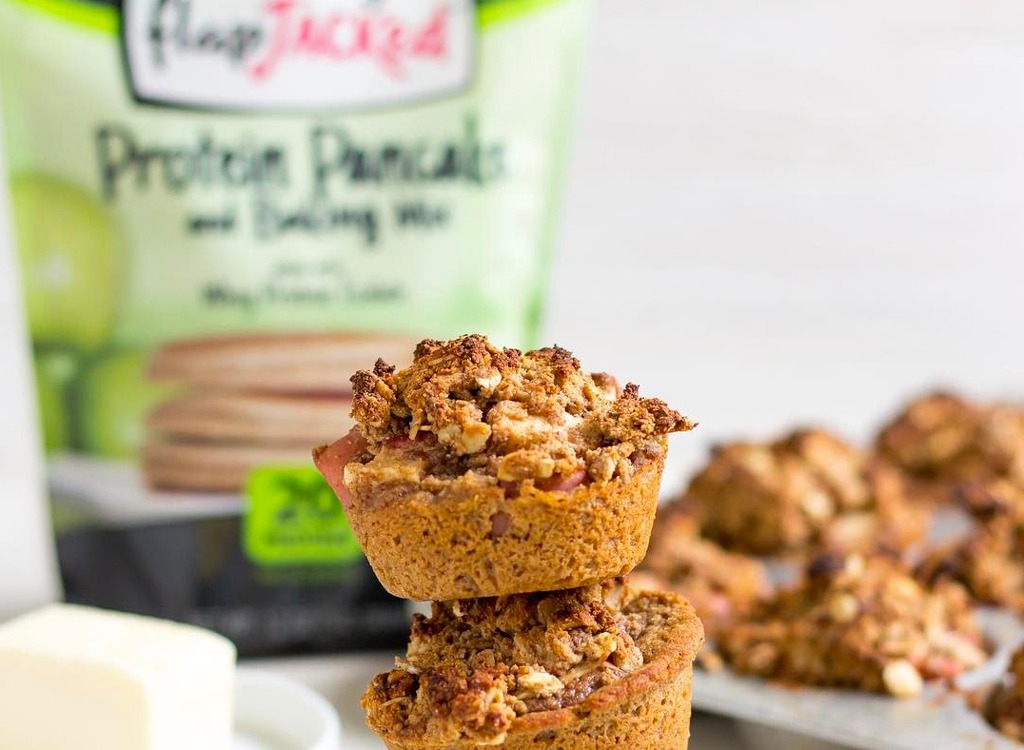 "You're seriously going to eat that?" I asked my friend Jess as she pulled a cake mix and some oil from her kitchen pantry. She shot me a look, like I was the Diet Police. "Come on," she said. "It's not like cake will kill me."
"It's not the cake I'm worried about," I said. "It's what's in it."
I reached for the red box and examined it. The ingredient panel reminded me of my college chemistry book: "hydrogenated soybean oil, red 40, butylated hydroxyanisole." The list went on…and on…and on. Not to mention, sugar was listed a full 13 times.
This list is for Jess—and for you. The team at Eat This, Not That! researched the best and worst baking mixes out there. Whether you're whipping up cookies, cake, biscuits or pizza crust, there's something here. And while you've got sweet treats on the brain, check out these 16 Hacks and Tips for Healthy Baking—it's exactly the guide you'll need for those days you want to create something totally homemade.
Eat This: Miss Jones Organic Vanilla Cake Mix (Buy It Now!)
Not That!: Duncan Hines Classic Yellow Cake Mix
Cakes should be filled with love, not chemicals and more sugar than a candy store. Which is why we suggest trading in the classic Duncan Hines box that's likely stowed away in your cupboard for something more wholesome. The red box is still filled with now-banned, artery-clogging partially hydrogenated soybean oil, inflammatory artificial flavors and colors, and something called sodium aluminum phosphate (an emulsifier on the Environmental Working Group's Watch List), while Miss Jones keeps it nice and simple. The organic-friendly, mix is free of questionable ingredients making it the better pick by a landslide. For even more ways to cut back on your intake of the sweet stuff, check out these 30 Easy Ways to Stop Eating So Much Sugar!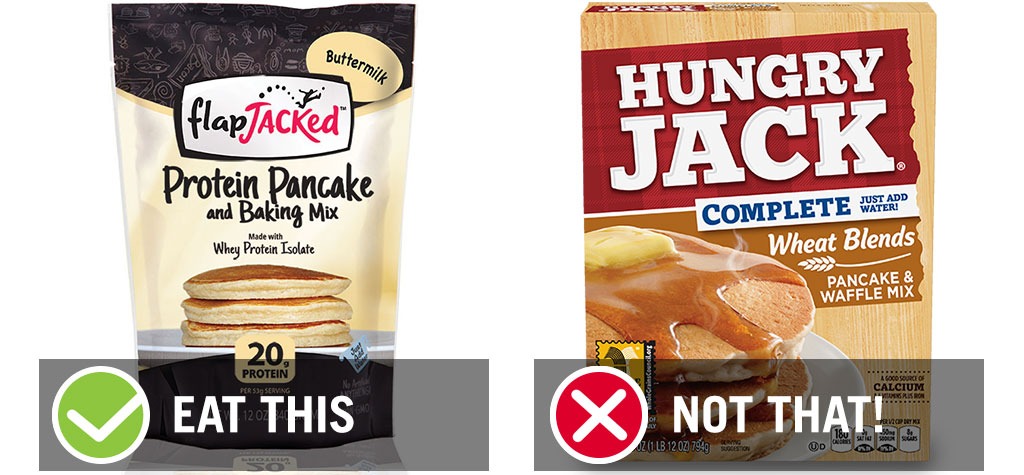 6254a4d1642c605c54bf1cab17d50f1e
Eat This: FlapJacked Protein Pancake and Baking Mix, Buttermilk (Buy It Now!)
Not That!: Hungry Jack Complete Wheat Blends Pancake & Waffle Mix
While anything with "cake" in it's title is far from the picture of health, you can keep your morning meal from totally throwing you off track by selecting a decent mix from the store. We're fans of FlapJacked Protein Pancake mix because it's made with whole wholesome ingredients like whole oat flour, organic coconut flour, and gets a muscle-building protein boost from whey protein isolate and pea protein. And with just 6 grams of sugar and an impressive—not to mention, satiating—5 grams of fiber and 20 grams of protein it's pretty hard to beat. Though if we were handing out a silver metal, it would go to Birch Benders. They have great waffle and pancake varieties like pumpkin spice, Paleo, and sweet potato, a flavor that's hitting stores soon!
With so many great options to pick from, it seems silly to bring home a mix like Hungry Jack, which is filled with heart-harming hydrogenated oils, less protein, and more sugar than the competition. To get the most out of your better-for-you flapjacks, pair them with one of the fat-burning teas from The 7-Day Flat-Belly Tea Cleanse! Test panelists lost up to 10 pounds in one week!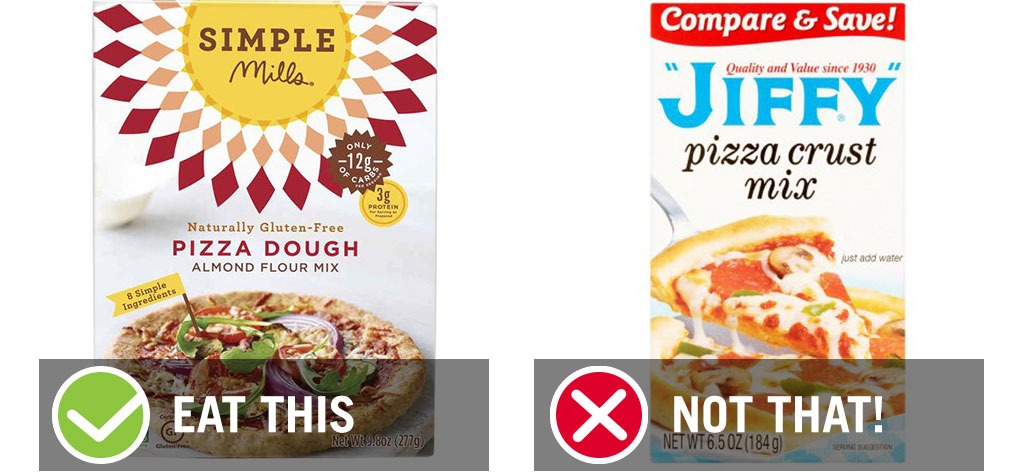 Eat This: Simple Mills Pizza Dough Mix (Buy It Now!)
Not That!: Jiffy Pizza Crust Mix
Despite its greasy reputation, when done right, pizza is actually a decent meal—there's veggies, calcium, protein and even an opportunity to sneak in some fibrous whole grains. The first step toward bringing your pie to its full nutritional potential: selecting the right dough. Jiffy's mix is made with hydrogenated lard—yes, lard. Like, from an animal. Sounds delicious, right? Simple Mill's gets our vote as the good guy because it's made with almond flour, arrowroot powder, flax meal, cauliflower, and a mix of spices. It also has fewer calories and less sodium than Jiffy earning it additional gold stars. And on the nights you don't want to roll up your sleeves to cook, turn to our official guide, The 25 Best and Worst Frozen Pizzas for the best picks.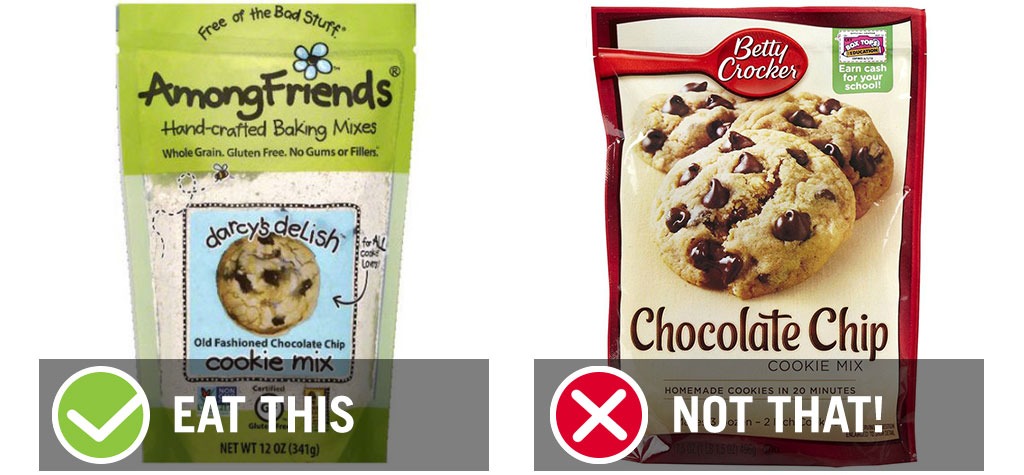 Eat This: Among Friends Darcy's Delish Old Fashioned Chocolate Chip Cookie Mix (Buy It Now!)
Not That!: Betty Crocker Chocolate Chip Cookie Mix
It doesn't matter who you are, when you bite into a cookie, it's not in an attempt to nourish your body. You're feeding your soul. So you shouldn't settle for anything less than the best in terms of both quality and taste. Even though they're popular and probably what you ate growing up, Betty Crocker's cookie mixes don't fit the bill. Not only do they contain four different sources of sugar, they're filled with partially hydrogenated oils, the most dangerous types of fat in all of packaged food land. To satisfy your cookie jones, opt for the Among Friends package, which is made of only the cleanest ingredients. I made them for a party once and everyone was obsessed with them. For additional smart party picks, check out these healthy alcoholic drinks!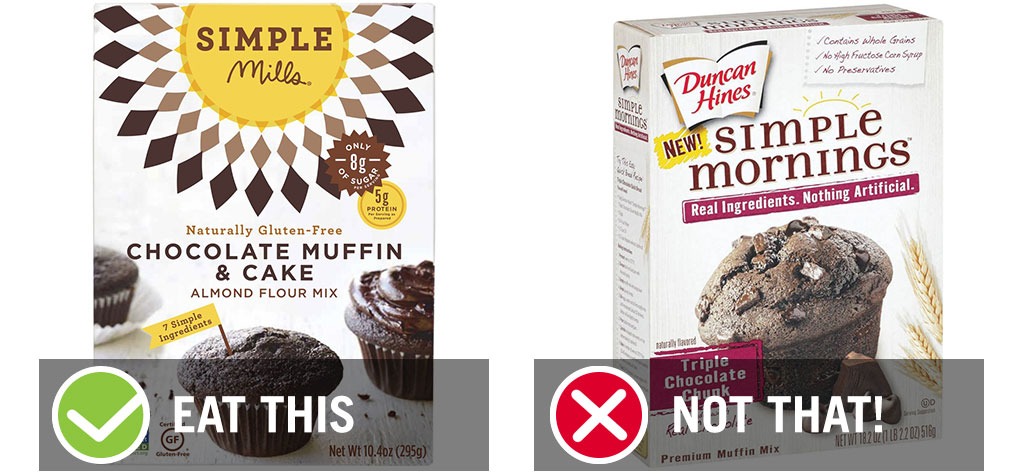 Eat This: Simple Mills Chocolate Muffin & Cake Mix (Buy It Now!)
Not That!: Duncan Hines Simple Mornings Triple Chocolate Chunk Muffin Mix
Looking for a surefire way to grow a muffin top? Eat a muffin every day for breakfast. Filled with an entire day's worth of sugar and void of any beneficial nutrients, they're one of the very worst ways to start your day—but you already knew that. Which is why you only indulge during your weekend cheat meal. Now, the hard part: picking a muffin mix that won't undo all of the diligent dieting you've done all week. While Duncan Hines' Simple Mornings mixes may look like the best bets thanks to its crisp white packaging printed with phrases like "100% whole grains" and "no preservatives" you can still do better. Simple Mill's take on the classic morning pastry is far lower in sugar (8 grams vs. 17 grams) and also gets bonus points for being super versatile. The almond flour-based mix can be used to make muffins, cake, cupcakes, or brownies (which taste amazing topped with almond butter, by the way).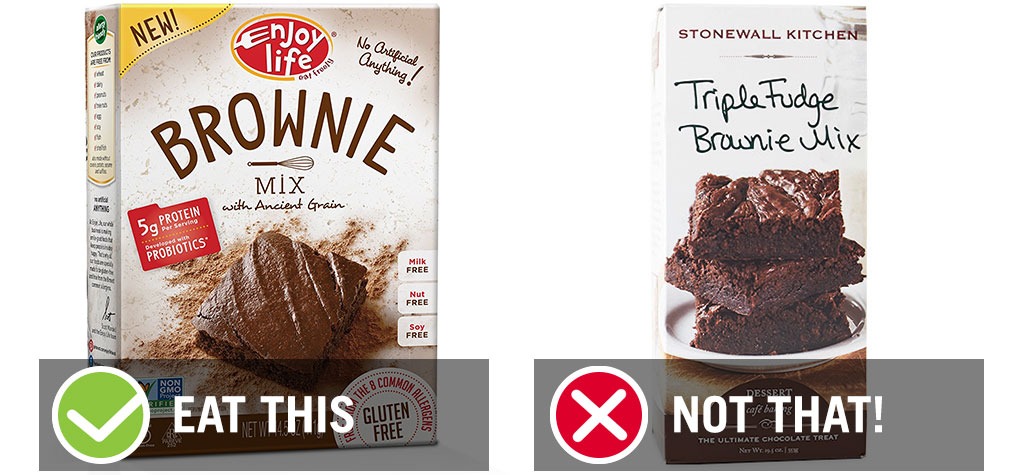 Eat This: Enjoy Life Brownie Mix with Ancient Grains (Buy It Now!)
Not That!: Stonewall Kitchen Triple Fudge Brownie Mix
They're ooey, they're gooey, heck, we'd even go so far as to say they're one of the best things on earth. Yup, we're talking about brownies. They're practically every chocolate loving dieters' Achilles heel. If you know you're going to gobble 'em up from time to time you can at least want to diminish the damage by making a mix that serves up some nutrition. Enjoy Life's take on the classic dessert, for instance, relies on dried cane sugar and chocolate chips for sweetness, but then evens the nutritional playing field by filling the rest of the box with sprouted brown rice protein, teff flour, flaxseed meal, and algal protein, a trendy new microalgae ingredient popping up in various health-centric packaged foods. Stonewall's brownies, on the other hand, are made with carcinogenic artificial dyes and have far more sugar and less protein, which means you're bound to be left feeling hungry and tired soon after you polish off your dessert plate. For even more ways to make the most of your favorite dessert, check out these 20 Best-Ever Tips and Swaps for Brownies.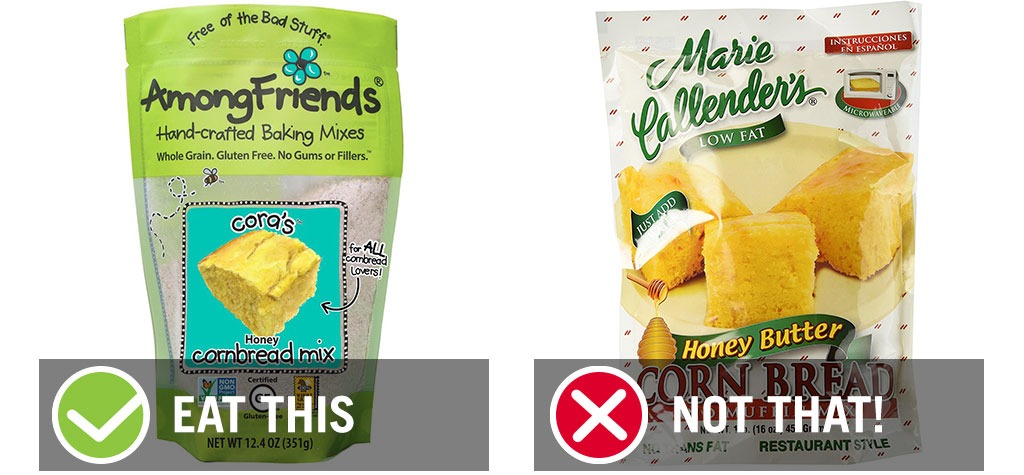 Eat This: Among Friends Cora's Honey Cornbread Mix (Buy It Now!)
Not That!: Marie Callender's Honey Butter Cornbread Mix
The cornbread is arguably the most popular item at Boston Market and Southern-style restaurant everywhere, but each one contributes 170 calories and 13 grams of sugar to your meal—not good news if you're trying to torch away your stomach fat! Sadly, for cornbread lovers across the nation, making them at home doesn't ensure your waistline is out of harm's way, either. Marie's bread has 11 grams of sugar per slice and absolutely no fiber to slow down its absorption into the bloodstream. Since the base of the Among Friend's mix is made with whole cornmeal and brown rice flour (instead of refined cornmeal and sugar) it serves up more fiber and less of the sweet stuff than it's counterpart.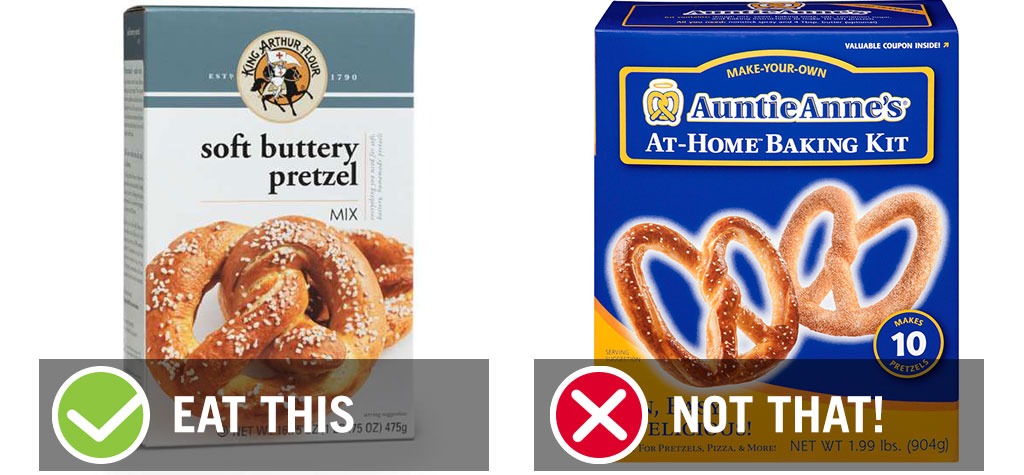 Eat This: King Author Soft Buttery Pretzel Mix (Buy It Now!)
Not That!: Auntie Anne's Pretzels & More Homemade Pretzel Baking Mix
Though neither of these twisty treats serve up much in terms of nutrition, but the King's score better in our book because they're lower in fat and sugar. They're both high in sodium, though, so be sure to wash your pretzel down with a big glass of H20 if you don't want to bloat.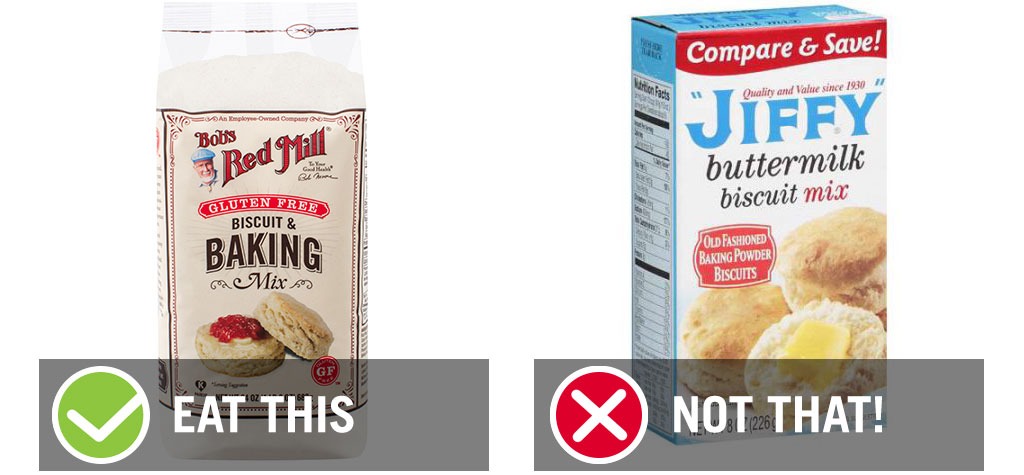 Eat This: Bob's Red Mill Gluten Free Biscuit Mix (Buy It Now!)
Not That!: Jiffy Buttermilk Biscuit Mix
It's not the fact that they're gluten-free that makes Bob's mix the better choice. Like the brand's pizza dough, Jiffy's biscuit mix contains hydrogenated lard landing it a spot on our Not That! list. No matter what mix you pick up, though, you can rest assured it's far better than many of the frozen varieties. Each of Mary B's Buttermilk Biscuits, for instance, carries three grams of trans fat per biscuit (which is more than a day's worth). For more ways to craft a more wholesome breakfast, check out these healthy breakfast ideas.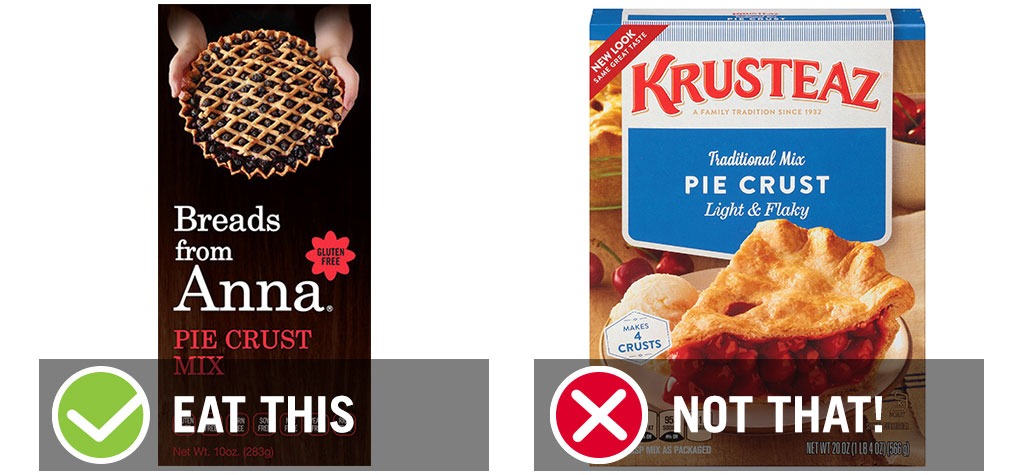 Eat This: Breads from Anna Pie Crust Mix (Buy It Now!)
Not That!: Krusteaz Pie Crust
Fall without pie is like a commercial-free Super Bowl: totally unfulfilling. So you're going to indulge, we get it. So when you do, pick your crust carefully. Made with hydrogenated oils and mono- and diglycerides (a source of fat), Krusteaz's crust serves up 6 grams of fat per slice, while Breads from Anna's is fat-free. Considering how indulgent a slice of pie can be, it's best to start building your sweet creation on the most wholesome crust possible.