I Tasted 6 Chocolate Cake Mixes & This Is the Best
If you love chocolate, this is the mix for you.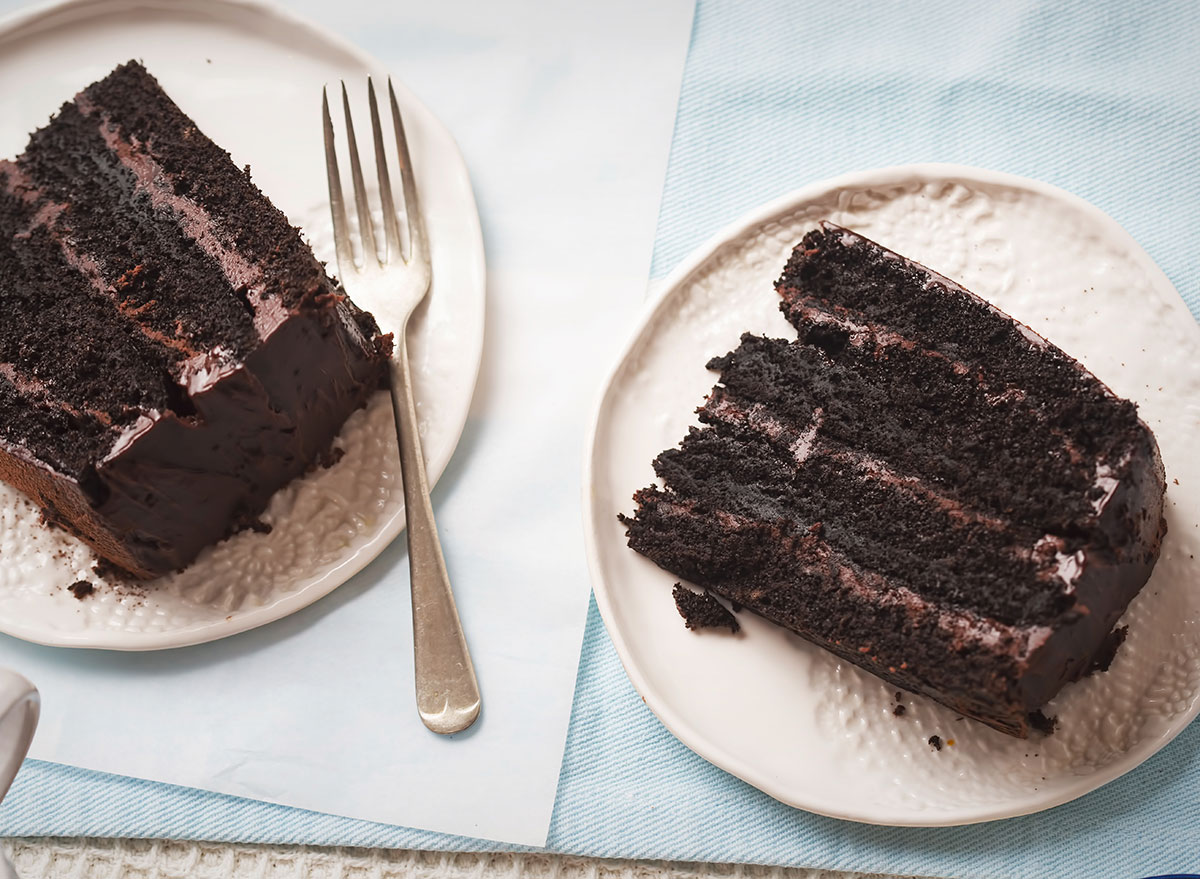 One of my favorite desserts is a big slice of chocolate cake. There's something very nostalgic about a slice of rich cake with a heap of chocolate frosting on top. It may be that I had this almost every year as a kid for my birthday, and it may be that cake is really just a vehicle for that luscious chocolate frosting from the plastic tub–you know which one I'm talking about.
The chocolate cakes I ate as a kid were most often from a boxed mix that my mom or grandma got from the grocery store and to me, they were the best cakes in the world. As an adult, I've set out to try more chocolate cakes with various icings, fillings, and toppings, but I always come back to the boxed cake mix for a comfort-filled dessert that curbs my sweet tooth for a while. Because of my love for chocolate cake, I set out to determine which boxed chocolate cake mix actually tastes the best. I rated these cakes on taste and texture and noted if the recipe didn't work quite right. Here's what I found. (Plus, if you're craving a vanilla cake, check out: We Tried 6 Vanilla Cake Mixes and This Is the Best!
Worst: Miss Jones Baking Co. Chocolate Cake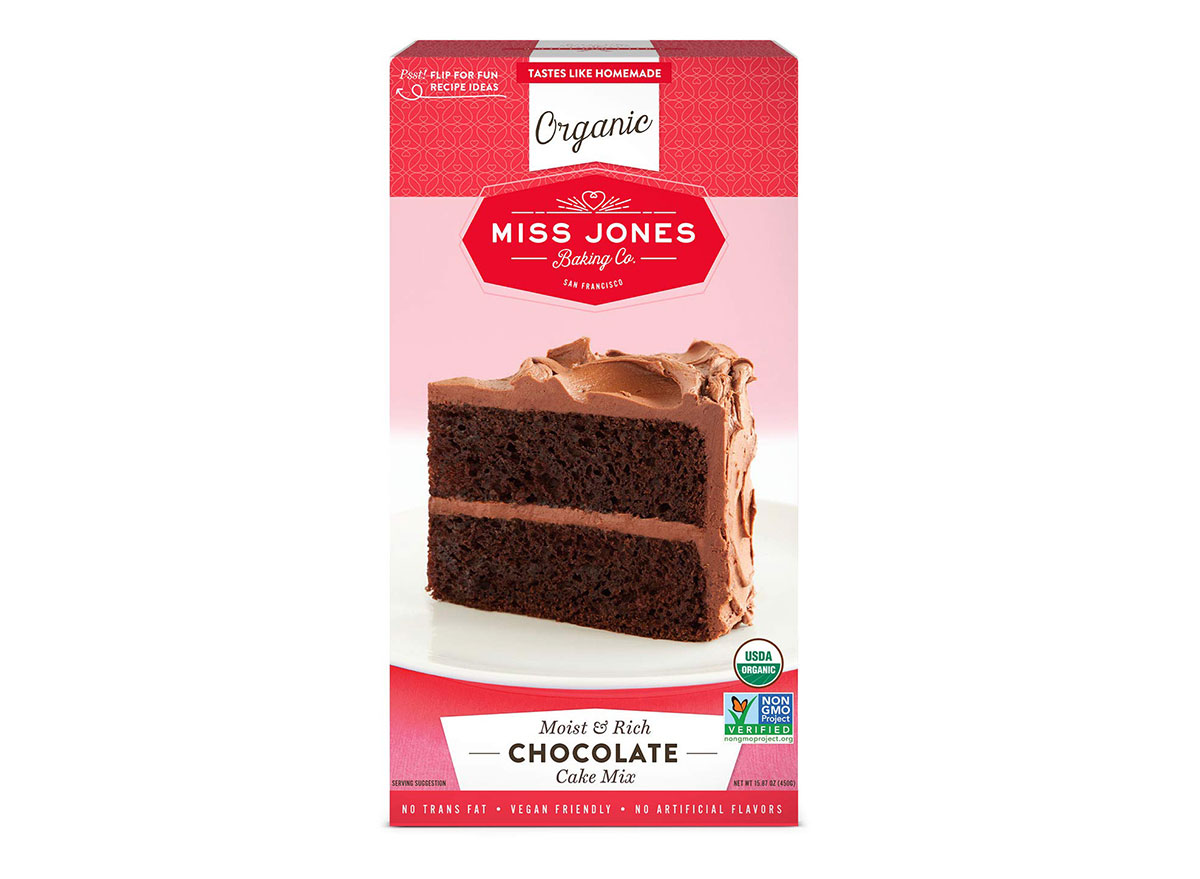 While there was nothing "wrong" with this cake once it was baked, and while I would still eat it if someone put it in front of me, one cake had to come in last. The main issue with this cake was the texture. It was very crumbly, which made it hard to eat. The cake crumbled from the moment I started to slice into it after it cooled and as I attempted to get some onto my fork. The taste was decent, but not overly chocolatey, but the fact that it couldn't even stand up to slicing was a big issue for me.
Benders Organic Chocolate Cake
I'm all for eating organic, but when it comes to cake I really just want a slice that tastes good. This one didn't quite do it for me. The texture of the cake was alright and not overly crumbly, but I wish it had a richer and deeper chocolate taste. This one almost tasted like hot chocolate powder after it has sat around for a while and lost some of its decadent chocolate flavor. If you're eating an all-organic diet, this is a win, otherwise, pick something else.
Duncan Hines Devil's Food Cake
Devil's food cake is usually the chocolate cake mix available at most grocery stores. While the Duncan Hines brand of chocolate cake did taste decent, there were better options on the table. One thing that knocked this one down the list a little is that it caved in after baking. I went back to ensure I followed the directions carefully after seeing this, and sure enough, I did, so I was disappointed that the cake sunk in. Overall, the taste was good and I was pleasantly surprised that the chocolate flavor was balanced without being overly sweet.
Pillsbury Devil's Food Cake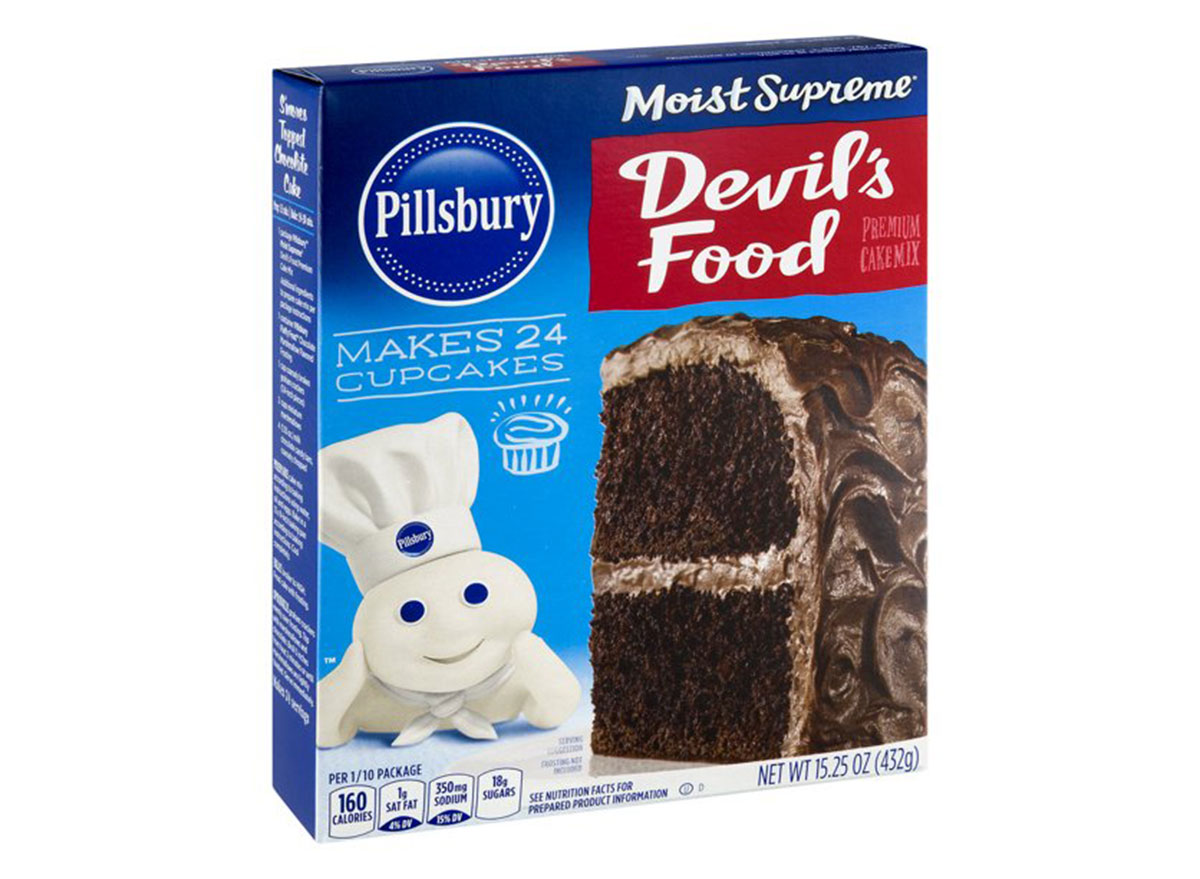 There's nothing cuter in the food world than the Pillsbury Dough Boy. His smiling face on the front of this box had me thinking I would be smiling when this cake was done too, and I definitely was. The cake was moist and perfectly cooked based on the directions on the back of the box. The chocolate flavor was prominent without being too much where I needed a break from the cake with a glass of milk.
RELATED: We Tasted 7 Brownie Mixes & This Is the Best One!6254a4d1642c605c54bf1cab17d50f1e
Great Value Deluxe Moist Devil's Food Cake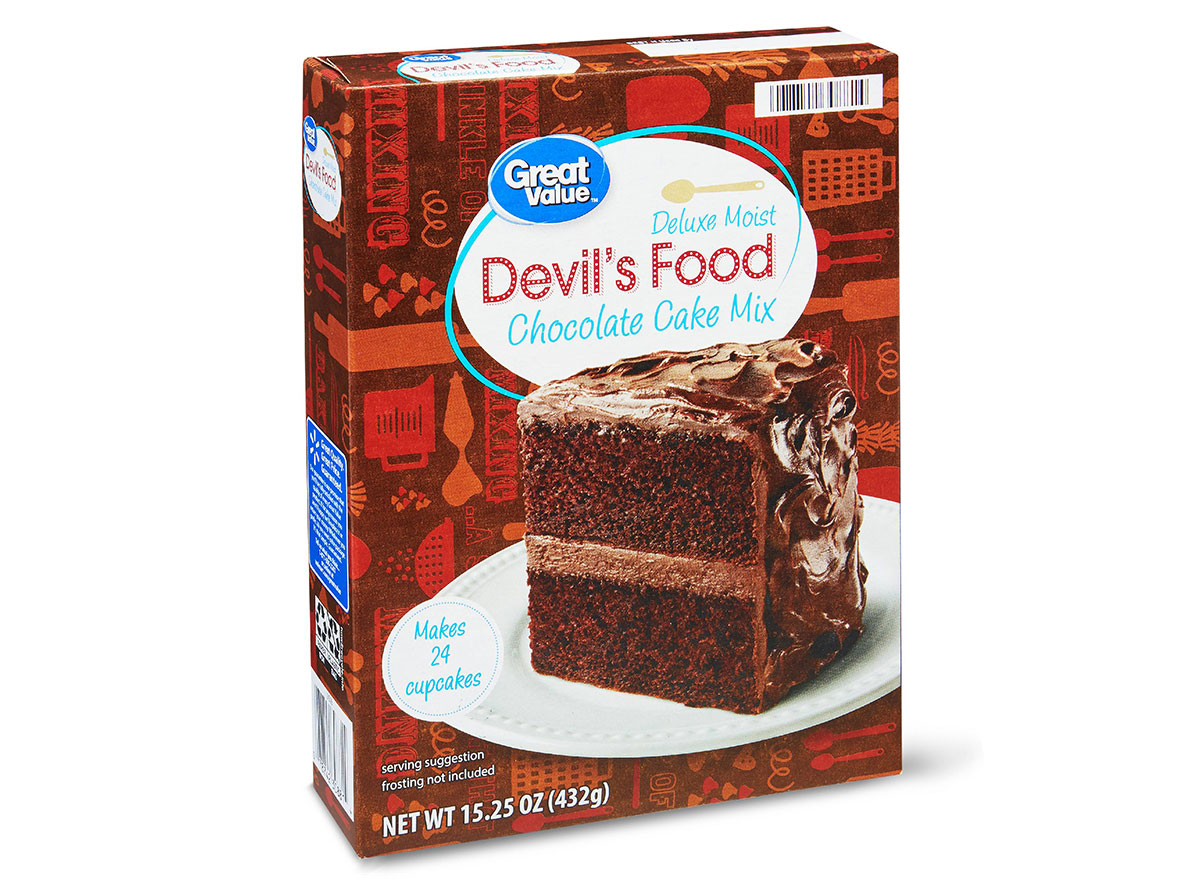 A dark horse in the chocolate cake race is the Great Value devil's food cake from Walmart. The cake was light and moist, had a great chocolate flavor, and held up to plenty of frosting being piled on top. The cake did have a slightly wrinkled top, but I think that was from me almost dropping the pan after pulling it out of the oven versus the cake not rising correctly. And let's just be honest, frosting can cover up any small cake imperfections.
Betty Crocker Super Moist Devil's Food Cake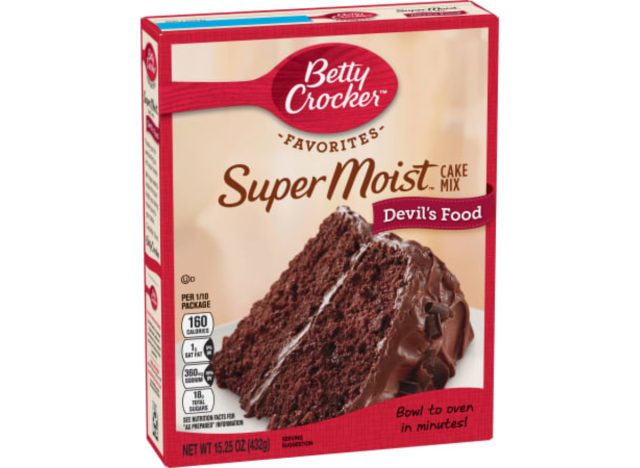 The number one chocolate cake I tasted was from Betty Crocker. The cake had a robust chocolate flavor that didn't taste artificial. I loved that the cake and the chocolate frosting complemented each other without being overpowering. What the cake lacked in sugary sweetness was made up for with a sweet layer of frosting. The cake was moist without being too much like a fudge-like brownie. If you're looking for the ultimate boxed chocolate cake mix, this is it.
Read more about your favorite chocolate desserts:
The Most Iconic Desserts in America
17 Healthy Copycat Baked Good Recipes To Make at Home
Megan duBois
Megan duBois is a travel and lifestyle journalist with bylines across the internet and in print at Delish, Conde Nast Traveler, Travel + Leisure, Yahoo Lifestyle, and more.
Read more about Megan