Warm Banana Split in a Rum Sauce Recipe
Yes, it's still a low calorie, decadent dessert, even with a hint of booze!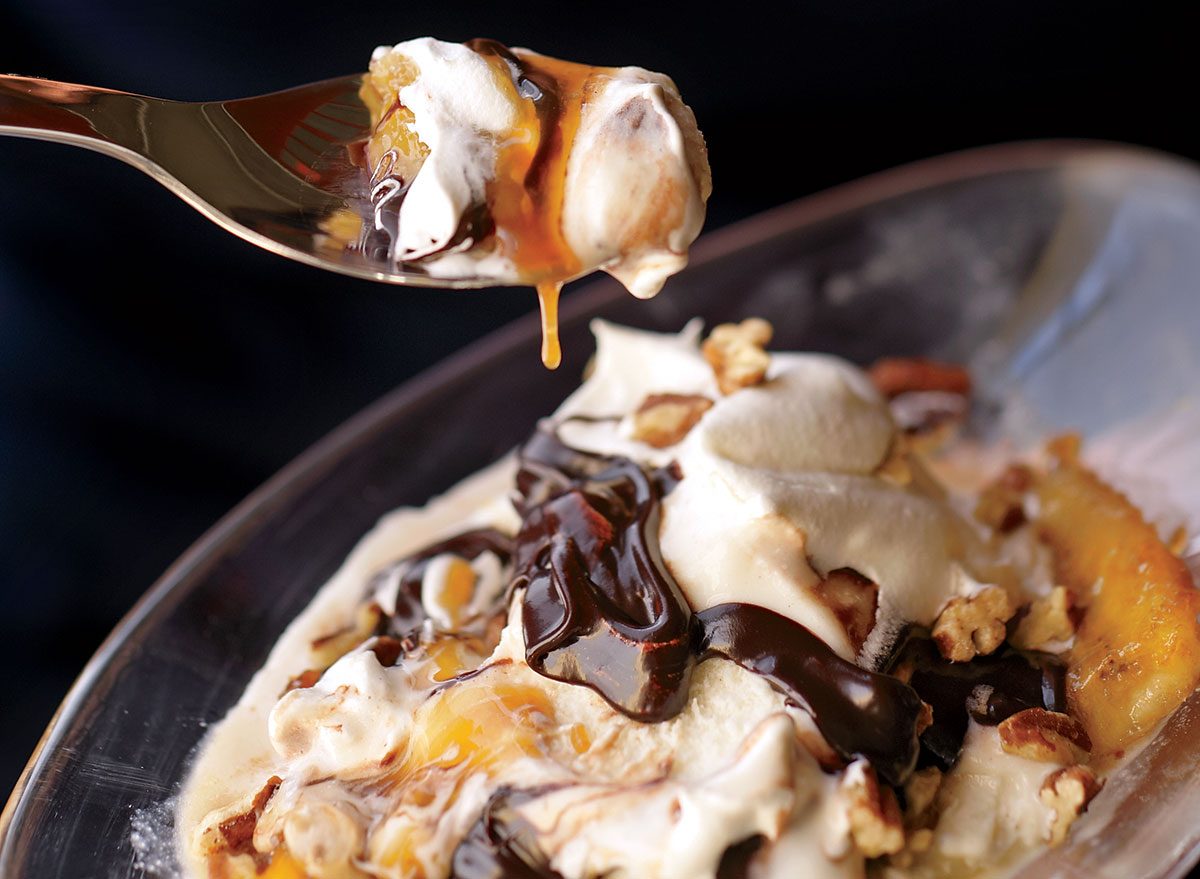 The banana split has never been mistaken for health food, but at least there used to be a certain honesty to it: a sliced banana topped with ice cream, nuts, and whipped cream. Now, the typical banana split recipe is more of a science experiment than it is real food. Take the most popular split in the country, the one from Baskin-Robbins. It has no fewer than 50 ingredients, including food dyes, locust gum, and polysorbate 80. It also has as many calories as you should consume in two full meals. Our banana split recipe, on the other hand, boasts a third of the calories, a hint of booze, and honesty that harkens to the food days of yore.
Nutrition: 350 calories, 17 g fat (6 g saturated), 26 g sugar
Serves 4
You'll Need
1⁄2 Tbsp butter
2 bananas (You want ripe but firm bananas that will still hold their shape after being hit with the heat of the pan.)
1 Tbsp brown sugar
2 Tbsp dark rum or bourbon (optional)
4 large scoops vanilla ice cream (preferably Breyers All Natural)
1⁄4 cup pecans, toasted and chopped
4 Tbsp dark chocolate syrup or hot fudge sauce
Light whipped topping6254a4d1642c605c54bf1cab17d50f1e
How to Make It
Heat the butter in a large skillet over medium heat.
Slice the bananas in half crosswise, then lengthwise.
Place the banana quarters in the hot pan with the brown sugar and cook on one side until deeply caramelized, about 2 minutes.
Turn the bananas over and cook for another 30 seconds.
Remove from the heat and add the rum. Be careful—even when the pan is removed from the heat, the alcohol can still ignite.
Place 2 banana quarters and any accumulated liquid in each of 4 bowls. Top with the ice cream, nuts, chocolate, and whipped topping.
Eat This Tip
Boozy Cooking
The point of adding booze to a recipe is not to give you a buzz; it's to add rich, complex notes to your food. Dark rum and bourbon, redolent of vanilla and caramel, pair perfectly with sweet foods; red wine and beer add nuance to savory stews and braises. In both cases, the heat burns off most of the alcohol itself, leaving just the concentrated flavors behind. When cooking with high-proof alcohol, take a few precautionary steps: Always add liquor to pans off the heat, and always keep a fire extinguisher in the kitchen.
This recipe (and hundreds more!) came from one of our Cook This, Not That! books. For more easy cooking ideas, you can also buy the book!