The Best & Worst Menu Items at Baskin-Robbins
A registered dietitian picks out the healthiest and unhealthiest sweet treats from the classic ice cream chain.
Baskin-Robbins was founded by Burt Baskin and Irv Robbins, who over 70 years ago, had the idea of offering 31 flavors of ice cream when everyone else was simply selling just vanilla, chocolate, and strawberry. Since Baskin-Robbins opened for business in 1945, it's whipped up more 1,300 flavors. So which scoop should you choose when you're looking to get your ice cream fix?
Here's a breakdown of the best and worst ice cream flavors and desserts you can get at Baskin-Robbins. Check out the healthier options—as well as the not-so-healthy choices—on the Baskin-Robbins menu.
Ice Cream Scoop Flavors
Best: Fat-Free Vanilla Frozen Yogurt
Per 2.5 oz scoop
: 80 calories, 0 g fat (0 g saturated fat), 65 mg sodium, 16 g carbs (0 g fiber, 12 g sugar), 3 g protein
Satisfy your sweet tooth with a simple fro-yo without all the frills. The fat-free vanilla has fewer calories than any ice cream flavor, plus you'll get a healthy dose of live active cultures, which may be helpful for gut health.
Best: Daiquiri Ice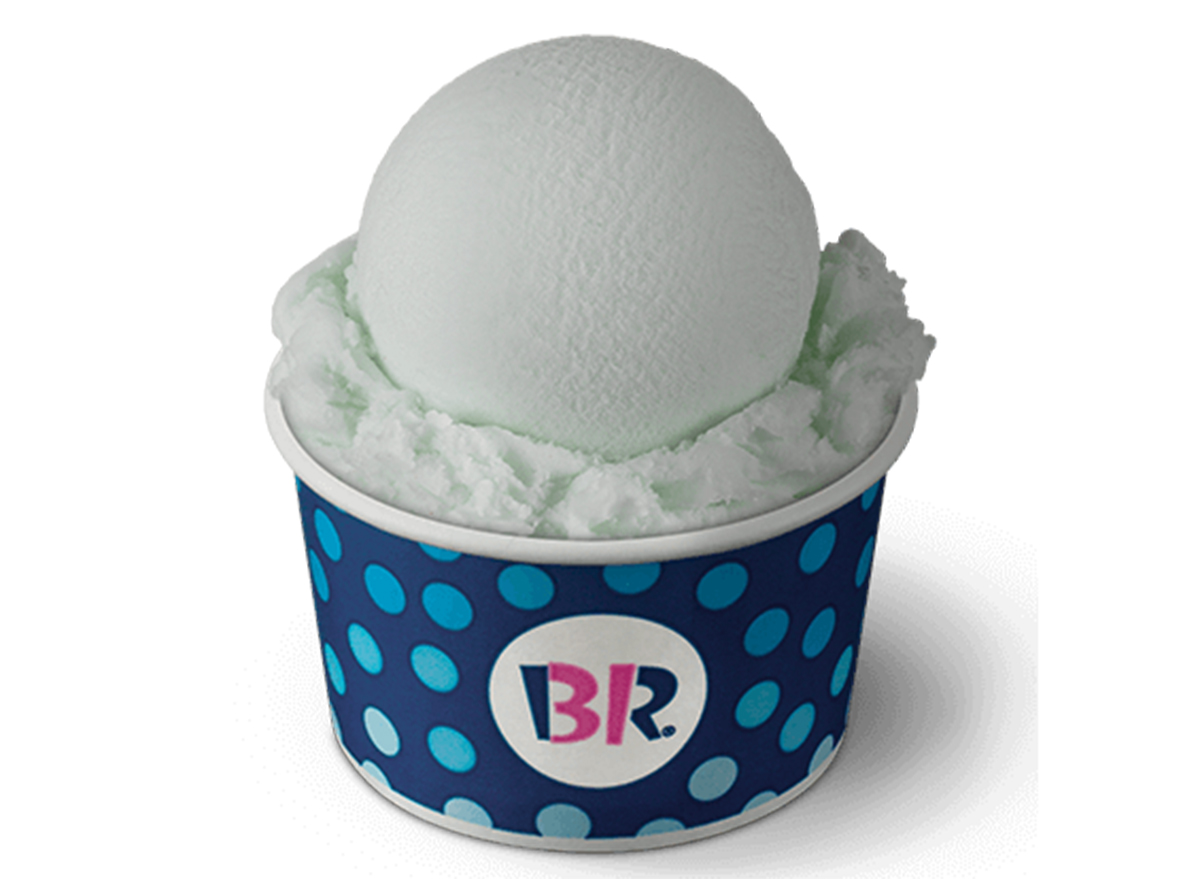 Per 2.5 oz scoop
: 60 calories, 0 g fat (0 g saturated fat), 0 mg sodium, 16 g carbs (0 g fiber, 12 g sugar), 0 g protein
This lime ice with a splash of rum flavoring has a fraction of the calories compared to most other options, with a similar amount of sugar. It's also made without any gluten-containing ingredients, so those who are gluten-free can enjoy the sweet treat, too.
Worst: Icing on the Cake® Ice Cream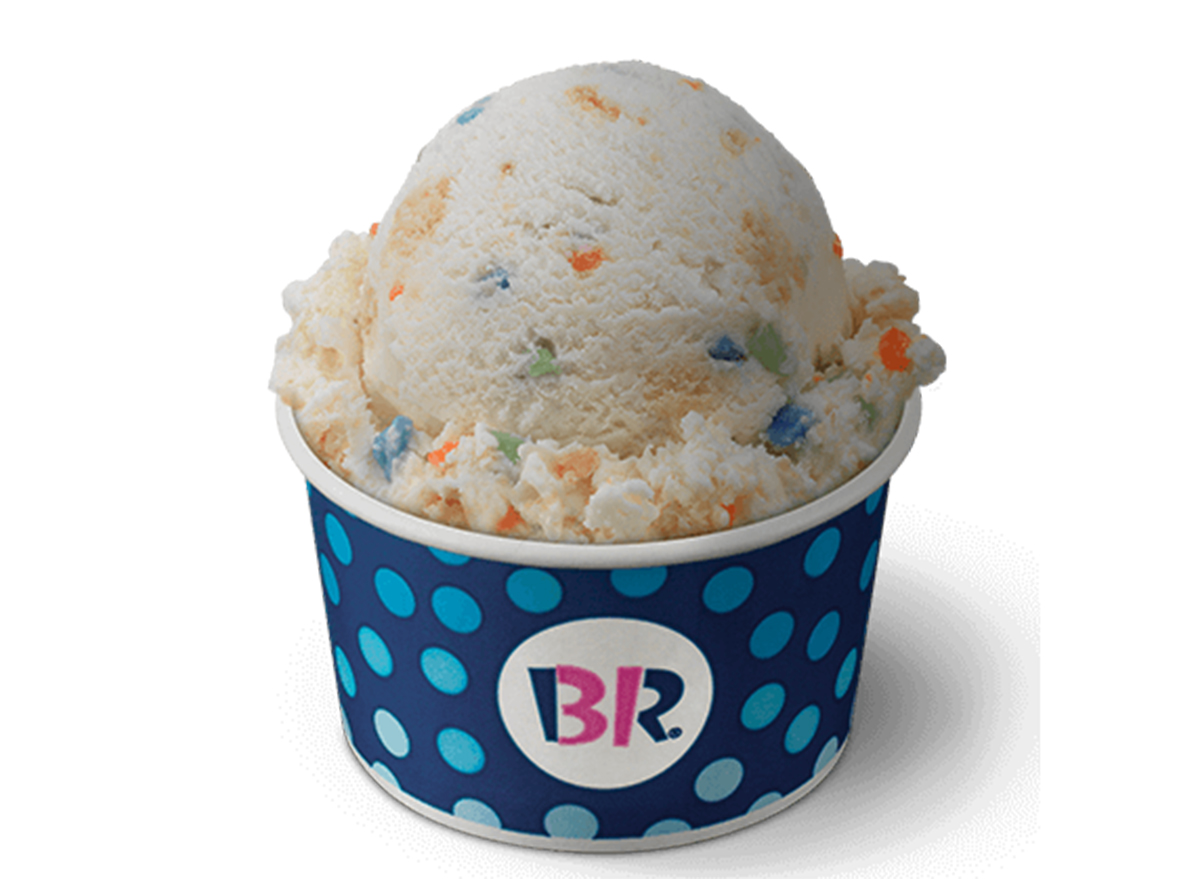 Per 4 oz scoops
: 320 calories, 18 g fat (9 g saturated fat), 100 mg sodium, 35 g carbs (0 g fiber, 28 g sugar), 4 g protein
This cake-flavored ice cream is filled with cake pieces, frosting bits, and a candy confetti ribbon. The calories are higher than any other choice of ice cream scoop flavor, and it's also packed with 7 teaspoons of sugar. No, thanks!
Sundaes
Best: Two Scoop Sundae
1 serving (216 g)
:570 calories, 33 g fat (21 g saturated fat), 200 mg sodium, 63 g carbs (2 g fiber, 52 g sugar), 9 g protein
Two scoops of your favorite ice cream are topped with caramel, hot fudge, or strawberry topping and whipped cream, nuts, and a cherry. The calories will vary depending on what ice cream flavors you order. To keep calories and added sugar at bay, opt for nonfat vanilla frozen yogurt, or plainer flavors without add nuts, chocolate, and other goodies. Sticking with the classic vanilla, chocolate, or strawberry is your best bet. You can also ask to hold some of the toppings like whipped cream to cut back on calories more.
Worst: Reese's® Peanut Butter Cup Sundae
1 serving (354 g)
: 1,250 calories, 85 g fat (33 g saturated fat), 740 mg sodium, 106 g carbs (7 g fiber, 87 g sugar), 28 g protein
This calorie and fat bomb of a sundae contains three scoops of Reese's Peanut Butter Cup ice cream with layers of Reese's Peanut Butter sauce, chopped Reese's Peanut Butter Cups, hot fudge, and whipped cream. The entire sundae contains two-thirds the calories an average American should eat in an entire day and close to 22 teaspoons of sugar.
Beverages
Best: Strawberry Banana Smoothie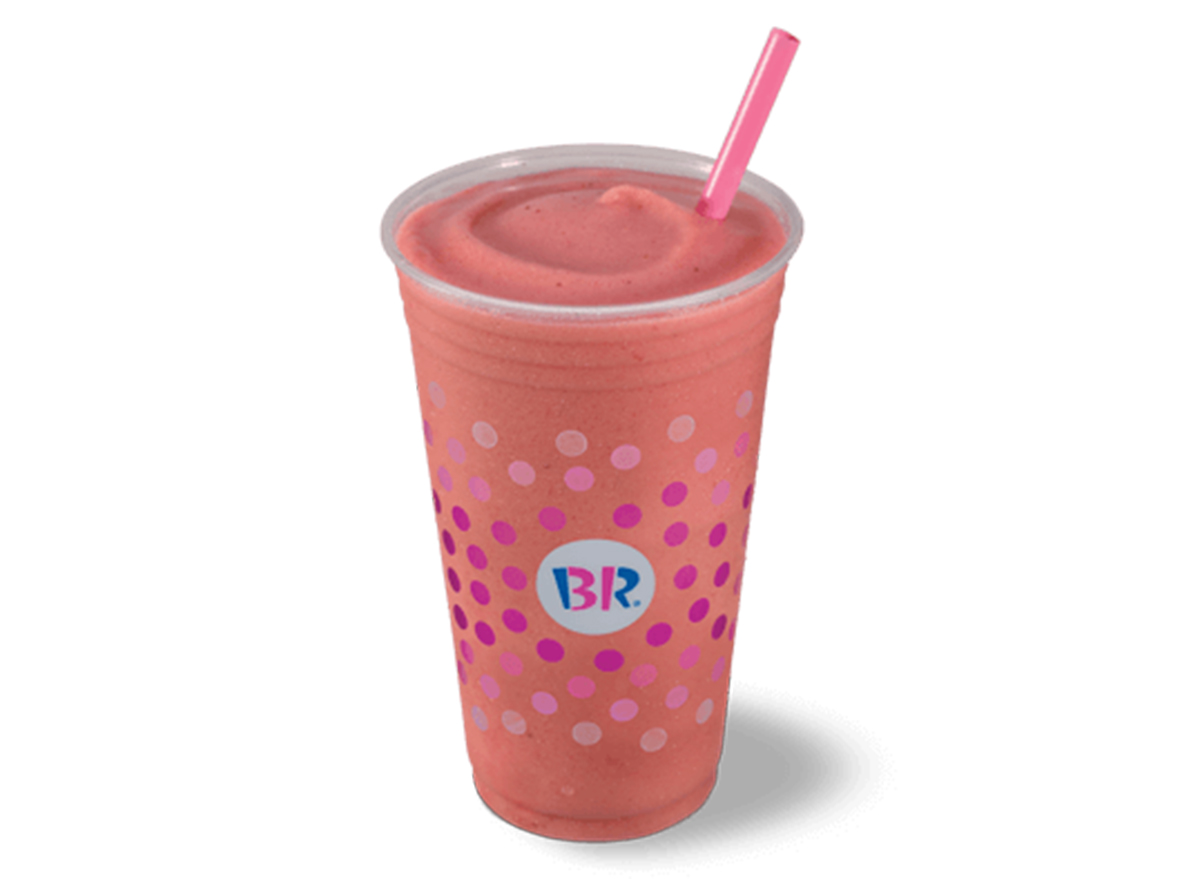 Per small (16 fl oz)
: 350 calories, 0.5 g fat (0 g saturated fat), 75 mg sodium, 87 g carbs (4 g fiber, 69 g sugar), 5 g protein
This smoothie combines nonfat vanilla frozen yogurt and banana. It's made with real fruit, and the fro-yo provides live and active cultures. Although this is the best option in this category, you're best off splitting it with a friend to help cut back on some of those calories and sugar.
Best: Original Cappuccino Blast®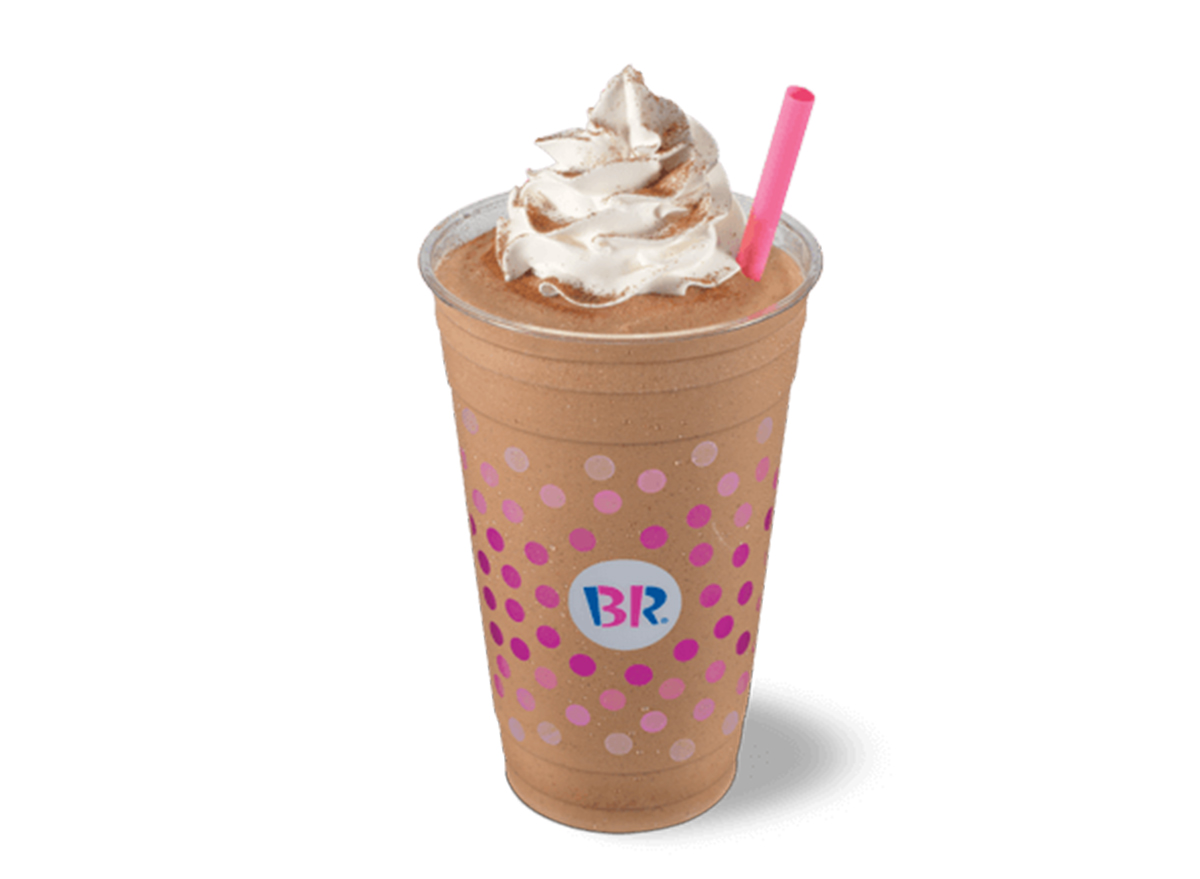 Per small (16 fl oz)
: 310 calories, 15 g fat (9 g saturated fat), 90 mg sodium, 40 g carbs (0 g fiber, 38 g sugar), 6 g protein
This drink is a combination of 100 percent Arabica coffee beans and vanilla ice cream, blended with ice, and topped with whipped cream and cinnamon. Cut back on calories and saturated fat even more though by skipping the whipped cream.
Worst: Peanut Butter 'n Chocolate Milkshake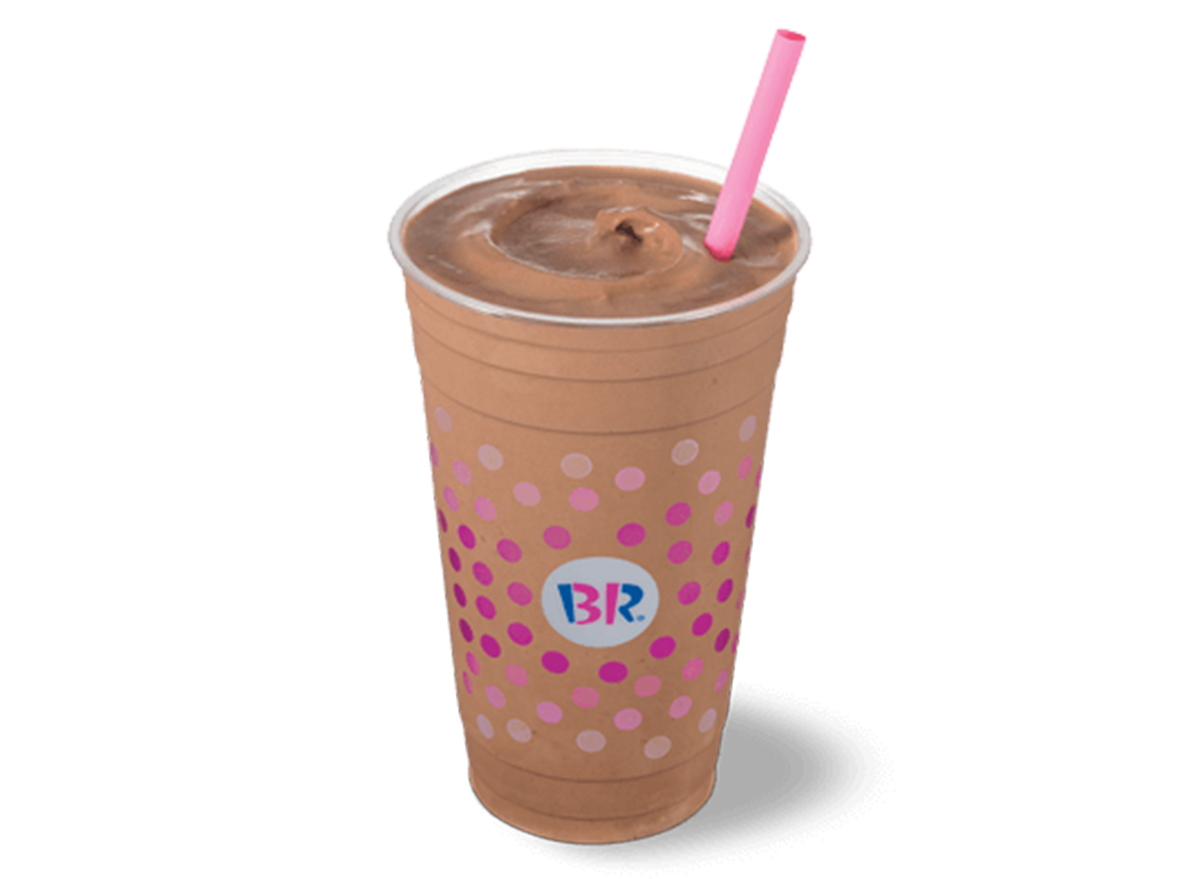 Large (32 fl oz)
: 1,580 calories, 91 g fat (42 g saturated fat), 790 mg sodium, 164 g carbs (9 g fiber, 132 g sugar), 39 g protein
This combo of peanut butter and chocolate-flavored ice cream blended with milk is just too over the top. If you slurp down the entire 32 fluid ounces, you'll be downing 79 percent of your total daily calories and four-and-a-half times the recommended daily max of artery-clogging saturated fat.
Worst: Chocolate Chip Cookie Dough Milkshake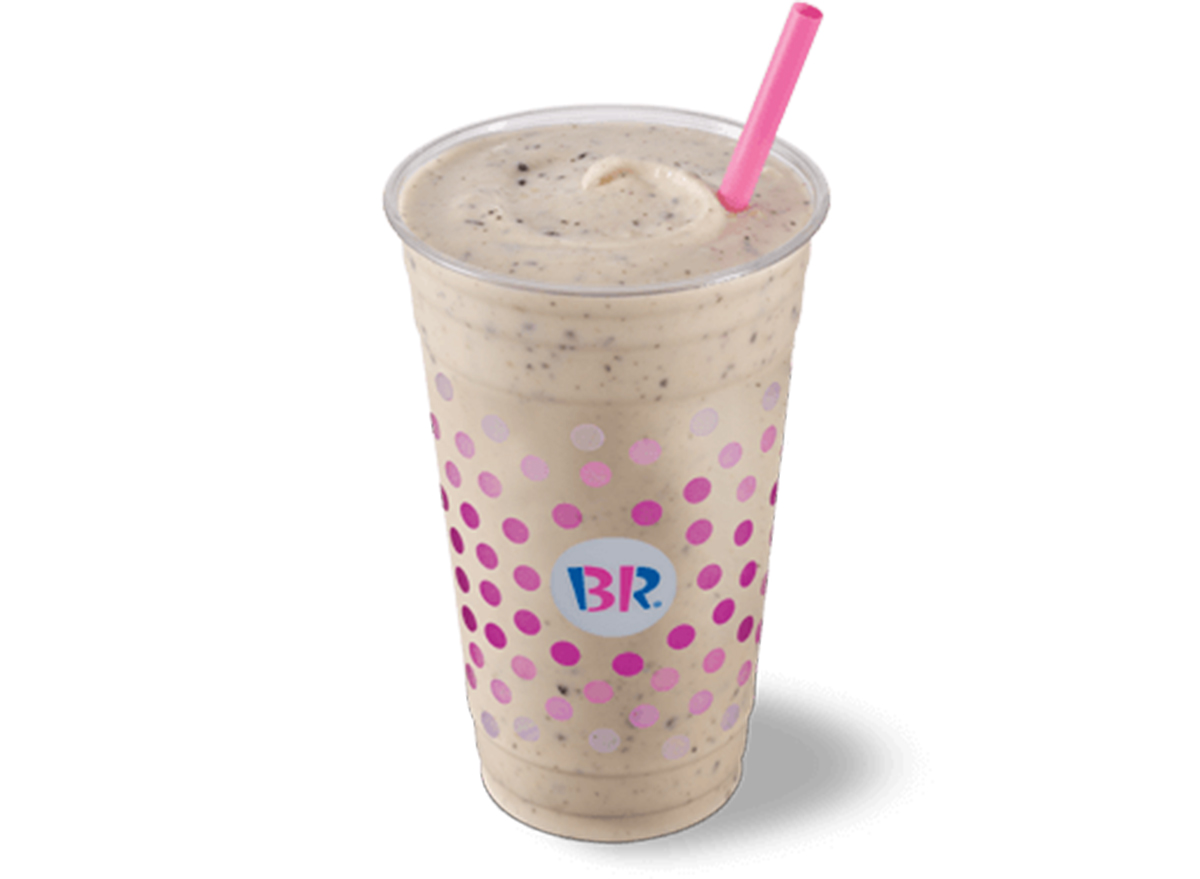 Large (32 fl oz)
: 1,520 calories, 71 g fat (47 g saturated fat), 590 mg sodium, 191 g carbs (21 g fiber, 155 g sugar), 28 g protein
Opt-out of this calorie-, saturated fat-, and sugar-loaded milkshake with vanilla-flavored chocolate chip ice cream with chunks of chocolate chip cookie dough. The amount of sugar in this bad boy is over three-quarters of a cup!
Warm Desserts
Best: Warm Cookie Sandwich- Single Scoop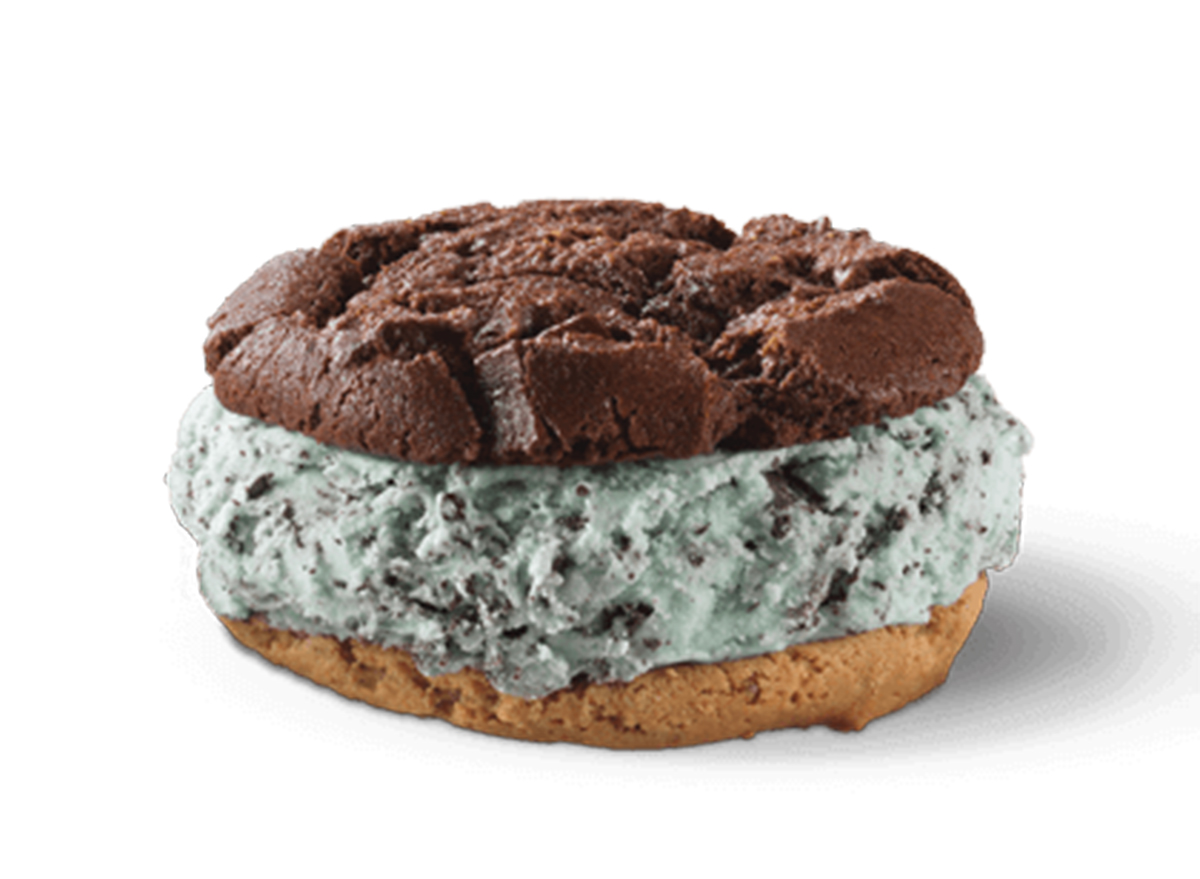 Per 1 serving
: 520 calories, 24 g fat (14 g saturated fat), 320 mg sodium, 71 g carbs (2 g fiber, 41 g sugar), 7 g protein
Everyone can enjoy an indulgent dessert once in a while, just opt for the simplest options, like this single scoop of ice cream in between two warm cookies topped with rainbow sprinkles, chocolate sprinkles, or chopped almonds. If you want to cut back on calories, go for the nonfat vanilla fro-yo or simple vanilla or chocolate flavored ice cream. You can also opt-out of the extra topping.
Worst: Warm Cookie Sundae, Double Scoop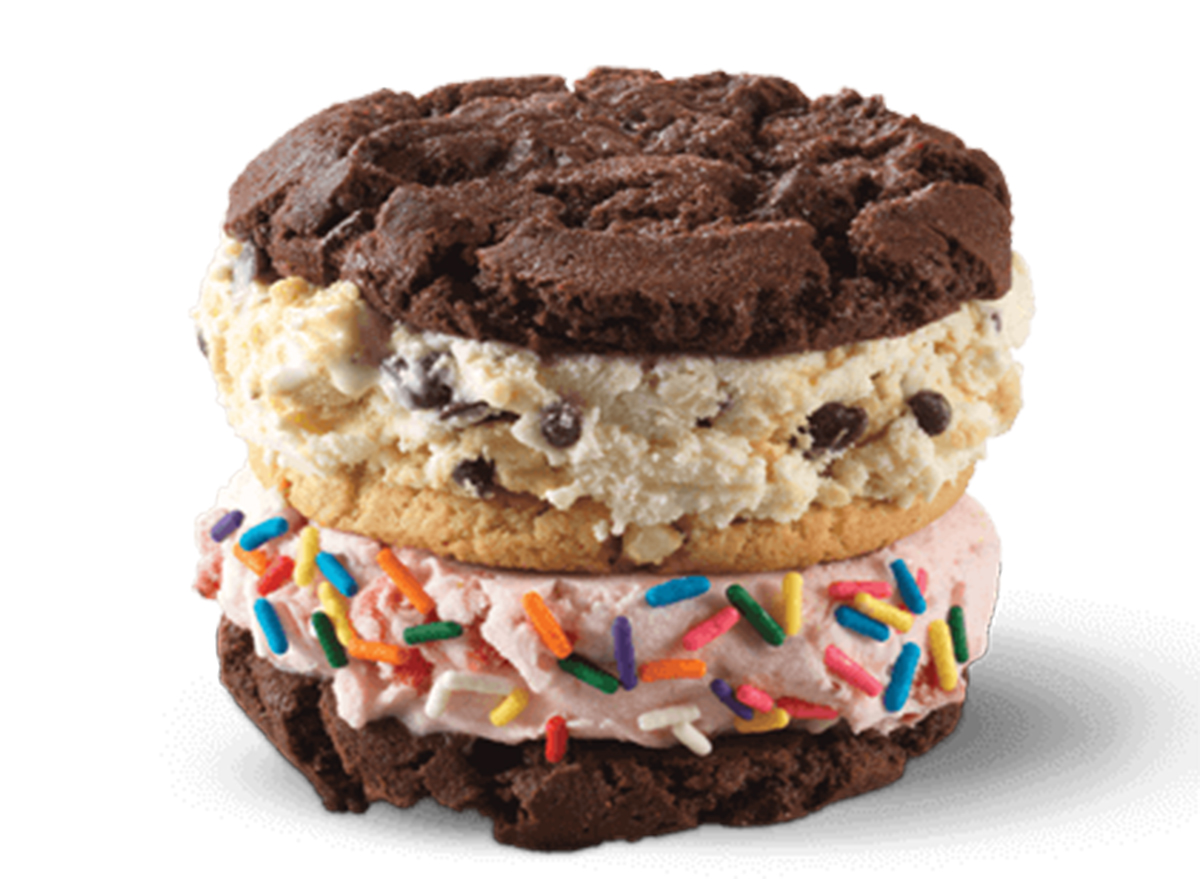 Per 1 serving
: 1,150 calories, 59 g fat (31 g saturated fat), 610 mg sodium, 144 g arbs (6 g fiber, 94 g sugar), 17 g protein
This double-decker cookie sundae has two scoops of ice cream between three warm cookies topped with your choice of wet toppings, whipped cream, cherry, and chopped almonds. The nutrition info varies based on ice cream and toppings chosen, but given that on average, you'll be eating close to 60 percent of your daily calories and close to 300 percent of the daily recommended maximum of saturated fat in one sitting—I highly recommend skipping it.6254a4d1642c605c54bf1cab17d50f1e
Bakery Treats
Best: Double Fudge Cookie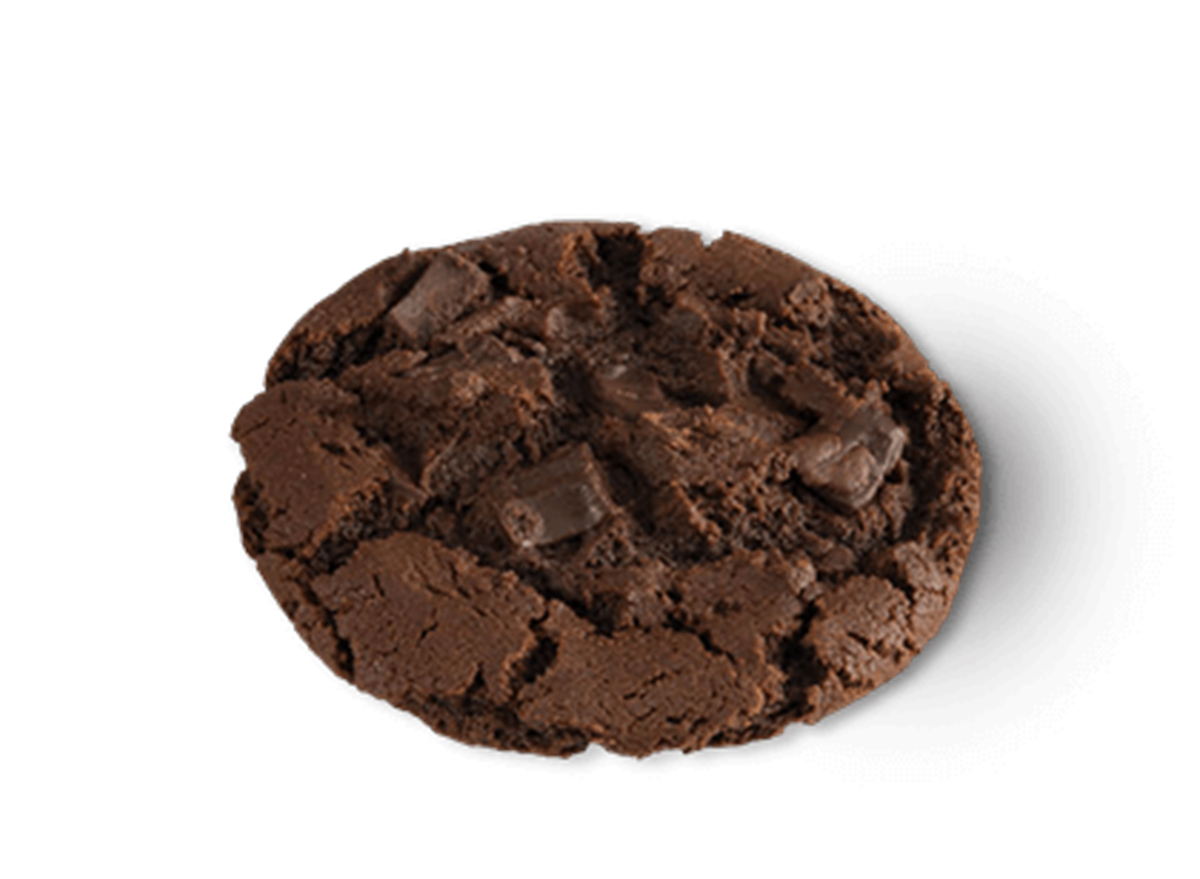 Per cookie
: 160 calories, 6 g fat (3 g saturated fat), 105 mg sodium, 25 g carbs (1 g fiber, 15 g sugar), 2 g protein
This 3-inch fudge flavored cookie is filled with dark chocolate chunks. You can certainly satisfy your sweet tooth while controlling the number of calories, saturated fat, and sugar.
Worst: Brownie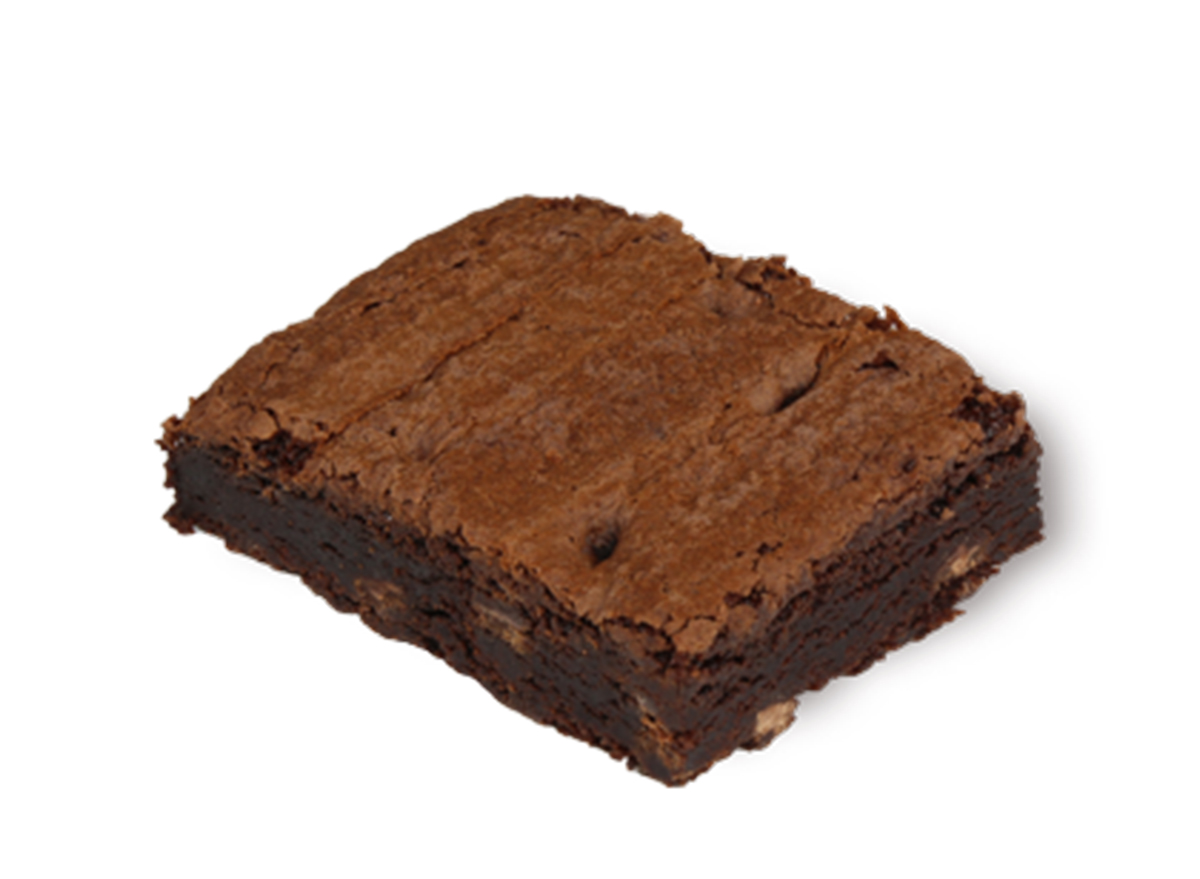 Per brownie (65 g)
: 240 calories, 9 g fat (2.5 g saturated fat), 150 mg sodium, 36 g carbs (2 g fiber, 23 g sugar), 4 g protein
This brownie is loaded with not only chocolate chips, but also calories and sugar. The brownie has more calories than a standard Hershey's chocolate bar and about the same amount of sugar. You're better off selecting a cookie in this category.
Toby Amidor, MS, RD, CDN
Toby Amidor is an award winning dietitian and
Wall Street Journal
best-selling cookbook author who believes healthy and wholesome can also be appetizing and delicious.
Read more about Toby