Mason Jar Bean, Salmon, and Kale Salad
Salmon and grapefruit are an unexpectedly winning pair.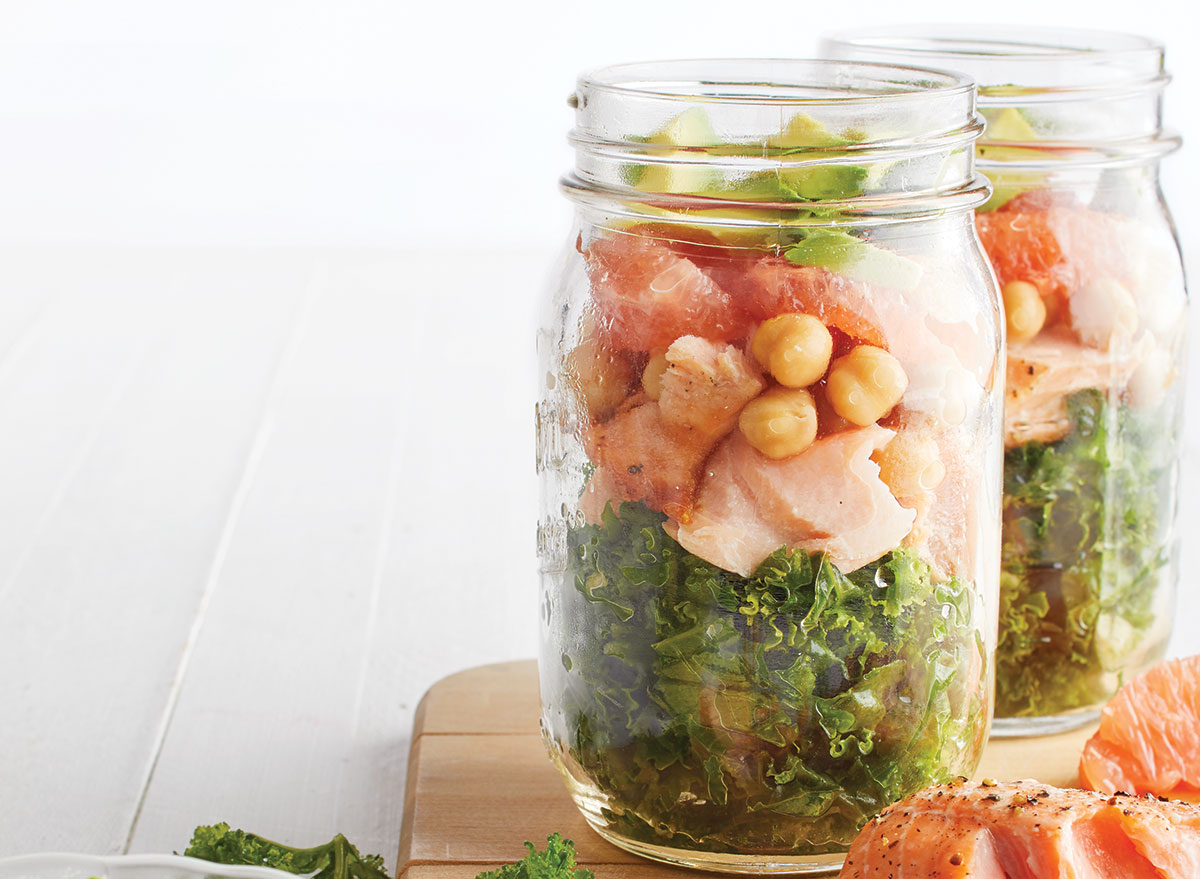 Pink and green aren't just a winning combination for preppy clothing. They make a great pair in this healthy Mason jar salad recipe, too. With garbanzo beans, salmon, and grapefruit, along with a kale base, this pink and green salad is a nutritional powerhouse.
Mason jar salads are an easy way to make your lunches ahead of time for the week, so you won't be tempted to buy lunch out after you get to the office. This recipe will take a bit of work, including cooking the salmon fillets. However, it will stay fresh in the fridge for up to three days, so one day's worth of prep will give you four salads to tuck away. And with all of the flavor in this Mason jar salad recipe, you won't even mind eating it more than once in a week.
Nutrition: 369 calories, 20 g fat (3 g saturated), 347 mg sodium, 11 g fiber, 8 g sugar, 24 g protein
Makes 4 servings
Ingredients
2 4-oz salmon fillets
1/4 tsp salt
1/8 tsp black pepper
3–4 Tbsp water
2 Tbsp tahini
2–3 tsp lemon juice
4 tsp olive oil
1/4 tsp garlic powder
10 cups chopped kale
Dash kosher salt
1 grapefruit
1/2 cup canned no-salt-added garbanzo beans, rinsed and drained
1 avocado
Black or white sesame seeds (optional)
How to Make It
Preheat oven to 450°F. Line a small rimmed baking sheet with foil, and coat with nonstick cooking spray. Place salmon fillets on the prepared baking sheet. Pat dry. Season with salt and pepper to taste. Bake 8 to 10 minutes, or until salmon flakes easily with a fork.
Meanwhile, in a small bowl, combine water, tahini, lemon juice, 1 tsp oil, garlic powder, 1/4 tsp salt, and 1/8 tsp pepper.
In a large bowl, rub kale with the remaining 3 tsp oil and kosher salt. Divide prepared kale among four pint jars.
Cut off a slice from both ends of the grapefruit. Cut away the peel and the white part of the rind (the pith), working from top to bottom. Working over a bowl to collect the juice, hold the grapefruit in one hand; tip the grapefruit to its side and cut into the center between one section and the membrane. Cut along the other side of the section next to the membrane to free the section. Set sections and juice aside.
Top kale with salmon and garbanzo beans. Top with grapefruit sections.
Peel, seed, and chop avocado. Place pieces in a bowl with grapefruit juice. Toss to coat. Divide avocado among pint jars. Drizzle with dressing. Cover and chill up to 3 days. Garnish with sesame seeds, if desired.
Eat This, Not That!
Inspired by The New York Times best-selling book series, Eat This, Not That! is a brand that's comprised of an award-winning team of journalists and board-certified experts, doctors, nutritionists, chefs, personal trainers, and dietitians who work together to bring you accurate, timely, informative, and actionable content on food, nutrition, dieting, weight loss, health, wellness, and more.
Read more about Eat This