19 Awesome Recipes for Mason Jar Salads
Swap the usual Tupperware for glass Mason jars that keep your salad far from soggy. Plus, they look cuter.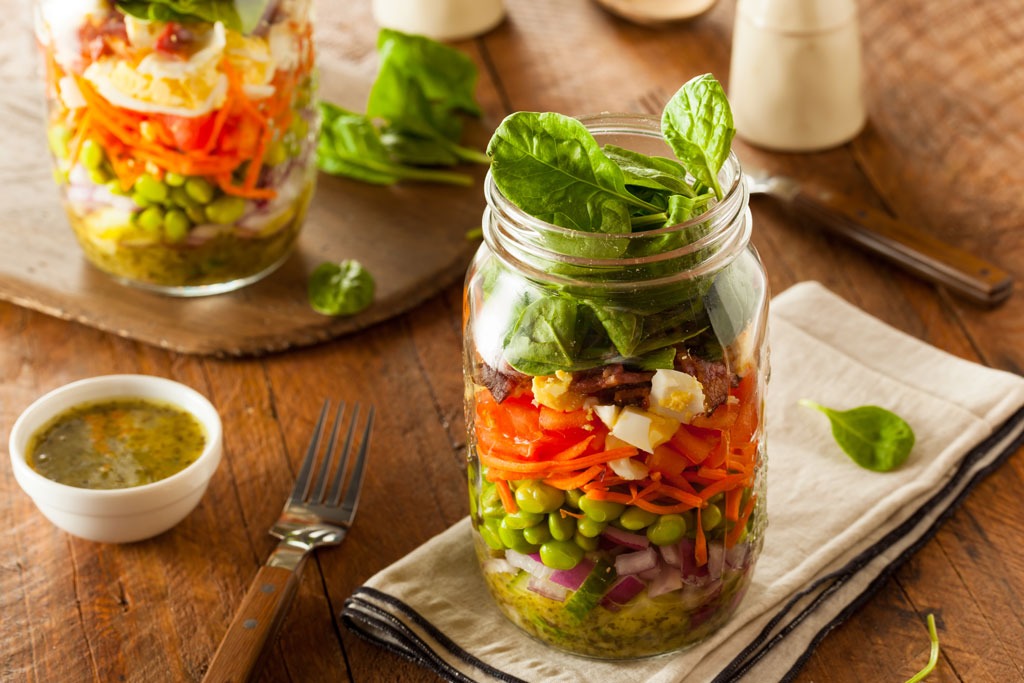 Everyone who's ever tried to lose weight knows that meal prep should be a priority—it's the best way to have healthy meals on hand that will help you reach your goal. Sadly, the Tupperware approach will get you sad, soggy greens, a result of veggies sitting in dressing just a little too long. Mason jar salads, on the other hand, call for dressing on the bottom, sog-resistant ingredients like chicken and beans in the middle and veggies and greens on top. This layering ensures the vegetables stay dressing-free and fresh until you mix everything together in a bowl—something a Tupperware container can't claim.
The mason jar salad recipes below are made up of nutrient-packed, satisfying ingredients, and they're great to grab and go in the morning. Whip up a week's worth tonight and stay on track all week long—and you'll be well on your way to lose 10 pounds this year!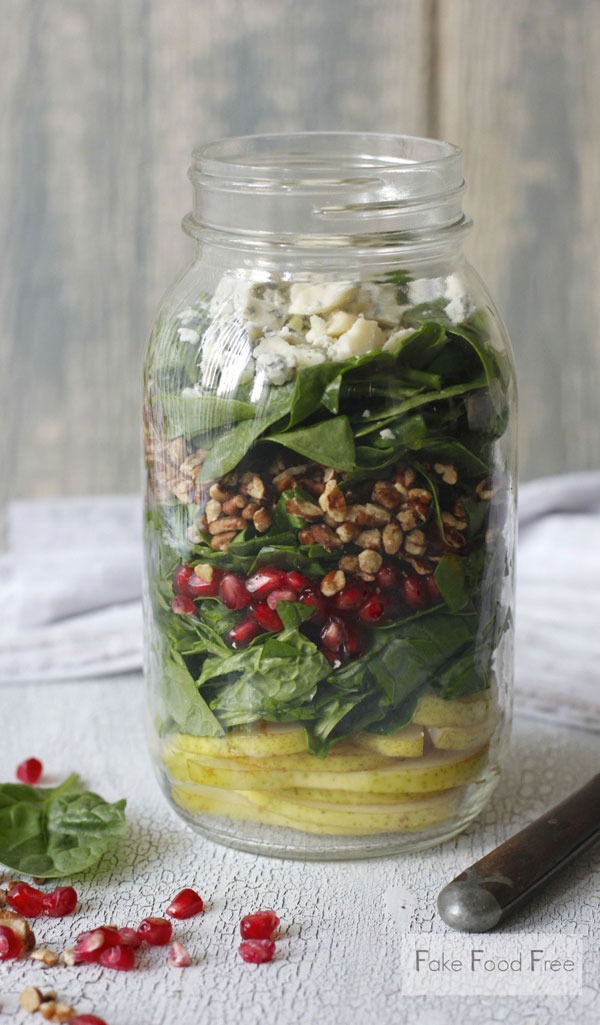 Serves: 2
Nutrition: 347 calories, 28.1 g fat, 5.7 g sat fat, 234 mg sodium, 21.9 g carbs, 4.9 g fiber, 11.3 g sugar, 6.3 g protein (calculated with 1 oz blue cheese, 1 Tbsp sherry vinegar, 1 tbsp olive oil)
Pears, bicep-building spinach, protein-filled pecans, blue cheese crumbles and cholesterol-lowering pomegranate seeds join to create this Instagram-worthy mason jar meal. We can't think of a tastier—or more filling—way to celebrate Meatless Monday.
Get the recipe from Fake Food Free.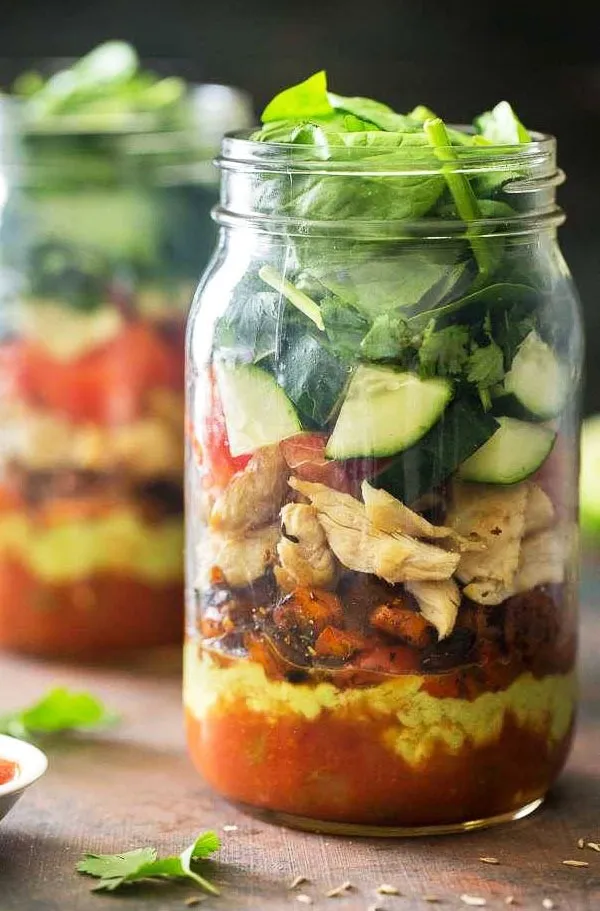 Serves: 2
Nutrition: 206 calories, 6.2 g fat (<1 g saturated). 346 mg sodium, 19.3 g carbs, 9.8 g fiber, 12.7 g sugars, 21 g protein (calculated with 3 cups spinach) 282% DV vitamin A and 133% DV vitamin C
The half a cup of cilantro in this Healthy Taco Salad does more than just take your taste buds south of the border. According to a study in Acupuncture & Electrotherapeutics Research, adding only a quarter cup of cilantro to your diet can help remove heavy metals such as mercury, aluminum, and lead, from your body. These heavy metals can disrupt normal tissue function and prevent your body from healing and functioning properly. Because excess heavy metals tend to hide in fat cells, detoxifying can help get rid of excess stored fat, especially with the drinks in The 7-Day Flat-Belly Tea Cleanse and other detox teas.
Get the recipe from Food Faith Fitness.
Tropical Sriracha Chicken Salad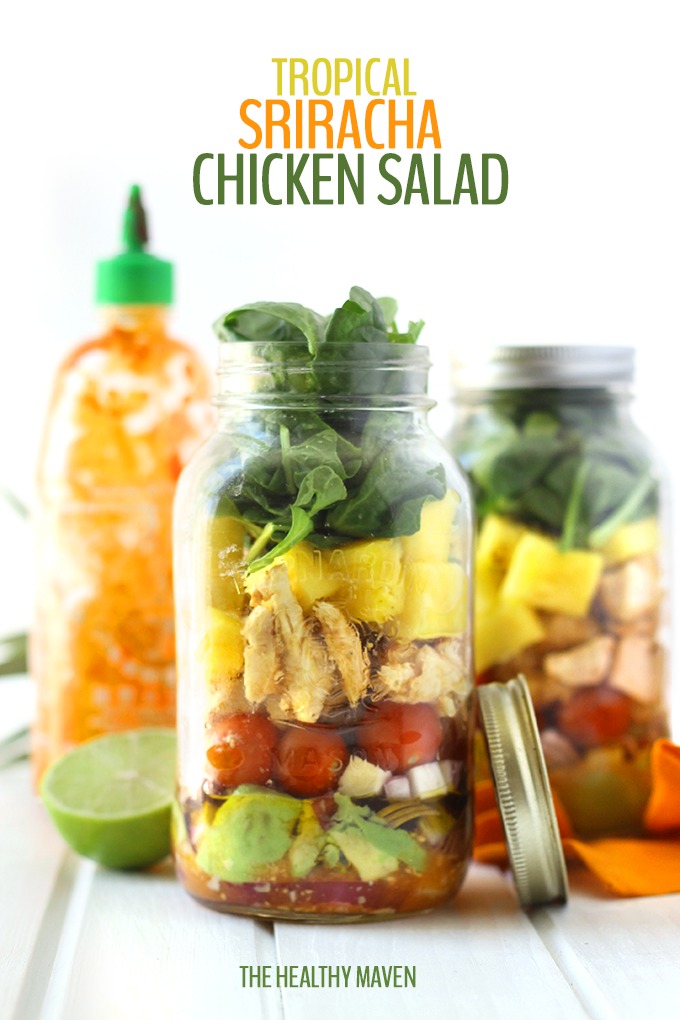 Serves: 4
Nutrition: 471 calories, 33.6 g fat, 6.2 g sat fat, 556 mg sodium, 20.4 g carbs, 5.6 g fiber, 11.9 g sugar, 24.2 g protein (factoring in all the marinade)
This spicy-sweet Tropical Sriracha Chicken Salad is packed with veggies, flavor and, thanks to the marinated chicken, muscle-building protein. The tomatoes provide a dose of lycopene, an antioxidant that lowers risk of skin damage and certain cancers, and the avocados are rich in healthy fats that can banish bloat, boost satiety and fry stubborn belly flab.
Get the recipe from The Healthy Maven.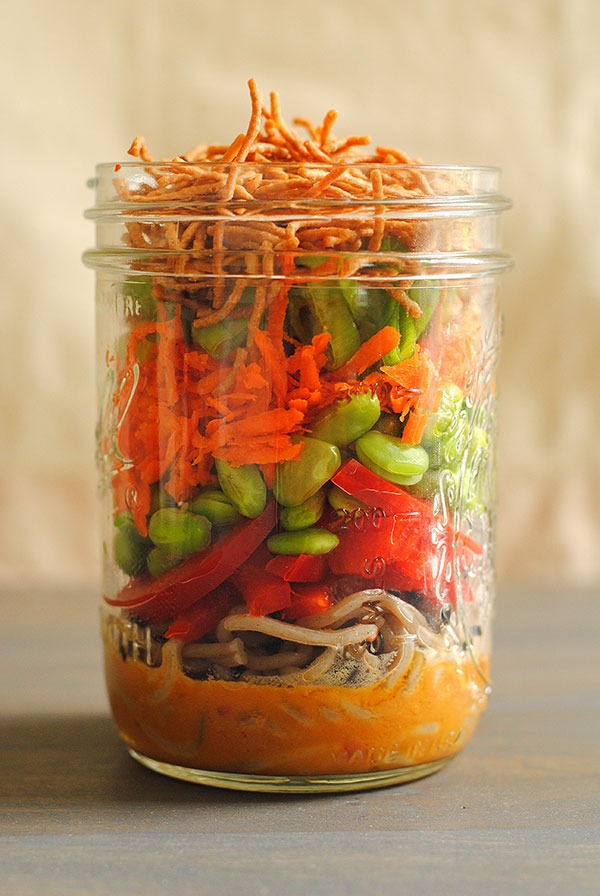 Serves: 4
Nutrition: 373 calories, 21.7 g fat, 3.3 g sat fat, 650 mg sodium, 36.8 g carbs, 4.1 g fiber, 5.1 g sugar, 11.9 g protein
What's better than a delicious Asian salad? An on-the-go version that can give you a six-pack. The bell peppers in this dish provide a dose of vitamin C, a nutrient that's been proven to counteract stress hormones that trigger belly fat storage. And don't forget the edamame; it provides a vegan source of protein and fiber that will stave off stomach rumbles by slowing digestion and stabilizing blood sugar. This is one salad you'll definitely want to add to your weekly lineup! Craving a snack, too? Don't miss these 27 Healthy Snacks Under $1.
Get the recipe from Foxes Love Lemons.
Layered Salad with Orange-Ginger Dressing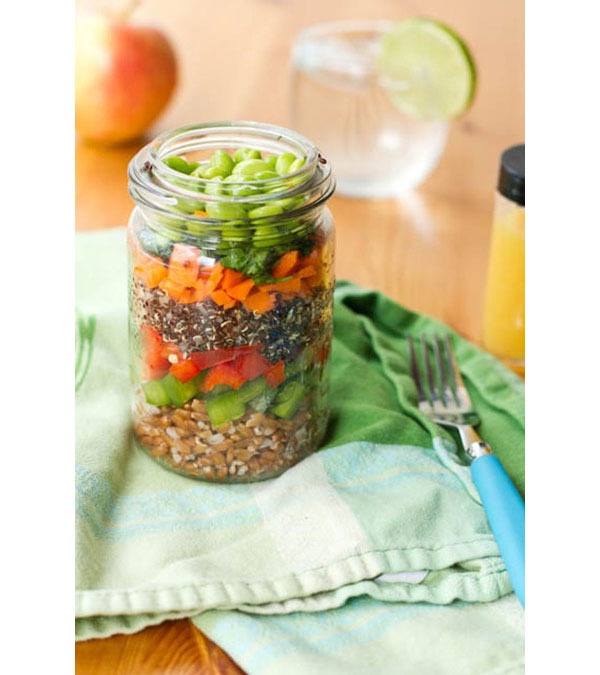 Image courtesy of Angela Liddon | OhSheGlows.com
Serves: 4
Nutrition: 359 calories, 8.4 g fat, 0.8 g sat fat, 262 mg sodium, 58.1 g carbs, 9.3 g fiber, 10.4 g sugar, 17 g protein
Wheatberries, protein-rich quinoa, edamame, carrots, pepper and a homemade vinaigrette join to create this energizing protein- and fiber-filled meal. According to Angela, the talented blogger behind this recipe, the salad will only last for five days in the fridge. So whip up enough to last you the work week and plan to bring in a jar of the stuff every day.
Get the recipe from Oh She Glows.
Mason Jar Carrot Noodle Salad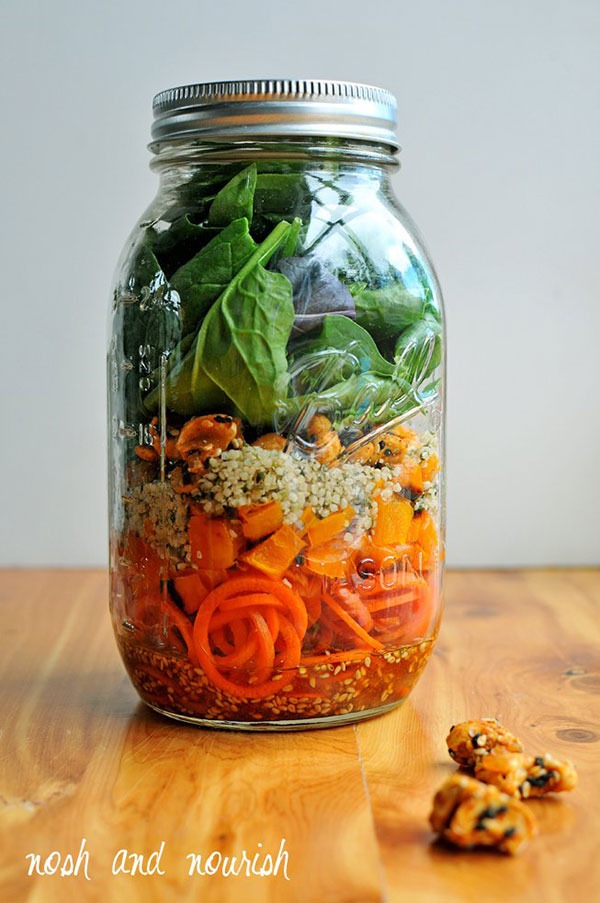 Serves: 1
Nutrition: 424 calories, 27 g fat, 4 g sat fat, 506 mg sodium, 35 g carbs, 9 g fiber, 19 g sugar, 11.3 g protein
It's well worth rustling up all the ingredients for this savory, yet spicy dish; one bite and you'll wonder why you never thought to make it before. Aside from its mouthwatering flavor, this Carrot Noodle Salad provides four day's worth of vitamin A (a nutrient that promotes good vision), 18 percent of the day's bone-building calcium and 30 percent of the day's iron (a mineral that's crucial to building muscle and strength). All that means this salad is a nutrient-packed MVP.
Get the recipe from Nosh and Nourish.
Rainbow Salad with Avocado Hummus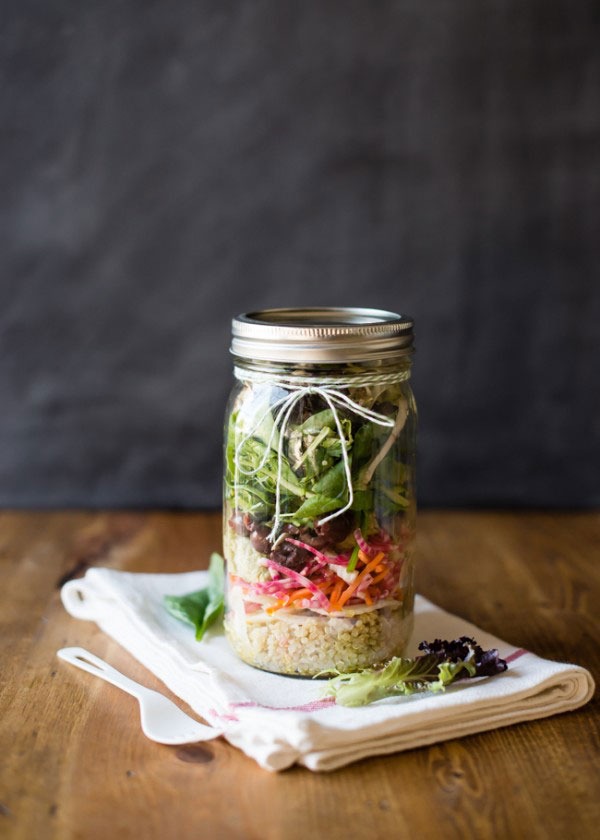 Serves: 1
Nutrition: 473 calories, 32.7 g fat, 3.5 g sat fat, 276 mg sodium, 43.8 g carbs, 12 g fiber, 7.3 g sugar, 15 g protein (calculated with 1 tablespoon avocado hummus)
Quinoa and shredded veggies play a starring role in this nutrient-packed meal, but what really makes it memorable is the homemade avocado hummus. Though it may be hard to resist loading up your jar with the stuff, keeping your serving to a tablespoon ensures the calorie count doesn't outdo the protein and fiber, which will help your blood sugar levels stay even all afternoon.
Get the recipe from Oh My Veggies.
Mason Jar Tex Mex Quinoa Salad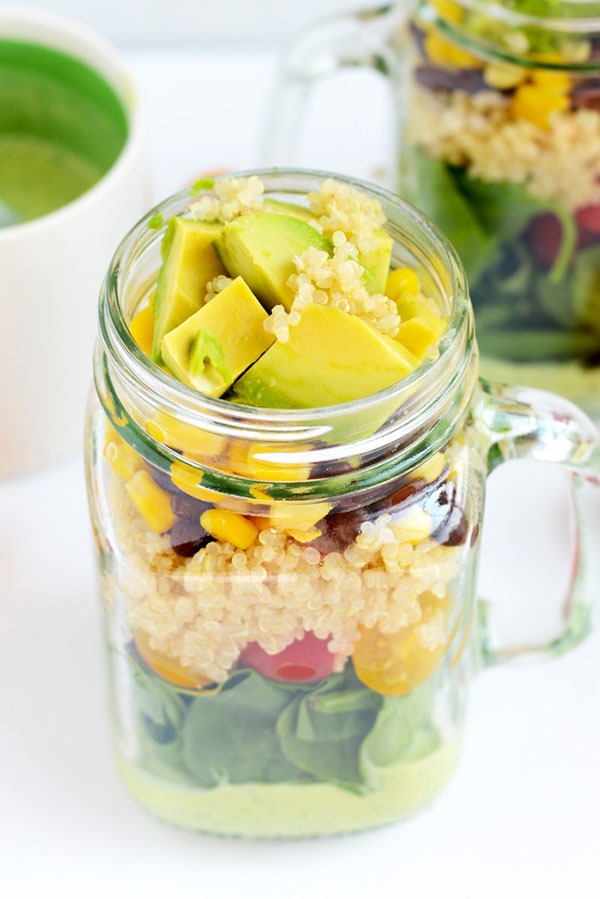 Serves: 5
Nutrition: 508 calories, 24.6 g fat, 5.2 g sat fat, 50 mg sodium, 57 g carbs, 15 g fiber, 5.3 g sugar, 20 g protein
Shake up your lunchtime routine with this tangy, Tex-Mex inspired salad. It's filled with avocado, fibrous black beans, quinoa, tomatoes, satiating spinach and a delicious homemade Greek yogurt-based dressing that's sure to make your taste buds sing—without derailing your weight loss. Better yet, this salad provides nearly a half day's worth of vitamin C, a nutrient that helps fight off workday stress and subsequent belly fat storage.
Get the recipe from Fit Foodie Finds.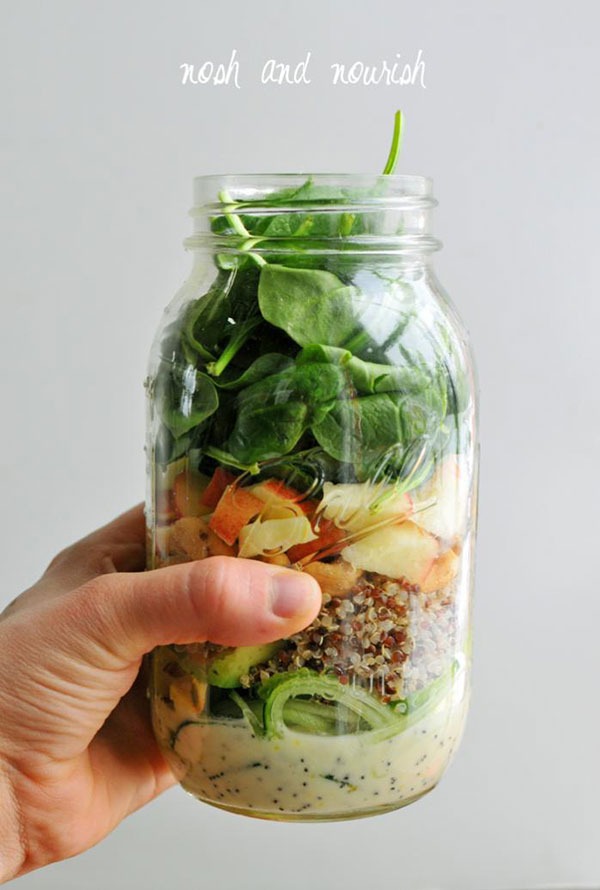 Serves: 1
Nutrition: 578 calories, 42 g fat, 7.2 g sat fat, 56 mg sodium, 65 g carbs, 11 g fiber, 16.5 g sugar, 10.6 g protein (calculated with 2 Tbsp dressing, 2 tablespoons chopped raw cashews)
We're fans of this recipe because it calls for a unique array of healthy ingredients that you normally don't find together in a salad. Don't let the high-fat count scare you off; it's from healthy sources like olive oil, cashews, and avocado, all of which can fight body fat storage, helping you get that lean look you crave.
Get the recipe from Nosh and Nourish.
THAI SHRIMP SALAD WITH SPICY ALMOND DRESSING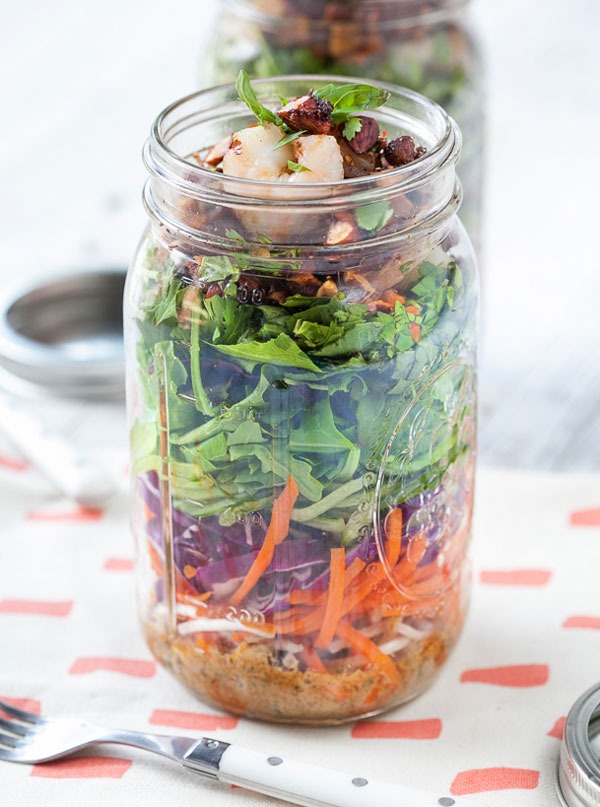 Serves: 6
Nutrition: 313 calories, 21.7 g fat (2.5 g saturated), 322 mg sodium, 16.9 g carbs, 4.6 g fiber, 5.2 g sugar, 17.7 g protein (calculated with no sea salt)
Study after study proves that almonds are one of the best fat-burning foods. In fact, according to the Journal of the American Heart Association, eating just 1.5 ounces of almonds daily can reduce leg and belly fat. Another study of overweight adults found that eating about a quarter-cup of almonds for 6 months led to a 62% greater reduction in weight and lowering BMI. And not only are the waist-whittling nuts in this salad's dressing, but they're a staple ingredient as well.
Get the recipe from Against All Grain.
COCONUT-LIME-AVOCADO ZUCCHINI NOODLE MASON JAR SALAD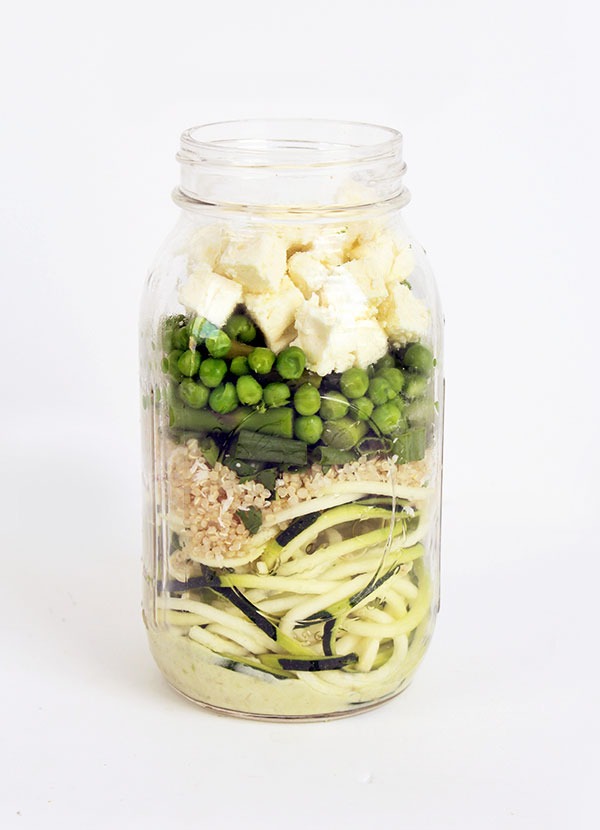 Serves: 1
Nutrition: 314 calories, 15.8 g fat (5.9 g saturated), 474 mg sodium, 32.8 g carbs, 8.4 g fiber, 5.2 g sugar, 14.2 g protein
Although non-fat products flood grocery store aisles, the truth is your body needs fats like coconut oil. Without it, your metabolism, brain function, and body's cell repair are severely impaired. Coconut oil is rich in the medium-chain saturated fat lauric acid, which can actually aid in weight loss because it converts into energy more easily than other types of fat. In fact, a study of 30 men in the journal Pharmacology found that those who consumed 2 tablespoons of coconut oil a day shrank their waists by an average of 1.1 inches in one month!
Get the recipe from Inspiralized.
SPRING COBB SALAD WITH RASPBERRY BASIL VINAIGRETTE
6254a4d1642c605c54bf1cab17d50f1e
Serves: 4
Nutrition: 353 calories, 26 g fat (5 g saturated), 297 mg sodium, 10 g carbs, 3 g fiber, 6 g sugar, 24.2 g protein (divided dressing serving in half)
Raspberries may not come to mind when you think of a Cobb salad, but they make a flawless slimming addition. One might even consider the tiny berries as nature's magical weight loss pill. They're super low in calories and high in satiating fiber. Plus they're paired with basil, which is a member of the mint family, herbs that have been known to reduce appetite, aid in weight loss, improve digestion, ward off cravings and more!
Get the recipe from Fit Foodie Finds.
SRIRACHA SHRIMP CAESAR SALAD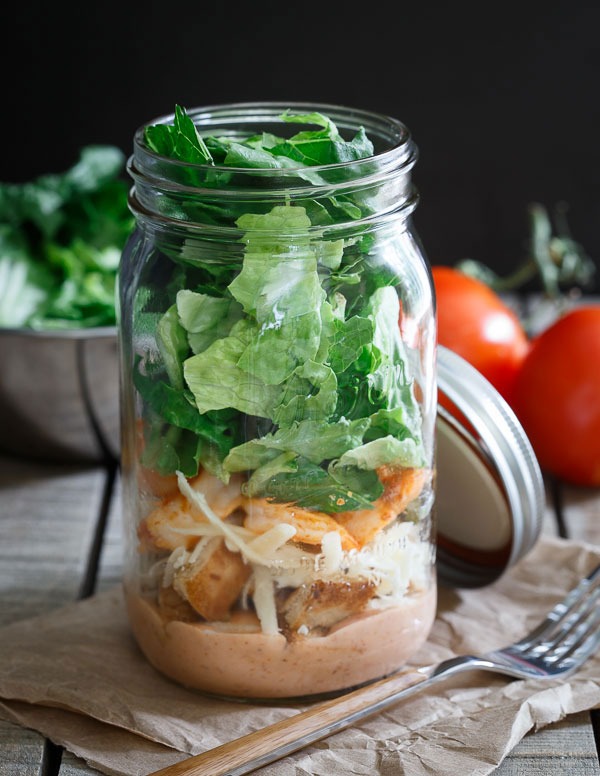 Serves: 1
Nutrition: 160 calories, 13 g fat (3.5 g saturated), 390 mg sodium, 3 g carbs, 0 g fiber, 1 g sugar, 6 g protein
Caesar Salads are weight loss foe. However, this is one recipe that will actually help you ditch those lingering love handles and it's all thanks to Sriracha. The fiery hot sauce contains capsaicin, which has been shown to increase body heat, boost metabolic rate and decrease appetite. The best part: It doesn't take much to get the belly slimming benefits. In fact, researchers at Purdue University found just 1 gram of red pepper (about 1/2 a teaspoon) was enough to help manage appetite and burn more calories after a meal.
Get the recipe from Running to the Kitchen.
STRAWBERRY SPINACH MASON JAR SALAD
Serves: 2
Nutrition: 250 calories, 10.4 g fat (1.9 g saturated), 244 mg sodium, 26.2 g carbs, 5.5 g fiber, 19.3 g sugar (maple syrup), 16.5 g protein
Light and tangy citrus poppy seed dressing will have your taste buds—and not the button on your pants—popping. The bright grapefruit and sweet maple syrup are the perfect complements for this Strawberry Spinach Salad with grilled chicken and loads of veggies. Even better, the citrus fruit and red berries are loaded with vitamin C, the vitamin that helps reduce stress, keep you hydrated and boost both your immune system and your metabolism.
Get the recipe from Eating Bird Food.
Mason Jar Chickpea, Farro & Green Salad
Serves: 5
Nutrition: 563 calories, 33 g fat, 7.2 g sat fat, 596 mg sodium, 48.6 g carbs, 12 g fiber, 6.3 g sugar, 18 g protein (calculated with agave and feta, no dried cherries and 1 Tbsp dressing)
At its core, this mason jar mixture is a blend of protein-rich farro and mixed greens. However, the garnishes on this salad—which range from kalamata olives and feta to pepitas and chickpeas—take it to the next level of taste and nutrition. This meat-free meal is a great pick for vegetarians who may struggle to get enough iron, a nutrient abundant in meat that keeps your metabolism humming. Just one serving of this salad provides 36 percent of the day's recommended intake.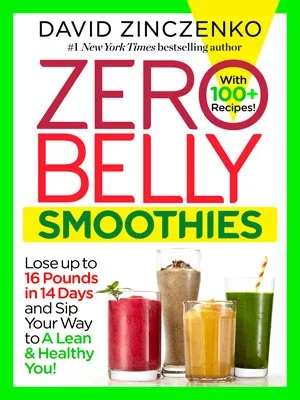 ZUCCHINI PASTA SALAD WITH AVOCADO SPINACH DRESSING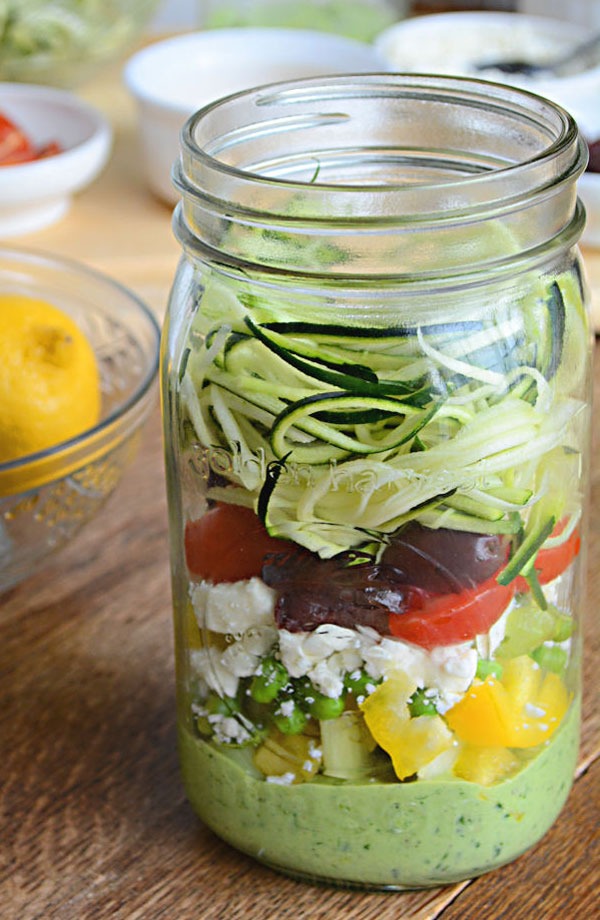 Serves: 2
Nutrition: 298 calories, 22.9 g fat (3.8 g saturated), 638 mg sodium, 20.7 g carbs, 8.6 g fiber, 9.2 g sugar, 11.5 g protein
Dressing is the key ingredient in making a salad go from good to great. In that case, this Zucchini Pasta Mason Jar Salad is flab-blasting-tastic! Hunger-quelling avocado and fatigue-crushing spinach combine to form a luxuriously creamy dressing that is the perfect fuel for getting over that mid-day hump. If you're a huge pasta fan, make sure you see these 40 Ultimate Pasta Tips to Stay Skinny.
Get the recipe from Sugar-Free Mom.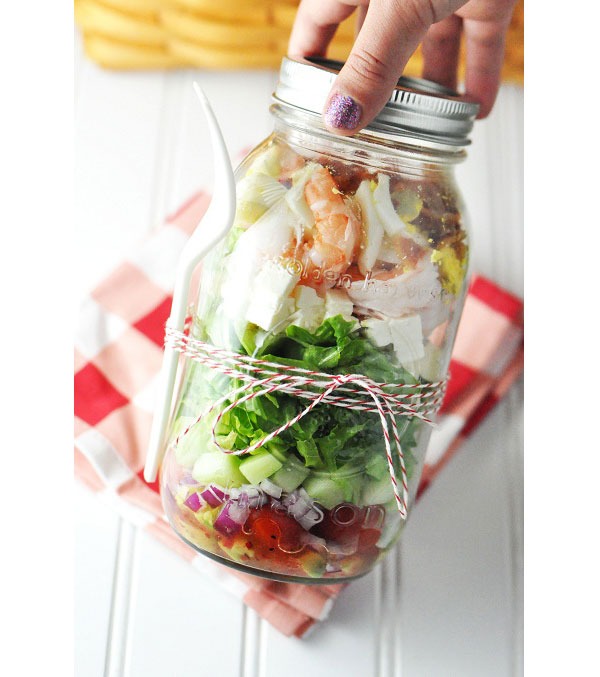 Serves: 1
Nutrition: 287 calories, 10.9 g fat, 485 mg sodium, 23.6 g carbs, 7.2 g fiber, 14.2 g sugar, 26.7 g protein
Cobb salads aren't complete without the classic hard-boiled egg. For many, hard-boiled egg yolks are an all-or-nothing kind of food, but we recommend keeping this nutritious element in your salad. While the whites are a great source of protein, egg yolks contain choline (a vital nutrient that provides the foundation of healthy neurotransmitters in the brain, maintains the structure of cell membranes, and protects our livers from accumulating fat), B vitamins, and vitamins D and A. There are so many amazing things that happen to your body when you eat eggs!
Get the recipe from Savoring the Thyme.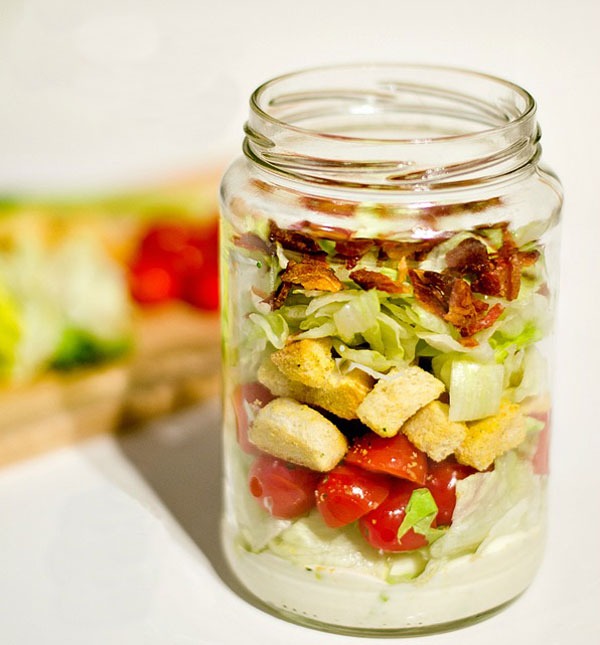 Serves: 2
Nutrition: 282 calories, 18.3 g fat (5 g saturated), 609 mg sodium, 22.6 g carbs, 2.6 g fiber, 7.3 g sugar, 7.6 g protein (calculated with full-fat bacon)
You won't have to think twice the next time you're craving this American classic. Between this option and the sandwich offered at Chili's, sticking with the BLT Mason Jar Salad will save you 200 calories, 10 grams of fat, and 180 mg sodium. This flat-belly swap is a no-brainer.
Get the recipe from It All Started With Paint.
RED WHITE AND BLUE MASON JAR SALAD
Serves: 2
Nutrition: 278 calories, 16.4 g fat (8 g saturated), 289 mg sodium, 22.4 g carbs, 3 g fiber, 16.8 g sugar, 10.1 g protein (calculated with 2 oz goat cheese in place of feta)
This fruit and feta salad is patriotically red, white and full of blueberries. Featuring these heart-healthy blue fruits in your mason jar can help you get rid of those pesky love handles by turning on your get-lean genes, according to researchers from the University of Michigan. In their study, rats fed a blueberry-enriched diet for 90 days showed significantly reduced abdominal fat than the control group. And, as an added bonus, blueberries will help boost brain power and lower your blood pressure.
Get the recipe from The Cookie Rookie.