15+ Best Healthy Beef Stroganoff Recipes for Weight Loss
That's right! You can enjoy this classic comfort food and drop the pounds.
With the end of cold weather nowhere in sight, beef stroganoff seems like a no-brainer when you need to decide what to make for dinner. This rib-sticking combo of mushroom gravy, beef, and noodles has become a standard for a reason—it couldn't be easier to make and everyone who tastes it instantly falls in love with the rich flavors. If you want to lose weight, it might seem like these beef stroganoff recipes are off the table. After all, you would have to forgo this calorie-heavy dish to keep to your eating plan, right?
If you want to trim your waistline but still indulge in this Russian classic, have no fear! Whether you want to go keto, cut out excess red meat, or just want a calorie-conscious solution, there is a stroganoff out there for you! Assemble a new diet-centric meal plan with these recipes, and you can finally cut the pounds.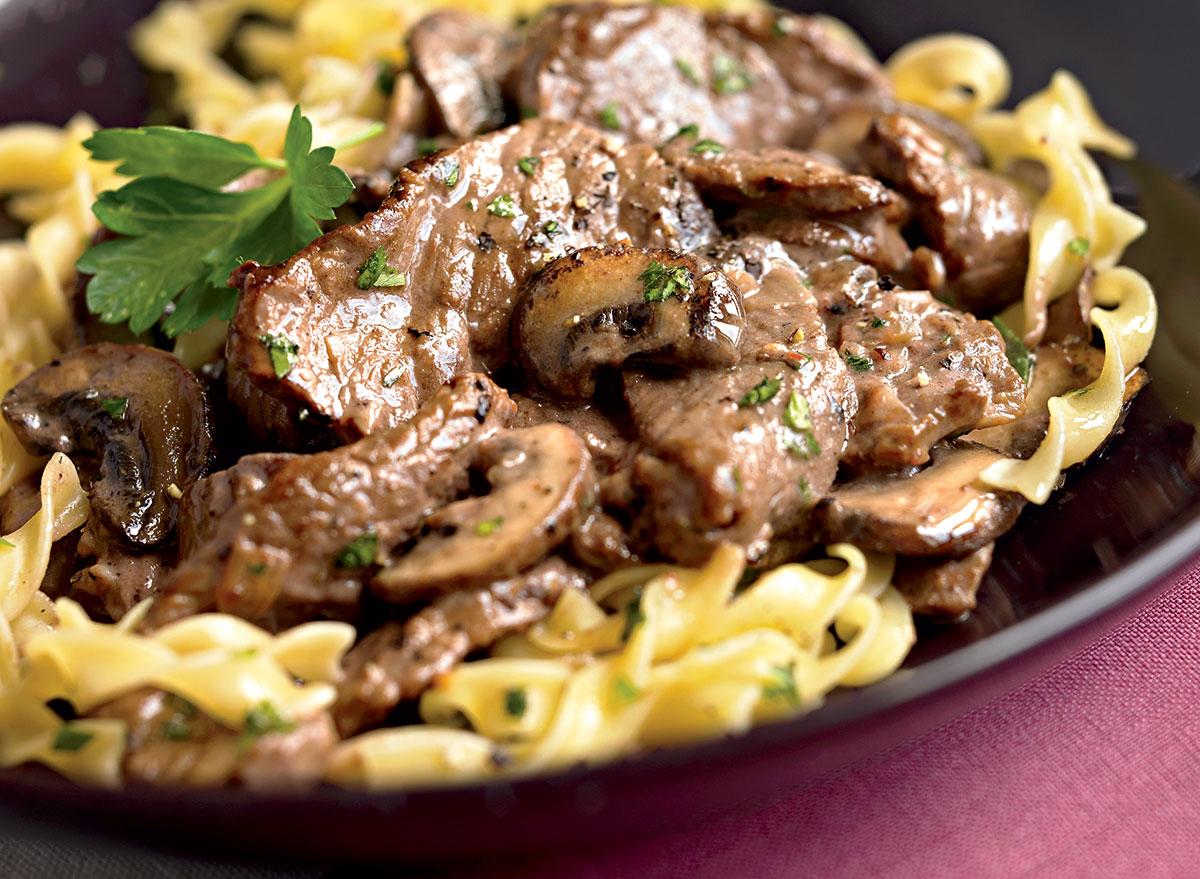 If you want to lose some weight but still enjoy the classic flavor combo of a simple stroganoff, you can't beat this low-calorie version! By substituting the sour cream sauce base out for Greek yogurt, you significantly remove some saturated fat out of your diet, while adding a protein boost. When you can have a velvety-smooth sauce with a fraction of the calories, what's not to love?
Get our recipe for Classic Beef Stroganoff.
When you want to indulge in this classic pairing of creamy sauce and perfectly seared beef, carving some time out to whip up this classic seems impossible. This quick and easy take on one of our favorite beef stroganoff recipes not only delivers a fantastic meal in 30 minutes, this recipe includes a minimal amount of added butter and salt, leaving your diet intact! With a favorite this easy to make, what's stopping you?
Get our recipe from Recipe Tin Eats.
Instant Pot Beef Stroganoff
Making beef stroganoff can involve a ton of prepwork and sucks up a hearty amount of time. By simplifying the process with an Instant Pot, you not only serve up some of the most tender beef you can make at home, you can cook your meal down to perfect while you focus on other daily life activities. With a minimum amount of added sodium in this particular recipe, you can worry less about watching your salt intake for the day and can focus on the creamy sauce and perfectly cooked beef instead.
Get the recipe from Le Creme De La Crumb. 
30-Minute Beef Stroganoff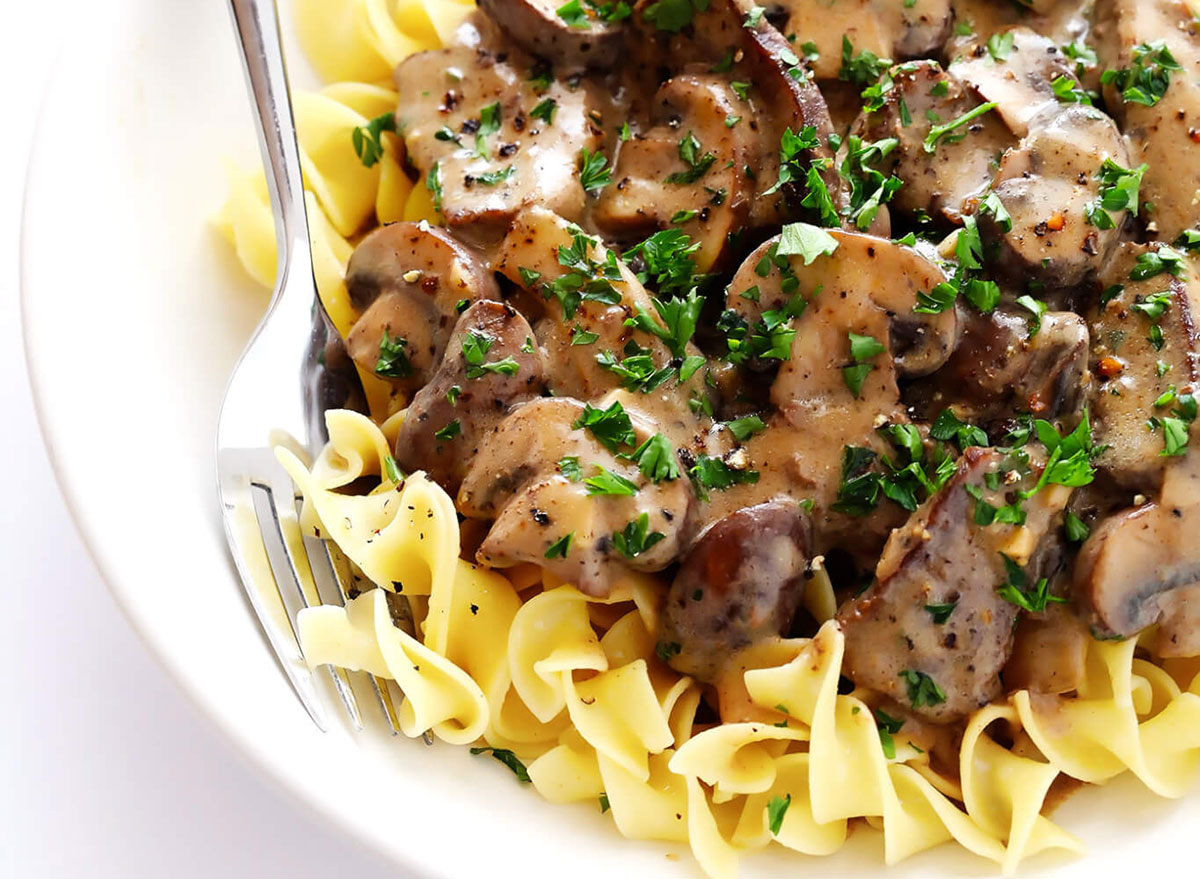 Who says making beef stroganoff needs to eat up hours of your day? Anyone with the right ingredients and a kitchen can throw this one together to make the perfect a creamy, rich steak dish that the family can get behind. This recipe not only serves up one of the tastiest stroganoffs you could scarf down, it doesn't require you to serve it over egg noodles. Feel free to substitute the starch out for whole-grain rice or polenta to cut down on added carbs and keep your waistline trim and fit.
Get the recipe from Gimme Some Oven.
Slow-Cooker Creamy Beef Stroganoff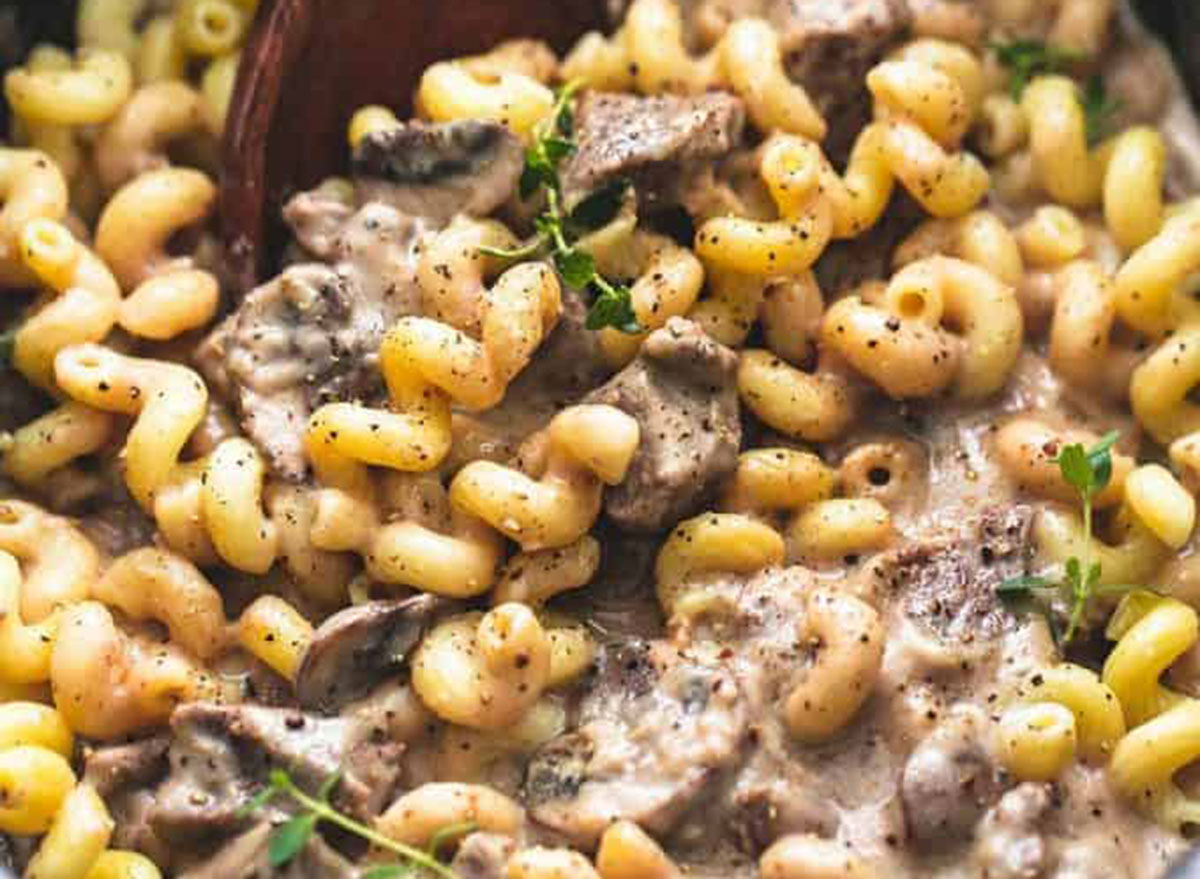 Instant Pots took the home cooking world by storm, but what do you do if you don't have this device and still want to throw together a foolproof meal the kids love that sticks to your eating plan? For those in need, this minimum-hassle beef stroganoff combines the best of all worlds, ensuring the most tender cuts of beef you could imagine whipping up at home. This recipe perfectly portions out your meal and won't overload you on salt, meaning you can easily keep your diet on the straight and narrow while partaking in this crowd favorite.
Get the recipe from Le Creme de la Crumb. 
Low Carb Beef Stroganoff Meatballs
Carbs can end a diet in an instant. Why risk it all when you can take the best of beef stroganoff and lose the noodles? Whether you want to follow a keto eating plan or need to just watch your calorie intake, these beef stroganoff meatballs not only guarantee you get your creamy, beefy goodness, but pack enough of a wallop to leave you full and ready to take on your weight loss goals.
Get the recipe from I Breathe I'm Hungry. 
From Scratch Slow Cooker Beef Stroganoff
You probably have many traumatic memories of beef stroganoff if you grew up eating this classic dish made with cream of mushroom soup from a can. It's time to start the healing process with this recipe that not only ensures to erase all the terrible memories of recipes passed, but also makes healthy ingredient swaps to ensure your diet stays on track. Low sodium beef broth guarantees you won't overload on salt, while Greek yogurt replaces sour cream to serve up a meal with considerably less fat than a standard take.
Get the recipe from Well Plated.
Instant Pot Hamburger Stroganoff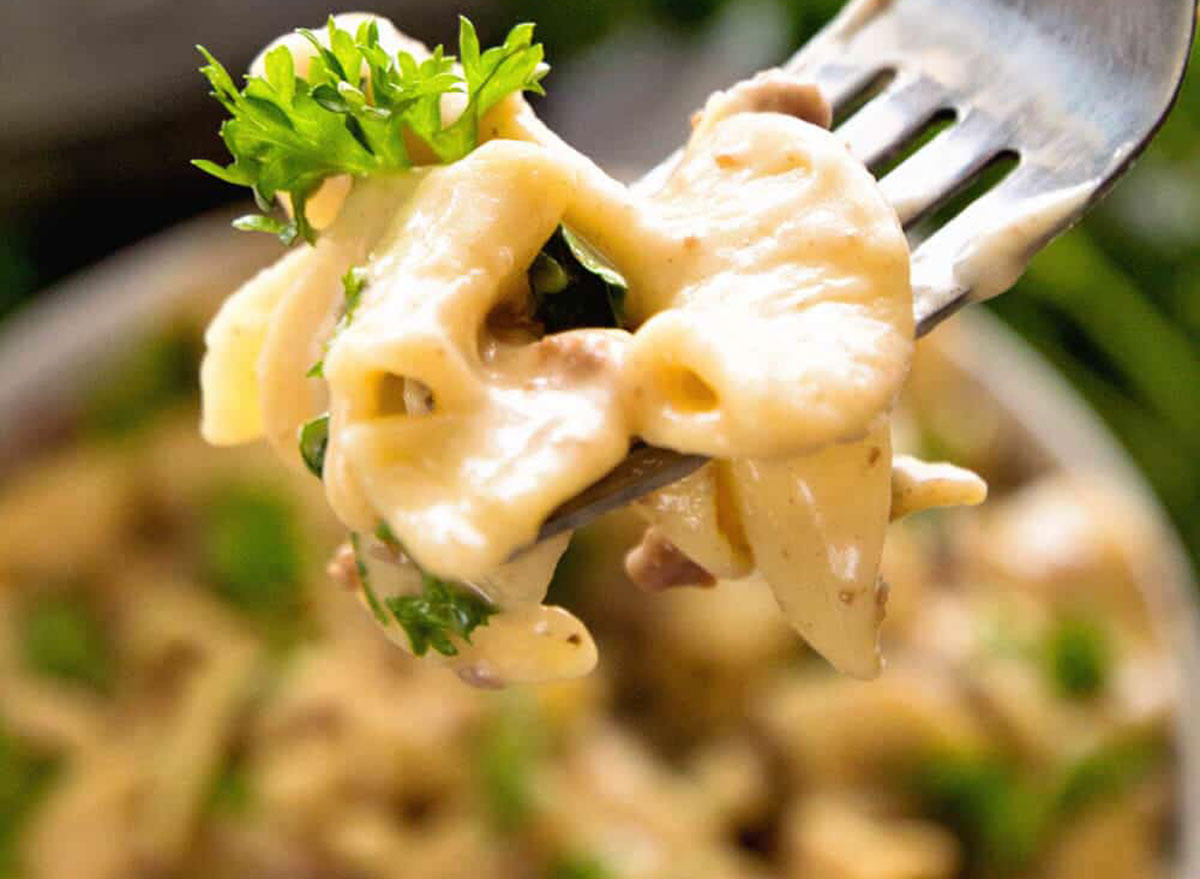 When you make stroganoff in quantities like this, you can eat for weeks while shedding the pounds! This instant pot take on stroganoff lets you incorporate hamburger instead of beef strips, allowing you to opt for a leaner ground and keeps you from gaining any excess weight. For the extra calorie cut, replace the ground beef with ground turkey and substitute the sour cream with Greek yogurt to super-boost your food while keeping unhealthy fats to a minimum.
Get the recipe from Julie's Eats and Treats.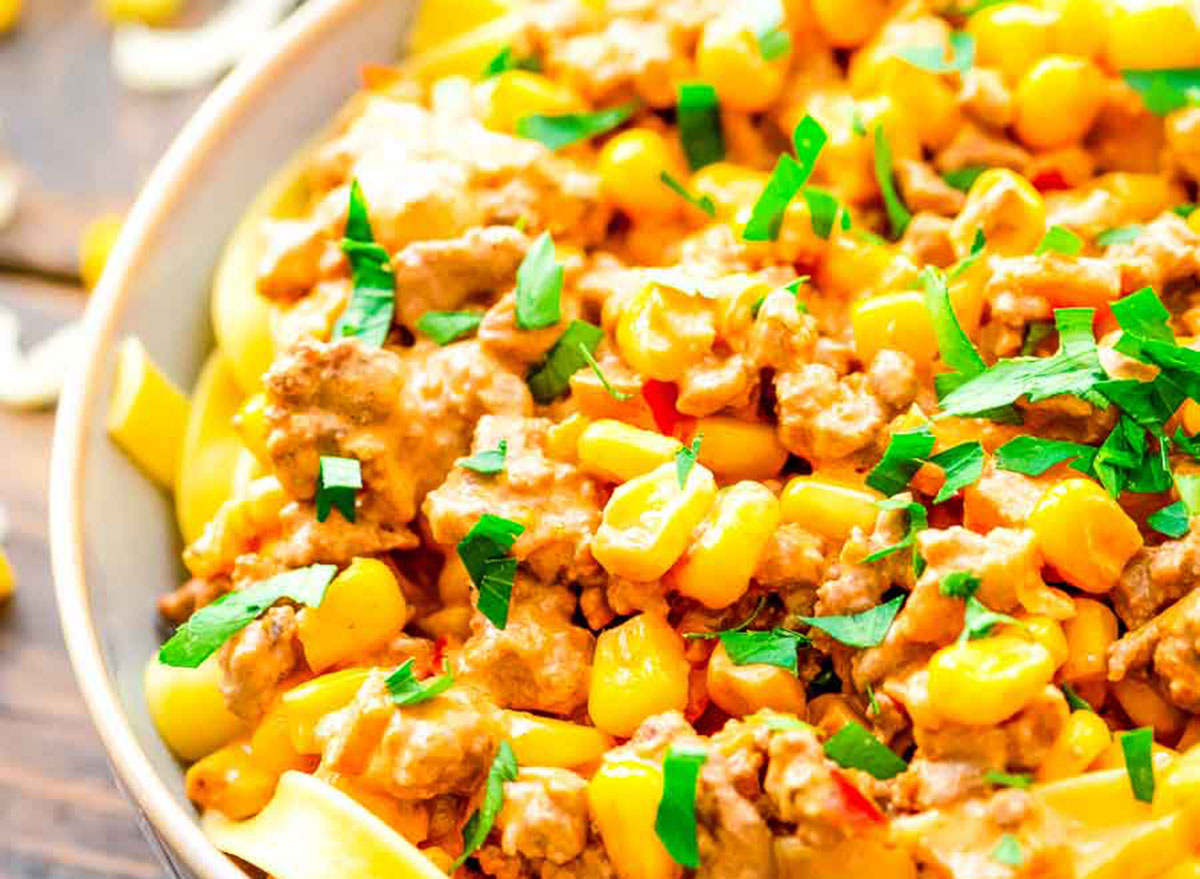 If a regular stroganoff won't cut it, why not go off the beaten path with this health-conscious taco stroganoff? This slow cooker invention might be your diet's new best friend—cream cheese replaces sour cream, ensuring you get an extra serving of protein, while ground chicken or turkey can make an appearance instead of beef, increasing the dietary value of the meal. Just make sure to leave room for seconds!
Get the recipe from Julie's Eats and Treats.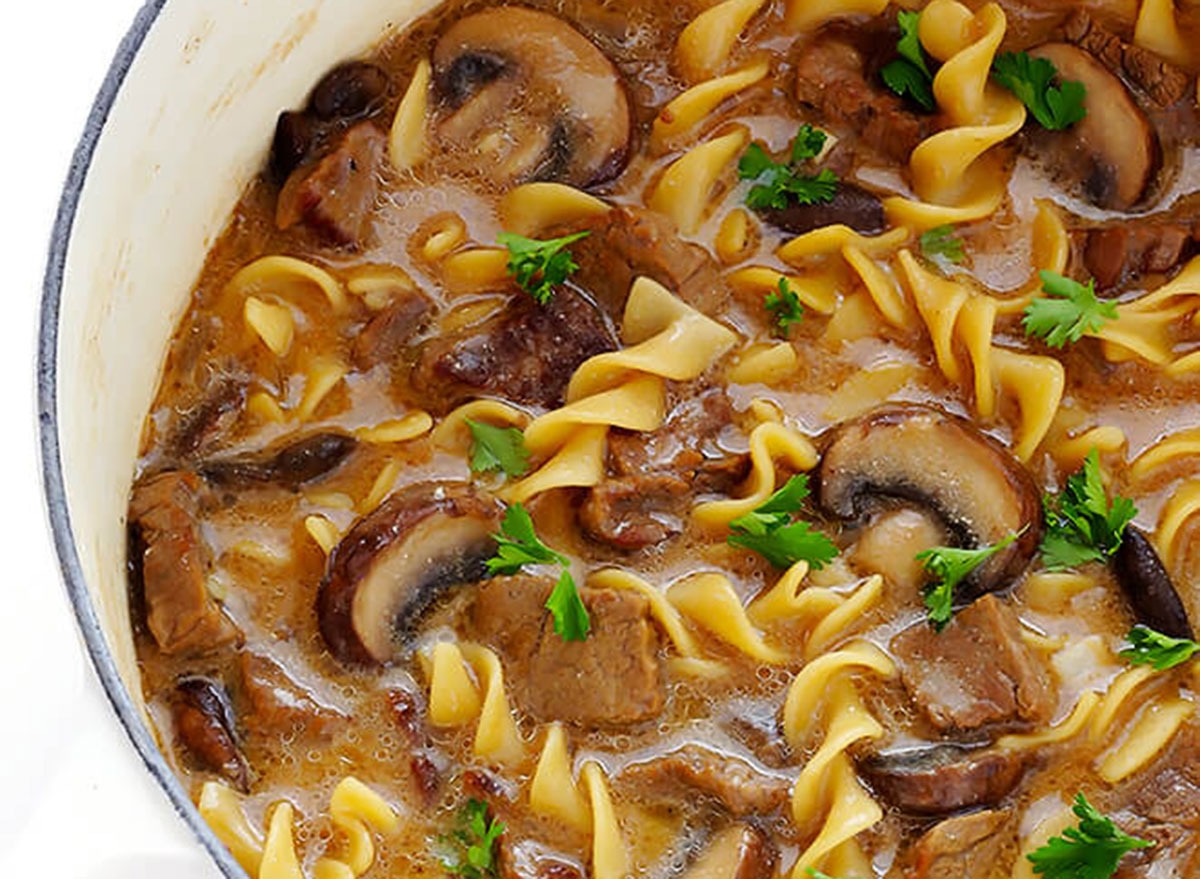 Everyone loves the cozy, creamy taste of beef stroganoff, but keeping the calorie count to a minimum can prove challenging. Have no fear, as this recipe serves up a beef stroganoff with minimum effort to make, the same classic taste you know and love, and a massive calorie cut to work with any diet. With the extra liquid used to make the dish, one bowl fills you up and by limiting the extra fats in the recipe, you know you won't gain any extra pounds.
Get the recipe from Gimme Some Oven.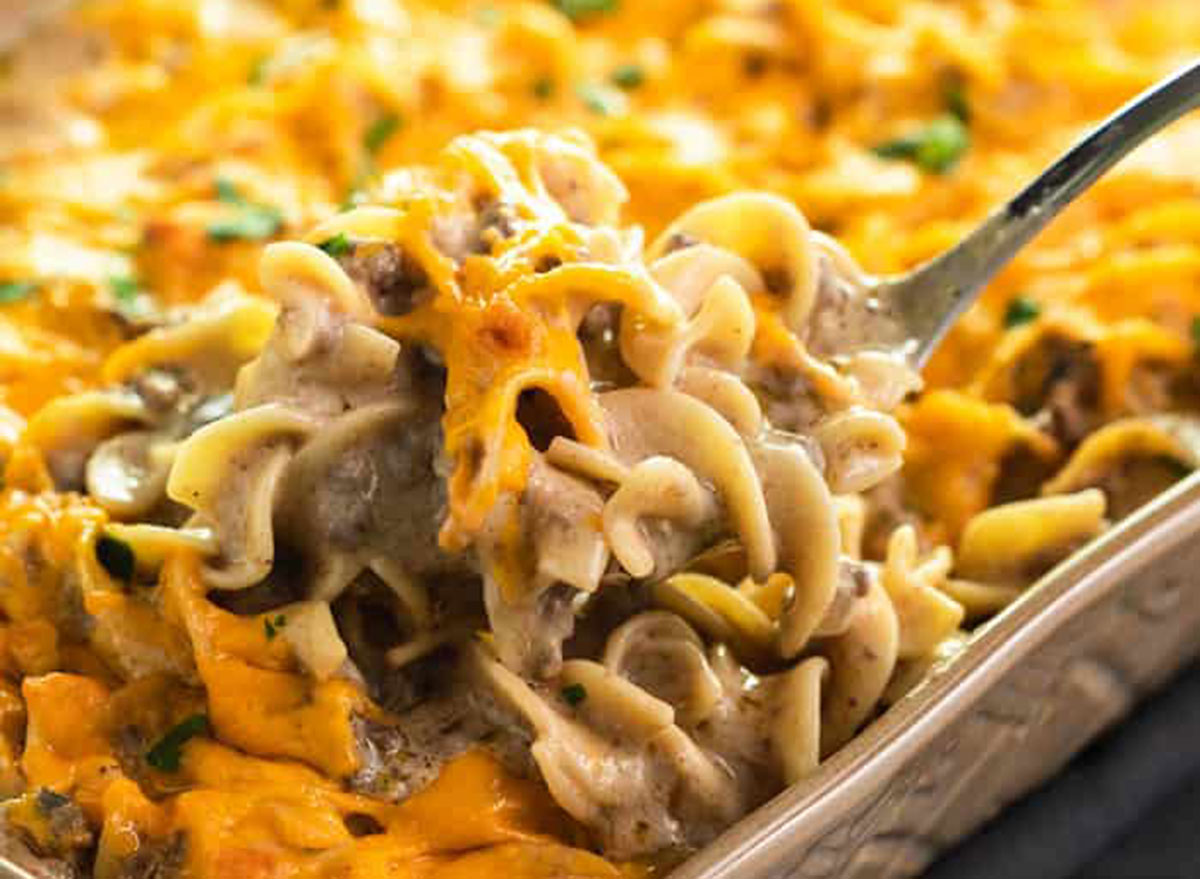 When you don't have hours to cook, want to eat well, but have to stick to a diet, it might seem like your options are limited. Have no fear, as this recipe not only cuts the fat out of this classic beef stroganoff by replacing sour cream with Greek yogurt, but also limits the amount of unhealthy fats in general that enter the meal. Let yourself indulge without guilt on this one!
Get the recipe from The Cozy Cook. 
Dump and Bake Beef Stroganoff
Whether you have to stick to a diet or just want to watch your carbs, feel free to eat fearlessly with this take on beef stroganoff. The lack of added salt means you won't have to worry about extra water retention and can watch your weight drop after eating this take on a favorite. With each serving perfectly portioned, don't fret when it comes to serving up and chowing down on this staple.
Get the recipe from The Seasoned Mom. 
Beef Stroganoff Casserole
If you love beef stroganoff and need to keep some weight off, this recipe has your name on it! The lean cuts of sirloin guarantee to keep cholesterol counts to a minimum, while the recipe replaces butter with olive oil, making for a much more heart-friendly meal. When you want to keep your body at its prime, no other beef stroganoff recipe can compare.
Get the recipe from The Baker Mama.
Slow Cooker Beef Stroganoff Soup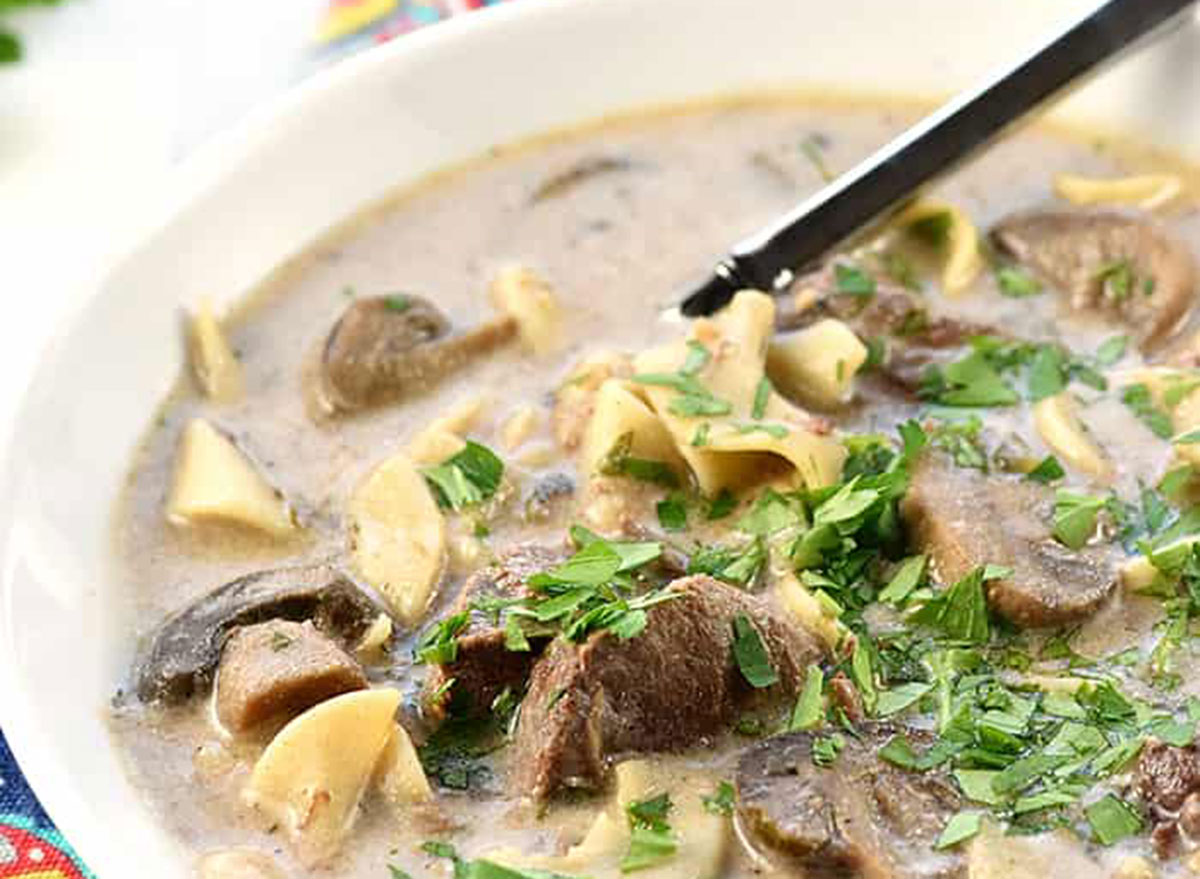 Whether you need to whip up a classic recipe for a crowd or just want a comfy standard that can keep the pounds off, this beef stroganoff recipe can fit any occasion. The liquid base gets bulked up with a roux, meaning that the recipe relies less on fat to make a tasty sauce base. With the extra liquid content, you know you'll get filled up faster and won't overeat either.6254a4d1642c605c54bf1cab17d50f1e
Get the recipe from Five Heart Home.
Slow Cooker Meatball Stroganoff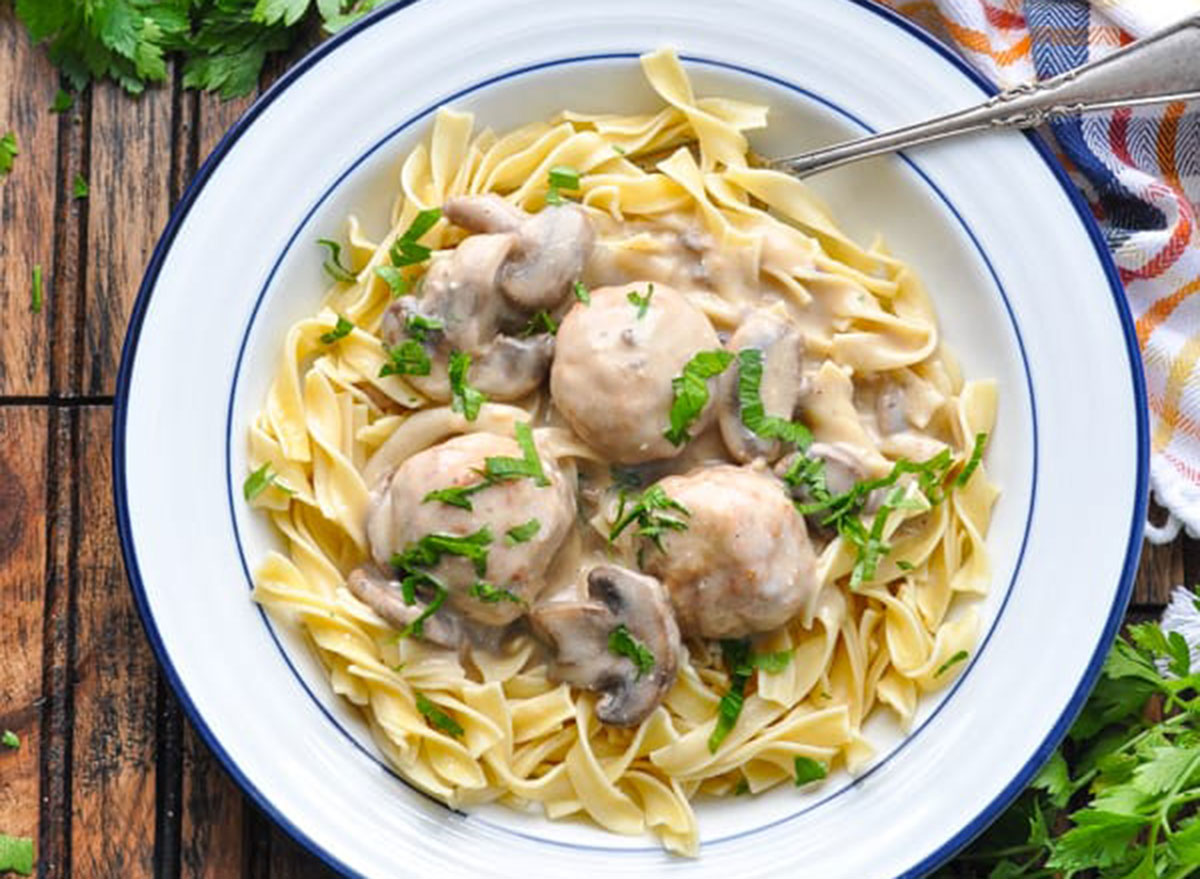 This cold-weather classic just got even easier to make. By using a slow cooker and meatballs in lieu of fatty cuts of beef, you know you can pack in the velvety texture and rich flavor of stroganoff with minimal impact on your diet. The recipe calls for frozen meatballs, but if you want more control, you can make meatballs at home to ensure no added fat enters the meal on your watch.
Get the recipe from The Seasoned Mom. 
One Pot Ground Beef Stroganoff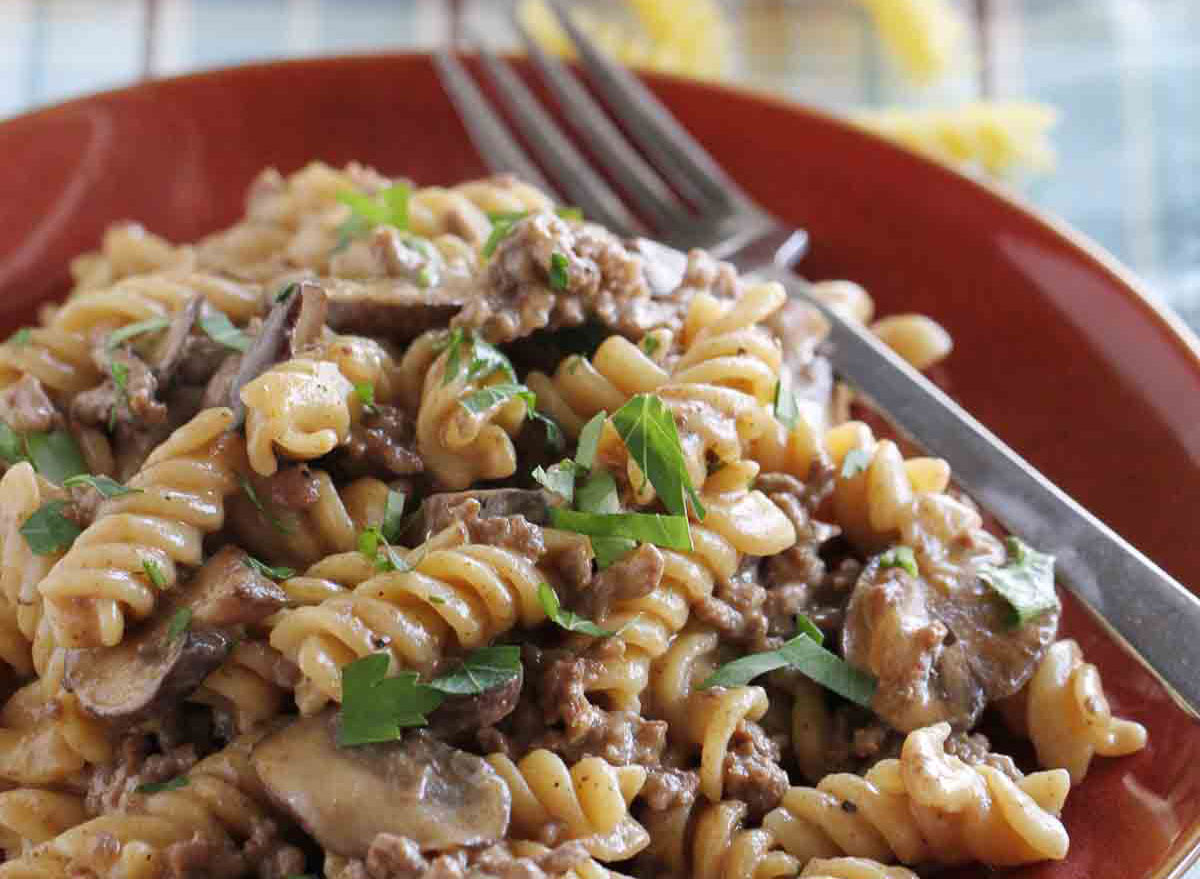 If you need to feed a family and only have so much time to do so, this one-pot classic should enter your tried and true list of recipes. Not only does the dish let you minimize the amount of dishes you have to clean at the end of the day, you get to control how much salt and fat go into the meal, meaning you can customize this dish to your taste. Go ahead and try the easiest and tastiest stroganoff you can imagine that can keep your waistline tight and trim.
Get the recipe from Taste and Tell Blog. 
More content from
Recipes