The One Trick for the Best-Ever Filet Mignon
It's all in the seasoning.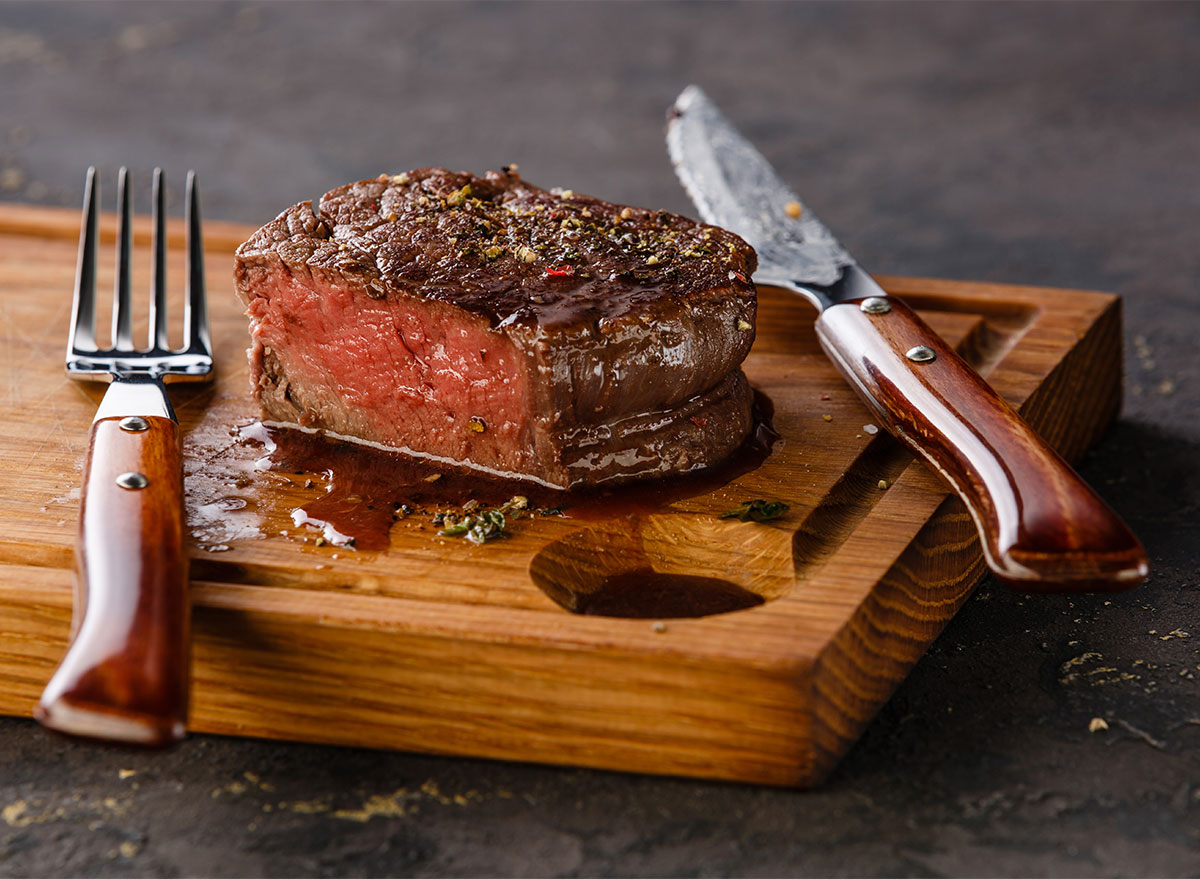 There's something inherently satisfying about eating a really well cooked piece of meat, especially the iconic filet mignon. Technically a cut from the end of the tenderloin, the filet mignon is an uber-tender, very popular cut. While some leave cooking steak to the pros and only consume it when eating out, there's no need to limit your enjoyment to an expensive meal at a stuffy restaurant.
It can be a little intimidating to buy a filet mignon if you're not totally confident in the cooking process—after all, it's not the cheapest cut of meat. However, just follow these simple steps and you'll be happily eating a perfectly cooked, beautifully seared, picture perfect filet mignon before you know it. It turns out, the one trick to a perfect filet-mignon is all in the butter and herbs you use to cook the steak.
We spoke with Chef Saul Montiel of Cantina Rooftop in New York City about the best tips to follow when cooking filet at home. "I always start by sourcing the best quality meat possible for my local butcher or market," Montiel says. "I would use about an 8 or 10-ounce filet for this recipe. The best way to cook this cut is to pan sear the steaks in butter with fresh thyme and garlic. Once the steaks get a good sear on both sides, you finish it off in the oven until it's reached the desired internal temperature."
There you have it: A little butter and herbs can go a long way. Here are some more tips to look for when buying and cooking filet mignon, along with a step-by-step cooking guide.
What should you look for when shopping for filet mignon?
"Filet mignon is the most expensive cut of steak you can buy, so you have to make sure that you're spending your money wisely," says Yumna Jawad of Feel Good Foodie. "Because it's more tender than other cuts of steak, look for a brightly red color on the steak with light marbling. You don't want to see any silver skin or large pieces of fat on the steak."
Should you season filet mignon before cooking it?
Montiel, Jawad, and Executive Chef Oscar Cabezas of Telefèric Barcelona agree: Filet mignon should be seasoned before it hits the pan.6254a4d1642c605c54bf1cab17d50f1e
"To avoid possible bleeding, the filet mignon should be well-tempered before cooking," Cabezas says. "Spaniards are generous with salt throughout the cooking and reserve freshly ground black pepper for the end. A little olive oil provides some great fat."
Whether you choose to cook your steak in butter or olive oil, seasoning it ahead of time will make all the difference.
How should you cook a filet mignon?
Here's Montiel's step-by-step method for the perfect steak at home:
Bring the filet mignon to room temperature approximately 45 minutes to an hour prior to cooking. (This ensures an evenly cooked steak!)
Generously coat the filet with kosher salt and freshly ground black pepper. This is not a time to skimp on seasoning. Preheat the oven to 400 degrees Fahrenheit.
A cast iron skillet is ideal, but an oven-safe sauté pan also works. Heat the pan over medium/medium-high. Wait until the pan is super hot to add a few tablespoons of butter, smashed garlic cloves, and fresh thyme. Make sure to stir everything around to prevent burning. Once the butter is melted and foamy, add the steaks to the pan.
As the steak sears, carefully use a spoon to baste the filet with the garlic and thyme-infused melted butter. Do this until the steak is completely seared, about five minutes on each side.
Transfer the steak to the preheated oven to finish the cooking process; it shouldn't take more than three to five minutes for a rare to medium-rare steak. Let the steak sit for five minutes before slicing. Enjoy!
This is a fool-proof method to ensure a perfectly cooked steak that will knock your socks off. Filet mignon isn't just for restaurants—with these tricks, you can master this steak dish right at home.