Takeout-Level Beef With Broccoli Recipe
Save yourself money and calories with this healthy stir-fry you can make right at home.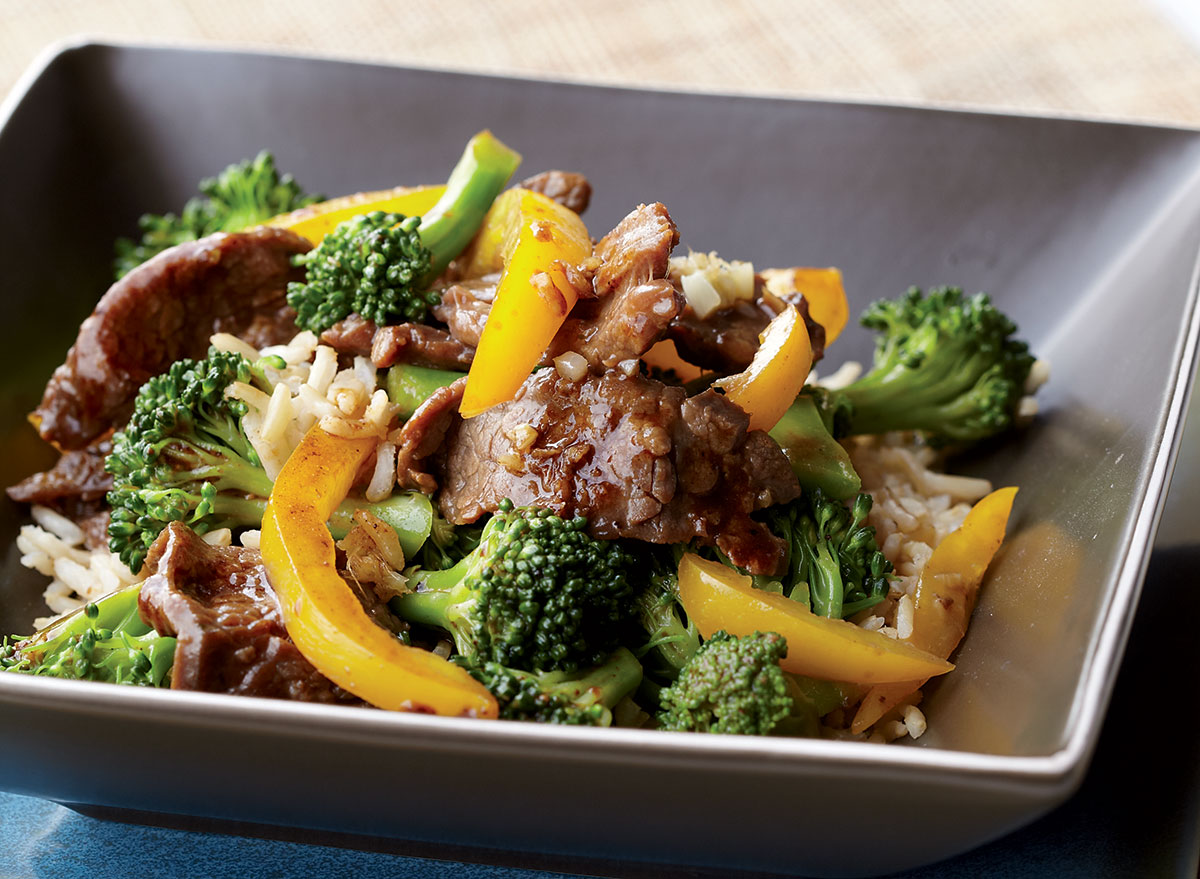 When we crave takeout food, one of the top cuisines on our list is Chinese. There is nothing quite so satiating as a carton of your favorite dish slathered in brown sauce. Beef and broccoli is perhaps one of the most recognizable stars in the Chinese-American food galaxy. No doubt it has spent some time hanging out in your refrigerator in a cardboard delivery box and generally contains a pile of beef with a few small flecks of broccoli buried under a viscous tide of salty sauce. This beef and broccoli recipe though captures the soul of the original recipe, but without all of the excess sauce, oil, and sodium. Instead, count on plenty of lean meat, tons of fresh broccoli, and a delicious sauce that lightly coats the stir-fry.
Nutrition: 330 calories, 13 g fat (4 g saturated), 900 mg sodium
Serves 4
You'll Need
3 Tbsp low-sodium soy sauce
3 Tbsp oyster sauce
2 Tbsp Shaoxing rice wine, sherry, or dry white wine
1 Tbsp brown sugar
1 tsp toasted sesame oil
1 tsp cornstarch
1 lb flank steak, thinly sliced
1⁄2 Tbsp canola or peanut oil
1 lb broccoli, broken into bite-size pieces
1 red or yellow bell pepper, cored and sliced
4 cloves garlic, minced
1 Tbsp grated fresh ginger
1⁄4 cup low-sodium beef stock
How to Make It
Combine the soy sauce, oyster sauce, Shaoxing, brown sugar, sesame oil, and cornstarch in a large mixing bowl.
Whisk to combine the liquid with the cornstarch.
Mix in the beef and let marinate for 30 minutes.
Heat the oil in a wok over medium heat.
Add the broccoli, bell pepper, garlic, and ginger and stir-fry, using a spatula to keep the vegetables moving, for about 5 minutes, until the vegetables have softened.
Add the beef and its marinade and continue cooking, stirring frequently, for about 5 minutes, until the beef is browned and nearly cooked through.
Add the stock and cook for another 2 minutes, until the sauce thickens and clings to the beef and vegetables.
Serve over steamed brown rice, if you like.
Eat This Tip
When you order too much takeout Chinese food, that just means that you have leftovers to eat for the next few days. Well, the same goes for this recipe. We suggest you make more than you can eat. Not only will you have leftovers for days, but you'll have less of a need to reach for Seamless. Save money and calories!6254a4d1642c605c54bf1cab17d50f1e
Love this recipe? Subscribe to our Eat This, Not That! magazine for even more at-home cooking and healthy eating ideas.