The Best Asian Restaurant in Every State
Our friends at Yelp helped us uncover the best restaurants serving Asian cuisine across the U.S.
Is there one Asian restaurant that you always order takeout from? A fair share of us out there know this kind of appeal. Whether your go-to dish is a flavorful vegetable lo mein or a sweet and slightly crispy General Tso's chicken or a fresh and delicious sushi platter, when a restaurant makes your favorite dish just as you like, there's no going elsewhere.
We requested data from our friends at Yelp on what they estimated was the best Chinese restaurant in each state, using the "Chinese" category data on their site. However, we noticed a lot of these restaurants offer cuisine from countries surrounding China as well, so we tweaked the theme of our story here to be focused more on Asian restaurants in general so that these other types of Asian cuisine were fairly represented and recognized as distinct. Some of the other types of cuisine on this list include Japanese, Malaysian, Thai, and Vietnamese. What's more, a majority of the restaurants showcased on this list are said to offer authentic Asian cuisine—not just an Americanized version that you may find at an all-you-can-eat buffet. Though all of these restaurants fall under the "Chinese" category on Yelp, we wanted to highlight that many restaurants on this list are more broadly Asian cuisines, and we adjusted our scope accordingly to be on Asian cuisine in general.
Methodology: This is a list of the best Chinese restaurants in every state in the U.S., according to Yelp. All the businesses on this list are in the "Chinese" category on Yelp. "Best" is measured using an algorithm that looks at the number of reviews and star ratings for a business. However, as we mentioned above, our story focuses on Asian restaurants in general.
Note, we opted for the runner-up eateries in three states: Iowa, Louisiana, and Oklahoma. This is because the restaurant that was listed as the top-rated restaurant did not appear to offer an expansive list of Asian cuisine options. We also broadened our scope from the best Chinese restaurant in every state to the best Asian restaurant in every state after further review of the data that Yelp sent showed that many restaurants on the list provided were more broadly Asian cuisines, not just Chinese.
And for more, don't miss  The Best Fried Chicken in Every State.
ALABAMA: Ooka Chinese & Japanese Restaurant in Birmingham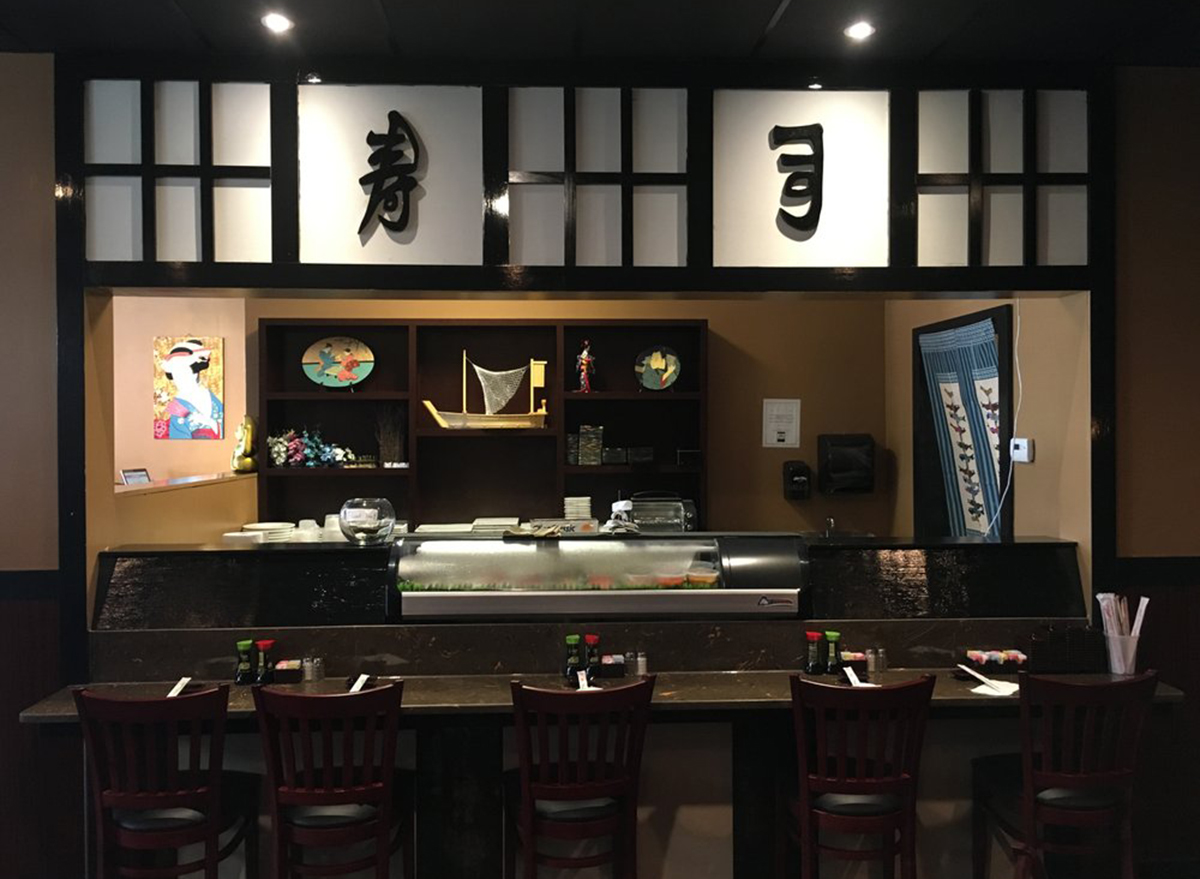 Ooka is marketed as both a Chinese- and Japanese-inspired restaurant, offering dishes like orange chicken with steamed rice and egg rolls to hibachi-style meals, too.
ALASKA: Basil Ginger in Wasilla
The best Chinese restaurant in Alaska also serves sushi and Thai cuisine. One Yelp reviewer suggests you order the following at Basil Ginger: "The fried calamari is exceptional. We generally order the cashew shrimp and chicken lo mein which is excellent."
ARIZONA: Singing Pandas Asian Restaurant & Bar in Chandler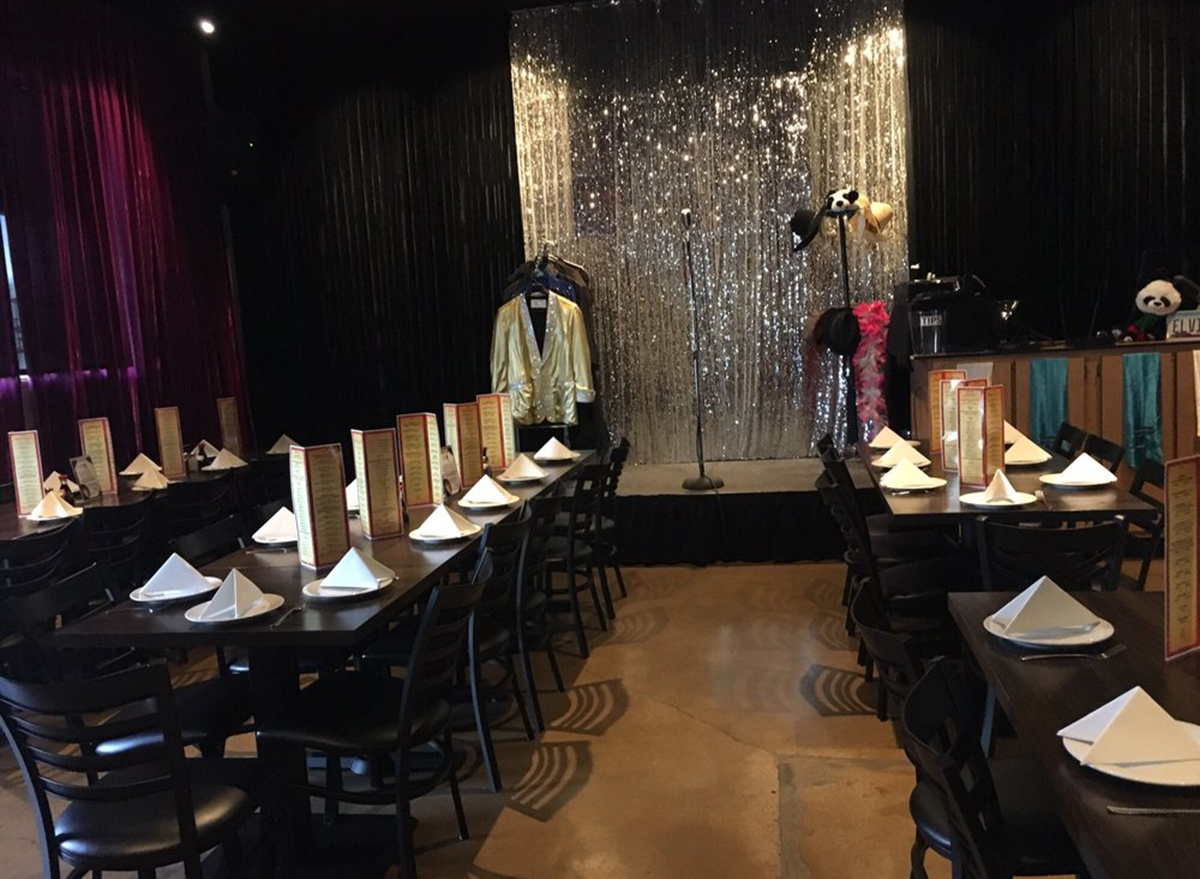 Dinner and a show? It's no wonder why this restaurant is a top pick among Yelp reviewers! Here's what one such Yelp contributor had to say about the place.
"The best Asian food in the S/E valley with Vegas level of entertainment for the entire family included with your dinner."
ARKANSAS: Three Fold Noodles and Dumpling in Little Rock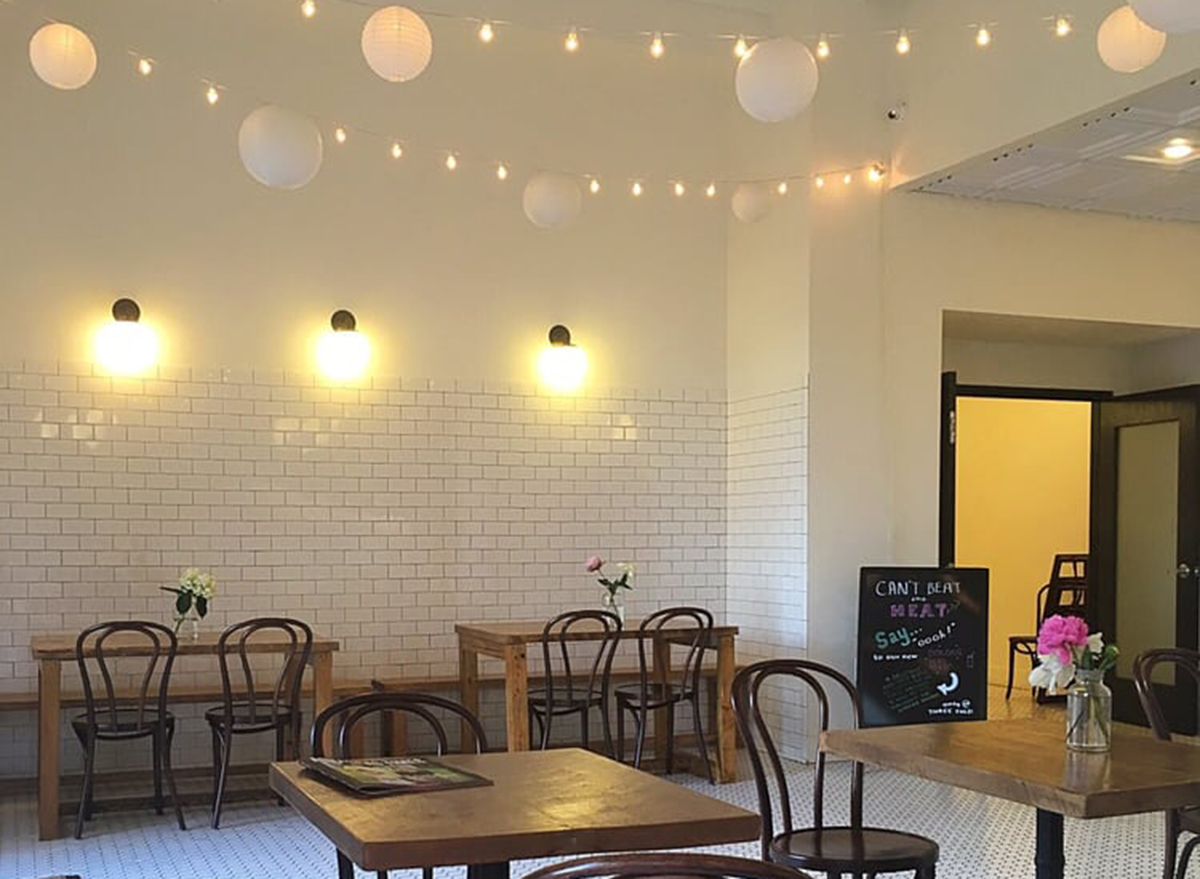 Three Fold Noodles and Dumpling offers anything from a beef and noodle soup to house-made dumplings. They even serve a half and half bowl, which allows you to sample both of the restaurant's staple food items (noodles and dumplings)—a recommendation made by several reviewers on Yelp!
CALIFORNIA: T & Z Chinese Restaurant in Sacramento
Known for its large portions and reasonable prices, T & Z Chinese Restaurant in Sacramento was rated the best Chinese restaurant in the state of California by Yelp. Check out what one enthusiastic reviewer had to say about the place:
"Wow!!! This place SO far exceeded my high expectations that I am simply blown away….started with a beer of course and ordered Sizzling Rice Soup and a side of Pot Stickers….prices, quality, service, and taste are all EXCEPTIONAL!!"
COLORADO: Fortune Wok to Table in Denver
A lot of Yelp reviewers rave about Fortune Wok to Table, a casual Chinese restaurant located in the heart of Colorado's capital. While there are several positive reviews that boast both the atmosphere and quality of food at this place, we thought this person's review provided some great insight on what to order:
"O.M.G the food was incredibly amazing! We tried fried beef dumpling, pork soup dumpling, and the shrimp noodles!" The reviewer also says, "This place is truly 5 stars! Maybe 6 stars! The atmosphere was just amazing and great to hang out with friends or taking your loved one for a date!"
Date night at Fortune Wok to Table, anyone?
CONNECTICUT: Good Hope Dumpling & Ramen House in Norwalk
We read that the spicy miso ramen is something you have to try when you visit Good Hope Dumpling & Ramen House. They even prepare ramen in two different styles: either dry or in a bowl of soup!
DELAWARE: Mom's Kitchen in Bear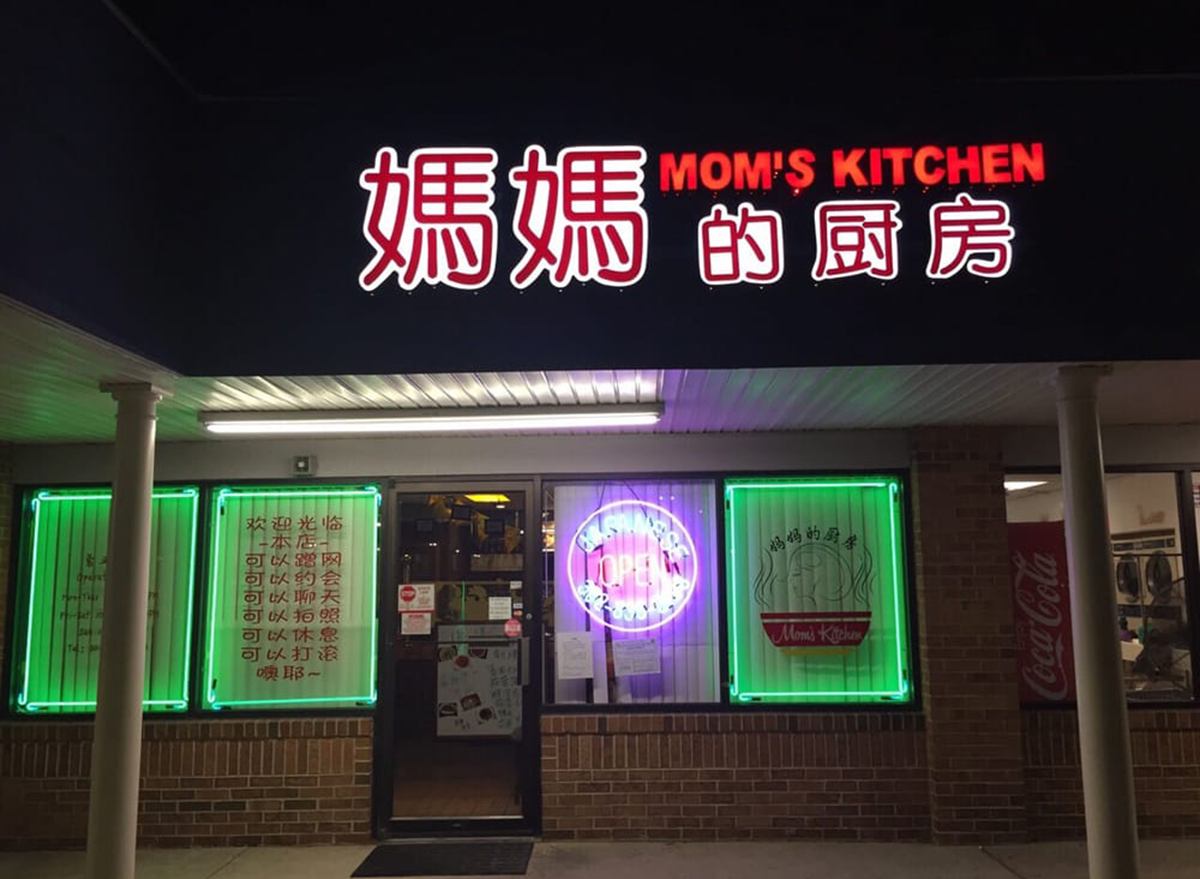 Who wouldn't want to go to a place called Mom's Kitchen? Apparently, this restaurant doesn't mess around either—several reviewers on Yelp applaud Mom's Kitchen for serving authentic Chinese food.
"This isn't your typical Americanized Chinese restaurant and you shouldn't expect to order the 'usual' dishes here." Another reviewer said, "Hands down, the best Chinese food I've ever had, and I've been to Hong Kong and Shanghai multiple times!"
FLORIDA: Red Shallot in Doral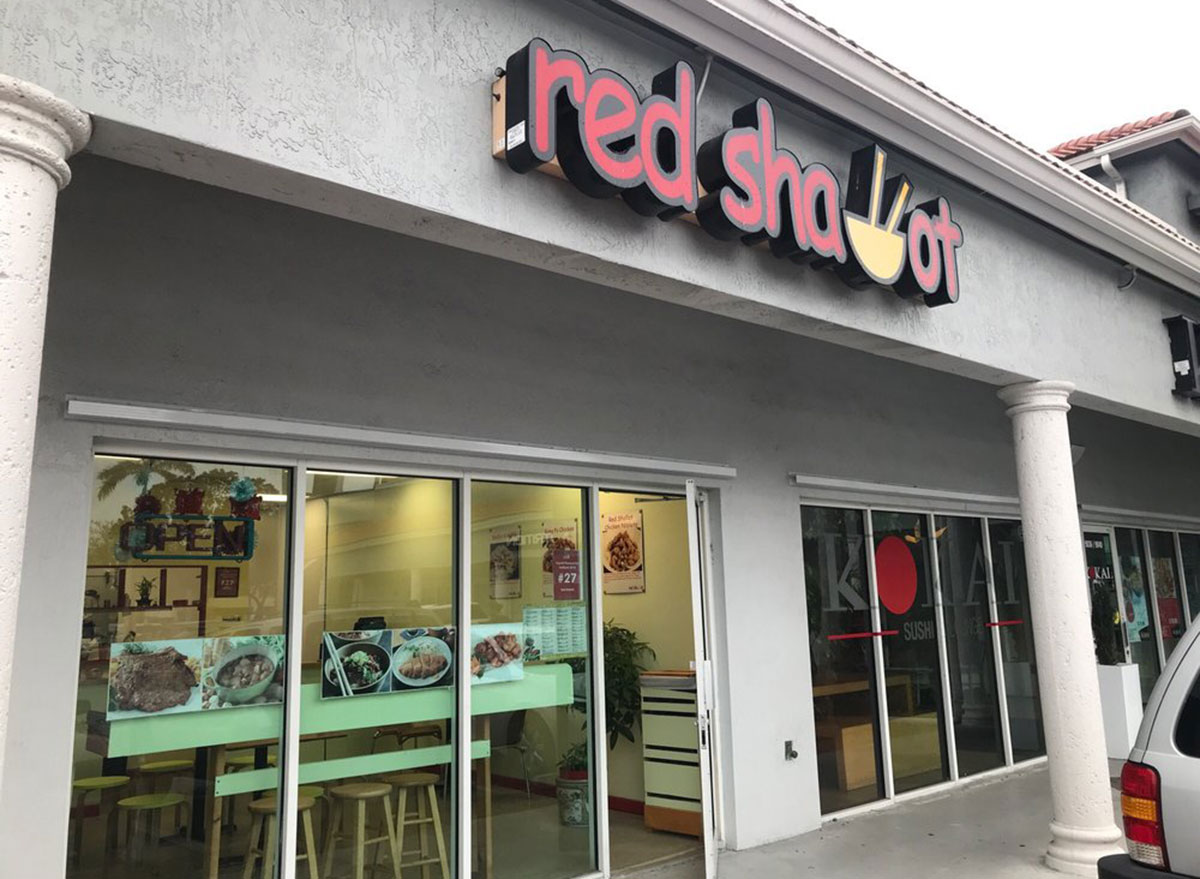 Red Shallot is known for its traditional Asian cuisine. One reviewer raves about the appetizers here, saying the Hot n' Sour Soup and the Chicken Niblets appetizers are both a must-try. In addition, she comments on the inviting atmosphere—an important quality in a restaurant!
"The owner is really friendly! He served us, all the while adamantly explaining the menu and giving us suggestions."
GEORGIA: Baozi Asian Street Food in Lawrenceville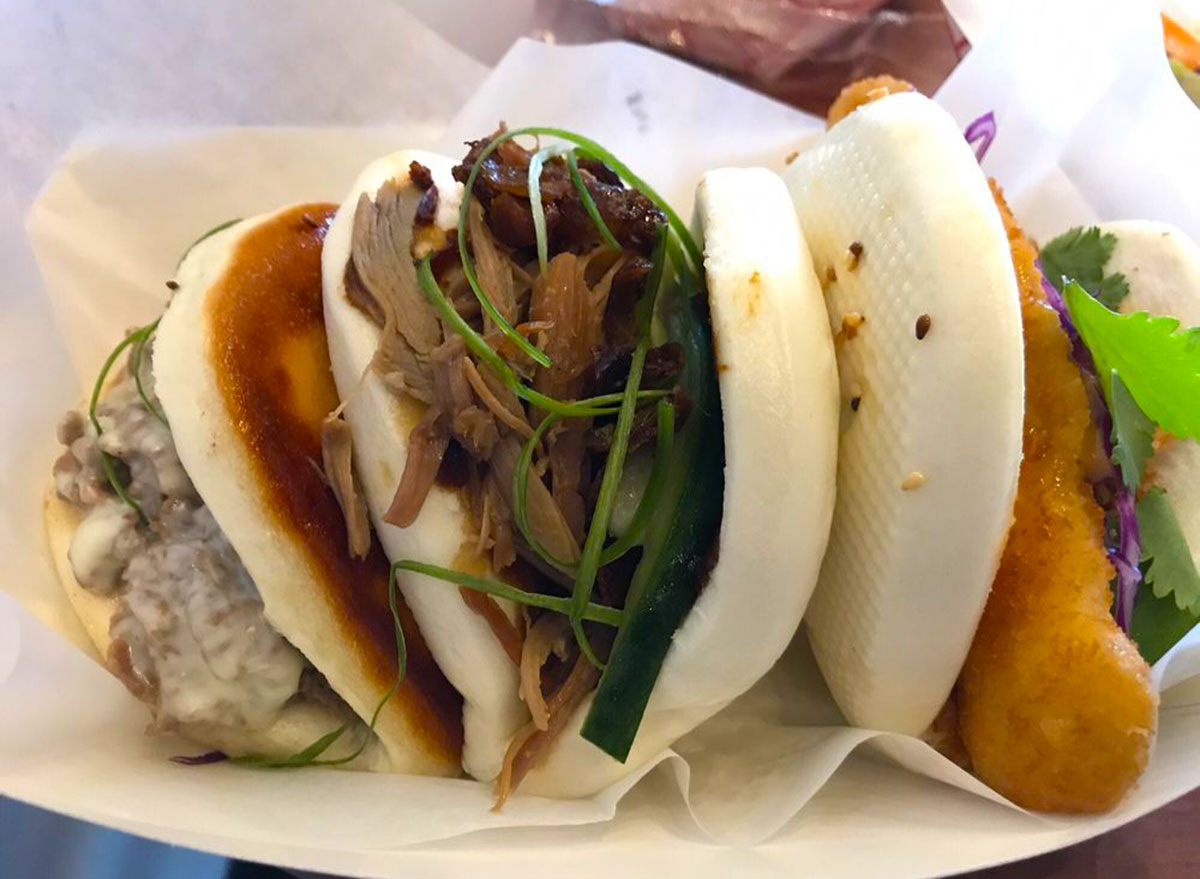 Yelp reviewers rave about the selection of bao at Baozi Asian Street Food, which is a steamed bread roll that either contains meat, vegetables, or a combination of the two. One reviewer even says this place offers the best bao in all of Georgia!
HAWAII: Honolulu Kitchen in Waipahu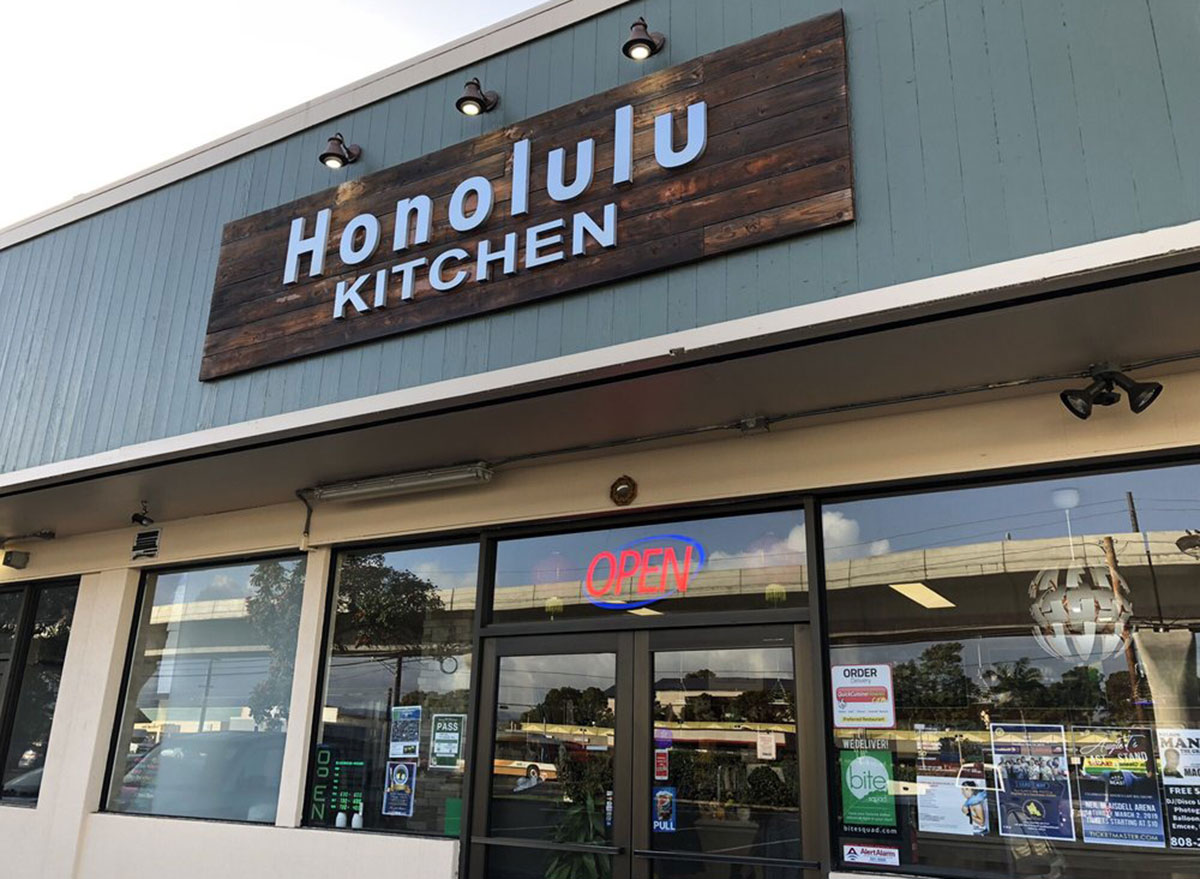 When you go to Honolulu Kitchen, you have to order the manapua, which is Hawaii's version of char siu bao, or Chinese steamed pork buns.
IDAHO: Wok Fusion in Meridian
While the outside of this place may not look like anything out of the ordinary, the inside is described by viewers as cheery and casual. Wok Fusion is the place to go for sweet and sour pork and Chow Fun.
ILLINOIS: WJ Noodles in Chicago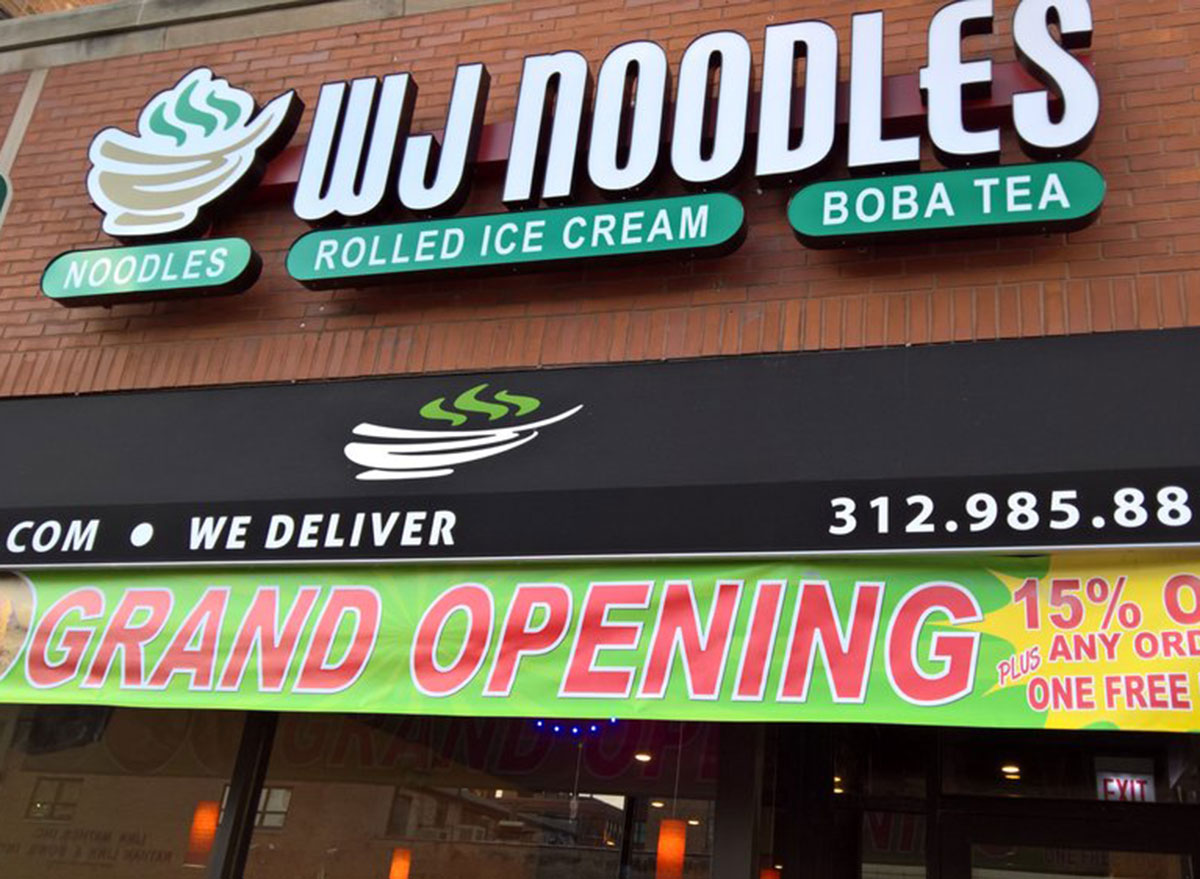 Noodles aren't the only dish this restaurant is known for. The Shanghai dumplings, egg rolls, sesame chicken, pork buns, hot and sour soup, and egg drop soup all appear to be top-notch selections at Illinois' best Chinese restaurant, WJ Noodles.6254a4d1642c605c54bf1cab17d50f1e
INDIANA: Asian Kitchen in Hammond
Asian Kitchen offers up Chinese- and Vietnamese-centric dishes, from crab Rangoon and shrimp fried rice to Vietnamese chili and lemongrass chicken to pho.
IOWA: Le's Chinese Bar-B-Que in Des Moines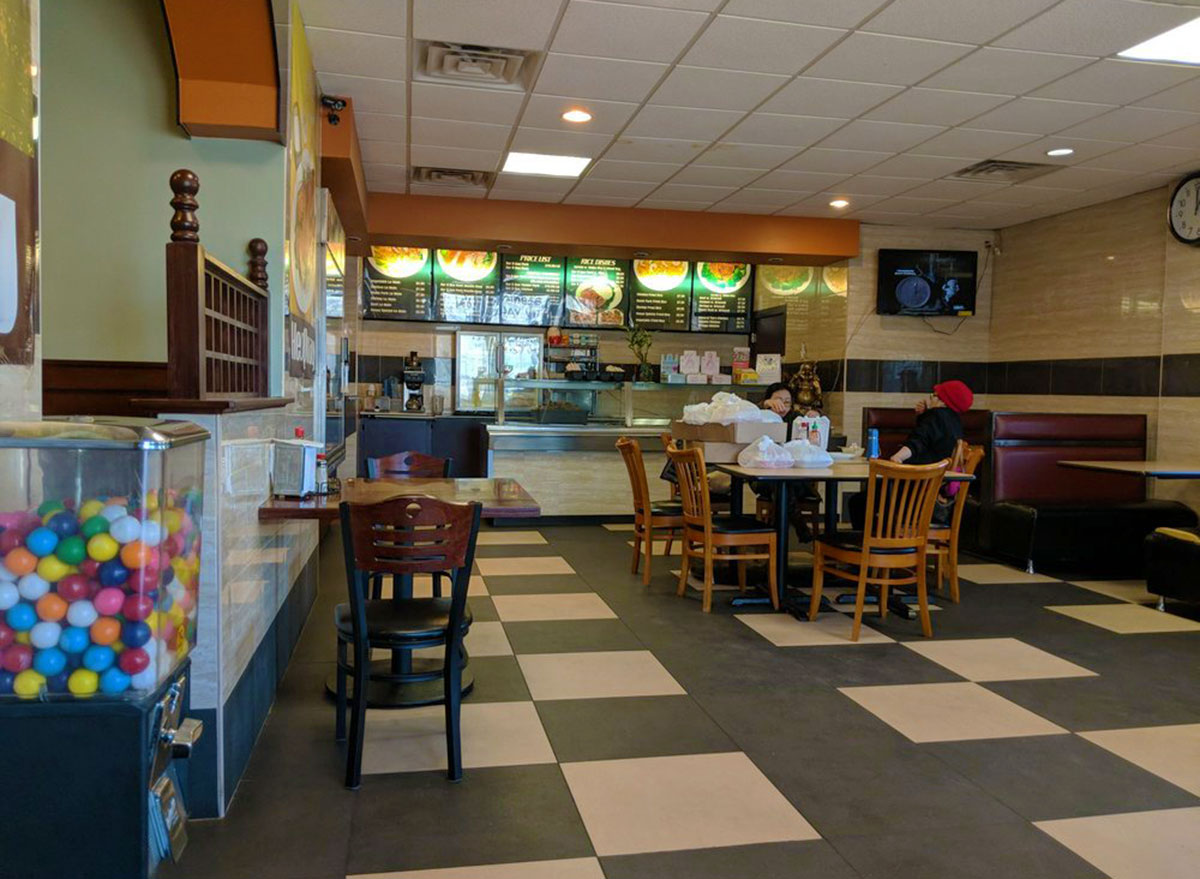 This hole-in-the-wall Chinese restaurant is a treasure to many in the Des Moines area. Here's what one reviewer had to say:
"I am so appreciative that we have an establishment like this here in Des Moines. We lack in so many good restaurants when it comes to Asian restaurants, but we are very lucky to have this place here."
KANSAS: Sushi UNI in Lenexa
On Yelp, Sushi UNI is categorized as both a Japanese and Chinese place. However, they are primarily known for their sushi selection. One reviewer lends some insight on what to order:
"Their lunch special is the best thing ever created!! For $12.50 you get 3 rolls, a side of crab rangoons, and a choice of soup or salad! I highly recommend the spicy tuna roll, 87th St. roll, Dino roll, and although not on the lunch special, the rainbow roll!"
LOUISIANA: Hong Minh in Harvey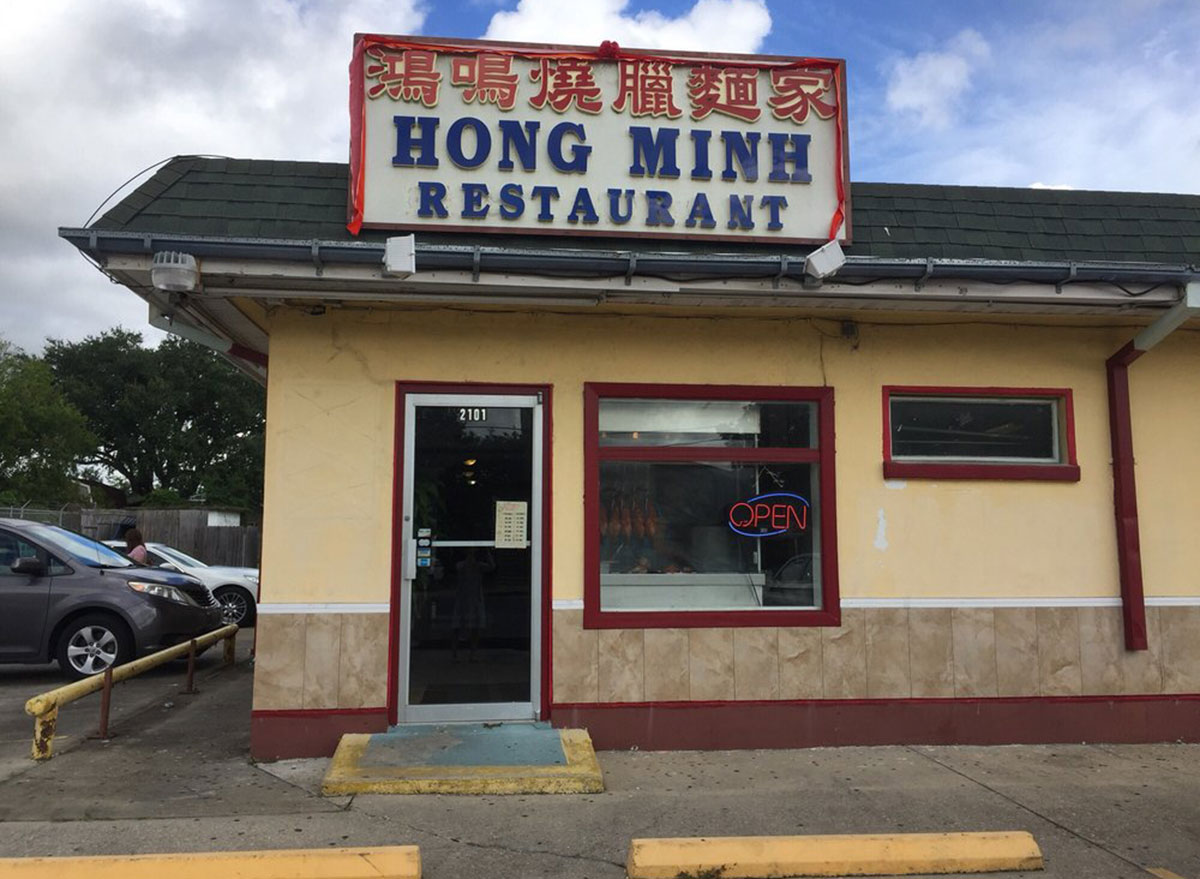 Hong Minh is praised for its authentic Chinese and Vietnamese cuisine. Apparently, the crispy pork belly and seafood chow mein are excellent choices at this eatery. Here's what one reviewer had to say about this place in general:
"I have a feeling this place isn't going to be a quiet secret for much longer. While they have some of the traditional Chinese-American staples, it appears the more authentic fare is where they really shine."
MAINE: Empire Chinese Kitchen in Portland
From small plates like lobster Rangoon to entrées like Peking duck, Empire Chinese Kitchen is the top place for Chinese cuisine in Maine because of its expansive menu and quality selections. Need a suggestion on what to order?
"My favorite items and 'go-to's' from the menu are the spicy pork buns, green beans, and soup dumplings," says one Yelp contributor.
MARYLAND: Hot Pot Legend in Rockville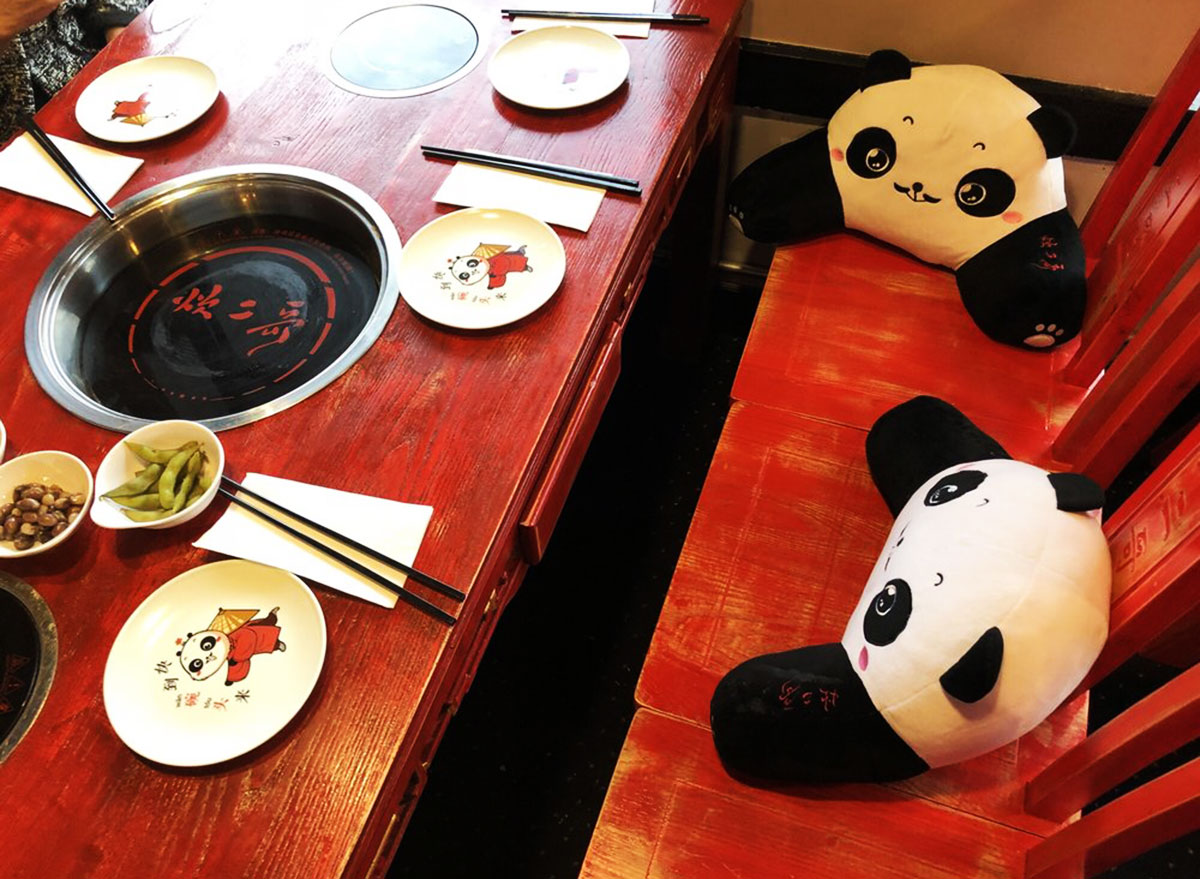 Um, how precious are these panda bear cushions? Aside from the cute decor, Hot Pot Legend is known for its selection of broth bowls: "The broths were amazing. Rich and flavorful," says one reviewer on Yelp. Another contributor says the pork bone broth is outstanding, so keep that in mind as you scan the menu.
MASSACHUSETTS: Lili's Restaurant in Amherst
"I can understand why this has 5 stars because yum! The menu is small, no more than about 10 items, and they all range about $6-12," says one Yelp reviewer. This same person also says that everything on the menu is made in-house—including the noodles. We hear the Saozi noodles and the Biang Biang homemade noodle soup are two very popular options.
MICHIGAN: Family Wok in Grand Rapids
Family Wok appears to be unrivaled in comparison with its competitors in the state. Here's what one reviewer had to say:
"Best Chinese we've ever had. The owner is so kind and attentive. I can see why they have a 45 min wait every night they're open. Also, the quality of the food is definitely a level ahead of all others in the area."
MINNESOTA: Weng's Kitchen in Farmington
At Weng's Kitchen, the options are truly endless—just take a gander at the menu. It appears the Beef Chow Fun and the Moo Shu Pork are a hit among those who dine here.
MISSISSIPPI: Fuji Sushi House in Biloxi
Expect to see some fun sushi roll names at Fuji Sushi House in Mississippi. When you attend, maybe you'll be in the mood for a more simple sushi roll like the Fuji Volcano Roll, which comprises tempura shrimp, avocado, and cucumber. Or maybe you'll crave something with a bit more complexity in flavors such as the Southern Belle Roll, which houses coconut shrimp tempura, spicy salmon, white tuna, mango, avocado, and fried shallot. Yum!
MISSOURI: Lona's Lil Eats in St. Louis
Evidently, the chef at Lona's Lil Eats is a James Beard semi-finalist, which likely gives you an idea of the caliber of food served here. Come to Lona's Lil Eats for a fusion of northern Thai and southern Chinese cuisine. The menu even tailors to a diverse set of eaters—whether you're vegan, vegetarian, gluten-free, or following the Paleo diet, the restaurant offers something for you.
MONTANA: MontAsia in Cooke City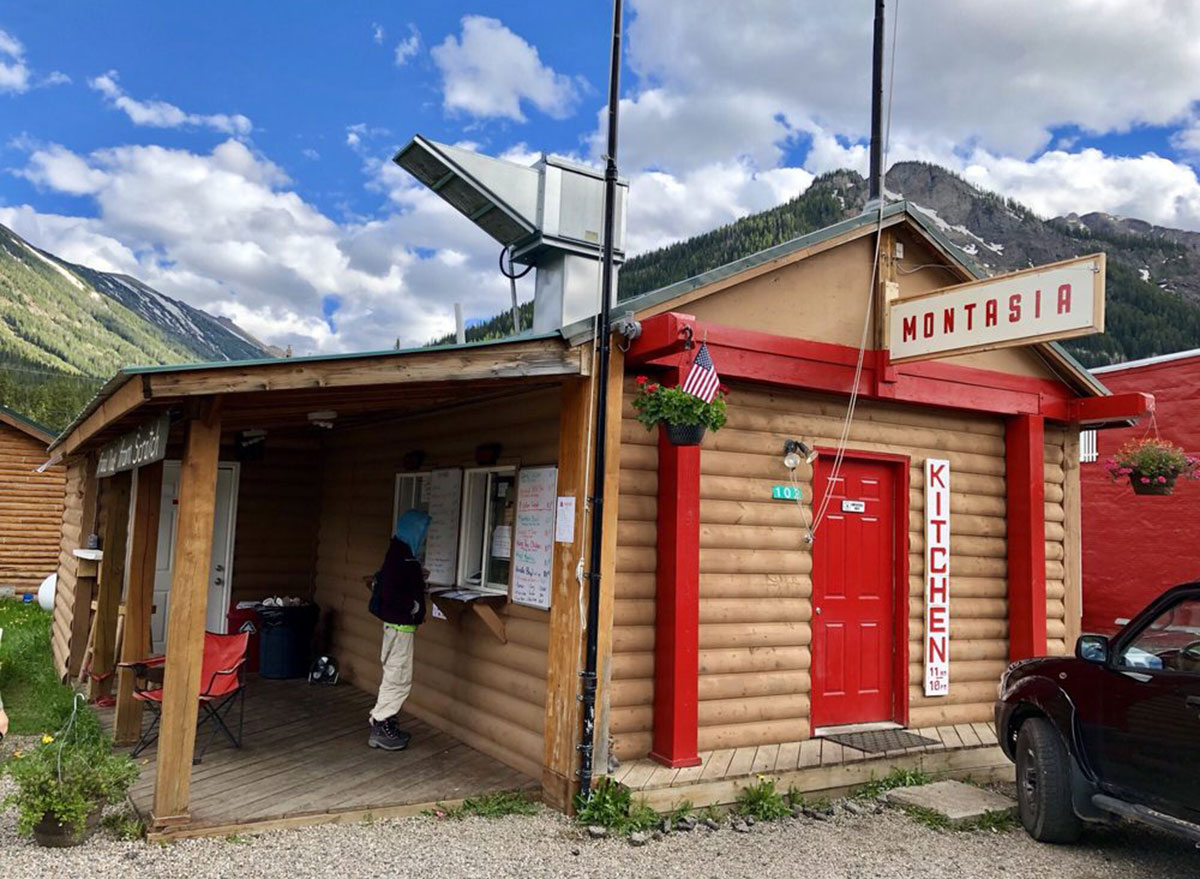 At MontAsia, the small menu offers both a taste of modern Malaysian cuisine such as chicken curry as well as Chinese comfort food selections including Kung Pao chicken.
NEBRASKA: Umami in Bellevue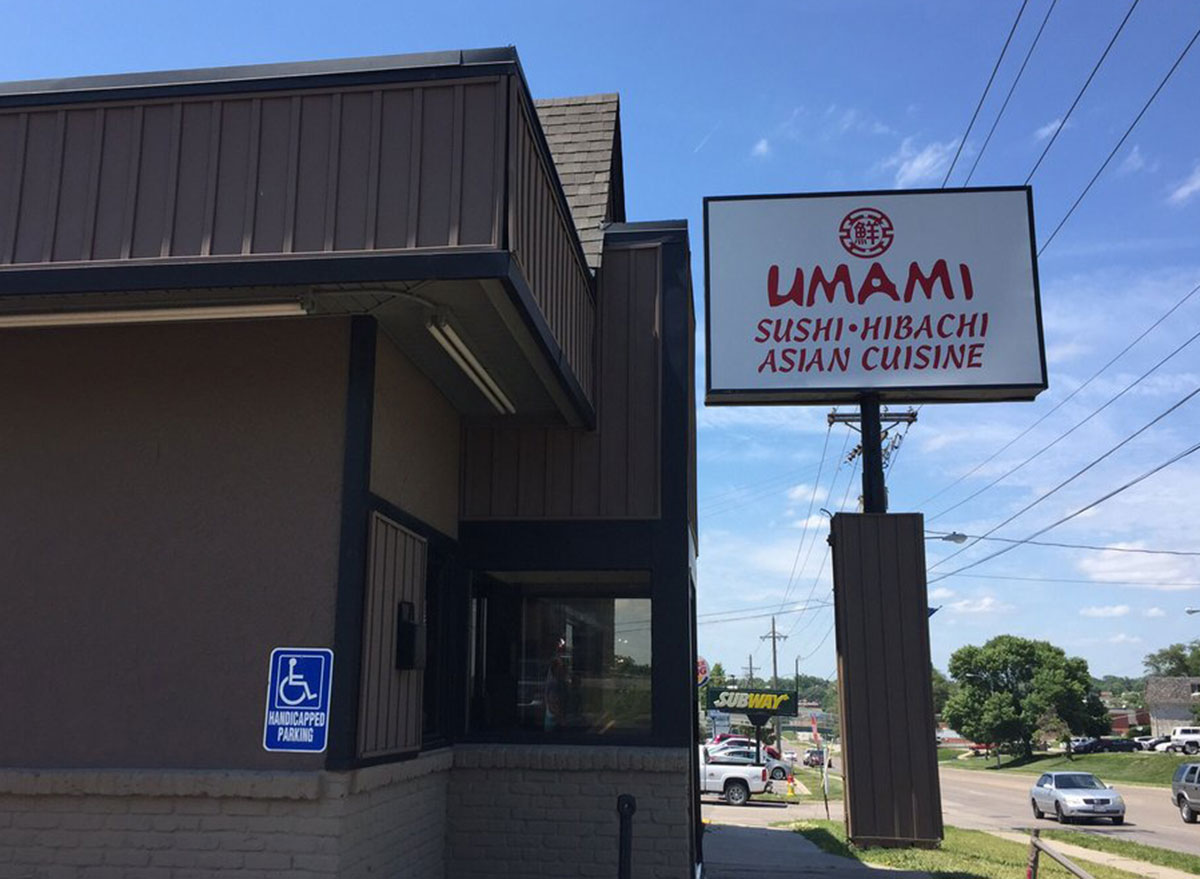 Umami marries Japanese, Chinese, and Thai cuisine all into one restaurant. We read that the Non-Stop Hot Tuna Roll and the 1504 Bellevue are two excellent House Special Rolls on the menu!
NEVADA: Chef Kenny's Asian Restaurant in Las Vegas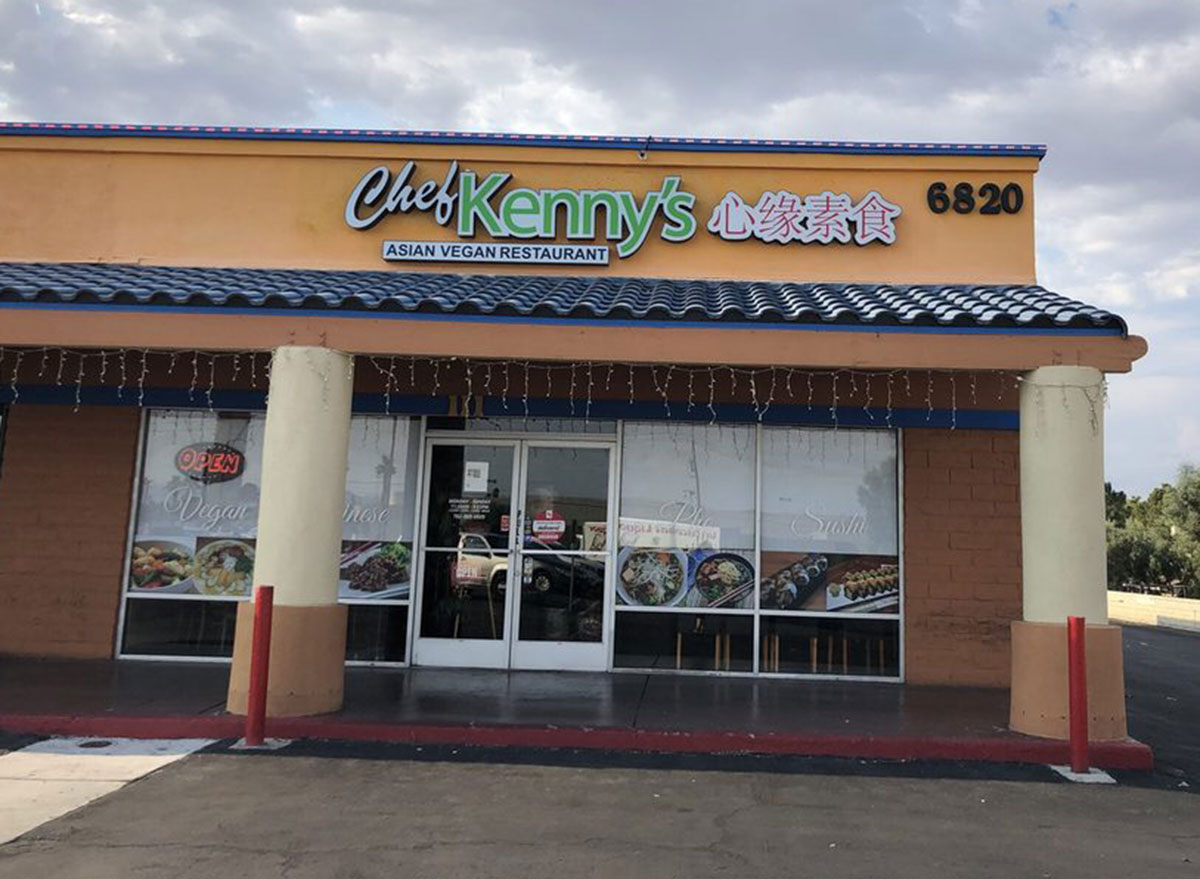 Calling all vegan friends: this restaurant is especially for you. Chef Kenny's Asian Restaurant offers all of your favorite elements of Asian cuisine in meatless form, which is even great for those who have allergies to shellfish! Try the Spicy Kung Pao Beef, made of soy beef, or the jack fruit sushi roll.
NEW HAMPSHIRE: Saigon & Tokyo in Dover
Saigon & Tokyo is one poppin' place. One reviewer says you'll be waiting for a seat if you come between 5:30 and 7:30 pm most nights so take that into consideration before you venture out. This restaurant offers a taste of Chinese, Japanese, and Vietnamese cuisines.
NEW JERSEY: King Wong in Marlton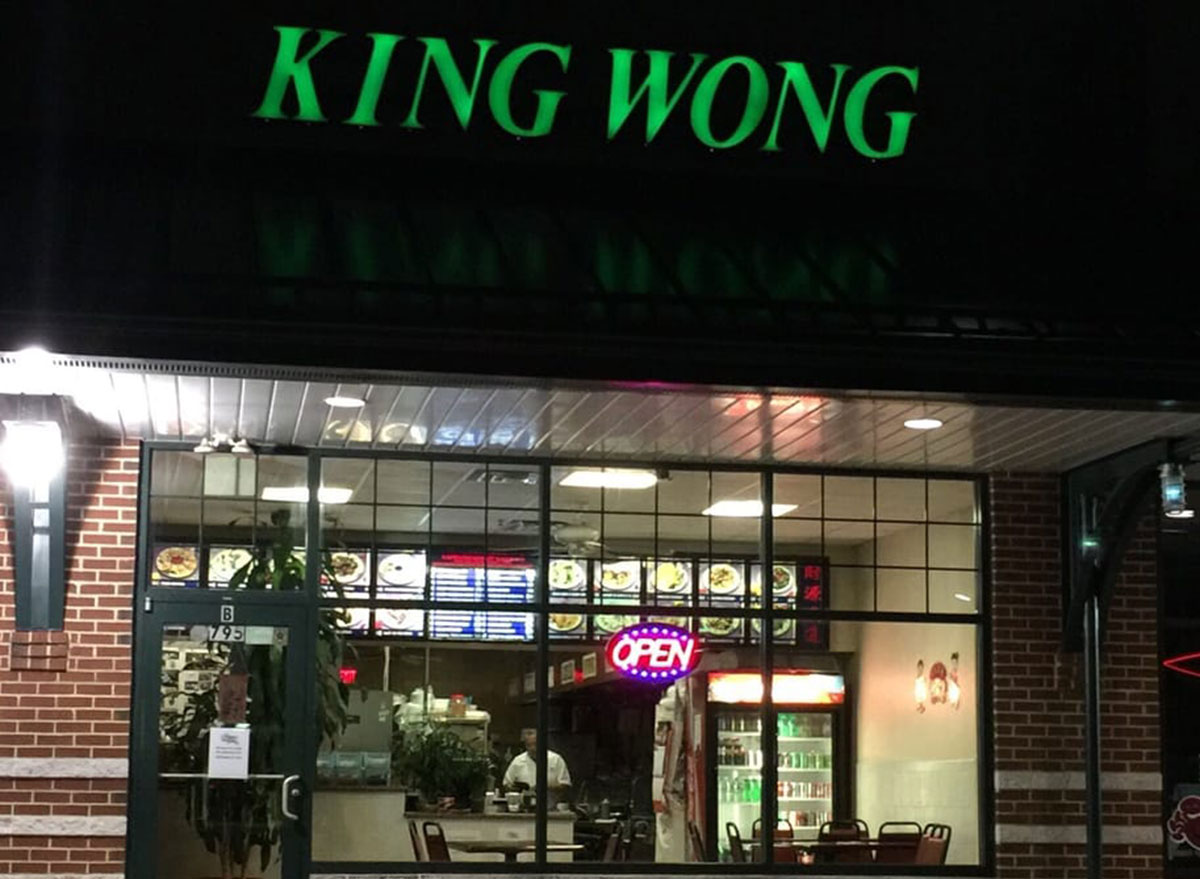 Never been to King Wong? One Yelp reviewer, who appears to be a regular, lends some insight on what she believes are the restaurant's strongest dishes:
"King Wong is my go-to for Chinese takeout. My husband and I probably eat here 2-3 times a month. We've had everything from General Tso's, to sesame chicken, Hunan chicken, chicken egg foo young, chicken lo mein, and fried rice."
NEW MEXICO: Tasty Kitchen Chinese Restaurant in Grants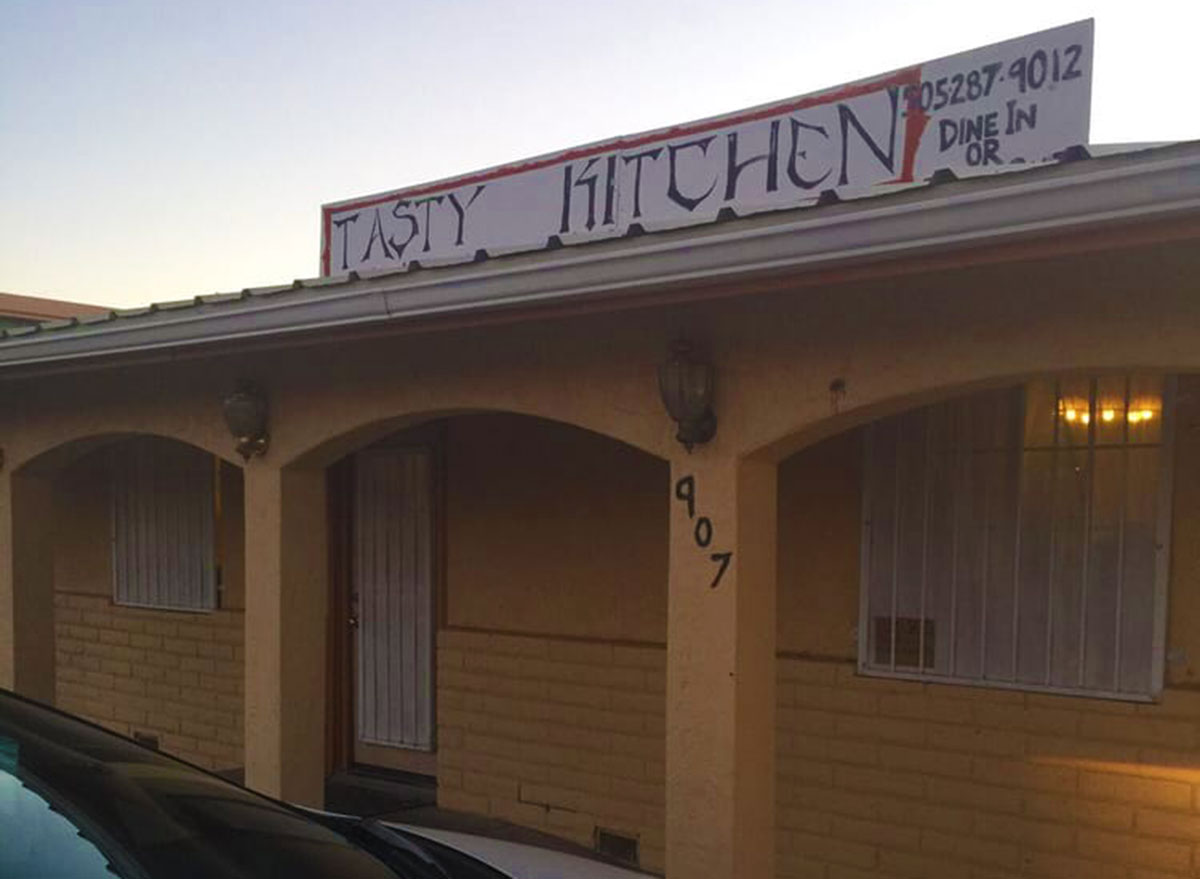 The fact that the best Chinese restaurant is in this small city in New Mexico says a lot about the quality of cuisine served here. But seriously, there are just over 9,000 people living in Grants. Check out what one reviewer on Yelp had to say:
"Amazing Chinese food! I am still in disbelief that this restaurant is located in the center of Grants New Mexico. 100% ignorance on my part but I would have not thought in a million years a Chinese restaurant this good would be in such a small town as Grants, NM."
NEW YORK: Pig Heaven in New York City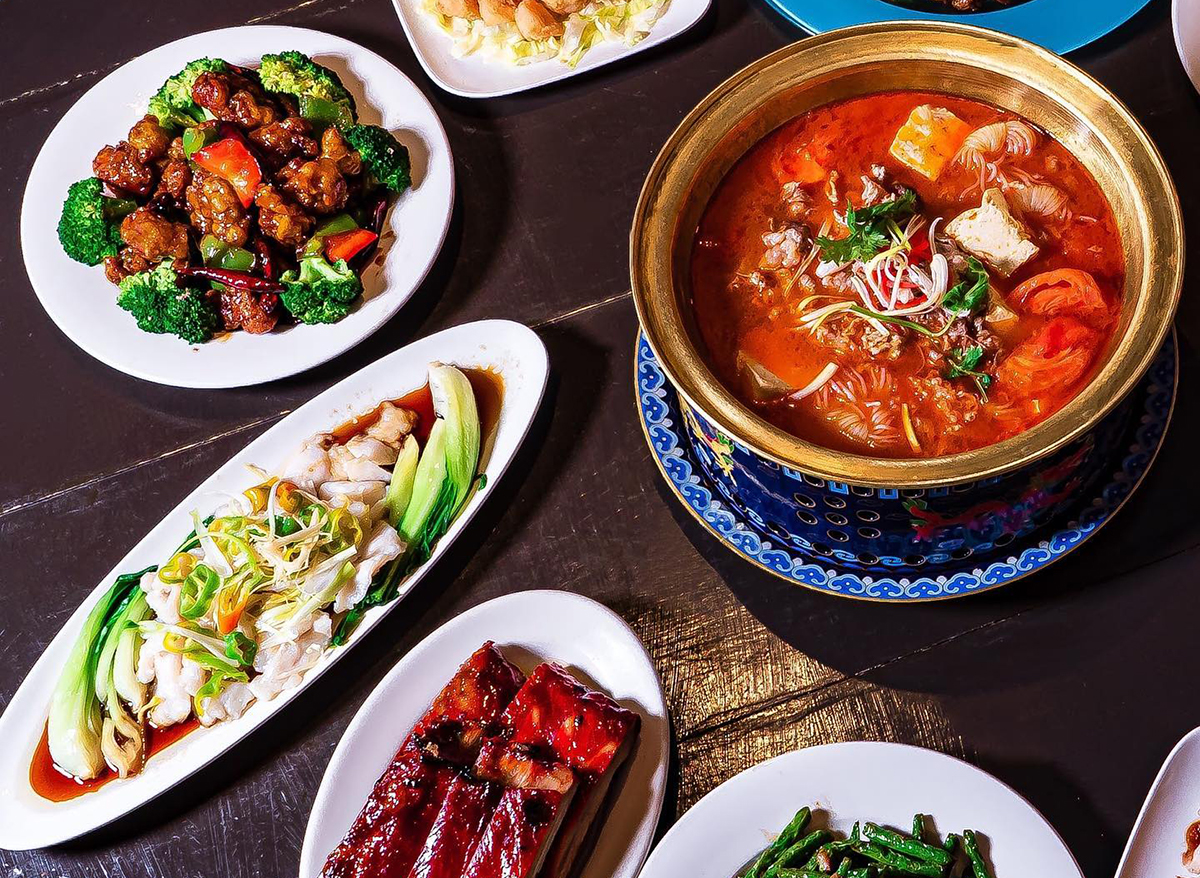 Yelp's top choice for Asian food in New York, Dian Kitchen in New York City, closed in March 2021. But we love the BBQ spare ribs at Pig Heaven, along with classic dim sum dishes like pork dumplings.
NORTH CAROLINA: Kung Foo Noodle in Huntersville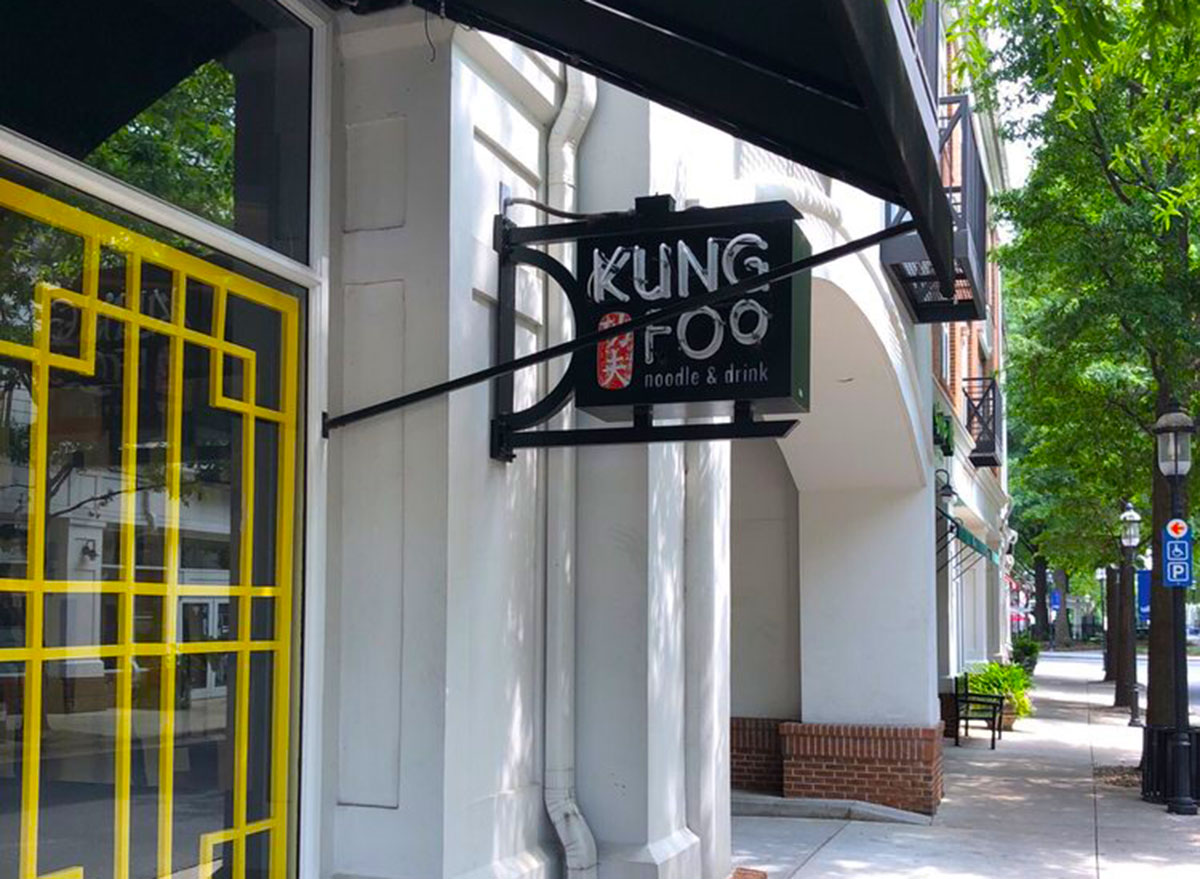 At Kung Foo Noodle in North Carolina, expect to get anything from Chinese cuisine to Thai, Vietnamese, and Japanese dishes, too. From stir-fried noodles to wings and street food bites like Bao Bao, there's something for everyone to enjoy at this spot.
NORTH DAKOTA: HuHot Mongolian Grill in Bismarck
HuHot Mongolian Grill also offers a few Chinese appetizers, which is likely why it falls under the Chinese cuisine category on Yelp, but don't be fooled—this place is known for its Mongolian cuisine. One contributor even says it's, "One of the few places in Bismarck where you can get vegan options." Noted!
OHIO: Zuki Sushi House in Macedonia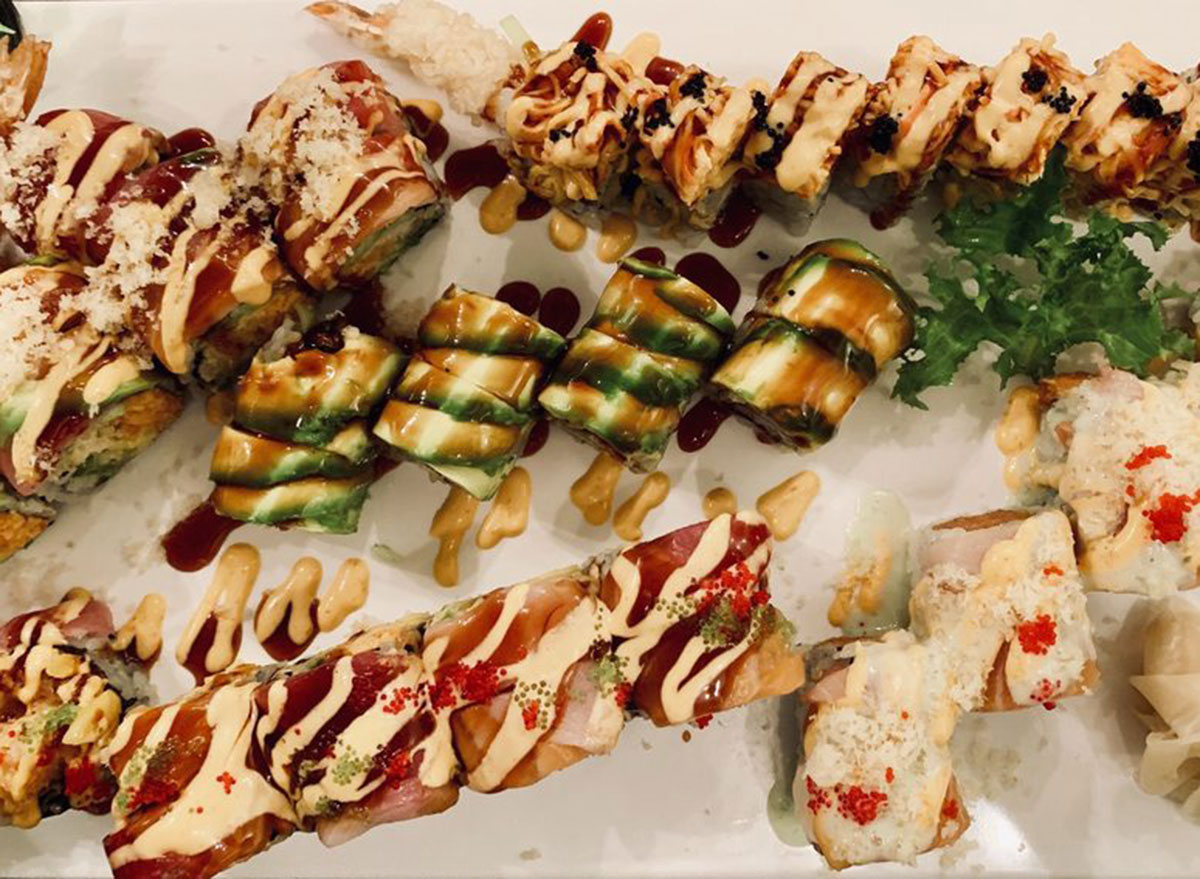 The outside of this restaurant is by no means discrete, with several Yelp reviewers saying it's located within a plaza in Macedonia that makes it easy to miss. But apparently, the sushi at Zuki Sushi House is not something you'll want to just drive past.
One reviewer says, "I have been here 2 times and both times the sushi has been very, very good. I also tried their orange chicken lunch special that was flavorful and served with rice."
OKLAHOMA: VII Asian Bistro in Oklahoma City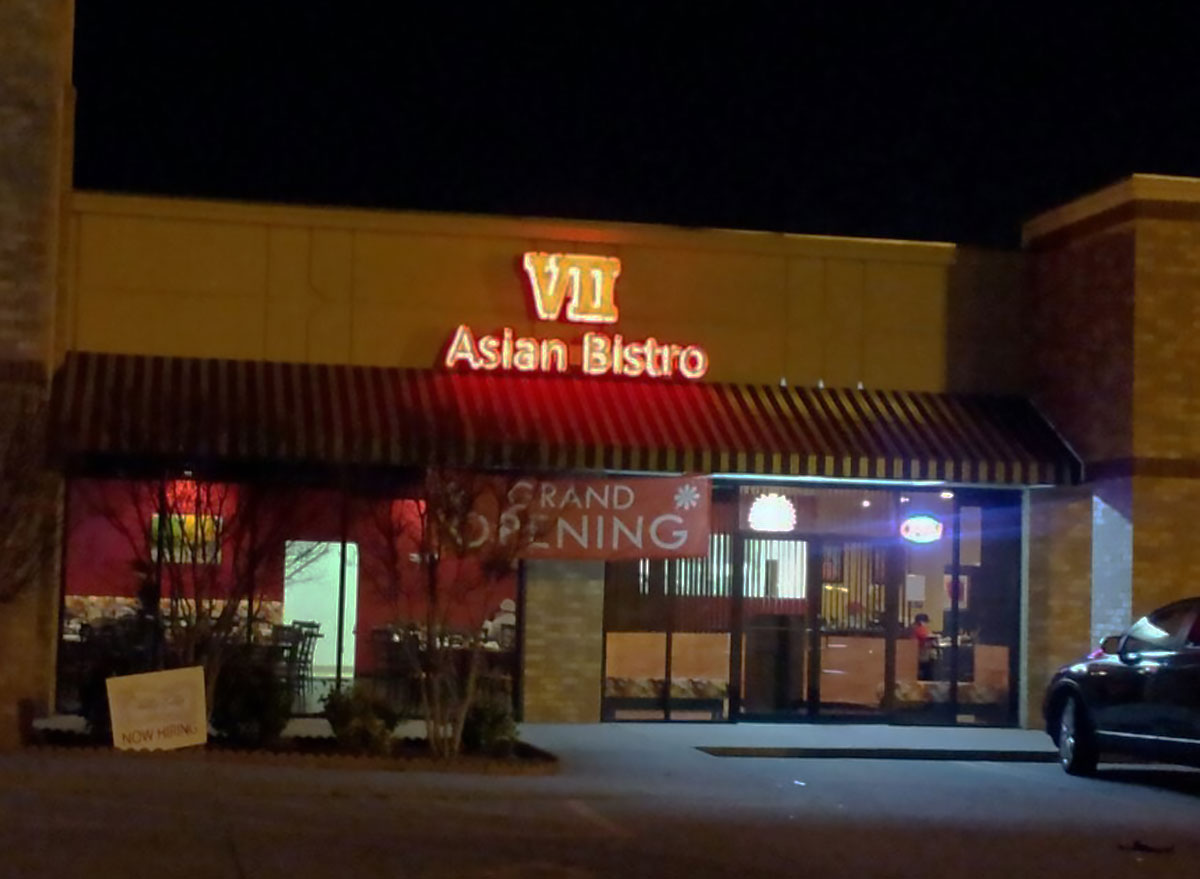 This restaurant offers an array of Chinese and Vietnamese cuisine, and you can get a large variety of noodle dishes here, starting with the type of noodle. For context, VII Asian Bistro offers dishes comprising of Dan Dan noodles, Pho Vietnamese noodles, Hu Tieu noodles, Mi egg noodles, and Bun Vermicelli noodles.
OREGON: Duck House Chinese Restaurant in Portland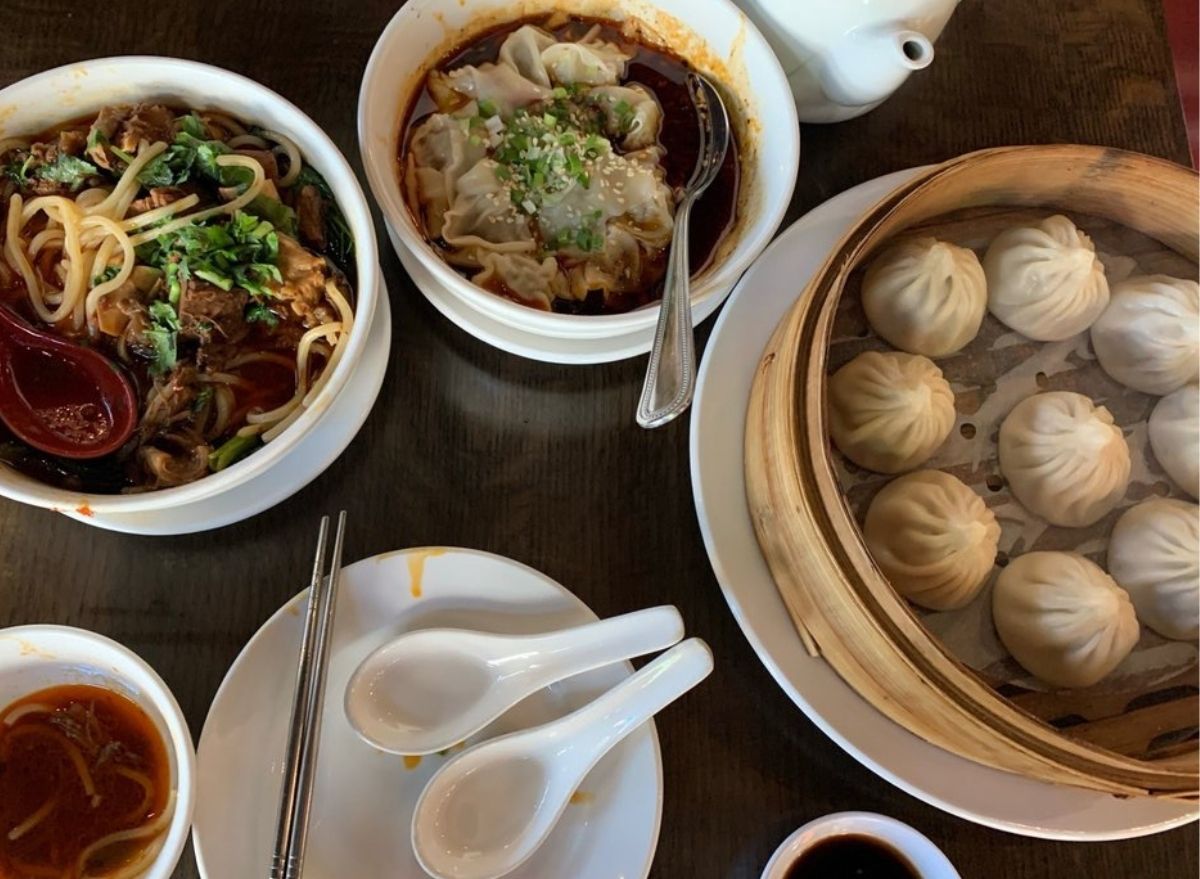 Yelpers report that Szechuan food at Duck House Chinese Restaurant is some of the best in Portland. They rave about the beef noodle soup, the pork buns, and the soup dumplings. Insiders report that it gets very busy so be sure to add your name to the waitlist on Yelp.
RELATED: The Best Restaurant for a First Date
PENNSYLVANIA: Asuka in West Chester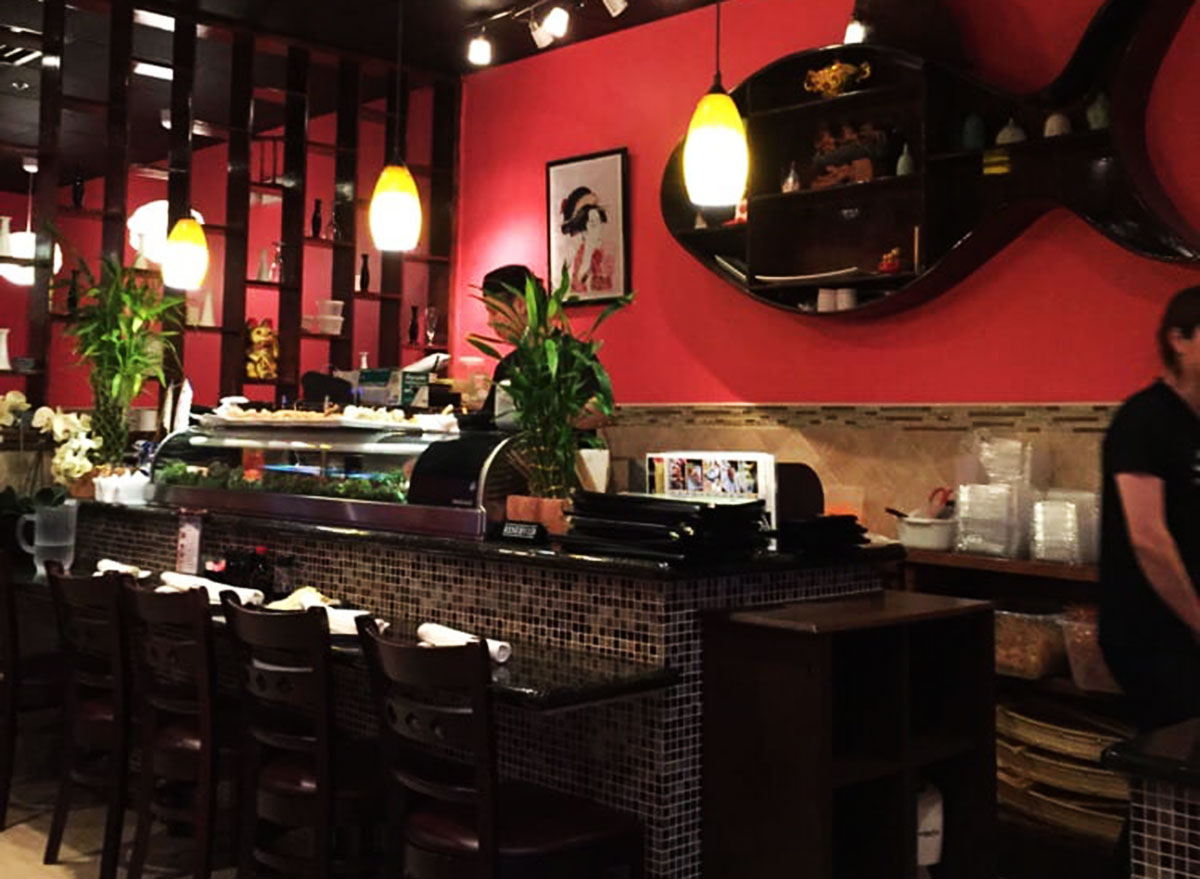 This BYOB Chinese restaurant is a hit among locals in West Chester and non-locals alike. One such reviewer who is native to Pennsylvania said this after eating at Asuka:
"My seemingly elusive search for the best Chinese restaurant ended when I ate here last week. It took 30 years no lie. Every element of a great restaurant is easily identifiable and I left with enough leftovers for a meal the next day."
RHODE ISLAND: Chinatown on Thayer in Providence
From Pad Thai to thin rice stick noodles, Chinatown on Thayer in Rhode Island offers a wide variety of meal options. Whether you dine in or order it out via GrubHub, this Chinese restaurant seems to be a hit among those who live near or within the state's capital.
SOUTH CAROLINA: Asia Pacific Super Market in Greenville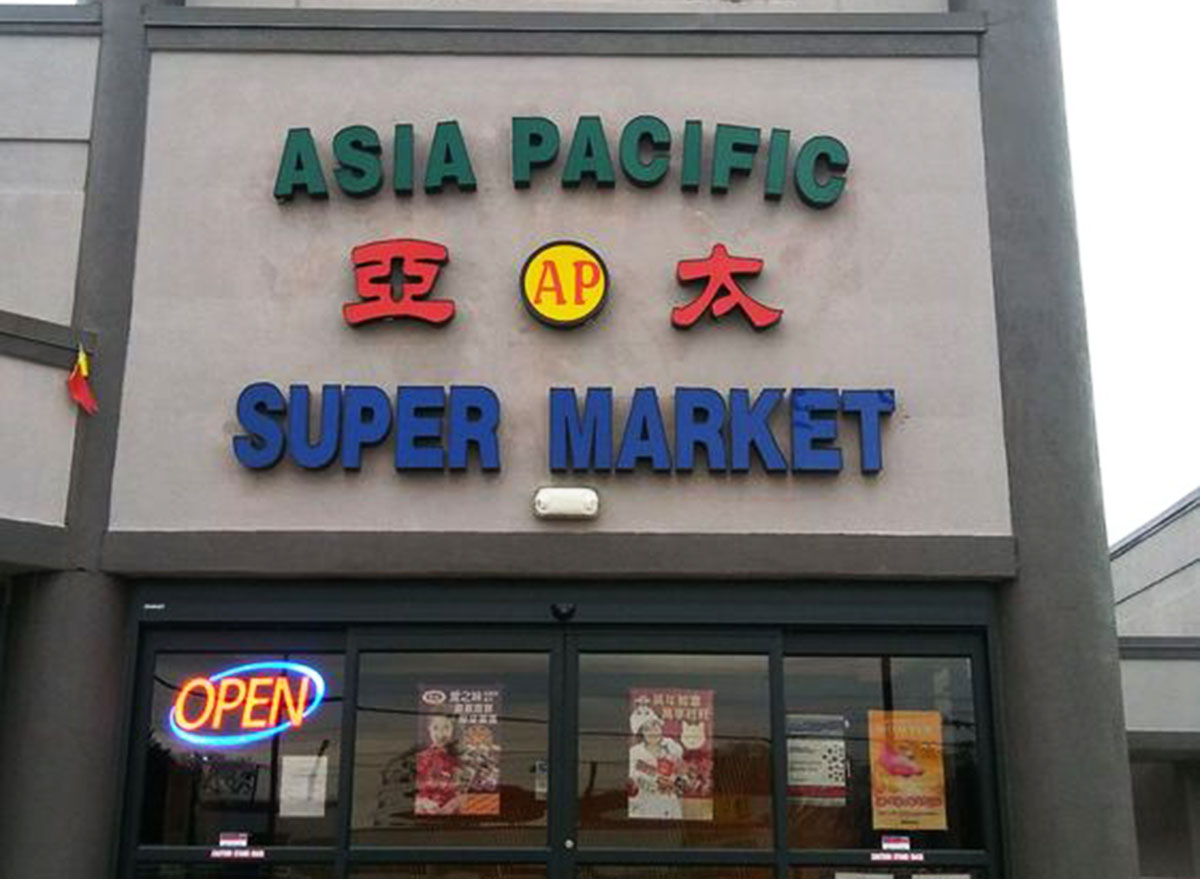 Don't be fooled—this is a supermarket that has a full restaurant inside. Here's what one Yelp reviewer had to say about the food offerings at Asia Pacific Super Market: "You guys, the food here is "soooooo goooodddd! They have whole roasted duck, crispy pork belly, crispy fish, I can literally go on for days but let's just say everything is good here!"
SOUTH DAKOTA: Fuji Sushi & Sake Bar in Rapid City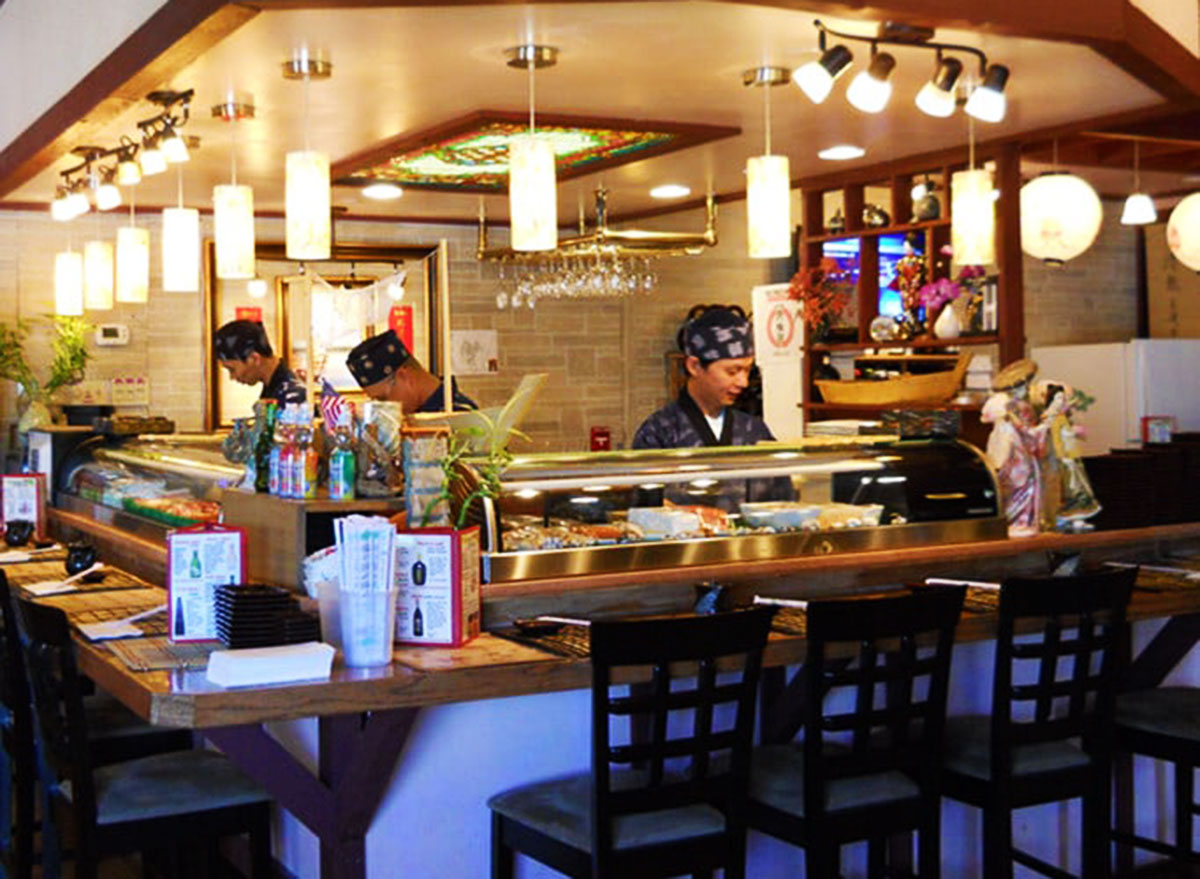 You can find Fuji Sushi & Sake Bar in the Rushmore Mall in South Dakota. Fuji Sushi & Sake Bar offers a plethora of sushi rolls, all with fun fillings that you'll want to try for yourself.
TENNESSEE: Pad Thai Cafe in Murfreesboro
This cafe offers a lot of different Thai specialties, including Pad Thai—as its name would suggest—and Phanaeng curry with coconut milk. Pad Thai Cafe also offers a few Chinese-centric dishes, too, such as teriyaki chicken and sweet and sour chicken.
TEXAS: Sichuan House in San Antonio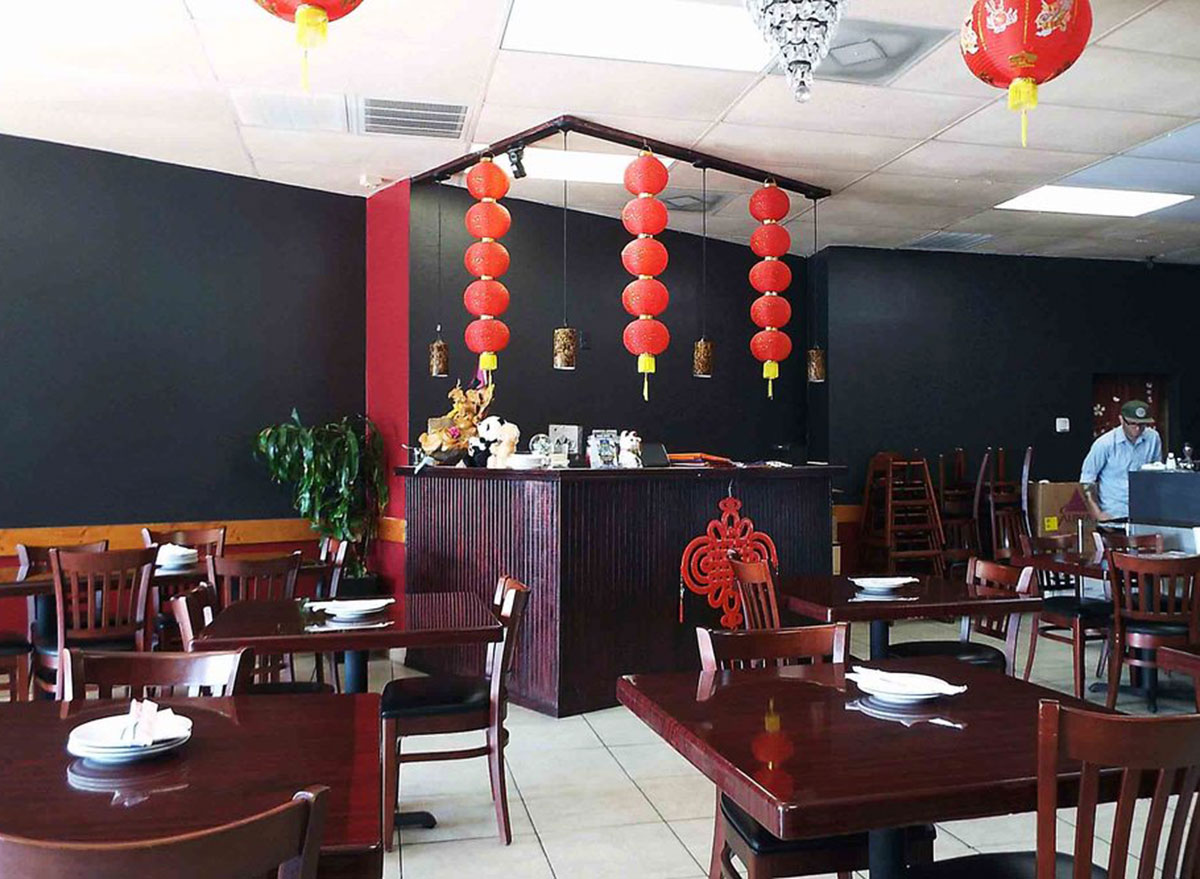 Sichuan House in San Antonio, Texas, has a distinctive dish that Yelp reviewers call mapo tofu—a savory dish that includes minced beef and is seasoned with garlic, ginger, and scallions.
UTAH: PotStickers Plus 1 in Sandy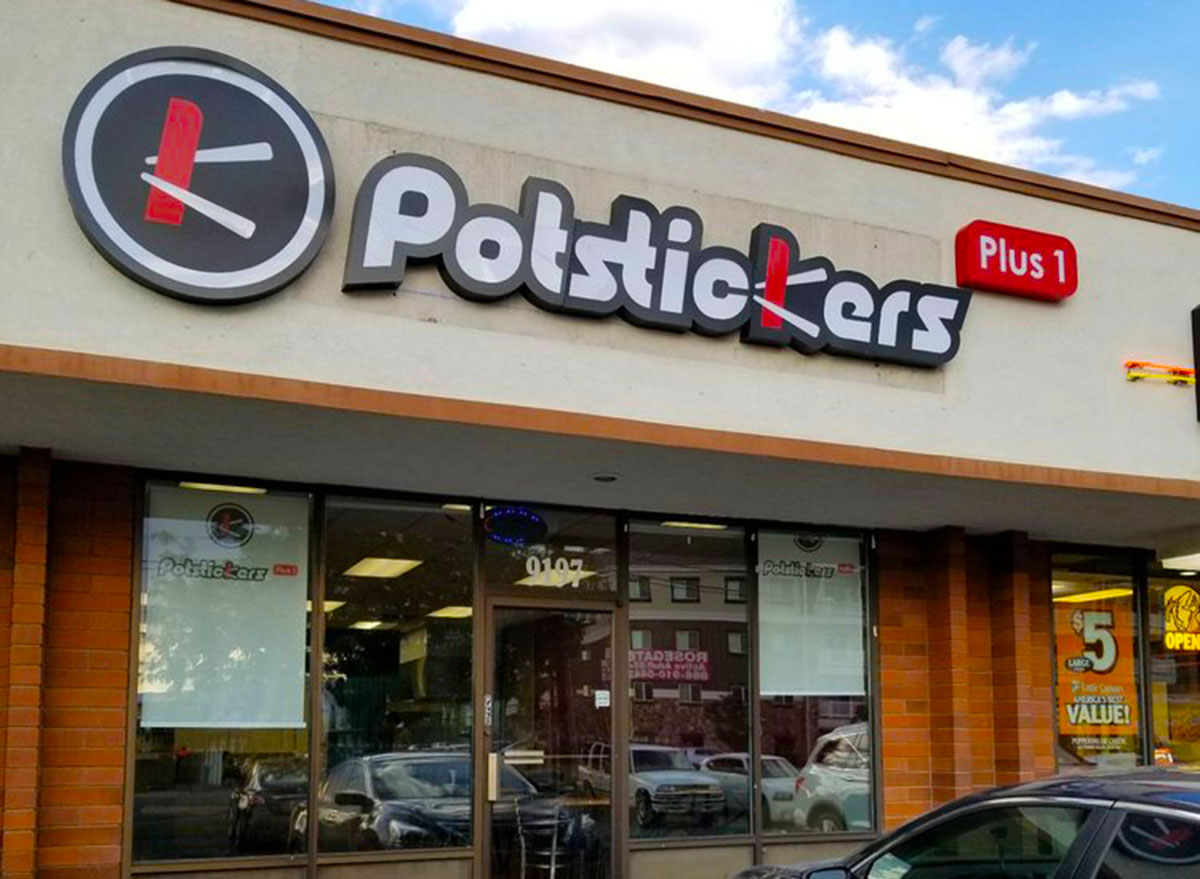 Can you guess what's served at this restaurant? If you're a potsticker fan, you're bound to find something you love at this place. If you need a suggestion though, here's what one person had to say on Yelp:
"My favorite hands down were the sweet corn and pork potsticker followed closely by the pork and vegetable combo."
VERMONT: Hong's Chinese Dumplings in Burlington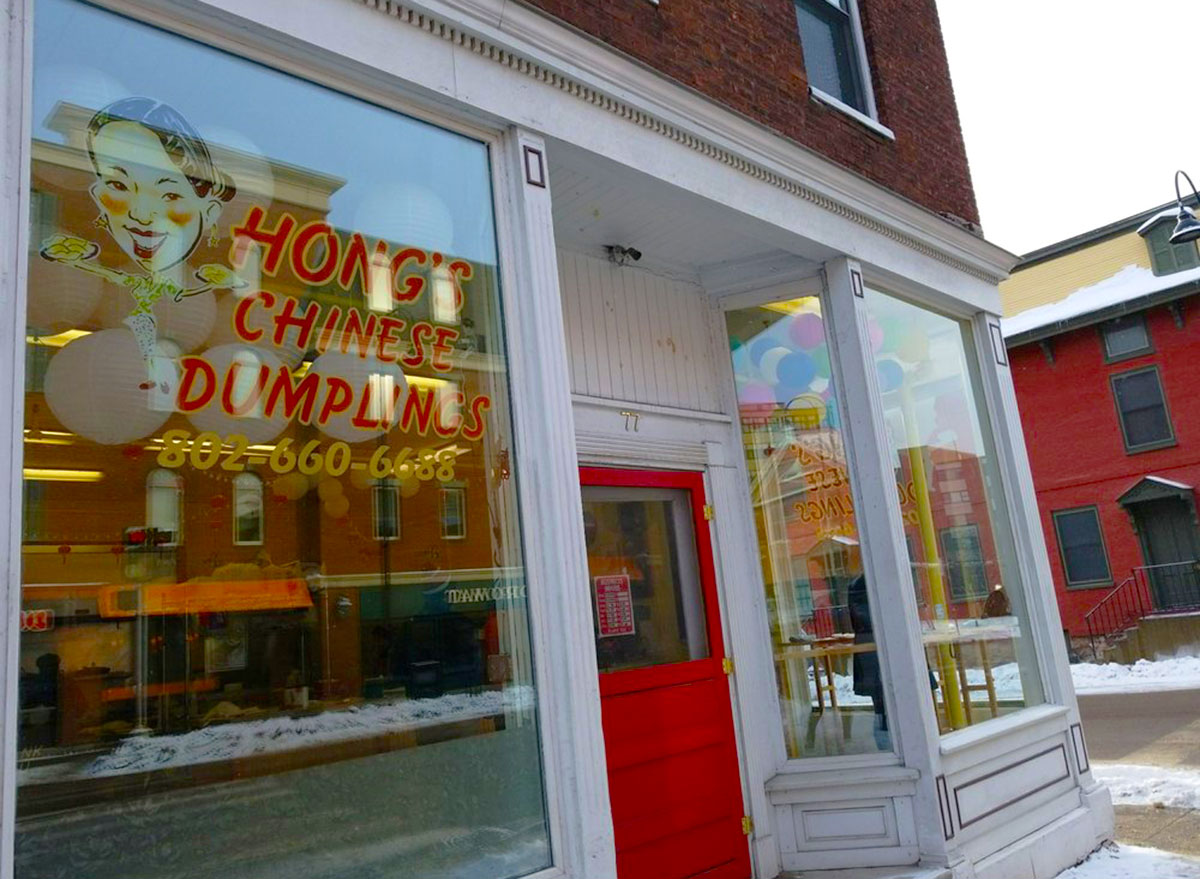 Hong's Chinese Dumplings actually started out as a food cart from April 2000 to June 2017. Today, now in its second year as a restaurant, it's considered Vermont's best Chinese restaurant according to Yelp. We heard these homemade dumplings don't disappoint!
VIRGINIA: Twisted Cafe in Virginia Beach
One reviewer describes Twisted Cafe as an authentic ramen house that's hidden in a strip mall. We heard it's pretty small and with limited service but worth the visit!
WASHINGTON: Happy Express in Auburn
Yelp reviewers rave about the array of Chinese and Japanese dishes that are offered at Happy Express. Above the food though, this restaurant is described as charming.
"At this point, I've eaten here 3 times, and the food quality and ambiance of the restaurant have been spot on," as one reviewer says.
WEST VIRGINIA: Golden China Restaurant in Martinsburg
While there are quite a few appetizers to choose from at Golden China Restaurant, the crab Rangoon seems to be the crowd favorite—but is anyone really surprised by that?
WISCONSIN: Lao Laan-Xang Restaurant in Madison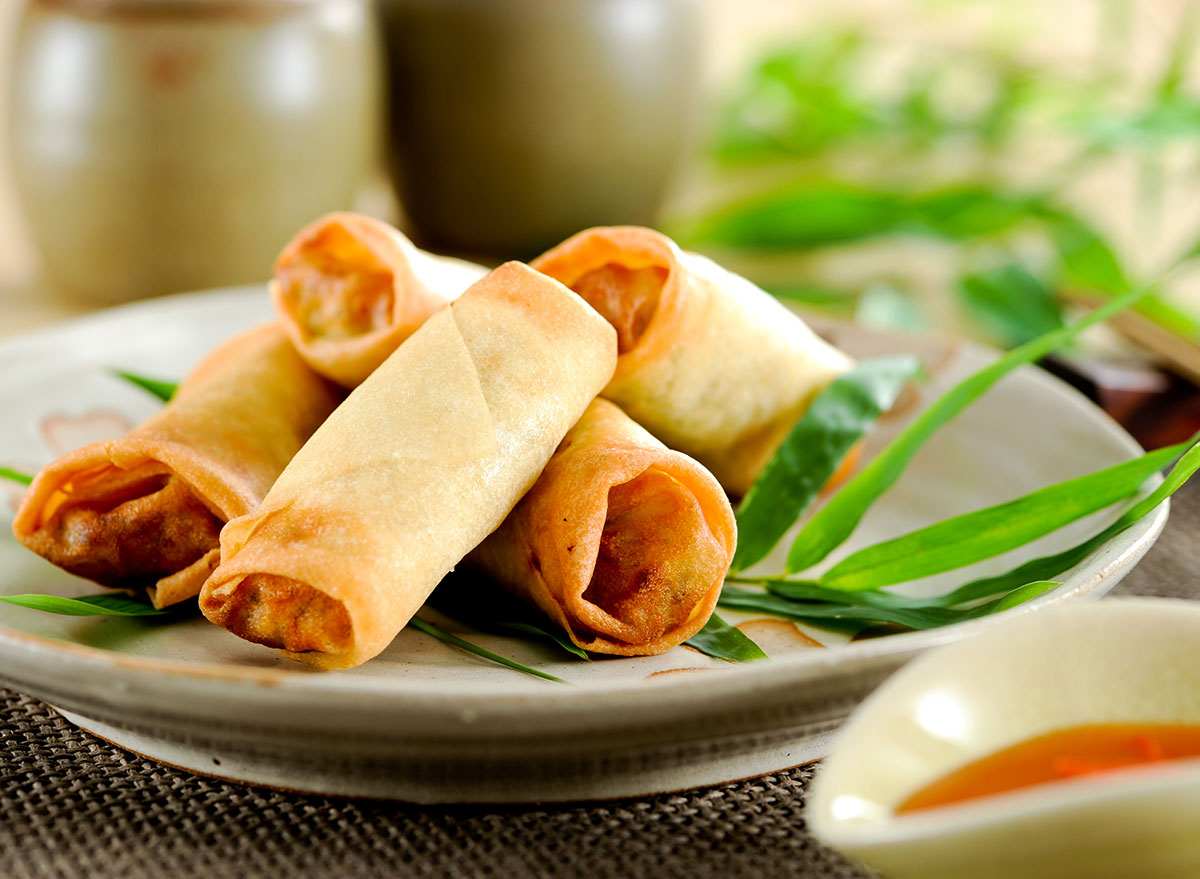 "The food was fantastic!!!! It's only too bad we can't give them 6 stars. We ordered 3 entrees and 2 appetizers. We absolutely LOVED the coconut shrimp, spring rolls (so fresh tasting!), and peanut curry," one Yelp reviewer wrote about Lao Laan-Xang Restaurant. Yum!
WYOMING: Zheng Zhong in Fort Bridger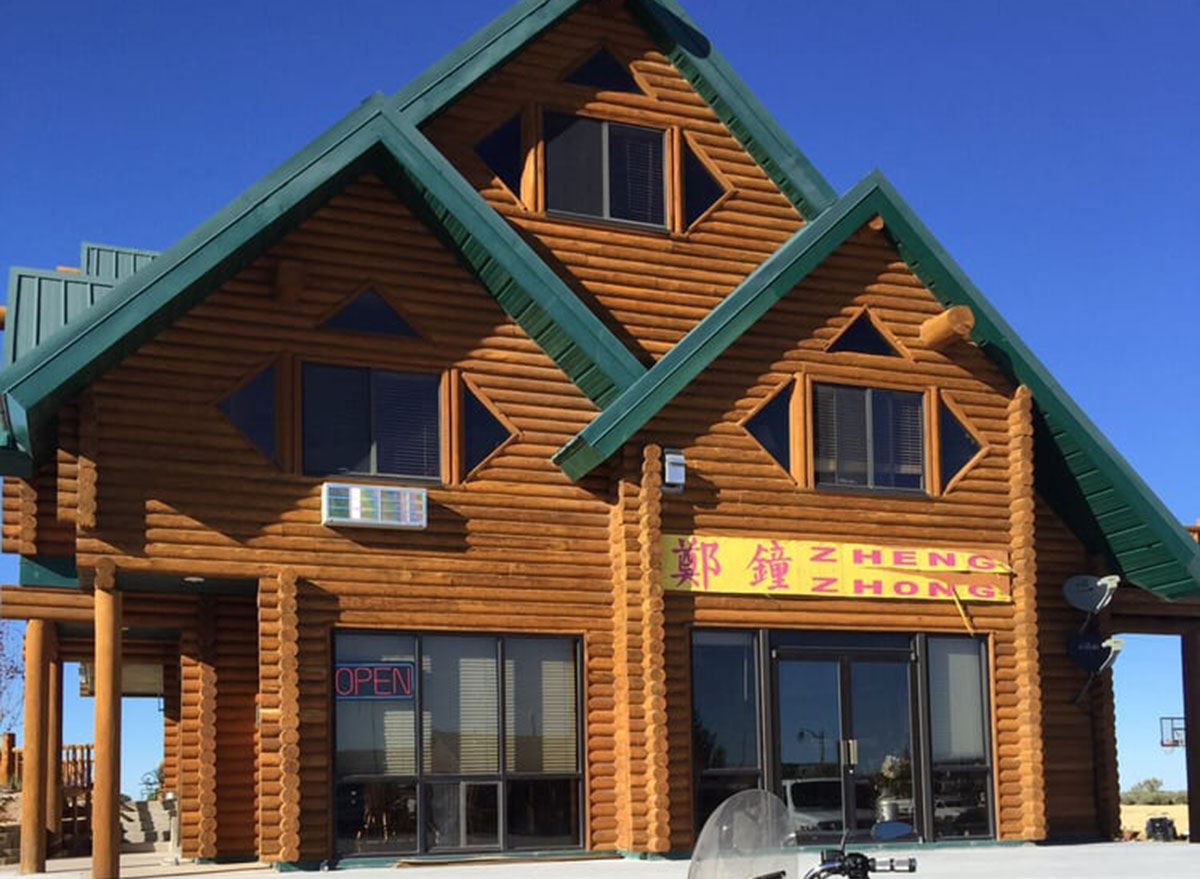 Those who live or are passing through Fort Bridger, Wyoming—which by the way, is a census-designated place with a population of under 400 people, according to the 2010 Census—can stop and enjoy Zheng Zhong, the state's best Chinese restaurant. And it's worth the stop: "When our friends said we were stopping by the best Chinese food place on our way to the Uintas, I didn't believe them. Boy was I wrong! Every dish I tried between us was EXCELLENT," says one reviewer.
Read more about the best restaurants in your state:
The Best Healthy Restaurant in Every State
The Best Nachos in Every State