13 Ways to Cook With Beet Greens and Beet Root
This superfood offers an ample amount of nutrition from the root and up! Watch that belly fat melt right off with these recipes.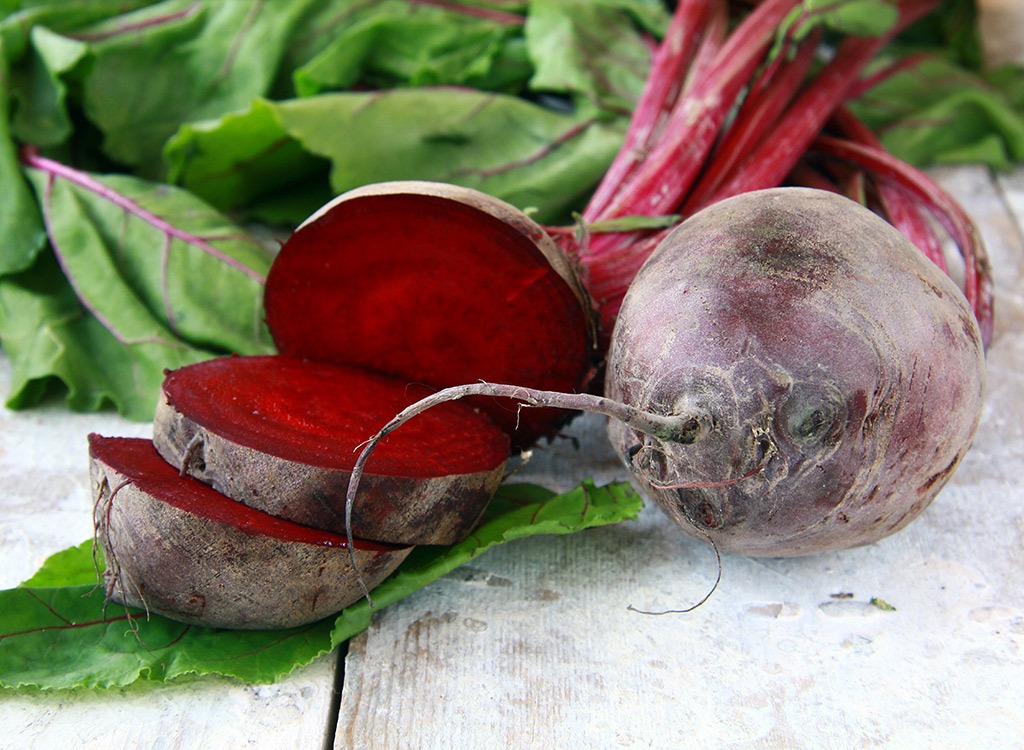 Whenever you hear about a beet, you probably think about its bulbous shape, its bright red pigment, and—hopefully, you know about—the significant amount of antioxidants it provides. But have you ever thought about cooking with the gorgeous green leaves? Chances are you usually thrown them directly into the trash. That's exactly why Eat This has pulled together a collection of recipes that showcase both the familiar beetroot and its neglected leaves. Find your new favorite cooking idea below, and then be sure to check out these 25 Dinner Ideas That Don't Require a Recipe!
Falafel
Serves: 4
Nutrition: 588 calories, 23.8 g fat (2.5 g saturated fat), 11 mg sodium, 74 g carbs, 20.9 g fiber, 12.3 g sugar, 23.7 g protein (calculated 4 servings with chard and no salt)
Who doesn't love this exemplary Middle Eastern dish? Falafel is the vegetarian's (and vegan's) protein substitution for the succulent lamb in the gyro. (Psst! Here are 25 non-meat, high-protein snacks for later!) Now, back to the beets! This particular blogger had the ambition to include more greens into this staple meal, so she integrated 4 heaping cups of chard. Chard and beet greens are actually interchangeable, so get out of your comfort zone and give the beet leaves a shot. Interestingly enough, vegetables like beets (and their leaves), chard, spinach, and quinoa, are all loaded with distinctive phytonutrients that keep your nervous system healthy. Eat these foods 1-2 times per week to receive maximum benefits!
Get the recipe from The Minimalist Baker.
Beetroot Tahini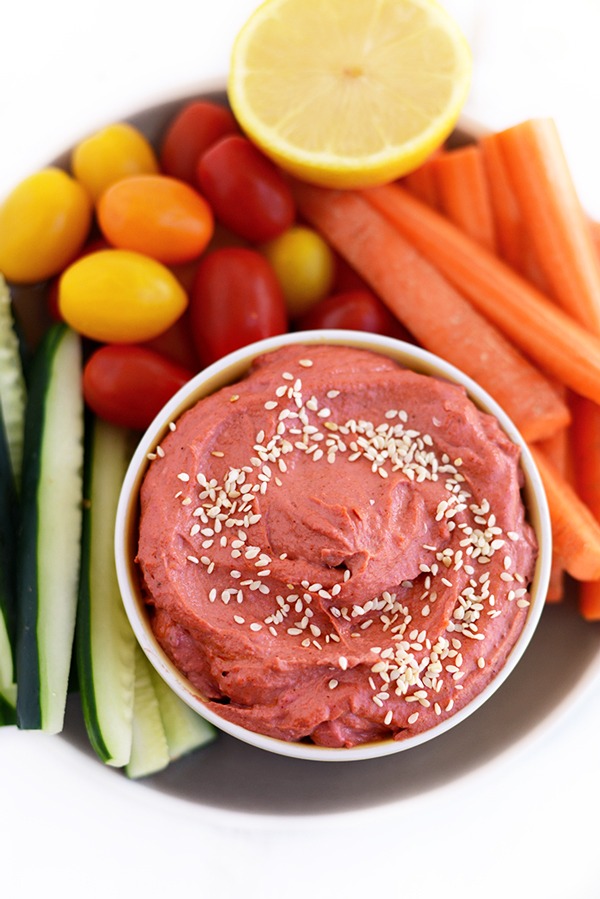 Serves: 4
Nutrition: 213 calories, 16.3 g fat (2.3 g saturated fat), 794 mg sodium, 14.1 g carbs, 4.5 g fiber, 6.2 g sugar, 6.4 g protein (calculated 4 servings with 3 beets)
What a gorgeous dip! There is no doubt you will please the staff party with this vibrant spread. The pink tint is accredited to a powerful agent called betacyanin, which is known to suppress the development of some types of cancer. Offer light veggies like carrots, celery, and broccoli on the side to give this appetizer a rainbow flair.
Get the recipe from Fit Foodie Finds.
Beet Green Pesto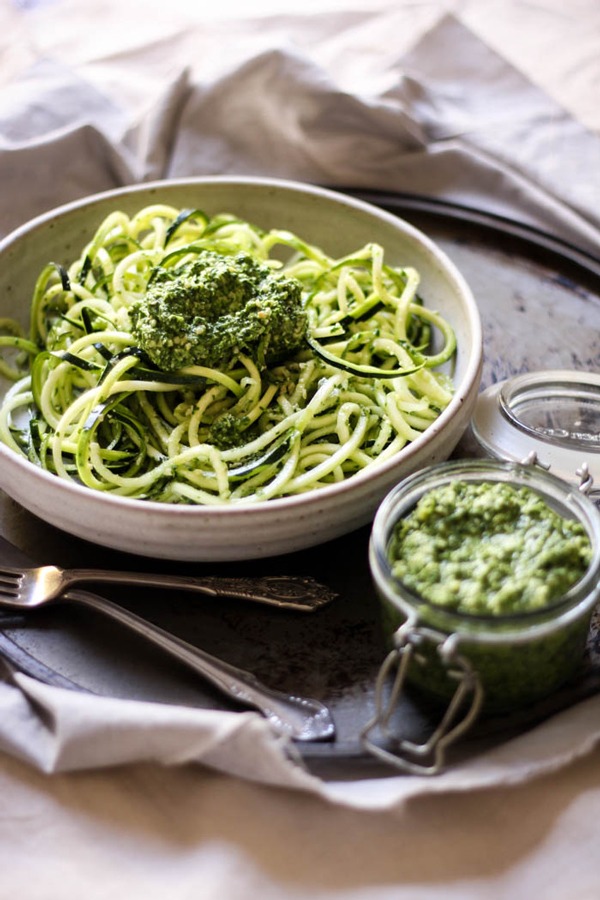 Serves: 4
Nutrition: 483 calories, 15.6 g fat (2.0 g saturated fat), 47 mg sodium, 73.5 g carbs, 5.9 g fiber, 4.3 g sugar, 12.9 g protein (calculated 4 servings without za'atar spice or no salt)
Embrace your inner Emeril Lagasse and whip up this pesto pasta delicacy. This dish will not disappoint, only costing you 47 mg of sodium per serving! Compare that to Classico, which weighs in at 720 mg of sodium, 21 grams of fat and 3 grams of saturated fat per ¼ cup, and you'll see why it's worth your homemade efforts. No need to fret about things making you fatter with this dish, because zucchini noodles are used in the place of regular noodles. Bonus: The zucchini-based noodles are comprised of 95 percent water. Time to hit the good ol' outdoors in a hydrated fashion!
Get the recipe from The View From Great Island.
Beetroot Noodles
Serves: 2
Nutrition: 426 calories, 26.7 g fat (4.5 g saturated fat), 476 mg sodium, 35.2 mg carbs, 4.6 g fiber, 16.9 g sugar, 18.2 g protein (calculated with 1 tablespoon olive oil, 150g Tempeh, 80 g kelp and without tamari)
Check out that protein content! This bowl of "pasta" contains 18.6 grams of protein derived from a plant. What's even more impressive is the vegetable makes up the pink noodles: the beetroot. Beetroot is an effective means for stimulating the liver's detoxification processes. Swivel these noodles around your fork for a cleansing detox.
Get the recipe from Tales of a Kitchen.
Beet Greens Bruschetta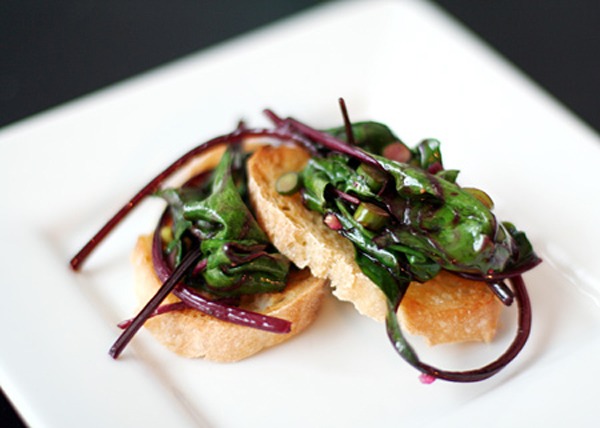 Serves: 4
Nutrition: 517 calories, 14.9 g fat (2.4 g saturated fat), 857 mg sodium, 78.4 g carbs, 3.9 g fiber, 3.3 g sugar, 16.8 g protein (calculated with kale)
Exchange the traditional tomato-based hors d'oeuvre for one that is chock-full of sauteed beet greens. Just one cup of these greens provides 15 percent of your daily iron needs. One serving of this dish, however, fulfills 30 percent of your iron needs and a remarkable 174 percent of your daily intake of Vitamin A.
Eat This Tip: Split this serving in half so it only costs you roughly 258.5 calories, and complement it with one of these healthy chicken recipes for an extra boost in iron and protein!
Get the recipe from Love and Olive Oil.
Beetroot Tart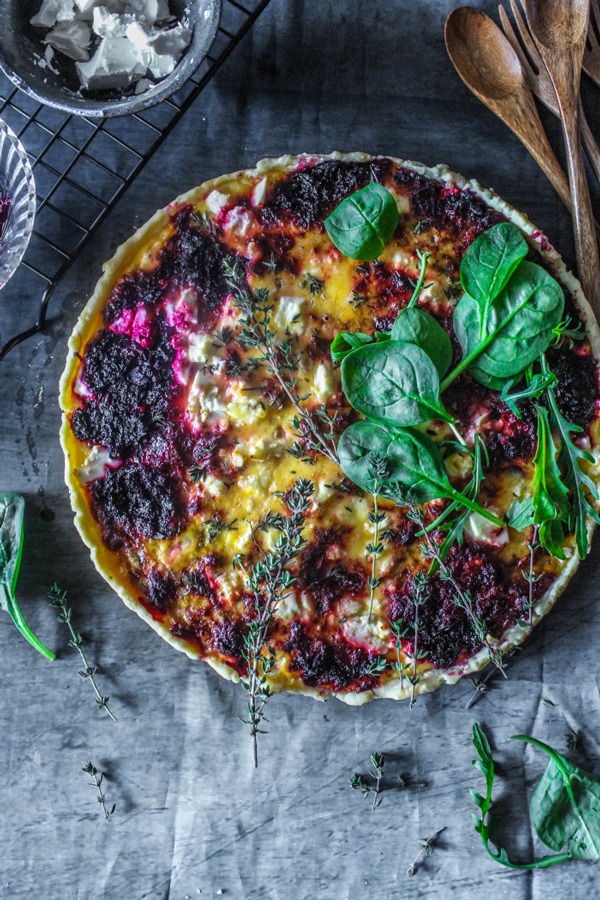 Serves: 8
Nutrition: 230 calories, 9.7 g fat (5.4 g saturated fat), 270 mg sodium, 28 g carbs, 2.1 g fiber, 6.9 g sugar, 7.8 g protein (calculated with 1 tablespoon coconut oil)
Beets don't solely possess a savory, entree-like quality; they also can be an asset in your dessert! Take note of how we gave butter the boot and filled its place with one of the more trendy healthy fats—coconut oil—for some added hair and skin benefits. Additionally, this dish is rich in selenium, an essential mineral that helps 5 GPO (glutathione peroxidase) enzymes detoxify the body correctly—and act as a defense against oxidative stress! These same enzymes are also credible for the recycling of vitamin C in the body, and since vitamin C is an antioxidant, this permits for greater protection against harmful particles in the air such as free radicals. And did you see that sugar content? This tart only contains 6.9 g of sugar. Not too shabby for a sweet dessert!
Get the recipe from Half Baked Harvest.
"Beets and Their Greens" Salad
Serves: 4
Nutrition: 205 calories, 10.6 fat (1.5 g saturated fat), 465 mg sodium, 25.5 g carbs, 4.4 g fiber, 12.9 g sugar, 4.8 g protein (calculated with 6 beets, 8 ounces kale, 1 tablespoon Bragg's liquid aminos and without salt or sesame seeds)
This dish is bowled over with superfoods! According to a recent study, beet greens are now known to contribute a significant amount of healthful carotenoids called lutein and beta-carotene. Lutein specifically plays a big role in eye health, including the retina (which is the light-sensitive tissue that lines the back of the eye). Who knows if the world will look brighter when you up your lutein intake with these greens, but it's worth a try!
Get the recipe from In Sonnet's Kitchen.
Beetroot Gnocchi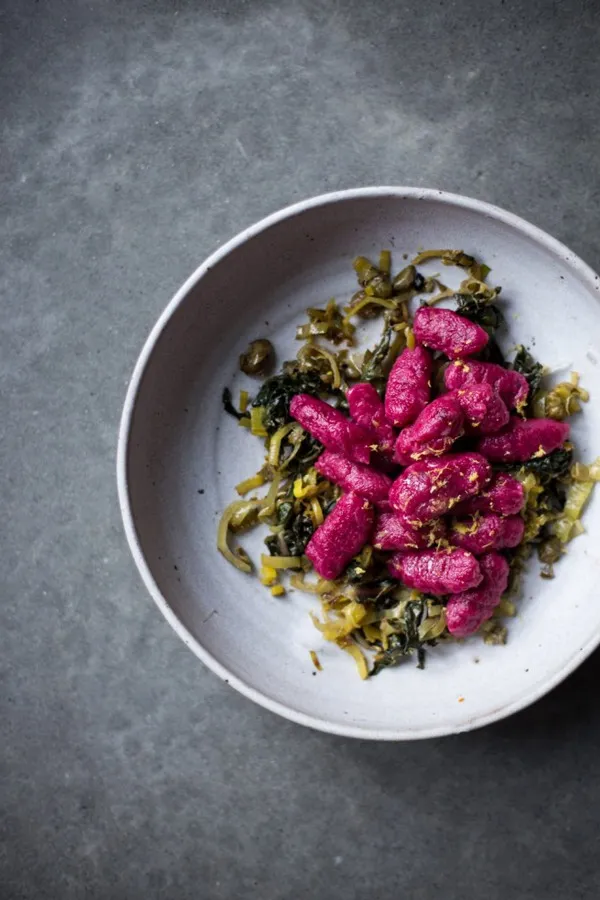 Serves: 3
Nutrition: 488 calories, 16.6 g fat (2.8 g saturated fat), 828 mg sodium, 79.8 g carbs, 9.5 g fiber, 11.2 g sugar, 9.6 g protein (calculated 3 servings with 3 tablespoons olive oil, 50g rock salt)
Forget the white, bland-looking dumplings you formerly associated gnocchi with and say hello to this pinkish-purple beauty. This dish contains one leek, which is also loaded in fat-soluble vitamins such as A and K. What's so important about these kinds of vitamins is that they dissolve in fat and are stored throughout the body, whereas, water-soluble vitamins dissolve in water and can proceed to be excreted through the kidneys if they are consumed in excess. Looks like you'll be storing some wholesome nutrients after nibbling on this dish.
Get the recipe from To Her Core.
Beet Green Smoothie
Serves: 2
Nutrition: 317 calories, 15.4 g fat (2.5 g saturated fat), 391 mg sodium, 47.6 g carbs, 8.6 g fiber, 22.4 g sugar, 12.5 g protein (calculated with kale, 1 cup unsweetened soy milk, 1 cup coconut water)
Beat the heat this summer by blending up some refreshing smoothies and use up those beet greens! Blessed with a surplus of nutrition, this is one drink you will want to make after a long day of soaking up the sun. Beet greens house a phytochemical compound called glycine betaine, which has the ability to lower levels of homocysteine. Homocysteine is a toxic metabolite that promotes blood clots and plaque formation inside your blood vessels! Slurp this puppy down to ensure you blood is flowing smoothly and your vessels are free of gunk!
Get the recipe from Begin Within Nutrition.
Red Velvet Pancakes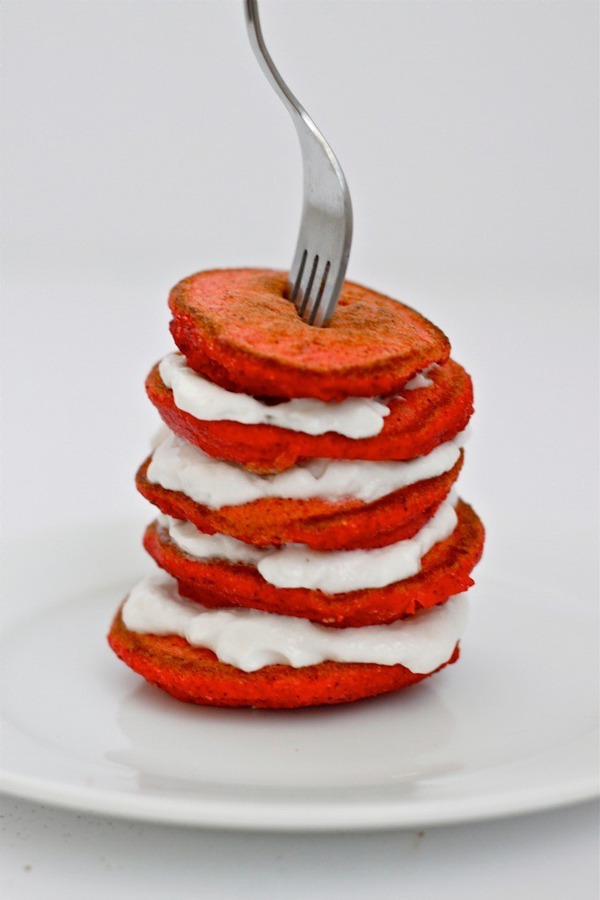 Serves: 1
Nutrition: 382.5 calories, 14.6 g fat (5.5 g saturated fat), 677 mg sodium, 48.4 g carbs, 8.2 g fiber, 22.6 g sugar, 19.4 g protein (calculated with unsweetened almond milk, 1 tablespoon honey, 1 tablespoon lactose-free Green Valley Organics cream cheese and without sugar)
"A stack of beet pancakes coming up!" Start off your morning with a pile of these red hot cakes, supported by a dollop of creamy, organic dairy-free cream cheese. This filling acts as an excellent substitute for syrup, pumping this dish up with protein as opposed to amping up the sugar content. If that morning bowl of oatmeal is becoming monotonous, check out these healthy breakfast ideas to broaden your breakfast menu.
Get the recipe from The Big Man's World.6254a4d1642c605c54bf1cab17d50f1e
Rose Couscous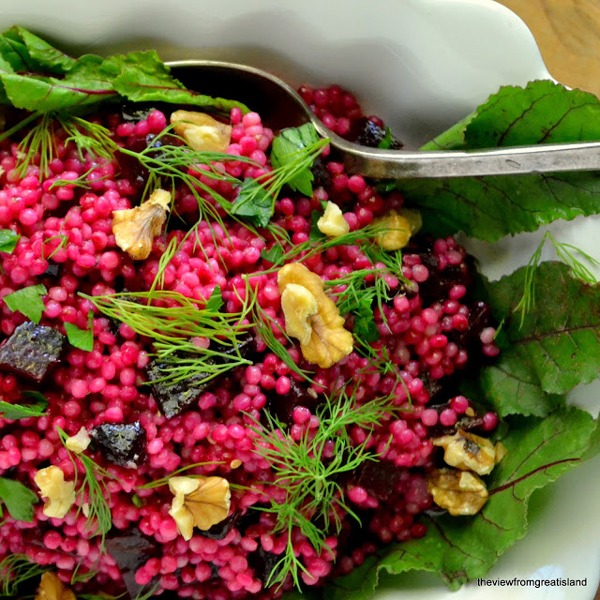 Serves: 2
Nutrition: 320 calories, 26.4 g fat (4.5 g saturated fat), 42 mg sodium, 17.9 g carbs, 4.6 g fiber, 5.0 g sugar, 9.1 g protein (calculated with spinach, 50 g cashews, 2 tablespoons olive oil and without salt)
Dip out of that daily Chipotle run and, instead, impress your coworkers with your homemade couscous and beet green bowl! The beet greens are primarily used as a garnish in this dish, so don't be shy of plopping some more on for an increase of potassium. Just one cup of boiled beet greens contains 1,309 mg of this mineral. Muscle cramps from that killer barre class? Not today!
Get the recipe from The View From Great Island.
Beetroot Juice
Serves: 1
Nutrition: 272 calories, 1.6g fat, (0.9 g saturated fat), 256 mg sodium, 62.7 g carbs, 12.7 g fiber, 40.9 g sugar, 5.7 g protein (calculated with 1 cup beetroot, 1/2 cup kale)
If you have seen the documentary "Fat, Sick & Nearly Dead," you may be curious as to why so many people became obsessed with juice. Drinking a juice in place of breakfast, lunch, dinner and snacks can be extreme, so instead cleanse your body with this single detox-provoking drink! You won't want to drink more than one anyways because it is relatively high in (natural) sugar.
Get the recipe from To Her Core.
Beet Leave Wraps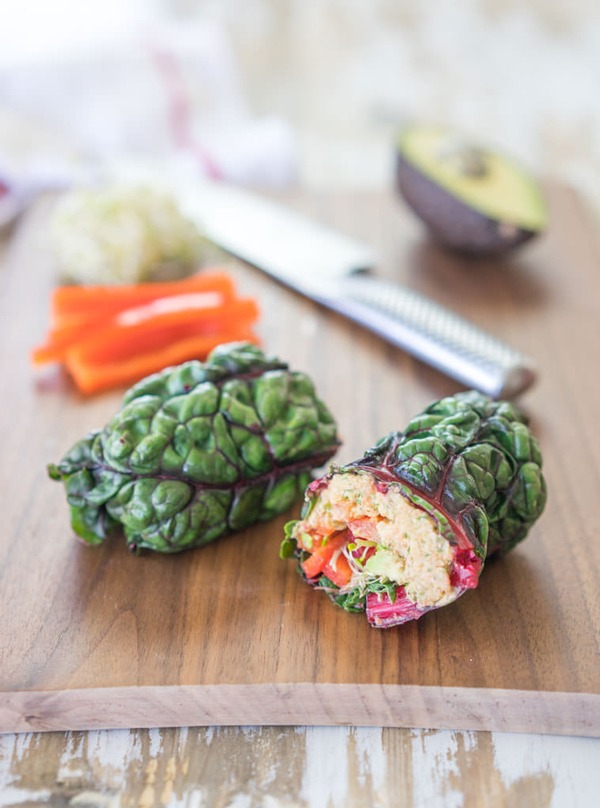 Serves: 5
Nutrition: 456 calories, 15.8 g fat (2.4 g saturated fat), 168 mg sodium, 63.8 g carbs, 20.4 g fiber, 12.3 g sugar, 20.6 g protein (calculated 5 servings with swiss chard and without sesame seeds or salt)
When it's 95 degrees outside, the last thing you want to eat is a mammoth size wrap. Instead, opt for a homemade beet leave wrap— and receive all of the carbs from nutritious, plant-based sources rather than from a starchy flour tortilla! Offering a whopping 20.4 g of fiber, this dish will keep your bowels on schedule and your stomach bloat-free, so you can rock that beach bod from sunrise to sunset. Just make sure you don't consume too many other high fiber foods that day or else those tummy troubles will boomerang right back to you.
Get the recipe from One Ingredient Chef.