The Best Apple-Picking Spot in Every State
Plan a weekend trip to see these gorgeous orchards!
If you had a "fall fun" Bingo card, going to an orchard to pick your own apples is a must-do. Once there, you'll probably check off all kinds of quintessential fall activities, from getting lost in a corn maze to bringing home apple cider and sugared donuts as tasty souvenirs. Plus, some of these you-pick spots offer some surprises, like a Pac-Man shaped corn maze, apple mimosas, and even an apple cannon to blast off any bad apples.
We've teamed up with Yelp to bring you the best apple picking destinations, according to trusty reviews. Because some states were absent from Yelp's round-up, we did some scavenging and found highly reviewed orchards that offer plenty of fall fun and to supplement this list.
Grab your bucket. It's time to get apple picking.
And for more, here's What Happens to Your Body When You Drink a Smoothie Every Day.
ALABAMA: Scott's Orchard in Hazel Green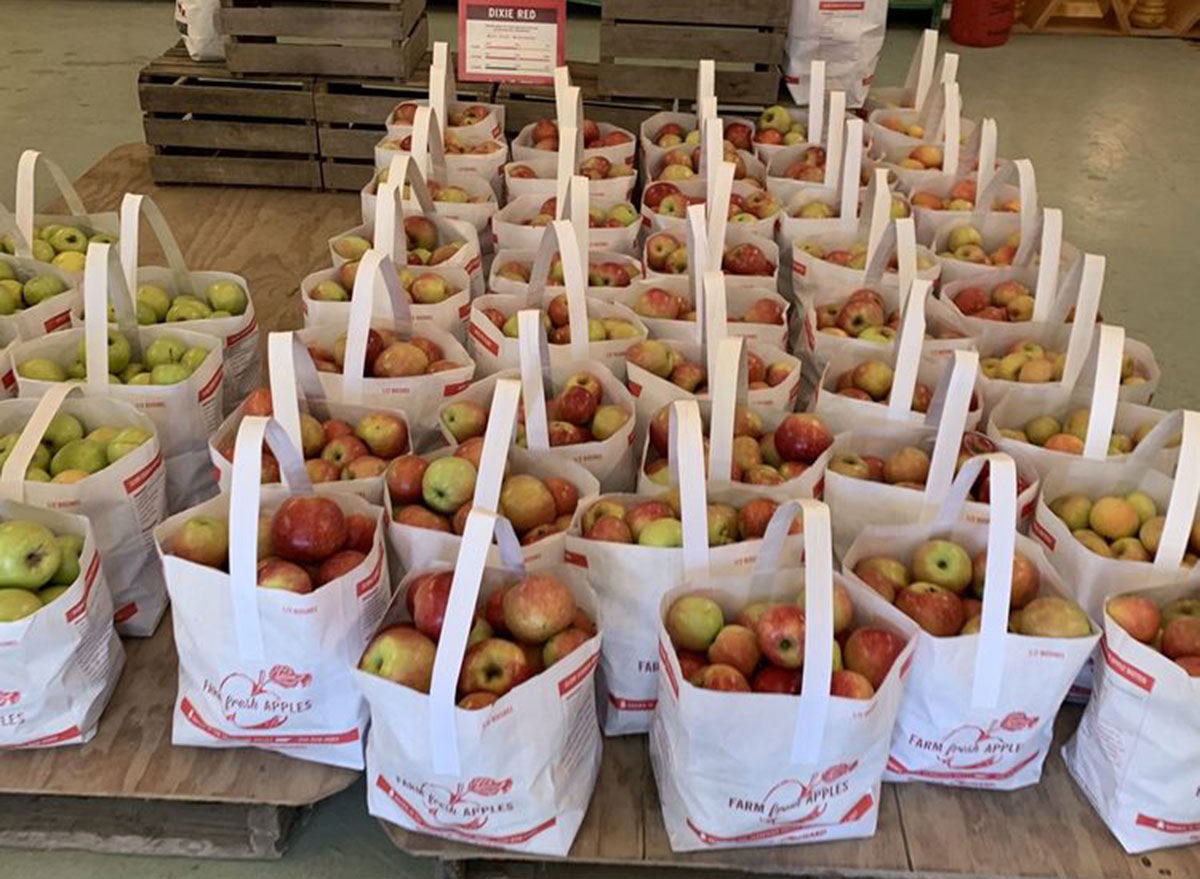 U-pickers at this 800-acre farm will find some lesser-known apple varieties like tart Ozark Golds, which have a hint of honey, in addition to the more common Granny Smiths and Red Delicious varieties. Straddling the Alabama and Tennessee line, Scott's Orchard is a family-run farm with an on-site general store that's stocked with baking mixes, jams, and jellies.
ALASKA: Clark's Apple Orchard in Anchorage
Pick apples from more than 200 trees at Clark's Apple Orchard. The orchard generously shares its family recipes with visitors, so you can use some of the apples from your harvest for apple butter or a Dutch apple cake with caramel glaze.
ARIZONA: Apple Annie's Orchard in Willcox
Pro tip: Get here early for breakfast. They're serving pancakes with an apple topping and cider syrup. In addition to apples, you can also pick peaches and pears here. Reviewers also rave about the apple cider donuts.
ARKANSAS: Cox Berry Farm and Nursery in Clarksville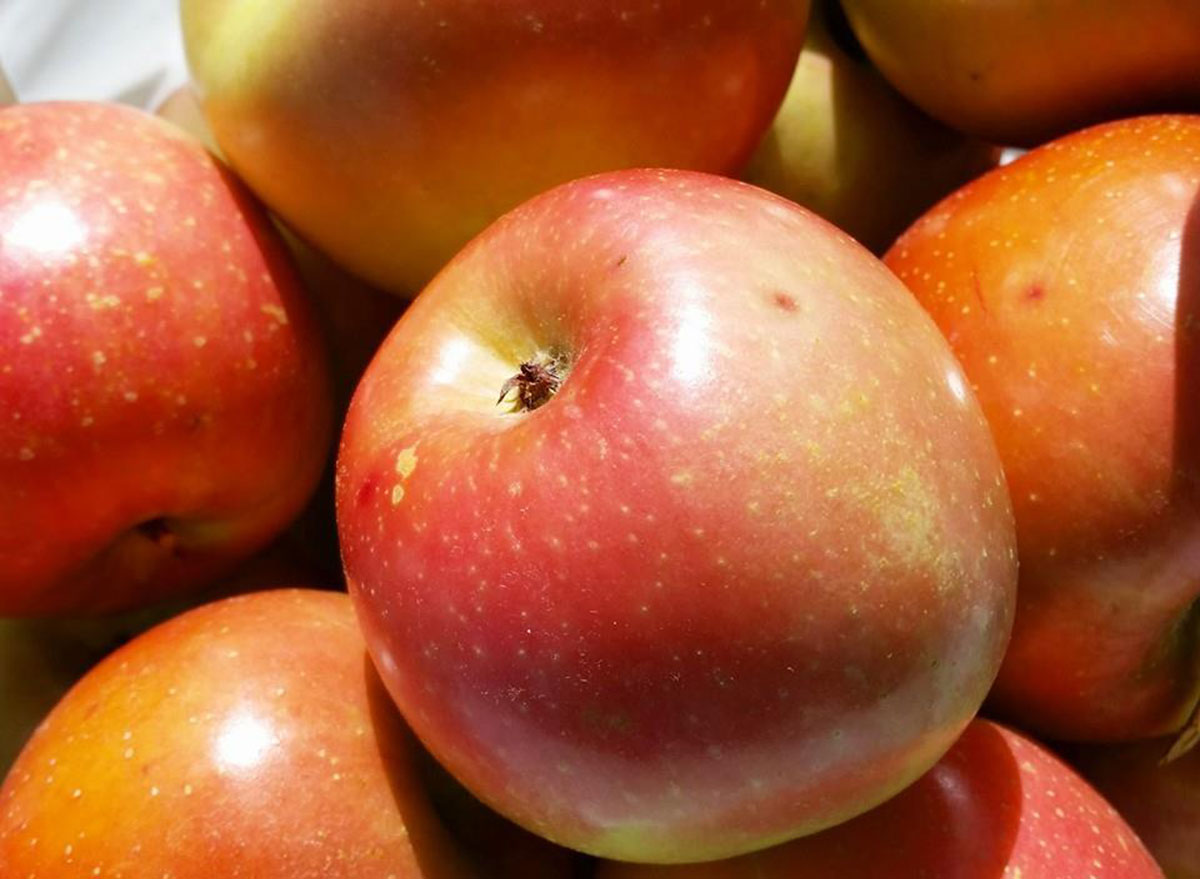 You bet Arkansas Black Apples are among the varieties available for picking at this Arkansas orchard. If you've never sampled this variety before, you're in for a treat. Arkansas Black Apples are complex with hints of cherry and cinnamon, making them ideal for pie baking.
CALIFORNIA: Willow Brook Apple Farm in Oak Glen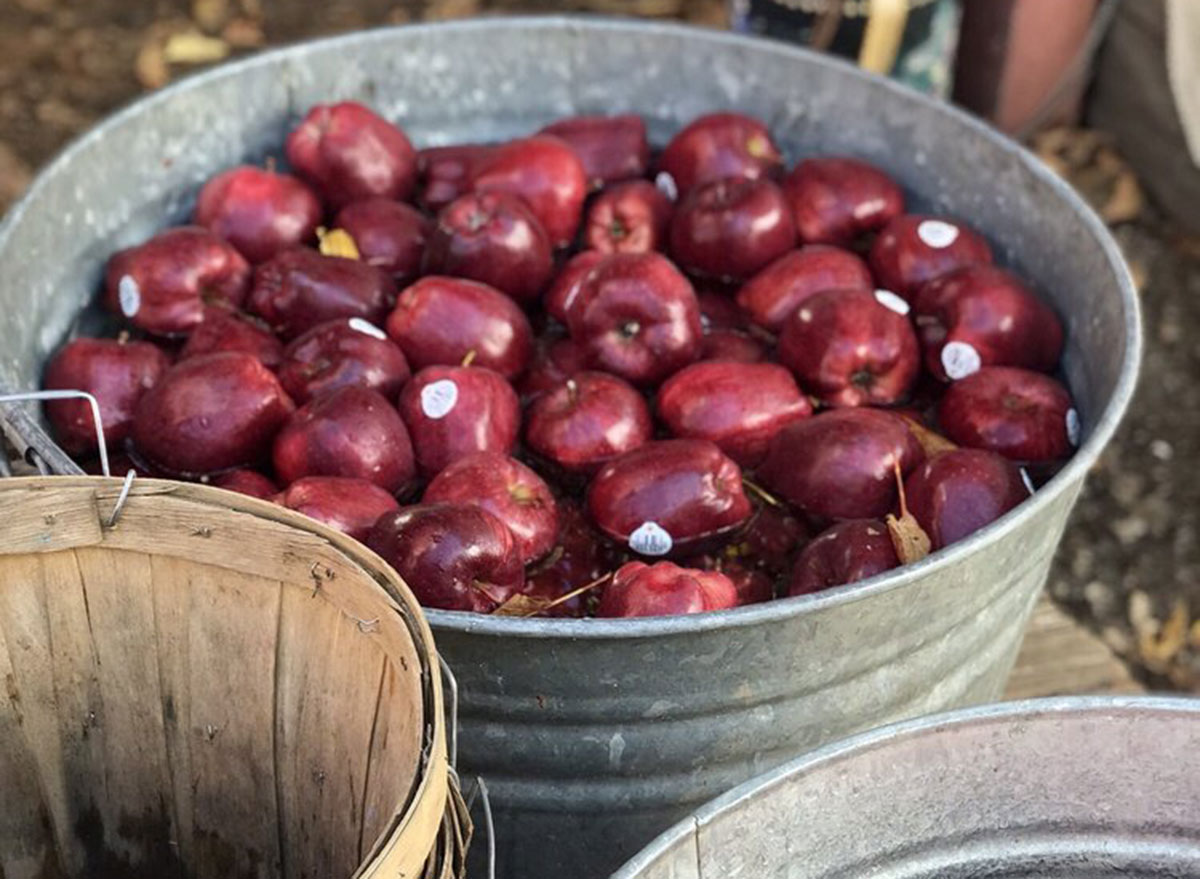 Not only are there u-pick apples, but there are u-press apple cider and tractor rides at this century-old farm nestled in the San Bernardino mountains.
COLORADO: Ya Ya Farm and Orchard in Longmont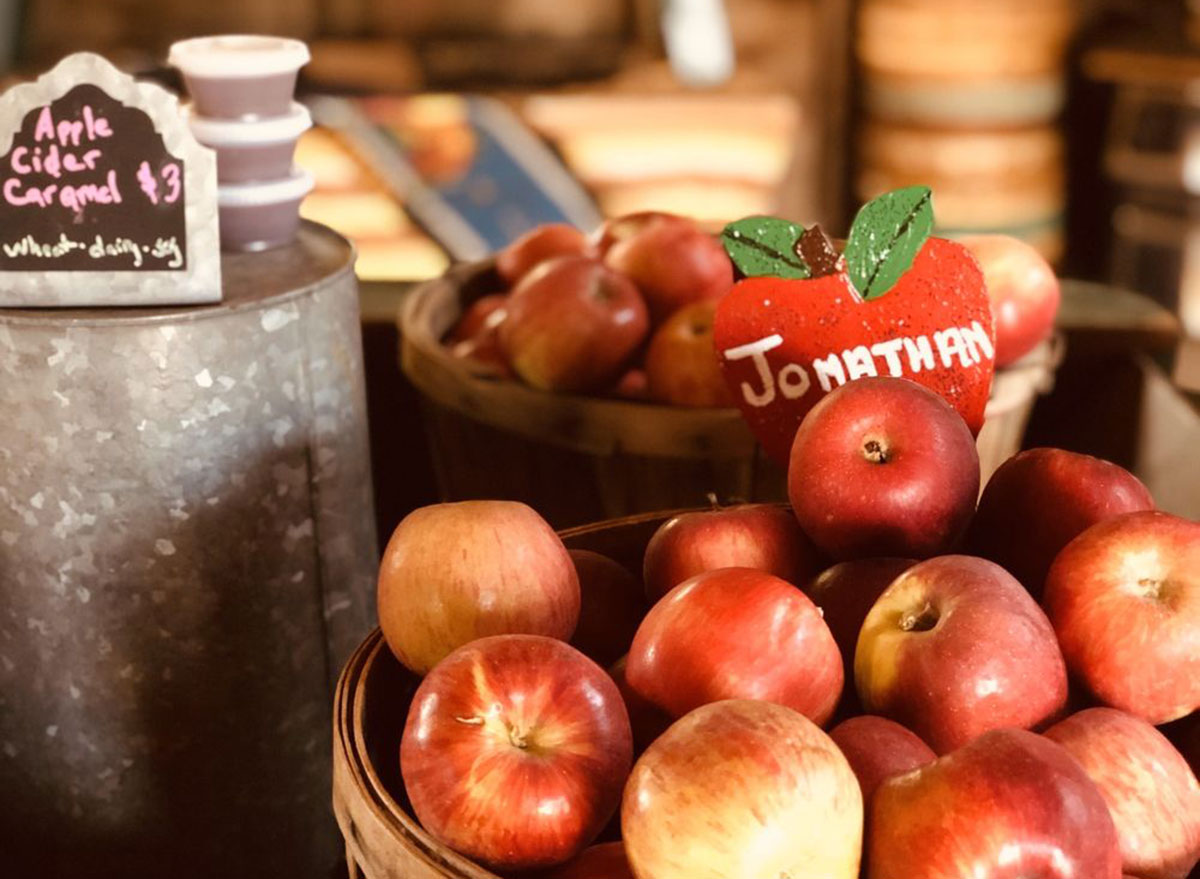 After you fill your bag with apples, you can pick a bouquet at Ya Ya Farm and Orchard. The orchard also has a calendar full of fun events, like a hard cider making class.
CONNECTICUT: Lyman Orchards Apple Barrel Market in Middlefield
Yelp reviews rave about the apple cider donuts at Lyman Orchards Apple Barrel Market, as well as the variety of fun activities including a unique sunflower maze. In addition to apple picking, visitors here can also pluck rare jostaberries that are a cross between a gooseberry and black currant.
DELAWARE: Fifer Orchards in Camden-Wyoming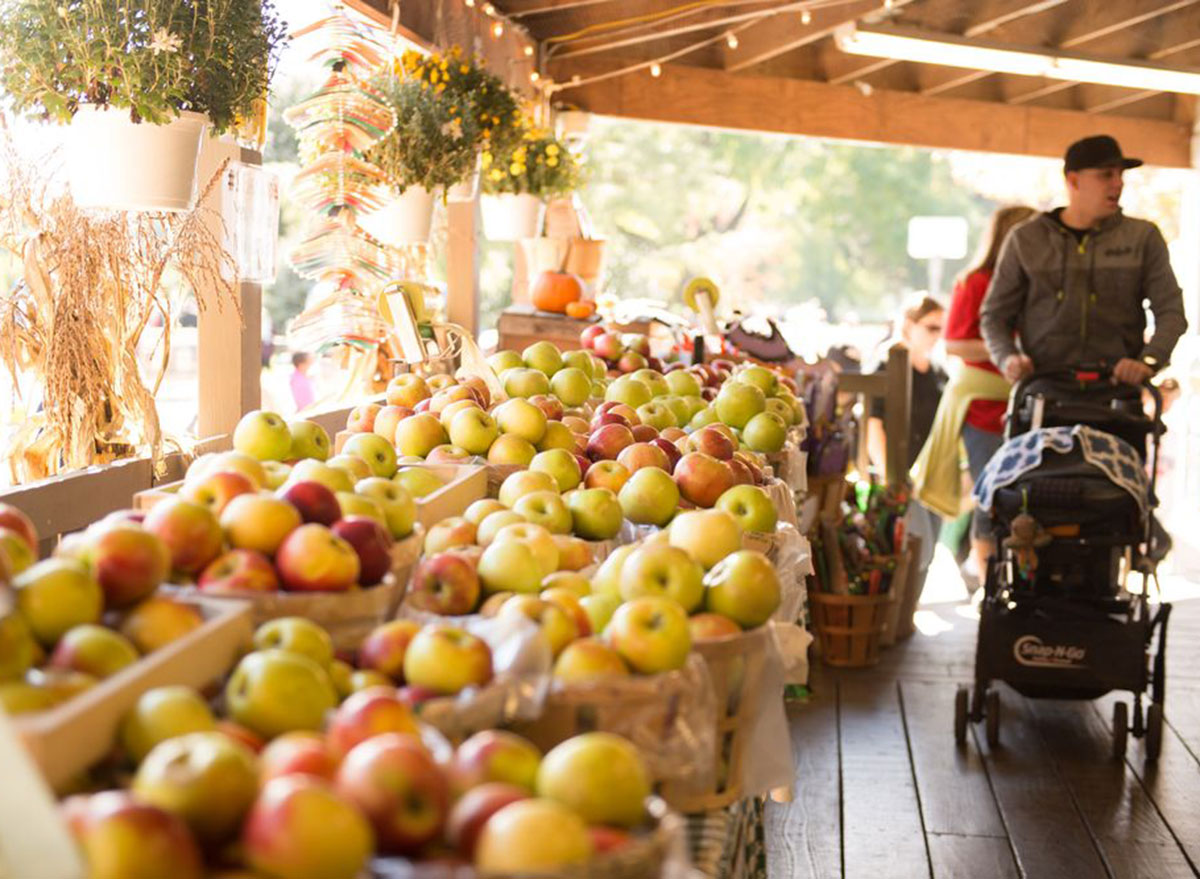 A themed corn maze at Fifer Orchards is a tribute to a "maze master who also loves to eat fruit." Did you guess Pac-Man? After picking apples, wind your way through the maze that emulates the iconic arcade game.
FLORIDA: Dooley Groves in Ruskin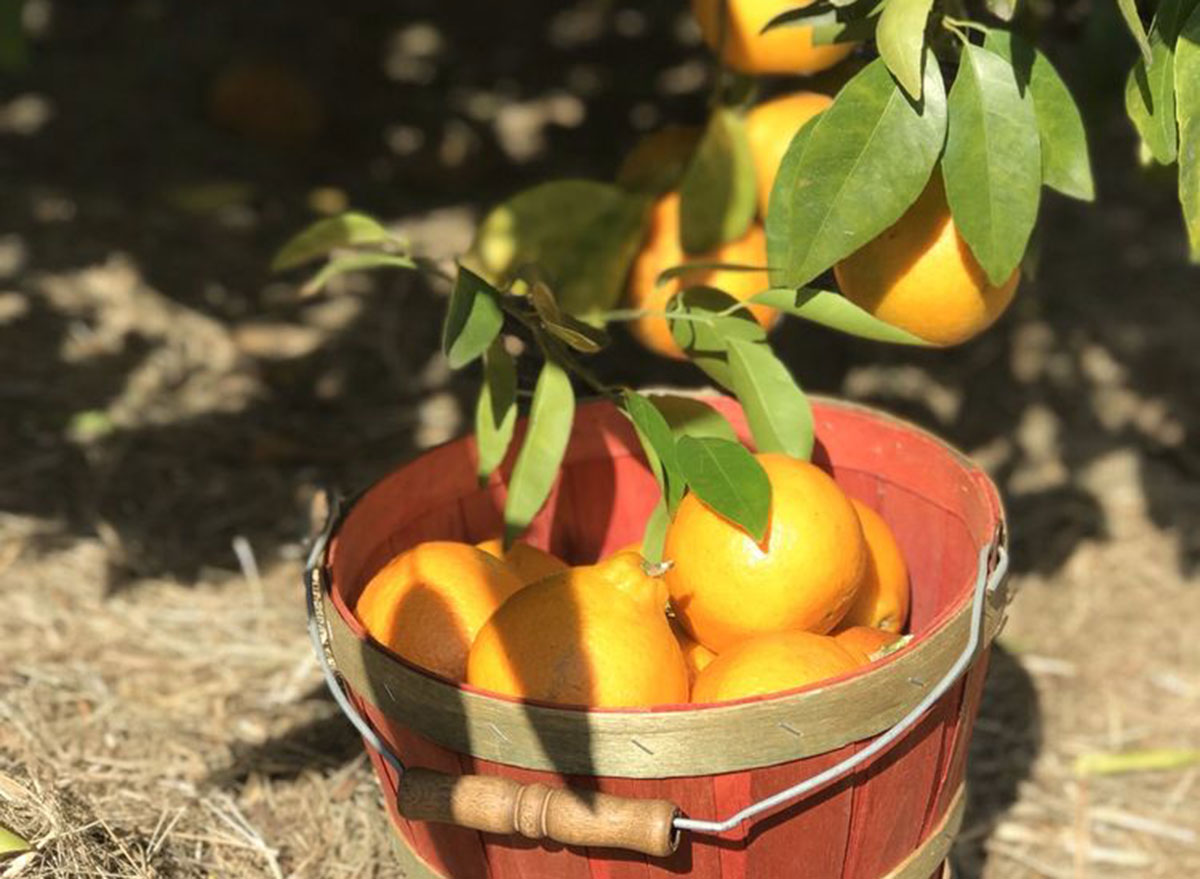 Apples don't fare well in Florida's climate, so you won't find you-pick apple farms here. But because this sun-soaked state is known for its oranges, you can pick-your-own citrus at Dooley Groves, which provides visitors with "Grove Guides" to help spot the perfect fruit.
GEORGIA: Mercier Orchards in Blue Ridge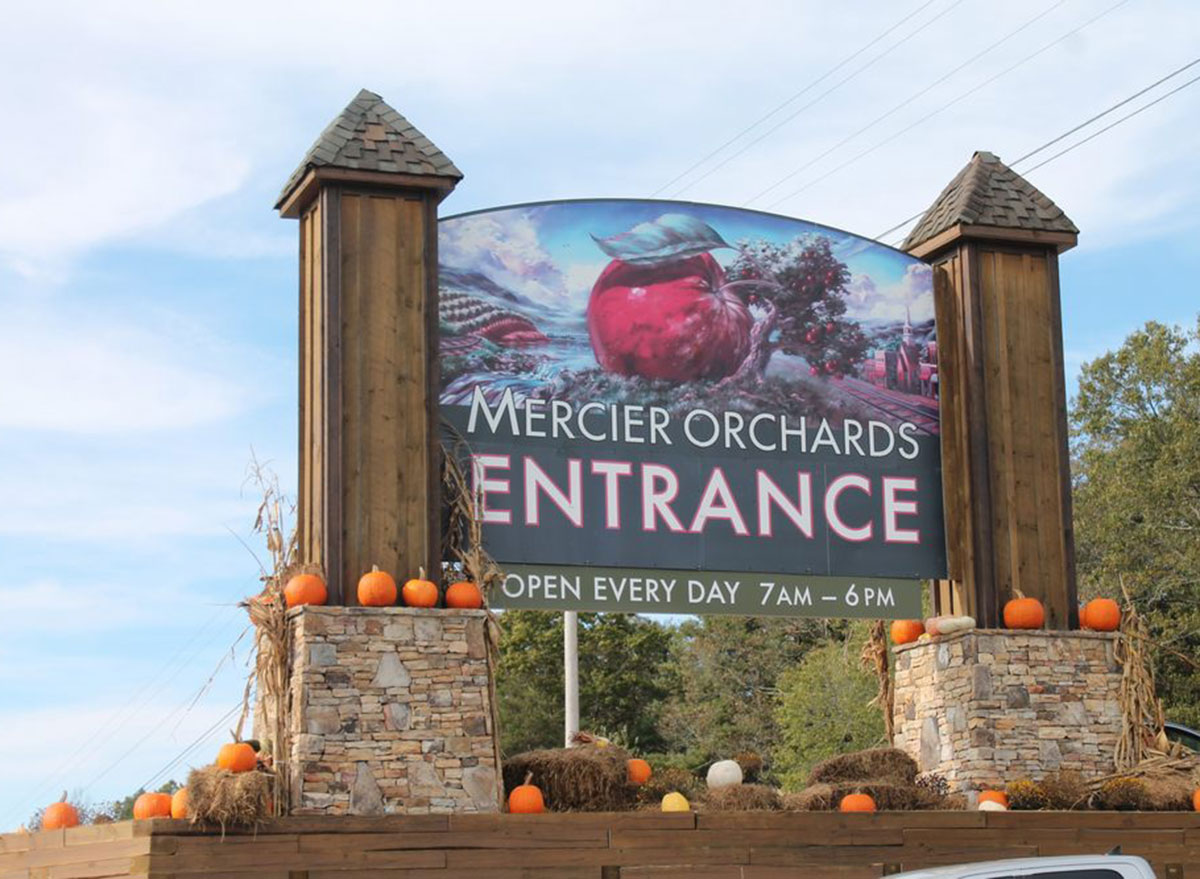 After harvesting your apples, treat yourself to a flight of hard cider at Mercier Orchards, which is nestled in the North Georgia Mountains. The orchards also have wines from all over Georgia that are available for tasting and purchase and a bakery that sells fried pies, fritters, and donuts.
HAWAII: Kula Country Farms in Maui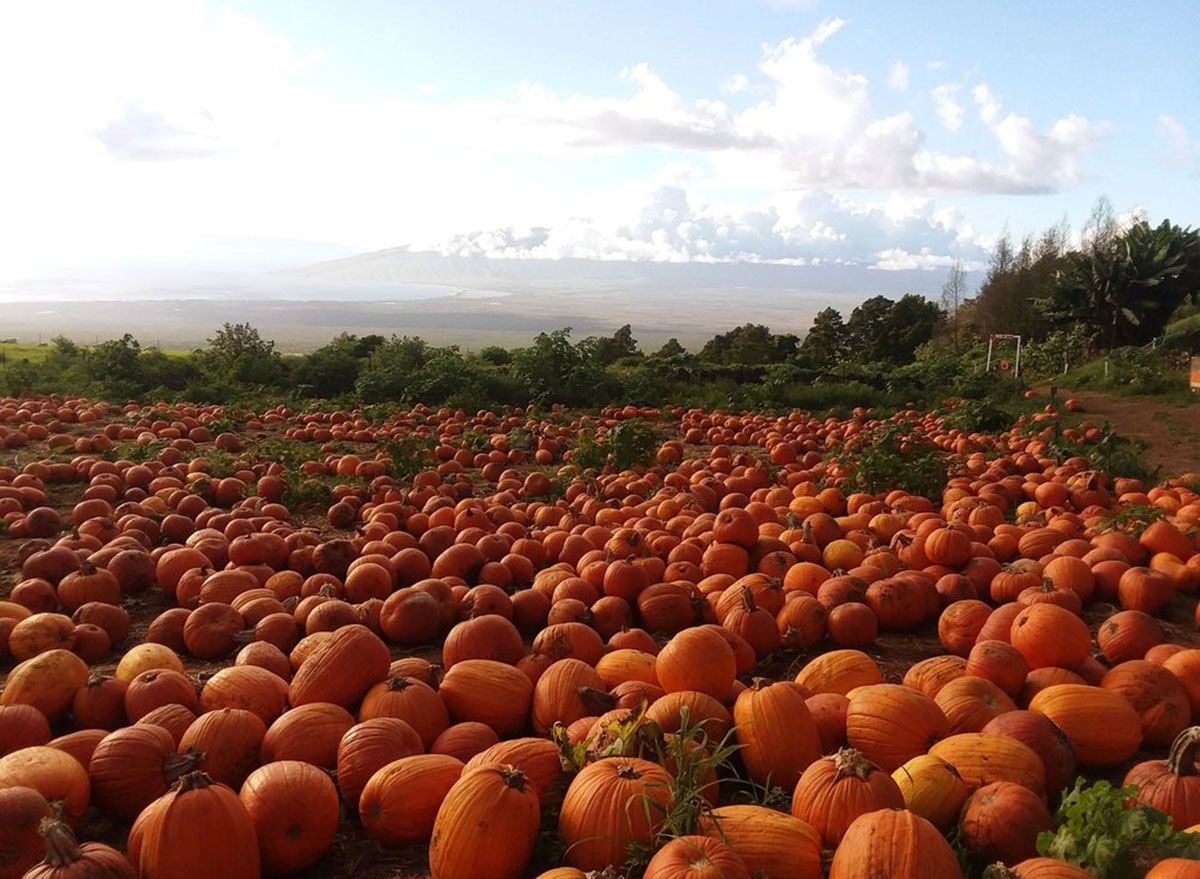 You-pick-it apples are absent from Hawaii, but the Aloha State has plenty of great farms to visit. To get in the fall spirit, Kula County Farms has a fall pumpkin patch that's open for picking, plus a photo-worthy sunflower patch.
IDAHO: Kelley Orchards in Weiser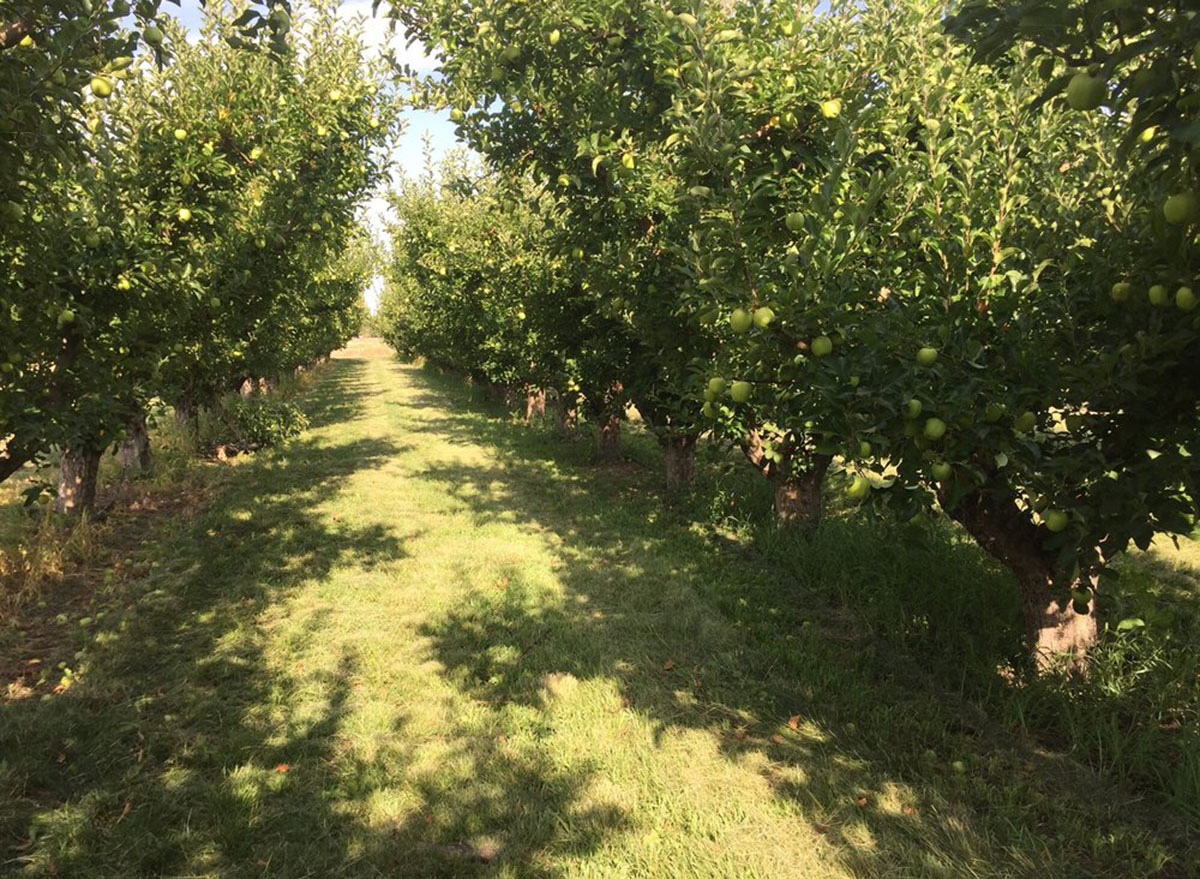 Long summer days coupled with cool nights along the Snake River create ideal fruit-growing conditions in this region. Fuji apples are a u-pick favorite at Kelley Orchards, a family-run operation that also grows peaches, nectarines, plums, pears, berries, and more.
ILLINOIS: Eckert's Belleville Farm in Belleville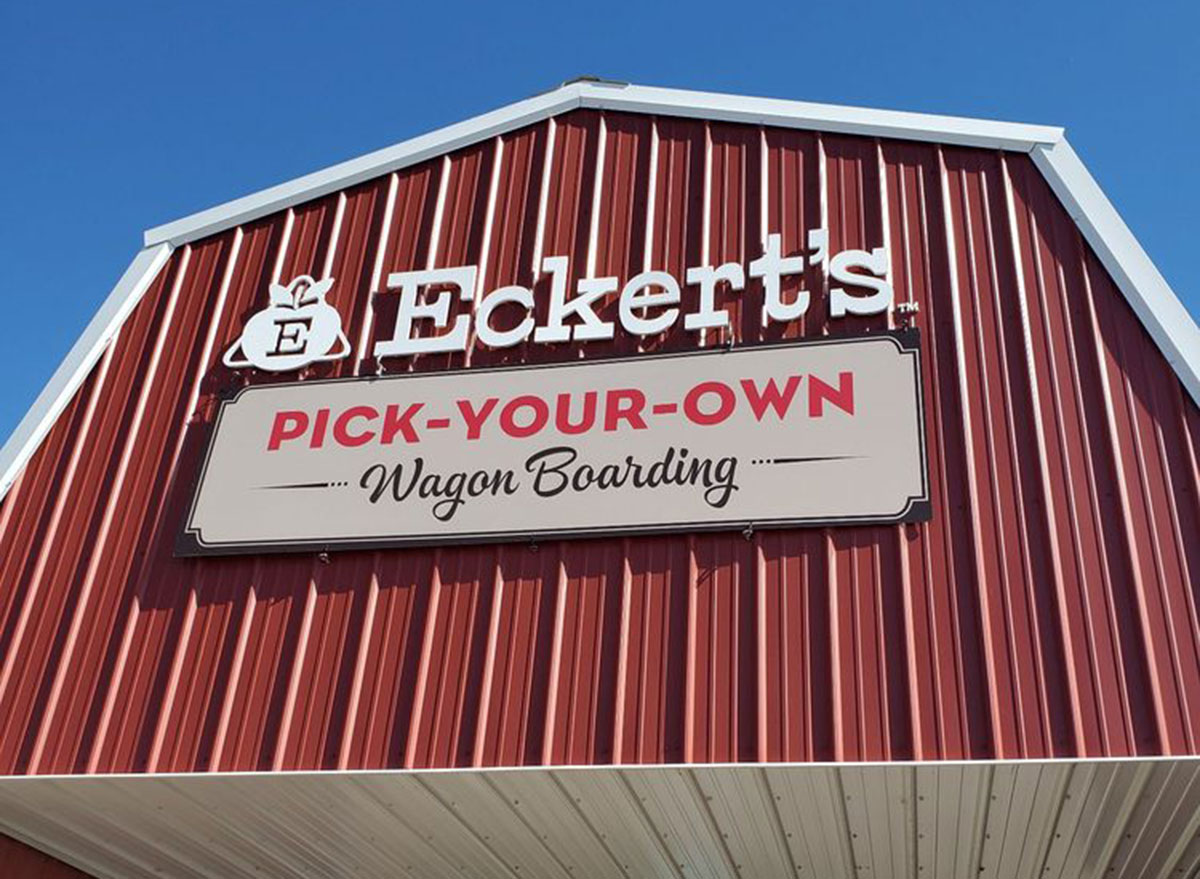 You can make a day out of your trip to Eckert's Belleville Farm. In addition to you-pick-it apples, there's a country store, country restaurant, and custard shop, plus a garden center and plant nursery. Take some apple (or peach) cider as a seasonal souvenir.
INDIANA: County Line Orchard in Hobart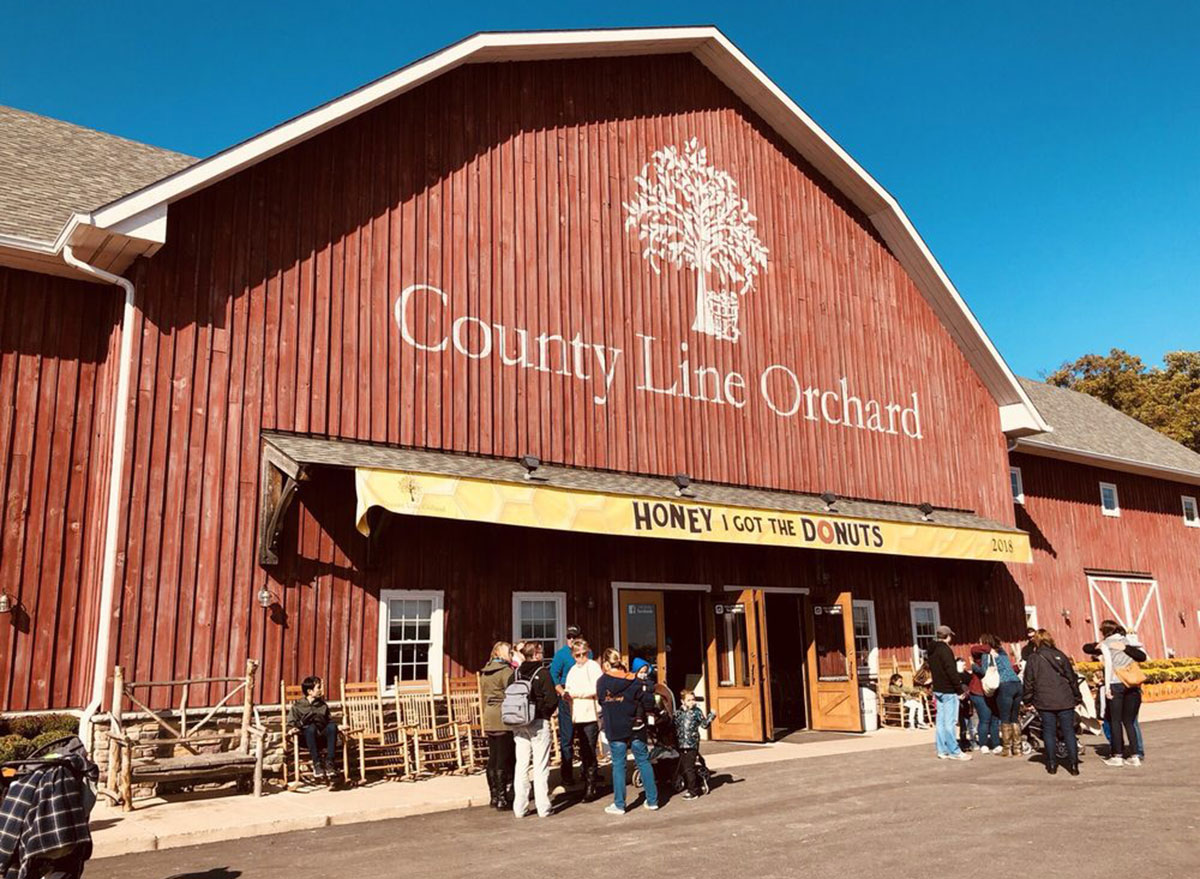 Get your fall fix at County Line Orchard, which, on top of u-pick apple orchards, offers tractor rides, soybean and corn mazes, and a "beverage barn" with cider and cider slushies. Yelp reviewers are fans of the donuts here and recommend trying the "a la mode" upgrade.
IOWA: Iowa Orchard in Granger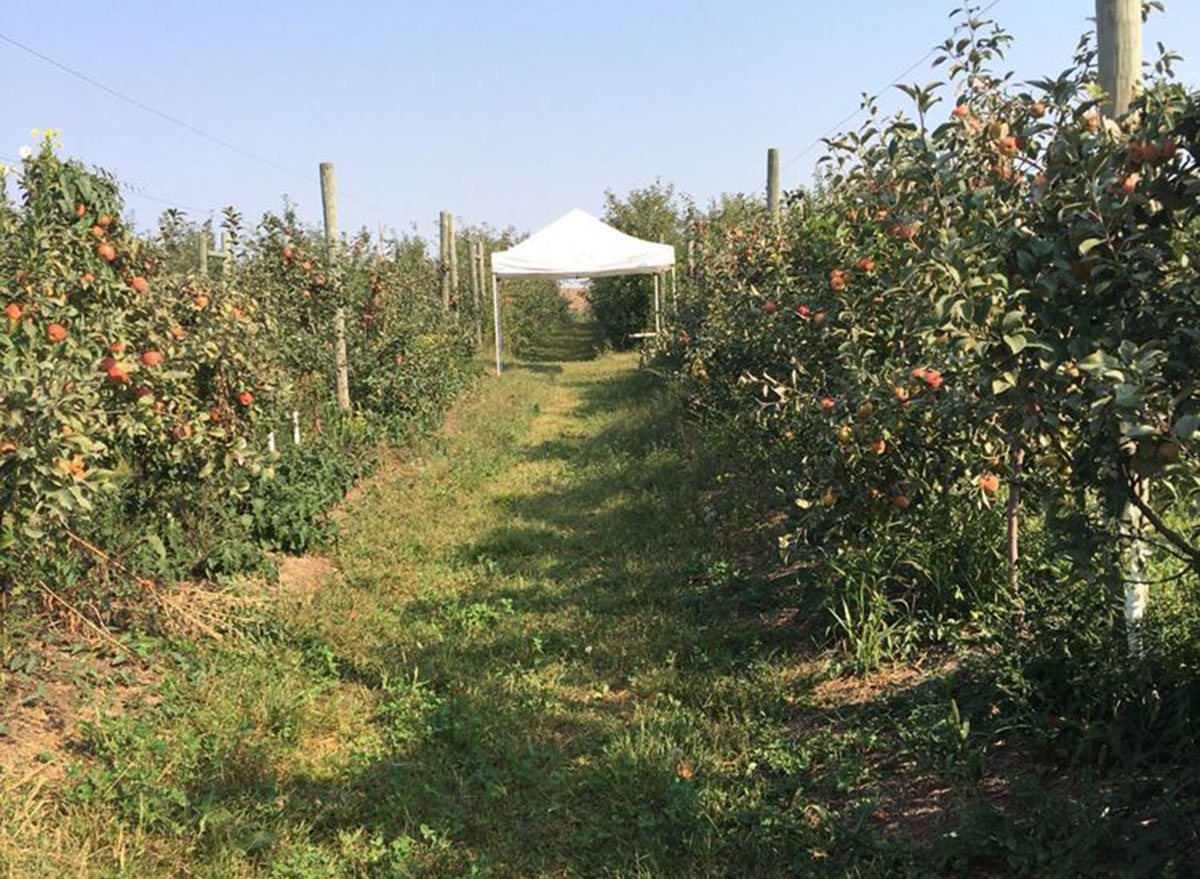 The picture-perfect Iowa Orchard has you-pick apples, with different varieties ripening throughout the fall, starting with Gala and McIntosh apples and ending with Pink Ladies and Braeburns.
KANSAS: Cider Hill Family Orchard in Kansas City
Pick your apples and enjoy quintessential fall treats like hot cider donuts and kettle corn at the Cider Hill Family Orchard. Round out the day here with a hayride or warm up by the fire pit. Yelp reviewers agree that there are plenty of photo opps in the orchard.
KENTUCKY: Evan's Orchard and Cider Mill in Georgetown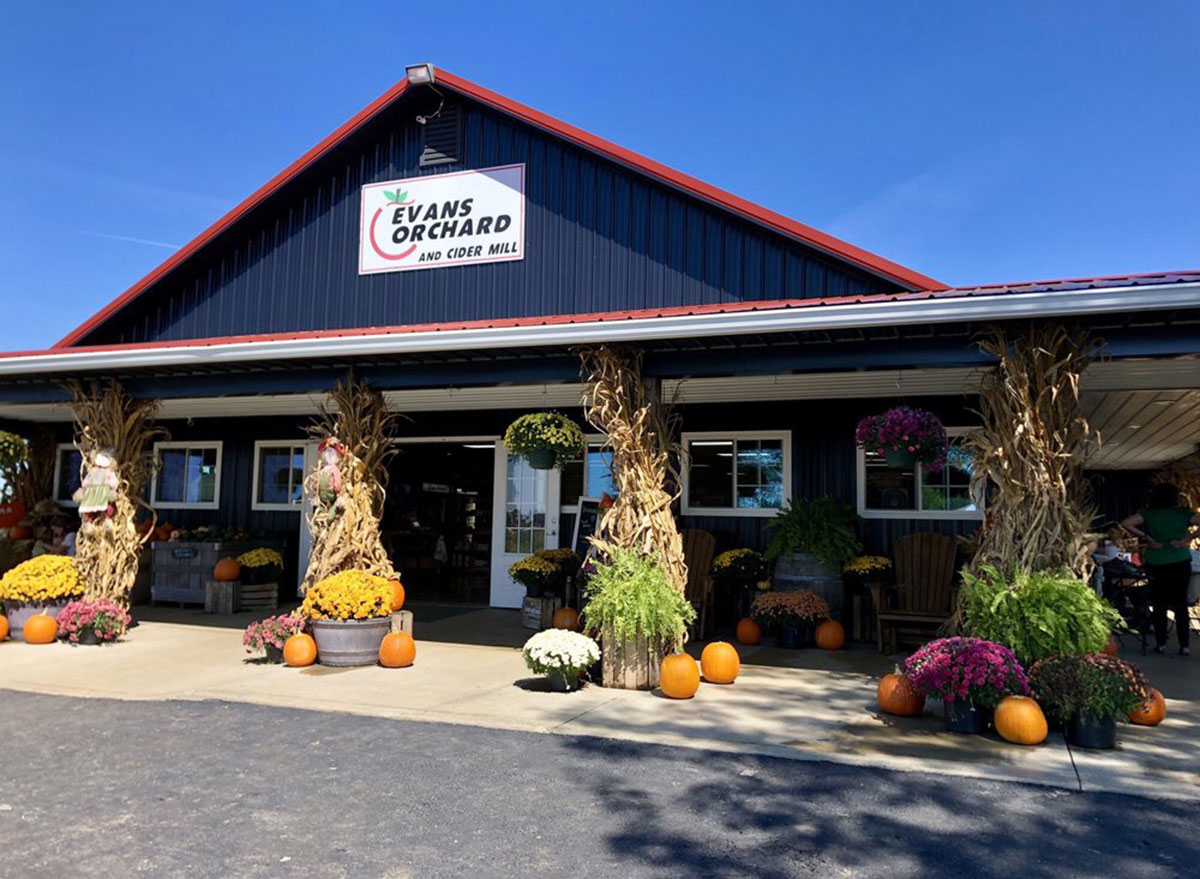 From apples to pumpkins to flowers, there's plenty to pick at Evan's Orchard and Cider Mill. The apple canon is a fan favorite at this orchard.
LOUISIANA: Eddie Romero's Orchard in Iberia
You'll be harder pressed than cider to find apple picking in Louisiana's climate. But there's one spot you can pick fruit, including apples: Eddie Romero's Orchard. The small orchard creates a big bounty, with blackberries, blueberries, peaches, and other fruit grown here.
MAINE: Wallingford's Fruit House in Auburn
After you finish picking apples, kick back with a hard cider at this farm's on-site tasting room.
MARYLAND: Homestead Farm in Poolesville
"We go for pick-your-own blueberries and peaches in the spring, blackberries in the summer and apples in the fall," says one Yelp reviewer who makes a case for repeat visits to this farm.
MASSACHUSETTS: Cider Hill Farm in Amesbury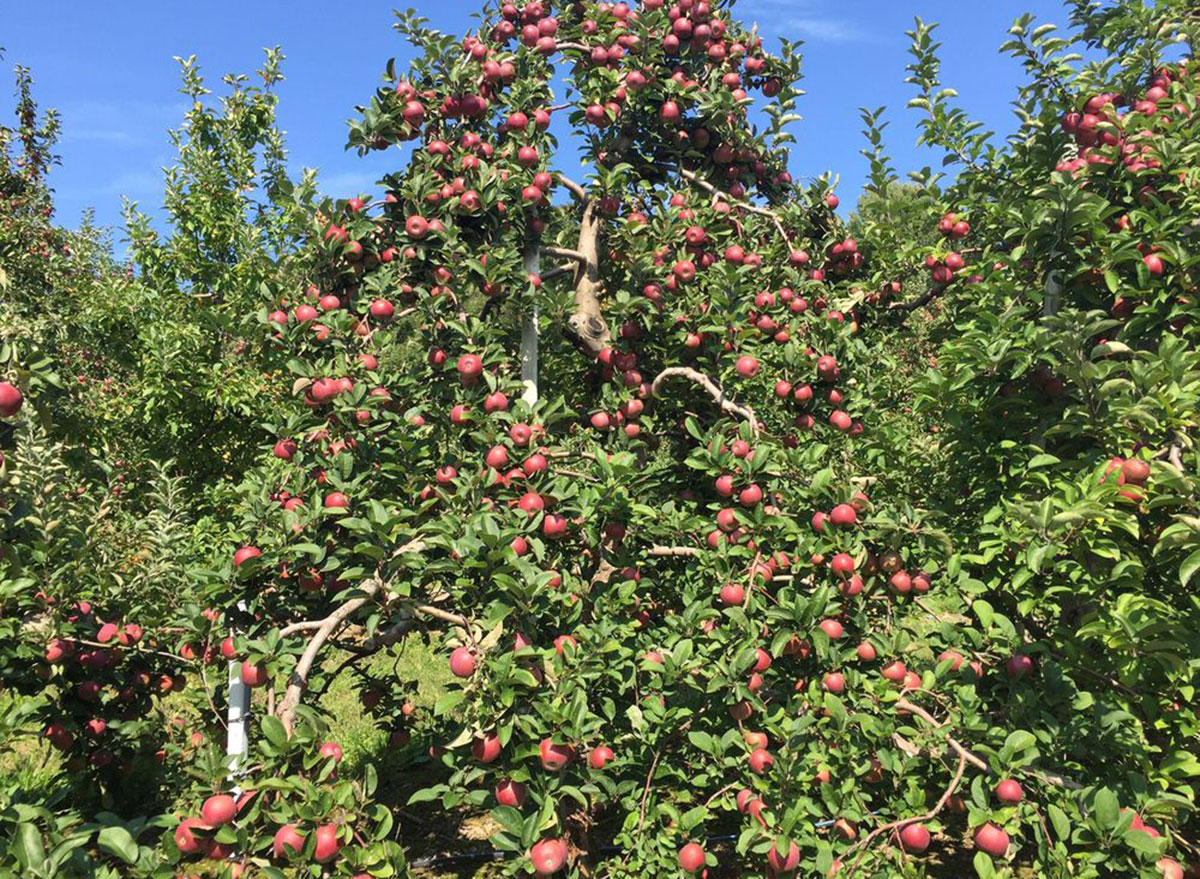 Not only will kids enjoy picking apples here, but they can also feed chicken and goats and play in a big sandbox. The scenic farm has an on-site store with honey from its local hives, hard cider made with the orchard's apples, plus a bakery with donuts, pies, and granola.
MICHIGAN: Erwin Orchards in South Lyon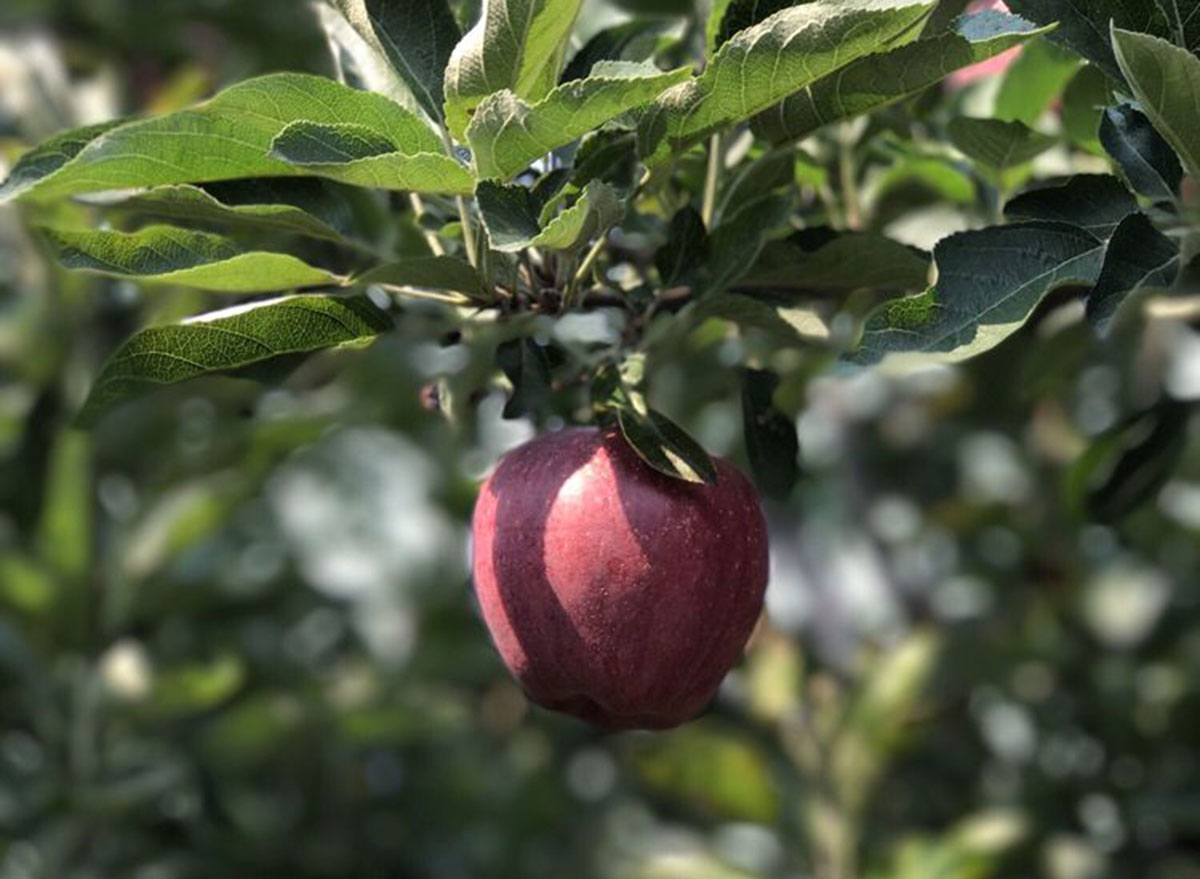 If you live in Michigan, you know there is an abundance of cider mills with fall donuts. But Yelp fans who come to Erwin Orchards for apple picking are loyalists to the donuts here. "The donuts. The fresh, cinnamon sugar donuts. Catch them straight out of the oven, and they will melt in your mouth," one Yelp reviewer wrote.6254a4d1642c605c54bf1cab17d50f1e
MINNESOTA: Minnesota Harvest Apple Orchard in Jordan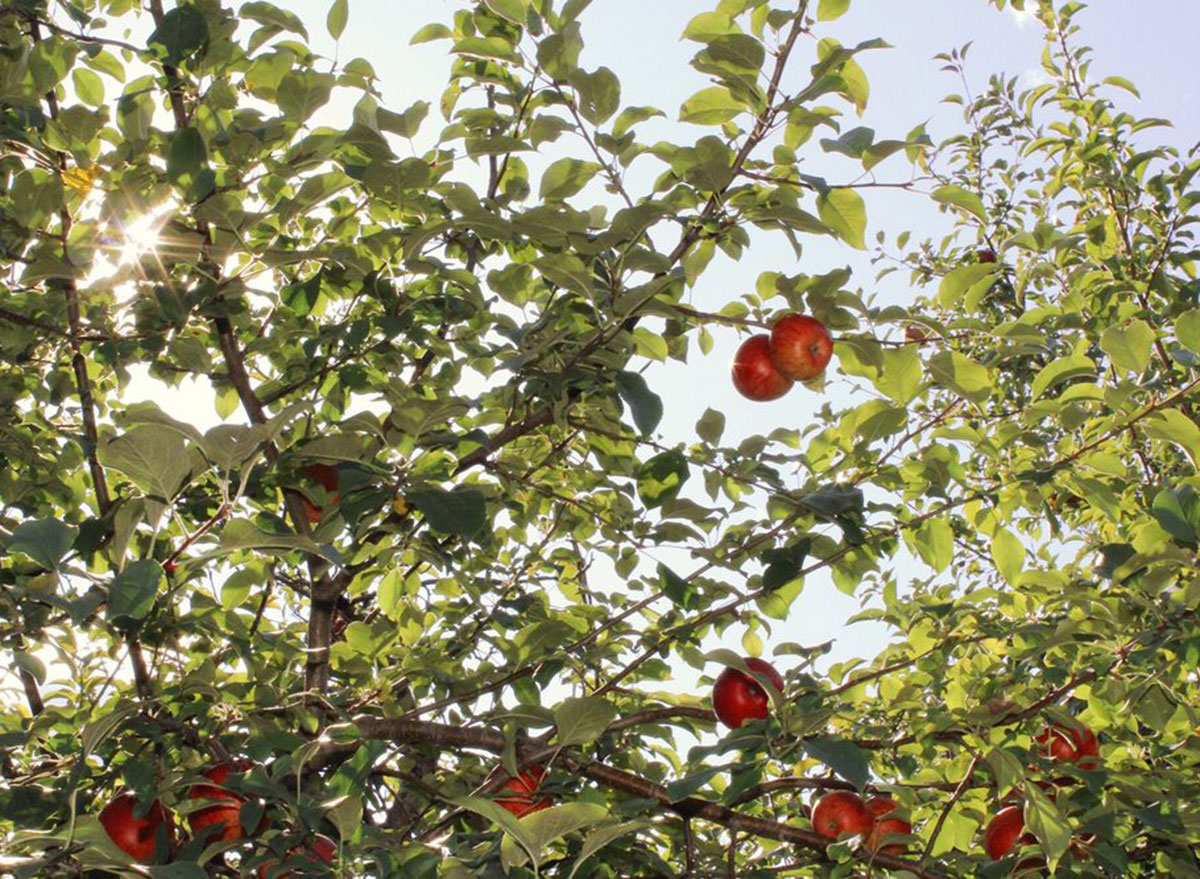 This apple picking adventure comes with a tractor ride out to the orchard. Yelp fans also suggest staying for an apple mimosa!
MISSISSIPPI: Cherry Creek Orchards in Pontotoc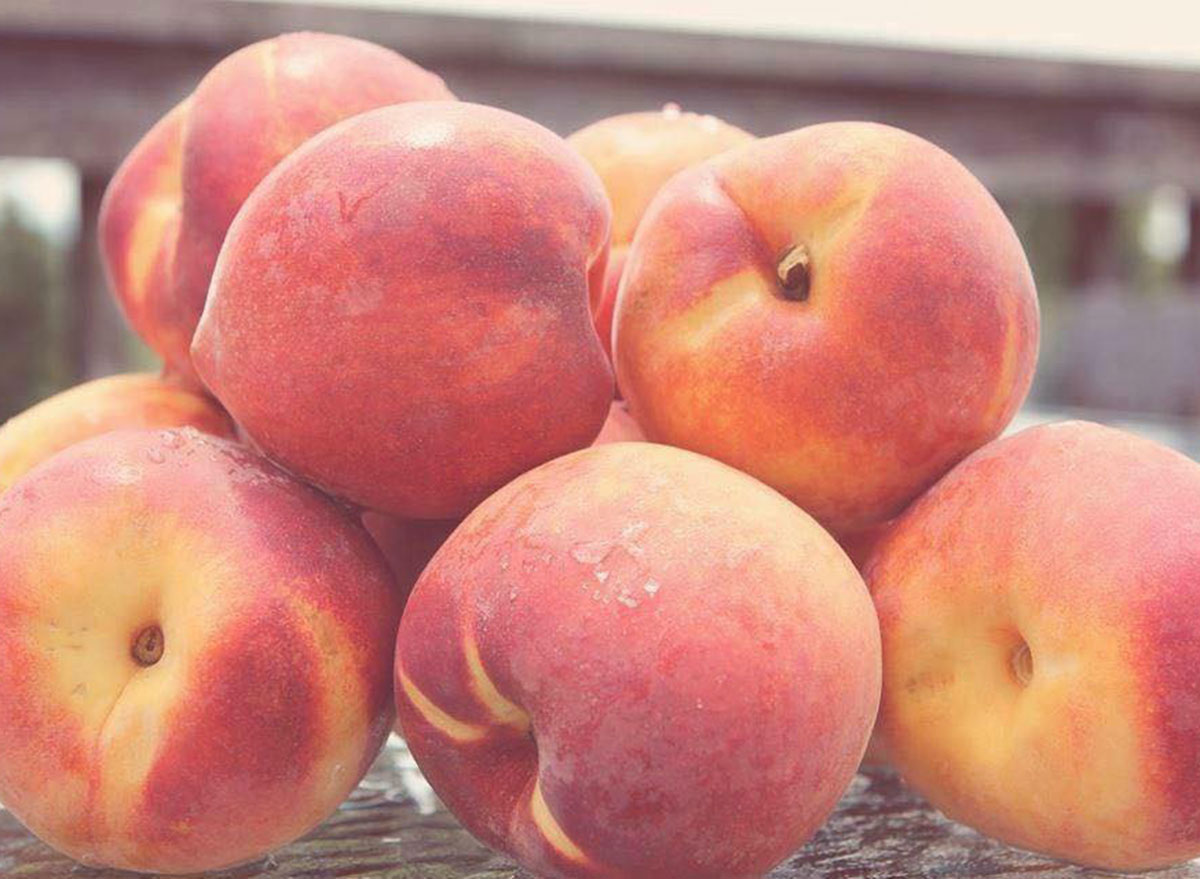 Big, juicy peaches are the main star at this orchard. But you might also be able to find some Arkansas Black Apples among the chestnut groves and figs. You can pick seasonal fruit at the orchard or choose from some pre-picked produce.
MISSOURI: Alldredge Orchards in Platte City
U-pick apples, a pumpkin patch, hayrides, a born store, farm animals, and a play area for children are all a part of the Alldredge Orchards experience. "Alldredge Orchard has all the best things about fall!" one Yelp reviewer promises.
MONTANA: Green Bench Orchard in Missoula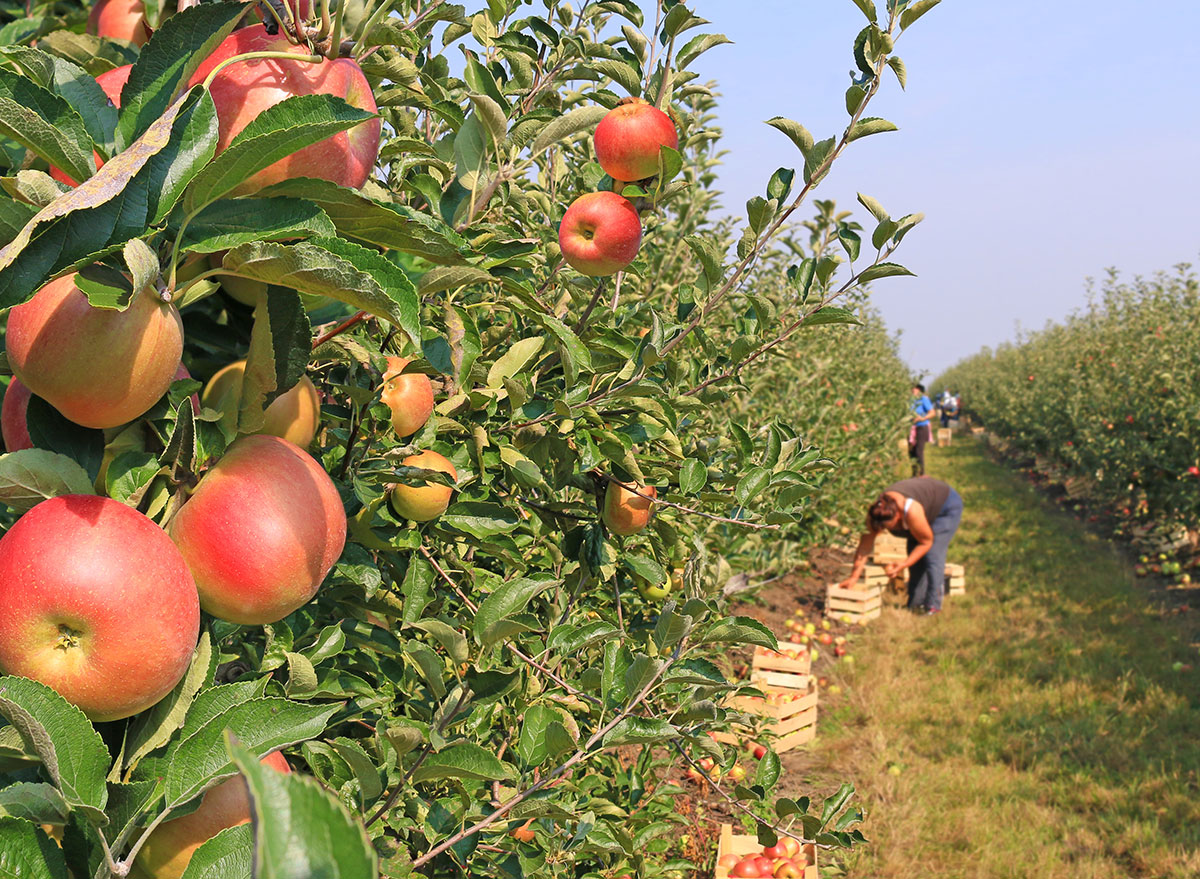 Bring the kids: There are 82 kid-height apple trees at Green Bench Orchard making for easy picking. In all the orchard grows eight apple varieties (and a couple of raspberry varieties, too).
NEBRASKA: Martin's Hillside Orchard in Ceresco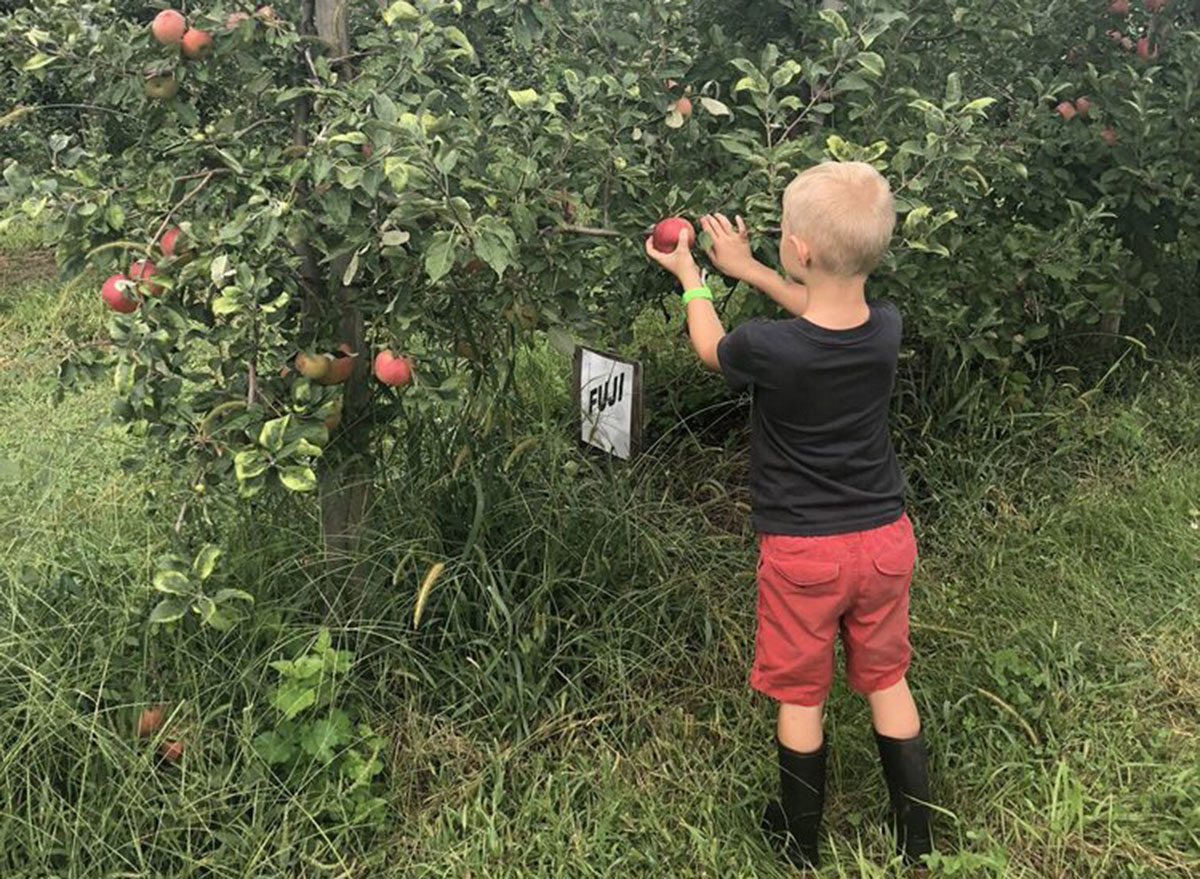 Located between Lincoln and Omaha, this popular you-pick orchard shares some of the best recipes from its "Orchard Test Kitchen" online. Apple Crumb Cheesecake Pie, anyone?
NEVADA: Gilcrease Orchard in Las Vegas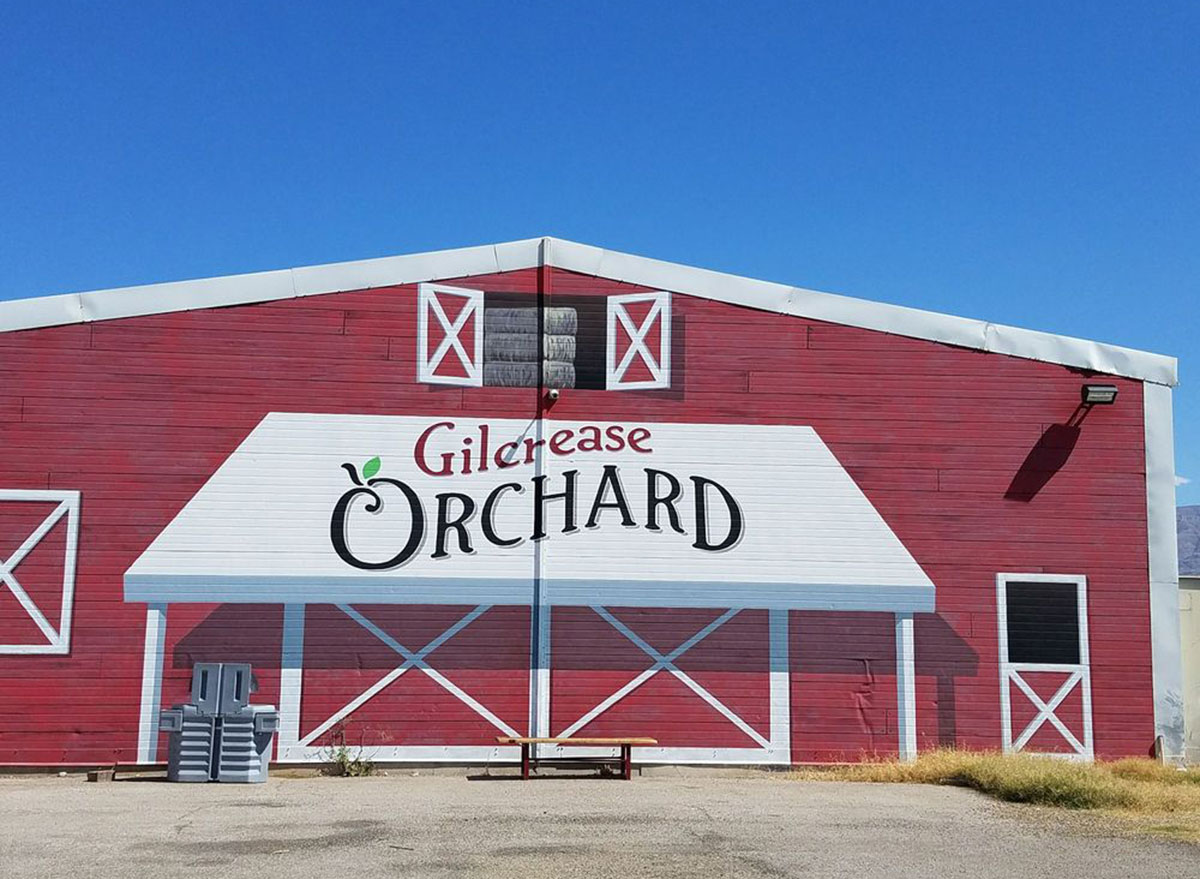 The farmers at Gilcrease Orchard have mastered how to grow apples in an arid environment. The orchard also sells a famous apple cider that's made with gala, yellow gala, and an early red variety of apples.
NEW HAMPSHIRE: Applecrest Farm Orchards in Hampton Falls
"The cider donuts were some of the best I've ever had and were a great pre-PYO treat before we got on the tractor to the orchard," one Yelp reviewer says of Applecrest Farm Orchards. (PYO, for the uninitiated, is short for Pick Your Own.)
NEW JERSEY: Riamede Farm in Chester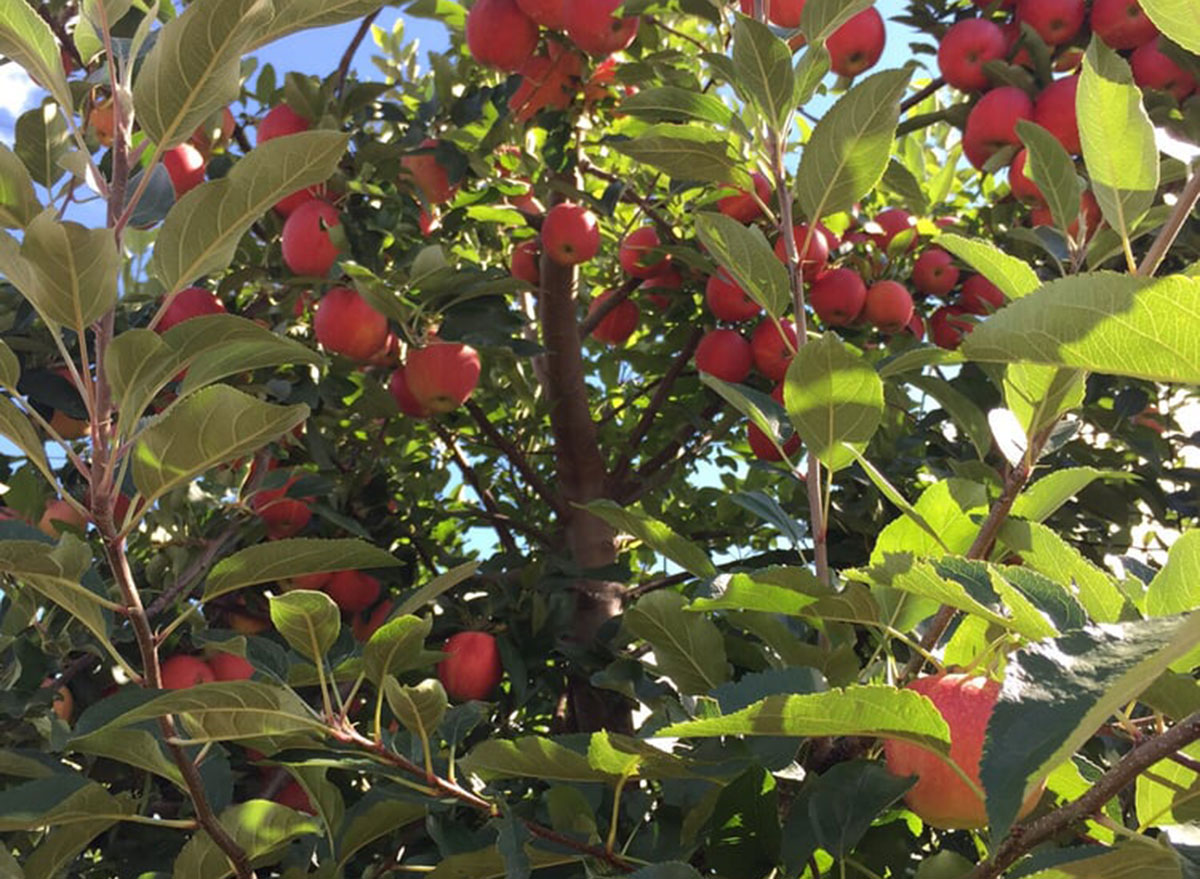 Not only can you pick apples here, but you can also pluck a pumpkin from the vine to take home and carve. Riamede Farm also offers free wagon rides on the weekend to take you for a scenic jaunt through the historic orchards.
NEW MEXICO: U-Pick Mesilla Valley Apples in Las Cruces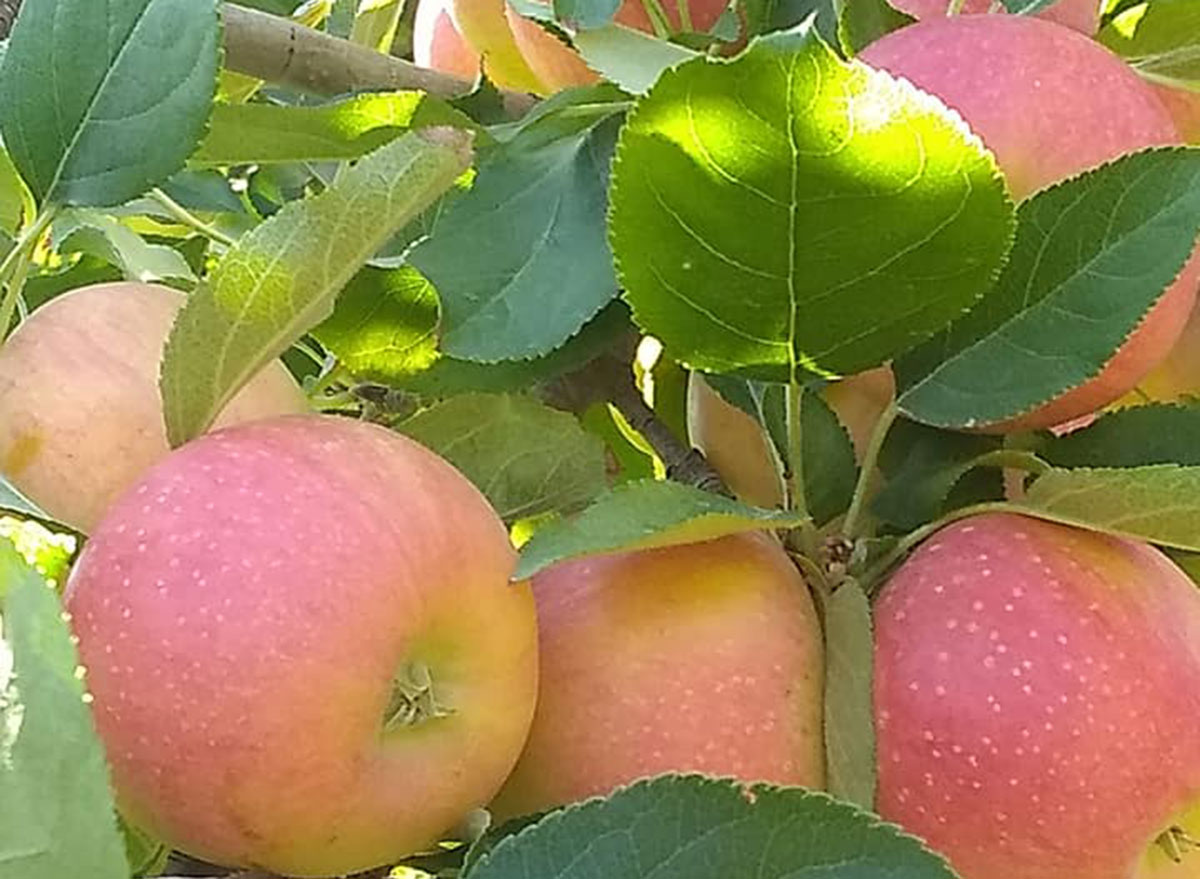 With more than 400 apple trees to pick from, this New Mexico farm also sells homemade pies made with the orchard's bounty.
NEW YORK: Ochs Orchard in Warwick
Get ready for a big apple haul! One reviewer of the Ochs Orchard said: "The bag was $25 and held so many apples, it took two of us to carry the bag back to the car." The orchard also has an ice cream shop and fresh-pressed apple cider.
NORTH CAROLINA: Stepp Orchard Pick Your Own in Hendersonville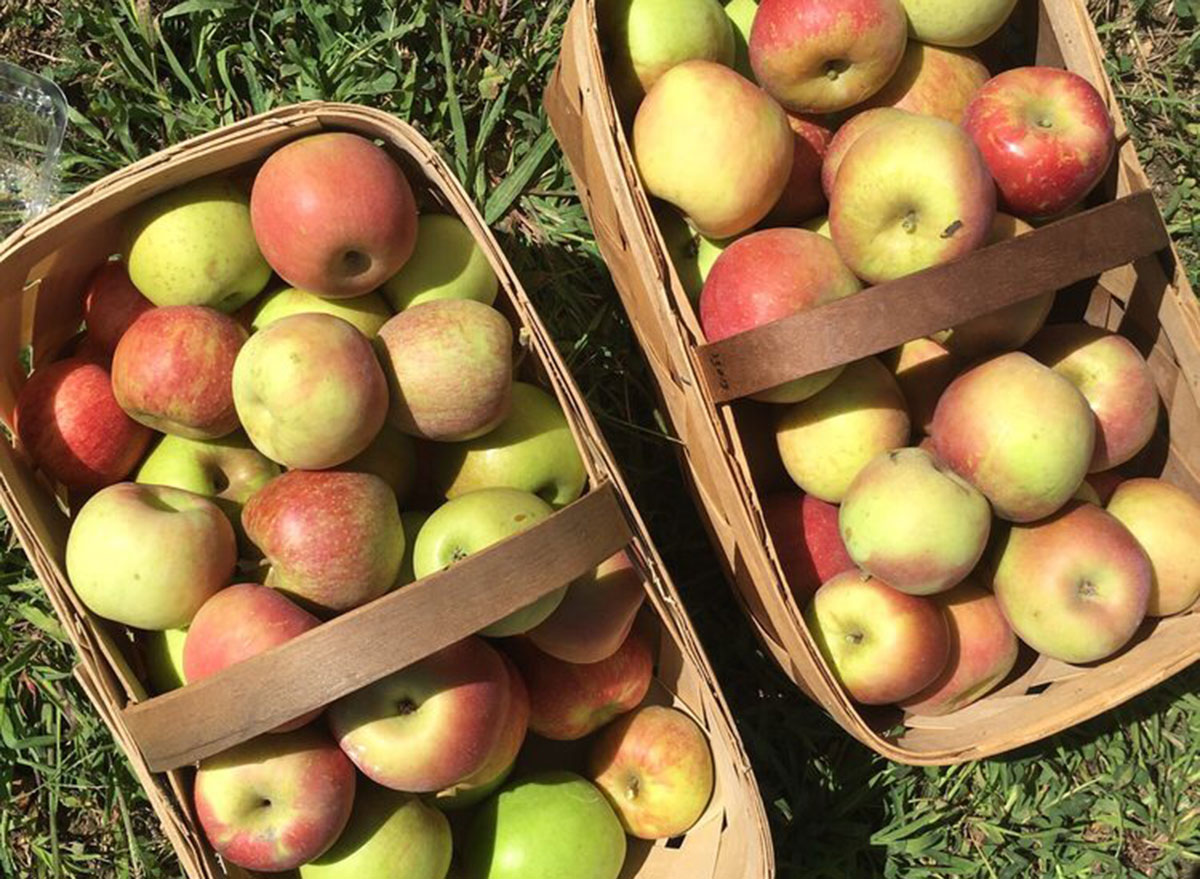 With 20 varieties of apples growing on the 70-acre farm, Stepp Orchard Pick Your Own specializes in you-pick apple experiences. "This is the perfect adventure for my family and I. We spent hours picking delicious apples in the orchard," one Yelp reviewer says.
NORTH DAKOTA: Cottonwood Cider House in Ayr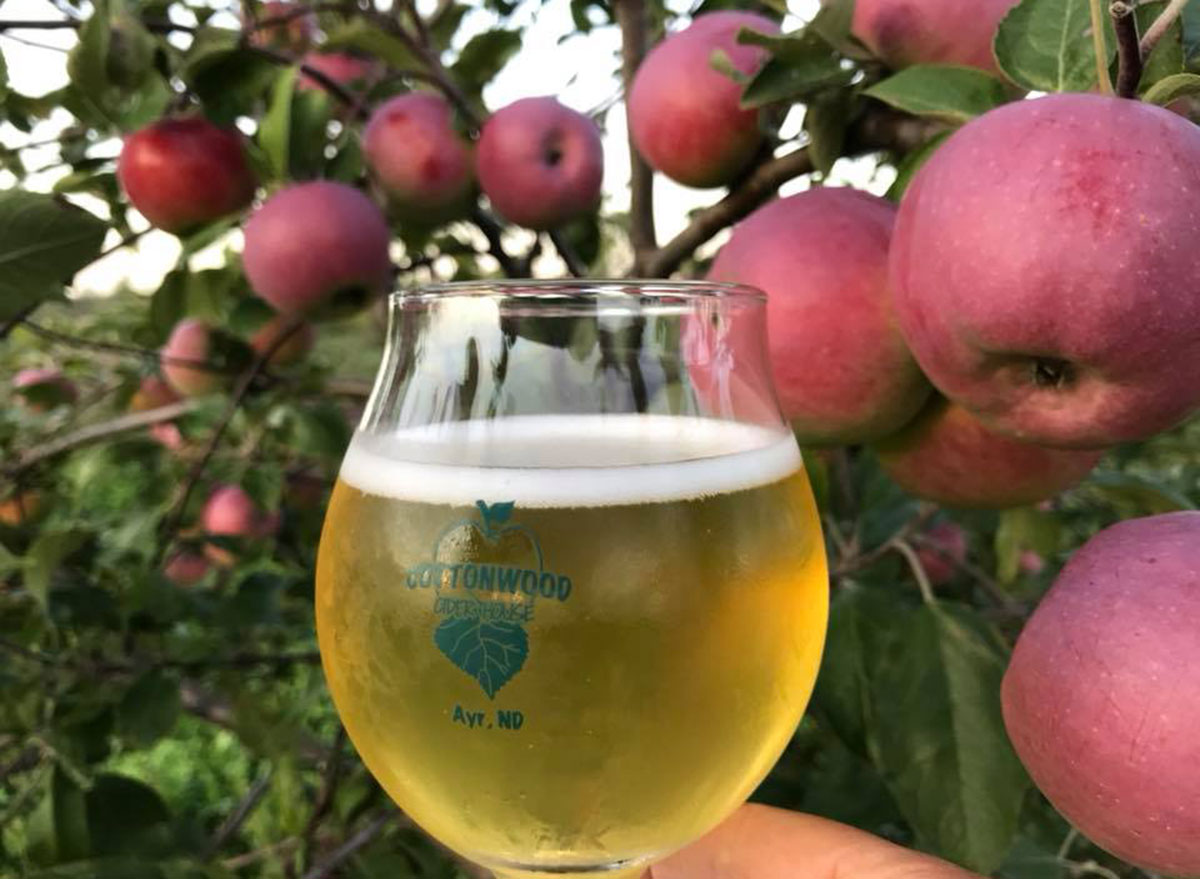 While it's hard to find you-pick-it farms in North Dakota, Cottonwood Cider House comes close. You can tour the orchards, which boasts 40 apple cultivars. The cidery crafts its cider with apples grown in the orchard.
OHIO: A & M Farm Orchard in Midland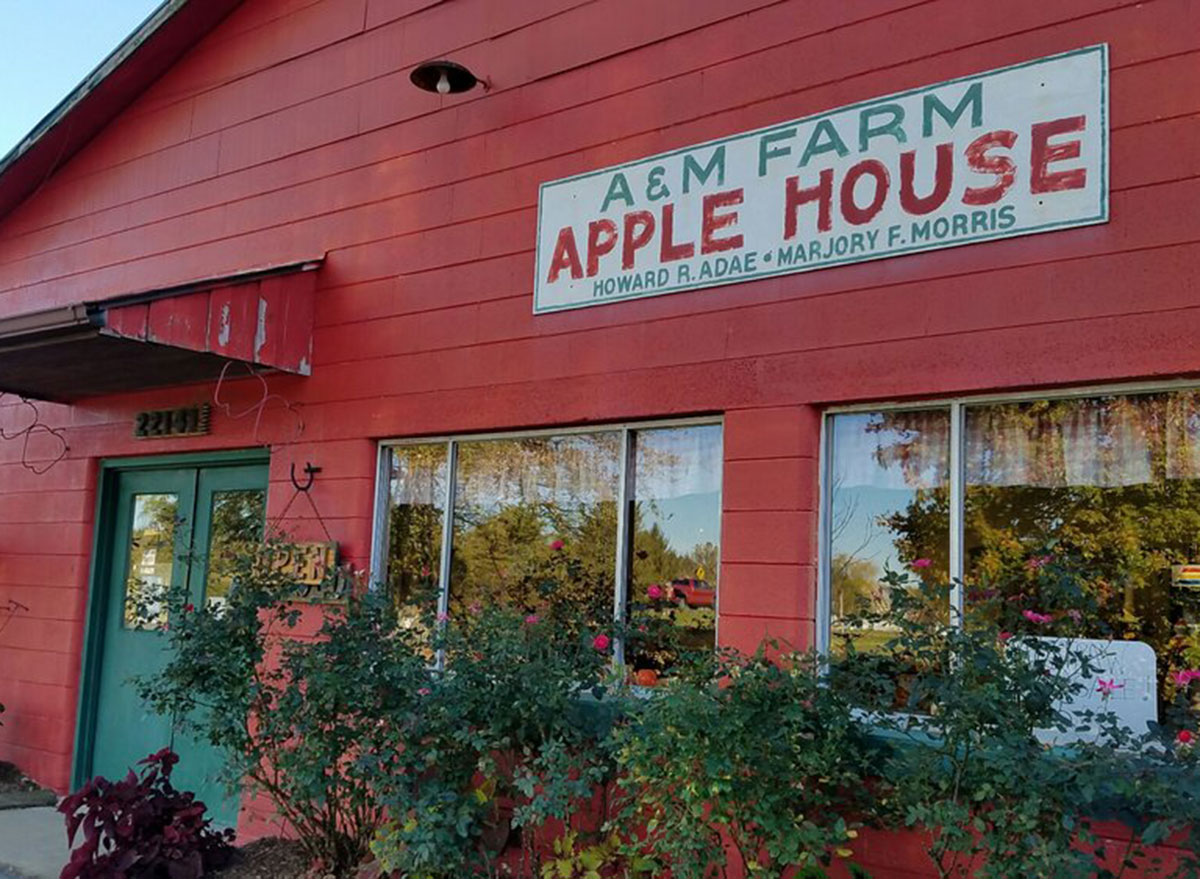 "Hands down the best Apple Cider I have ever tasted!" one reviewer says. U-pickers can take a wagon out to the orchard and fill up their buckets with delish apples to take home.
OKLAHOMA: Livesay Orchards in Porter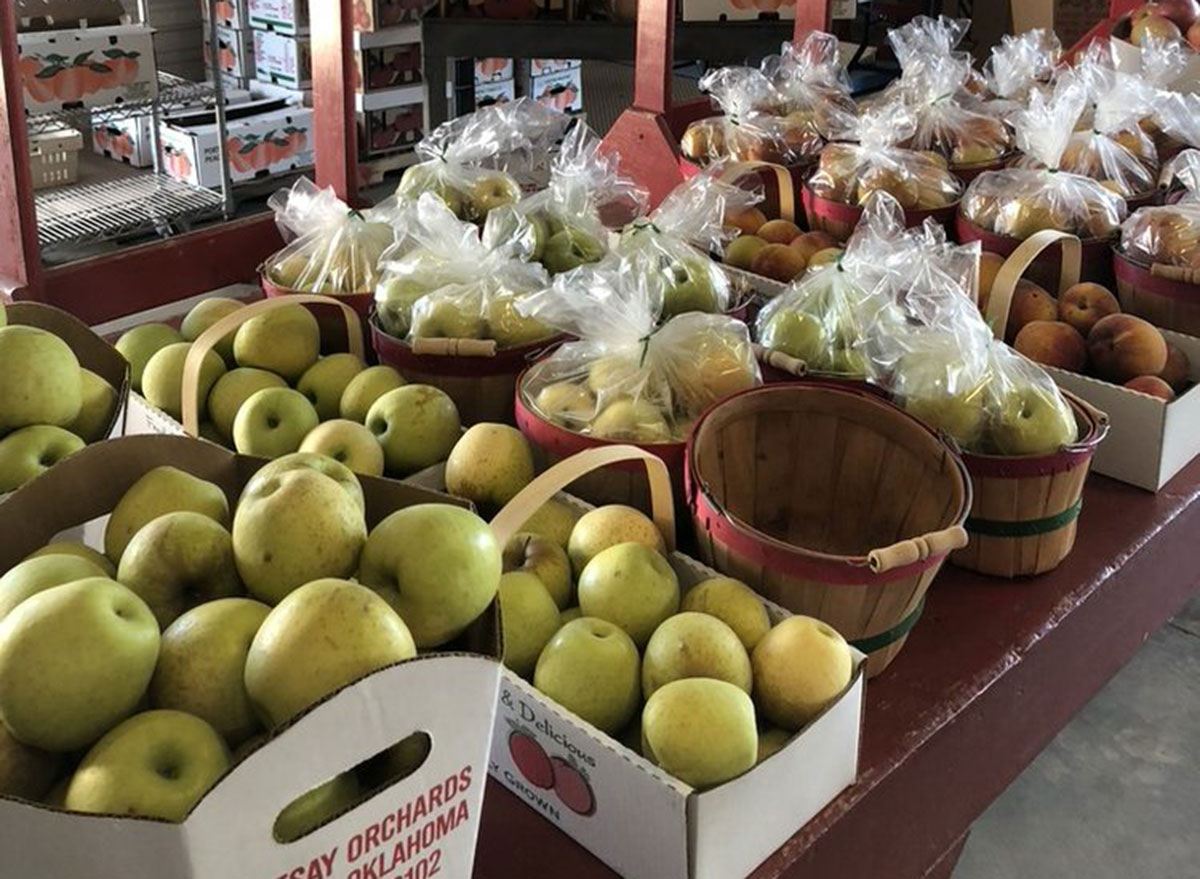 Apples share the stardom with peaches at Livesay Orchards. Visitors here can pick their own produce and take a hayride out to the pumpkin patch while passing through the apple and peach orchards. Finish the day with a stroll through the hay bale maze.
OREGON: Kiyokawa Family Orchards in Parkdale
Kiyokawa Family Orchards is a part of the Hood River Fruit Loop, which is dotted with 29 stands and farms selling wines, fruits, ciders, veggies, and more. Kiyokawa Orchards grows more than 130 varieties of apples, plus two dozen varieties of pears. "First thing you'll notice is all of the very numerous large bins filled with apples and pears, each of which can be sampled," one Yelp reviewer points out.
PENNSYLVANIA: Solebury Orchards in New Hope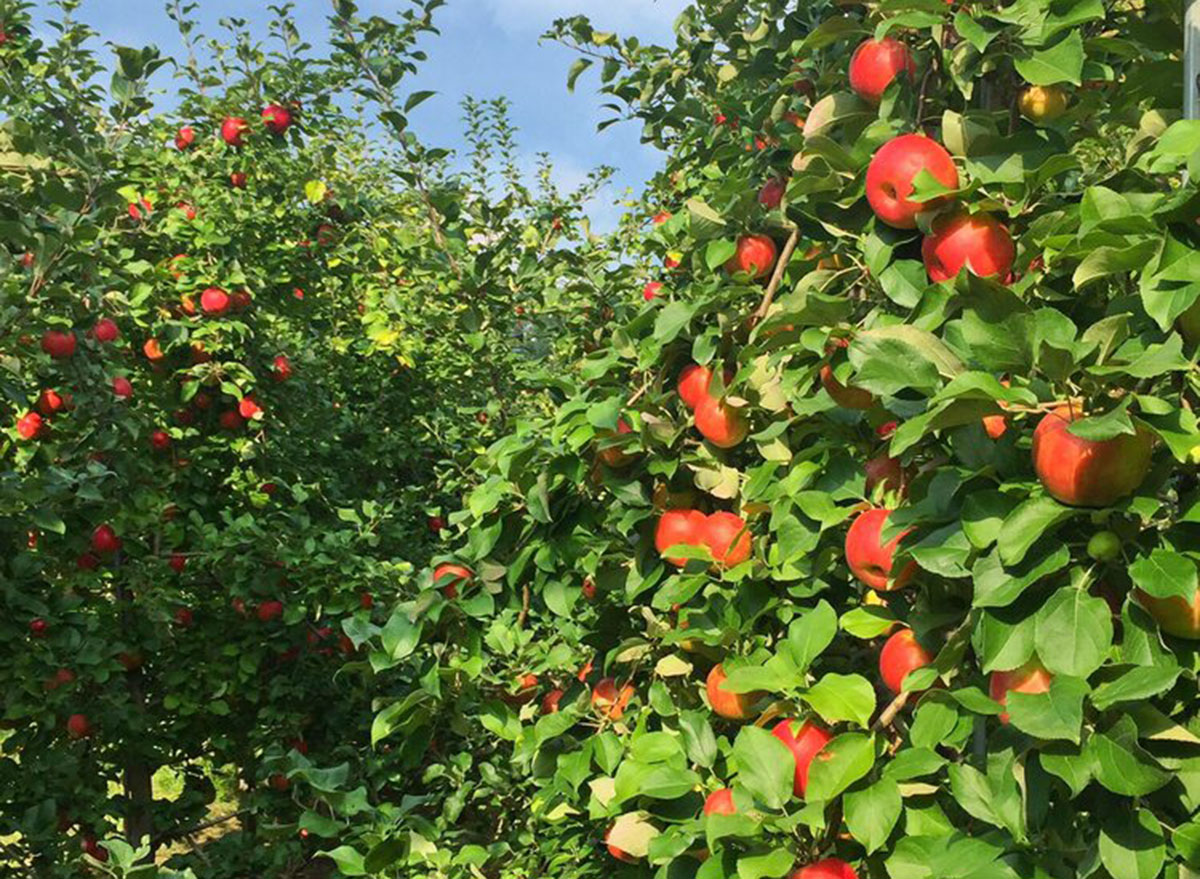 Pack your camera. Solebury Orchards is known not just for its high-quality fruit and you-pick apples, but also for the picturesque country setting too.
RHODE ISLAND: Jaswell's Farm in Smithfield
Apple picking at Jaswell's Farm is a multi-sensory experience. On the way to the apple orchard, you pass by the smell of apple crisps and apple cider donuts, one Yelp reviewer says.
SOUTH CAROLINA: Windy Hill Orchard in York
When you're picking at Windy Hill, be on the lookout for the Stayman Winesap. The southern heirloom apple is sweet, with a tart bite. After your apple picking adventure, stay for some hard cider or fresh-pressed apple cider.
SOUTH DAKOTA: Country Apple Orchard in Harrisburg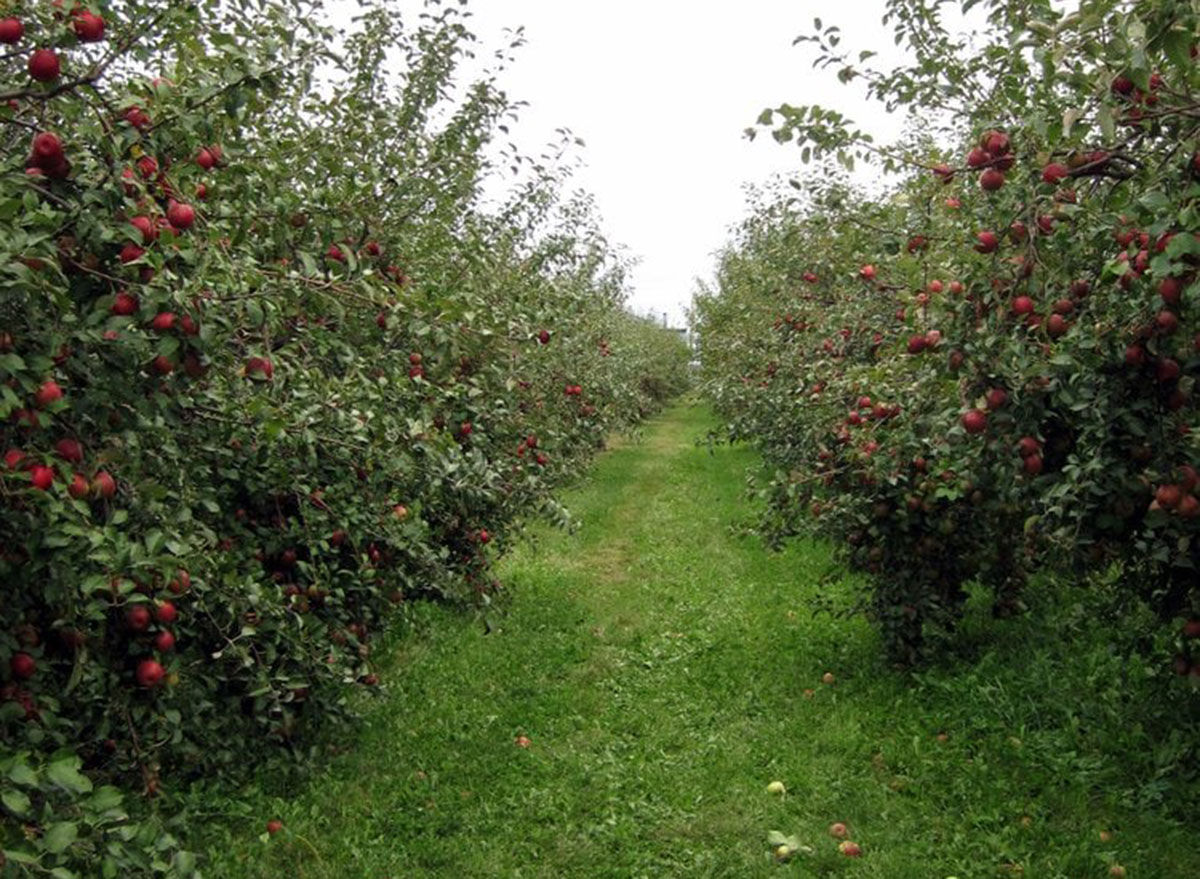 Plenty of apples are ripe for picking on this 78-acre farm that boasts 6,000 trees and 13 apple varieties. Country Apple Orchard also holds an annual Apple Festival every year.
TENNESSEE: Wheeler's Orchard in Dunlap
Not only can you pick your own apples at Wheeler's Orchard. You can also share your bounty with the farm animals. Kids love feeding the goats and sheep.
TEXAS: Apple Valley Orchard in Llano
Be sure to save room for dessert. Apple Valley Orchard also sells seasonal goodies like apple cinnamon walnut ice cream.
UTAH: Burgess Orchards in Alpine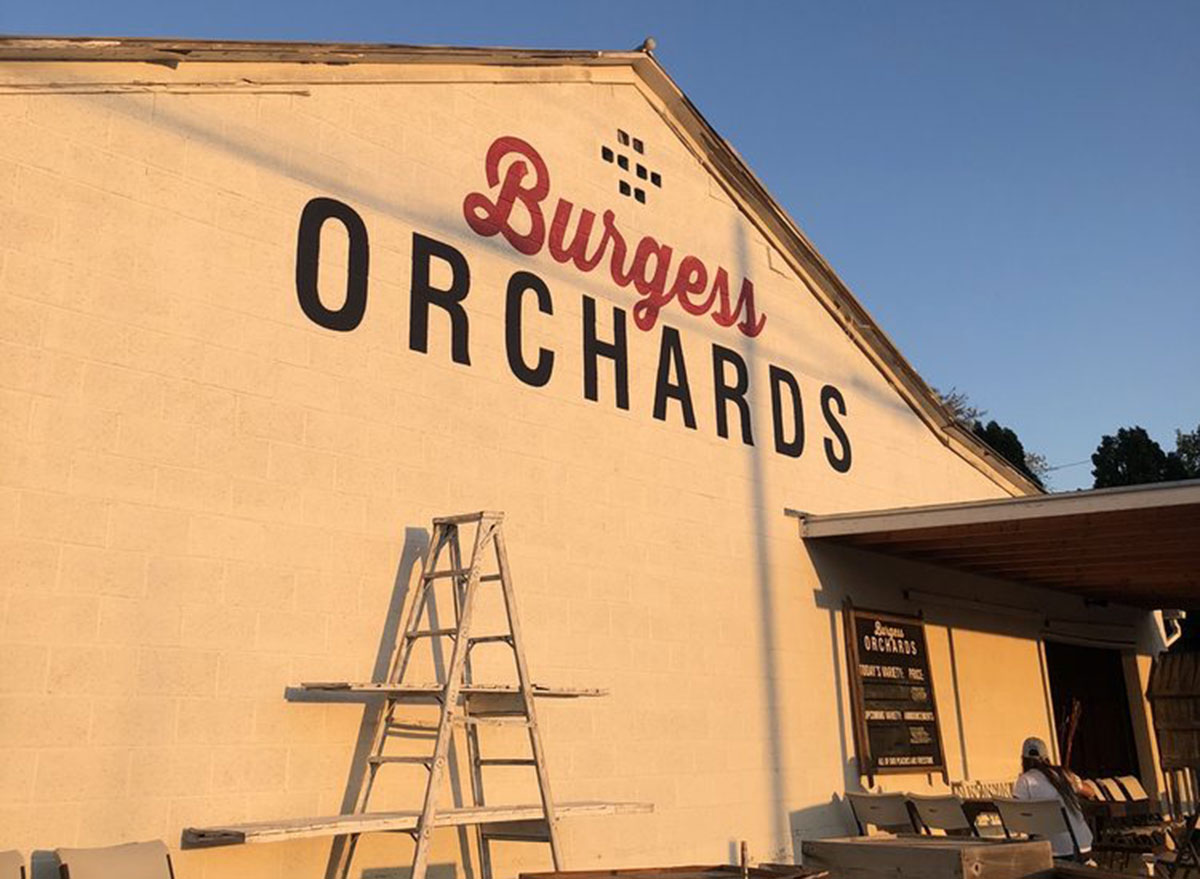 Not only can you pick your own apples at Burgess Orchards, but you can also sign up for a cider-making class. The fresh apple pie sundaes are also a treat: They come drizzled in caramel syrup and served with cinnamon chips.
VERMONT: Adams Apple Orchard & Farm Market in Williston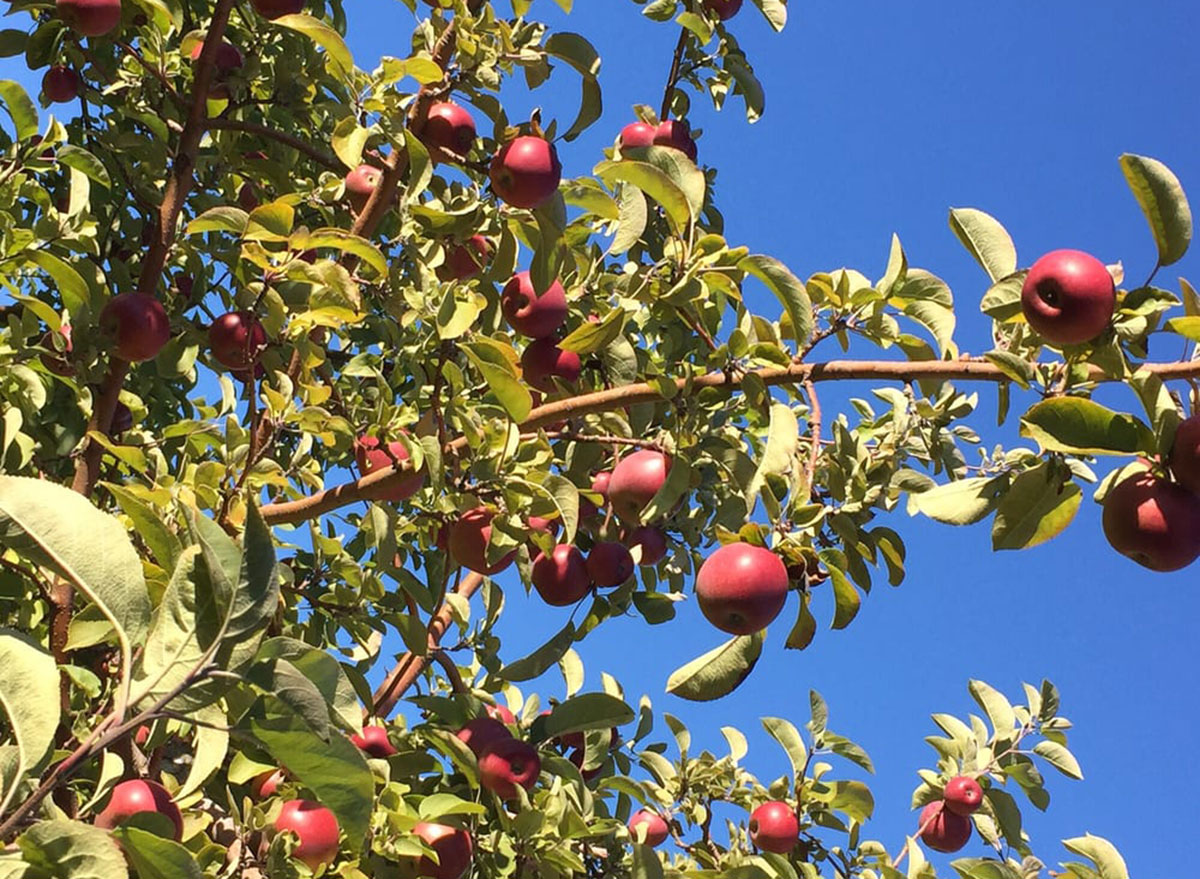 Don't leave without some famous Vermont syrup! Adams Apple Orchard & Farm Market is postcard-perfect in the scenic Champlain Valley. Yelp reviewers consistently say how friendly the employees are. "The people at the orchard were super helpful in directing us to the best places to pick the perfect apples for our pie," one reviewer says.
VIRGINIA: Carter Mountain Orchard in Charlottesville
"You can pick your own apples and buy pumpkins, and then take a hayride while enjoying amazing views," one Yelp reviewer of Carter Mountain Orchard says. Amid COVID-19, the orchard got creative and added a scenic drive-thru in the orchard and the option to pick up pre-picked produce.
WASHINGTON: Bellewood Farms and Distillery in Lynden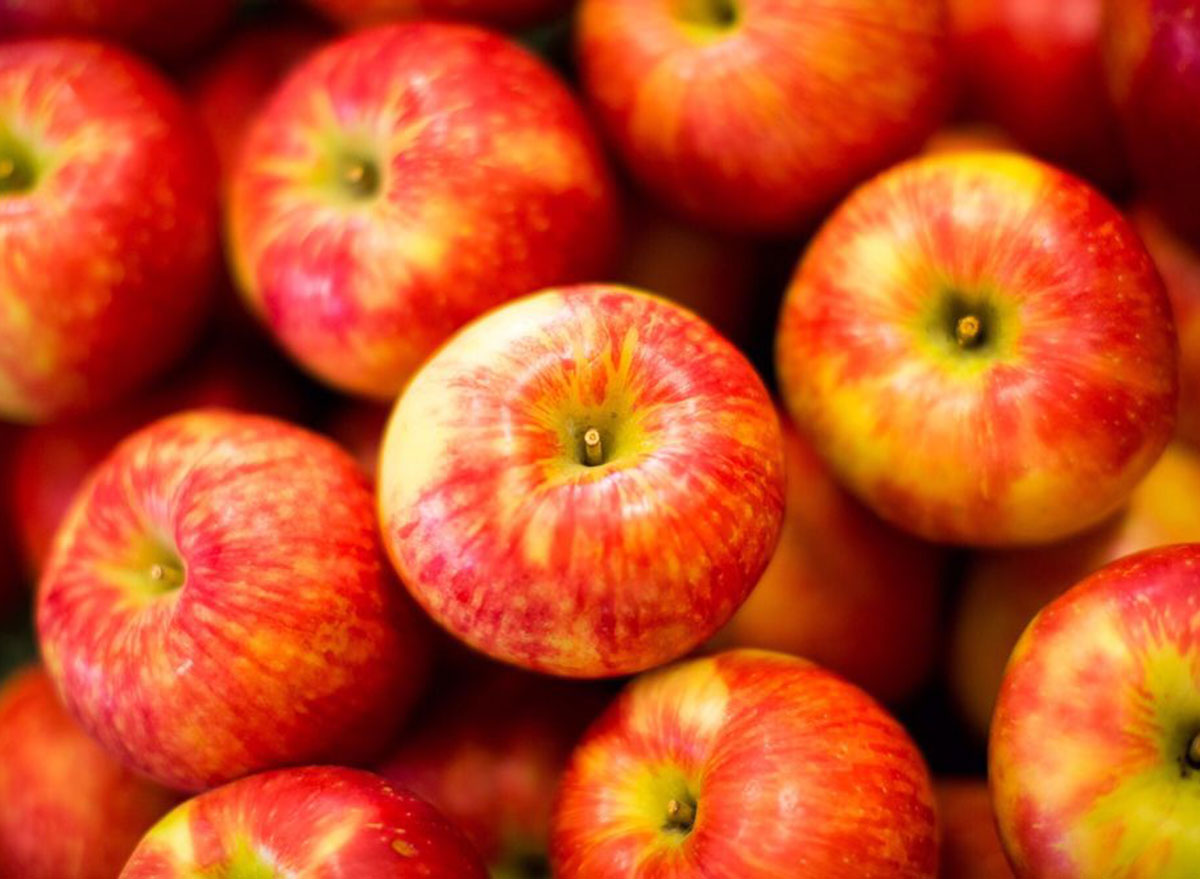 Not only is there a U-Pick apple orchard with free "bin train" rides, but Bellewood also has an award-winning distillery with spirits made from the orchard's apples. A visit to this farm in the autumn feels like a fall celebration, with cider donuts, fresh apple cider, and a corn maze to round out your visit.
WEST VIRGINIA: Sizemore Farm in Clay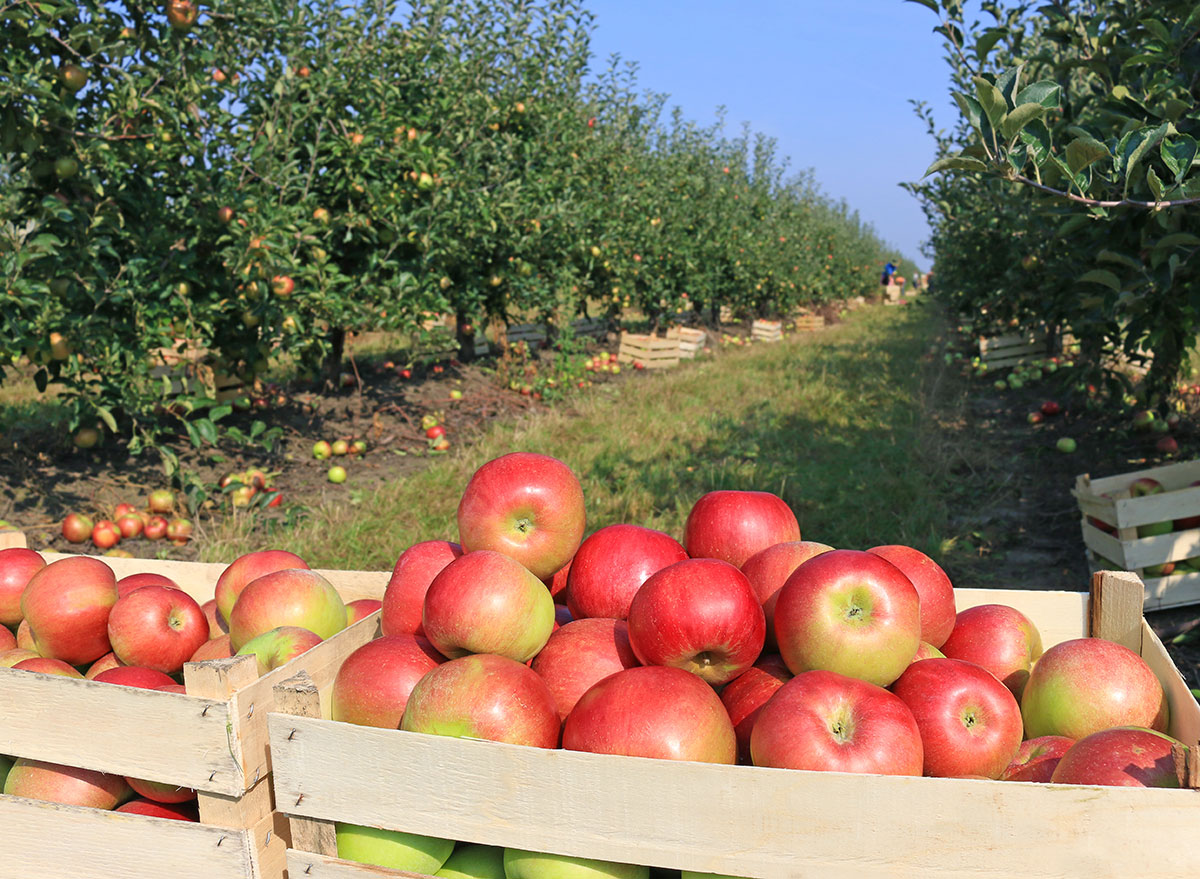 Pluck blueberries in the summer at Sizemore Farm. Come fall, grab your apple picker and a basket and harvest your own apples.
WISCONSIN: Lautenbach's Orchard Country Winery & Market in Fish Creek
Door County, Wisconsin is known for its delicious cherries, and cherry-picking is bidding for a spot on your summer bucket list. But the area also earns an "A" for apple picking. At Lautenbach's Orchard Country Winery & Market, you can pick Honeycrisp, Macintosh, Gala, and more. The winery and market has a "Cherry Pit Spit" game to see how far you can launch cherry pits. See how far you can get your apple seeds to travel.
WYOMING: Young's Apple Box Orchard in Lingle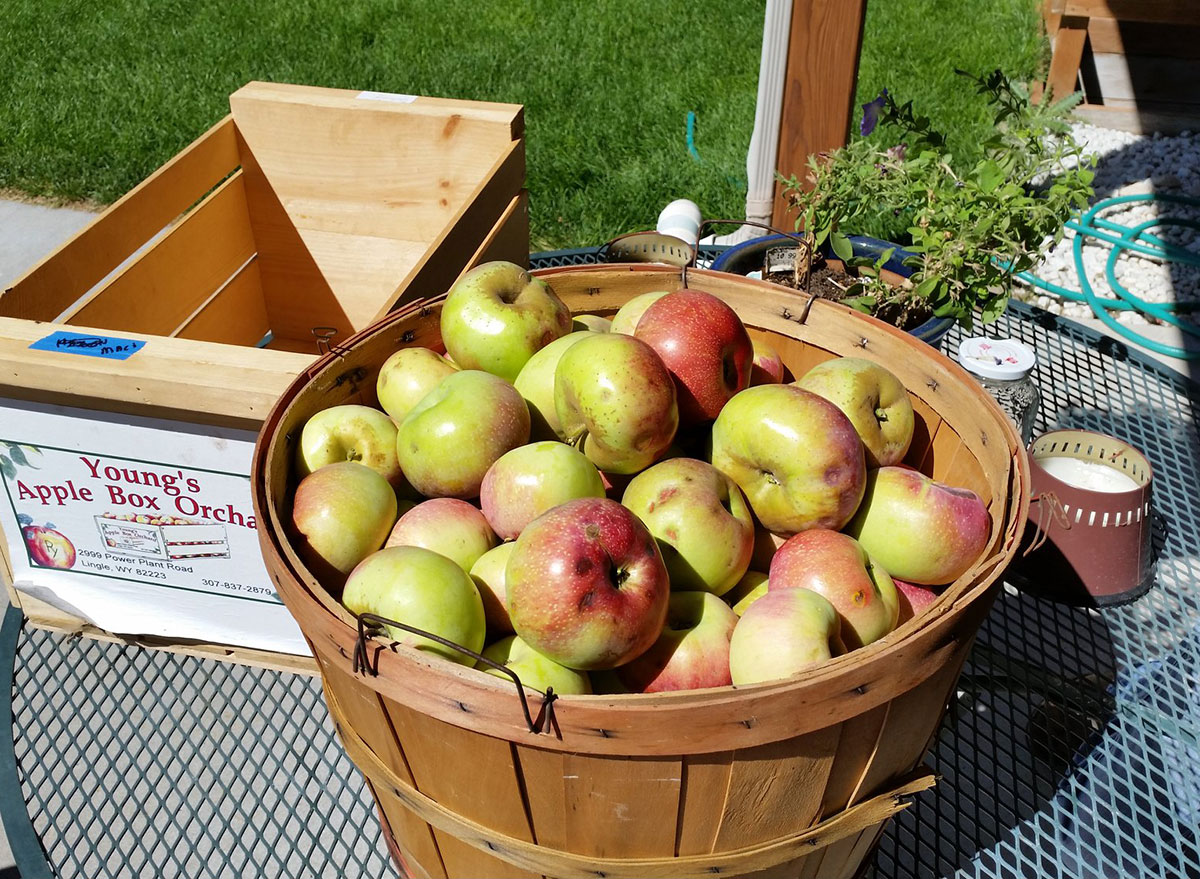 Enjoy a fall day at Young's Apple Box Orchard, a family-owned orchard with 300 trees including nearly 100 varieties of apples, plus pears, plums, and peaches.
No matter where you're in the country, happy apple picking!
For more, check out these 108 most popular sodas ranked by how toxic they are.