The Best-Ever Apple Pie Recipe
With plenty of oats and almonds, go ahead and enjoy more than one slice. You're totally allowed!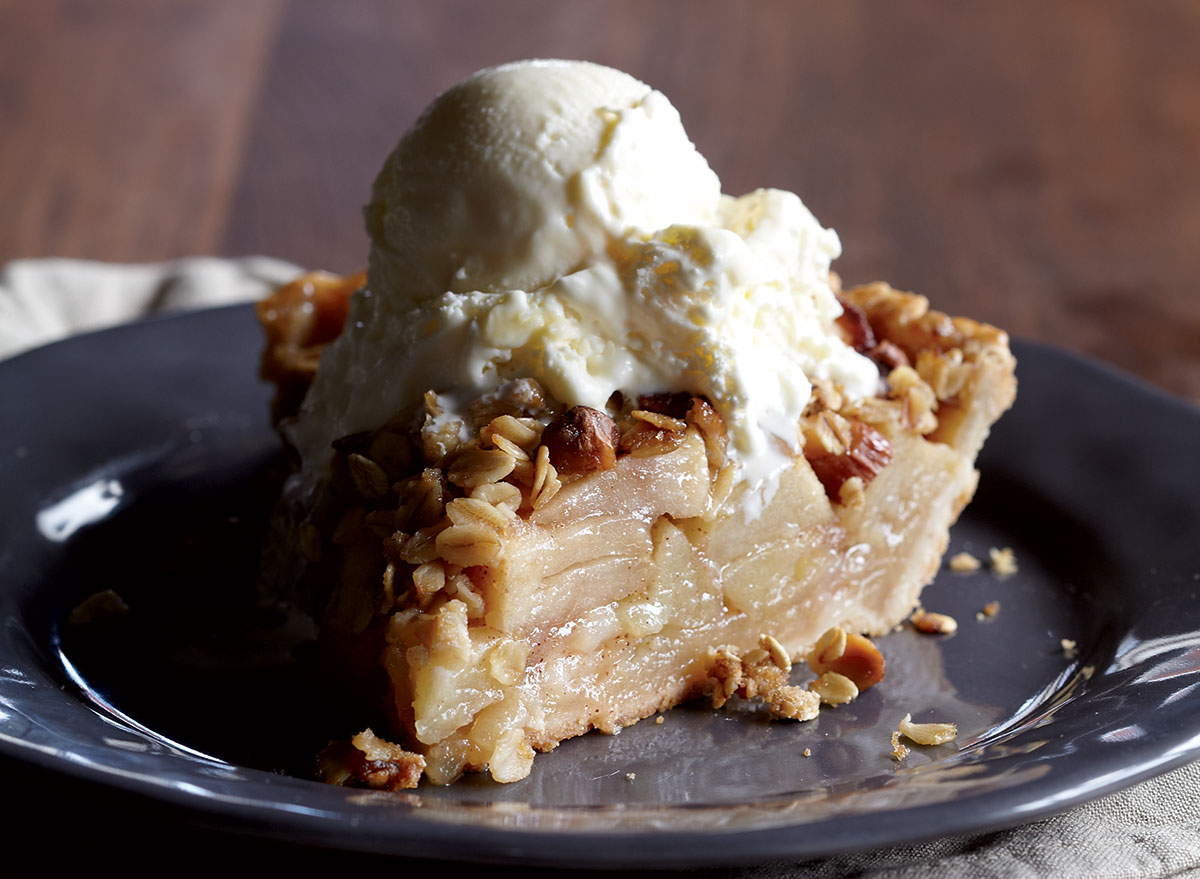 Most apple pies are made with two crusts, one as the base, the other as the top, doubling up on the impact of the refined carbs and cheap fats that make up the pastry. This is both a waste of calories and not nearly as tasty as our recipe. Here, we replace the second crust with a crunchy topping made of oats, chopped almonds, and brown sugar, providing a perfect textural counterpoint to the soft baked apples while actually bolstering the overall nutrition of the dessert. Now you can have your low calories and eat your pie, too!
Nutrition: 360 calories, 14 g fat (5 g saturated), 38 g sugar
Serves 6
You'll Need
2 Granny Smith apples, peeled, cored, and sliced
2 Gala apples, peeled, cored, and sliced
1⁄3 cup granulated sugar
1⁄2 cup unsweetened apple sauce
1 Tbsp flour
Juice of 1 lemon
1 1⁄2 tsp cinnamon
1 frozen pie shell, thawed
1⁄4 cup chopped almonds
1⁄4 cup light brown sugar
1⁄4 cup rolled oats
2 Tbsp cold butter, diced6254a4d1642c605c54bf1cab17d50f1e
How to Make It
Preheat the oven to 375°F.
Combine the apples, granulated sugar, applesauce, flour, lemon juice, and 1 teaspoon of the cinnamon in a large mixing bowl.
Stir to thoroughly combine, then scrape into the pie shell. (Depending on the size of your apples, this may make more filling than you need. The apples should rise slightly over the pie shell, mounding in the center.)
Combine the almonds, brown sugar, oats, butter, and remaining 1⁄2 teaspoon cinnamon in a bowl. Use your fingers to help break up the butter and mix with the other ingredients.
Sprinkle the topping evenly over the pie.
Place on the middle rack and bake for 45 to 50 minutes, until the apples are soft and the crust is golden brown.
Cool before slicing and serving with scoops of vanilla ice cream.
Eat This Tip
Most people prefer their apple pie with a little something on top. Here are three great low-calorie ways to gild the lily.
A 130-calorie scoop of Breyers Vanilla
For a leaner add-on, try a bit of 2% Greek yogurt spiked with honey.
For a more elegant counterpoint to the sweetness of the apples, a spoonful of crème fraîche (French-style sour cream) makes a lovely topping for this pie.