15 Healthy Pie Recipes to Serve on Thanksgiving
Indulge in a delicious slice, minus the guilt, with these tasty recipes.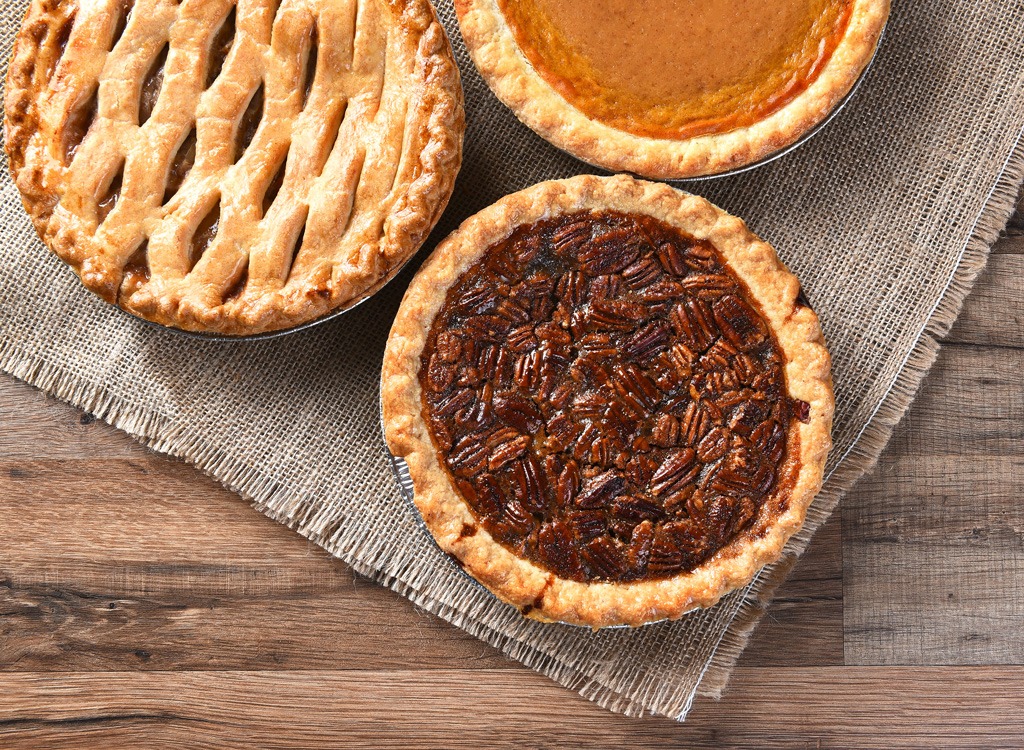 "We must have a pie," wrote David Mamet. "Stress cannot exist in the presence of a pie." Clearly, he's never been to my house, especially during the holidays. If you're used to leaving the dinner table feeling bloated, heavy, and overstuffed after dessert, you're not alone. Pie is one decadent treat that's hard to pass up. And, unfortunately, pies are often filled with a long list of sugary, fatty ingredients that turn that comforting bite into discomfort.
But with a few simple swaps, it's easy to make your pies with foods you can feel good about. Whether you're craving warm or chilled, sweet or savory, there's a pie out there for you to enjoy—without any guilt! Choose from one of these healthy pie recipes that use better-for-you ingredients so you can crush those cravings without regret.
And for more, check out these 15 Classic American Desserts That Deserve a Comeback.
Let's start with a classic! Apple pie is a quintessential American dessert for a reason. Our apple pie recipe features a crunchy topping that's healthier than a double-crust layer would be.
Get our recipe for the Best-Ever Apple Pie.
And if you love cooking, sign up for our newsletter to get daily recipes and food news in your inbox!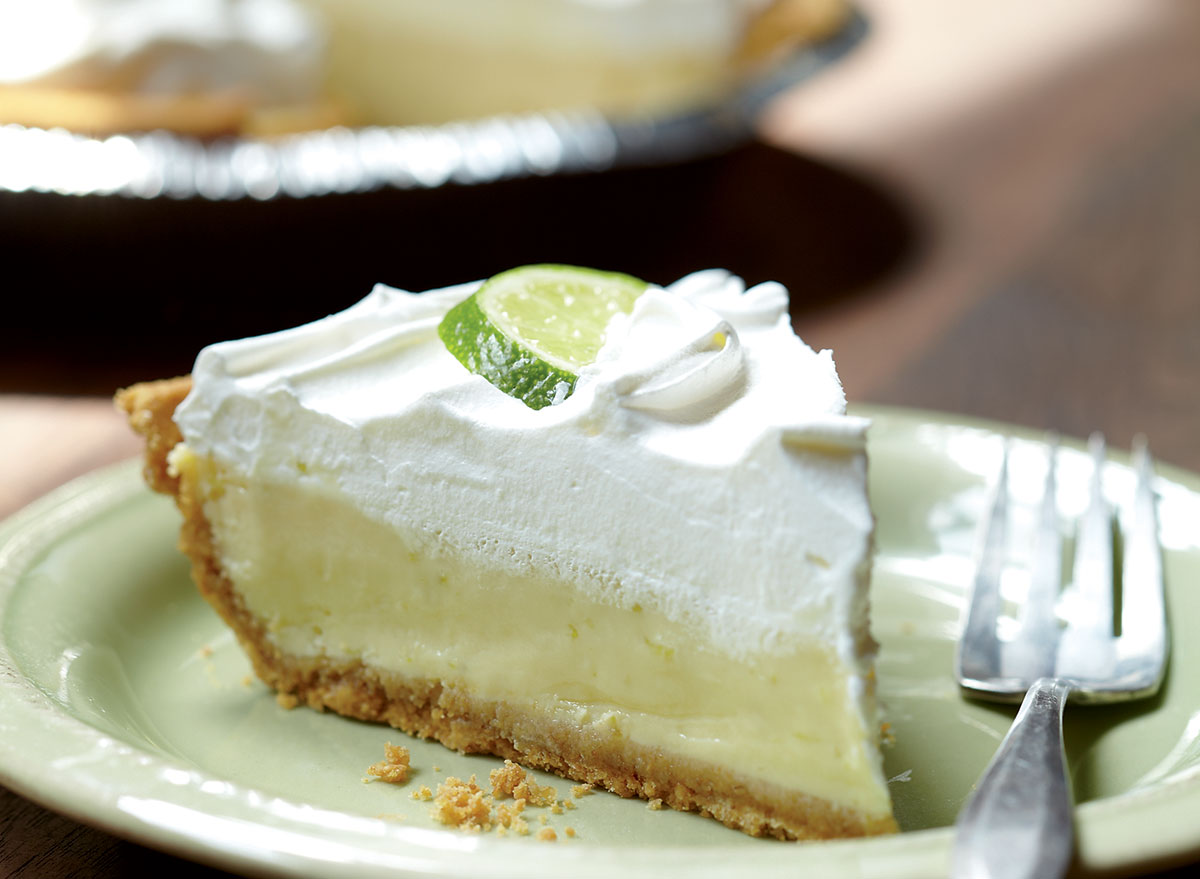 Key lime pie is a classic treat, and everyone should have a go-to recipe on hand. Ours uses sweetened condensed milk and a graham cracker crust for the perfect dessert.
Get our recipe for Key Lime Pie.
Coconut cream pie can be rich without derailing your diet goals! Our recipe has just 10 grams of fat per serving.
Get our recipe for Triple Coconut Cream Pie.
Chocolate avocado banana pie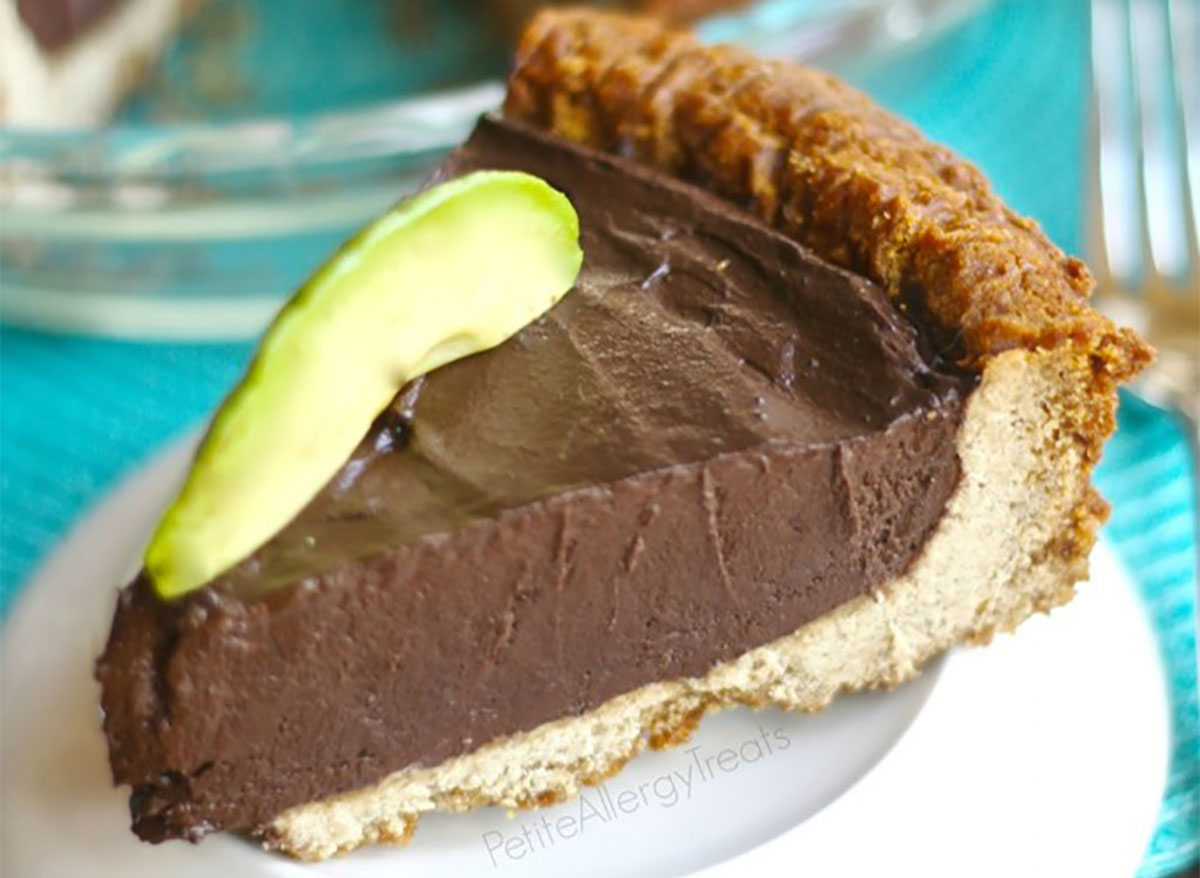 Chocolate, banana, and avocado may sound like an interesting combo at first glance, but the creamy texture of avocado and the rich taste of chocolate go together so well with the sweetness of the banana that you'll forget this recipe is even healthy. Plus, these are all pretty mighty ingredients that are filled with a mix of healthy fats and loads of vitamins. This pie is sure to keep you away from that over-bloated feeling you might be used to!
Get the recipe from Petite Allergy Treats.
Oatmeal cherry crumble pie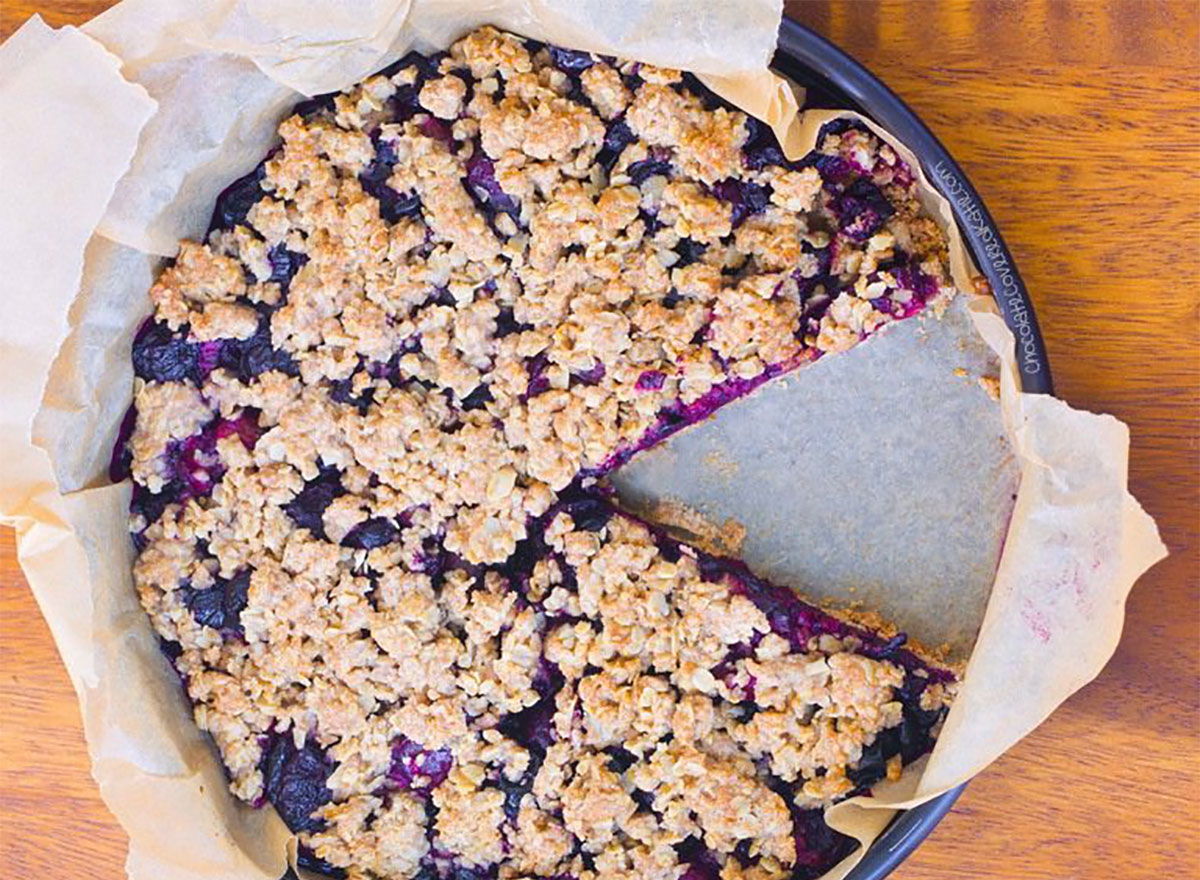 This pie tastes just as good as it looks! With fiber-filled cherries and nutrient-rich oats, it's a perfectly healthy way to end your meal and satisfy your sweet tooth. An entire cup of cherries has only about 100 calories and is a natural source of melatonin that can help put you to sleep after a long day.
Get the recipe from Chocolate Covered Katie.
Vegan purple sweet potato pie
Have you ever seen a pie so pretty you almost feel bad eating it? This naturally vibrant purple sweet potato pie is both vegan and paleo, so there aren't any funky ingredients that aren't straight from the earth. While the color makes this pie extra pretty, you can still make this recipe with its more well-known orange cousin that still reaps all the major nutrients.
Get the recipe from The Endless Meal.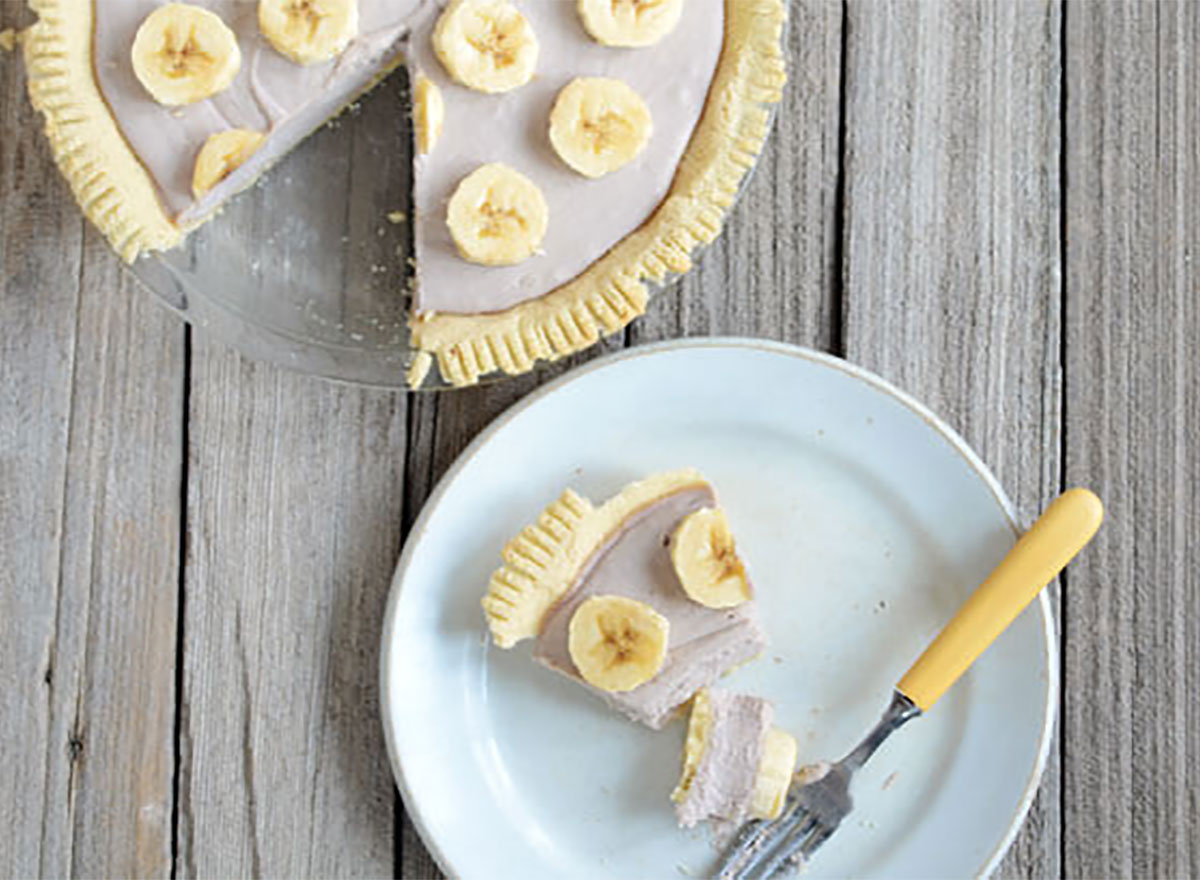 A five-ingredient pie that has no dairy, refined sugar, or cooking involved, this recipe is one of the best. Don't be scared of the 24 grams of fat—it's from the natural fat found in coconut. Coconut milk and coconut oil, used in moderation, both have vitamins that help fight bad bacteria and promote glowing skin.
Get the recipe from Elana's Pantry.
Three-layer strawberry cream pie with chocolate mousse
This pie is three layers of nutritional goodness. It's one that may take a little more prep time, but with only clean ingredients, this pie is totally the extra investment.
Get the recipe from Running on Veggies.
If you love peanut butter as much as I do, you're going to love this peanut butter pie! Stick to peanut butter without any extra ingredients and Greek yogurt to make sure you're reaping maximum protein intake.
Get the recipe from The Gracious Pantry.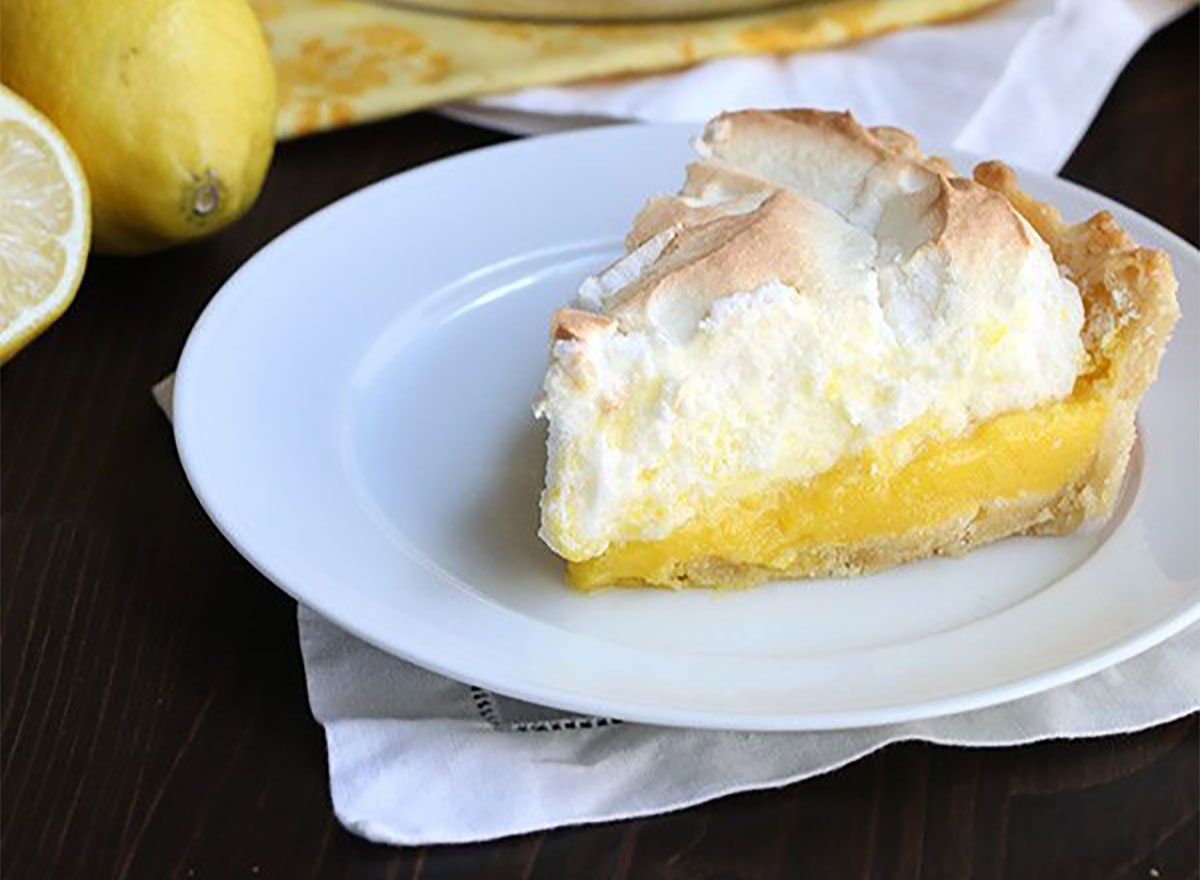 Here's a go-to recipe when you're looking for something refreshingly delicious that won't break your diet. It's low in carbs and completely free of any grains with a fluffy meringue and citrus-bursting filing.
Get the recipe from All Day I Dream About Food.
Pecans are an ultra-healthful nut with a buttery texture and amazing flavor, and this pie uses pecans as the main ingredient. Along with sweet dates and maple syrup, the pecans are sure to satisfy that sugar craving without any of the icky refined stuff.
Get the recipe from The Healthy Foodie.
Pumpkin pie is a Thanksgiving tradition that can be enjoyed at any time of the year, especially when it's loaded with pumpkin and tons of spices. No one would guess this skinny version of pumpkin pie isn't sinful. You can use pumpkin pie straight from the can or go for a homemade purée!
Get the recipe from Skinny Taste.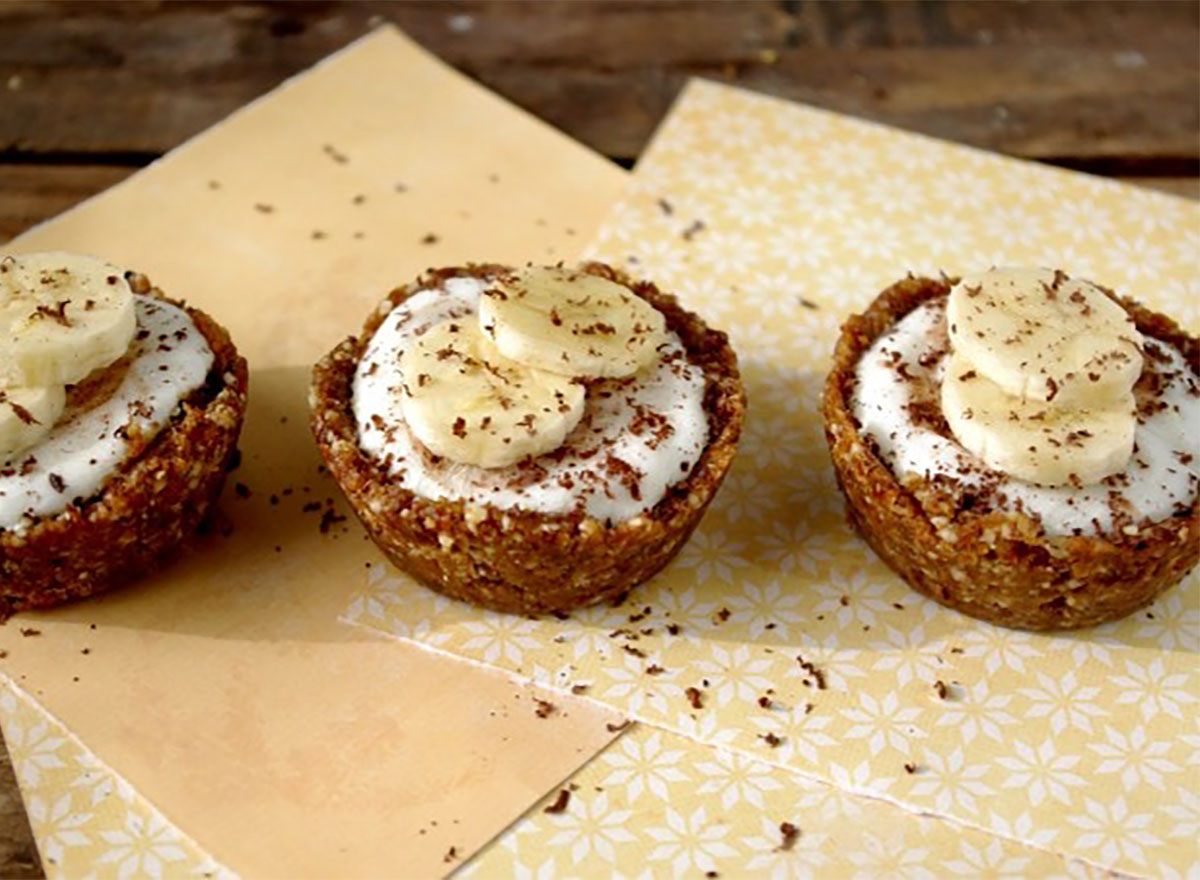 These mini pies are perfect for portion control! Grab one as an after-dinner dessert or take it on-the-go for breakfast. The sweet crust and creamy filling make for a handheld treat sure to satisfy those cravings.
Get the recipe from Nutritionist In The Kitch.
If you're a candy bar lover, this recipe is for you! The classic chocolate candy is transformed into a pie with some amazingly healthy ingredients. It's a bit higher on the calories but is also packed with fiber and good-for-you fats. This is a perfect slice to go to when you're ready to indulge after a day of eating lighter.6254a4d1642c605c54bf1cab17d50f1e
Get the recipe from Liz Moody.
As far as fruit pies go, blueberry pie is seriously underrated. This healthy version will satisfy your sweet tooth.
Get the recipe from My Whole Food Life.
For more, check out these 108 most popular sodas ranked by how toxic they are.