9 Highest-Quality Canned Fish Brands, According to a Dietitian
Make yourself a tinned fish board with these dietitian-recommended canned fish brands.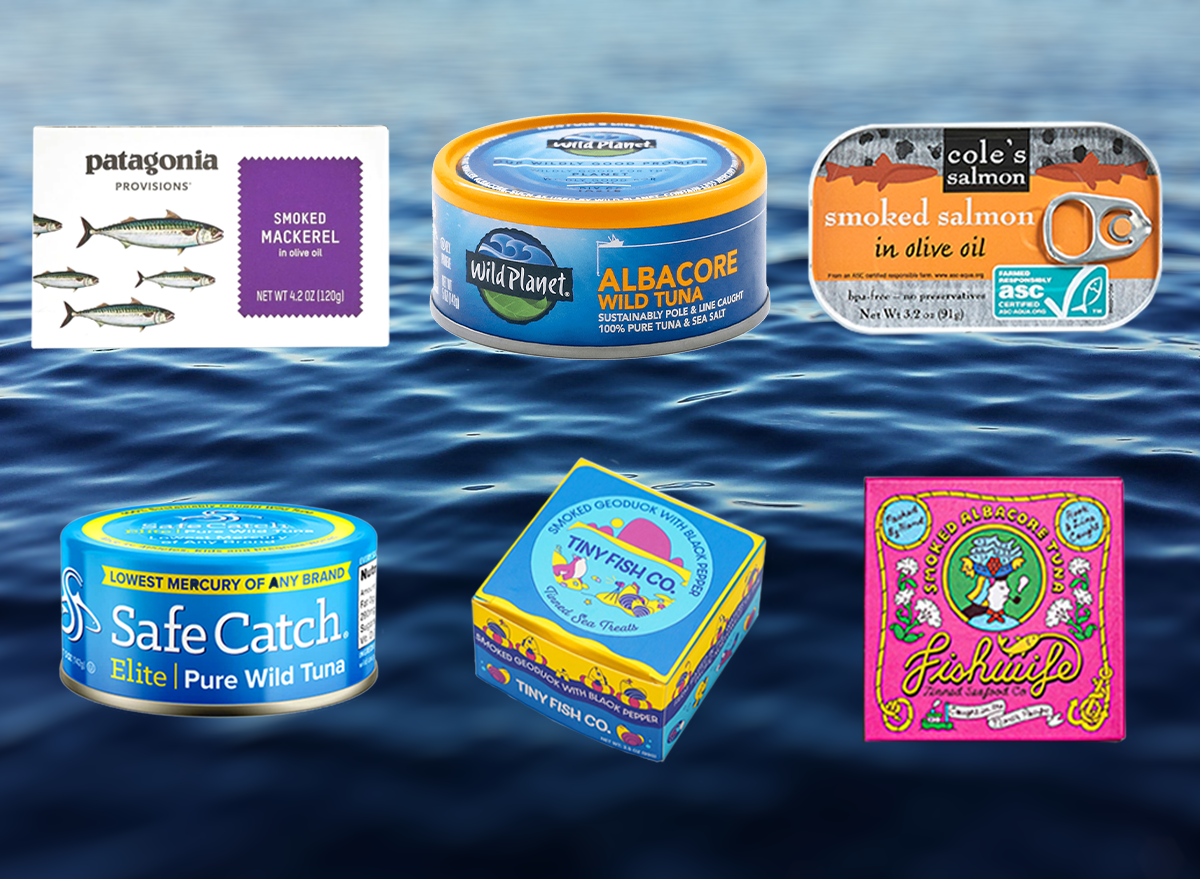 The product recommendations in this post are recommendations by the writer and/or expert(s) interviewed and do not contain affiliate links. Meaning: If you use these links to buy something, we will not earn a commission.
Perhaps when you think about canned fish, you think of making something like tuna salad or the viral tinned fish board. Yet there are so many different ways to use canned fish that offer a variety of flavors, textures, and nutrients. Tinned fish is an underrated, budget-friendly way to expand your palate.
The benefits of canned fish range from offering a convenient, portable protein source to delivering heart-healthy fats. Whether you are making a fish board, tuna salad, or just experimenting in the kitchen, you'll want to consider these tips for finding the best canned fish brands:
Consider smaller fish for reduced mercury content. Sardines, mackerel, anchovies, salmon, and herring are all canned fish options that often have lower mercury counts.
Choose pole-caught or sustainable sources options when you can. These choices are good for the environment and focus on a sustainability-first fishing model.
Look for fish packed in water or olive oil for your health. In fact, olive oil helps preserve the fish on the shelf and increases absorption of fat-soluble vitamins once you consume it.
To learn about some of the best canned fish brands out there, we spoke to dietitians and nutrition experts to find out exactly which brands they recommend and why. And, if you're looking for fish to help you with your weight loss goals, check out The Best Fish To Eat for Weight Loss.
Tiny Fish Co.
Tiny Fish Co. offers an array of tinned fish options that you can add directly to your meal. We especially loved the clams, or the Smoked Geoduck with Black Pepper, in a homemade seafood spaghetti.
They're other delicious options like the Rockfish in Soy Sauce, Octopus in Dill and Lemon Sauce, and Smoked Mussels. Choosing a variety of seafood and shellfish brings a boost to your vitamin and mineral levels like iron, calcium, vitamin C, B vitamins, and Omega-3 fatty acids.
Season Skinless & Boneless Sardines in Olive Oil
"I love the wild-caught Season Brand Skinless & Boneless Sardines in Olive Oil," shares Dani Lebovitz, MS, RDN, kids food and body positivity expert based in Franklin, TN and founder of Kid Food Explorers. "Tinned fish like sardines are a nutritional powerhouse high in brain and mood-boosting omega-3 fatty acids, bone-building calcium and vitamin D, and the essential vitamin responsible for healthy red blood cell formation and energy levels, B12."
"Smaller fish, by nature, is a more sustainable option than larger fish like salmon and tuna. Also, the Season brand has received many sustainability certifications for its eco-friendly fishing practices. My kids prefer this brand of tinned fish for its mild flavor and soft texture, which makes it easy for me to maximize flavor diversity and shape their lifelong food preferences to include heart-healthy fish in their diet. We eat it straight out of the tin for a quick, easy lunch served with crackers, raw veggies, and fresh fruit," Lebovitz tells us.
Cento Rolled Anchovies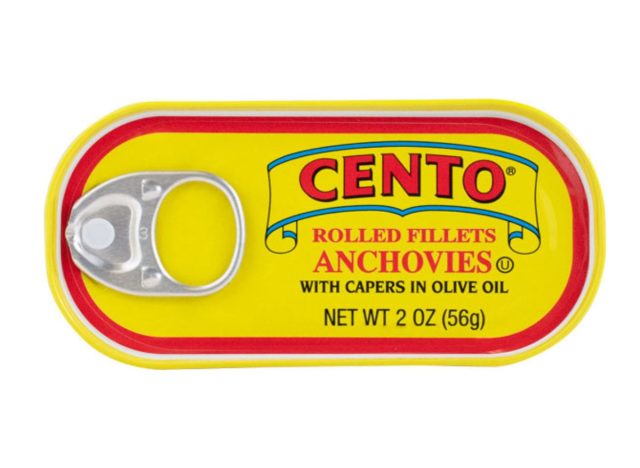 Cento is a household name with a strong reputation—and for good reason! We love their Rolled Anchovies with Capers in Olive Oil for a fun addition to any salad or pasta dish. If you're feeling really adventurous, consider mashing them into butter for a rich, tangy sauce to put on top of a pasta or fish-based meal.
Aside from the burst of flavor, another benefit of anchovies is that one can contains 100 calories and 16 grams of protein! Talk about a small, but mighty protein source.
Safe Catch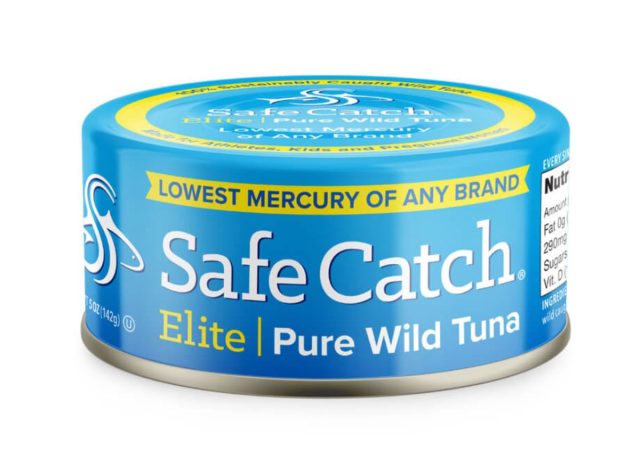 Lauren Manaker, MS, RDN, LD shares her favorite canned fish brand with us. "My go-to choice for tinned fish is Safe Catch," she says. Every can of their tuna is tested for mercury levels, and the tuna that is in their cans consistently has a lower mercury content than the max safe level set by the FDA. Safe Catch Elite Tuna also never adds water or oil fillers, and they follow the recommendations of the Monterey Bay Aquarium Seafood Watch program. All Safe Catch seafood is wild-caught, only using sustainable fishing practices."
Cole's Smoked Salmon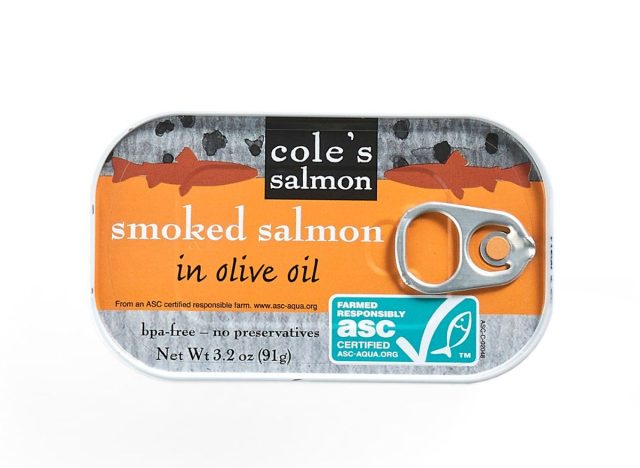 "I love the convenience of canned salmon to help meet the recommended two servings of fatty fish per week, and Cole's Smoked Salmon is a great choice because it's ASC Certified for responsible practices and sourced from Chile, making it particularly high in powerful omega-3 fats and low-mercury," says Bianca Tamburello, RDN on behalf of FRESH Communications and Chilean Salmon Marketing Council. "Plus, Cole's has a simple ingredient list and is delicious."
Patagonia Provisions Smoked Mackerel
Naturally low in mercury due to being a smaller fish, Patagonia Provisions' Smoked Mackerel is a delicious way to get some protein and heart-healthy fats. Along with mackerel, Patagonia Provisions also sells tins of anchovies and mussels in a variety of flavors.6254a4d1642c605c54bf1cab17d50f1e
Fishwife Albacore Tuna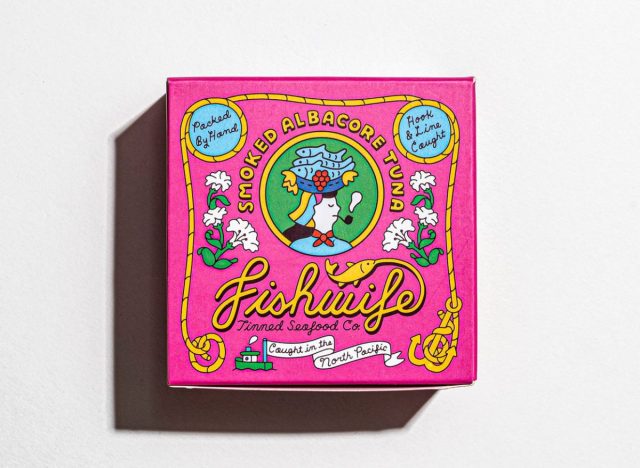 Fishwife has become well-recognized for their fun packaging, sustainable seafood products, and being a women-owned business. "I love Fishwife because they source responsibly raised fish from reputable sources, and they use simple, whole ingredients in their products. Their smoked fish has an unbelievable flavor that people who don't normally like tinned fish will enjoy. The packaging is beautiful, and their canned smoked salmon makes a great gift for foodies," says SaVanna Shoemaker, MS, RDN, LD.
Wild Planet Tuna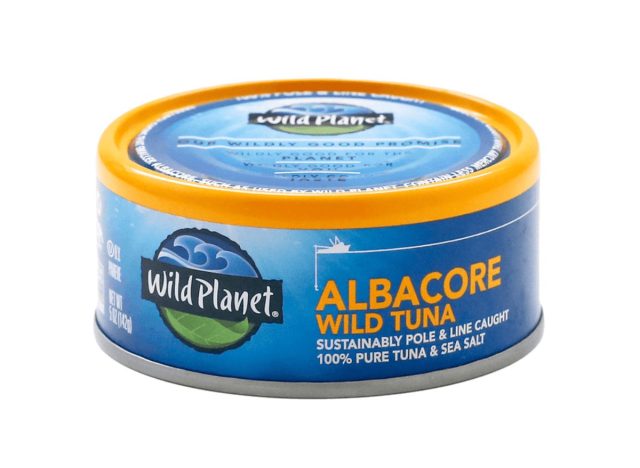 Bridget Wood, RDN, LD, CDCES a Reno-based dietitian, shares her favorite tuna brand. "My recommended tinned fish brand is Wild Planet. They use sustainable practices when catching fish, have a wide variety of options, are low in mercury, and have a higher amount of nutrients per package than some other conventional brands."
Ortiz Anchovies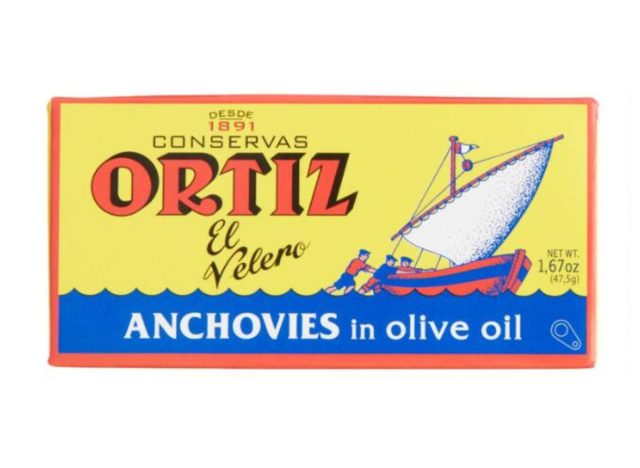 If you're looking for a way to make homemade Caesar salad dressing, look no further than Ortiz anchovies. A couple of these mashed up into a homemade salad dressing gives it the rich, umami flavor that we love in a Caesar salad. Plus, they're packed with tons of nutrition to boot.
Caroline Thomason, RDN
Caroline is a women's health Registered Dietitian and diabetes educator based in Northern Virginia.
Read more about Caroline
Sources referenced in this article