The Best Carrot Cupcake Recipe Ever
We made a few tweaks to the original recipe to lighten up the calories—and it's INCREDIBLE.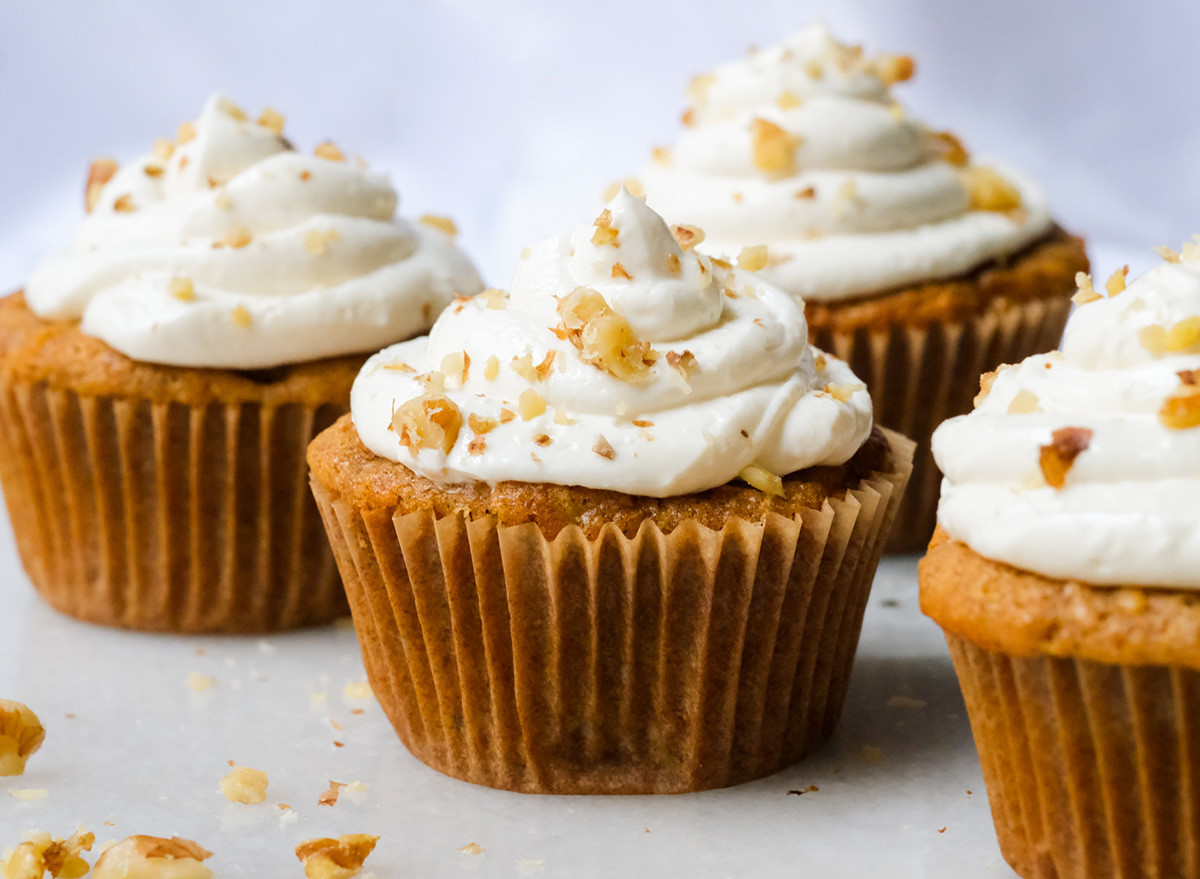 The carrot is a naturally sweet vegetable. So it makes perfect sense why carrots were frequently used when baking cakes in World War II. Sugar wasn't readily available, yet carrots were easy to grab, so it became a popular recipe baked in England in the 1940s. Since then, carrot cake has transformed quite a bit—and is typically loaded with sugar. As we evaluated how we wanted to make our carrot cupcake recipe, we decided to get back to the basics—to rely on the carrots to make this cupcake naturally sweet. Although we do add some sugar, maple syrup, and even some crushed pineapple to give it a nice mix of flavors, we didn't use nearly as much as some recipes call for. And guess what? It still tastes absolutely delicious!
For this carrot cupcake recipe, we even lightened up the cream cheese frosting. Typically carrot cake (or carrot cupcakes) are served with a cream cheese frosting that have a buttercream base. Instead, we turned to Greek yogurt with some milkfat in it still to give it that fattiness we desperately love in cream cheese frosting—without completely overdoing it on the fat content. This cream cheese frosting is also naturally sweetened with pure maple syrup.
Even though a typical carrot cupcake recipe will call for walnuts in the cake, you don't have to put them in if you don't like them! However, between the sweet cake and the creamy frosting, the nuttiness of a chopped walnut really does add a nice balance of texture and taste for this carrot cupcake recipe.
These carrot cupcakes are the perfect recipe for fall. Enjoy with a steaming cup of coffee or chai! And speaking of classic desserts, here are 15 Classic American Desserts That Deserve a Comeback.
Nutrition: 237 calories, 15 g fat (5 g saturated), 23 g carbs (1 g fiber, 13 g sugar), 4 g protein
Serves 14
Ingredients
For the cupcakes:
1/2 cup all-purpose flour
3/4 cup whole-wheat flour
1 tsp baking powder
1 tsp baking soda
1 tsp cinnamon
1/4 tsp ground nutmeg
1/4 tsp ground ginger
1/4 tsp salt
1/2 cup vegetable oil
1/4 cup sugar
1/4 maple syrup
2 eggs
1/2 cup crushed pineapple (with juice)
1/4 tsp vanilla extract
1 1/2 cups shredded carrot
1/2 cup chopped walnuts, plus extra for topping6254a4d1642c605c54bf1cab17d50f1e
For the cream cheese frosting:
8 oz. package cream cheese, room temperature
1/4 cup plain 2% Greek yogurt
1/4 cup maple syrup
1 tsp vanilla extract
How to Make It
Preheat the oven to 350 degrees.
Sift together the all-purpose flour, whole-wheat flour, baking powder, baking soda, cinnamon, ground nutmeg, ground ginger, and salt. Set aside.
Beat together the oil, sugar, maple syrup, eggs, crushed pineapple, and vanilla extract in a large bowl or a stand mixer.
Sprinkle in the dry ingredients. Beat together just until the dry ingredients are fully combined. If there are lumps, that's okay!
Fold in the shredded carrot and 1/2 cup of chopped walnuts.
Line two muffin tins with 14 baking cups.
Scoop in 3 tablespoons of batter into each baking cup.
Bake in the oven for 25 minutes, or until a toothpick comes out clean.
As the cupcakes are baking, prep the frosting. Beat together the cream cheese, Greek yogurt, maple syrup, and vanilla extract for 2 minutes—or until there are no more lumps.
Store the frosting in the fridge for the time being while the cupcakes completely cool. If you want to pipe the frosting but don't have a kit, simply fill up a plastic sandwich bag halfway with frosting and seal. Cut a small corner at the bottom of the bag and squeeze the frosting to the edge. Pipe away!
Spread the frosting on the cupcakes and top with more chopped walnuts, if desired!
For more recipes and cooking tips, be sure to sign up for our newsletter!