41+ Best Carrot Recipes for Weight Loss
Use up those carrots in the fridge with these healthy recipe ideas!
You probably know them for their vision-protecting reputation, but carrots have a lot more to offer. The (usually) orange vegetable boosts immunity, promotes vibrant skin, reduces cholesterol, boosts oral health, protects the heart, improves digestion, increases cardiovascular health, and detoxifies the body, thanks to a plethora of vitamins and minerals. This is why we had to list out a few of our favorite carrot recipes so we could reap some of those amazing health benefits!
If your diet is a little slim on carrots—or even void of 'em—it's time to reconsider this underrated root vegetable. From breakfast to dessert, you're guaranteed to find something from our list of carrot recipes that tickle your taste buds while slimming you down! And for more healthy cooking tips, be sure to check out our list of 21 Best Healthy Cooking Hacks of All Time.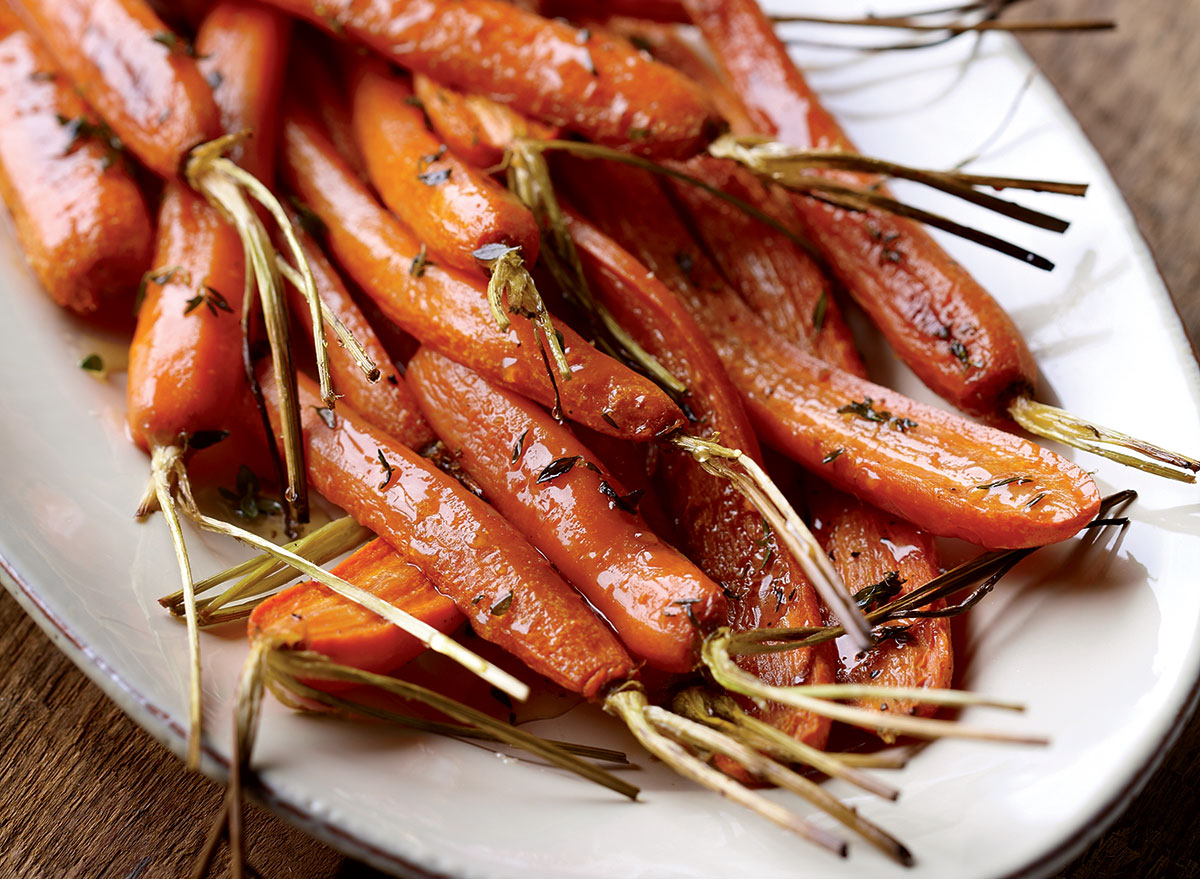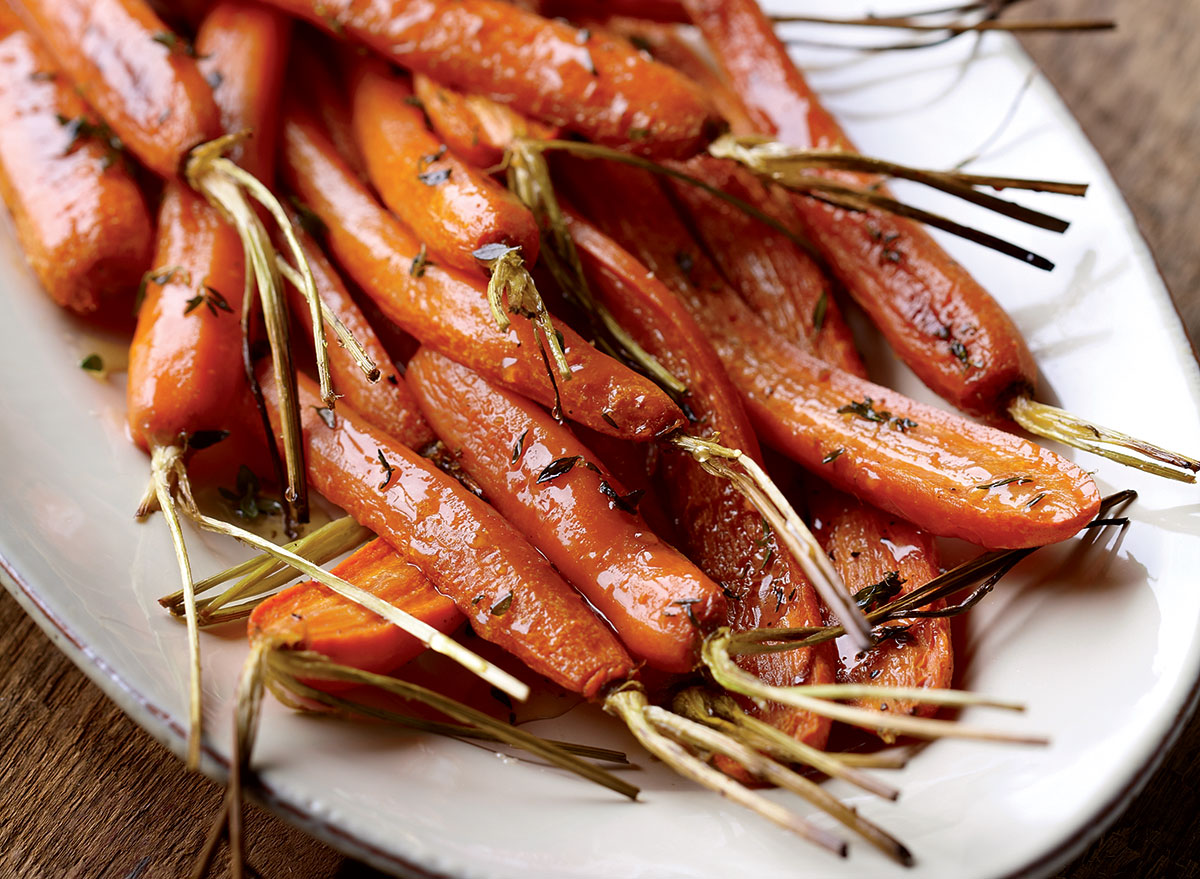 Roasted carrots, in particular, go well with so very many different meals: salads, butternut squash soup, to scoop up some homemade hummus instead of using greasy chips, or even better yet, you can have your roasted carrots as a side to your equally roasted beef. Or keep it vegetarian and pair it with your favorite tofu recipe. The possibilities are endless!
Get our recipe for Honey Roasted Carrots. 
Crock-Pot Chicken Noodle Soup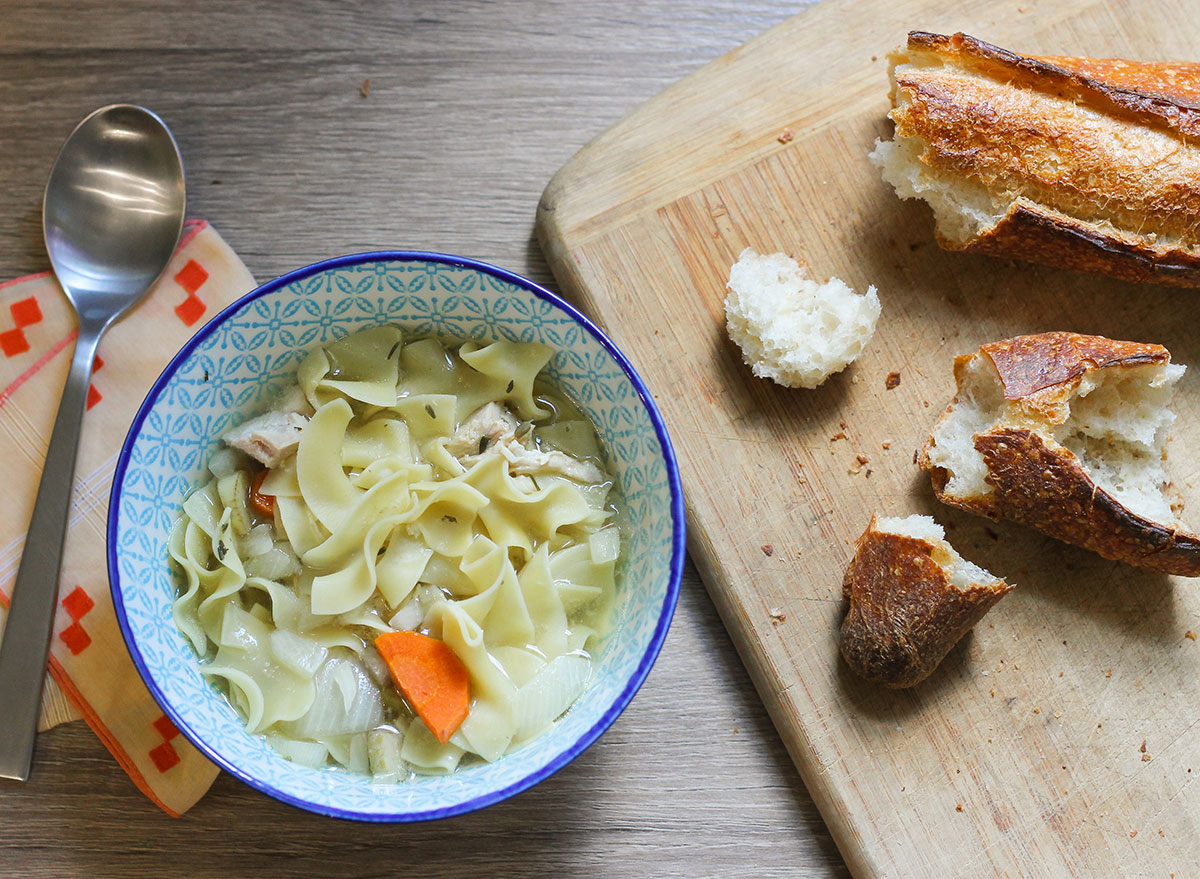 Nothing beats a steaming bowl of chicken noodle soup on a cold day, does it? Especially if it can be cooked with minimal effort! This Crock-Pot chicken noodle soup recipe is the perfect meal to warm up a crowd on a winter day.
Get our recipe for Crock-Pot Chicken Noodle Soup. 
Ginger-Carrot Pineapple Cake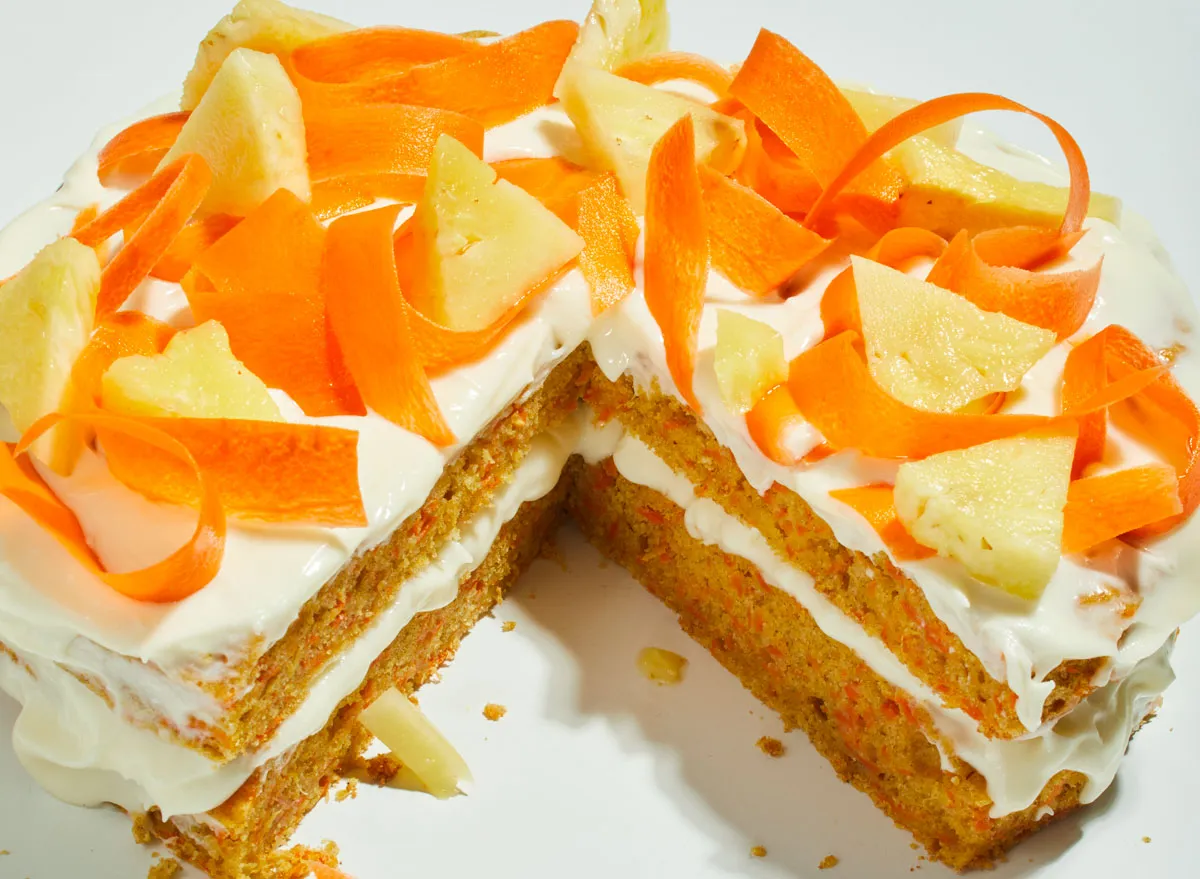 Between the juicy pineapple and the bright colored carrot ribbons, this tropical-looking cake will be the hit dessert of any dinner party! Thanks to a few healthy baking swaps in the recipe, this ginger-carrot pineapple cake is lower in calories, making it the perfect dessert for your guests to enjoy—and feel good about it!
Get our recipe for Ginger-Carrot Pineapple Cake. 
Plant-Based Carrot Cake Smoothie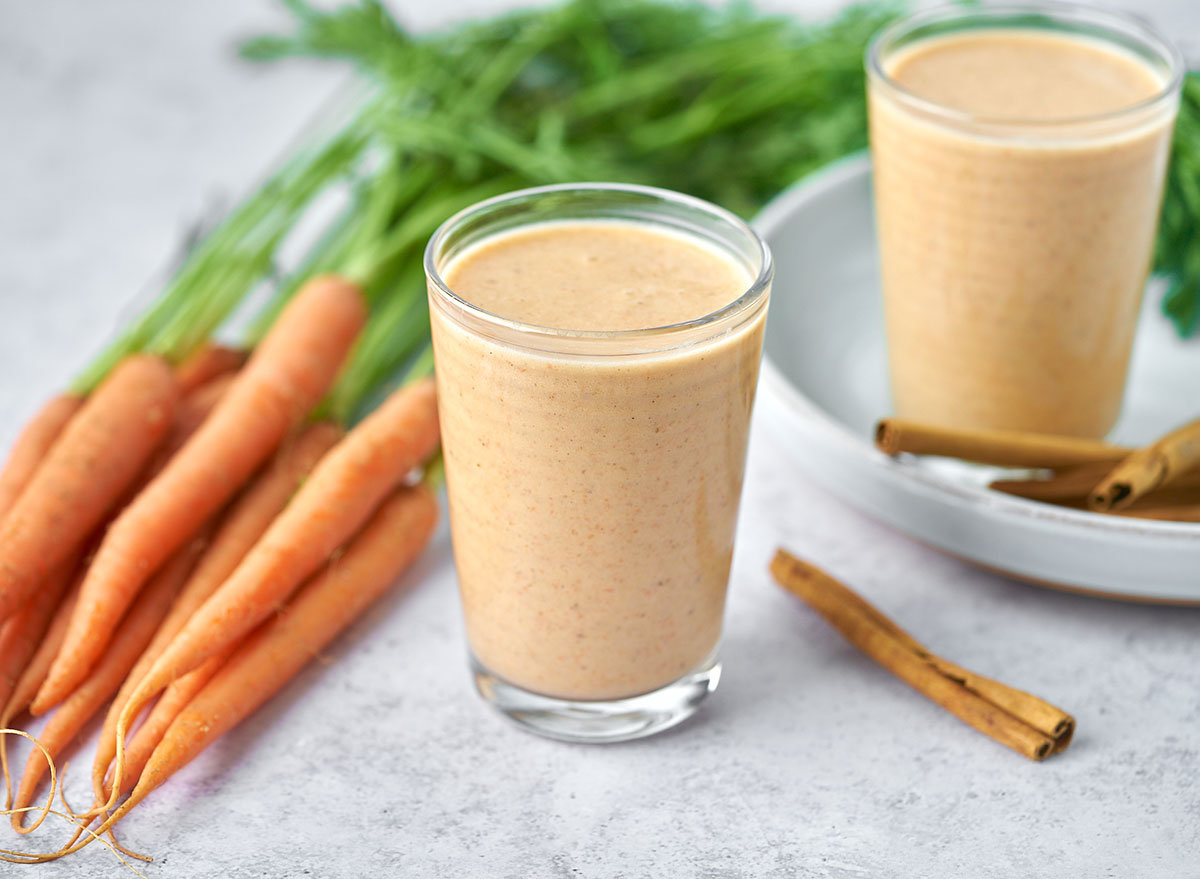 You can think of this plant-based smoothie as a healthy alternative to a slice of carrot cake. Carrots are a delicious, unexpected way to boost nutrition in smoothies. They add a natural sweetness and contain biotin (a B-complex vitamin), potassium, and beta carotene.
Get our recipe for Plant-Based Carrot Cake Smoothie. 
Copycat Olive Garden Pasta Fagioli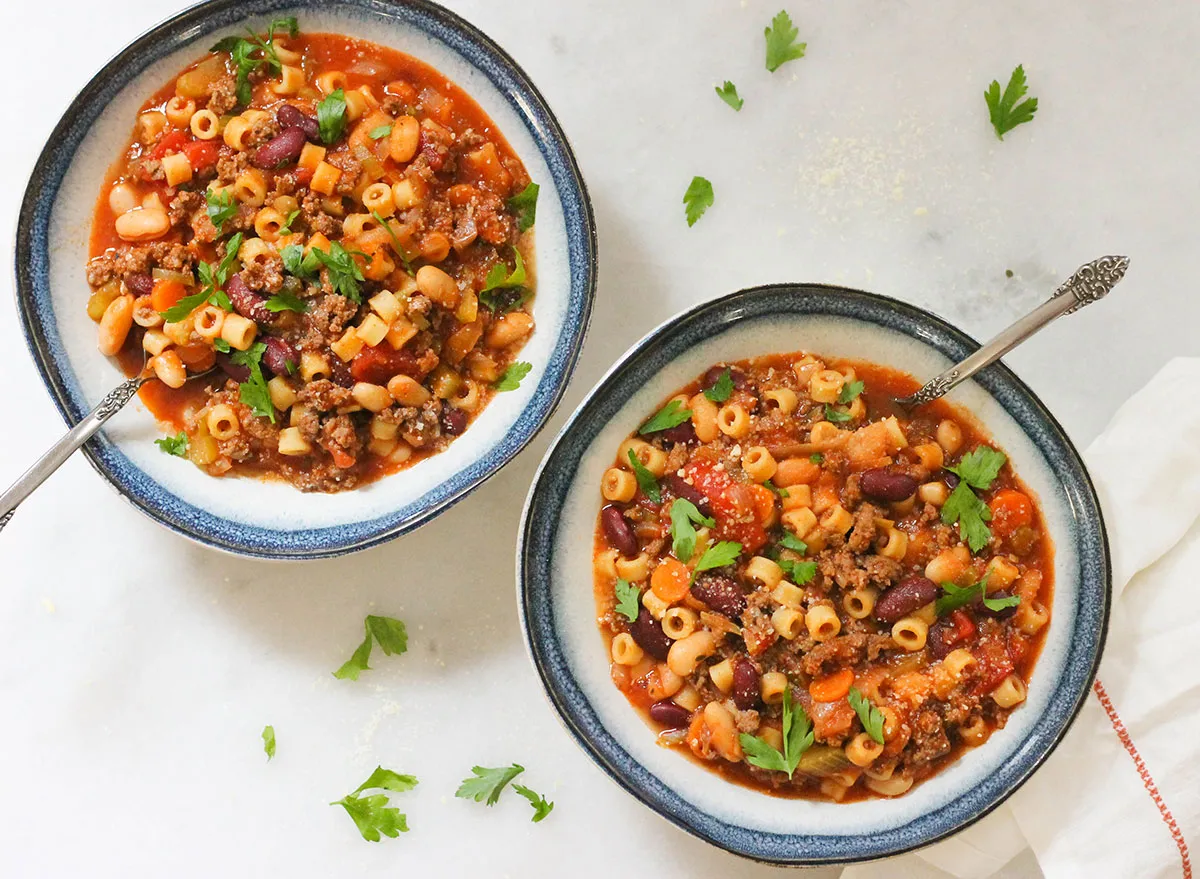 While there are numerous variations to making a homemade Pasta Fagioli soup recipe, we decided to go directly to the source to see what was in Olive Garden's special recipe. According to the menu on the Olive Garden website, the ingredients in their soup include "white and red beans, ground beef, fresh tomatoes, and tubetti pasta in a savory broth." We added a simple mirepoix (carrots, celery, onion) to it, as well as oregano and thyme for flavor.
Get our recipe for Pasta Fagioli.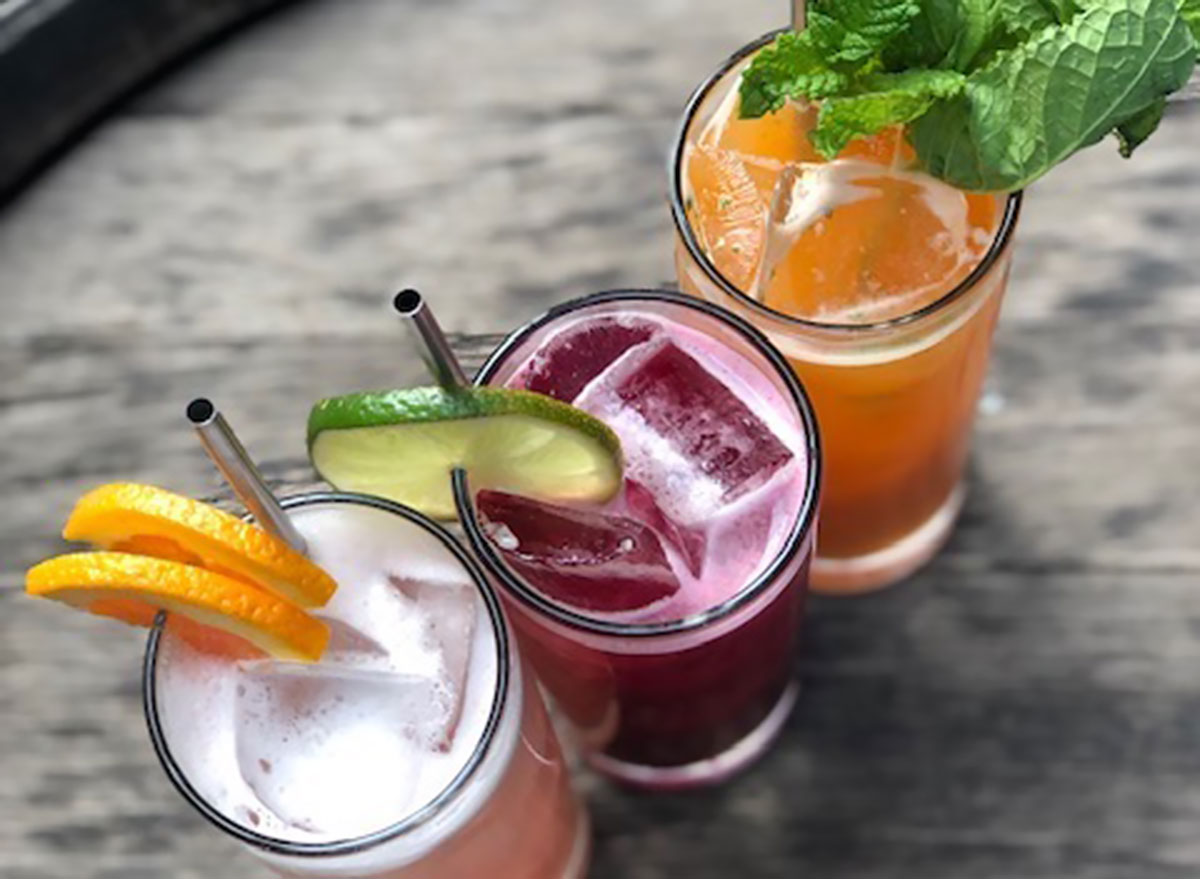 Zero proof drinks, or mocktails, have been popping up on bar menus around the country in recent years. Not only do people want to eat healthier, but they want to drink healthier, too. There's also a growing awareness that alcohol doesn't play well with mental health, so it makes sense that more people are opting for booze-less drinks, even if they aren't giving up booze completely.
Get our recipe for Carrot Mocktail. 
Sick of the usual meat sauce and meatballs on a weeknight? Take your Italian cooking up a notch with this delectable beef ragu recipe. Not only is it easy to make, but this dump-and-go Crock-Pot recipe is perfect to prep and freeze for later!
Get our recipe for Crock-Pot Beef Ragu.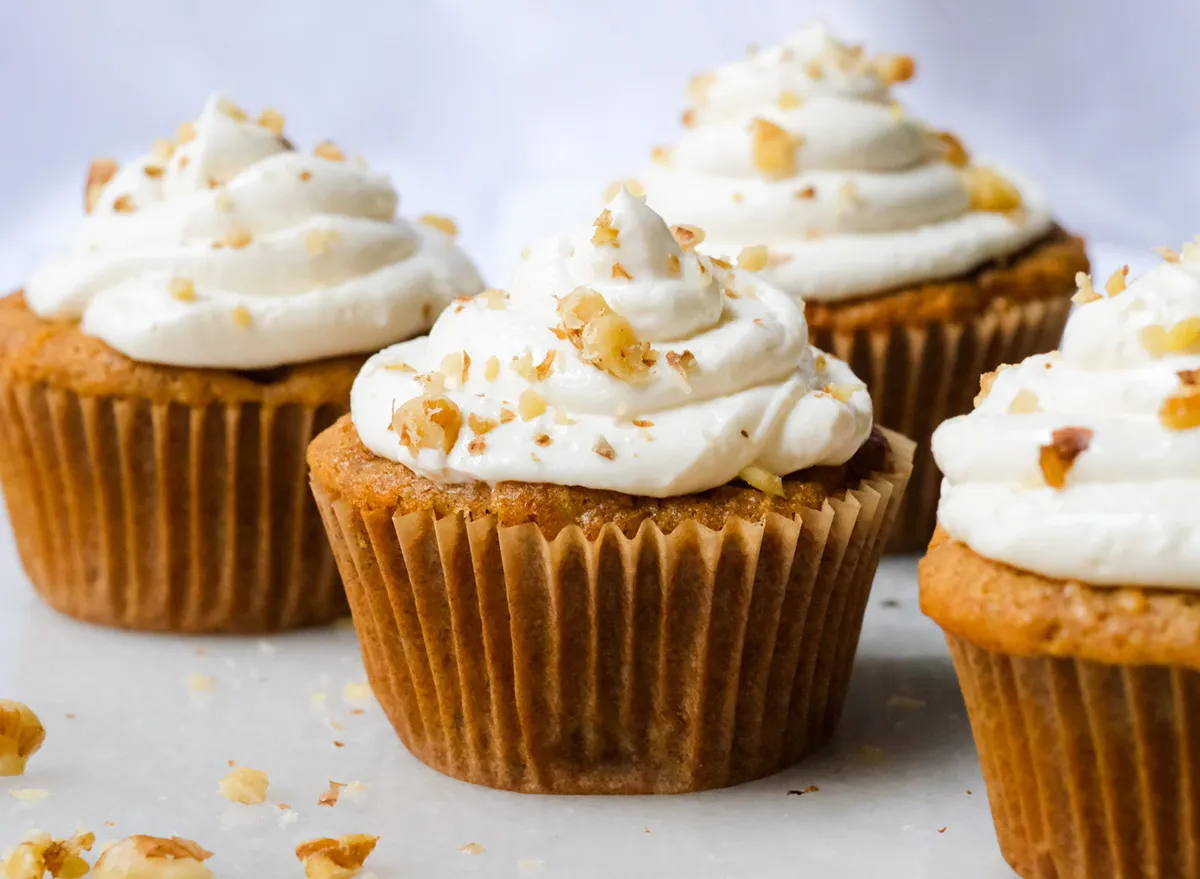 For this carrot cupcake recipe, we even lightened up the cream cheese frosting. Typically carrot cake (or carrot cupcakes) are served with a cream cheese frosting that has a buttercream base. Instead, we turned to Greek yogurt with some milkfat in it still to give it that fattiness we desperately love in cream cheese frosting—without completely overdoing it on the fat content. This cream cheese frosting is also naturally sweetened with pure maple syrup.
Get our recipe for Carrot Cupcakes. 
Herb Roast Chicken with Root Vegetables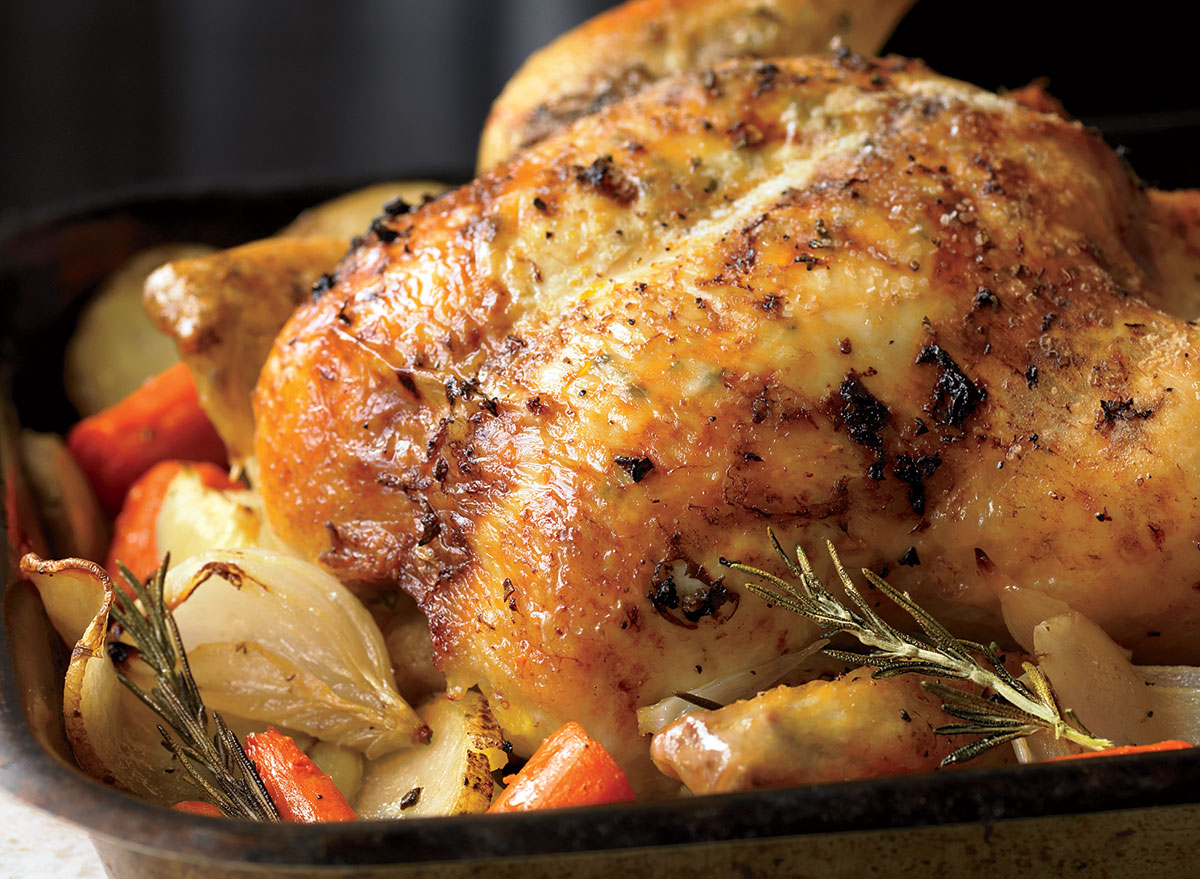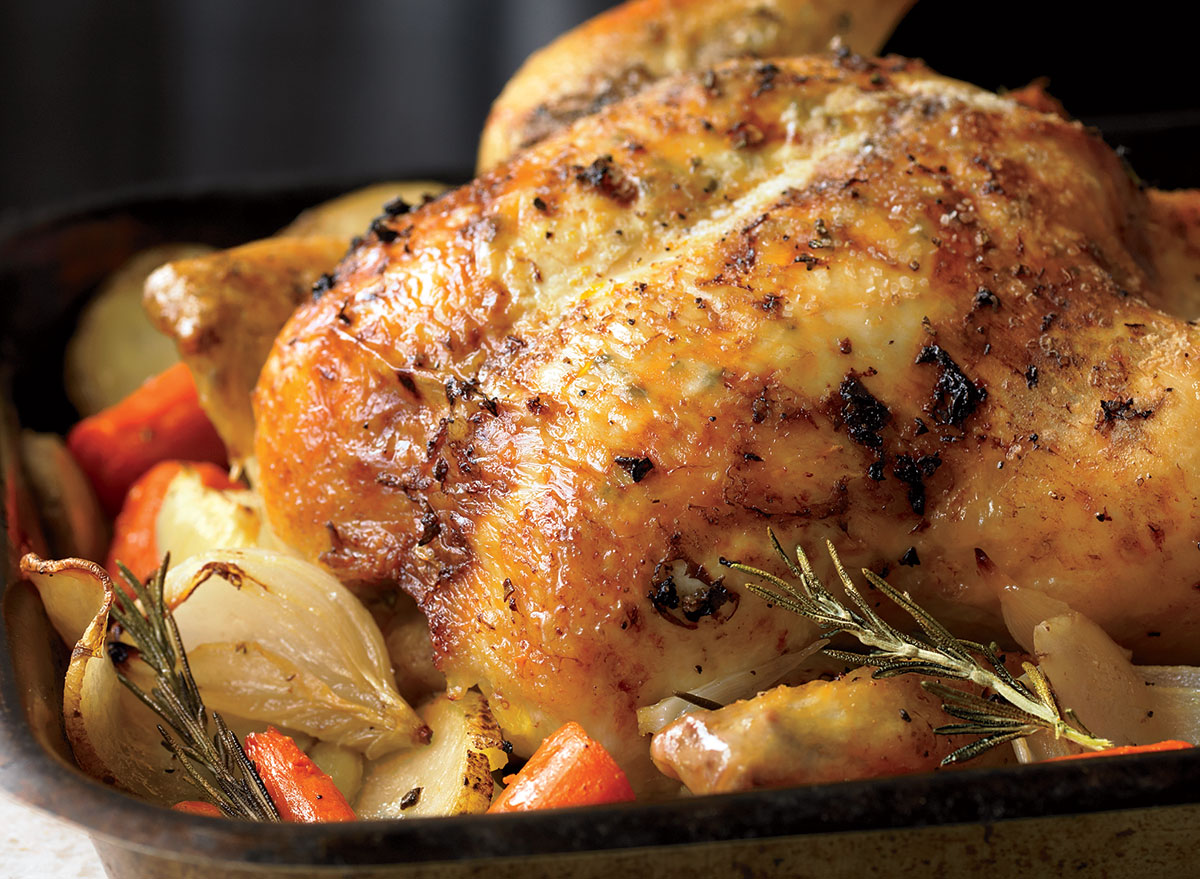 They say you can judge a cook by how well they roast a chicken. If that's the case, Boston Market's cooks need a little help. (Surprised?) This roast chicken recipe produces an incomparably moist bird, simple enough to make on a weeknight, but elegant enough to serve to guests.
Get our recipe for Herb Roast Chicken with Root Vegetables. 
Veggie-Packed Minestrone With Pesto Soup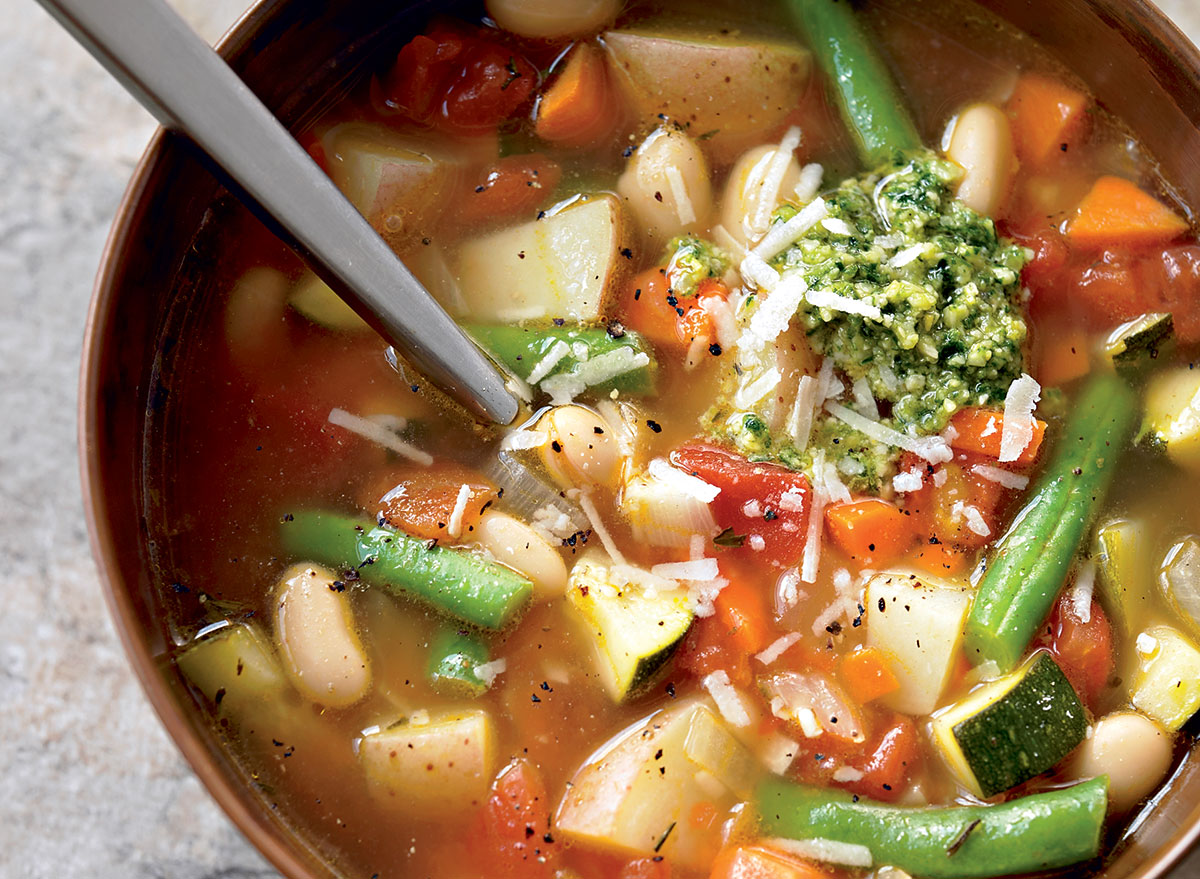 This healthy minestrone soup recipe is a hodgepodge of veggies that will go a long way in making sure your diet is not lacking in its necessary greenery. Vary the specific vegetables depending on what's in your fridge and what looks good in the market, but be sure to finish with a spoonful of jarred pesto, which helps tie the whole bowl together.
Get our recipe for Veggie-Packed Minestrone with Pesto Sauce. 
This is meat and potato fare at its finest: a slow-simmered mixture of ground red meat and vegetables blanketed with a warm cover of mashed potatoes in one shepherd's pie recipe. The dish is traditionally made with lamb (you know, because shepherds look after sheep), but sirloin makes a leaner and perfectly tasty pie.
Get our recipe for Classic Shepherd's Pie. 
Curry with Cauliflower and Butternut Squash Stir Fry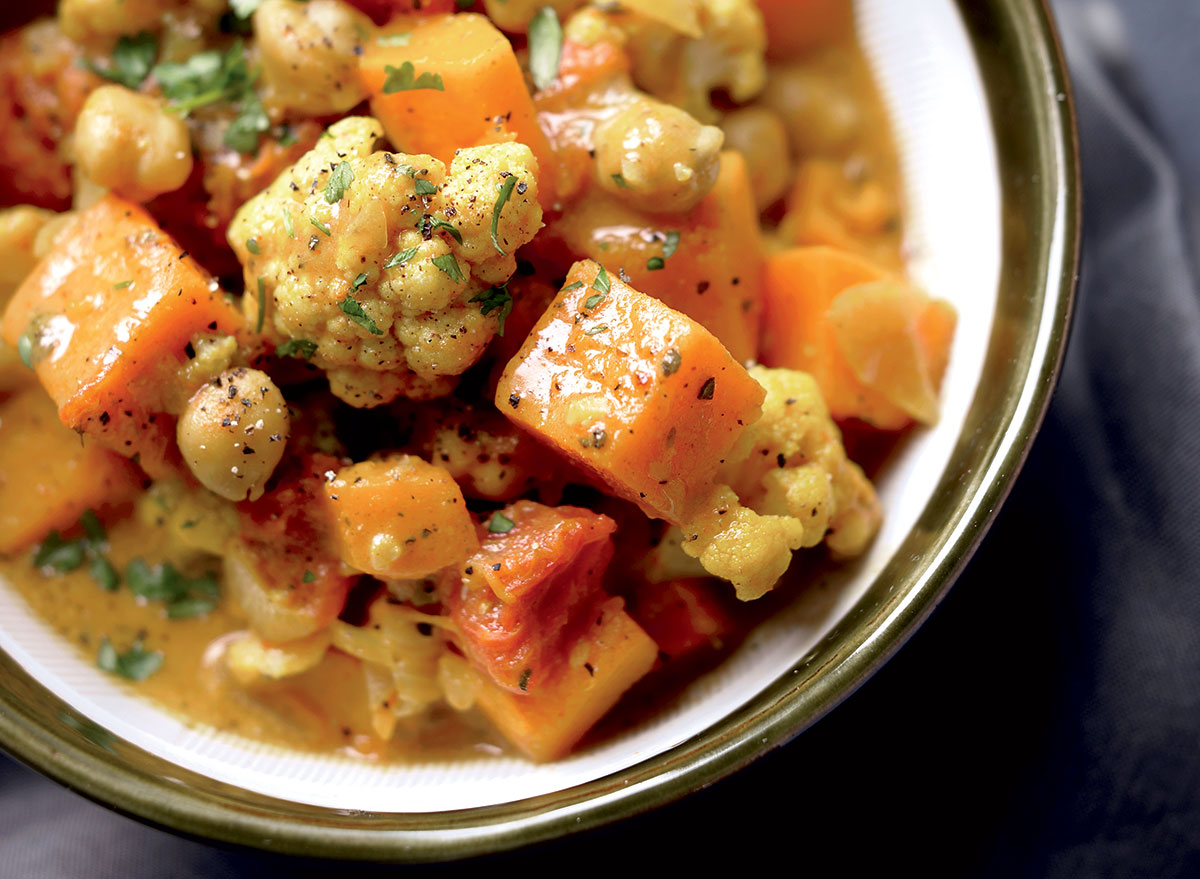 This Indian-style curry takes no more than 25 minutes to prepare, yet it will taste like it's been simmering away all day. The balance of the creamy coconut milk, the sweet cubes of squash, and the subtle heat of the curry powder could make the most dedicated meat eater forget he was eating only vegetables.
Get our recipe for Curry with Cauliflower and Butternut Squash Stir Fry. 
Roasted Veggie Salad With Tahini Dressing
The real secret to making this roasted veggie salad a zinger is the garlicky lemon tahini dressing, which is best drizzled on top rather than tossed.
Get our recipe for Roasted Veggie Salad with Tahini Dressing. 
Roast Salmon With Lentils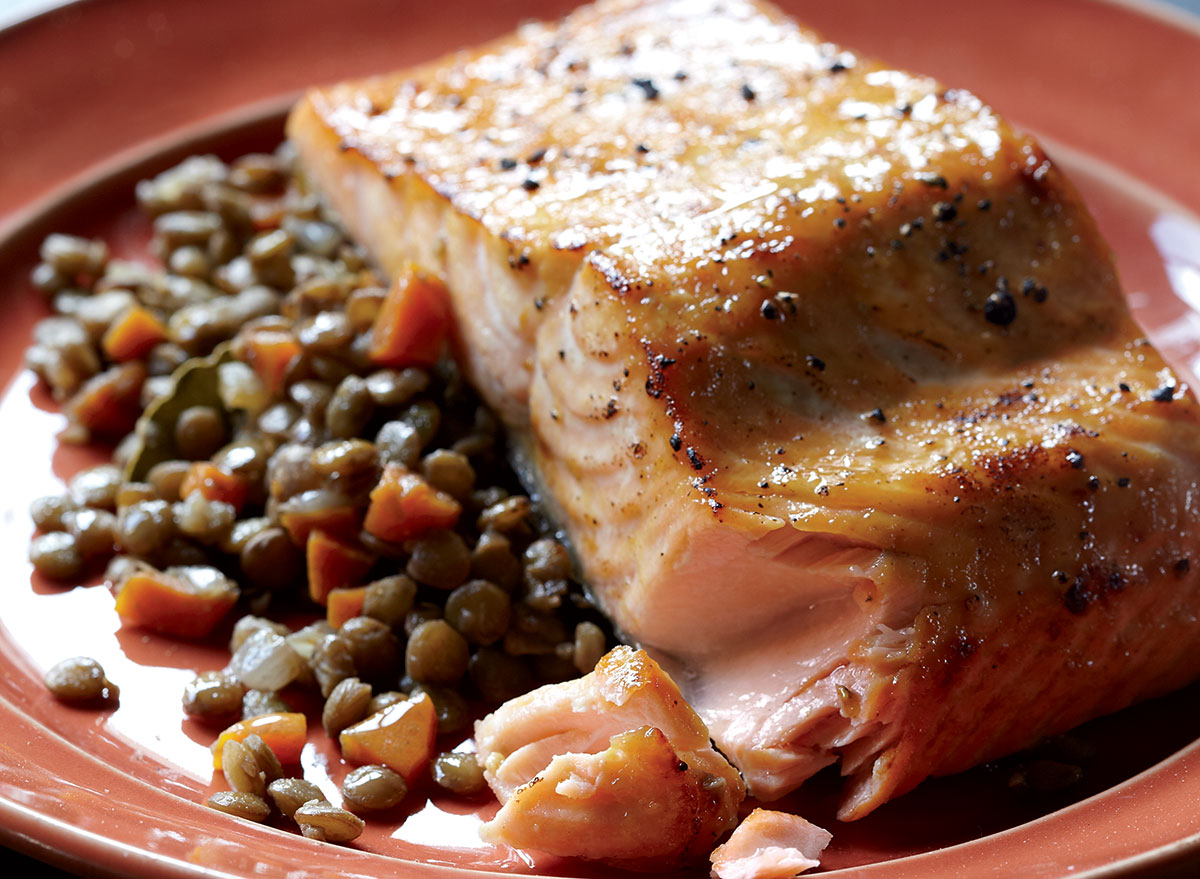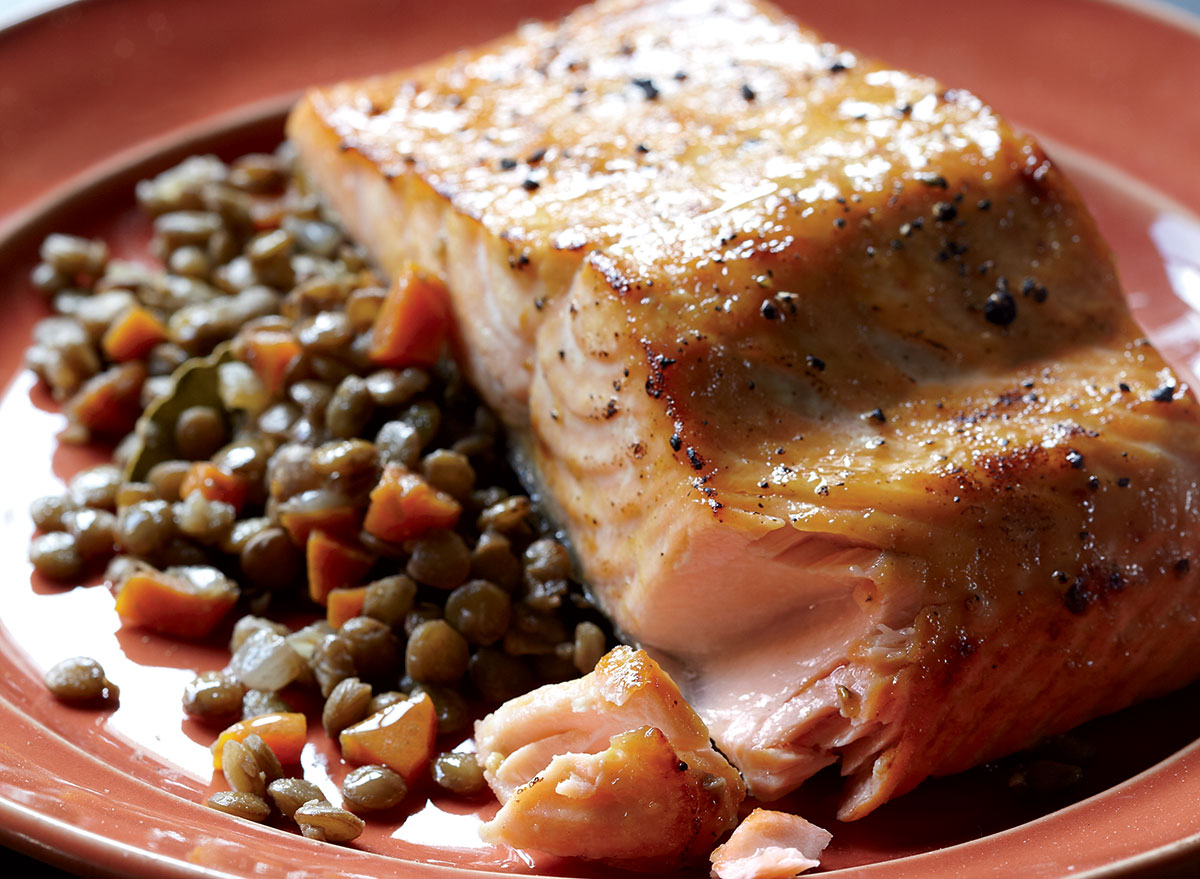 This dish, a bistro classic, is a testament to its greatness. While the salmon roasts away in the oven, the lentils are simmered into tender submission. Separately, each makes for fine eating, but together they merge into something truly special.
Get our recipe for Roast Salmon with Lentils. 
Easy Chicken and Rice Soup
This delicious recipe for a lunchtime (or anytime) soup couldn't be easier. It's just one of the 150+ belly-flattening recipes in the best-selling new Zero Belly Cookbook!
Get our recipe for Easy Chicken and Rice Soup. 
Short Ribs Braised in Guinness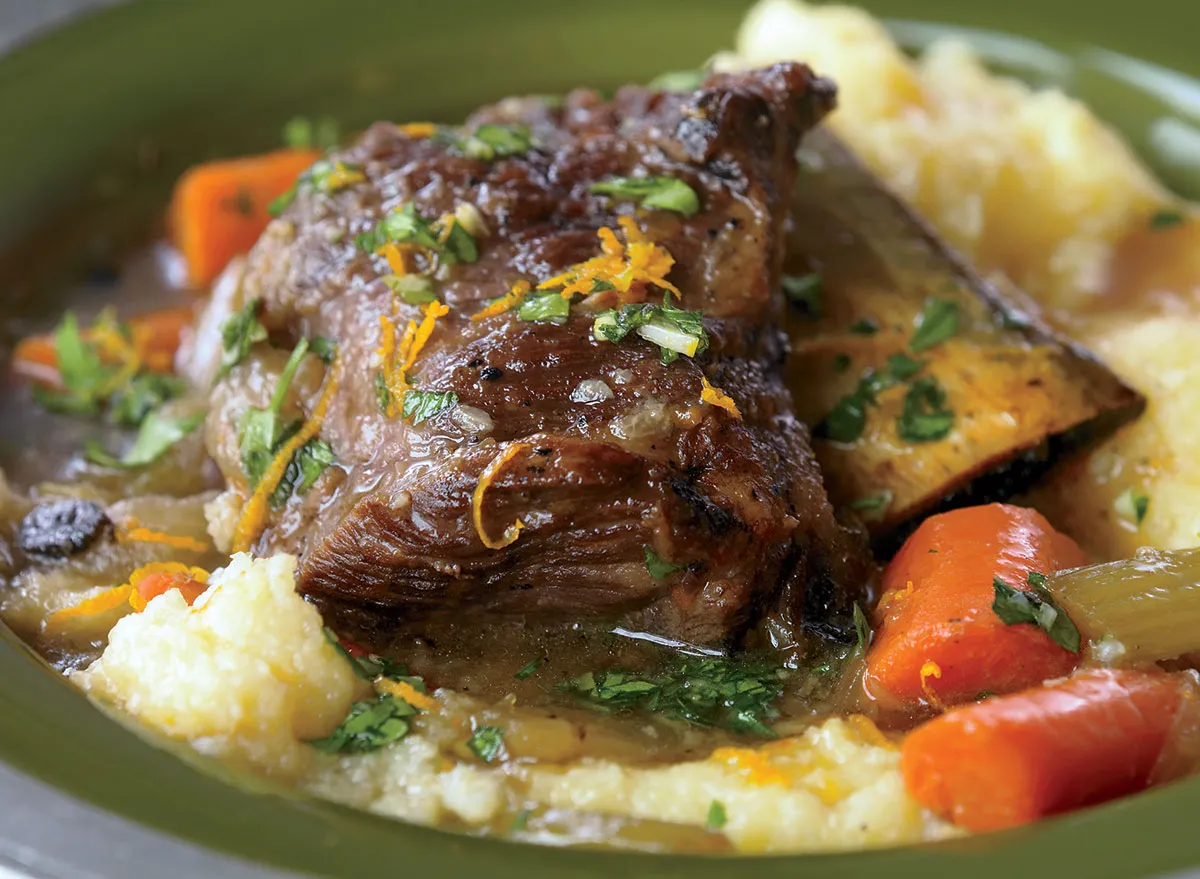 Seems like braised short ribs adorn every French and Italian menu in the country these days. And why not? It's an inexpensive dish that takes minimal effort from the chef but that can still fetch a $20+ price tag wherever it's served. Why pay the money for something you can do just as well at home, especially if you can cut the calories in half with this short ribs recipe?
Get our recipe for Short Ribs Braised in Guinness. 
Chicken noodle soup is the ultimate comfort food, especially during the cold weather months. We've made our special light version by swapping in zucchini noodles for regular noodles, which makes this recipe gluten-free, paleo, and Whole30-approved. Basically, the healthiest chicken noodle soup you could possibly have.
Get our recipe for Chicken Zoodle Soup.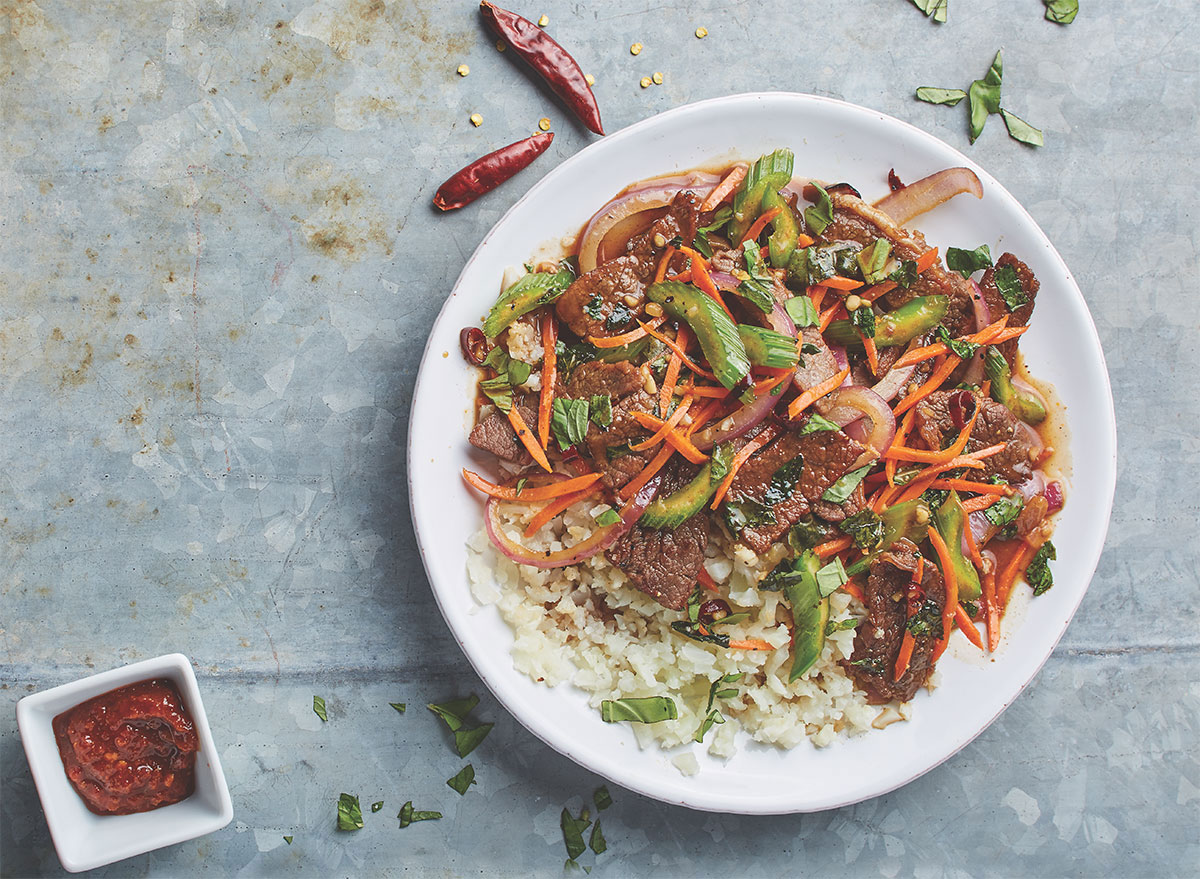 It certainly is nice to have the time to cook a wonderful meal, but sometimes during those busy weekdays when you only have a few spare moments to prep dinner, you need a few quick and easy dinner recipes to rely on. Thankfully, this beef stir-fry recipe is here to save you. With just under 400 calories a serving, this delectable stir-fry is perfect for paleo people and low-carb followers alike!
Get our recipe for Thai Beef Stir-Fry. 
Instant Pot Tilapia with Vegetables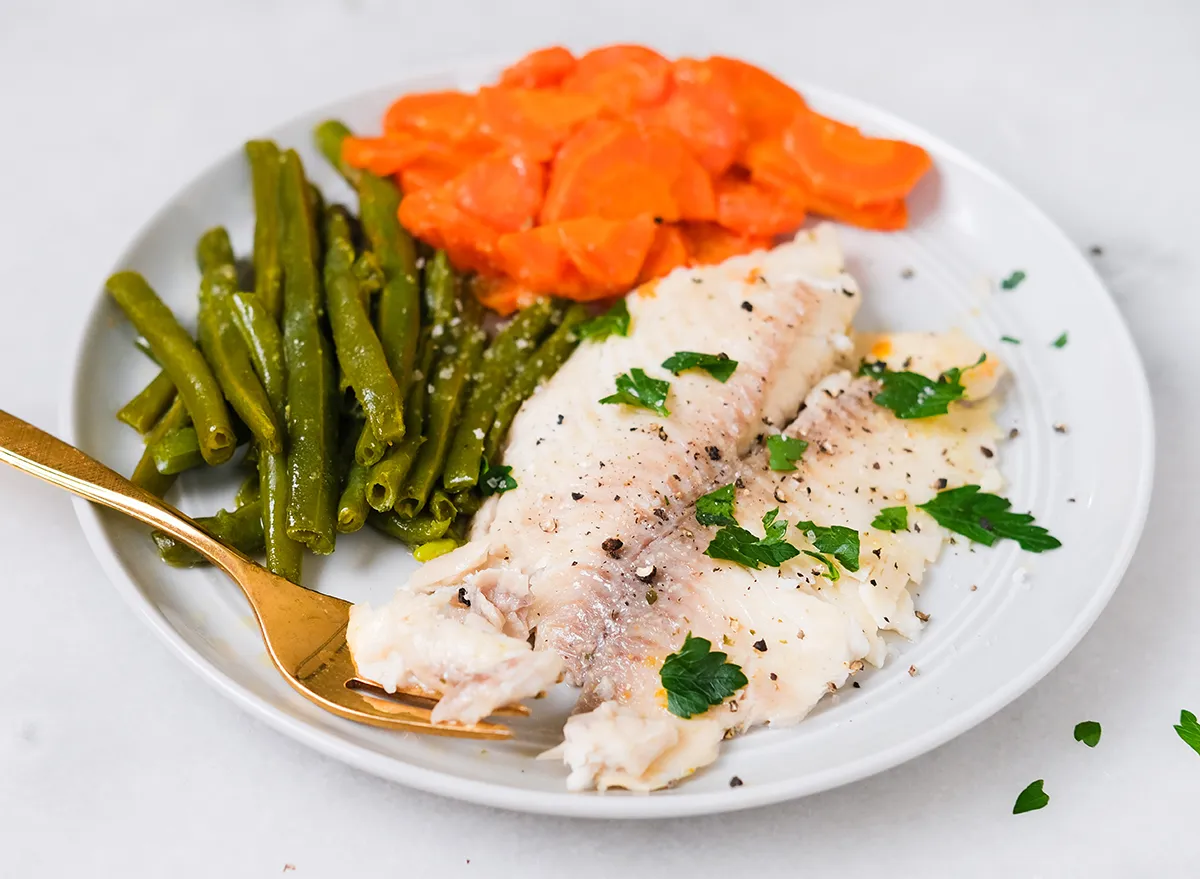 Cooking during a busy week can be tough, especially if you're trying to get dinner on the table for two. Which is why the Instant Pot can come in quite handy! If you're looking for a simple low-carb meal that will take under 20 minutes to throw together, this Instant Pot tilapia recipe is exactly what you need.
Get our recipe for Instant Pot Tilapia with Vegetables. 
Takeout-Level Chicken Fried Rice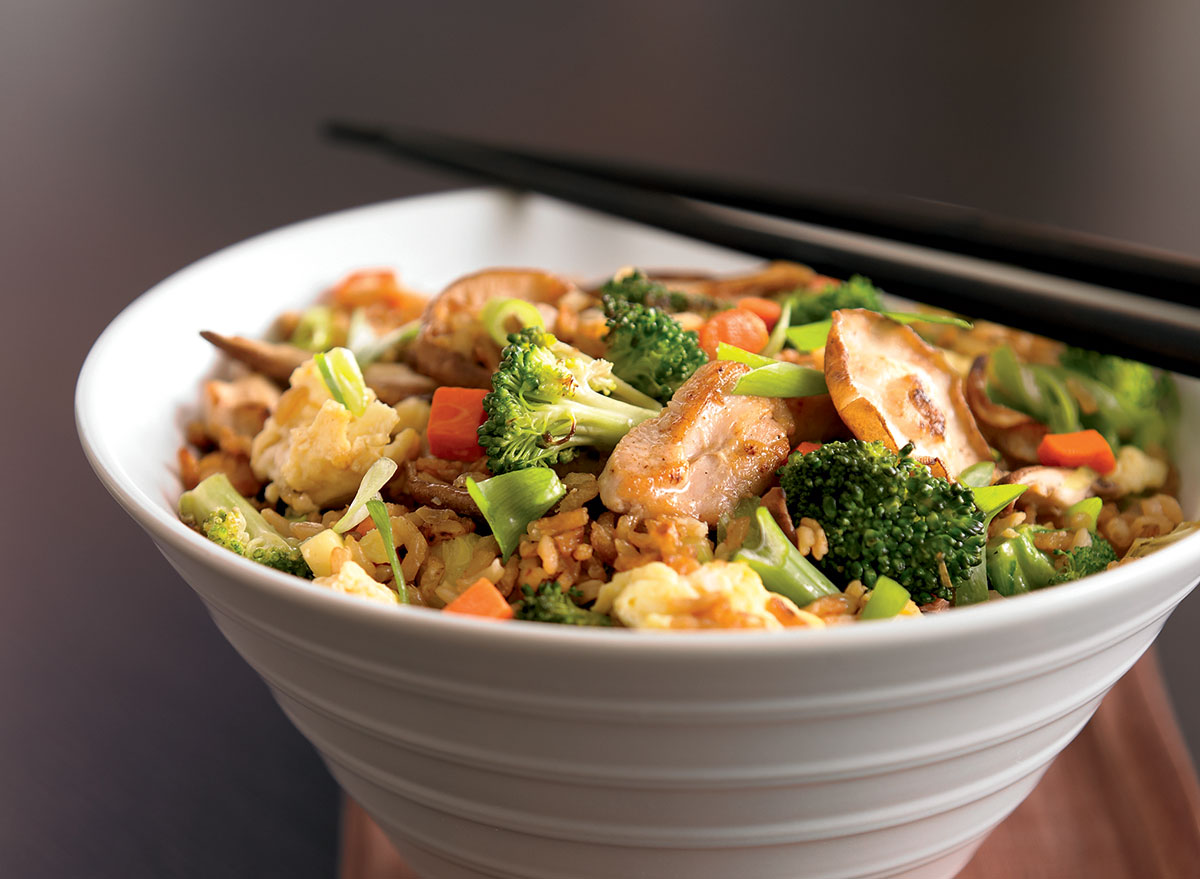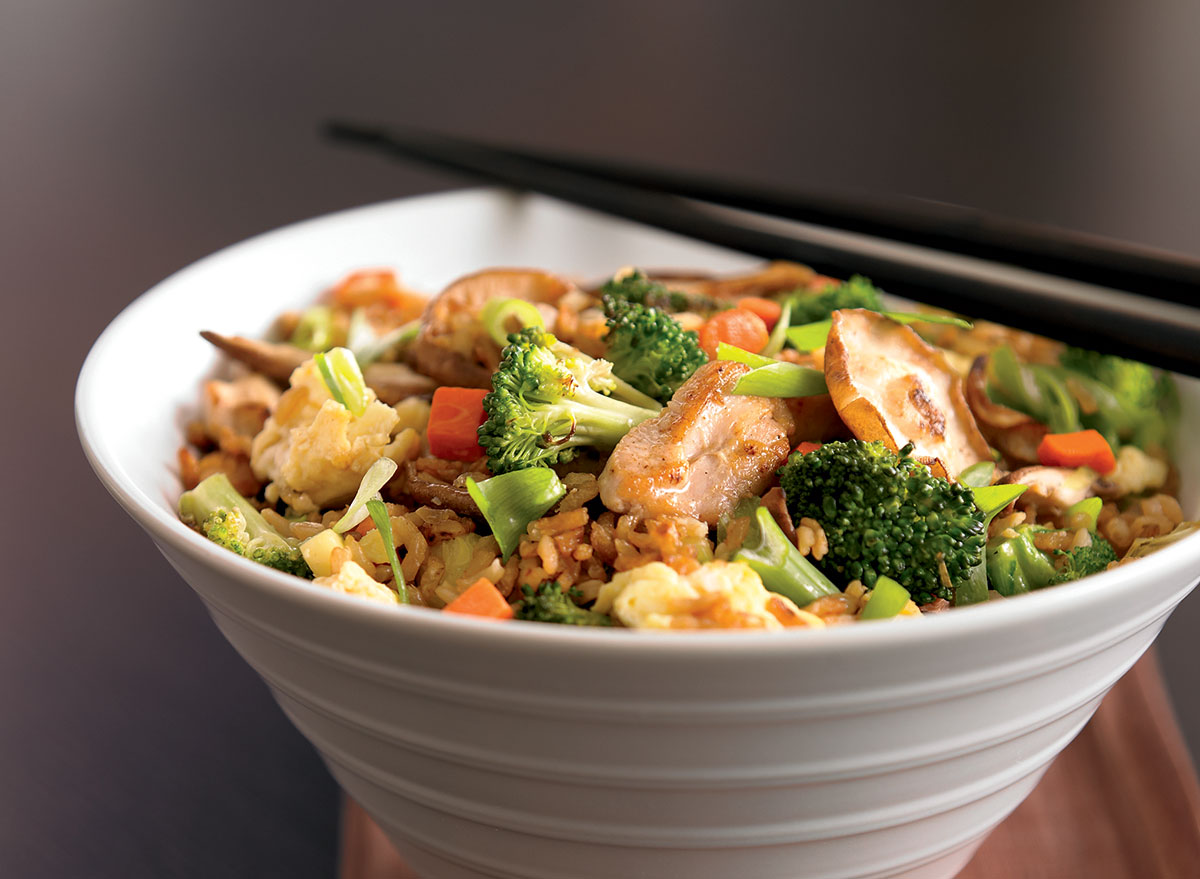 Our recipe turns fried rice on its head, relying on a ton of fresh vegetables, considerably less rice, and a bit of oil for crisping it up.
Get our recipe for Takeout-Level Chicken Fried Rice. 
Slow Cooker Turkey Cassoulet
This dish isn't exactly like your typical cassoulet though. Instead, it falls along the lines of a more soup-like stew. Still, it's a meal that has a lot going on in it that requires not much prep work, yet yields an array of flavors, all for under 325 calories. What could be better than that?
Get our recipe for Slow Cooker Turkey Cassoulet.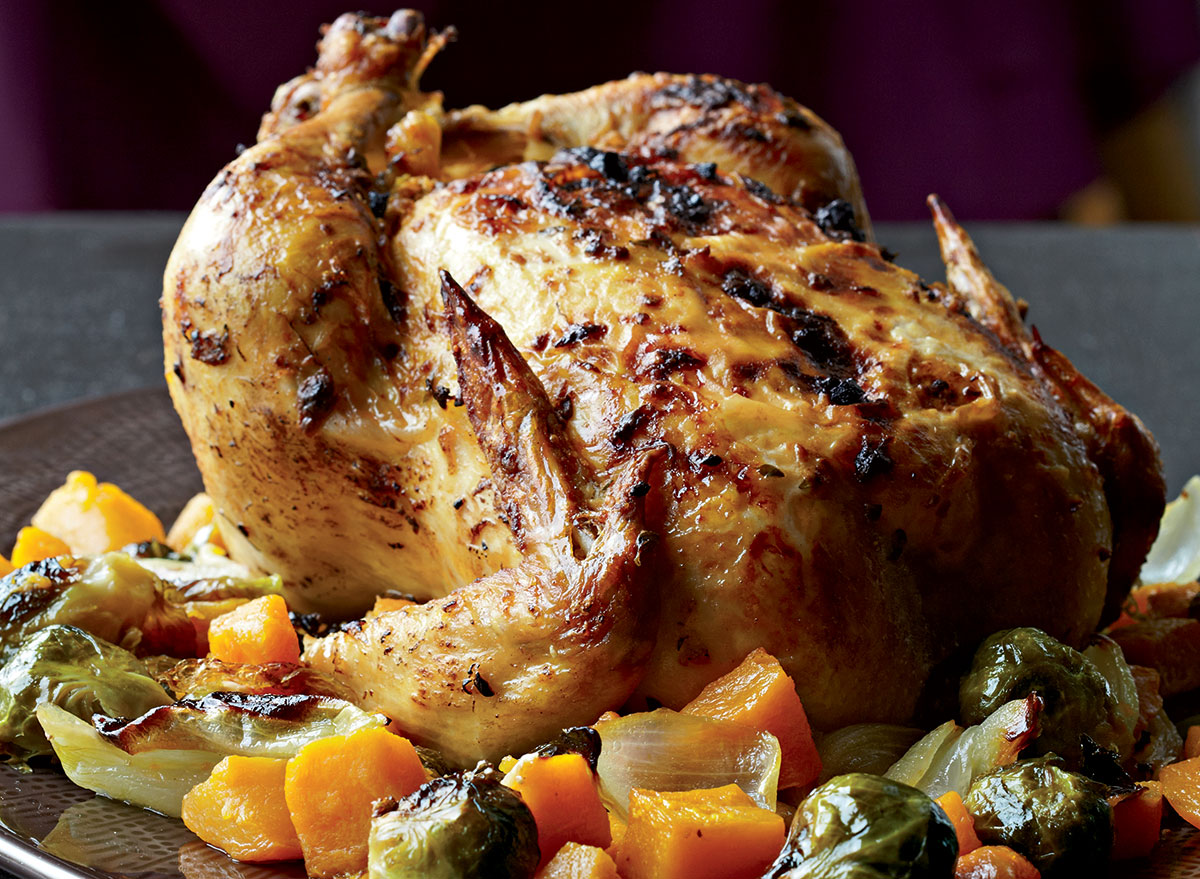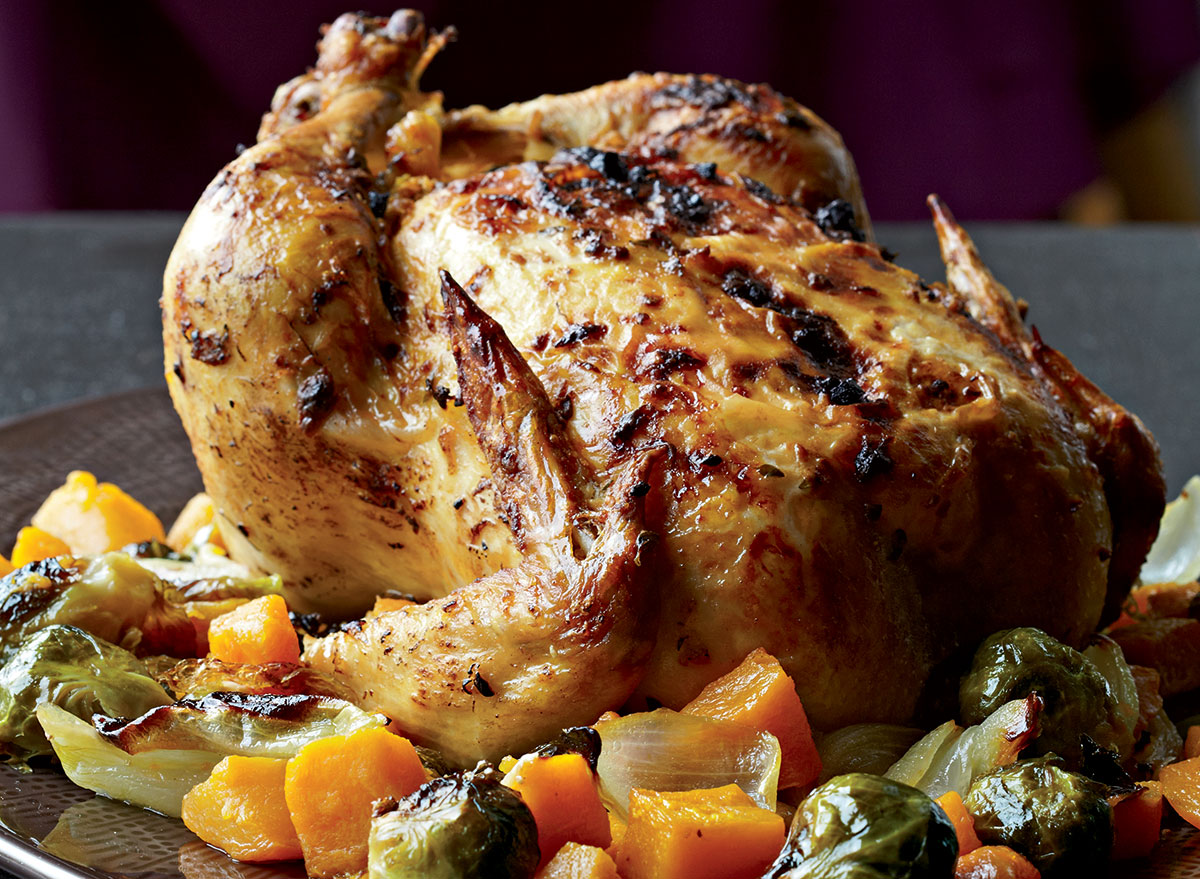 The key to this roasted chicken is seasoning it long before cooking. The salt will penetrate the flesh, seasoning the bird down to the bone and helping create a juicier roast. If you follow no other part of this Sunday roast chicken recipe, at least follow that one trick.
Get our recipe for Sunday Roast Chicken. 
Braised Brisket With Horseradish Cream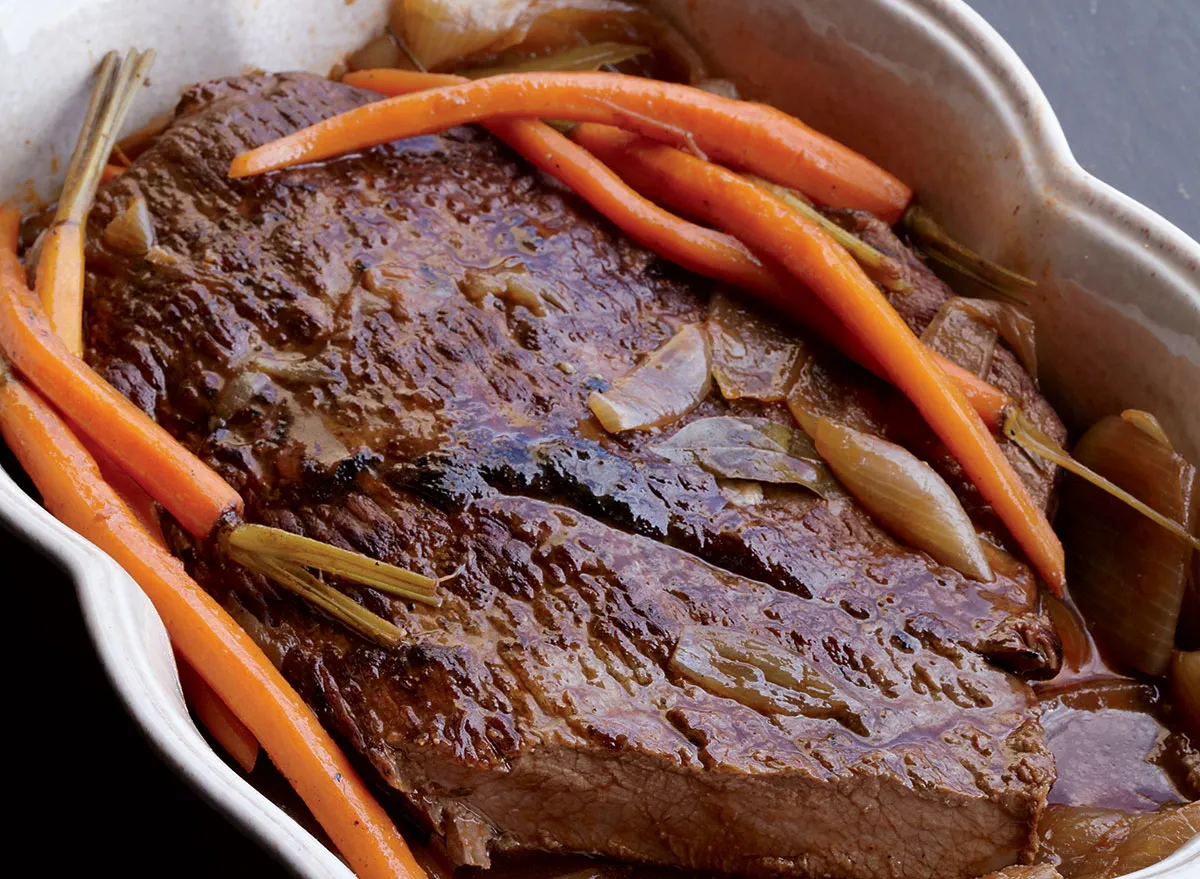 Brisket is a notoriously tough piece of meat. It takes the best pitmasters up to 18 hours of low-temperature smoking to wrestle the beef into a state of acceptable tenderness. But through the miracle of the slow cooker, where moisture and heat combine to turn even the toughest cuts into spoon-tender masterpieces, this braised brisket can be worked into a state of soul-soothing deliciousness with only about 15 minutes of prep work.
Get our recipe for Braised Brisket with Horseradish Cream. 
Homemade Chicken Noodle Soup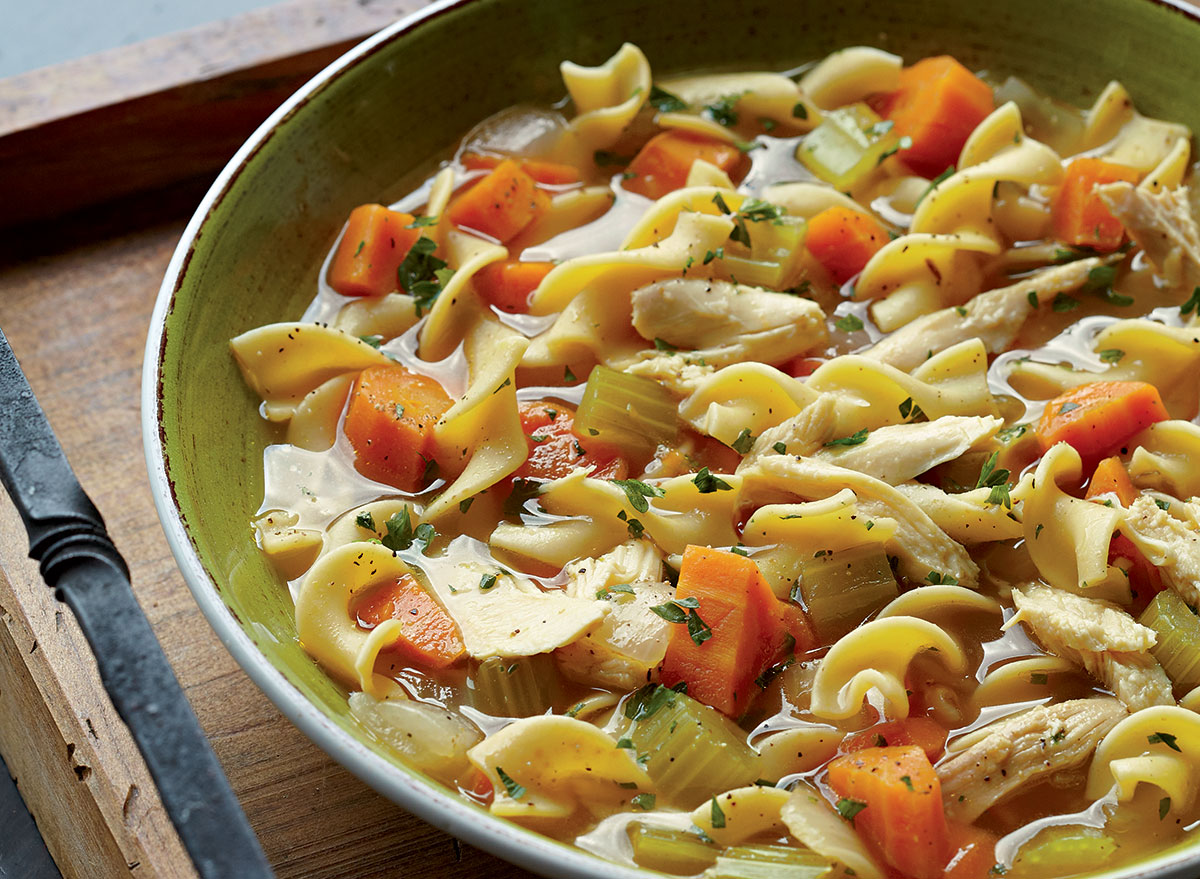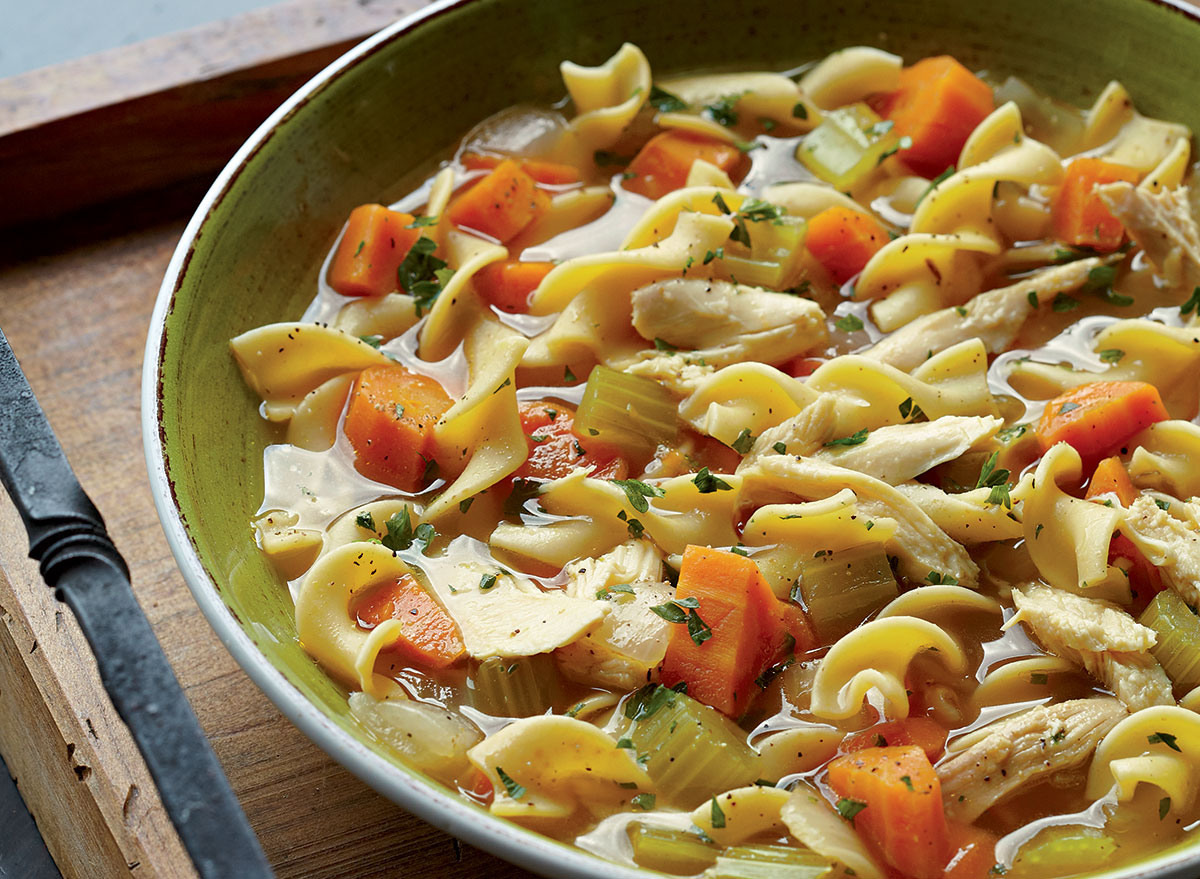 Our version is light on the salt, but it's so loaded with chunky vegetables and shredded chicken that it could be dinner on its own. While you're at it, double the recipe and make some to freeze for later. That way, when you're sick in bed, all you need is a microwave to have yourself some nourishing soup.
Get our recipe for Homemade Chicken Noodle Soup. 
Healthy No-Bake Cake Batter Bites
Remember when you were little and you got to lick the cake batter spoon? Yeah, this is even better. It's actually good for you, won't give you salmonella, and may even boost your fitness goals. Bite into one or two of these pre-workout and you'll be energized, carbed up, and ready to tackle those deadlifts.
Get the recipe from The Big Man's World.
Parmesan Herb Carrot Fries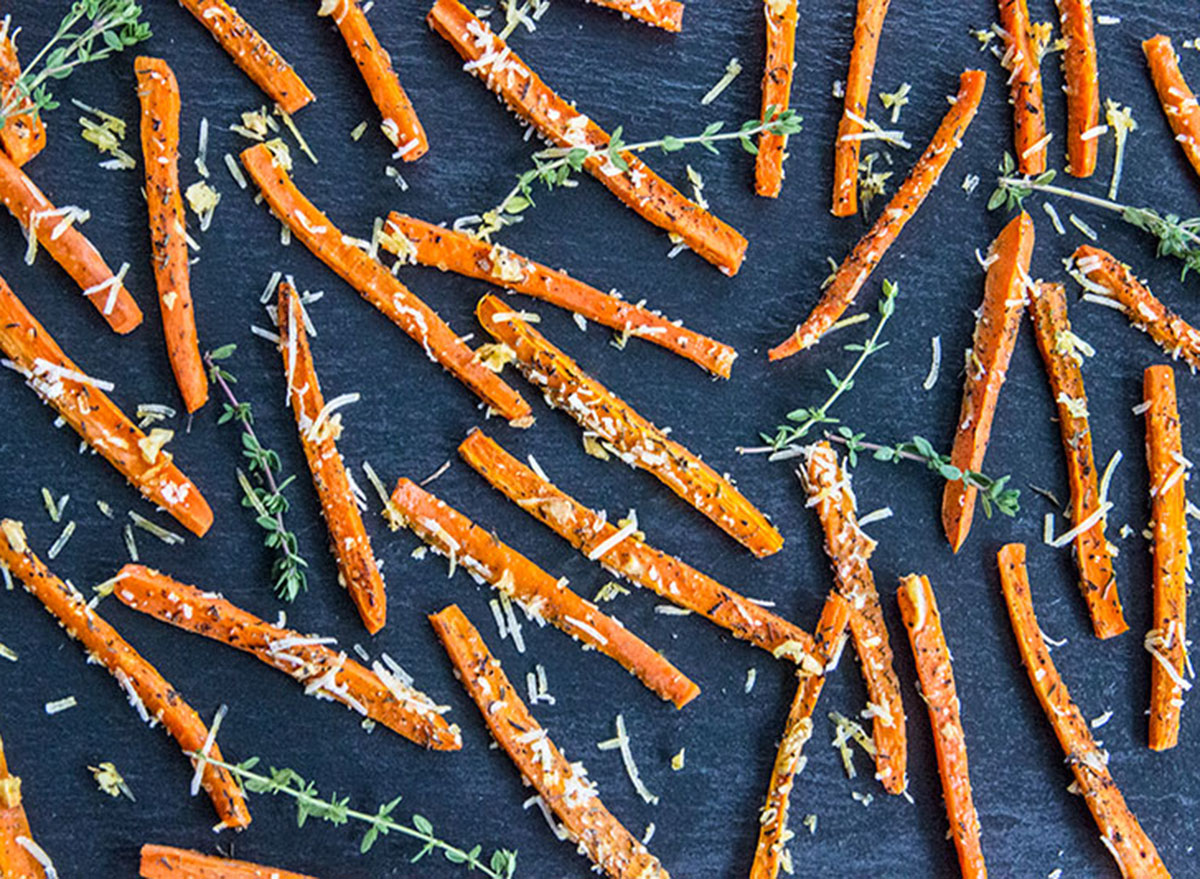 Before you have fries with that, consider this: a large fry from McDonald's Menu
contains 510 calories, 24 grams of fat, and 67 grams of carbs. This tasty carrot version contains one-third of the calories, half the fat, and one-fifth of the carbs.
Get the recipe from The Scrumptious Pumpkin.
Carrot Pineapple Orange Juice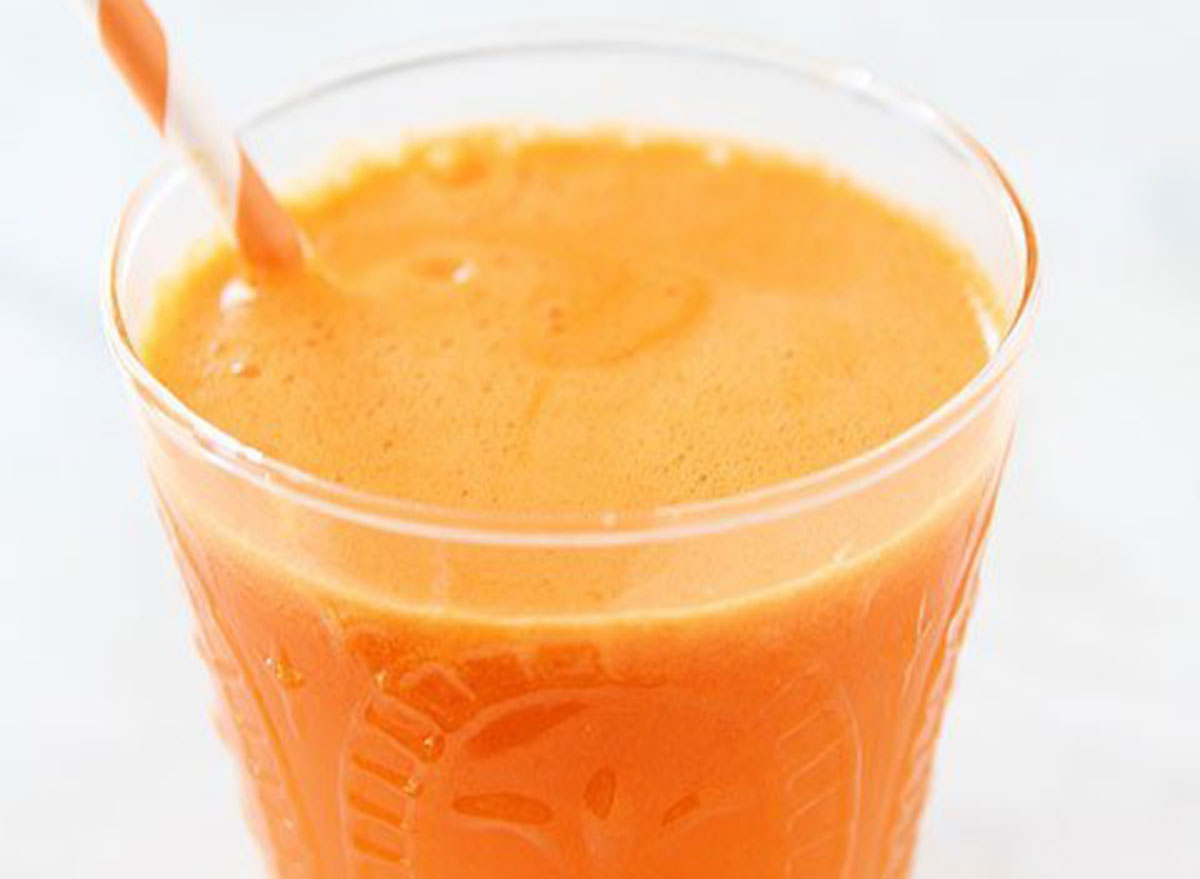 This isn't just your run of the mill OJ. This batch is sky-high in vitamin C, a nutrient that keeps away the sniffles and belly flab, thanks to its ability to counteract the stress hormones that leave you feeling tense and trigger the fat storage.
Get the recipe from Two Peas and Their Pod.
Butternut Squash Carrot Soup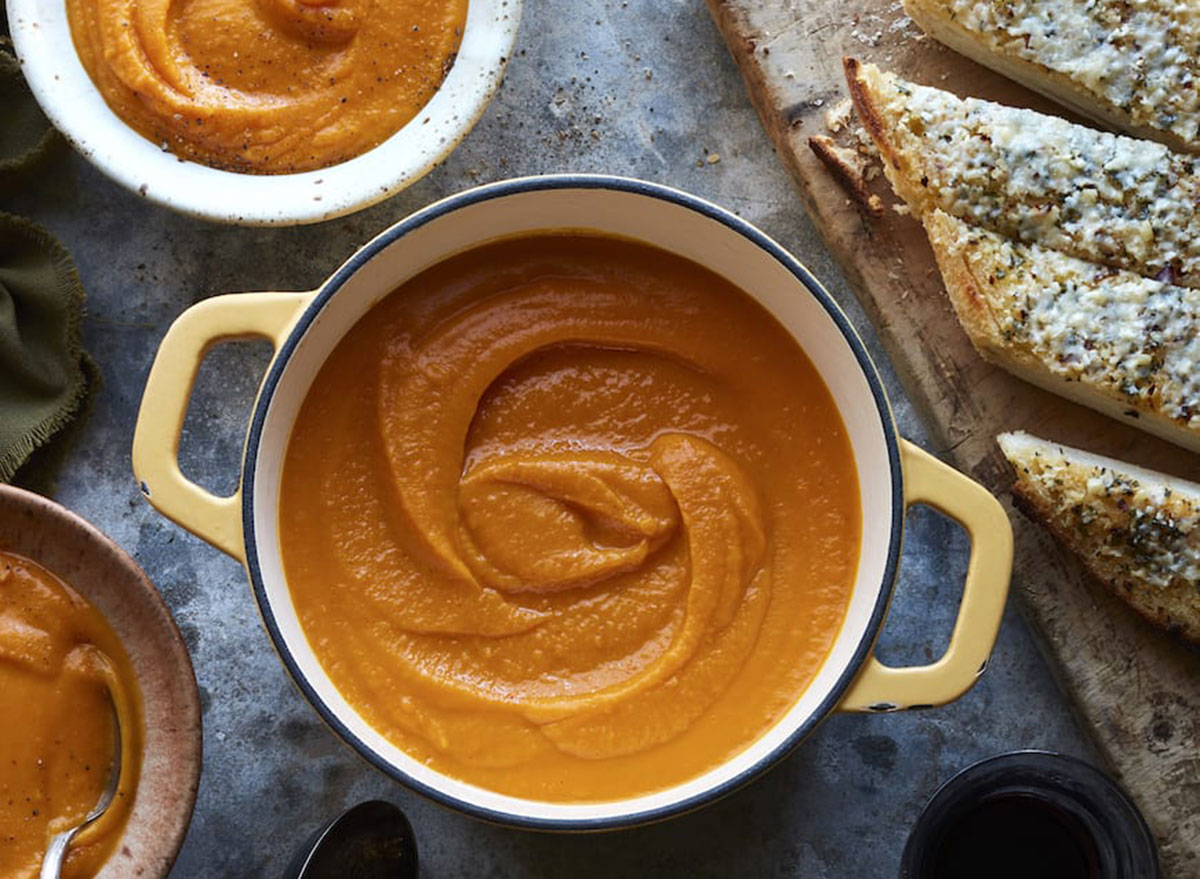 This soup is made from two vegetable superfoods. Like the almighty carrot, butternut squash packed with potassium, fiber, and carotenoids or fat-soluble pigments that fight heart disease, asthma, and arthritis and promote healthy vision and skin.
Get the recipe from What's Gaby Cooking.
Carrot Chickpea Harissa Dip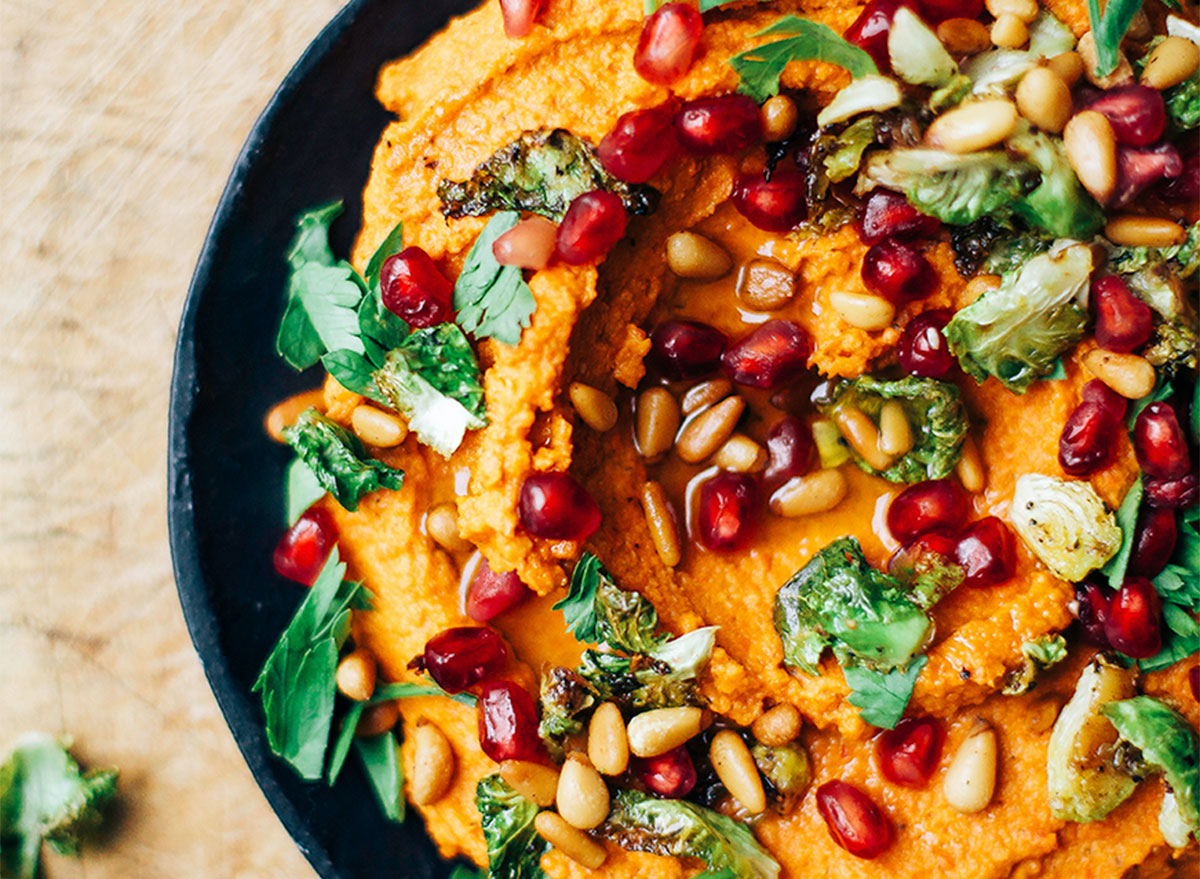 Not only are chickpeas loaded with lysine—the amino acid that blasts away cellulite by repairing tissue and collagen—but they're also one of the best high fiber foods, aiding in weight management. A study published in the journal Obesity found people who ate a single serving of chickpeas each day reported feeling 31 percent fuller than their bean-less counterparts. Whether you're looking to shed a few pounds or just maintain a healthy weight, start dipping!
Get the recipe from The First Mess.
Honey Maple Roasted Carrots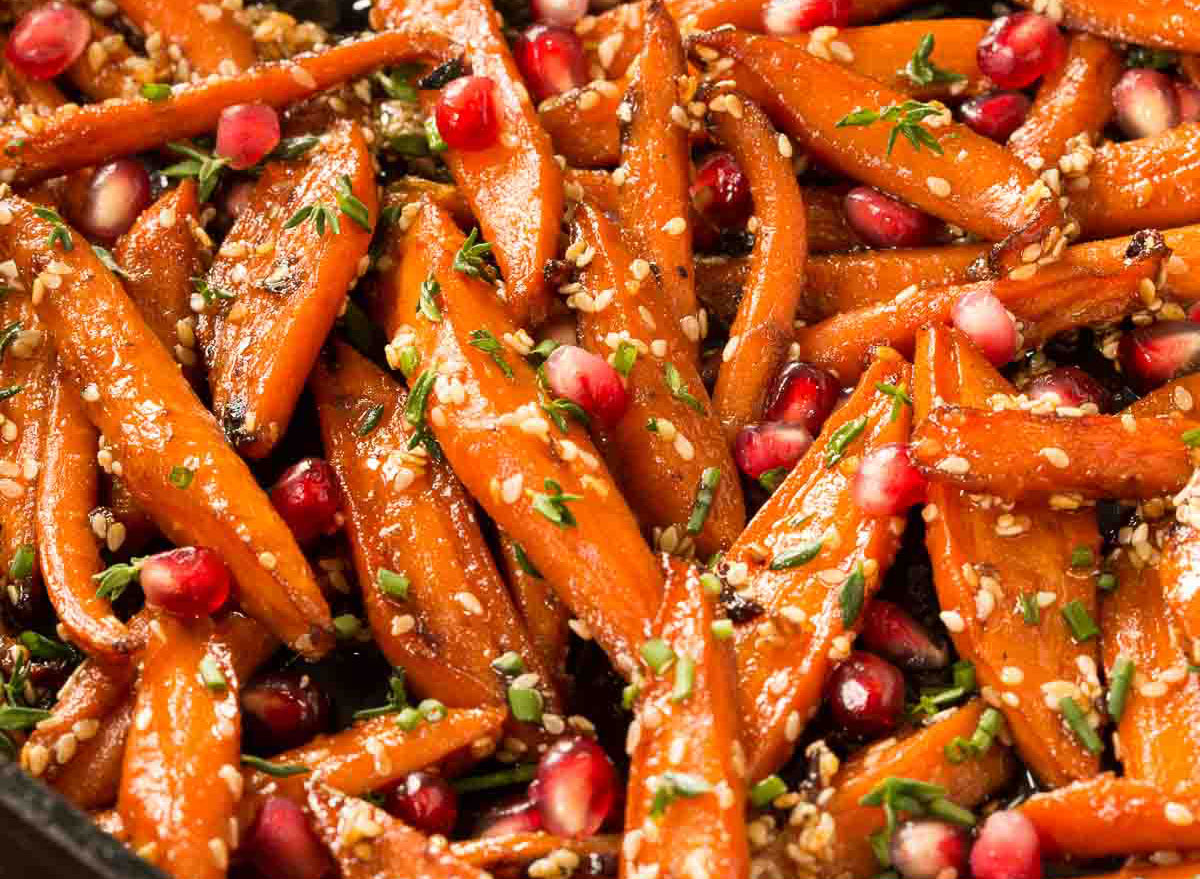 Not a big carrot person? Dress them up with this honey maple recipe and don't miss out on all the wholesome benefits.
Get the recipe from The Café Sucré Farine.
Roasted Carrot Avocado Salad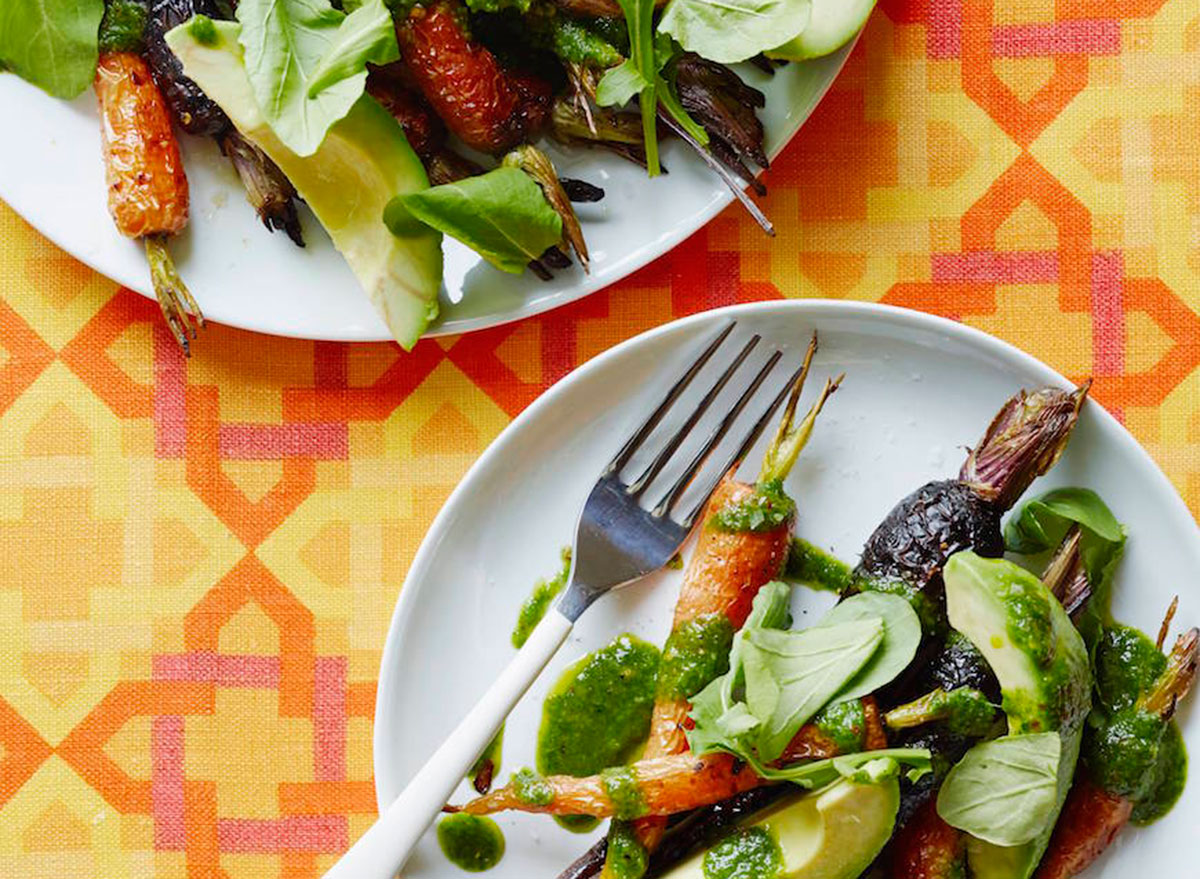 Don't let the fat count get in the way of you and this waist-whittling salad. While consuming the wrong sources of the macronutrient in excess is one of the things making you fatter, this kind isn't one of them.
A study in the journal Diabetes Care found that a diet rich in monounsaturated fat, like the fats in this nutritional profile, may actually prevent abdominal fat by downregulating the expression of certain fat genes.
Get the recipe from What's Gabby Cooking.
Shaved Carrot Salad with Pistachio Pomegranate Vinaigrette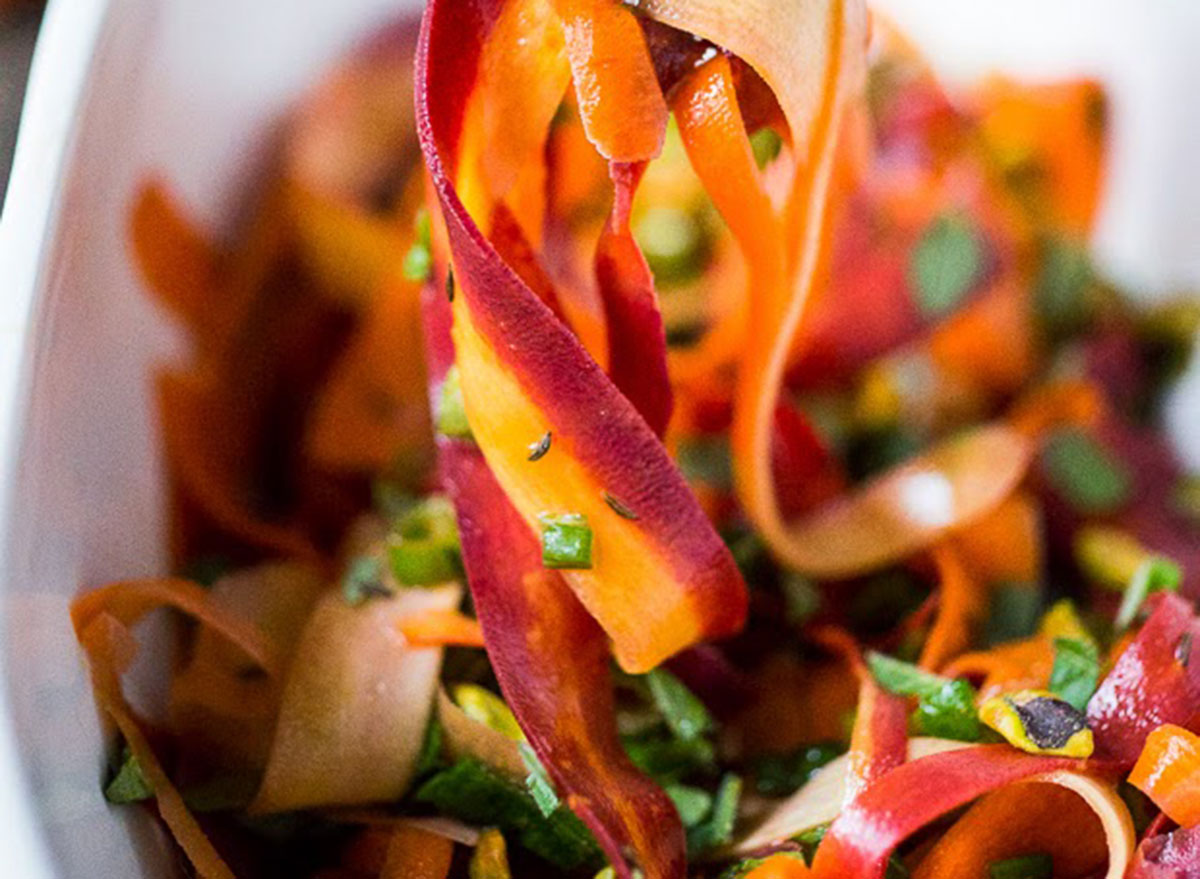 Bored with the same old side dishes? These heirloom carrot ribbons will freshen up any entree. They're bright, colorful, and tasty. And that's not all they liven up. This dish might improve performance in the bedroom. A study published in the International Journal of Impotence Research discovered that pomegranate juice, rich in antioxidants that support blood flow, can help improve erectile dysfunction.
Get the recipe from Feasting at Home.
Roasted Carrot Hash with Ground Beef and Bacon
This Paleo-friendly egg dish boasts 35.6 grams of satiating muscle-building protein. Just made sure to opt for grass-fed beef, which naturally leaner and void of harmless chemicals. Wondering what the deal with Paleo is? Check out these 30 Paleo Questions Answered in 5 Words or Less!
Get the recipe from Paleo Running Momma.
Carrot Pineapple Smoothie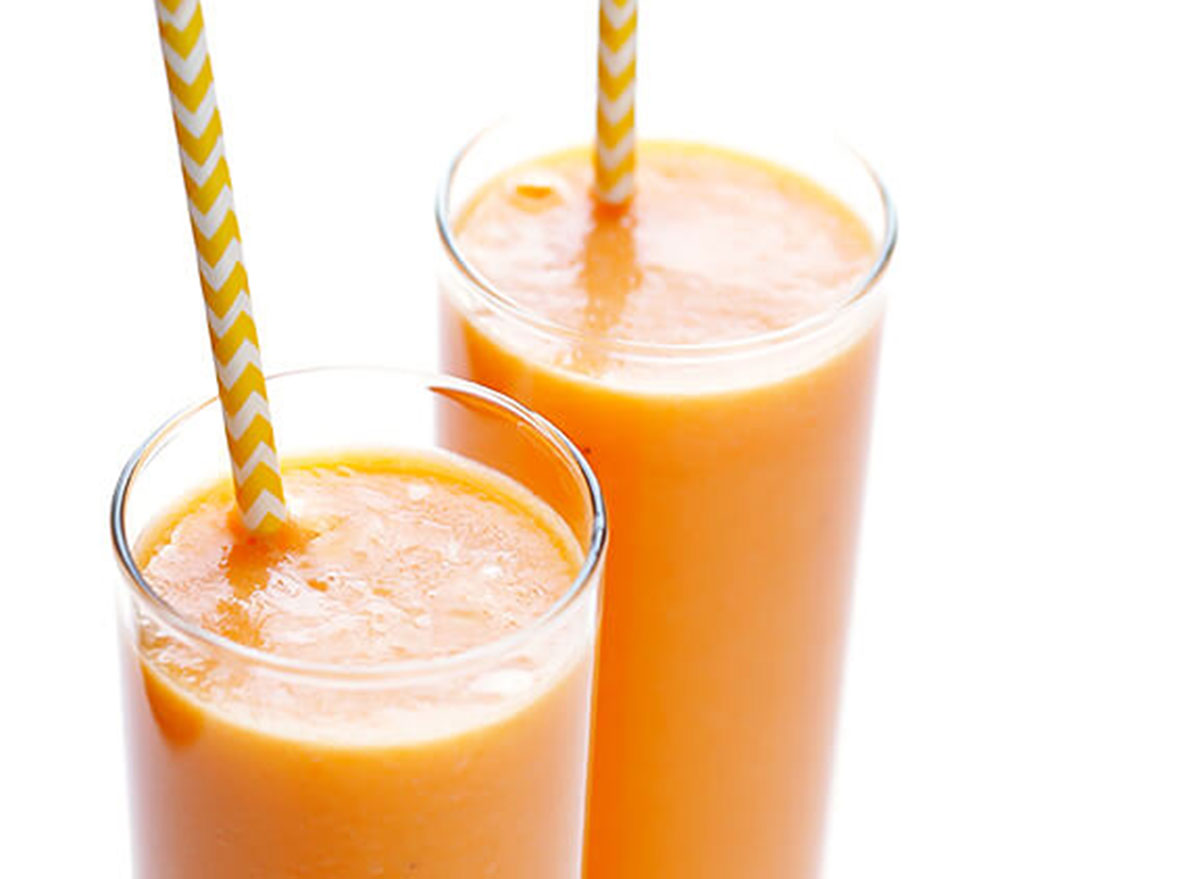 Looking detox? Blend this. According to David Colbert, MD, a dermatologist and internist in New York City, "acids in citrus fruits help flush water through your body. And because citrus also contains fiber, they move through your system slowly and flush out toxins that contribute to body odors."
Get the recipe from Gimmie Some Oven.
Carrot Cake Ice Cream Sandwiches
You had us at ice cream sandwiches and carrot cake. But this recipe is stacked with slimming foods including almond milk, coconut oil, cinnamon, and walnuts. In fact, walnuts are one of the best dietary sources of polyunsaturated fats, which activate genes that reduce fat storage and improve insulin metabolism. Plus, vegan, dairy-free, and gluten-free? This is a health foodie jackpot!6254a4d1642c605c54bf1cab17d50f1e
Get the recipe from She Likes Food.
Carrot Noodles with Thai Peanut Sauce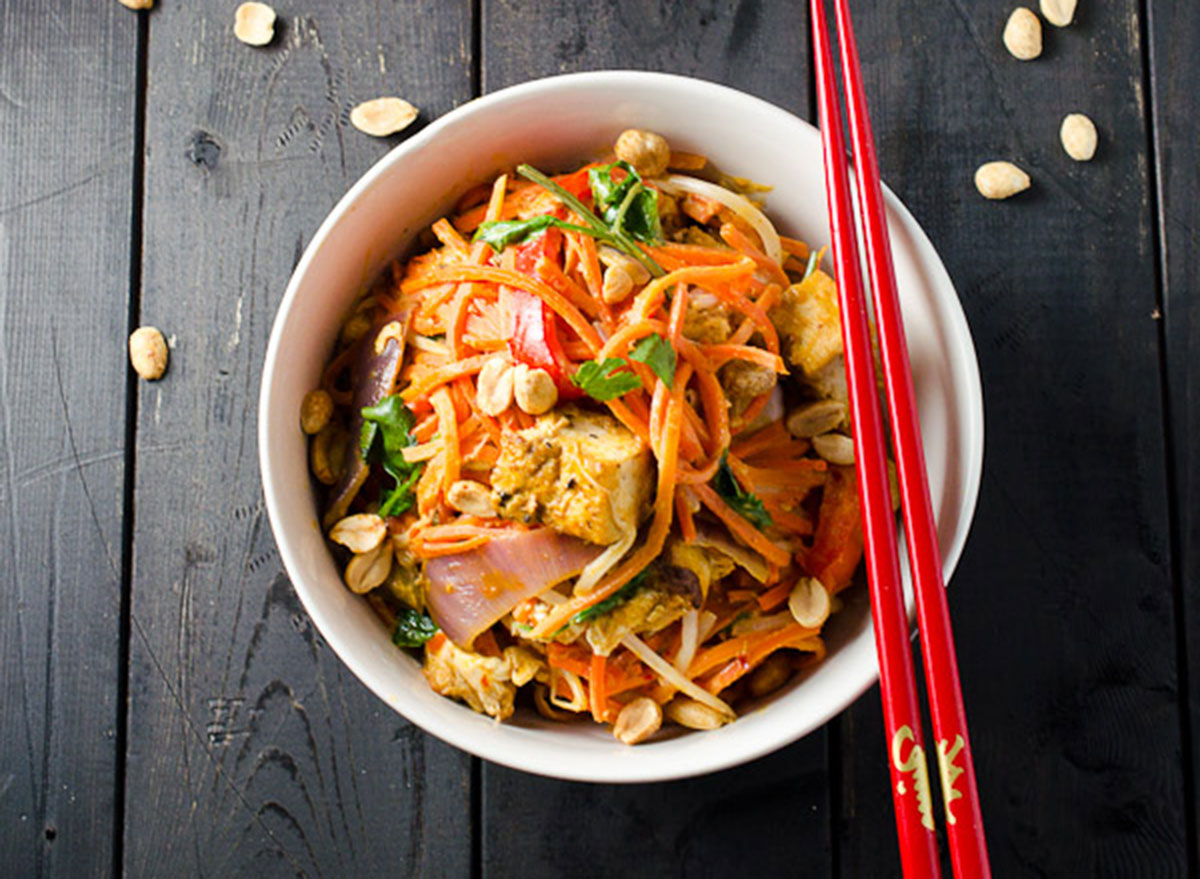 Spaghetti squash, zoodles, and caroodles? Yeah, it's a thing and a good one. Twirl these carrot noodles on your fork and you'll be one step closer to your summer body goals. Just make sure to go light on the sauce and drink lots of water to counterbalance the sodium intake.
Get the recipe from The Endless Meal.
This is not your typical carrot ginger soup. It's very rich and creamy but just 107 calories. The secret? A gift from the Greek gods who created a yogurt that's low in sugar, high in protein, and creamy enough to make you think you're committing sin. Not sure which kind to buy? Check out these 25 Best Yogurts for Weight Loss.
Get the recipe from Foodie Crush.
Roasted Garlic Parmesan Carrot Noodles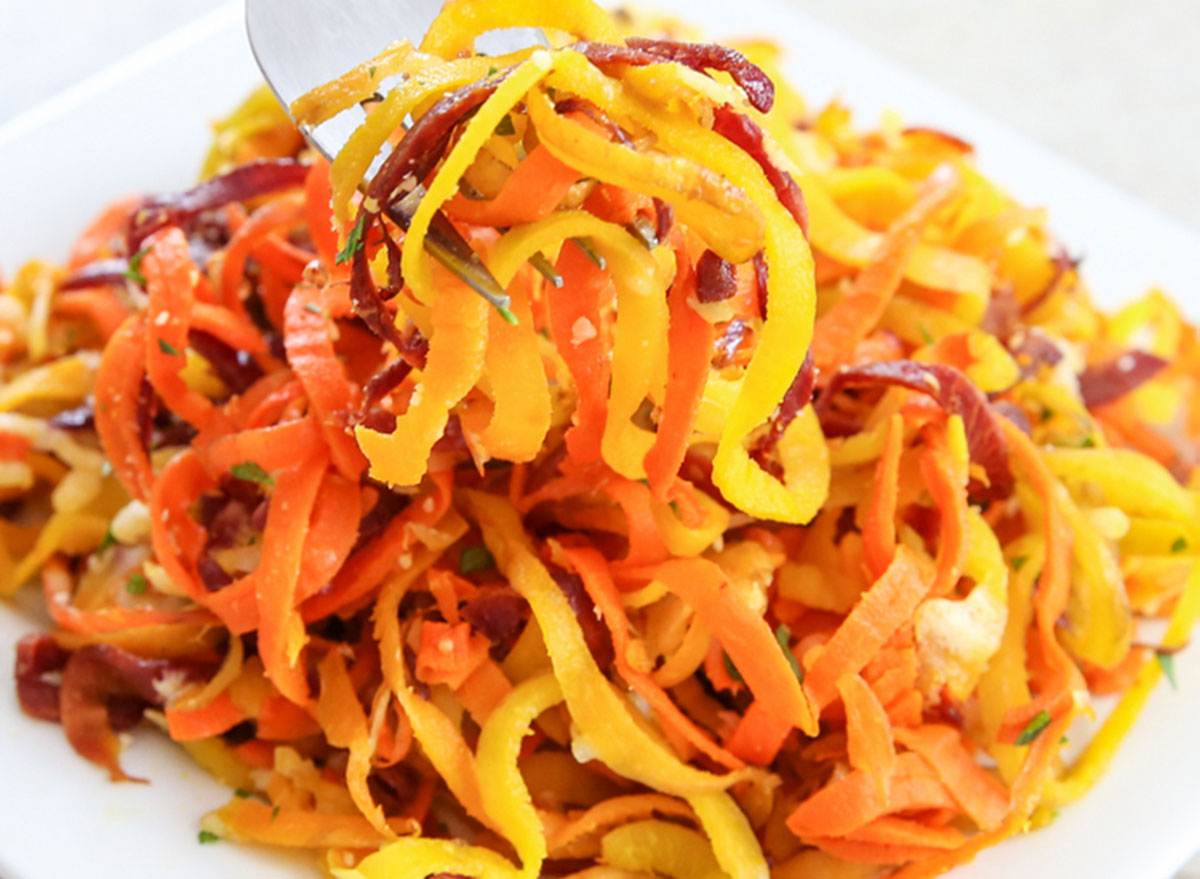 Gentlemen, listen up: According to a study published in the journal Fertility and Sterility, men who generous amounts of carrots, as opposed to other veggies, saw improved sperm performance (count and motility) by 6.5 to 8 percent! And what better way to sneak them into your diet than to sub them in for the nutrient-void noodle? To look your best naked, check out these 25 Best Foods for a Toned Body.
Get the recipe from Kirbie Cravings.
Vegan Carrot Coconut Pancakes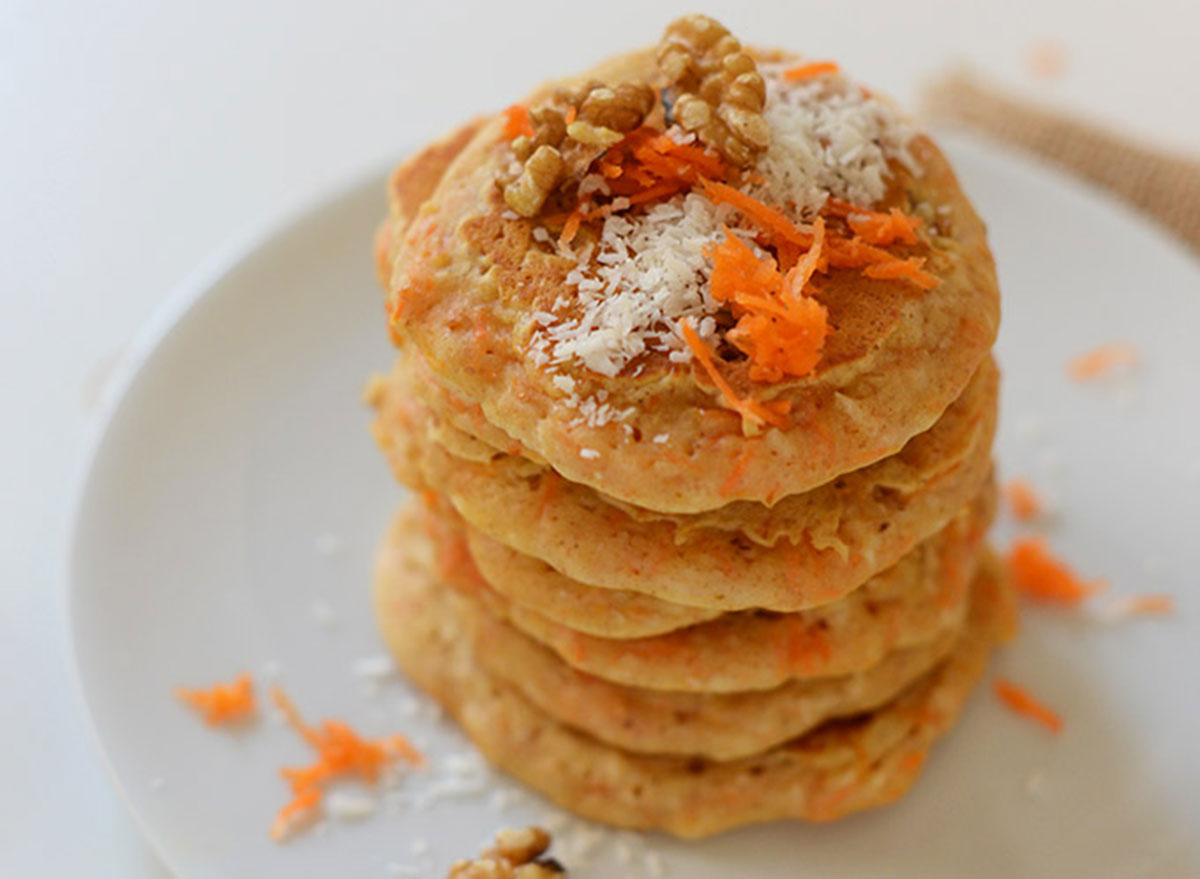 Whether you make these pancakes for breakfast or dessert, top them off with walnuts for an extra boost of heart-healthy fats and muscle-building protein. Plus, the added healthy fat will help fill you up, without filling you out.
Get the recipe from Minimalist Baker.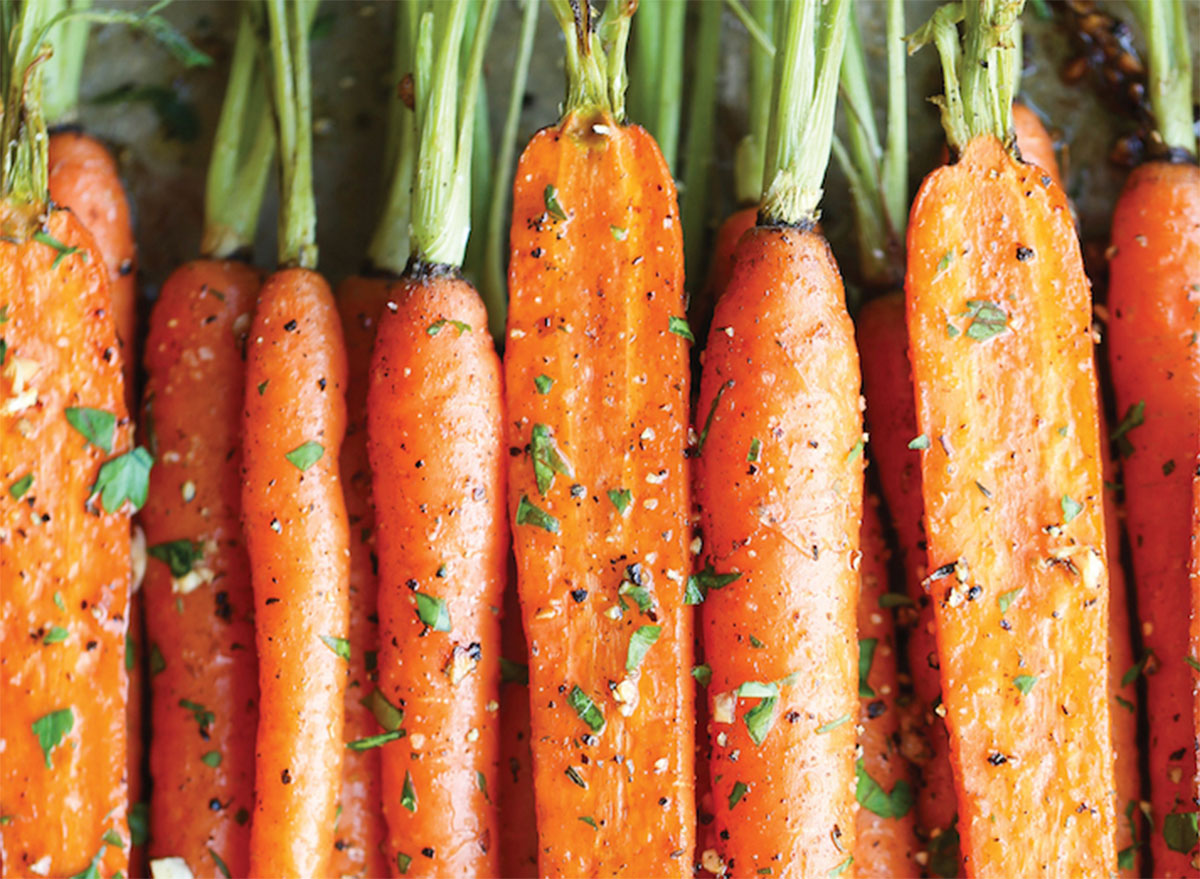 Frequently find yourself in a dinner bind? Pair these Garlic Roasted Carrots with a rotisserie chicken and sweet potatoes, and you've got yourself a wholesome meal with minimal effort! For more recipes you can whip up on the fly check out these 20 Best-Ever Fat Burning Soups.
Get the recipe from Damn Delicious.
Sweet and Spicy Carrot Hummus
Capsaicin, the compound that gives sriracha its signature kick, increases body heat, turns up your calorie burning oven, and decreases appetite. In fact, scientists are currently looking at turning capsaicin into an all-natural anti-obesity supplement for its ability to activate our "good," calorie-burning brown fat stores! For more ways to increase caloric burn, check out these 55 Best-Ever Ways to Boost Your Metabolism.
Get the recipe from Bowl of Delicious.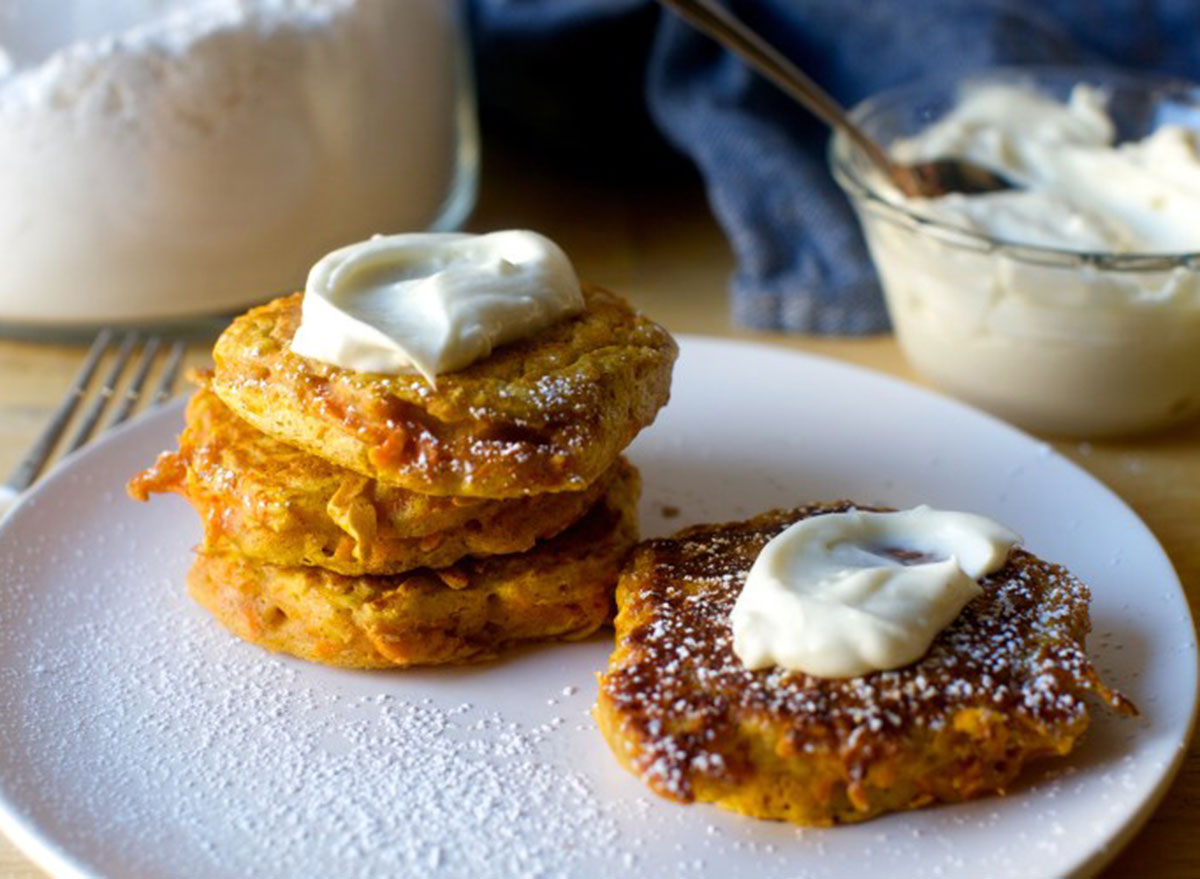 Carrot cake and pancakes are a match made in comfort food heaven. And at just 146 calories and 5.4 grams of fat, need we say more?
Get the recipe from The Smitten Kitchen.
For more recipe ideas, check out our list of 100 Best No-Cook Recipes!
Eat This, Not That!
Inspired by The New York Times best-selling book series, Eat This, Not That! is a brand that's comprised of an award-winning team of journalists and board-certified experts, doctors, nutritionists, chefs, personal trainers, and dietitians who work together to bring you accurate, timely, informative, and actionable content on food, nutrition, dieting, weight loss, health, wellness, and more.
Read more about Eat This